Pan Roasted Shishito Peppers
Easy Pan Roasted Shishito Peppers, a simple plant-based blistered pepper appetizer served with a spicy tahini dipping sauce that's ready in only 10 minutes!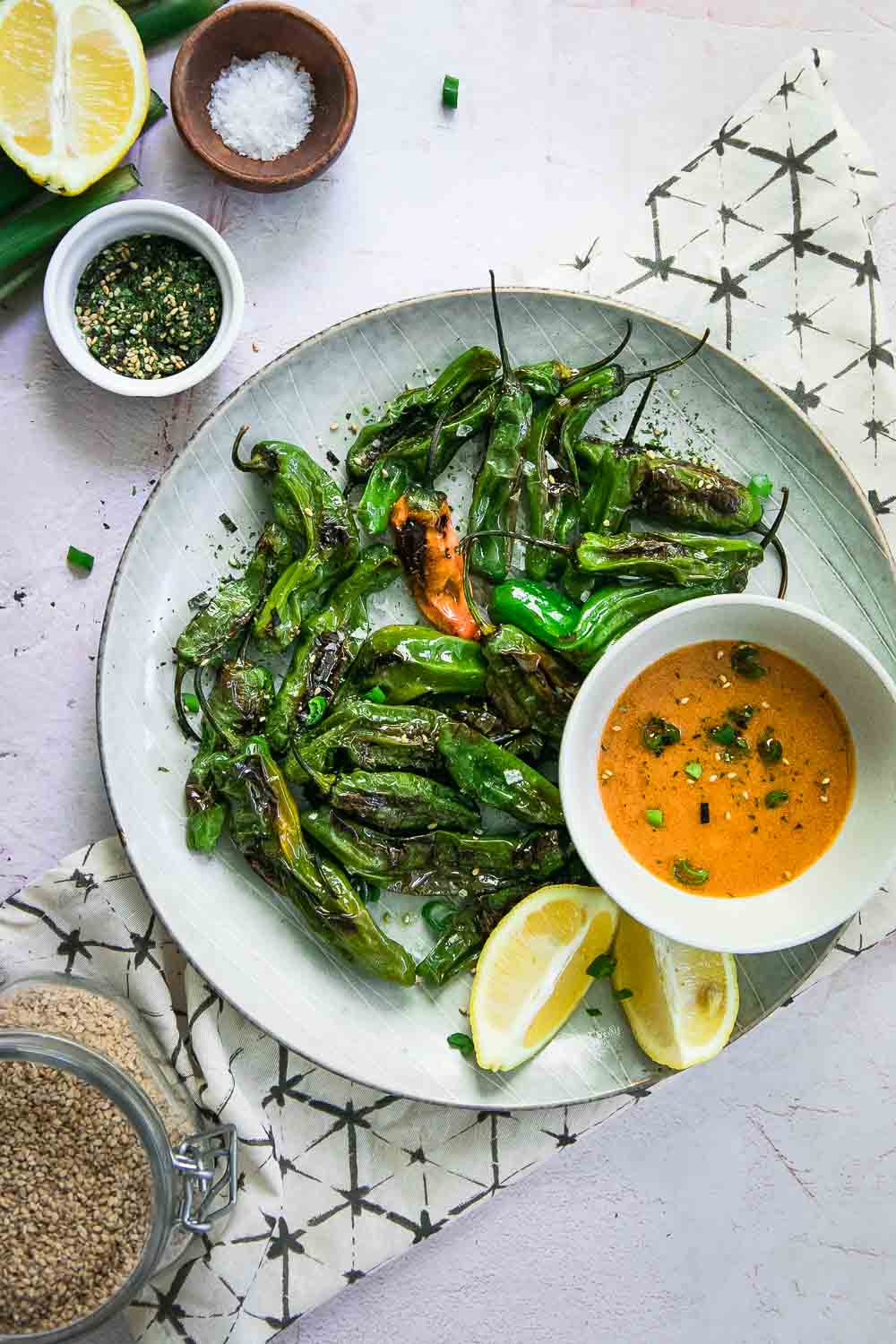 Are you hip to shishito peppers? These tiny Japanese peppers are trending in the culinary world right now, and have quickly become one of our favorite vegan appetizer picks when dining out.
The great thing about shashitos is that they're also super simple to make at home. With only 10 minutes and a few simple ingredients, these peppers are sure to be your new favorite healthy snack pick.
Ready to learn how to make shishito peppers? Let's do it!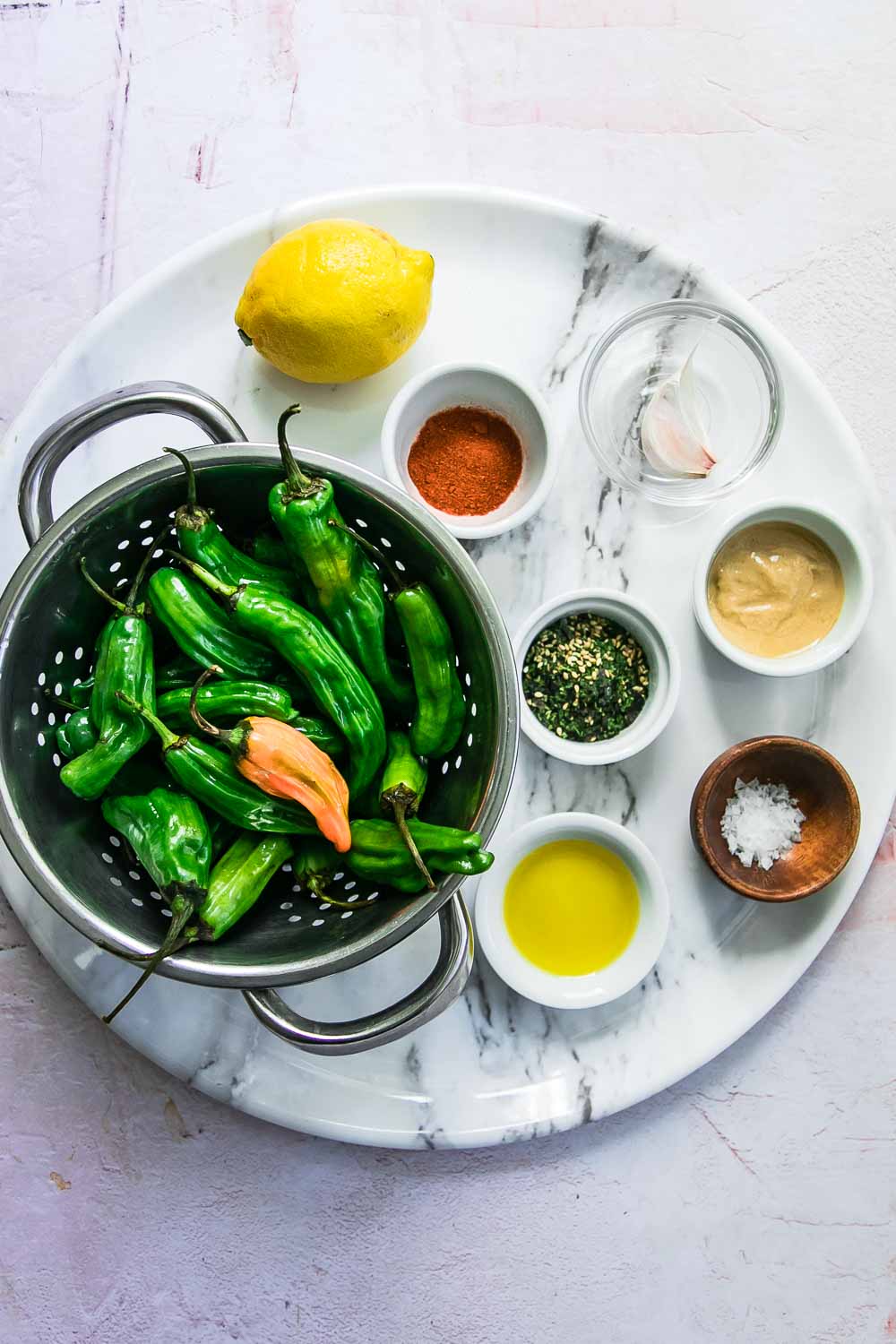 ---
How to make in a skillet (step-by-step)
The first step is to wash and dry the shishito peppers before cooking.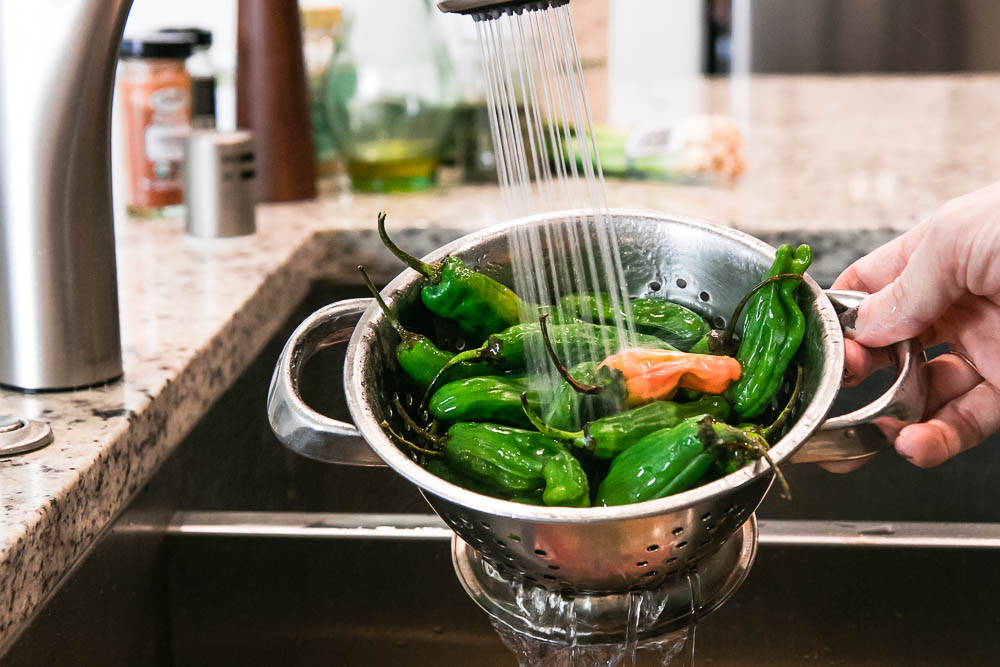 Next, heat a high heat safe oil (like grapeseed or avocado) over medium heat in a large skillet — we love our cast iron skillet for the perfect peppers — and coat the bottom of the skillet completely with oil so the peppers do not stick.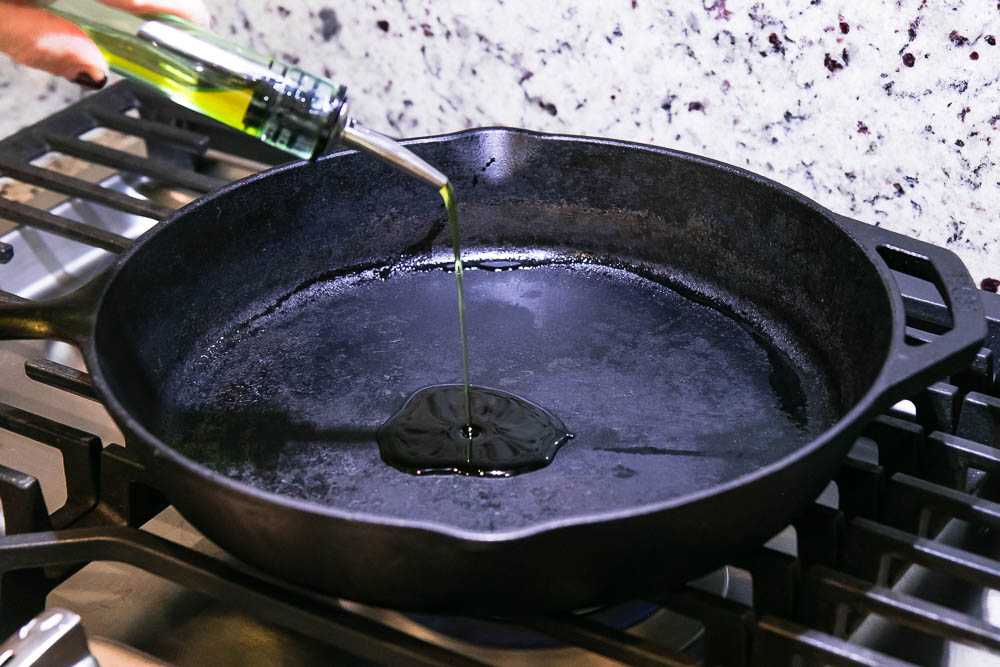 Add the washed peppers to the skillet and pan fry about 5 minutes total, making sure to flip them with a spatula or wooden spoon so all sides are cooked. We're looking for a "blistered" look, or when the peppers turn brown and start to slightly soften, without overcooking (think soggy) and losing their color completely.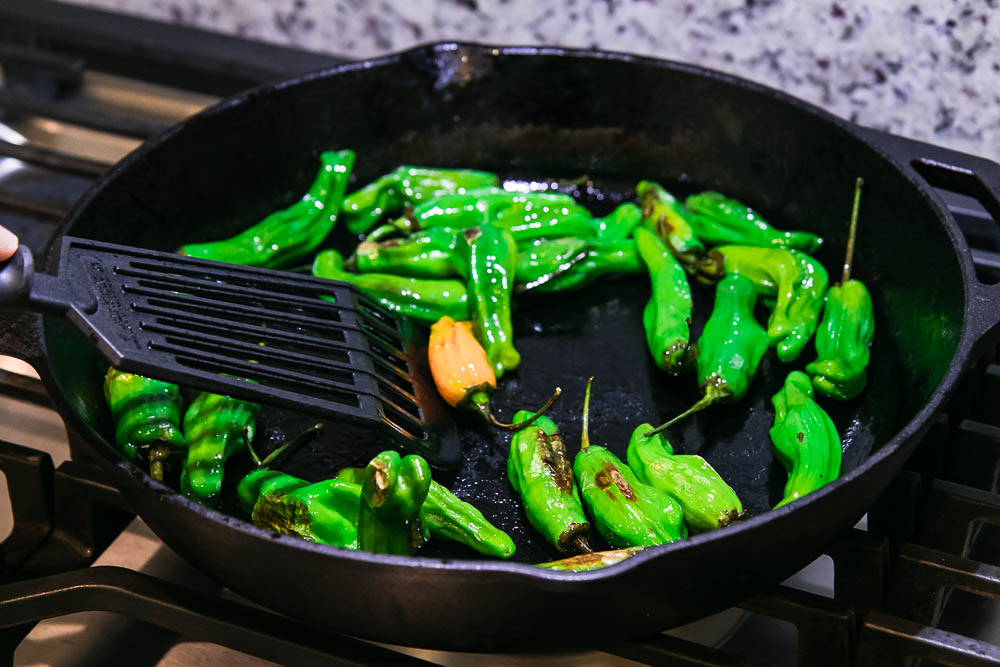 When the peppers are almost done, sprinkle a bit of sea salt, drizzle a squeeze of lemon, and top with any additional spices like furikake, togarashi, or sesame seeds.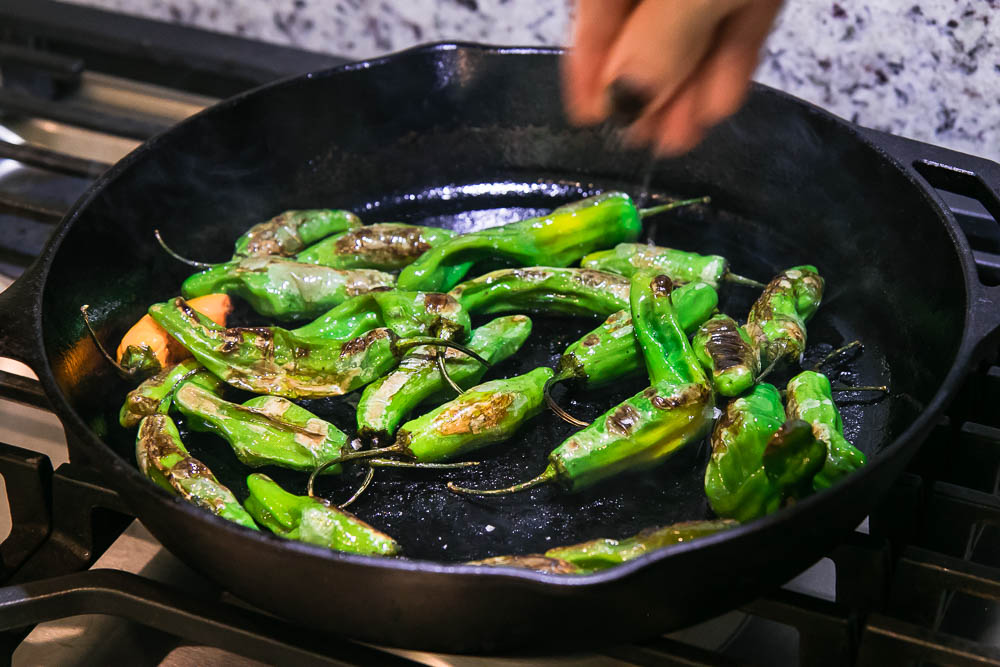 Then remove the peppers from the pan and transfer to a serving platter with a dipping sauce (see our favorite below). The peppers are best when freshly cooked, so make sure to time this appetizer to be done right when you're ready to eat them!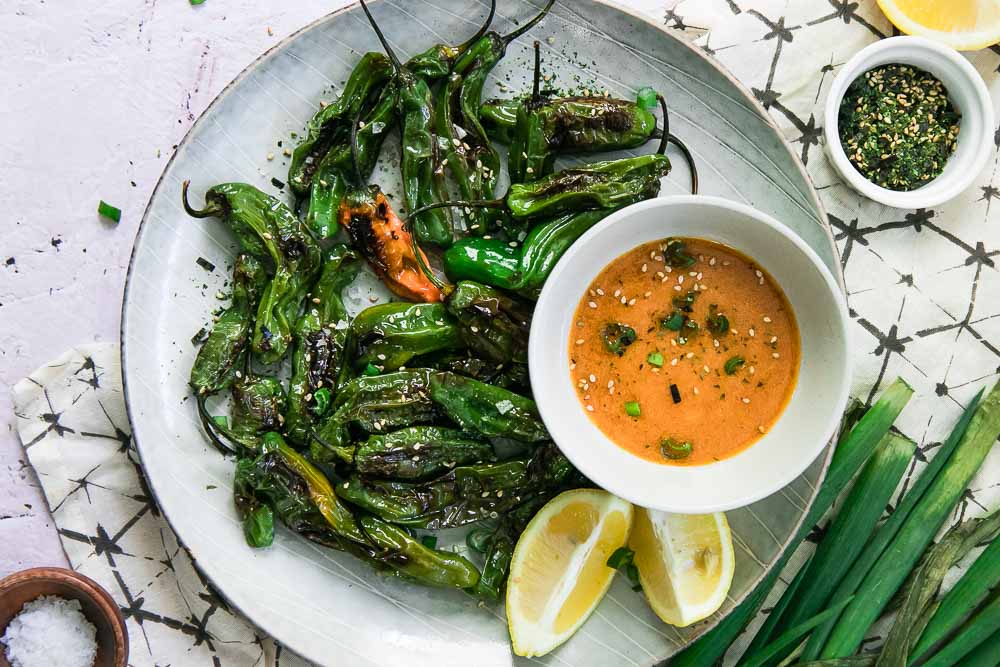 ---
What to serve with the peppers
Shashito peppers are great on their own, but we like to serve with a simple yet flavorful dipping sauce.
Any plant-based sauce that introduces Japanese or Asian-inspired flavors work best, like this spicy tahini dipping sauce. It's as simple as mixing together tahini, soy sauce, rice vinegar, paprika, garlic, and salt in a small bowl and then serving on the side.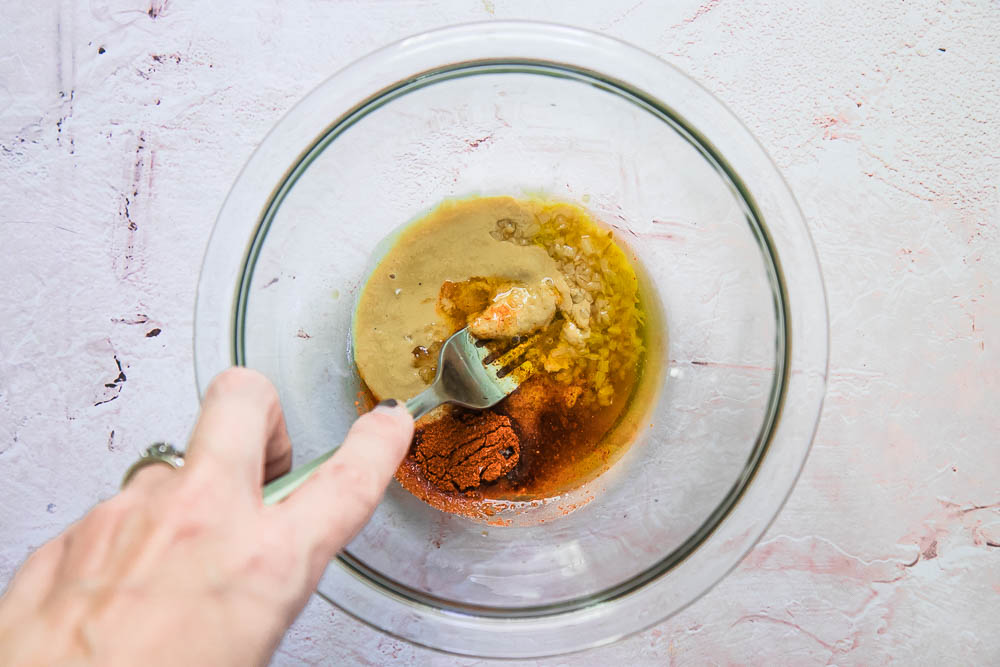 ---
Tips, tricks, and tools
These spicy little charred peppers are as easy as it gets, but here are a few tips and tricks to make the most out of your time and your ingredients:
Where to buy them: Shishitos are typically available in any asian market, but because they're becoming more popular you may find them in traditional grocery stores (I did!).
Buy shishito peppers fresh and in season: Fresh peppers are usually available year round, however they have a peak during summer and early fall. We don't recommend buying them frozen because they are a delicate pepper and become soggy when thawed.
Use room temperature peppers: If you've refrigerated the peppers while storing before cooking, we recommend bringing them to room temperature before roasting for best results.
Tools you'll need to make this recipe: Any environmentally-friendly cookware will do, but we love cooking peppers in a cast iron skillet for best blistering and flavor.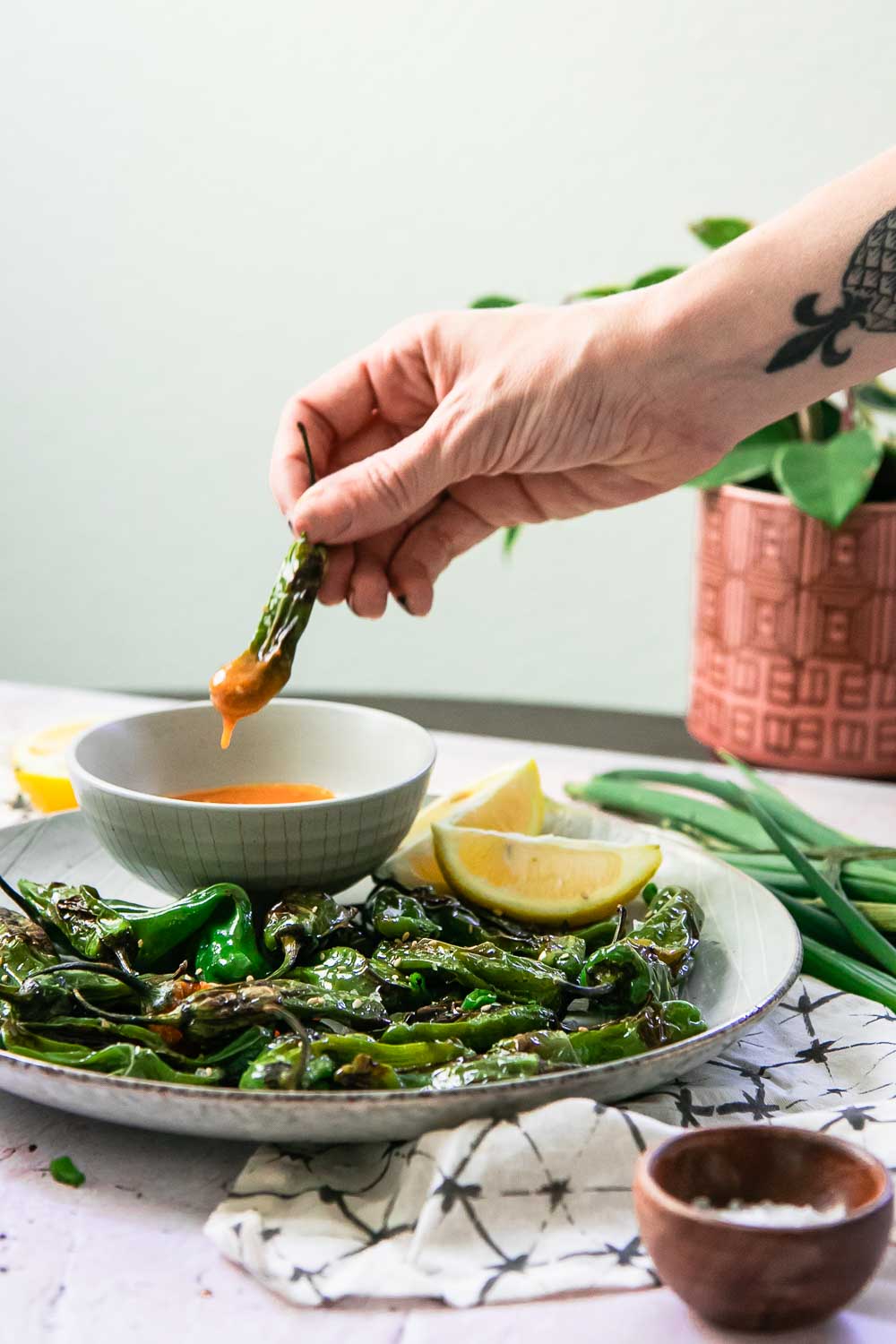 ---
More easy plant-based appetizers
Love easy vegetable-focused appetizer recipes? Check out our other simple vegan apps:
Yield: 4 servings
Pan Roasted Shishito Peppers
Easy Pan Roasted Shishito Peppers, a simple plant-based blistered pepper appetizer served with a spicy tahini dipping sauce that's ready in only 10 minutes!
Prep Time 5 minutes
Cook Time 5 minutes
Total Time 10 minutes
Ingredients
Roasted Shishito Peppers
1/2 pound (225 grams) shishito peppers
1 tablespoon oil
pinch sea salt
juice of one lemon
Optional garnish: furikake, togarashi, sesame seeds
Spicy Tahini Sauce
1/4 cup tahini
3 tablespoons soy sauce
2 tablespoons rice vinegar
2 teaspoons paprika
1 teaspoon minced garlic
pinch salt
pinch sesame seeds, as garnish
Instructions
Wash shishito peppers thoroughly before cooking. Heat oil in a large skillet over medium heat, coating bottom of the pan completely with oil.
Add peppers to skillet and pan fry until roasted and blistered, about 5 minutes. Use a spatula to move peppers while cooking to blister all sides and sprinkle with sea salt, lemon juice, furikake, or other seasonings of choice before removing from pan and transferring to a serving plate.
Spicy tahini dipping sauce: To a medium mixing bowl add tahini, soy sauce, rice vinegar, paprika, minced garlic, and salt and whisk or mix with a fork to combine. Serve on the side with roasted shishito peppers.
Notes
Notes: These grilled shishito peppers are delicious with or without sauce, so feel free to omit the sauce if desired.
Tools Needed: cast iron skillet, glass mixing bowls
Prep Ahead: make spicy tahini dipping sauce up to three days ahead of time
Leftovers and Storage: charred shishito peppers are best right after roasting, however you can refrigerate them for, though we would suggest eating within two days for best texture and flavor

Nutrition Information:
Yield:
4
Serving Size:
1
Amount Per Serving:
Calories: 185
Total Fat: 16g
Saturated Fat: 2g
Trans Fat: 0g
Unsaturated Fat: 13g
Cholesterol: 0mg
Sodium: 480mg
Carbohydrates: 9g
Fiber: 3g
Sugar: 1g
Protein: 5g
Did you make this pan fried peppers recipe? Leave a comment below and rate the recipe to let us know how it turned out. Save this recipe for later by pinning to your favorite appetizer Pinterest board and make sure to tag me on Fork in the Road's Instagram to show me your shishito pepper creations!
We are participant in the Amazon Services LLC Associates Program, an affiliate advertising program designed to provide a means for us to earn fees by linking to Amazon.com and affiliated sites.