Pan Roasted Shishito Peppers
Easy Pan Roasted Shishito Peppers, a simple plant-based blistered pepper appetizer served with a spicy tahini dipping sauce that's ready in only 10 minutes!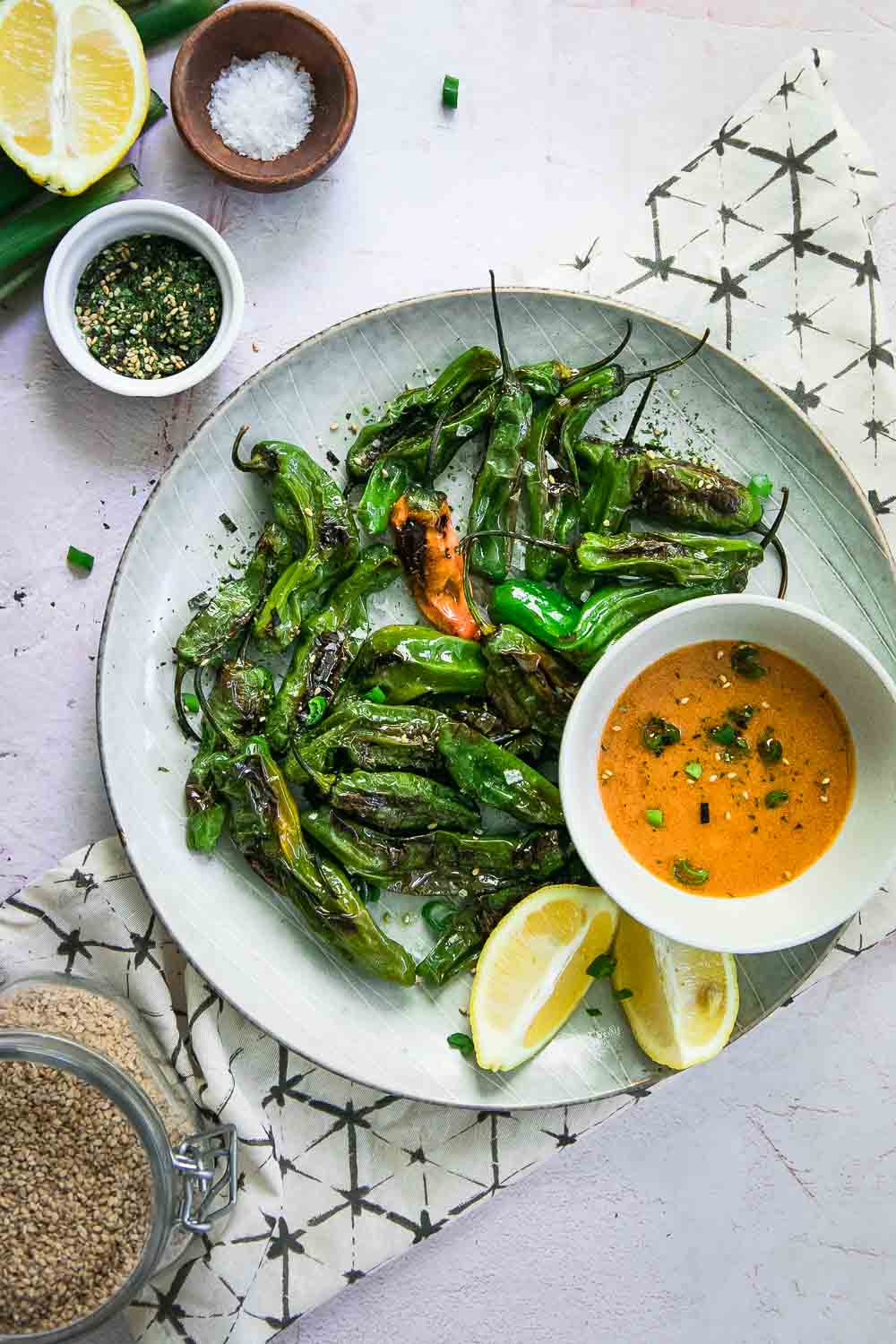 Are you hip to shishito peppers? These tiny Japanese peppers are trending in the culinary world right now, and have quickly become one of our favorite vegan appetizer picks when dining out.
The great thing about shishitos is that they're also super simple to make at home. With only 10 minutes and a few simple ingredients, these peppers are sure to be your new favorite healthy snack pick.
👉 Here are three reasons why you should be pan roasting shishito peppers to make a delicious appetizer:
You only need a few ingredients. Shishito peppers, oil, salt, and lemon are the key ingredients you need to make this recipe. It is fairly easy to find shishito peppers at Asian markets or your local grocery store, and the rest of the ingredients you may already have in your fridge or pantry.
They're delicious. Pan-roasting shishito peppers really brings their naturally sweet, spicy flavor to life. And the tahini sauce adds new flavor depths
They're easy to make. If you're looking for a new, easy-to-prepare veggie to add to your menu: shishito peppers are a great choice! They are simple to cook especially if you pan roast them, you'll have a tasty side on the table in less than 15 minutes.
Ready to learn how to make shishito peppers with spicy tahini sauce? Let's do it!
---
🌶 Ingredients
To make Pan Roasted Shishito Peppers, you'll need a combination of seasonings and oil, plus the ingredients to make the spicy tahini sauce. Here's an overview of what you'll need to make it:
Shishito Peppers: small, bright green peppers that have a mildly spicy flavor and a "wrinkly" appearance.
Oil: you will need a heat-safe oil like grapeseed or avocado oil to pan roast the peppers.
Salt and lemon juice: the peppers will be combined with a little sea salt and fresh lemon juice for a flavor boost.
Optional garnish: furikake, togarashi, and sesame seeds
Spicy Tahini Sauce: the ingredients you'll need to make the sauce include tahini, soy sauce, rice vinegar, paprika, minced garlic, salt and sesame seeds.
Recommended tools: Cast iron skillet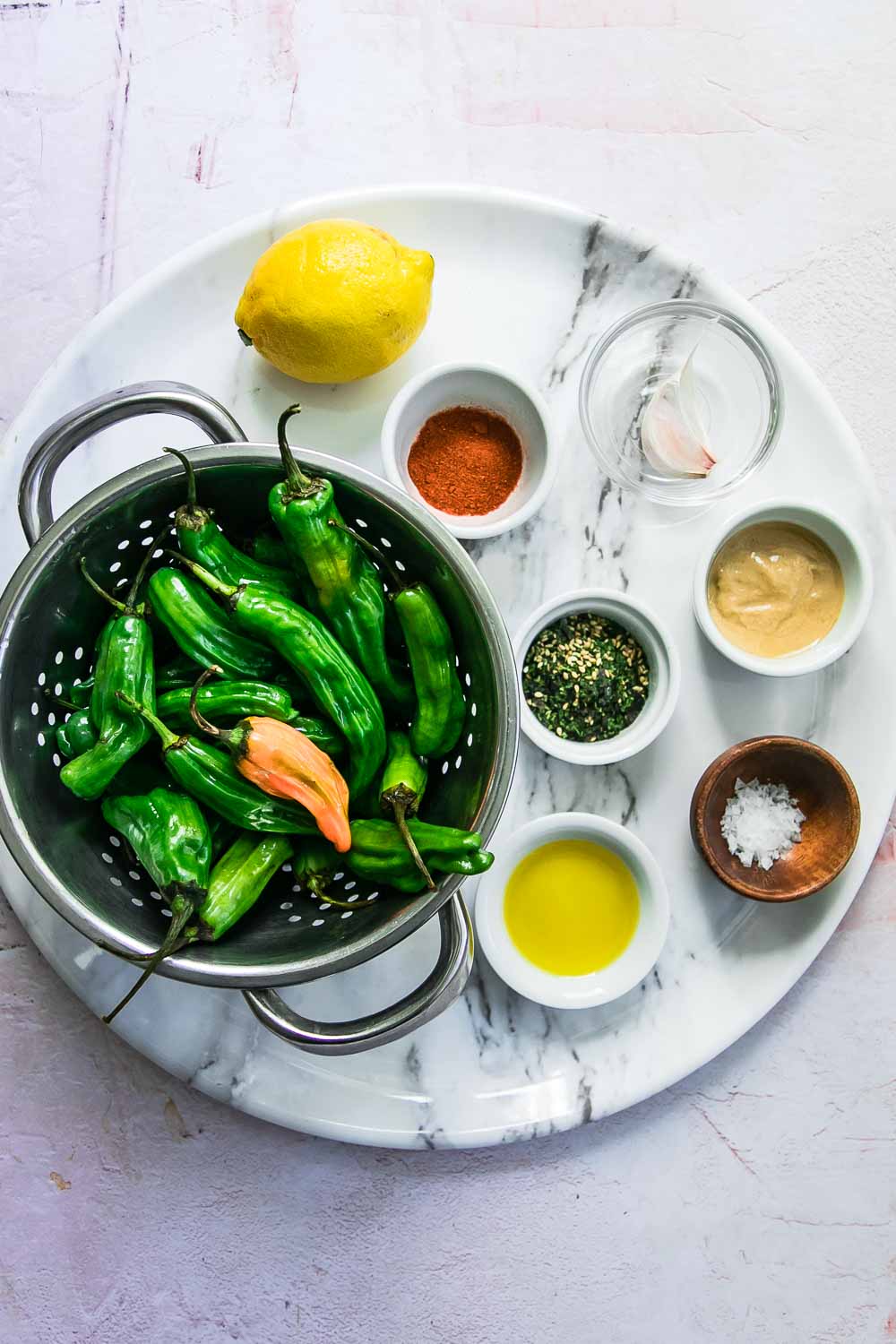 ---
🥣 How to make (step-by-step photos)
🥣 Step One: Prep the shishito peppers
First, you will get the shishito peppers ready for roasting.
If you stored them in the refrigerator, we suggest bringing them to room temperature. Then, wash the peppers well and allow them to dry before cooking.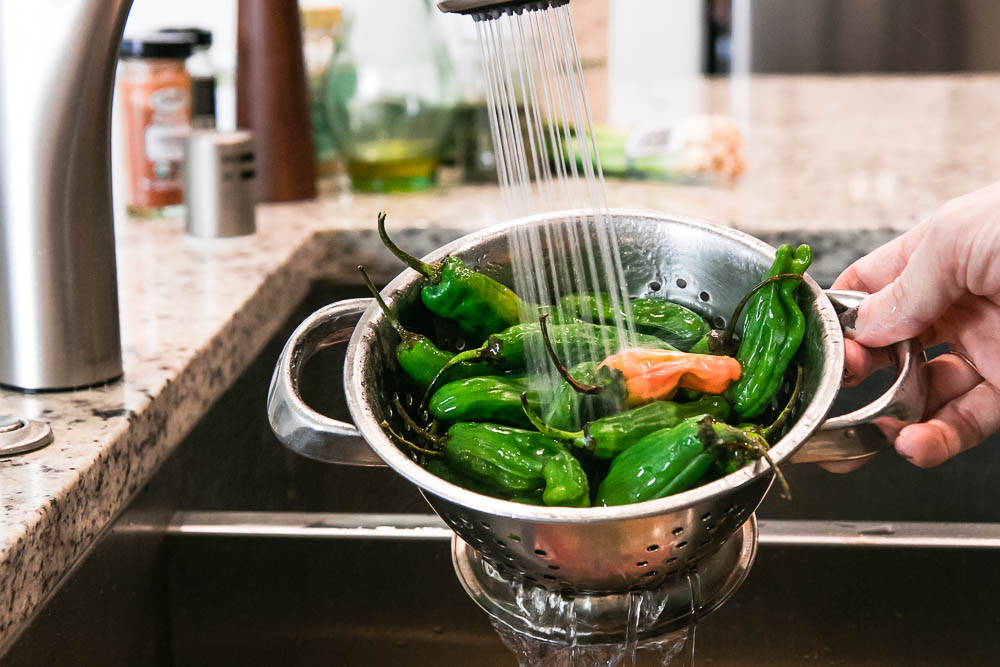 ---
2️⃣ Step Two: Fry the peppers in a skillet
Next, heat oil in a large skillet over medium-high heat. We love our cast iron skillet for the perfect peppers! Coat the bottom of the skillet completely with oil so the peppers do not stick.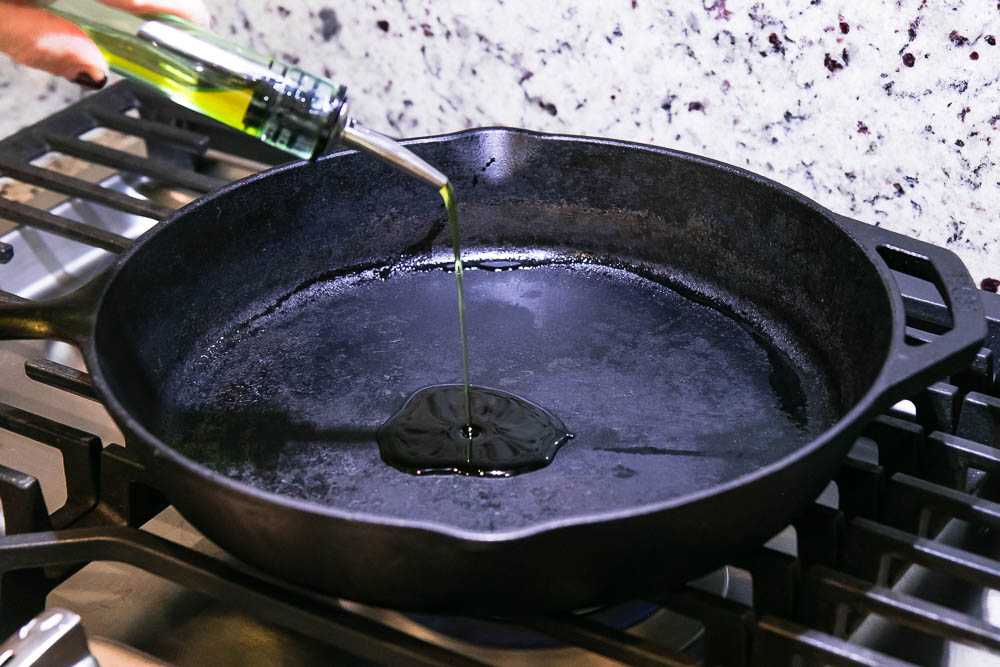 Add the washed peppers to the skillet and pan-fry for about 5 minutes total, making sure to flip them with a spatula or wooden spoon so all sides are cooked. We're looking for a "blistered" look, or when the peppers turn brown and start to slightly soften, without overcooking (think soggy) and losing their color completely.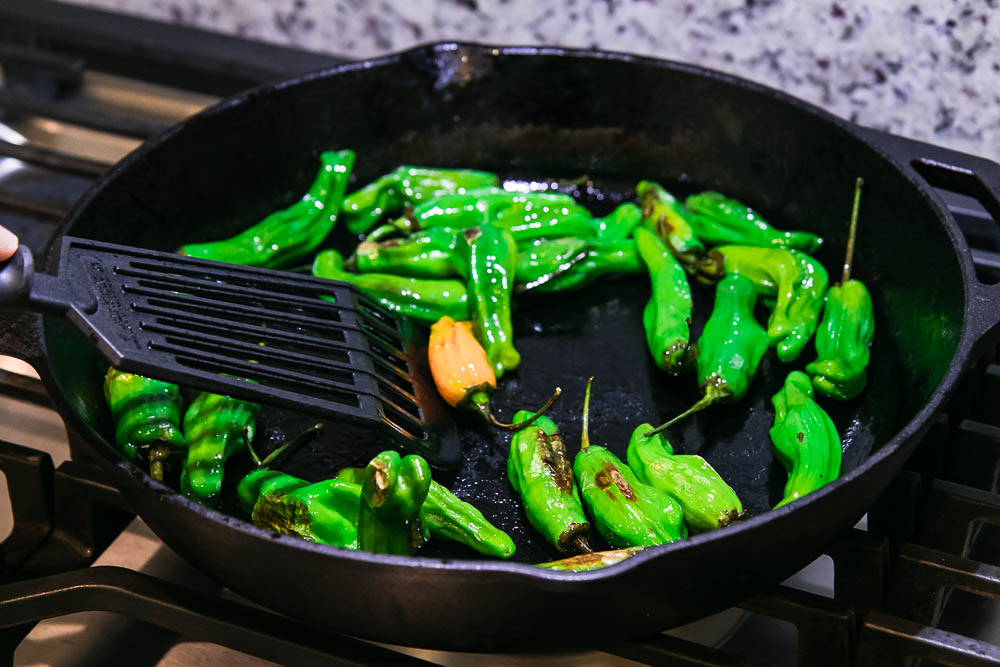 ---
3️⃣ Step Three: Add seasoning to the peppers
When the peppers are almost done, sprinkle a bit of sea salt, drizzle a squeeze of lemon, and top with any additional spices like furikake, tograshi, or sesame seeds.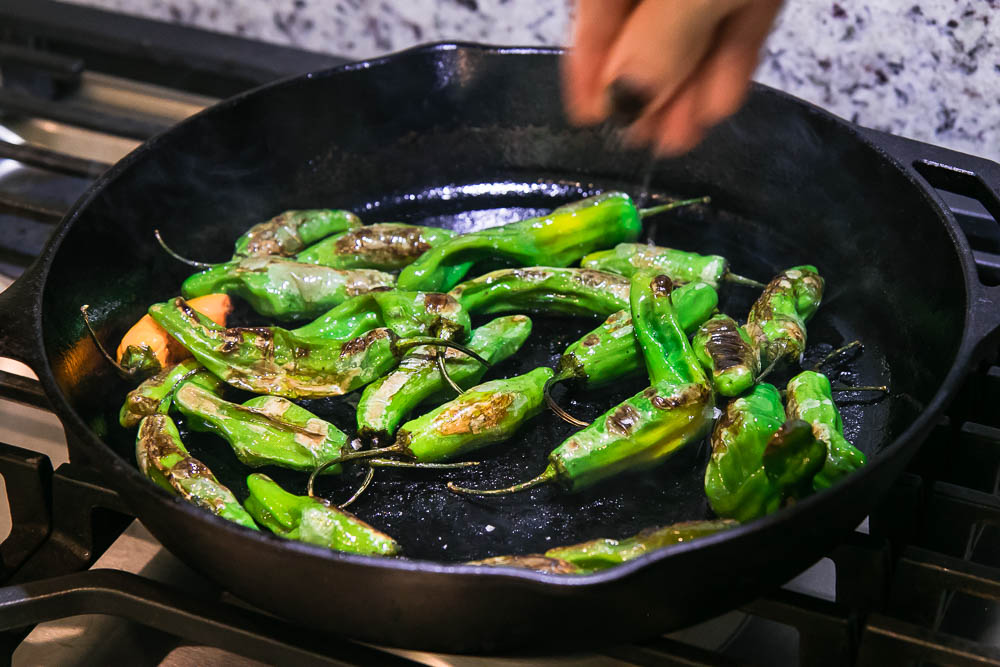 ---
4️⃣ Step Four: Make the spicy tahini dipping sauce + serve
Finally, it's time to make the spicy tahini dipping sauce that you will serve the shishito peppers with. Add tahini, soy sauce, rice vinegar, paprika, minced garlic, and salt to a medium mixing bowl. Use a whisk or fork to mix the ingredients until well-combined.
Place the Pan Roasted Shishito Peppers on a plate or serving dish with the sauce on the side. Enjoy!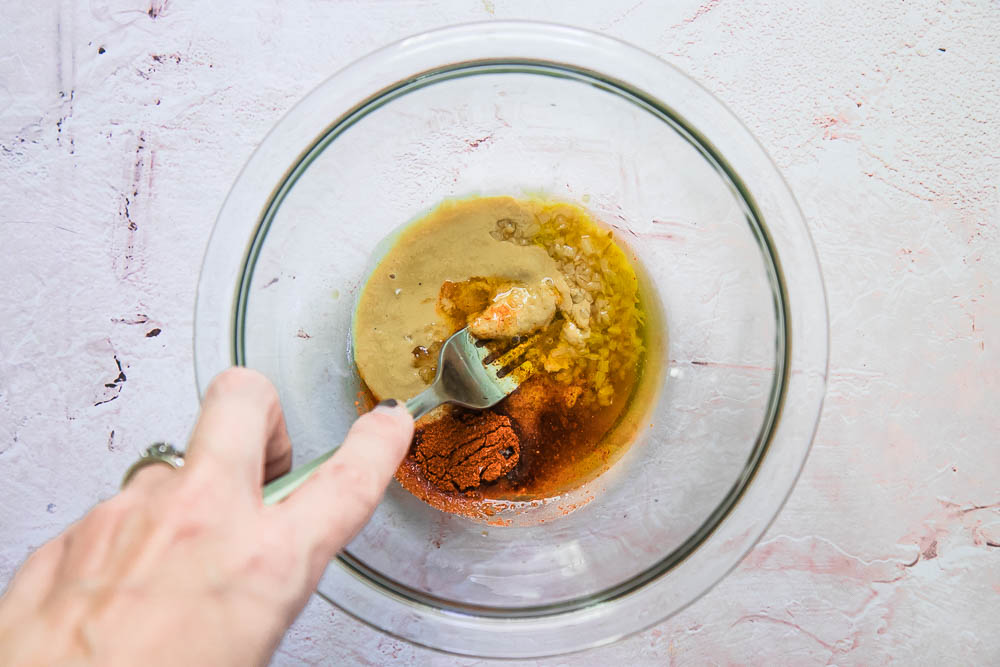 ---
❓ Recipe questions + quick tips
Where do you buy shishito peppers?
Shishitos are typically available in any Asian market, but because they're becoming more popular you may find them in traditional grocery stores (we did!).
What do you eat shishito peppers with?
Shishito peppers are commonly served as an appetizer or side dish, and they taste great with just about anything. They taste great with other vegetables and can be roasted along with your favorites—try them with onions, bell peppers, or tomatoes. You can use them to make kabobs, as a taco topping, on sandwiches, or mixed into soup. We love serving cooked shishito peppers with sauce for a flavor boost.
What are shishito peppers good for?
There are a variety of vitamins, minerals, and antioxidants in shishito peppers, including vitamin C, A, and E. They're also high in fiber, which is important for good digestion and keeping you full. We recommend eating shishito peppers for the health benefits!
---
👉 How to serve
Blistered peppers are super easy to make and there are so many ways to enjoy them. Here are a few ideas to give a try:
With a dipping sauce: Our simple yet flavorful tahini dipping sauce pairs perfectly with shishito peppers! It's spicy and full of seasonings that you won't be able to get enough of. However, you can serve shishito peppers with any sauce that you like.
As an appetizer or side dish: This is the best way to serve shishito peppers as they add flavor and color to just about any meal. Serve them with a quick weeknight dinner or cook up a batch to serve at your next potluck.
Use as a taco topping: Add some veggies to your tacos by using shishito peppers as a topping.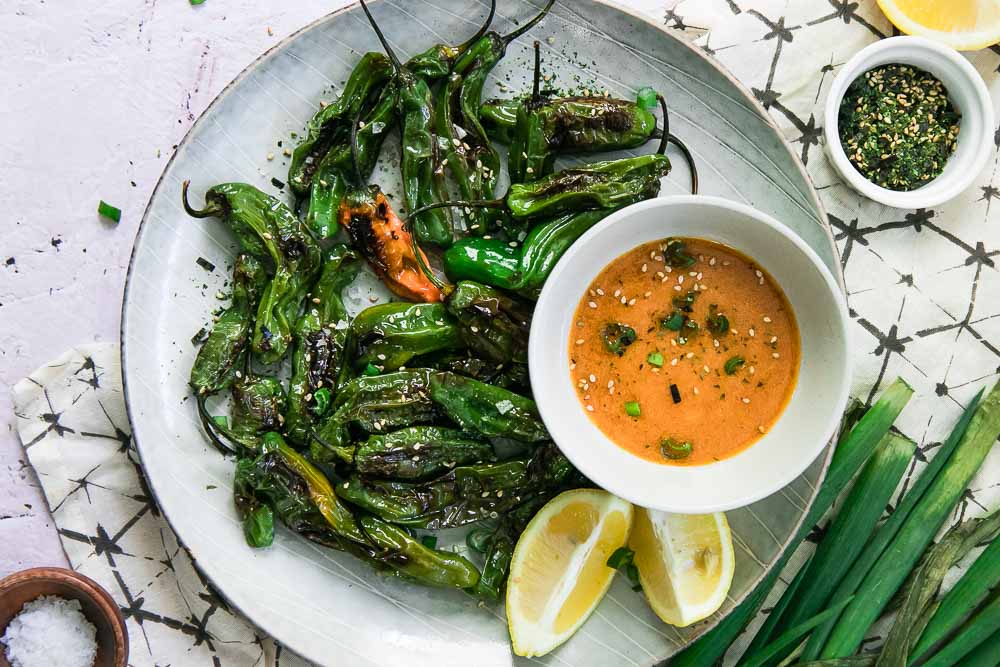 ---
🧊 How to store
For the best flavor and quality, we suggest enjoying charred shishito peppers right after roasted. However, you can refrigerate them for up to 3-4 days, though we would suggest eating within two days for best texture. We do not recommend freezing cooked shishito peppers.
---
♻️ Sustainable kitchen tips
Are you a sustainability guru? Us too! Here are some ways that you can make this recipe as environmentally friendly as possible:
Buy shishito peppers fresh and in season. Fresh peppers are usually available year-round. However, they have a peak during summer and early fall—purchasing them when they're in season is better for the environment. We don't recommend buying them frozen because they are a delicate pepper and become soggy when thawed.
Make the most of veggie scraps. If you have scraps from the peppers, make sure to compost them rather than tossing in the trash. Depending on your taste preference, you can also add them to homemade vegetable broth.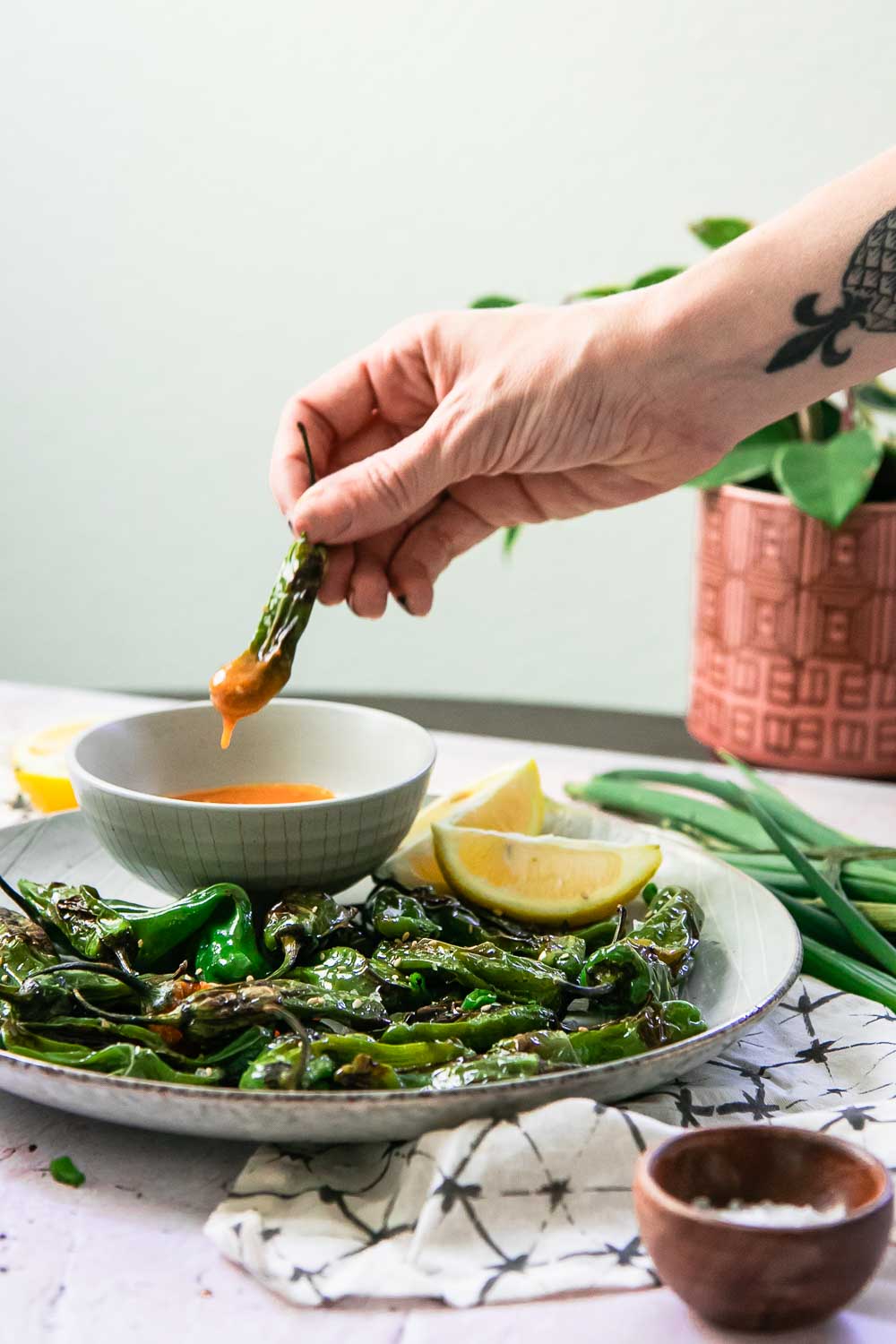 ---
🌿 More easy plant-based appetizers
Love easy vegetable-focused appetizer recipes? Check out our other simple vegan apps:
♻️ Want more inspiration for going green in the kitchen? Join the Green Living Community for plant-based recipes, sustainable kitchen hacks, and get our FREE guide to meal planning to reduce food waste!
Pan Roasted Shishito Peppers
Easy Pan Roasted Shishito Peppers, a simple plant-based blistered pepper appetizer served with a spicy tahini dipping sauce that's ready in only 10 minutes!
Ingredients
Roasted Shishito Peppers
½

pound

shishito peppers

1

tablespoon

oil

1

pinch

sea salt

1

tablespoon

lemon juice

from about 1 lemon

1

pinch

sesame seeds
Spicy Tahini Sauce
¼

cup

tahini

3

tablespoons

soy sauce

2

tablespoons

rice vinegar

2

teaspoons

paprika

1

teaspoon

minced garlic

1

pinch

salt

1

pinch

sesame seeds

as garnish
Instructions
Wash peppers + prep pan: Wash shishito peppers thoroughly before cooking. Heat oil in a large skillet over medium heat, coating bottom of the pan completely with oil.

Roast peppers: Add peppers to skillet and pan fry until roasted and blistered, about 5 minutes. Use a spatula to move peppers while cooking to blister all sides and sprinkle with sea salt, lemon juice, furikake, or other seasonings of choice before removing from pan and transferring to a serving plate.

Spicy tahini dipping sauce: To a medium mixing bowl add tahini, soy sauce, rice vinegar, paprika, minced garlic, and salt and whisk or mix with a fork to combine. Serve on the side with roasted shishito peppers.
Notes
Notes: These grilled shishito peppers are delicious with or without sauce, so feel free to omit the sauce if desired.
Tools Needed: cast iron skillet, glass mixing bowls
Prep Ahead: make spicy tahini dipping sauce up to three days ahead of time
Leftovers and Storage: charred shishito peppers are best right after roasting, however you can refrigerate them for, though we would suggest eating within two days for best texture and flavor
Nutrition
Serving:
1
g
Calories:
135
kcal
Carbohydrates:
5
g
Protein:
4
g
Fat:
12
g
Saturated Fat:
1
g
Polyunsaturated Fat:
5
g
Monounsaturated Fat:
5
g
Trans Fat:
1
g
Sodium:
779
mg
Potassium:
112
mg
Fiber:
1
g
Sugar:
1
g
Vitamin A:
88
IU
Vitamin C:
5
mg
Calcium:
31
mg
Iron:
1
mg
UPDATE: This recipe was originally published in March 2020 and was updated for clarity in December 2021.