Roasted Beet Fries
Roasted Beet Fries, an easy roasted beet recipe that is perfect as a side dish or salad topper. Oven-baked red and golden beets topped with olive oil, smoked sea salt, and black pepper. Who said simple is boring?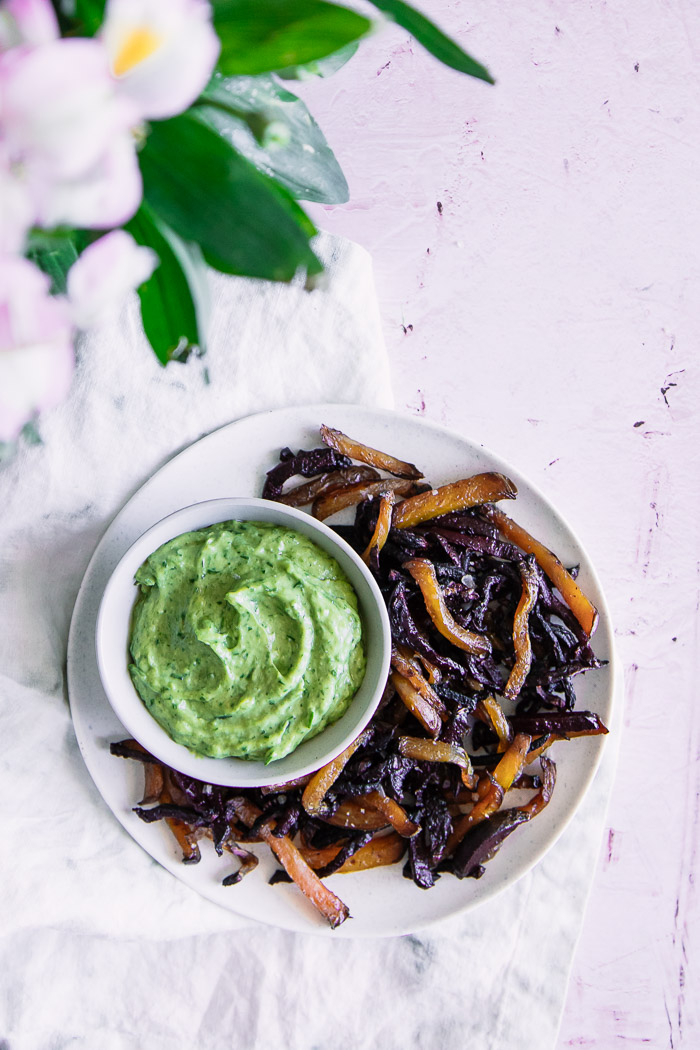 Are you a beet lover? I was definitely a late blooming lover of beets. Many people say they taste like dirt, but I think that loving the earthy taste of beets is an acquired taste. As you become a lover of vegetables and things that grow in the ground, for some reason beets begin to grow on you.
However, I understand how beets can be off-putting to some and that's why I always recommend starting your love affair with golden beets. Golden beets are much lighter and sweeter in taste and are a great jumping off point when adventuring and cooking with beets (my Smoked Golden Beet Carpaccio Salad is a great golden beet recipe to try!).
For that reason, this Roasted Beet Fries recipe using both red and golden beets is a great gateway recipe to exploring both sweeter golden beets and earthier (and messier!) red beets.
With only five ingredients (including salt and pepper!) and minimal prep, this is the perfect side dish for simple barbecues or even as a salad topping for a fresh bed of greens.
Feel Good Foods: Roasted Beets
Beets are a great vegetable choice when you're looking to get out of a vegetable rut and switch up your normal side dish routine. Beets are not only a delicious veggie selection, but they are also a nutrition powerhouse too! Beets have:
Fiber: One cup of beets has four grams of fiber, about ⅕ of what you need in a day (depending on your age and gender). Fiber is important for digestion, blood cholesterol control, and has been linked to lower incidences of some cancers.
Antioxidants: The bright colors of golden and red beets are from antioxidants, specifically polyphenols and betalains. Antioxidants work to counteract deterioration and damage of cells in your body, and can play a role in improved mood.
Low in calories and fat, high in nutrients: Beets are packed with nutrients like folate (vital for red blood cell production), manganese (synthesizes nutrients in the body), and potassium (important for heart and blood pressure regularity), and low in calories and fat–which makes them a great nutrient-dense food. Choosing nutrient-dense foods most of the time is a great way to improve nourish your body AND your mind!

Roasted Beet Fries: Tips, Tricks & Tools
This Roasted Beet Fries recipe is about as simple as it gets. One of the most common issues with cooking beets is that they can be very messy – think red beet juice ALL OVER your kitchen messy. Some have compared it to a murder scene. You get the picture.
But this roasted beet recipe skips that issue by keeping the beet skins (after a good wash), which minimizes the mess. Win for us lazy cooks who hate clean up!
After washing and cutting the beets, toss them with olive oil, smoked sea salt (my favorite Amazon find of the moment), and cracked black pepper.
Then roast in the oven for 30-40 minutes, or until they begin to dry and become crisp (they will not get super crispy like potatoes, so keep that in mind).
I love to serve roasted beet fries with a delicious herby dip, like my Vegan Green Goddess Avocado Dip. A simple plant-based dip for an easy, yet delicious roasted beet recipe. Don't get much better than that!
---
Loving this roasted beets recipe? Try another of my simple roasted vegetable recipes, like this Roasted Brussels Sprouts with Shallots, Maple, and Mustard and Grilled Zucchini Goat Cheese Bake. Great for side dishes or as the main event on weekday nights when you don't feel like cooking.
Did you try this Roasted Beet Fries recipe? Leave a comment and recipe rating below to let us know how it turned out. Save this recipe for later by pinning it to your favorite side dish Pinterest board, and tag me on Instagram so I can see your beet creations!
Yield: 4 (1-cup) servings
Roasted Beet Fries
Oven-baked red and golden beets topped with olive oil, smoked sea salt, and black pepper. Perfect as a side dish or salad topper!
Prep Time 5 minutes
Cook Time 35 minutes
Total Time 40 minutes
Ingredients
3 red beets (about 1 pound)
2 golden beets (about ⅔ pound)
1.5 tablespoons olive oil
½ teaspoon smoked sea salt
⅛ teaspoon ground black pepper
Instructions
Preheat oven to 450 degrees.
Cut beets into ⅛ inch strips (do not peel) and place in a large mixing bowl. Add olive oil, sea salt, and black pepper and stir to coat.
Spread beets onto baking sheets and bake for 30-40 minutes, stirring occasionally to prevent burning and to brown all sides of beets.
Serve with dipping sauce, like Vegan Green Goddess Avocado Dip, or over salads and on sandwiches.
Notes
Leftovers & Storage: Beets can be kept in refrigerator for up to 4 days, however for the best taste and texture serve immediately (we did not try freezing them, so if you do try then let us know how they turn out!).
Nutrition: This Roasted Beet Fries recipe is high in fiber and low in calories and fat. It is also high in potassium and is packed with antioxidants. It is a good choice as a side item and can be paired with your favorite protein and healthy fat for a balanced meal.
*Nutrition information is for beets only, not pictured dipping sauce.
Nutrition Information:
Yield:
4
Serving Size:
1 serving (1 cup)
Amount Per Serving:
Calories: 72
Total Fat: 5g
Saturated Fat: 1g
Trans Fat: 0g
Unsaturated Fat: 4g
Cholesterol: 0mg
Sodium: 313mg
Carbohydrates: 6g
Fiber: 1g
Sugar: 5g
Protein: 1g
We are participant in the Amazon Services LLC Associates Program, an affiliate advertising program designed to provide a means for us to earn fees by linking to Amazon.com and affiliated sites.