Roasted Beet Fries, an easy baked red and gold beet fries recipe with only 5 ingredients and ready in 30 minutes. Bake your beets into tasty vegetable fries!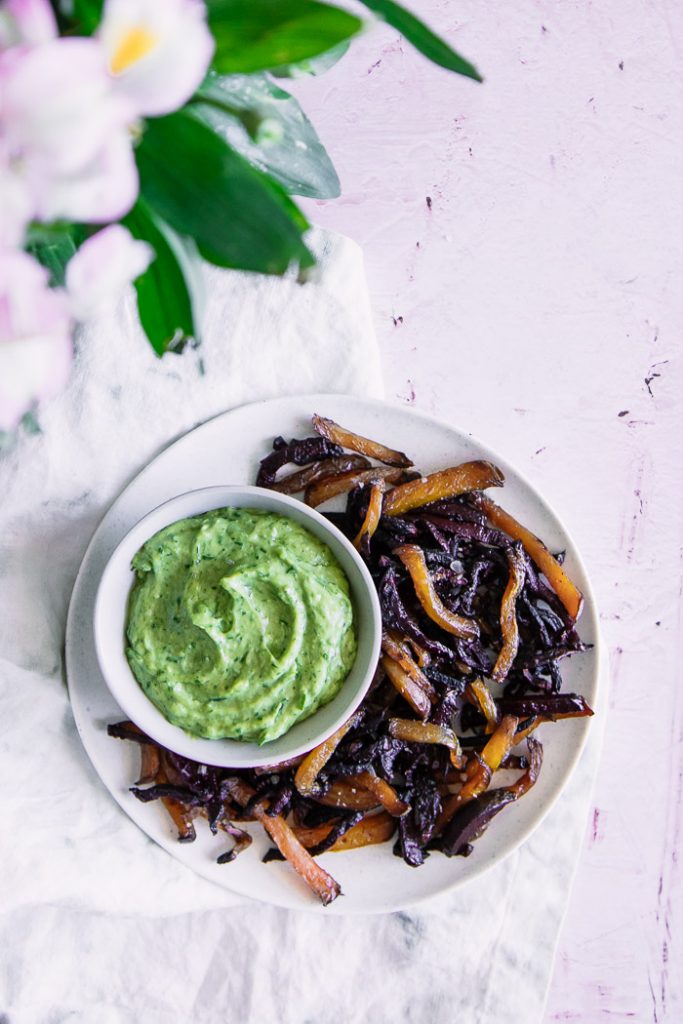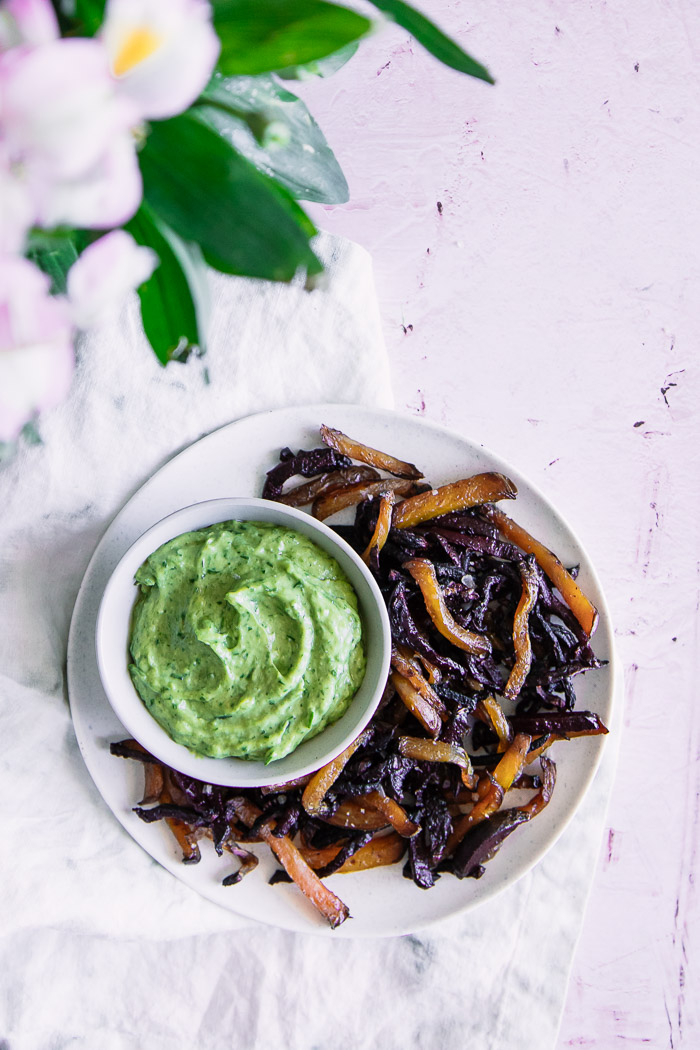 Are you a beet lover? If not, you should be! The earth taste of beets is typically an acquired taste, but once you become a beetroot lover you're in for a culinary treat because if you didn't know already…beets can be made into tasty (and healthier) fries!
👉 Here are three reasons you should be baking beets into fries:
It's simple. With only five ingredients (including salt and pepper!) and minimal prep, this is recipe is as easy as it gets.
It's tasty. Roasting brings out the slight sweetness of beets and pairs perfectly with a bit of salt and pepper.
It's unique. Roasted red and golden beets together makes for an eye-stopping side dish that's sure to be a conversation starter at your next dinner party.
Ready to learn how to make fries from roasted beets? Let's do it!
---
👩‍🍳 How to make (step-by-step photos)
1️⃣ Step One: Cut beets into strips for fries
The first step is to cut beets into strips that can be baked into fries.
To do this we cut the end off the beets, then cut the beet in half, and then cut each half into 1/8 inch (about 3 cm) strips. Add beets to a glass mixing bowl.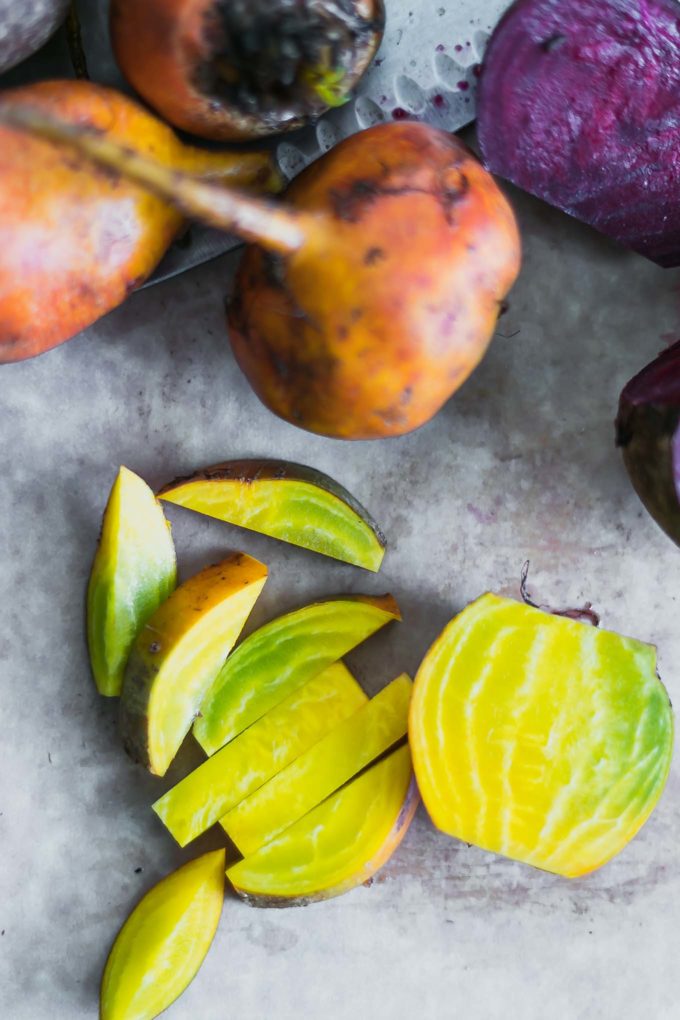 👉 Do you need to peel beets before roasting? The skins on beets are edible and you do not need to peel them before roasting. However, you can peel beets if you do not like peels on vegetables, but we recommend keeping the skins on because it allows the beets to become crispier in the oven. Also, check out our guide for storing beets so they're fresh every time!
---
2️⃣ Step Two: Toss beets with olive oil and spices
Next, add oil, salt, and pepper to the bowl and stir well to coat the beets.
---
3️⃣ Step Three: Bake until crispy
Spread the oil-coated beets on a sheet pan and bake in the oven until crispy, about 30-40 minutes. Stir every 10 minutes or so to make sure the beets are cooked throughout and brown on all sides.
You'll know beets are done when they've significantly reduce in size, and are browned but not burnt. The beets won't be as crispy as a deep fried french fry, but they should have a slight crunch to them.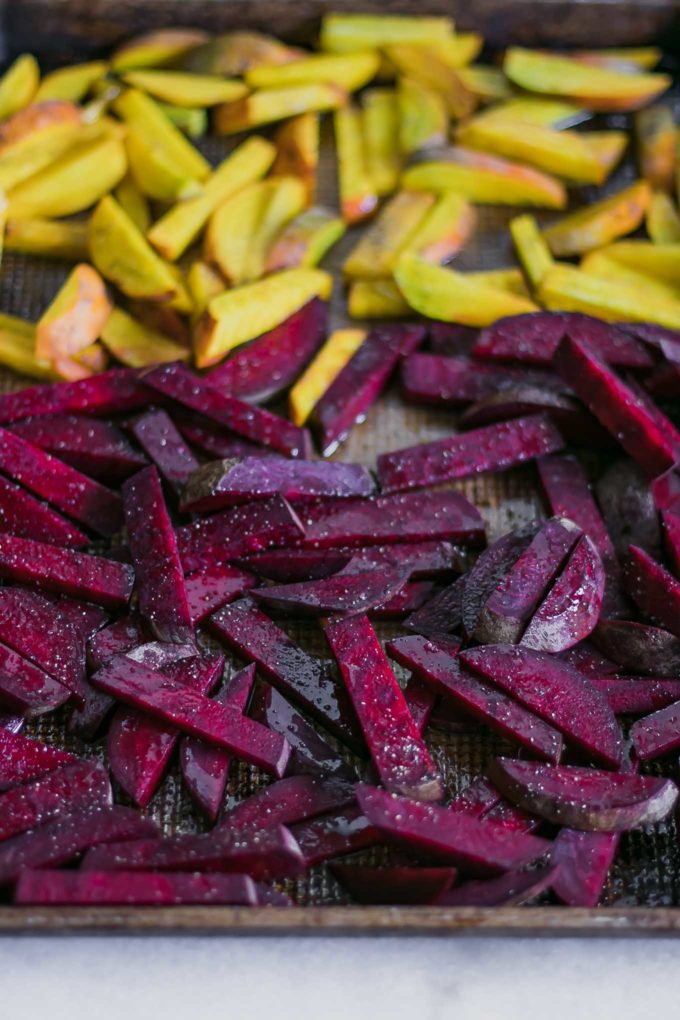 ---
4️⃣ Step Four: Serve with dipping sauce
The final step is optional, as these beet fries are delicious on their own, but we like to serve our beet fries with a tasty dipping sauce like this Vegan Green Goddess Dip.
You can also save any beets to use as a topping on salads or grain bowls.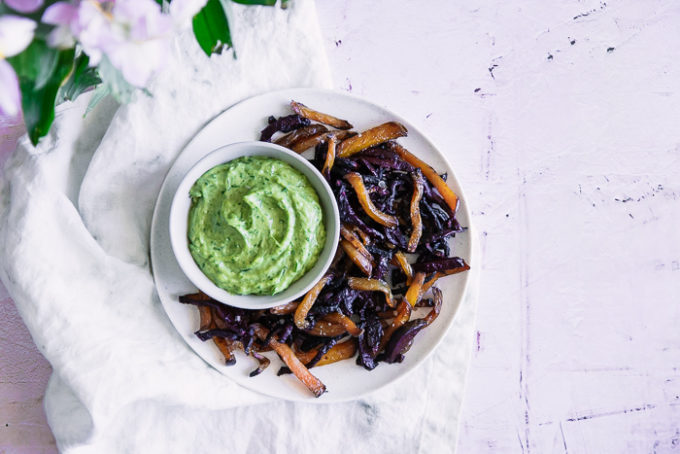 ---
🍟 Why beet fries are healthier than regular fries
Beets are a great vegetable choice when you're looking to get out of a vegetable rut and switch up your normal side dish routine.
Beets are not only a delicious veggie selection, but they are also a nutrition powerhouse too! Beets have:
Fiber: One cup of beets has four grams of fiber, about ⅕ of what you need in a day (depending on your age and gender). Fiber is important for digestion, blood cholesterol control, and has been linked to lower incidences of some cancers.
Antioxidants: The bright colors of golden and red beets are from antioxidants, specifically polyphenols and betalains. Antioxidants work to counteract deterioration and damage of cells in your body, and can play a role in improved mood.
Low in calories and fat, high in nutrients: Beets are packed with nutrients like folate (vital for red blood cell production), manganese (synthesizes nutrients in the body), and potassium (important for heart and blood pressure regularity), and low in calories and fat–which makes them a great nutrient-dense food. Choosing nutrient-dense foods most of the time is a great way to improve nourish your body AND your mind!
Make fries from beets in the oven means not only choosing beets as a healthier vegetables (over traditional potatoes), but baking is a much healthier cooking choice over deep frying.
---
❓ Recipe + ingredients tips
Can you make fries from beets?
You can make fries from beets by deep frying, using an Air Fryer, or by baking beets in the oven. Simply cut beets into fry-size strips and use your fry-making method of choice.
Can you make beet fries in the oven?
You can make beet fries in the oven by baking beets that have been cut into strips until they are crispy, which usually take about 30 minutes.
Do you need to peel beets before roasting?
Beets do not need to be peeled before roasting. You can remove the stems and leaves from beets but keep the peels on before baking.
What is a good dip for beet fries?
Great dips for beet fries include aioli with herbs or a creamy dip with avocado. We serve our baked beetroot fries with an avocado-based green goddess dip.
Where can I buy smoked sea salt?
Smoked sea salt can typically be found at most grocery stores. We suggest Maldon Smoked Sea Salt from Amazon (affiliate link).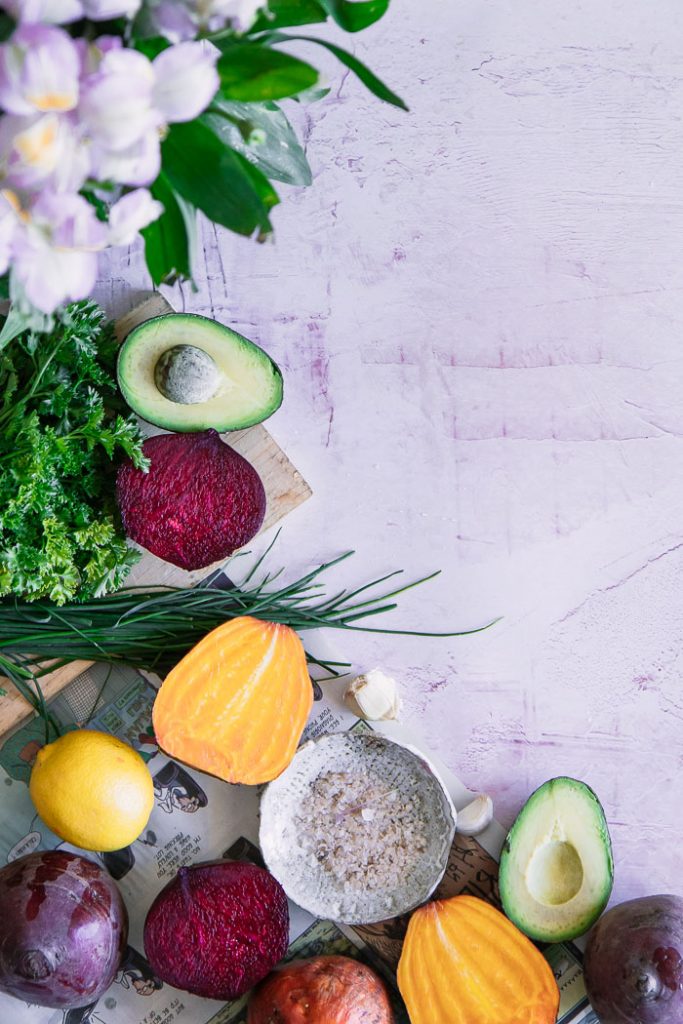 ---
♻️ Sustainable kitchen tips + tools
We believe that living a green lifestyle starts in the kitchen, so here are a few tips to make this recipe healthy for you AND the planet:
👨‍🌾 Take advantage of beet season
Beets are typically in season late summer through early winter and beets are a great vegetable that hold up well to dry storage, so this recipe is best enjoyed from August until March.
🌱 All parts of the beetroot plant are edible
Did you know that you can eat the stems and leaves of beets, as well as the root? Try using the stems in a Beet Greens Pesto or Crispy Baked Beet Leaves recipe for true "root-to-stem" cooking.
🥗 Turn this recipe into leftovers
This beet fries recipe is perfect for leftovers, as the fries can be used to top salads or grain bowls. Don't waste any leftover beets!
---
🥣 More recipes with roasted beets
Loving this roasted beets recipe? Try another recipe using roasted beetroots: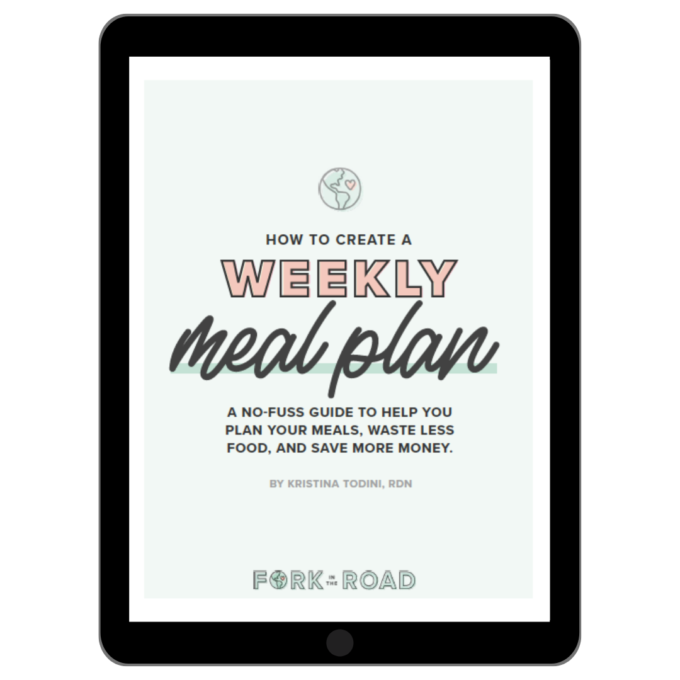 Roasted Beet Fries
Roasted Beet Fries, an easy baked red and gold beet fries recipe with only 5 ingredients and ready in 30 minutes. Bake your beets into tasty vegetable fries!
Ingredients
3

whole

red beets

2

whole

golden beets

1½

tablespoons

olive oil

½

teaspoon

smoked sea salt

⅛

teaspoon

ground black pepper
Instructions
Preheat oven: Preheat oven to 450 degrees.

Cut beets into strips: Cut beets into ⅛ inch (3 cm) strips (do not peel) and place in a large mixing bowl.

Toss with oil and spices: Add olive oil, sea salt, and black pepper to the bowl with beets and stir to coat.

Bake until crispy: Spread beets onto baking sheets and bake for 30-40 minutes, stirring occasionally to prevent burning and to brown all sides of beets.

Serve: Serve with dipping sauce, or over salads and on sandwiches.
Notes
Recipe notes: You do not have to roast both red and golden beets, you can choose one color beets and it is still just as delicious.
Prep ahead: Beets can be cut up to two days ahead of time to reduce cooking time, any longer than that and the beets may begin to dry out before roasting.
Leftovers and storage: Beets can be kept in refrigerator for up to 4 days, however for the best taste and texture of beet fries serve immediately. Any leftovers will not be as crispy, so they will make for great toppings for salads and grain bowls.
Nutrition notes: This recipe is high in fiber, potassium, and is packed with antioxidants. It is a good choice as a side item and can be paired with your favorite protein and healthy fat for a balanced meal. Nutrition information is for beets only, not pictured dipping sauce.
Nutrition
Serving:
1
serving (1 cup)
Calories:
47
kcal
Carbohydrates:
1
g
Protein:
1
g
Fat:
5
g
Saturated Fat:
1
g
Polyunsaturated Fat:
1
g
Monounsaturated Fat:
4
g
Sodium:
292
mg
Potassium:
5
mg
Fiber:
1
g
Sugar:
1
g
Vitamin A:
1
IU
Vitamin C:
1
mg
Calcium:
1
mg
Iron:
1
mg
UPDATE: This recipe was originally posted in June 2018 and was updated for clarity in January 2022.