Roasted Mini Peppers, a simple baked mini bell peppers recipe that can be roasted whole or in slices. Only 4 simple ingredients and ready in 20 minutes!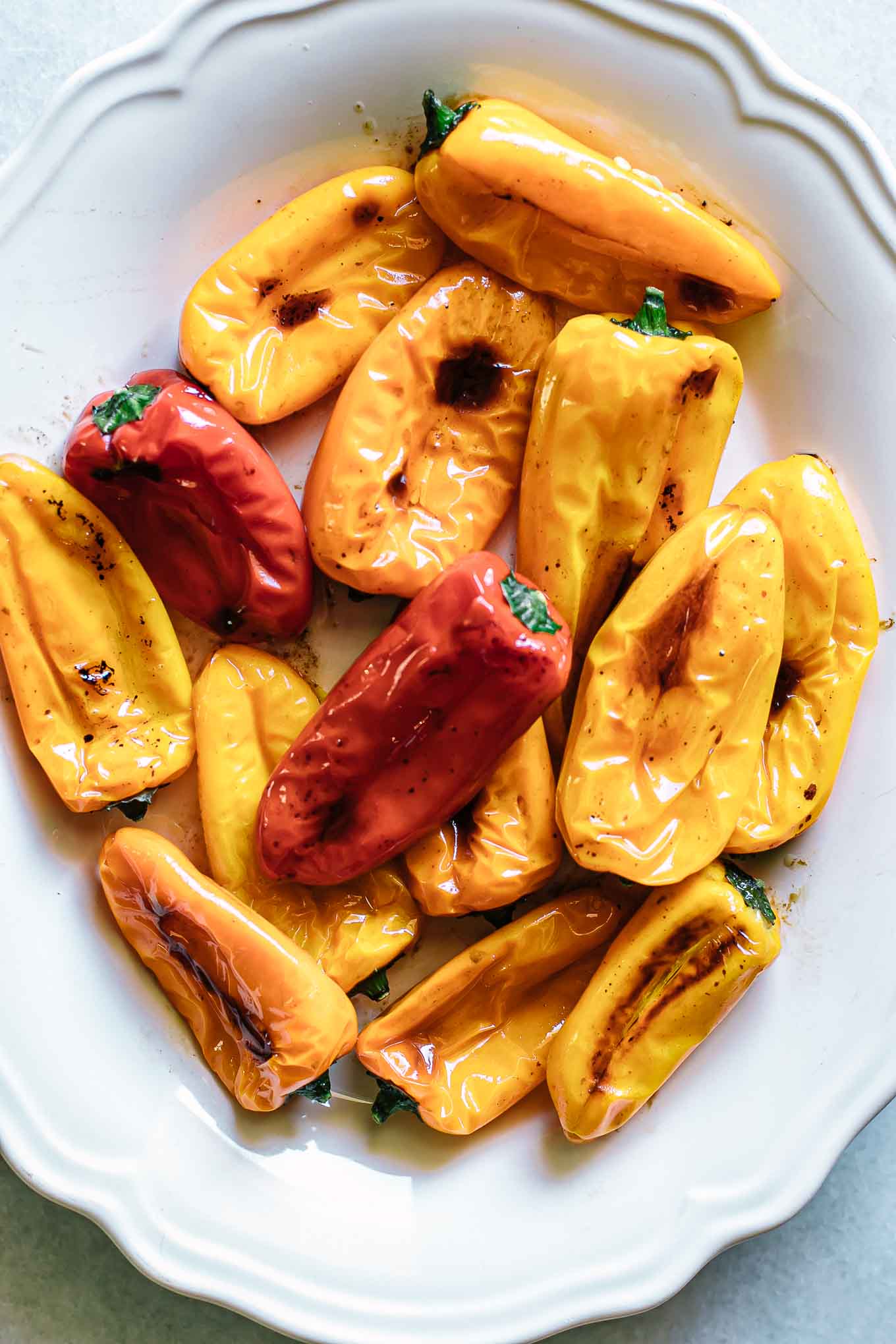 Love mini bell peppers? Try roasting them! This super simple (only 4 ingredients!) recipe is our go-to method for making roasted sweet peppers that are perfect every time.
👉 Ready to learn how to make baked bell peppers in the oven? Let's do it!
---
🍠 Ingredients + tools
Mini peppers: Small, colorful bell peppers – also called "sweet" or mini peppers – are the start of this recipe
Olive oil: To grease the pan and coat the peppers for a deeper flavor and texture when baked
Seasonings: We're keeping it simple with salt and pepper, but we have a suggested seasoning section below with ideas
Equipment needed: knife, cutting board, baking sheet, spatula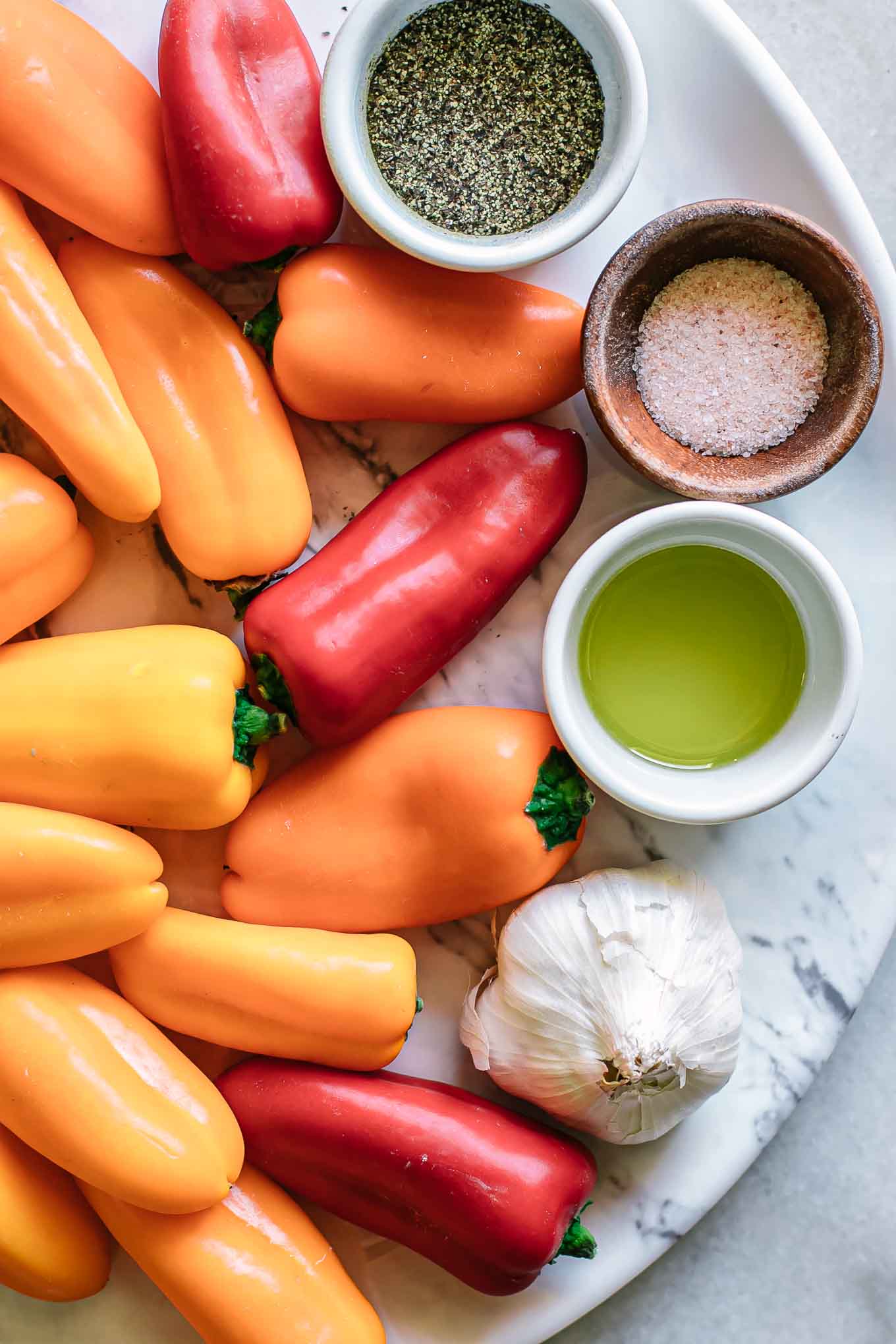 ---
🥣 How to make (step-by-step photos)
1️⃣ Step One: Preheat oven and prep peppers
First, preheat your oven to 400 degrees F (200 C), then wash the mini peppers.
We like roasting sweet peppers whole, but you can also cut into small slices by cutting off the ends of the peppers and then removing the inner flesh and seeds. Then cut the rest of the pepper into rounds or strips.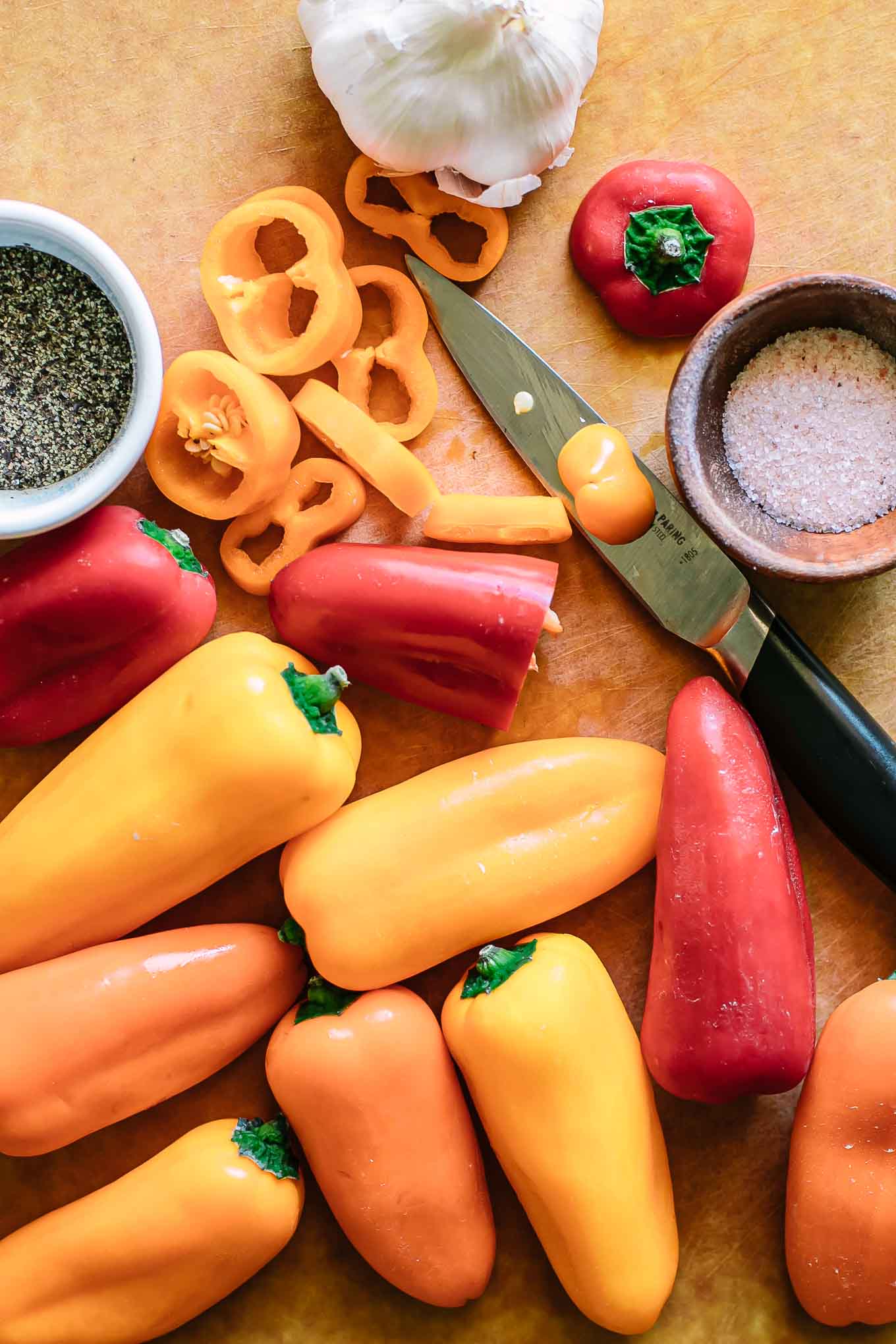 ---
2️⃣ Step Two: Season and add peppers to a baking sheet
Next, place the whole or cut sweet peppers on a roasting or sheet pan.
Toss them with olive oil until completely coated. Season with a sprinkle of salt and pepper, but you can also add any other desired spices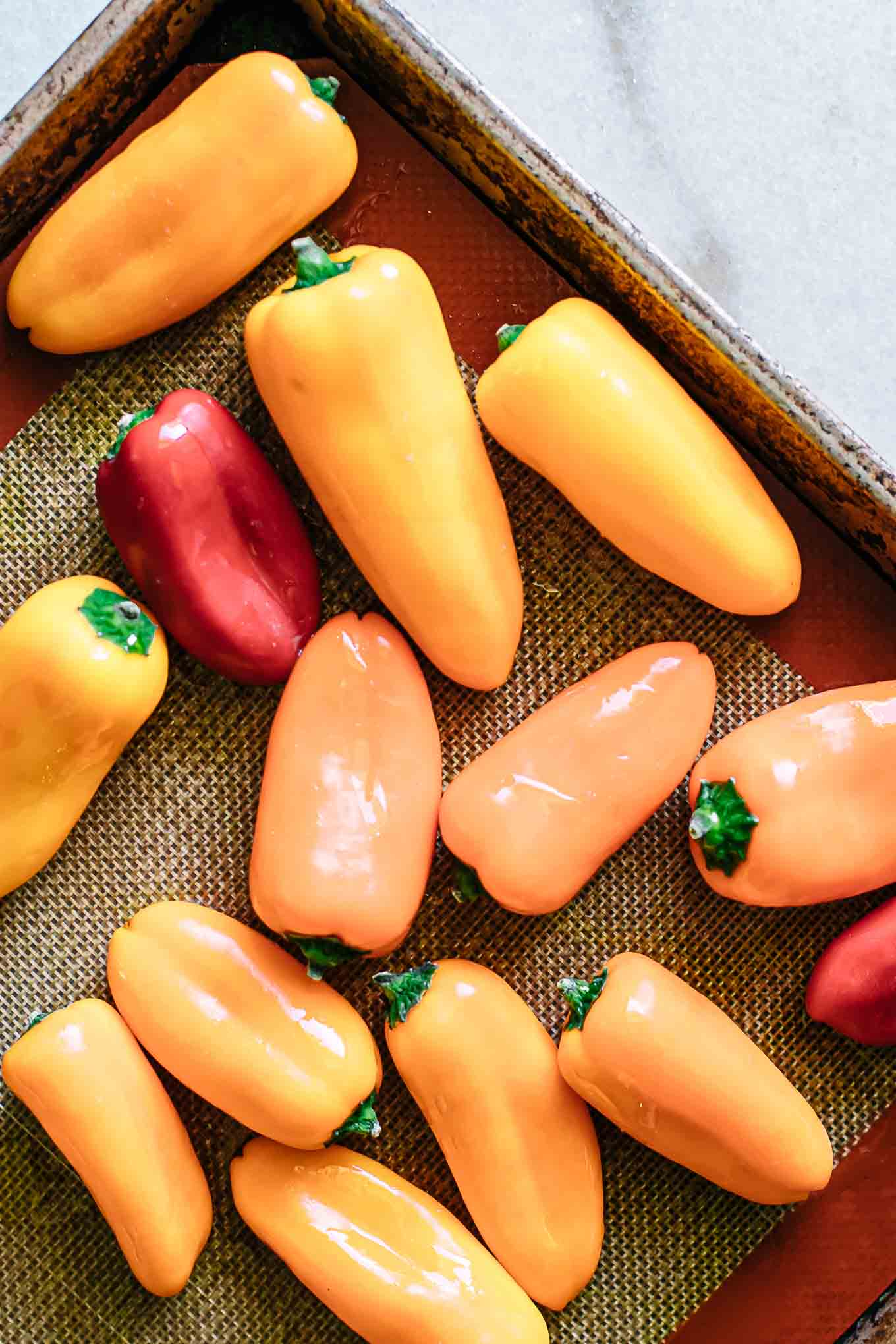 ---
3️⃣ Step Three: Roast in the oven until brown
The last step is to roast in the oven until the peppers are soft and brown around the edges. This will take about 20 minutes, more or less depending on your oven, flipping throughout to brown on all sides.
When the peppers are done cooking, take the baking sheet out of the oven. If eating as a side dish, serve immediately. You can also let them cool and serve on top of salads or bowls.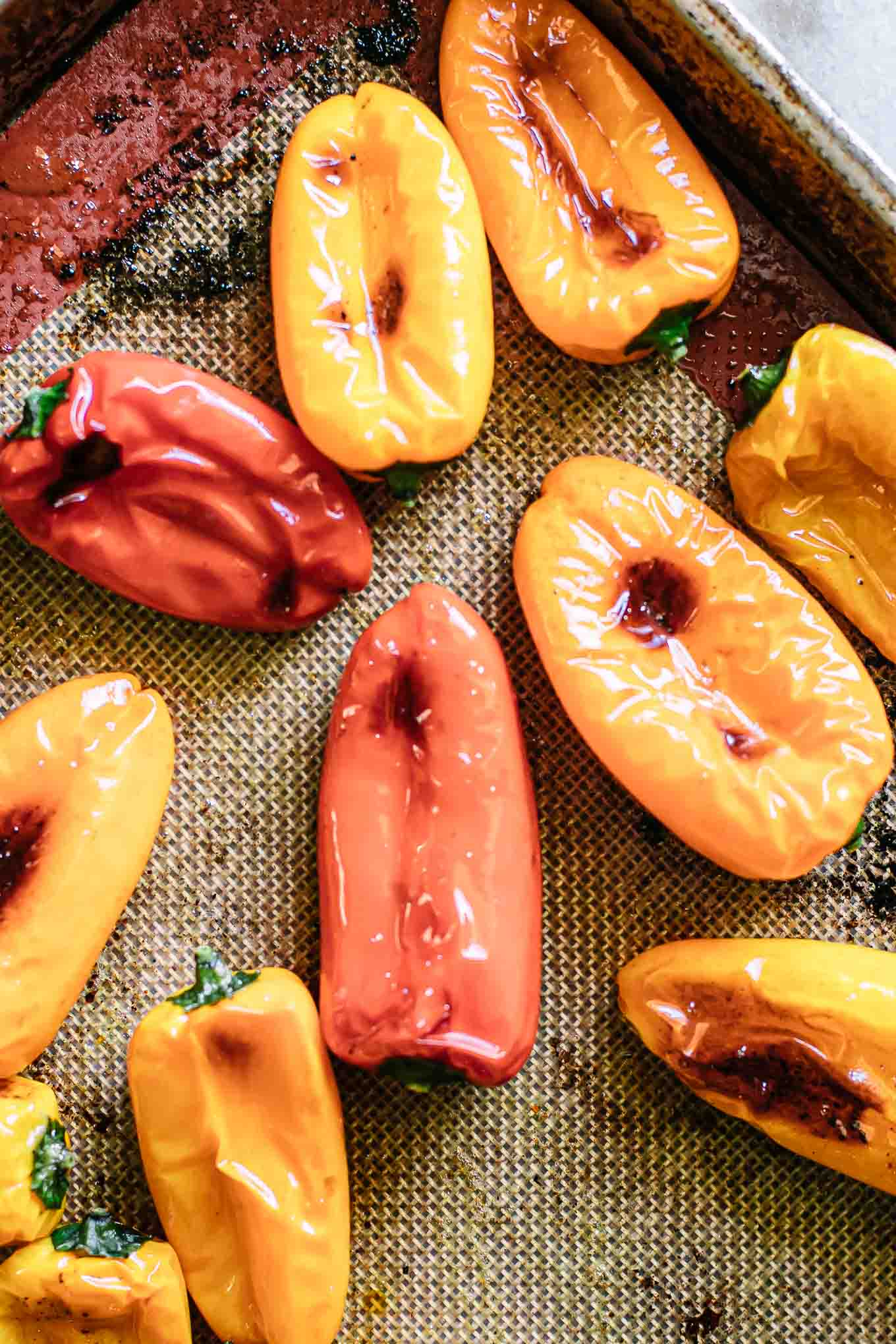 ---
🧊 How to store
Refrigerator storage: Store leftover peppers in an airtight container for up to 4 days
Freezer storage: Freeze leftover bell peppers in an airtight container or freezer friendly bag for up to one month, however their texture may be very soft after thawing
---
💡 Seasoning ideas
Salt and pepper are the simple seasonings we used for this recipe, but get creative with your favorite spices. Here are some ideas:
Cumin, paprika, and sea salt: add a touch of warming cumin and paprika with a sprinkle of flaky sea salt
Paprika, chili powder, and cayenne: add some spice to this dish by roasting peppers with paprika and chili powder, then sprinkling a little cayenne pepper on top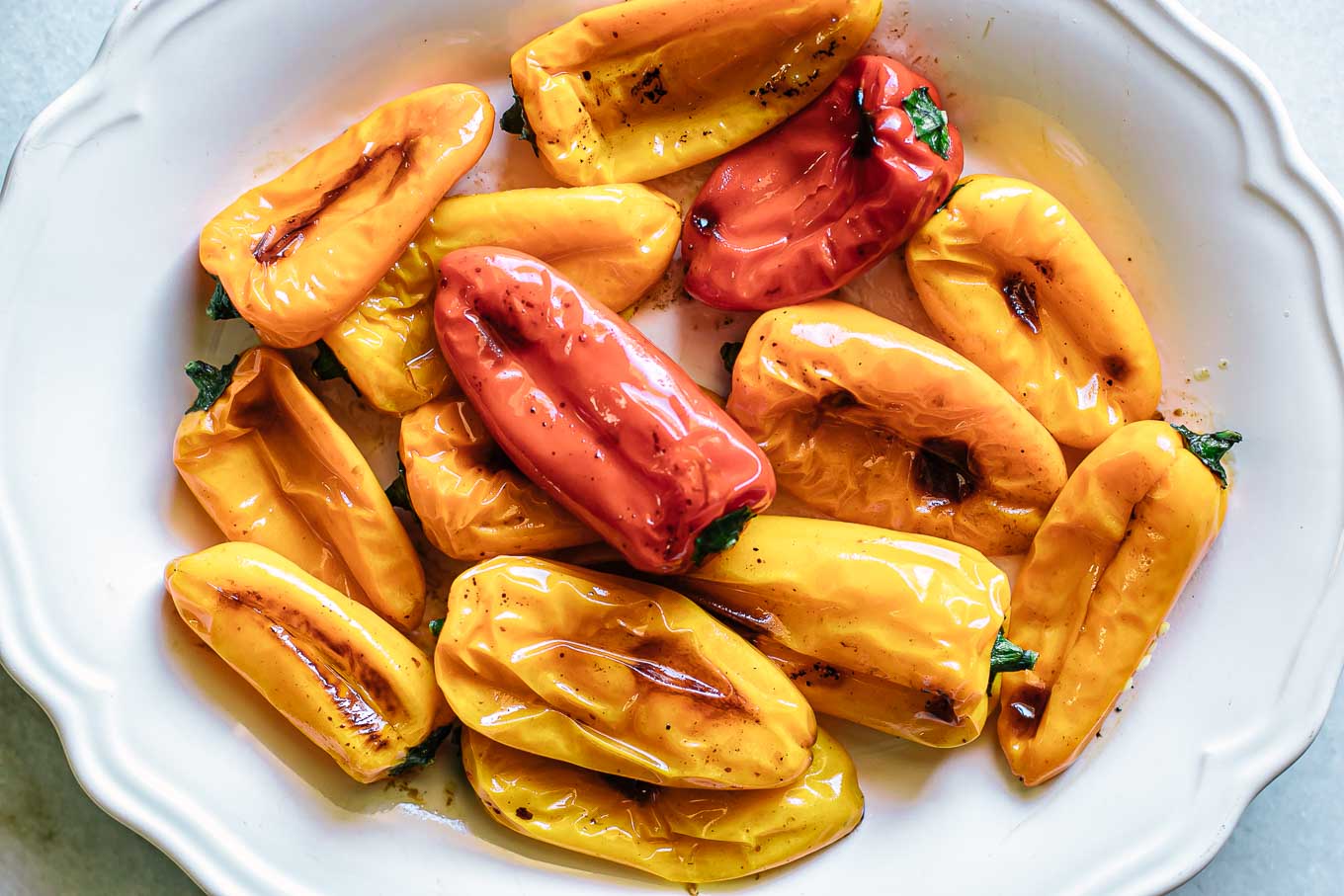 ---
♻️ Sustainable kitchen + cooking tips
We care about reducing food waste here at Fork in the Road, and we know you do too! Here are tips for making this recipe sustainably:
Take advantage of mini pepper season! Eating with the seasons is one of the best things you can do for the environment (and your wallet!). Sweet peppers are in season in the late summer months in most regions. Click here to find out when they are in season in your area.
Save scraps for scrap stock! Don't toss pepper stems in the trash, instead save them with other food scraps to flavor soup stock and never buy packaged vegetable broth again.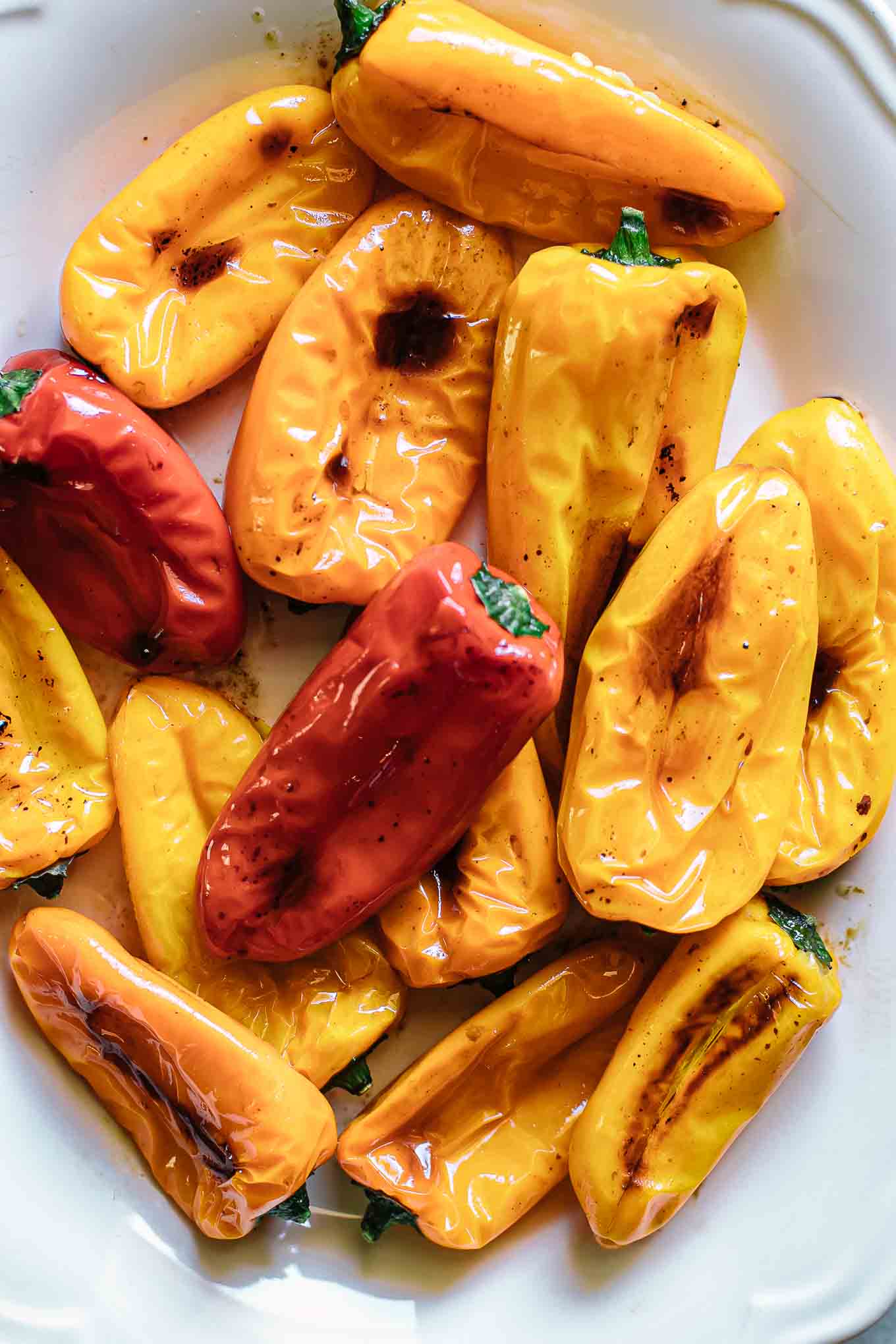 ---
👉 More roasted peppers recipes
Can't get enough of peppers? Try the recipes: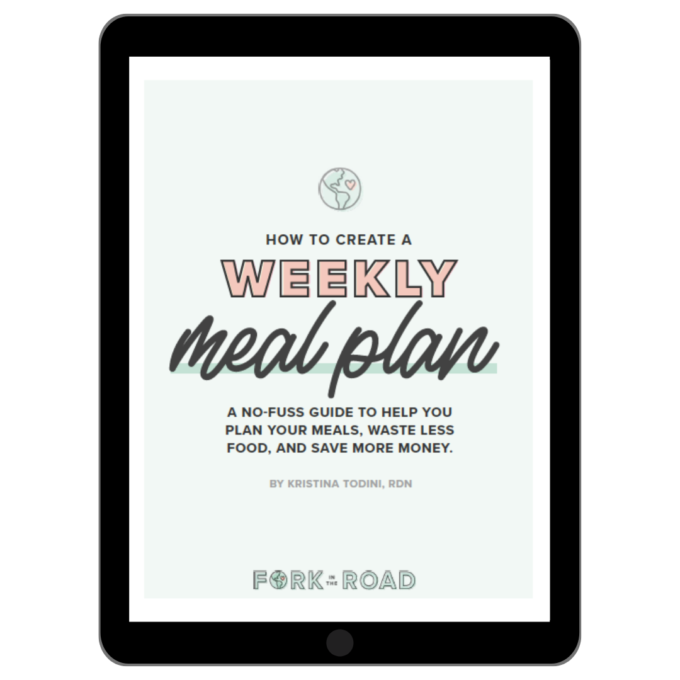 Roasted Mini Peppers
Roasted Mini Peppers, a simple baked mini bell peppers recipe that can be roasted whole or slices. Only 4 simple ingredients and ready in 20 minutes!
Ingredients
1

pound

mini sweet peppers

2

tablespoons

olive oil

1

pinch

salt and pepper

Optional:

sliced garlic, cumin, paprika, etc.
Instructions
Prep oven: Preheat the oven to 400 degrees (200 C).

Prep and season mini peppers: Wash the mini peppers. We roast the peppers whole (like in the photos), but if you'd like to cut them then slice off the stems and peel the inner flesh and seeds, then cut into rounds for the length of the pepper (see photo in instructions in post for example). Then add whole or cut peppers to a baking sheet and drizzle with olive oil, then sprinkle with salt, peppers, and any desired additional spices.

Roast mini peppers: Place sheet pan in the oven and roast the mini peppers for about 17-20 minutes, stirring halfway through to brown on all sides. You'll know the peppers are done when they start to shrivel and are browned.
Notes
Tools Needed: sheet pan, knife set, cutting board
Leftovers and Storage: Roasted peppers should be stored in an airtight container in the refrigerator for up to 3-4 days. For best taste and texture, do not freeze and reheat.
Nutrition notes: Nutrition information is estimated for only ingredients in the recipe, not the additional spice options given. This simple roasted peppers recipe is a good source of fiber, vitamin A, vitamin C, and potassium.
Nutrition
Serving:
1
serving
Calories:
91
kcal
Carbohydrates:
7
g
Protein:
1
g
Fat:
7
g
Saturated Fat:
1
g
Polyunsaturated Fat:
1
g
Monounsaturated Fat:
5
g
Sodium:
10
mg
Potassium:
239
mg
Fiber:
2
g
Sugar:
5
g
Vitamin A:
3550
IU
Vitamin C:
145
mg
Calcium:
8
mg
Iron:
1
mg