Healthy Baked Patacones with Mojo Sauce
Healthy Baked Patacones with Mojo Sauce, a healthy take on the classic fried Colombian patacones (or sometimes called tostones). Smashed plantains baked and served with spicy mojo herb sauce. Delicioso!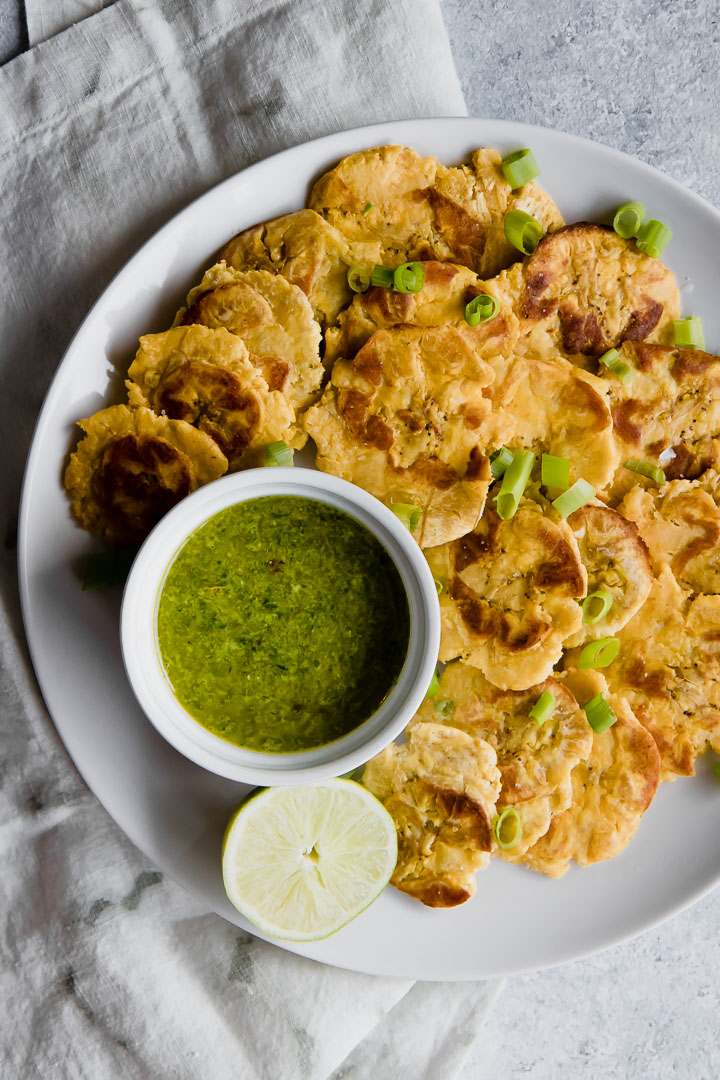 If I walked away from our recent trip to Colombia with one thing, it was this: I was in love with Colombian food and couldn't wait to get home and share it with all of you.
Traveling always inspires me to get in the kitchen and start experimenting. I snap photos of dishes I love, write notes on my phone about flavor combinations I've never heard of, and try to figure out how I can incorporate foods from around the world in my everyday cooking style (i.e. easy, fast, not too many ingredients, and enough for leftovers the next day).
And after one day of eating in Colombia I knew that a healthy version of patacones, or smashed and fried plantains, was making an appearance on the blog.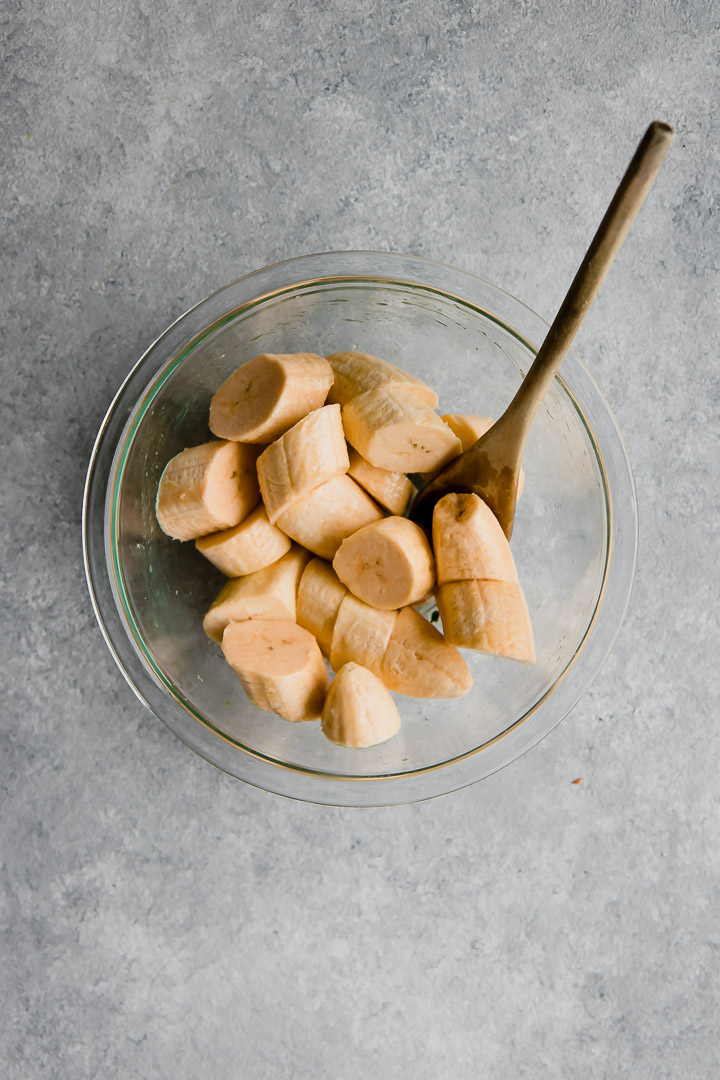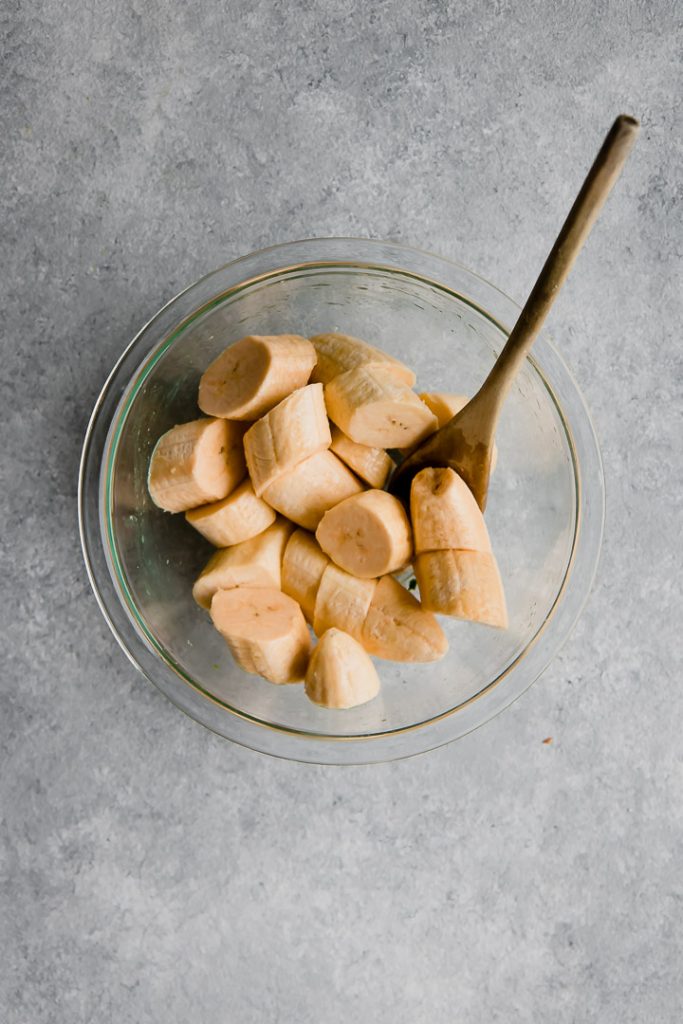 What are patacones (or tostones)? Where do they originate?
Patacones, sometimes referred to as tostones, are smashed and fried plantains served with dipping sauce or as a side dish with soups. Patacones are found throughout Central and South America and the Caribbean in countries like Costa Rica, Nicaragua, Panama, Colombia, Venezuela, and Cuba, among others. In Colombia they are usually served with aji (hot salsa) or a cream sauce, but I'm a sucker for spicy green herb sauces (see exhibit A: carrot top chimichurri, exhibit B: lemon and dill sauce, and exhibit C: cilantro chimichurri) so I paired them with a Cuban garlic and herb mojo sauce. Delicious Colombian and Cuban fusion!
How to make healthy patacones
Traditional patacones and tostones recipes are fried–sometimes twice–so a would-be healthy recipes of just smashed plantains and an herb sauce is negated by being deep fried in oil. However, as a dietitian I am always looking for ways to make traditional recipes healthier and found that baking patacones and finishing them off by browning the in a pan with a bit of oil gives them that crispy chip-like texture without the hassle (and extra oil!) of deep frying.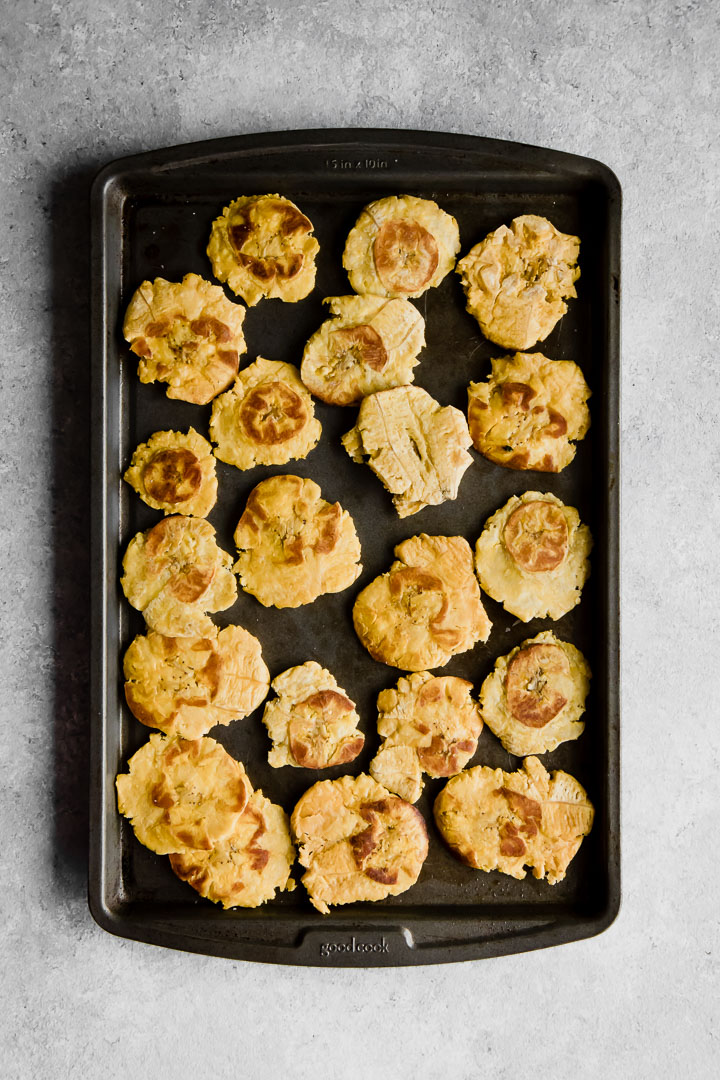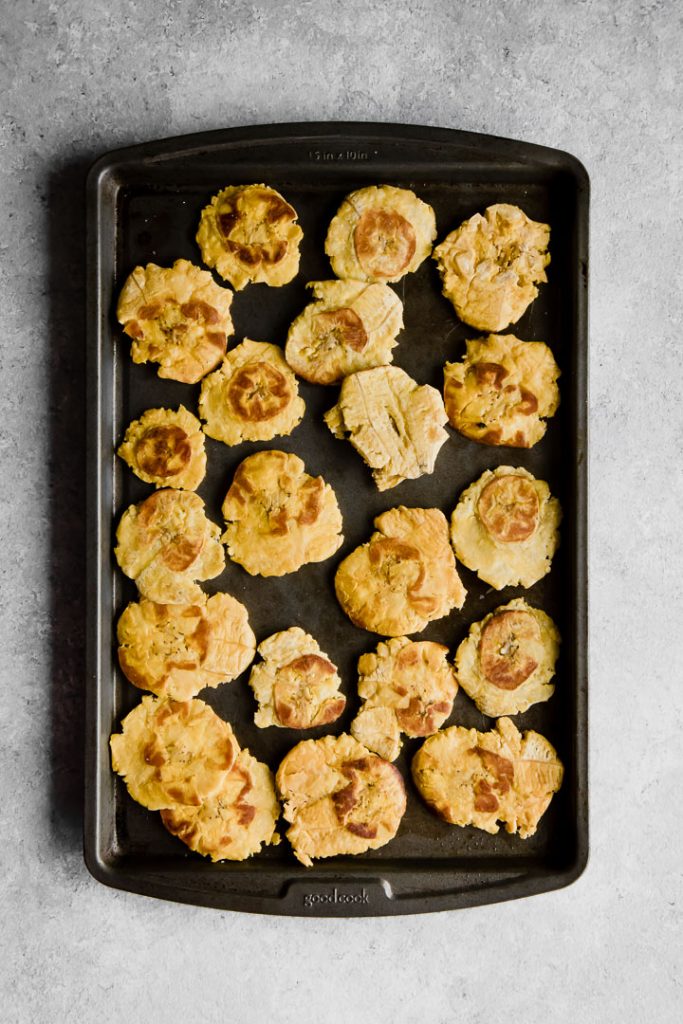 Can I use bananas instead of plantains for patacones?
Yes! If your local grocery store doesn't sell plantains then regular bananas will do, however I would suggest making sure they are not very ripe. A ripe banana will be too soft and may not hold its shape when mashed. Bananas are typically much sweeter and softer than plantains, so the finished patacones may not be as crispy and will taste a bit sweeter. But a sweet patacon with spicy mojo would be a delicious combination!
The fun part: How to smash patacones
Patacones are essentially just sliced and smashed plantains, but there is a little trick to making them uniform. Choosing a bowl or large glass with a completely flat bottom (no ridges!) will ensure each patacon is uniformly smashed before baking. I chose a clear glass bowl with a smooth bottom (see photo above) so I could see the smashed plantains, but any smooth-bottomed bowl or glass will do.
And I have to admit, it was oddly satisfying to smash plantains.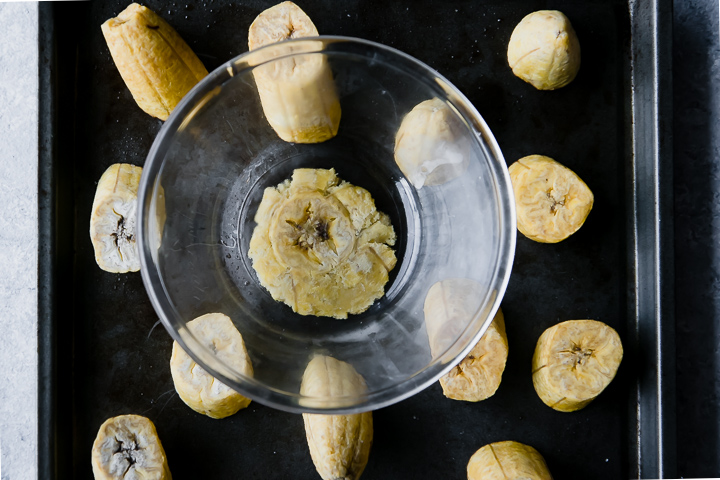 What is mojo sauce? How do you make it?
Mojo sauce is a blanket term used for sauces that include olive oil, herbs like cilantro/coriander, garlic, cumin, paprika, salt, pepper, and other spices. While green herb mojo sauce is more popular, some cultures use red versions made with red peppers and paprika. Most people associate mojo sauce with Cuba but many Caribbean cultures have their own take on the sauce, including the Dominican Republic, Haiti, Puerto Rico, and the Canary Islands.
Mojo sauce, and all green herb sauces, is very simple to make: chop herbs and garlic and add all spices to a food processor with oil and pulse until well blended. That's it! A super simple way to kick any recipe up a notch.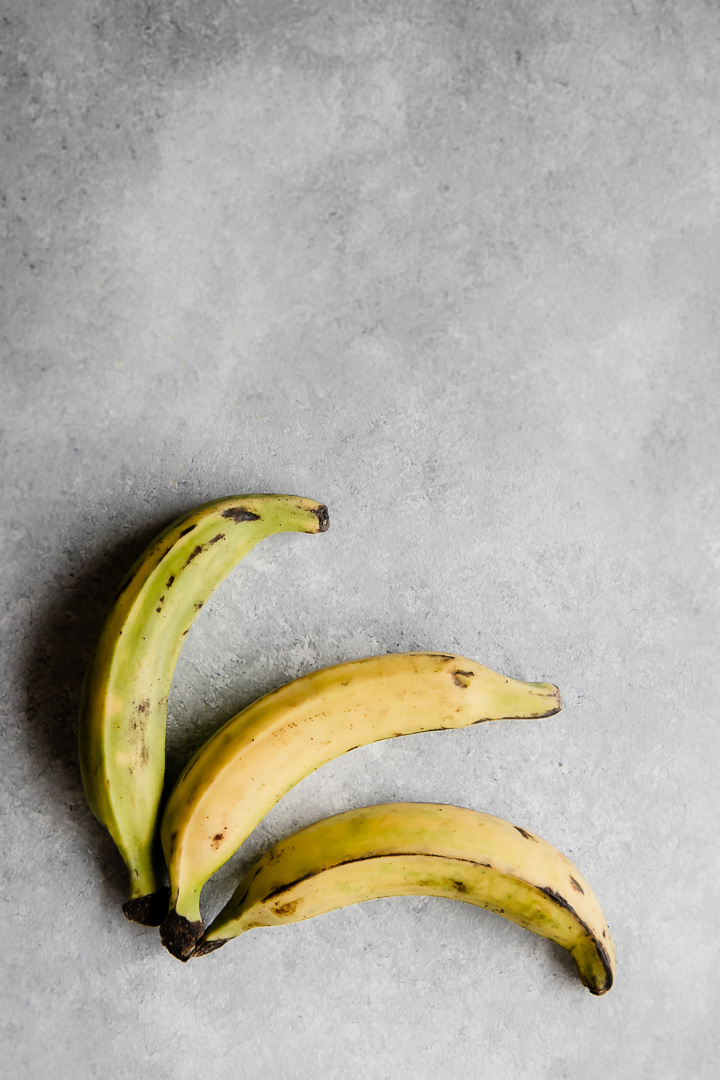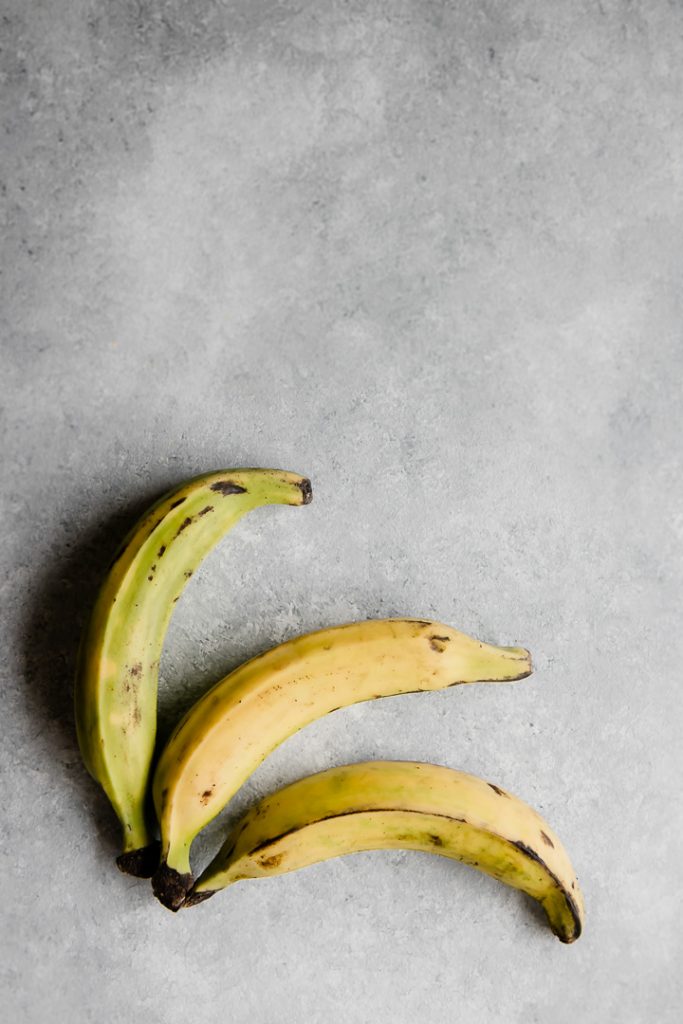 Healthy baked patacones: Tips, tricks & tools
This patacones recipe is SUPER easy to make and doesn't require much in terms of kitchen tools, however there are a few standard kitchen essentials I used that may help you make them perfect.
Cookie sheets: I just replaced my very old (and very brown) cookie sheets for a new set and I was happy with the three different sizes in this set.
Lodge cast iron skillet: I live and die by my cast iron skillet and its rough iron surface gives these patacones the perfect brown crispiness you're looking for without the mess of a fryer.
Little sauce ramekins: I try to keep a minimalist kitchen without the bells and whistles of having a dish for every type of food (gravy boats? no, not for me) but having little sauce ramekins on hand for sauces and dips is a must
Spices: one of my favorite spice brands is Frontier and I love their cumin, oregano, paprika, and red pepper, and their smoked sea salt is a spice cabinet staple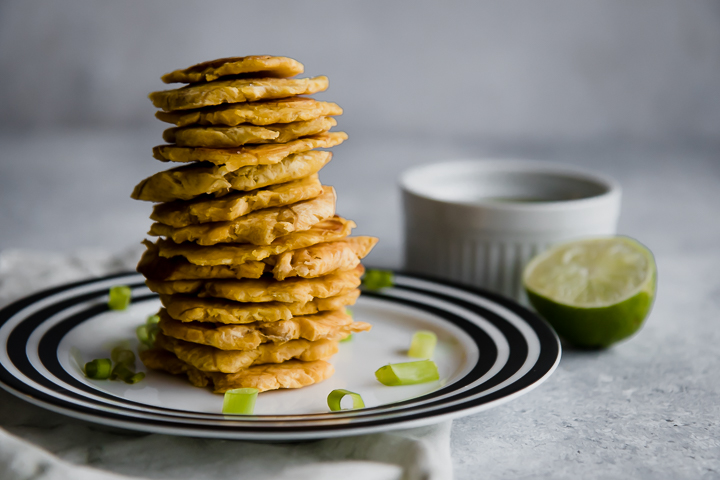 Loving this colombian healthy baked patacones recipe?
I have many more Colombian recipes coming to the blog in the next few weeks. Stay tuned and save some space in your weekly meal plan to bring a little Colombia to your plate.
Have you traveled to Colombia? Have you tried Colombian food? Which dishes did you love? Have you tried healthy baked patacones? Leave a comment or share your favorite recipes links below!
Yield: 6 servings
Healthy Baked Patacones with Mojo Sauce
Healthy Baked Patacones with Mojo Sauce, a healthy take on the classic fried Colombian patacones (or sometimes called tostones). Smashed plantains baked and served with spicy mojo herb sauce. Delicioso!
Prep Time 10 minutes
Cook Time 20 minutes
Total Time 30 minutes
Ingredients
Patacones
3 plantains
1/2 teaspoon oil
Pinch of salt and pepper
Mojo Sauce
3 garlic cloves, chopped
1/3 cup cilantro
2 green onions, chopped (green and white parts)
1/3 cup olive oil
1/4 teaspoon salt
1/8 teaspoon cumin
1/8 teaspoon oregano
Juice and zest of 1/2 lime
Pinch of salt and pepper
Instructions
Patacones
Heat oven to 400 degrees F (200 degrees C)
Slice plantains into 1 inch (2.5 cm) sections. Place in a bowl and toss with oil, salt, and pepper.
Using a smooth-bottomed bowl or glass, smash each plantain (see photo above for example). Place smashed plantains on a lightly greased cookie sheet and bake 10 minutes, then flip and bake about 5 minutes more (don't burn!).
If you'd like the patacones to be a bit crispier, heat a small amount of oil in a frying pan and heat them until they start to harden, about 3 minutes each side. Serve immediately with mojo sauce.
Mojo Sauce
Place chopped garlic, cilantro, chopped green onions, and bit of olive oil in a food processor and pulse until chopped but not blended.
Add the rest of the olive oil, salt, black pepper, red pepper, cumin, oregano, lime juice, and lime zest. Pulse until integrated, but not smooth (about 5-6 pulses).
Serve with patacones.
Notes
Leftovers & Storage: Patacones can be kept in a airtight dish in the refrigerator for up to a week, but will soften over time. Heat over a pan to make them crispy again. Mojo sauce can be kept in refrigerator for 4-5 days and used over meats, vegetables, and in soups.
Dietary Prefereces: This recipe is vegan and does not contain any major allergens.
Nutrition Information:
Yield:
6
Serving Size:
1 serving
Amount Per Serving:
Calories: 275
Total Fat: 13g
Saturated Fat: 2g
Trans Fat: 0g
Unsaturated Fat: 10g
Cholesterol: 0mg
Sodium: 145mg
Carbohydrates: 44g
Fiber: 3g
Sugar: 22g
Protein: 1g
We are participant in the Amazon Services LLC Associates Program, an affiliate advertising program designed to provide a means for us to earn fees by linking to Amazon.com and affiliated sites.