Warm Marinated Olives
Warm marinated olives, garlic, and capers with fresh herbs. Heat brings out rich complex flavors in this Spanish-inspired recipe!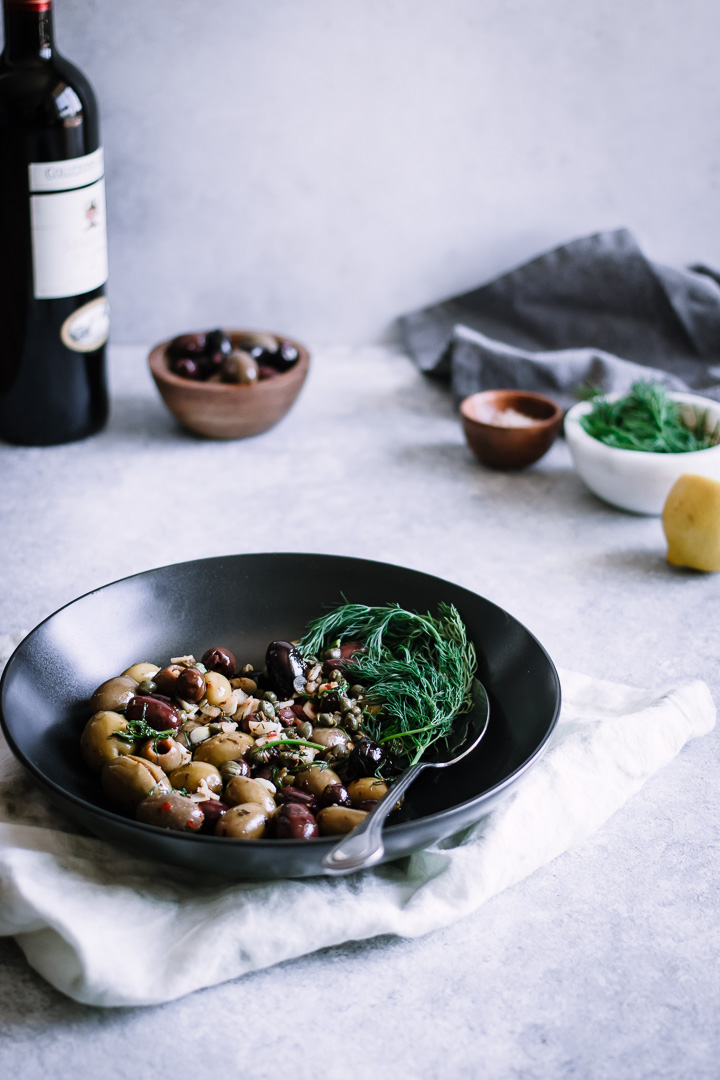 Let me just preface by saying I have not always love olives. In fact, I downright hated them until well past the age thought to be a proper adult (I spent years as an early adult not really acting like one).
Growing up in the American Midwest my experience with olives was limited to sliced tasteless black olives that came in a can. You can see why this was not an appealing ingredients throughout my formative years, however when I came of age one thing changed my tune toward olives….
The dirty martini.
Yes, it was the dirty martini that allowed me to appreciate the salty complexity of olives and their juice and I will fully admit it. Once I became open to the flavorful little fruits there was no stopping me. Olives on pizza, olives on sandwiches, olive tapenade, olives baked in bread, olives just plain eaten from a jar…I love them.
When I first married Francesco (the Italian husband) and spent a summer in Italy with his family one of my favorite things to do was help his mother in the kitchen. We often prepared a simple platter of olives from trees in their yard, which I loved. And they thought nothing of.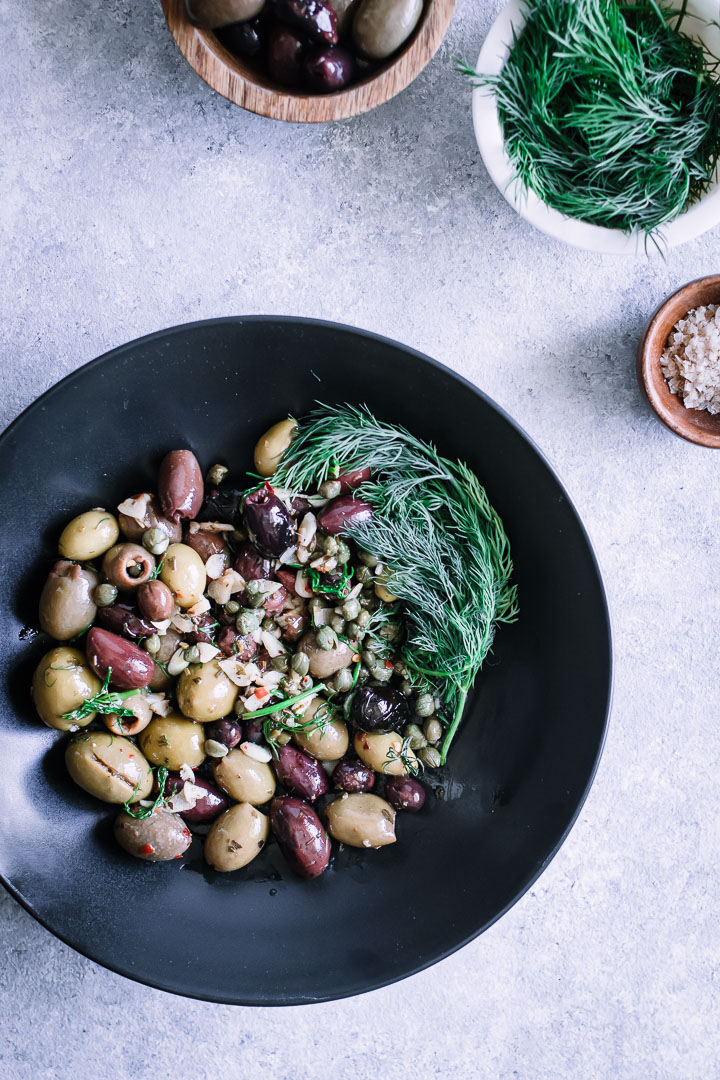 The ancient twisted beauty of the olive tree.
One thing I love to do when featuring a recipe here on Fork in the Road is to provide a background on ingredients and their history. It never fails that I learn something new and interesting, but I think olive trees take the proverbial cake on kick ass history with this fun fact:
Olive trees routinely live for centuries, with the oldest known living olive tree is 3000 years old on the island of Crete.
It is believed the first trees to produce an olive fruit rich in oil were along the Mediterranean, in what is now Syria and Crete. Where olive trees were first domesticated is unknown, but olive oil has been an integral part of Mediterranean diets for thousands of years. In fact, it can be argued that olive oil is the foundation of the traditional Mediterranean Diet, which is one of the healthiest and most sustainable eating patterns.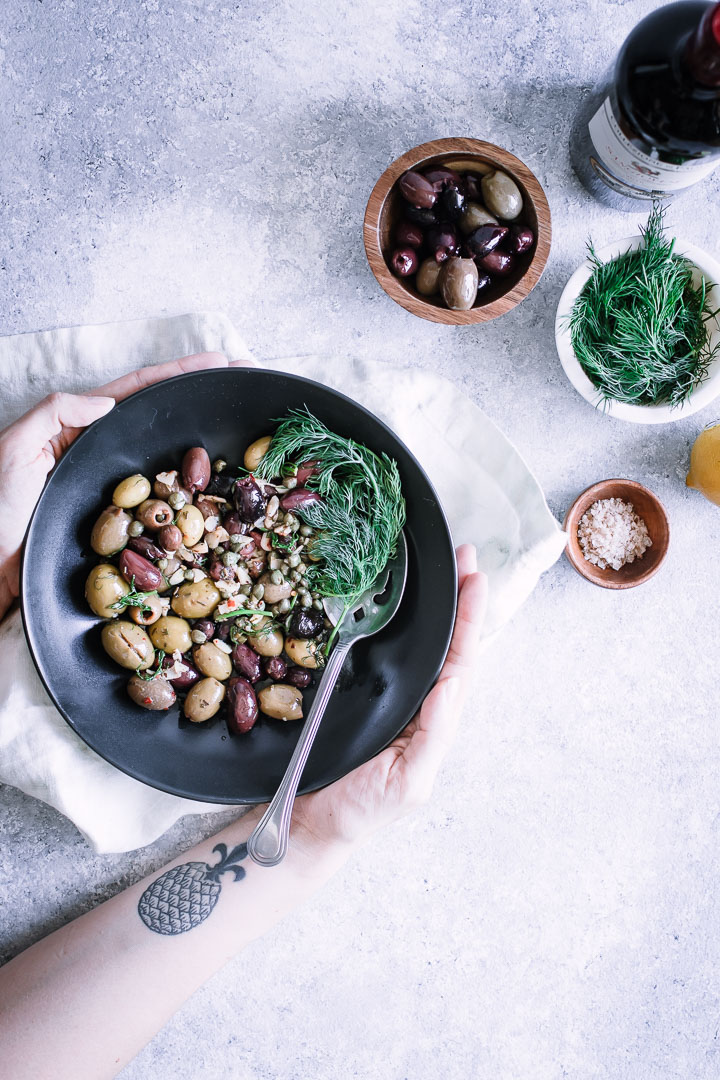 Warm marinated olives: endless flavor possibilities.
Warming olives is a great flavor booster as it brings out the richness of the herbs, garlic, and olives. Many Mediterranean cultures–from Spain, Italy, to Greece–warm their olives before serving with a bit of bread and cheese (and wine, of course).
As with most of my recipes, nothing in the ingredient list is set in stone. Everything can (and should!) be an experiment, to determine your own tastes and to test and retest recipes to make them your own. One of my favorite warm marinated olives combinations is listed in the recipe below, but here are a few recipe variation ideas to play with:
Types of olives: cerignola, nyon, niçoise, liguria, manzanilla, beldi, kalamata (my favorite)
"Extras": capers, caperberries, sliced garlic, sun dried tomatoes, pearl onions
Herbs & Flavors: parsley, dill, basil, oregano, thyme, lemon, balsamic vinegar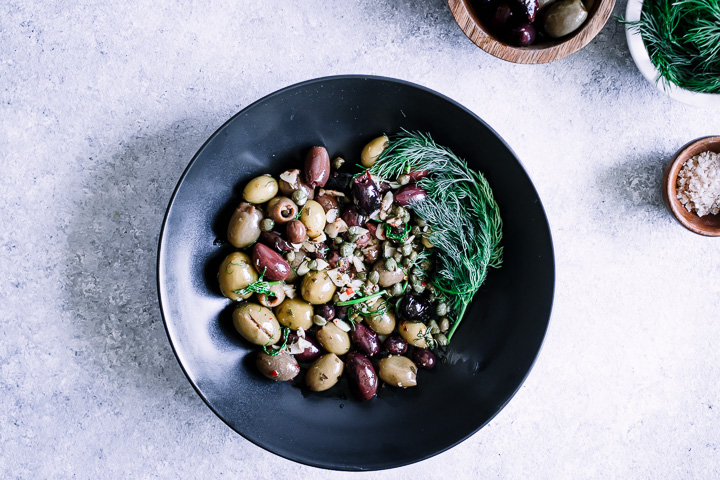 Tips, tricks, and tools to make this recipe
This recipe for Warm Marinated Olives is simple enough that it requires no more than a small pan.
However, I have found a small ceramic bowl I scored in a market in Korea to be the perfect cooking pot that also doubles as a serving dish. The ceramic pot can be placed right on the stovetop burner and then transferred to a heat safe holder. This way the olive mixture will stay warm on the table, which is perfect for when you are serving guests.
Below are similar ceramic stovetop dishes to the one pictured in this recipe and a few ingredient recommendations that would work well with this dish:
Ceramic earthenware pot: this pot is very similar to the one I picked up in the Korean market and is perfect for soups and other warm dishes
8″ earthenware pot: this model is a bit bigger, however it does not come with a heat safe plate
Castelvetrano olives: one of my favorite varieties, would work great in this recipe
I hope you enjoy this simple, pickable olive recipe! It's a great choice for a starter or to add to a cheeseboard or platter when having guests. Use it as a foundation, mix in other ingredients like onions and peppers, and make it your go-to easy dish for wine and cheese nights.
---
Craving more simple starter recipes? Check out our Mexican-Style Three Bean Salad and Roasted Beet Fries recipes, both easy plant-based starters that come together in under 30 minutes.

Did you make this Warm Marinated Olives recipe? Leave a comment below and rate the recipe to let us know how it turned out. Save this recipe for later by pinning to your favorite appetizer Pinterest board and make sure to tag me on Fork in the Road's Instagram to show me your olive creations!
Yield: 4 servings
Warm Marinated Olives
Warm marinated olives, garlic, and capers with fresh herbs. Heat brings out rich complex flavors in this Spanish-inspired recipe!
Prep Time 5 minutes
Cook Time 5 minutes
Total Time 10 minutes
Ingredients
1 tablespoon olive oil
1.5 cups assorted olives
2 garlic cloves, thinly sliced
Juice of one lemon
1/8 cup fresh dill
1/8 cup fresh parsley
1/8 teaspoon sea salt
red pepper flakes to taste
Instructions
Heat olive oil in a hot pot or small pan over medium-low heat.
Add olives, garlic, capers, olive oil, lemon juice, herbs, salt, pepper and red pepper and heat about 5 minutes, or until olives are warm and herbs have wilted.
Serve immediately while still warm.
Notes
Notes // Tips: Keep heat low and don't overcook olives. For more flavor, cook garlic first until starting to brown, then turn down heat and add other ingredients to finish before serving.
Leftovers & Storage: Olives will keep well in an airtight container in the refrigerator for up to five days. However, after heating once I would not recommend reheating again or they may have a harder texture and will not be as soft with repeated warming.
Nutrition facts: Olives are high in healthy monounsaturated fats and are an important part of the Mediterranean Diet, named one of the most sustainable eating patterns!
Nutrition Information:
Yield:
4
Serving Size:
1/2 cup
Amount Per Serving:
Calories: 96
Total Fat: 9g
Saturated Fat: 1g
Trans Fat: 0g
Unsaturated Fat: 7g
Cholesterol: 0mg
Sodium: 538mg
Carbohydrates: 5g
Fiber: 2g
Sugar: 0g
Protein: 1g
We are participant in the Amazon Services LLC Associates Program, an affiliate advertising program designed to provide a means for us to earn fees by linking to Amazon.com and affiliated sites.