Hazelnut Liqueur Affogato: 3 Ingredients, 5 Minutes
Hazelnut Liqueur Affogato, the perfect afternoon dessert treat. Vanilla bean gelato with hazelnut liqueur and espresso – a delicious summer pick-me-up!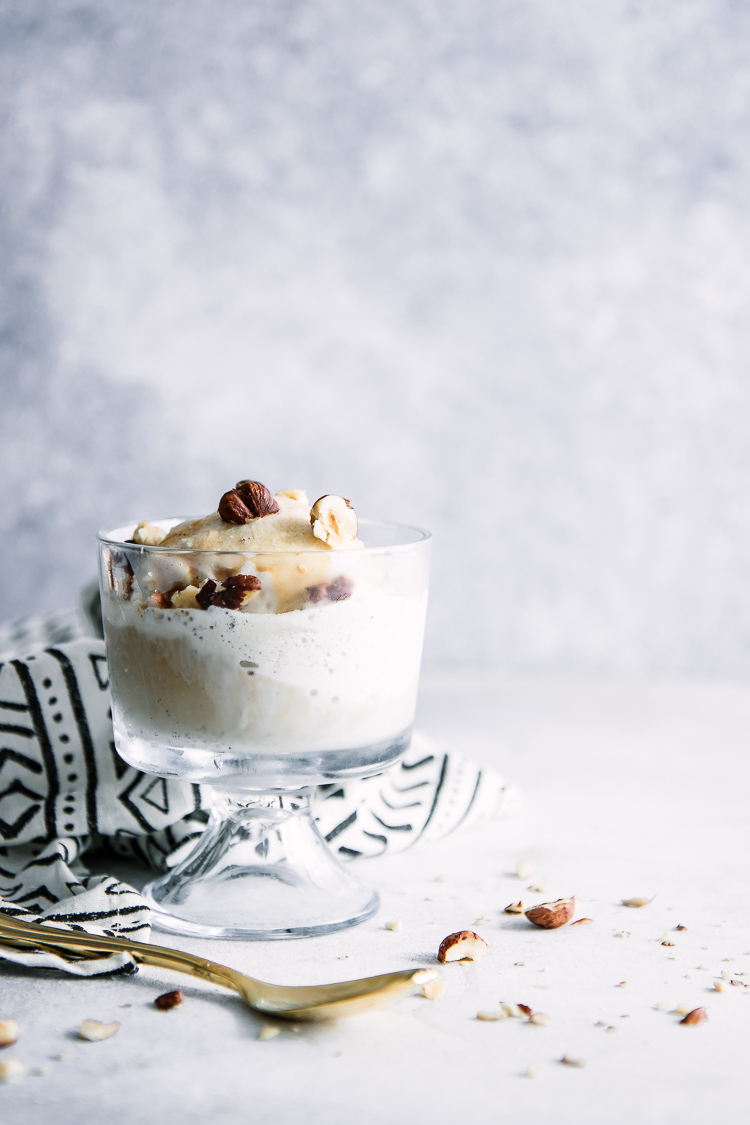 Before marrying an Italian I had no idea about the "affogato famoso."
I liked espresso, hazelnut liqueur and gelato well enough (ok, a lot) by themselves, but had no idea combining gelato and espresso was a thing until I married into the Italian culture. I vividly remember a sunny day in Rome when we stopped for our daily afternoon espresso and gelato (yes, daily) and the Italian Husband combined the two.
Mind. Blown.
The affogato is an Italian classic, the perfect afternoon pick-me-up treat of sweet vanilla gelato and a shot of espresso. However, what's another afternoon pick-me-up that we all know and love? Liqueur. And what liqueur would taste amazing with both vanilla bean and coffee? It had to be hazelnut. And what do you know, I happened to have a bottle of hazelnut liqueur looking lonely in the cabinet.
How to make the world's easiest dessert (the affogato) look fancier than it really is
This recipe is not rocket science. I'm not here to claim I've created a new cuisine or that I'll wow you with my superior flavor matching skills. The vanilla, coffee and hazelnut flavor combination is intuitive. What I am here to do is make sure you know how to make one of the easiest desserts around look fancy. Because I'm all about making food look like you spent hours in kitchen when in fact it took you five minutes. #missioninlife
What you'll need to make a five minute Hazelnut Liqueur Affogato look fancy:
A fancy serving bowl or glass. I'll let you in on a little secret: put anything in a crystal dish and it automatically looks fancier than the old chipped bowl you've been using for years. I bought the small dish/glasses used in these photos at Goodwill for $1/each, but these small glass dessert dishes are a great Amazon find.
A good bottle of hazelnut liqueur. Don't skimp where it counts, get yourself the best hazelnut liqueur: Frangelico. No explanation needed.
Good espresso. This is not your grandma's drip coffee (I won't name names). Get some nice espresso. The Italian husband's favorite brands are Illy and Lavazza. Don't have an espresso machine? See below for the real Italian way to make espresso at home.
Really tasty vanilla gelato. While you can go with any old vanilla ice cream, I suggest making sure it's actually gelato to get the creamy smooth flavor of an authentic affogato.
Don't have an espresso machine? No worries!
I'll let you in on a little secret: most Italians do not own espresso machines, though they drink it every day. Their secret? The mokka! This small coffee machine can be found in most every Italian household and is the go-to for a caffeine pick-me-up.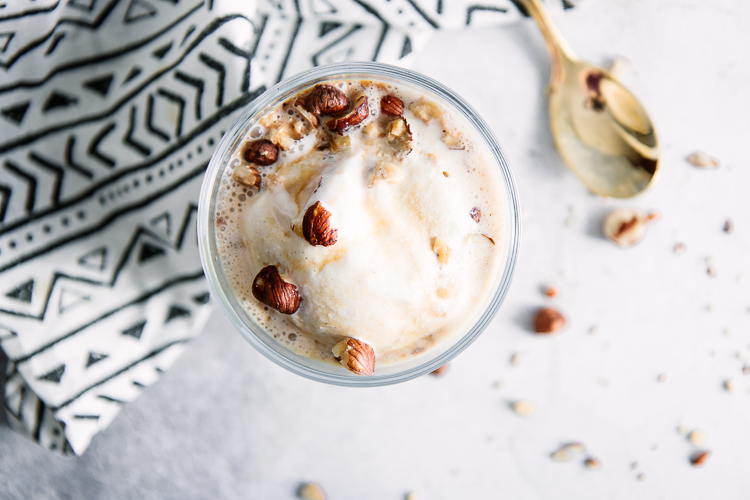 Flavor ideas beyond the Hazelnut Liqueur Affogato
Loving the affogato dessert idea but want to expand your flavor profile to make it your own? Check out this great post by The Spruce on an A – Z list of liqueurs and see below for flavor ideas that will take the gelato + espresso + liqueur combination next level.
Strawberry gelato + espresso + amaretto (omg)
Pistachio gelato + espresso + Kahlua + crushed pistachios
Chocolate gelato + espresso + Frangelico + chocolate covered espresso beans
Raspberry + espresso + Chambord (whoa)
The possibilities really are endless! Let me know your affogato ideas in the comments and I'd love to hear how you make this simple dessert your own.
---
Craving more light and fresh superfood desserts? Check out our Saffron Poached Pears and the light Blood Orange, Kiwi & Mint Fruit Salad recipes, both are lightly sweetened fruit-based treats. Have your sweet, and have your superfoods too!
Did you make this simple Hazelnut Liqueur Affogato? Leave a comment below and rate the recipe to let us know how it turned out. Save this affogato recipe for later by pinning to your favorite summer recipe Pinterest board and make sure to tag me on Fork in the Road's Instagram to show me your dessert creations!
Yield: 2 servings
Hazelnut Liqueur Affogato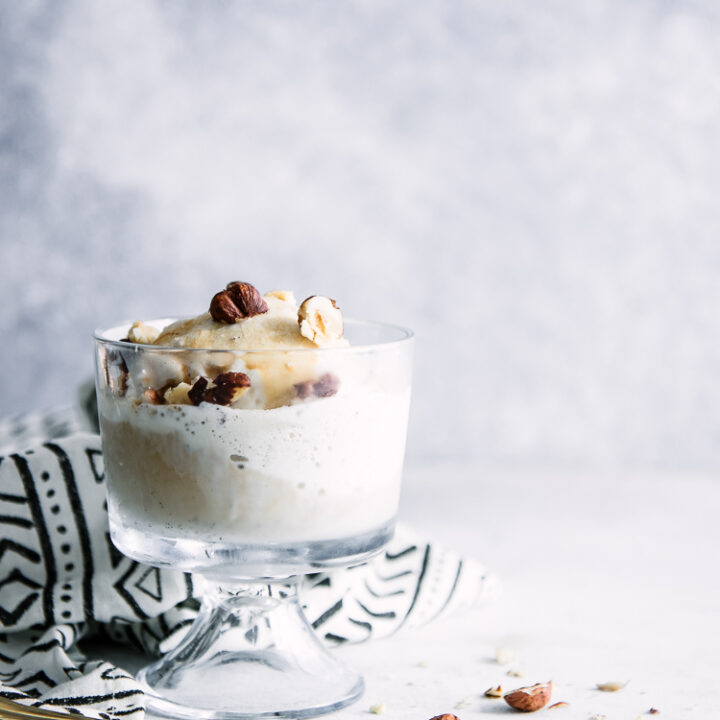 Hazelnut liqueur affogato with vanilla bean ice cream. A perfect afternoon sweet treat, happy hour shot and caffeine pick-me-up all in one!
Prep Time 5 minutes
Total Time 5 minutes
Ingredients
1 scoop (about 1/3 cup) vanilla bean gelato
1/2 oz hazelnut liqueur
1 shot espresso
Optional: 1 tablespoon crushed hazelnuts as garnish
Instructions
Brew shot of espresso in espresso maker or mokka. Once brewed, mix espresso shot with one shot hazelnut liqueur.
Pour espresso/liqueur mixture over one scoop of ice cream, top with crushed hazelnuts and enjoy immediately.
Notes
Notes // Tips: See post above for liqueur variation ideas, such as swapping hazelnut for Chambord or Sambuca.
Leftovers & Storage: Because the point of an affogato is to pour hot espresso over cold ice cream, this Hazelnut Liqueur Affogato recipe is best when made immediately before serving. However, it only takes five minutes to prepare so it is a great choice when pressed for time.
Nutrition: This affogato recipe contains full fat dairy gelato, which means a fair amount of saturated fat and sugar. However, with all things in life, balance and moderation is key and you should enjoy it as a part of your overall balanced diet.
Make it vegan: Use coconut or another plant-based ice cream for a vegan treat.
Nutrition Information:
Yield:
2
Serving Size:
2 servings
Amount Per Serving:
Calories: 362
Total Fat: 14g
Saturated Fat: 5g
Trans Fat: 0g
Unsaturated Fat: 9g
Cholesterol: 72mg
Sodium: 57mg
Carbohydrates: 38g
Fiber: 7g
Sugar: 16g
Protein: 11g
We are participant in the Amazon Services LLC Associates Program, an affiliate advertising program designed to provide a means for us to earn fees by linking to Amazon.com and affiliated sites.