Hazelnut Liqueur Affogato
Hazelnut Liqueur Affogato, the perfect afternoon dessert treat featuring vanilla bean gelato, hazelnut liqueur, and espresso. A delicious, simple yet fancy pick-me-up!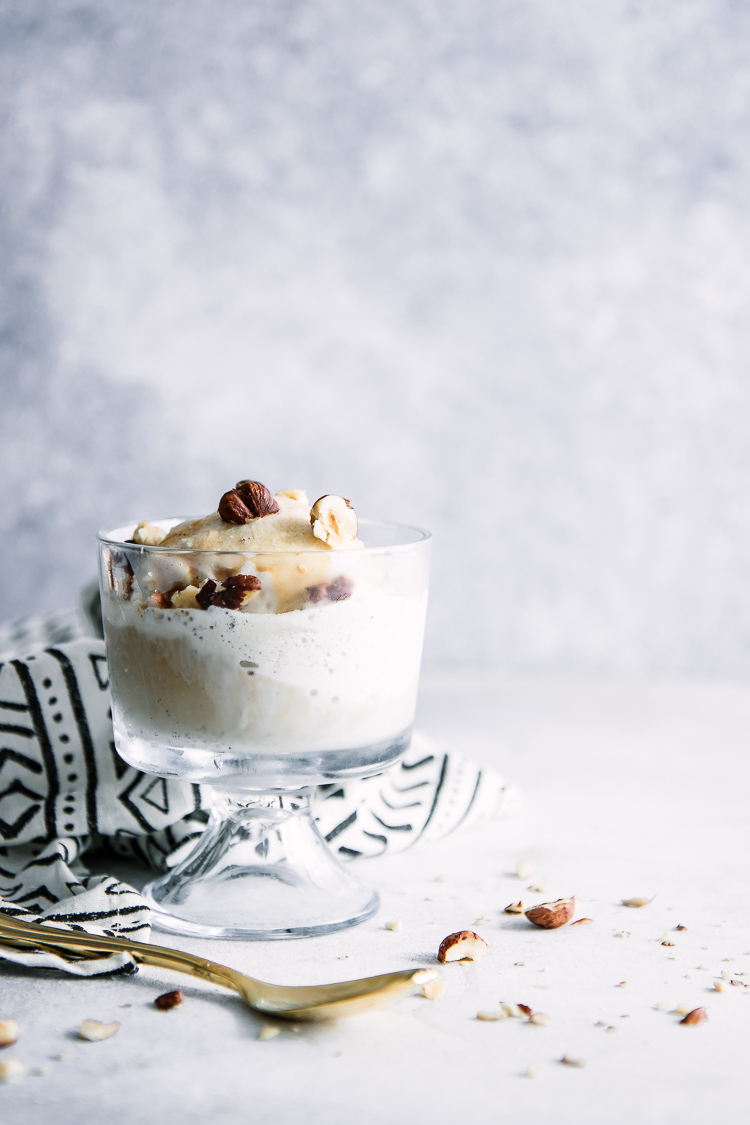 The affogato is an Italian classic, the perfect afternoon pick-me-up treat of sweet vanilla gelato and a shot of espresso. However, what's another afternoon pick-me-up that we all know and love? Liqueur. And what liqueur would taste amazing with both vanilla bean and coffee? It had to be hazelnut! Which is how this recipe was born.
👉 Here are three reasons why you should make affogato with hazelnut liqueur:
It's the world's easiest dessert! Affogato looks fancier than it really is. We're all about making food look like you spent hours in the kitchen when in fact it took you five minutes. All you need is 5 minutes, a fancy serving bowl or glass, hazelnut liqueur, good espresso, and really tasty vanilla gelato.
You can make it without an espresso machine. Don't have an espresso machine? No problem! We'll let you in on a little secret: most Italians do not own espresso machines, though they drink it every day. Their secret? The mokka! This small coffee machine can be found in almost every Italian household and is the go-to for a caffeine pick-me-up.
It's delicious. Espresso, hazelnut, and vanilla…need we say more? The combination of these drool-worthy flavors along with the liqueur is what really makes this affogato recipe stand out.
Ready to learn how to make affogato with hazelnut liqueur? Let's do it!
---
🍨 Ingredients
To make affogato, all you need is espresso and gelato. In this recipe, we added a little alcohol in the form of hazelnut liqueur and finished it off with some toppings. Here's what you'll need to make it:
Vanilla bean gelato: While you can go with any old vanilla ice cream, we suggest making sure it's actually gelato to get the creamy smooth flavor of an authentic affogato.
Hazelnut liqueur: Don't skimp where it counts! Get yourself the best hazelnut liqueur: Frangelico. No explanation needed.
Espresso: Treat yourself to some nice espresso. The Italian husband's favorite brands are Illy and Lavazza.
Hazelnuts: Just 1 tablespoon of hazelnuts is all you need for a crunchy garnish.
Recommended tools: An espresso or mokka, a serving bowl or glass
---
🥣 How to make (step-by-step photos)
1️⃣ Step One: Make the espresso + hazelnut liqueur combo
First, brew a shot of espresso in your espresso maker or mokka. Once brewed, mix espresso shot with one shot of hazelnut liqueur.
---
2️⃣ Step Two: Finish off the affogato
Next, pour the espresso/liqueur mixture over a scoop of ice cream in a serving dish.
Top the affogato with crushed hazelnuts and any other desired toppings. Enjoy immediately so it doesn't melt!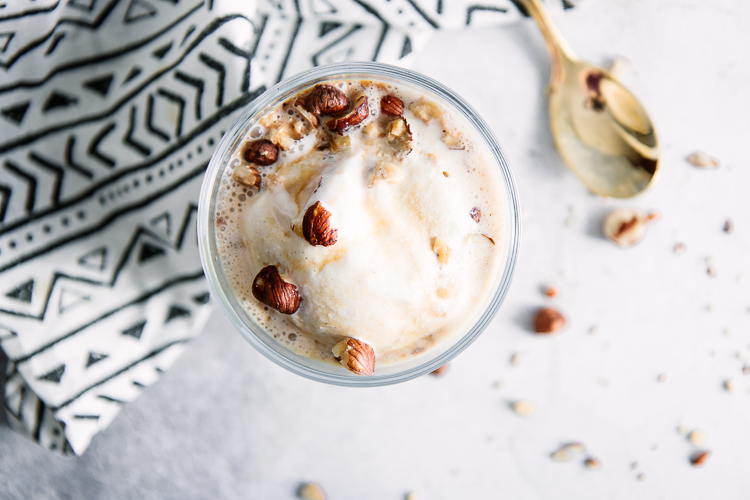 ---
❓ Recipe questions + quick tips
What does affogato taste like?
The taste of affogato is often described as similar to coffee ice cream, but it is a bit more rich and decadent. Its flavor changes depending on what type of gelato you use and whether you add liqueur and/or toppings. In this recipe, we used hazelnut liquor and vanilla gelato, giving it notes of both of these flavors.
What is affogato-style coffee?
Affogato-style coffee is made by pouring an espresso shot over a scoop of gelato (easy as that!). You can add liqueur to affogato like we did, or add extra flavor and sweetness with your favorite toppings. Try it with some caramel syrup, fruit slices, crumbled nuts and seeds, or chocolate shavings!
How do you eat affogato?
You can eat affogato with a spoon! If it's melted enough, you could also use a (reusable) straw.
---
☕️ Affogato variations
Loving the affogato dessert idea but want to expand your flavor profile to make it your own? Check out this great post by The Spruce on an A – Z list of liqueurs and see below for flavor ideas that will take the gelato + espresso + liqueur combination next level.
Strawberry gelato + espresso + amaretto
Pistachio gelato + espresso + Kahlua + crushed pistachios
Chocolate gelato + espresso + Frangelico + chocolate covered espresso beans
Raspberry + espresso + Chambord
The possibilities really are endless! Let us know your affogato ideas in the comments and we'd love to hear how you make this simple dessert your own.
---
🧊 How to store
Because the point of an affogato is to pour hot espresso over cold ice cream, this recipe is best when made immediately before serving. However, it only takes five minutes to prepare so it is a great choice when pressed for time.
---
♻️ Sustainable kitchen tips
Here are Fork in the Road, sustainability is at the top of our list. Here are some ideas to make this recipe better for the planet:
Make it vegan! If you want to make a plant-based dessert, you can replace the dairy gelato in this recipe with a coconut or other plant-based ice cream for a vegan treat.
Use leftover fruit as a topping. If you have fruit waiting to be eaten in your fridge or freezer, use it as a topping to add flavor (and some extra nutrients).
---
🍦 More easy dessert recipes
Craving more light and fresh superfood desserts? We've got you covered:
Hazelnut Liqueur Affogato
Hazelnut liqueur affogato with vanilla bean ice cream. A perfect afternoon sweet treat, happy hour shot and caffeine pick-me-up all in one!
Ingredients
1 scoop vanilla gelato, about 1/3 cup
½ ounce hazelnut liqueur
1 shot brewed espresso
1 tablespoon roasted hazelnuts, crushed
Instructions
Brew espresso: Make a shot (1 ounce) of espresso in espresso maker or mokka.

Pour hot espresso over gelato: Place one scoop of gelato into a small bowl and pour hot espresso shot over the gelato.

Add hazelnut liqueur and crushed hazelnuts: Pour 1/2 ounce hazelnut liqueur over the gelato, sprinkle with crushed hazelnuts, and enjoy immediately.
Notes
Notes + tips: See post above for liqueur variation ideas, such as swapping hazelnut for Chambord or Sambuca.
Leftovers + storage: Because the point of an affogato is to pour hot espresso over cold ice cream, this affogato recipe is best when made immediately before serving. However, it only takes five minutes to prepare so it is a great choice when pressed for time.
Make it vegan: Use coconut or another plant-based ice cream for a vegan treat.
Nutrition Information
Serving: 1servings, Calories: 235kcal, Carbohydrates: 18g, Protein: 4g, Fat: 13g, Saturated Fat: 5g, Polyunsaturated Fat: 1g, Monounsaturated Fat: 7g, Cholesterol: 29mg, Sodium: 57mg, Potassium: 234mg, Fiber: 1g, Sugar: 18g, Vitamin A: 280IU, Vitamin C: 1mg, Calcium: 96mg, Iron: 1mg
UPDATE: This recipe was originally published in August 2018 and updated for clarity in December 2021.
We are participant in the Amazon Services LLC Associates Program, an affiliate advertising program designed to provide a means for us to earn fees by linking to Amazon.com and affiliated sites.