Saffron Poached Pears
Saffron Poached Pears, a simple and seasonal fall and winter baked fruit dessert with saffron, apple cider vinegar, cinnamon, and brown sugar. This delicious and easy recipe proves saffron isn't just for savory foods!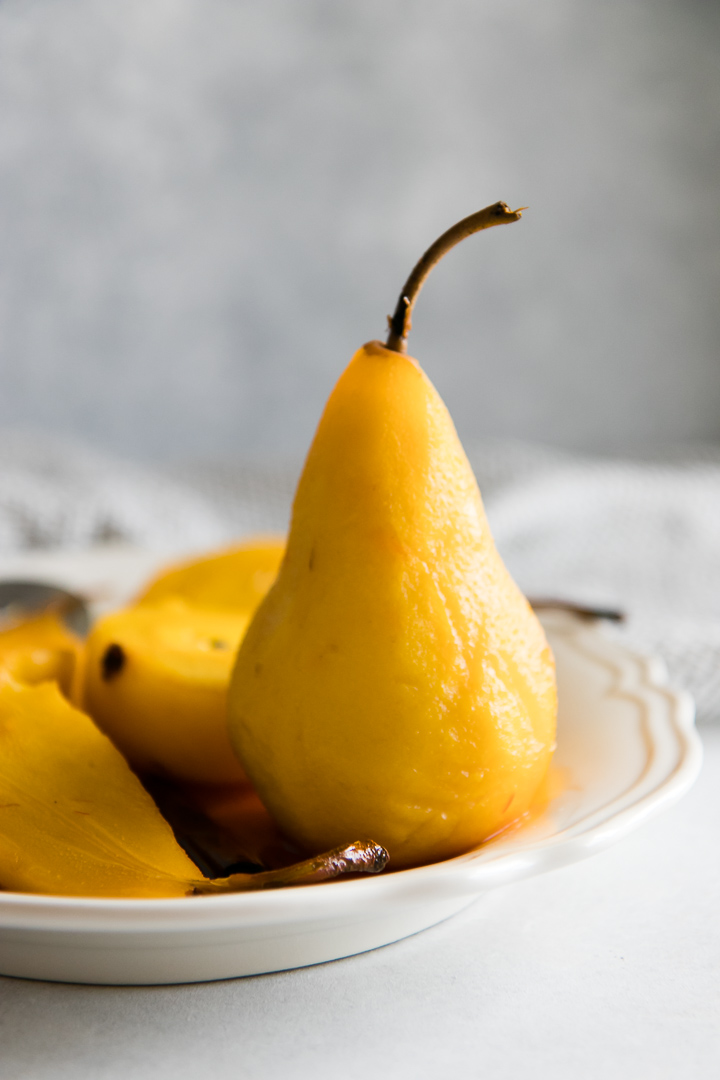 Disclosure: This recipe is sponsored by Zaran Saffron.
Every holiday season I have my Thanksgiving and Christmas menus planned weeks, if not months, in advance. I pour over magazines, peruse Pinterest, and jot down notes about ingredient and flavor pairings throughout the fall. I plan pickable platters, gather recipes for new side dishes, and try to take a new twist on old main dish favorites. I get excited to plan every part of the meal — except dessert.
No, dessert for me has always been a struggle. Don't get me wrong, I love dessert as much as the next person. My mouth waters at the sight of a crusty créme brulée and I've never met a bread pudding I didn't love. But my cooking and kitchen creativity starts and ends at savory.
Basically, I'm a horrible baker.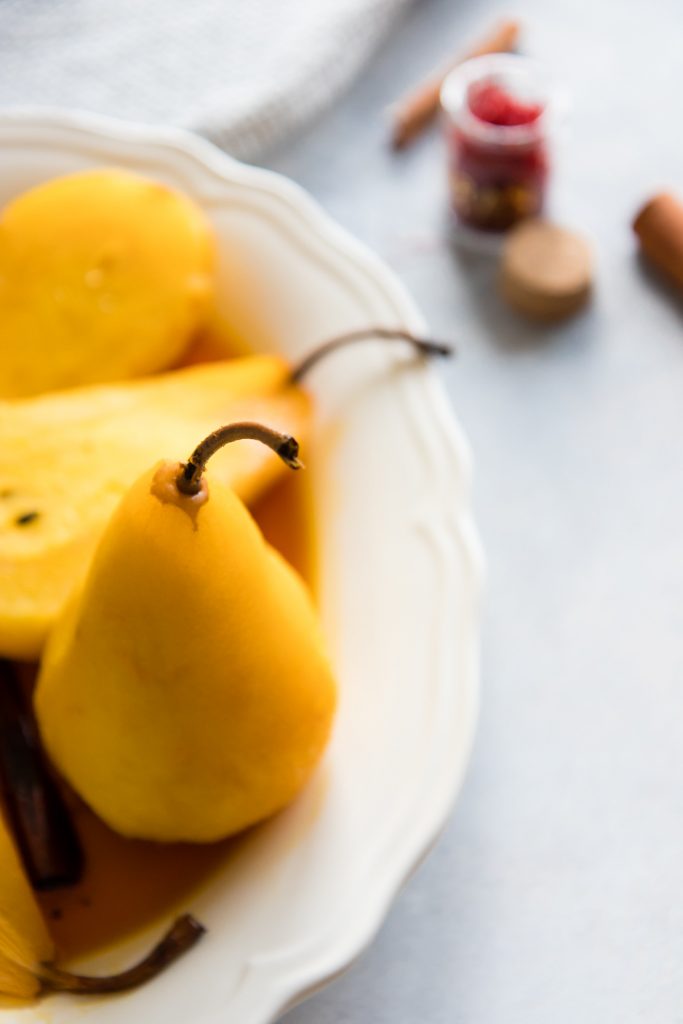 However, over the past year I have discovered there is a wide array of deliciously sweet recipes even I can master that do not involv flour and water thanks to the versatility of seasonal fruits. At the height of apple season in the fall I enjoyed creating this Hasselback Fruit Platter and the sticky but delicious Pistachio Crusted Caramel Apples. And with fig season in full I swing I combined savory and sweet in the popular Baked Figs with Maple and Creamy Brie. Basically, desserts with fruits are my jam (pun intended).
So when my friends at Zaran Saffron reached out to collaborate on a winter holiday recipe using saffron, I knew the easy route would be to go savory. Saffron is one of my favorite spices and has shown up on Fork in the Road many times (see Saffron Chickpea & Chard Hash with Sunny Egg and Strawberry Saffron Bellini) but I had never used the spice in a sweet dessert dish.
So when I was dreaming up ways to sweeten up saffron, I dedided what better fruit to pair with the strong and pungent spice than the mild and mealy pear? It was a match made in spiced fruit heaven.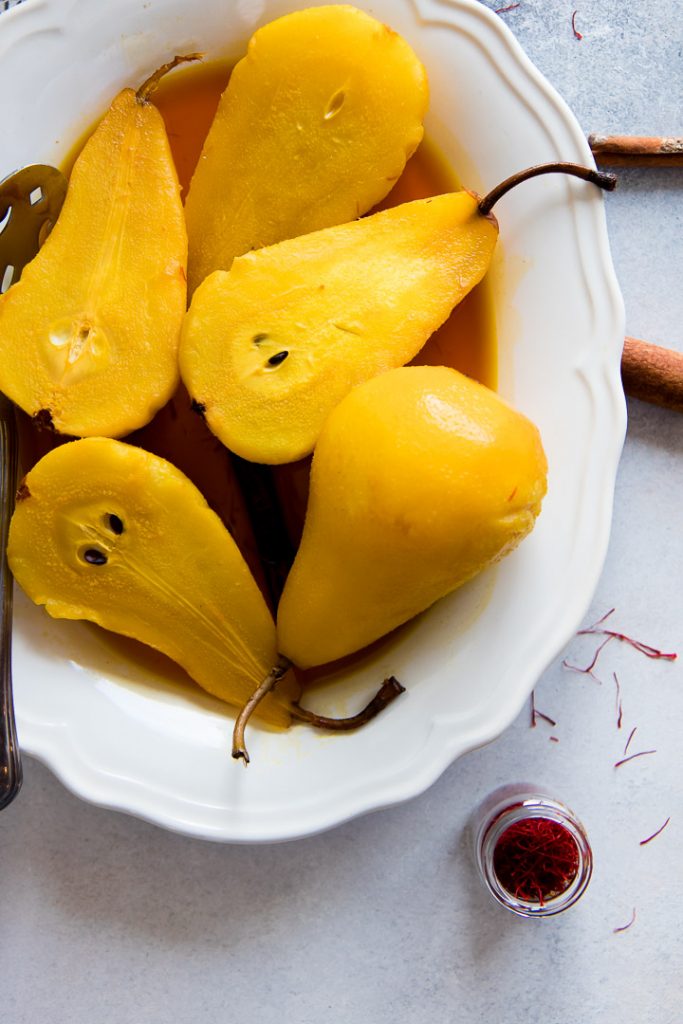 How to Cook with Saffron
Saffron is of the most revered spices by chefs and holds the long running title of being the most expensive spice in the world. Saffron threads are actually the stigma of the crocus flower and it's very high price is due to being picked by hand to preserve its shape and flavor. And while many countries such as India, Spain, and Greece harvest saffron, the world's biggest producer by far is the Khorasan region in Northeast Iran.
While saffron may be more expensive than gold by weight, it's strong flavor ensures you need only a small amount when cooking. Saffron is not a spice that works well when dry and it is most often used to flavor liquids, where it dissolves and releases its color and flavor. Think paella, bouillabaisse, risotto — all liquid-based dishes that allow saffron to work its magic.
When choosing saffron make sure to check the individual saffron threads for color and length to ensure quality. The darker and more red the threads, the better the quality of the saffron and the crocus flowers it came from. Thankfully companies like Zaran Saffron only sell the better quality saffron and travel often to the area to ensure the quality and farming practices of its product. Be wary of powdered saffron as it is very often not pure saffron and is instead mixed with other flavor enhancers. Crushing saffron threads between fingers or with a mortar and pestle with also produce a powder.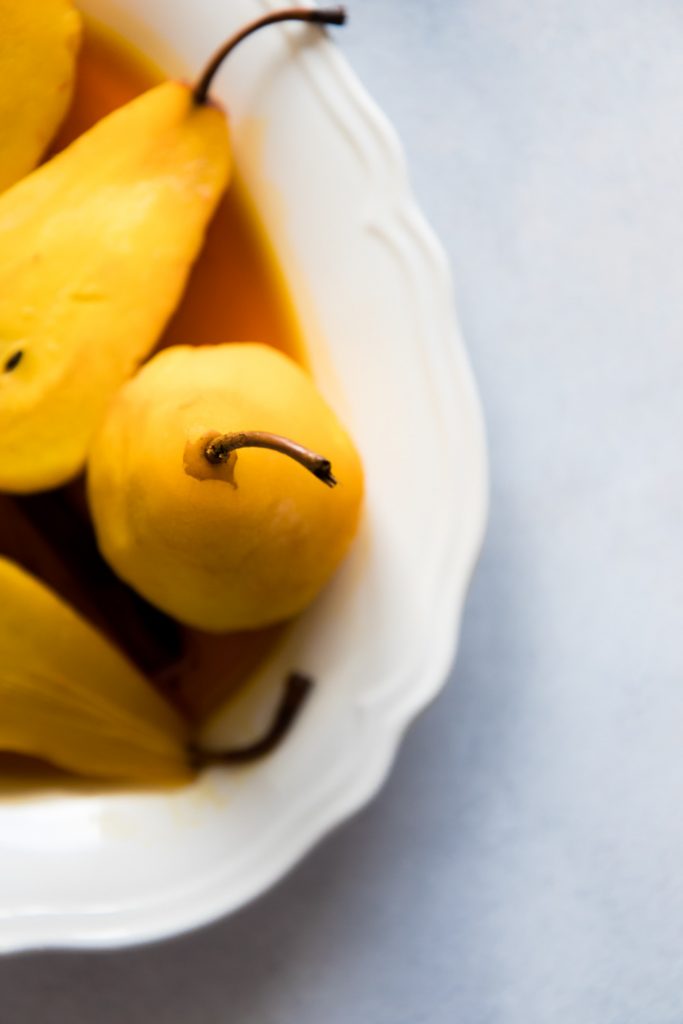 Poached Pears Tips, Tricks & Tools
Poached pears are one of my favorite cold weather desserts, but the unmistakable taste of saffron takes them to a new level. The beauty of this Saffron Poached Pears recipe is that it requires only a few ingredients you likely already have on hand and it's ready in twenty minutes. Delicious, decadent, and will impress your friends without all the fuss.
Below are a few tips and tricks for ensuring perfect Saffron Poached Pears every time:
You'll need about one cup of water per pear. I tested the recipe with both too much boiling water and also not enough. I found that about 1 cup of water for each pear will be enough to poach the pears but also not too much that boiling down the liquid to a sauce will take too long after the pears are done.
Peel the pears before you boil the water. The small amount of water used in the recipe will boil fast, so have the pears ready to go.
Substitute apple juice for apple cider vinegar if needed. Apple juice can be substituted for the vinegar, but if you do use juice consider reducing the brown sugar if you do not like overly sweet dessert (you can always add more sugar, but not take it away!).
Poached pears keep well in the refrigerator and are delicious as leftovers. I put the pears on oatmeal, yogurt, and in pancakes and the pears (and their flavor) held up well.
Better with bosc. Bosc pears are the tried and true perfect pear for poaching due to their ability to hold their shape well when boiled. And they take on a beautiful yellow hue when poached with saffron!
Saffron Poached Pears are sure to be a hit at your next holiday dinner, minimal prep required. Now that's a dessert recipe I can get behind!
Have you tried cooking with saffron? I'd love to hear your favorite recipes and creations and your thoughts on this recipe in the comments below. Happy holidays!
Yield: 4 serving (1 pear each)
Saffron Poached Pears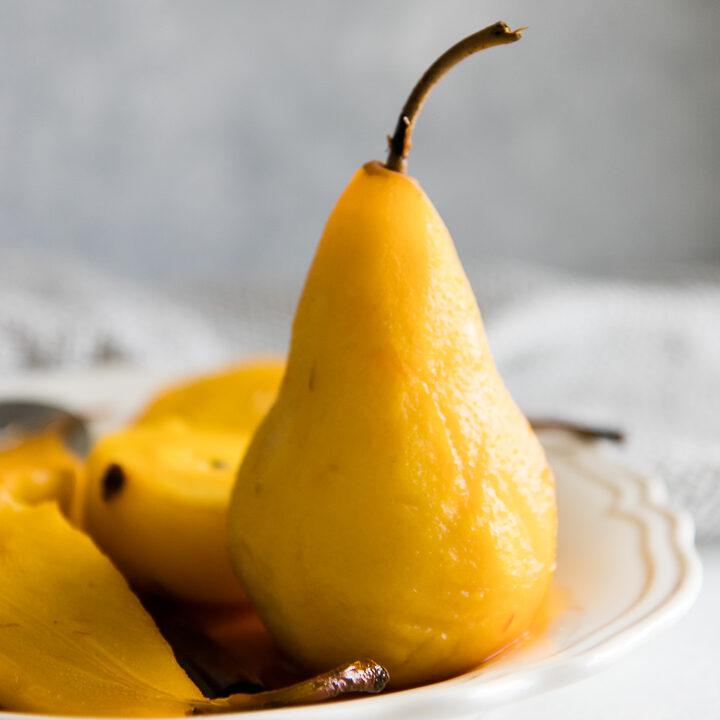 Saffron Poached Pears, a simple and seasonal fall and winter baked fruit dessert with saffron, apple cider vinegar, cinnamon, and brown sugar. This delicious and easy dessert recipe proves saffron isn't just for savory foods!
Prep Time 5 minutes
Cook Time 15 minutes
Total Time 20 minutes
Ingredients
4 bosc pears, peeled and halved
4 cups water
½ cup apple cider vinegar (or apple juice)
¼ cup brown sugar
½ teaspoon saffron
1 cinnamon stick
Instructions
Combine water, apple cider vinegar, brown sugar, saffron, and cinnamon stick in a large pot and bring to a boil.
Add bosc pear halves and reduce liquid to a simmer. Cook for 15-20 minutes, or until pears are cooked and soft throughout. Remove pears and set aside on serving dish.
Turn heat to high and reduce liquid until it forms a thick or syrupy consistency. Remove pot from heat, drizzle liquid over pears, and serve.
Nutrition Information:
Yield:
4
Serving Size:
1 pear
Amount Per Serving:
Calories: 152
Total Fat: 0g
Saturated Fat: 0g
Trans Fat: 0g
Unsaturated Fat: 0g
Cholesterol: 0mg
Sodium: 16mg
Carbohydrates: 39g
Fiber: 6g
Sugar: 29g
Protein: 1g
Thanks to the crew at Zaran Saffron for sponsoring this recipe, I hope you check them out and keep them in mind for your holiday foodie shopping.
We are participant in the Amazon Services LLC Associates Program, an affiliate advertising program designed to provide a means for us to earn fees by linking to Amazon.com and affiliated sites.