Saffron Poached Pears
Saffron Poached Pears, a simple and seasonal fall and winter baked fruit dessert with saffron, apple cider vinegar, cinnamon, and brown sugar. This delicious and easy recipe proves saffron isn't just for savory foods!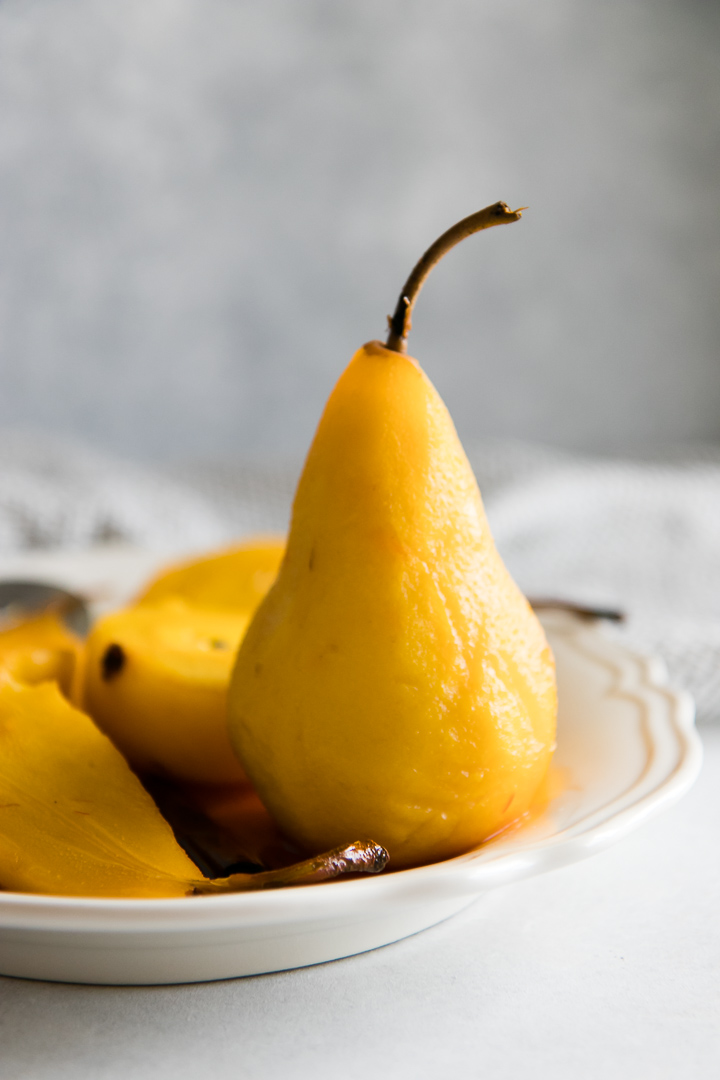 Do you have love poached pears? So do we! That's why we we're excited to share one of our favorite holiday season desserts with a special ingredient: pears poached in saffron sauce!
👉 Here are three reasons why Saffron Poached Pears deserve a spot on your holiday menu:
It's delicious! This savory dessert is a match made in spiced fruit heaven! What better fruit to pair with the strong and pungent spice than the mild and mealy pear?
You only need a few ingredients. Move over, complicated dessert recipes! This one features simple ingredients that you likely already have on hand…and if not, you can find them easily at the grocery store.
It's perfect for sharing. You can't go wrong with making saffron poached pears for your friends and family. It's delicious, decadent, and will impress your friends without all the fuss.
Ready to learn how to make poached pears with saffron? Let's do it!
---
🌺 How to cook with saffron
Saffron is of the most revered spices by chefs and holds the long-running title of being the most expensive spice in the world. Saffron threads are actually the stigma of the crocus flower and its very high price is due to being picked by hand to preserve its shape and flavor. And while many countries such as India, Spain, and Greece harvest saffron, the world's biggest producer by far is the Khorasan region in Northeast Iran.
While saffron may be more expensive than gold by weight, its strong flavor ensures you need only a small amount when cooking. Saffron is not a spice that works well when dry and it is most often used to flavor liquids, where it dissolves and releases its color and flavor. Think paella, bouillabaisse, risotto — all liquid-based dishes that allow saffron to work its magic.
When choosing saffron make sure to check the individual saffron threads for color and length to ensure quality. The darker and more red the threads, the better the quality of the saffron and the crocus flowers it came from.
---
🍐 Ingredients
Our recipe for perfectly poached pears uses bosc pears, vinegar, water, and spices! Here's an overview of exactly what you'll need for this recipe:
Bosc pears: The tried and true perfect pear for poaching due to their ability to hold their shape well when boiled. And they take on a beautiful yellow hue when poached with saffron!
Apple cider vinegar: you can use apple juice if you don't have vinegar on hand ( if you use apple juice, consider reducing the brown sugar if you do not like overly sweet desserts).
Water: you will need about one cup of water per pear. We tested the recipe with both too much boiling water and also not enough. We found that about 1 cup of water for each pear will be enough to poach the pears but also not too much that boiling down the liquid to a sauce will take too long after the pears are done.
Brown sugar: adds sweetness! You can add more or less depending on your preferences.
Saffron: all you need is 1/2 teaspoon of saffron to bring this recipe to life.
Cinnamon sticks: for extra flavor.
Recommended tools: large pot for boiling, serving platter
---
🥣 How to make (step-by-step photos)
1️⃣ Step One: Heat the spices, water and vinegar
First, pour the water and apple cider vinegar into a large pot.
Add the brown sugar, saffron, and cinnamon stick and bring the mixture to a boil over medium-high heat.
---
2️⃣ Step Two: Cook the pears
Next, add the bosc pear halves to the pot and reduce the liquid to a simmer. Cook the pears for 15-20 minutes until they are soft throughout.
Remove the pears from the pot and set them aside on a serving dish. Leave the liquid in the pot for the next step.
---
3️⃣ Step Three: Make the sauce
Finally, turn the heat to high and reduce the liquid until it forms a thick or syrupy consistency. Remove the pot from the heat.
Drizzle the liquid over the pears. Serve immediately for the best flavor!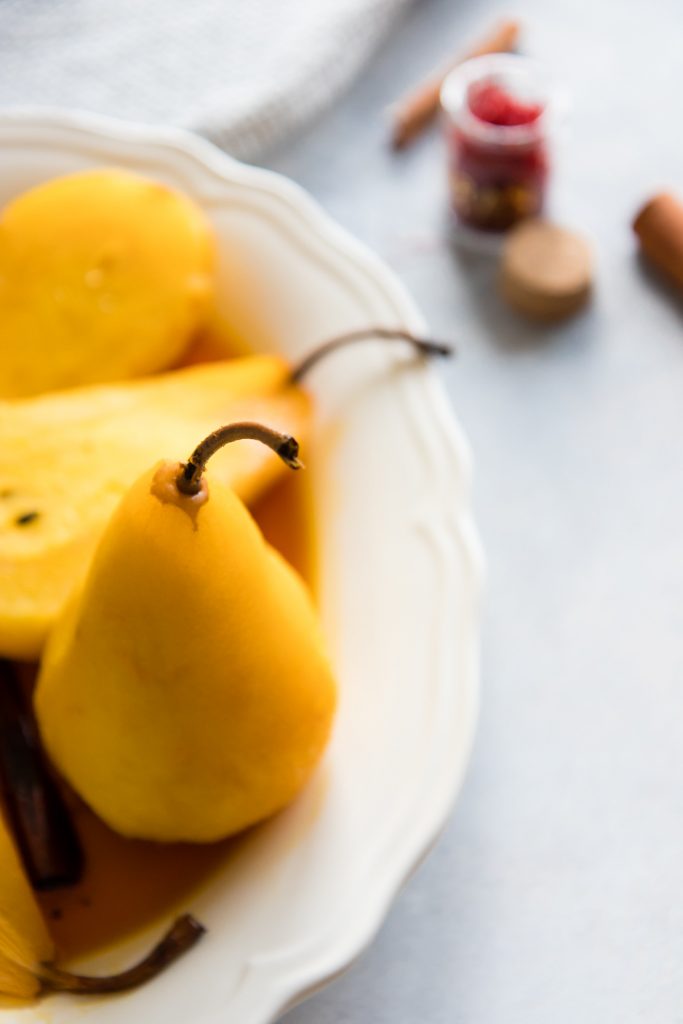 ---
❓ Recipe questions + quick tips
Do pears have to be ripe to poach?
We recommend using pears that are just ripe enough for poaching. If they are too ripe, they will become soggy after they're boiled. However, if they aren't ripe enough, they won't poach well. We love using bosc pears in this recipe because they hold their shape well (and they are delicious!). Anjou or Bartlett pears will also work well for poaching.
How long do poached pears last?
You can store poached pears in the refrigerator for up to 3 days. If you store them with their liquid, they will keep their quality for up to 10 days. However, we suggest serving them as soon as possible after making for the best flavor.
How do you know when pears are ready to poach?
Pears are ready to poach when they are perfectly ripe. If they're over or under-ripe, they will not poach well.
---
👉 How to serve
Saffron Poached Pears are sure to be a hit at your next holiday dinner, minimal prep required. Here are a few other creative ways to enjoy them.
Add to your breakfast: You can add poached pears to oatmeal, pancakes, and even yogurt. They're a great way to add a seasonal kick to your breakfast routine!
Enjoy as a snack: Have a poached pear as an afternoon pick-me-up. Pair it with a handful of nuts and seeds or granola to make it more balanced!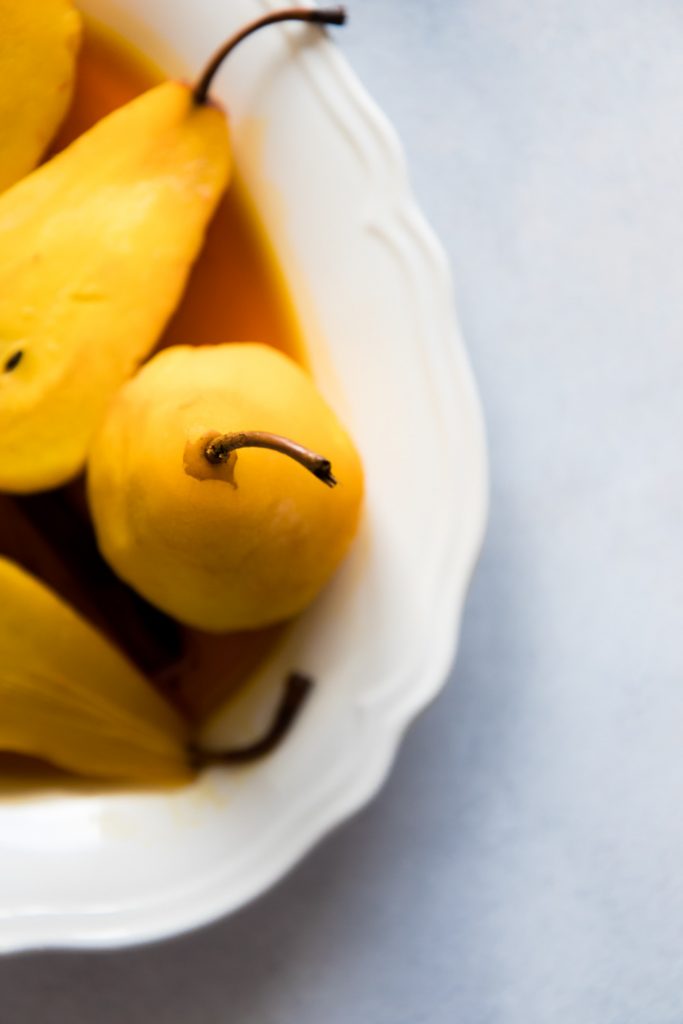 ---
🧊 How to store
We love how easy it is to store this savory dessert! You can make poached pears ahead and store them using these tips:
Refrigerator storage: Store poached pears in an airtight container in the fridge and enjoy within 3-4 days.
Freezer storage (if applicable): We do not recommend keeping poached pears in the freezer.
---
♻️ Sustainable kitchen tips
Here at Fork in the Road, we believe food should be good for you and good for the planet. Try these tips and tricks to make this recipe with sustainability in mind:
Re-think your cookware. Eco-friendly cookware is the way to go if you're looking to take your sustainable kitchen to the next level. Greenpan's environmentally-friendly tools are our favorite because they are non-stick but toxin-free.
Choose sustainably sourced spices. Food tastes extra delicious when you know the ingredients are fair trade and sustainably sourced. Try making Saffron Poached Pears with spices from brands like Frontier or Oakland Spice Shop's online store, two of our favorites.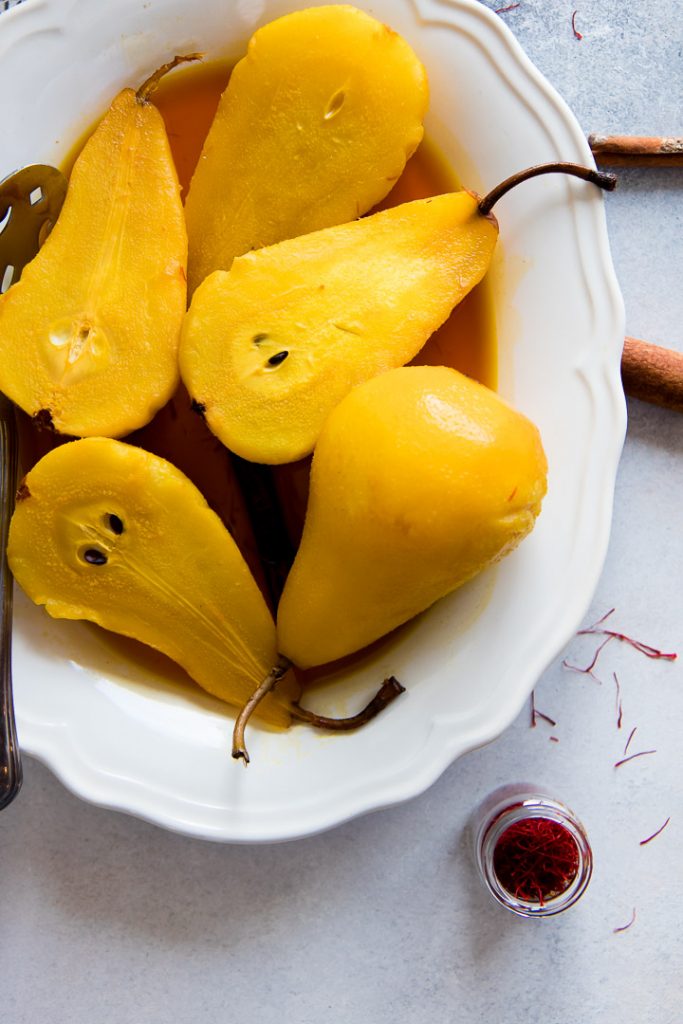 ---
🍨 More holiday dessert recipes
Want more desserts to serve at your holiday gathering? We've got you covered:
Saffron Poached Pears
Saffron Poached Pears, a simple and seasonal fall and winter baked fruit dessert with saffron, apple cider vinegar, cinnamon, and brown sugar. This delicious and easy recipe proves saffron isn't just for savory foods!
Ingredients
4 whole bosc pears, peeled and halved
4 cups water
½ cup apple cider vinegar, or apple juice
¼ cup brown sugar
½ teaspoon saffron
1 whole cinnamon stick
Instructions
Heat the spices, water, and vinegar: Combine water, apple cider vinegar, brown sugar, saffron, and cinnamon stick in a large pot and bring to a boil.

Poach the pears: Add bosc pear halves to the pot and reduce liquid to a simmer. Cook for 15-20 minutes, or until pears are cooked and soft throughout. Remove pears and set aside on a serving dish.

Reduce the sauce: Turn heat to high and reduce liquid until it forms a thick or syrupy consistency. Remove pot from heat, drizzle liquid over pears, and serve.
Notes
Pear types: You can use most any type of pear, but we've found that bosc pears soak up the poaching liquid more than some other varietals.
Apple cider vinegar vs. apple juice: We suggest using apple cider vinegar for a tangy and strong apple flavor, but apple (or even pear!) juice will work as well.
Leftovers + storage: Store leftover poached pears in an airtight container in the refrigerator for up to 4 days. We do not recommend freezing.
Nutrition notes: Nutrition information is calculated for 1 pear with 1/4 of the sauce.
Nutrition Information
Serving: 1serving (1 pear), Calories: 67kcal, Carbohydrates: 17g, Protein: 1g, Fat: 1g, Saturated Fat: 1g, Polyunsaturated Fat: 1g, Monounsaturated Fat: 1g, Sodium: 17mg, Potassium: 51mg, Fiber: 1g, Sugar: 16g, Vitamin A: 1IU, Vitamin C: 1mg, Calcium: 23mg, Iron: 1mg
UPDATE: This recipe was originally published in December 2017 and was updated for clarity in November 2021.
We are participant in the Amazon Services LLC Associates Program, an affiliate advertising program designed to provide a means for us to earn fees by linking to Amazon.com and affiliated sites.