Roasted Broccoli and Carrots
Roasted Carrots and Broccoli, a super easy sheet pan roasted vegetable recipe with only 5 ingredients and ready in under 30 minutes. Your new favorite simple side dish or salad topper!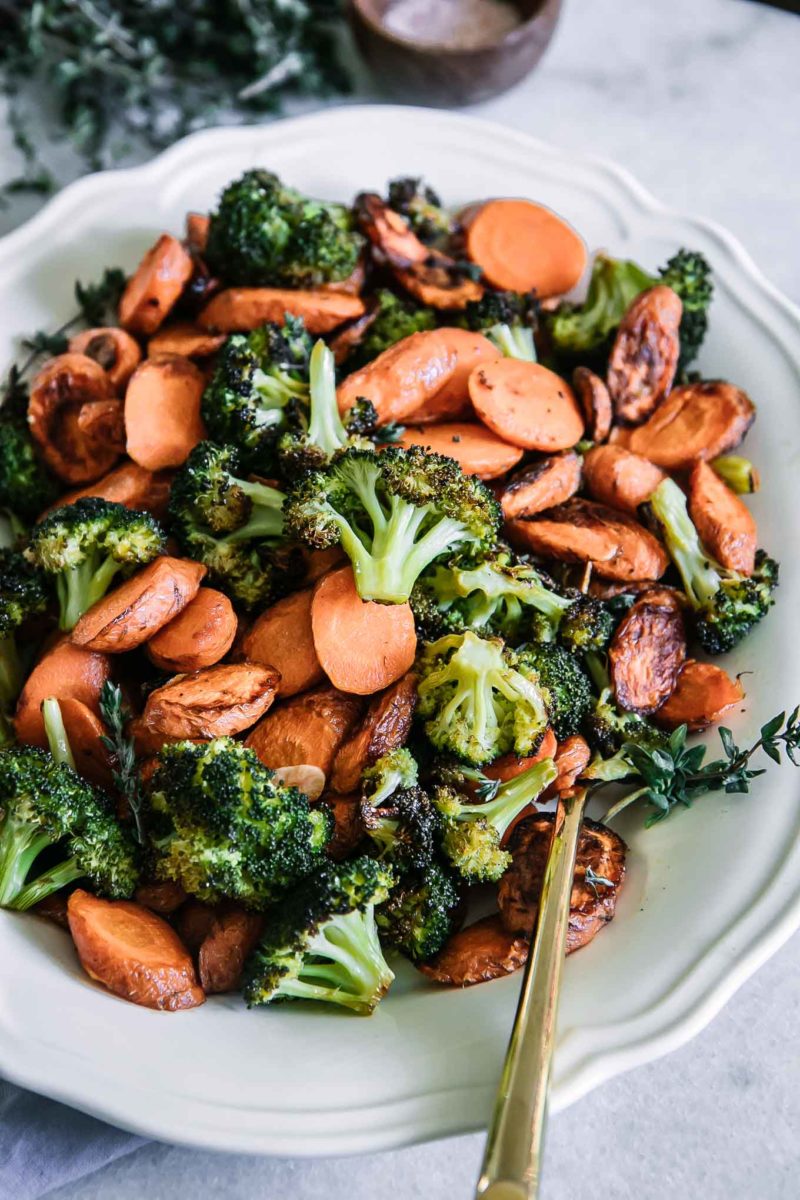 Love roasted carrots? Love roasted broccoli? So do we! We could never choose between the two, but thankfully we don't have to because they are delicious when roasted together.
Here's why you should be baking carrots and broccoli together:
It's simple. Cut them into small pieces, toss in oil and salt on a sheet pan, and roast until golden brown.
It's super tasty. Roasting brings out natural flavors in vegetables like carrots and broccoli, giving them completely different tastes than when eaten raw.
Dress it up, or dress it down. Go simple with salt and pepper, or build flavor with spices and herbs.
Ready to learn our favorite way to bake carrots and broccoli? Let's do it!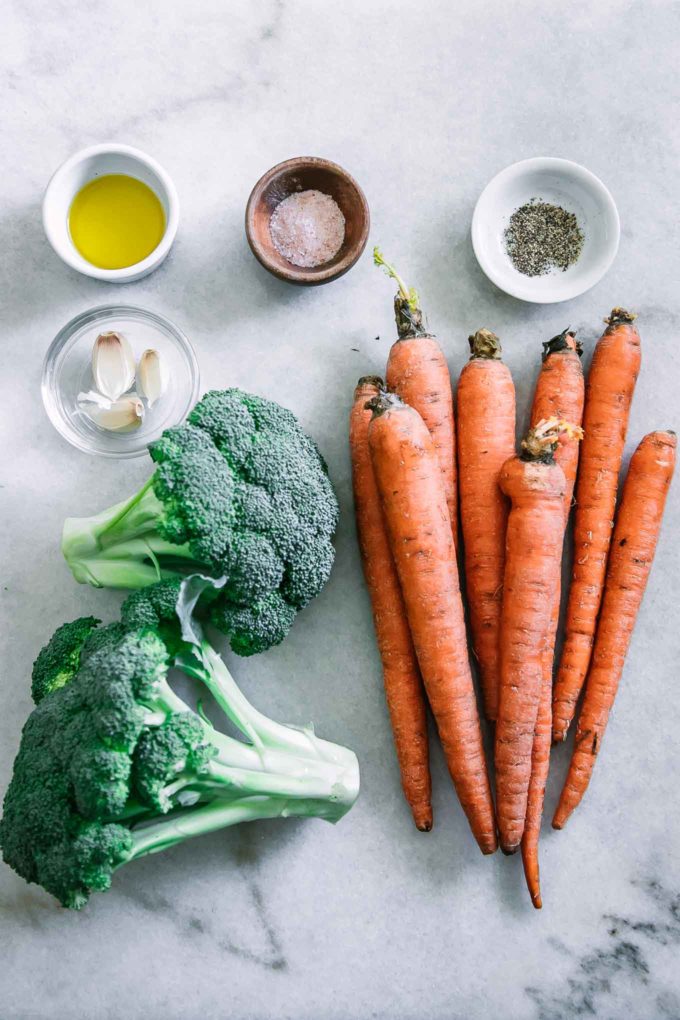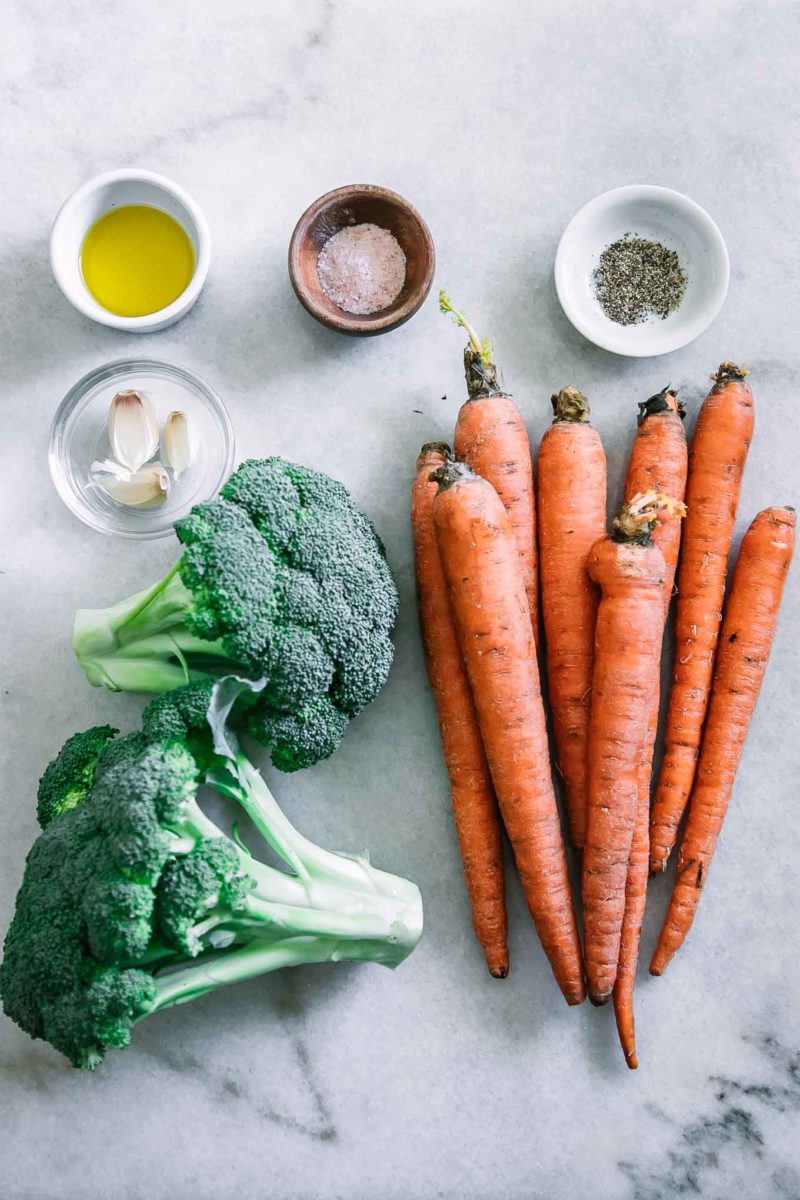 ---
📹 Recipe video
Click the video below or keep scrolling to see the steps to make this recipe.
---
🥦 How to roast broccoli and carrots together (step-by-step photos)
1️⃣ Step One: Preheat oven and cut vegetables
First, preheat the oven to 400 degrees F (200 C). While the oven is heating, wash the broccoli and carrots to remove dirt.
To cut broccoli: cut off stems and split up the florets into bite-size pieces. Save your broccoli stems and use in soup stocks and in salads.
To cut carrots: You can cut carrots however you'd like, but when roasting with smaller vegetables like broccoli we like to cut them into bite-size pieces so the vegetables are all similar sizes and are easier to eat.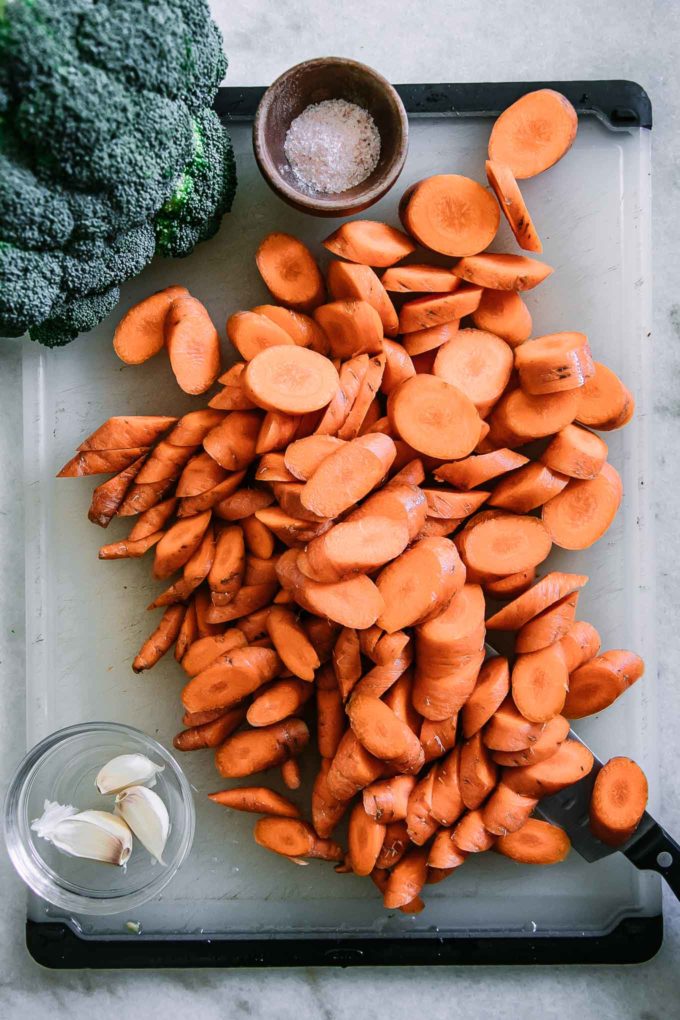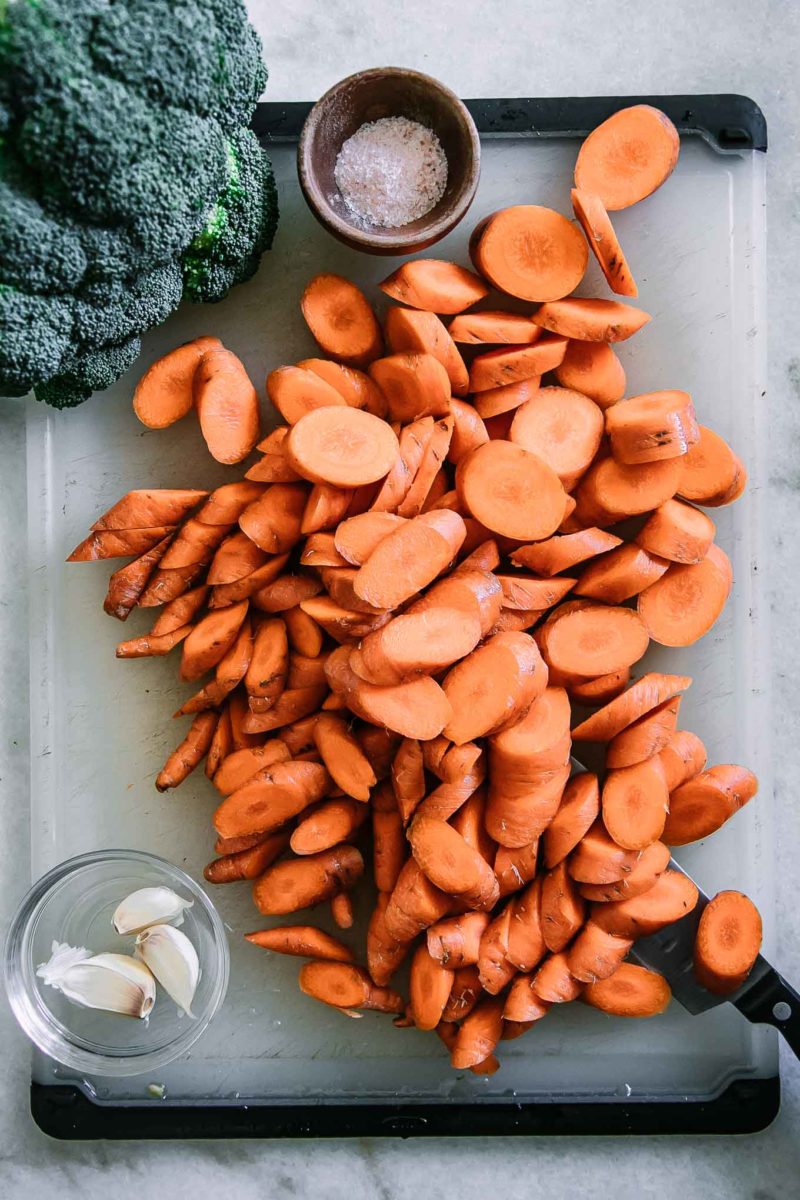 ---
2️⃣ Step Two: Add broccoli and carrots to the roasting pan
Next, add the cut carrots and broccoli to a baking sheet. Drizzle with olive oil and, using your hands or a spatula, toss the vegetables until they're completely coated with oil.
Sprinkle the vegetables with sliced fresh garlic (optional), salt, and pepper.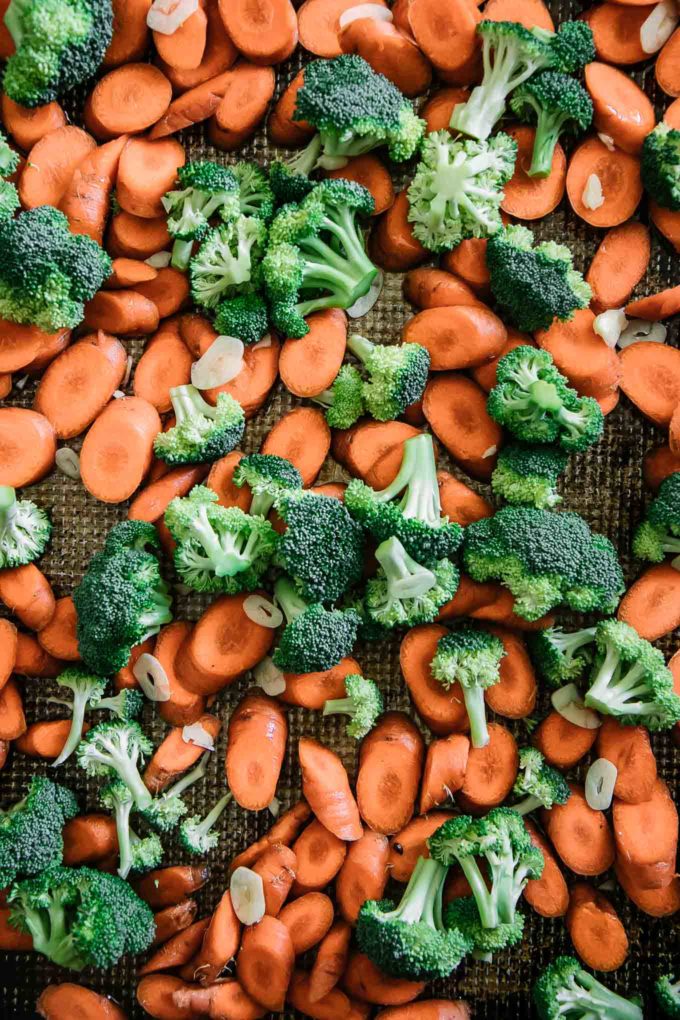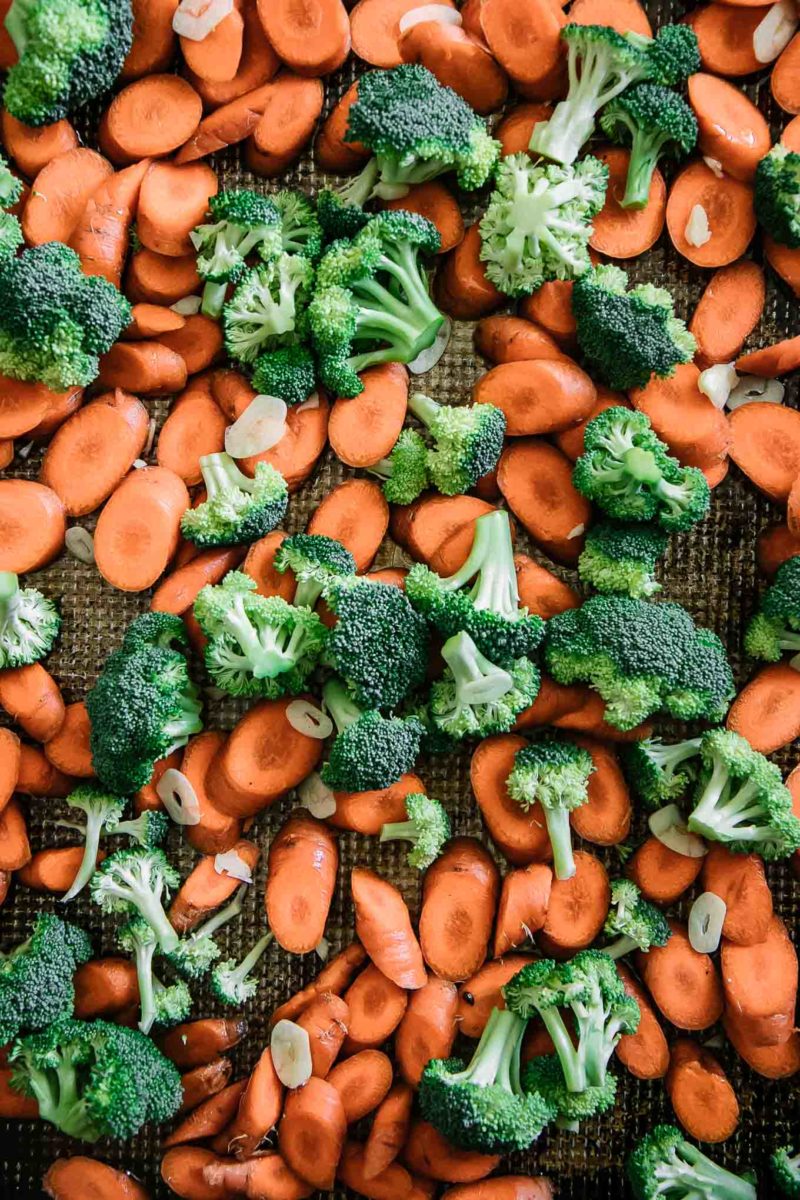 ---
3️⃣ Step Three: Roast vegetables until they soften and begin to brown
Finally, roast the vegetables in the oven until they begin to soften and become brown around the edges. This takes anywhere from 20-30 minutes, depending on your oven.
About halfway through cooking, toss the carrots and broccoli so they brown on all sides, we did this when the vegetables had been roasting for about 15 minutes.
Remove the roasted vegetables from the oven and serve immediately as a side dish, or you can let them cool and use them to top salads and bowls.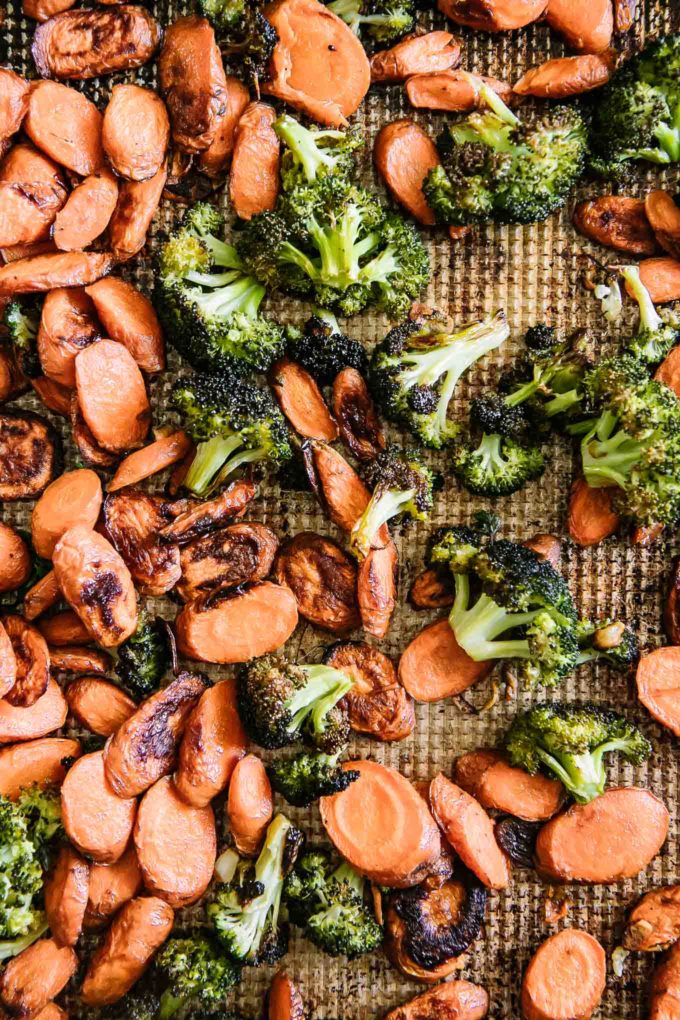 ---
❓ Recipe + ingredient questions
What type of carrots should I use?
Any type of carrots will be delicious roasted. We prefer to roast larger carrots like Tendersweet and Touchon carrots, but when we want a good variety of colors we choose Kaleidoscope carrots.
Should I peel carrots before roasting?
As long as you wash carrots well, you do not need to peel them before roasting. In fact, unpeeled carrots are delicious because the outer layer browns when baked and provides deeper flavor through a process called the maillard reaction when the natural sugar in carrots is heated.
How should I cut carrots before roasting?
Carrots can be roasted whole, cut longways (or lengthwise) into halves or quarters, or cut along the length of a carrot into rounds or thicker 2-3 inch (5-7 cm) long pieces.
What flavor does broccoli have when roasted?
Like many vegetables, broccoli's flavor transforms when roasted. Broccoli becomes soft and has a mellow, yet somewhat sweet flavor when browned in the oven.
Should I blanch broccoli before roasting?
You do not need to blanch broccoli before roasting, but blanching will help the sprouts retain their green color when cooked with high heat.
---
🌿 Herb + spice flavor ideas
This recipe is simply prepared with just olive oil, garlic, salt, and pepper. However, the herb and spice flavor possibilities are endless! Here are a few to try out in your roasted broccoli and carrots recipe:
Rosemary, shallots, and garlic: roast broccoli and carrots with sliced shallots and garlic, then sprinkle with fresh rosemary when finished
Garlic, red onion, and fresh herbs: roasted carrots and broccoli with garlic and sliced red onion, then top with fresh herbs like oregano
Maple and mustard: yes, roasting vegetables with a mixture of maple and mustard brings out a tangy and sweet flavor (try our Maple Mustard Roasted Brussels Sprouts!)
Turmeric, paprika, and cayenne pepper: make it spicy by roasting carrots and broccoli with a sprinkle of turmeric powder, paprika, and a dash of cayenne
Make it crunchy with nuts or seeds: add a bit of crunch by topping baked broccoli and carrots with sliced almonds, pine nuts, sunflower seeds, or sesame seeds
---
♻️ Sustainable kitchen + cooking tips
We're all about sustainability here at Fork in the Road, so here are some tips and tricks for getting the most out of your ingredients.
Take advantage of carrot and broccoli season! The best time to make this dish is when both broccoli and carrots are in season, which is typically year round in California. Find out when broccoli is in season near you if you're in the US.
Use your veggie scraps to reduce food waste! Don't toss those stems and leaves after cutting — make a simple homemade vegetable broth from food scraps and turn your broccoli stems into a deliciously simple side salad.
Don't throw away carrot greens! Did you buy carrots with their leaves? Great! Reuse carrot tops in sauces like chimichurri, or sauté the carrot leaves to eat on their own as a side dish (yes, they're edible!).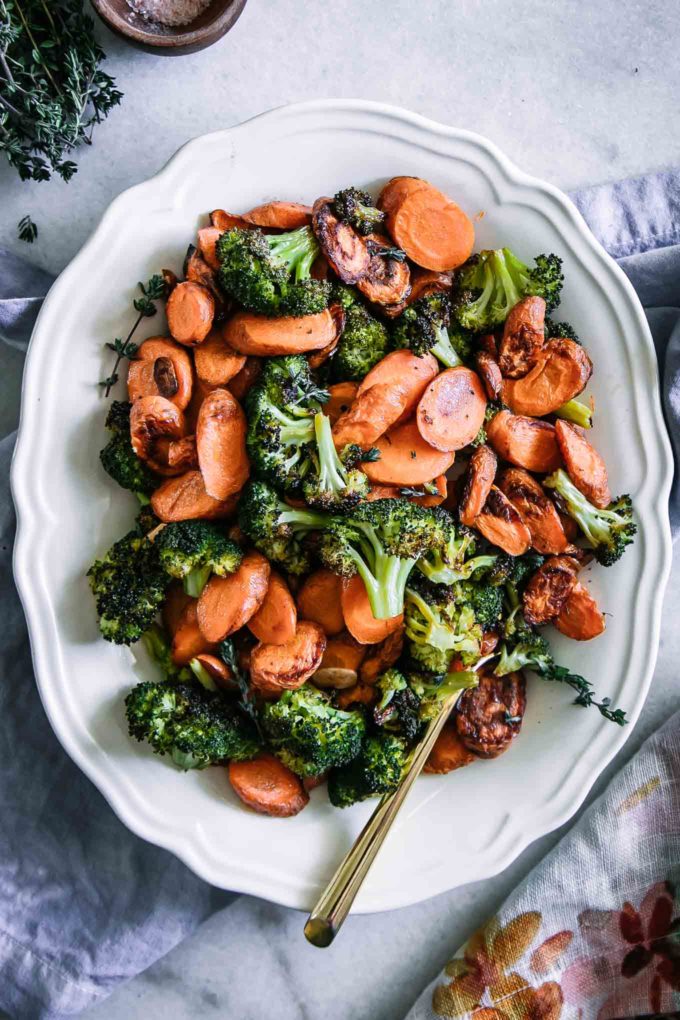 ---
🥕 More roasted mixed vegetable recipes
Check out our other easy bake recipes featuring carrots and other vegetables:
Roasted Broccoli and Carrots Recipe
Roasted Carrots and Broccoli, a super easy sheet pan roasted vegetable recipe with only 5 ingredients and ready in under 30 minutes. Your new favorite simple side dish or salad topper!
Ingredients
1

pound

carrots

washed and peeled

1

pound

broccoli

washed and destemmed

2

whole

garlic cloves

sliced thin

2

tablespoons

olive oil

1

pinch

salt and pepper
Instructions
Prep oven: Preheat the oven to 400 degrees (200 C)

Prep vegetables: Wash broccoli and carrots. Cut stems from broccoli and separate florets into smaller, bite-size pieces. Cut stems from carrots and slice diagonally into 1-2 inch (3-5 cm) pieces.

Roast vegetables: Arrange the carrots and broccoli on a baking sheet and drizzle with olive oil, tossing the vegetables to completely cover with oil and sprinkle with sliced garlic, salt, and pepper. Place sheet pan in the oven and roast for 25 minutes, stirring halfway through to roast vegetables on all sides.

Serve vegetables: Remove pan from oven, arrange roasted broccoli and carrots on a plate and serve as a side dish or as a salad topping.
Video
Notes
Tools Needed: sheet pan, knife set, cutting board
Prep Ahead: Wash and cut vegetables ahead of time to reduce prep time before cooking. If serving cold on salads or bowls, you can make this recipe up to three days ahead of time.
Leftovers and Storage: Vegetables should be stored in an airtight container in the refrigerator for up to 3-4 days. For best taste and texture, do not freeze and reheat.
Nutrition notes: Nutrition information is estimated for only ingredients in the recipe, not the additional spice options given. This simple roasted broccoli and carrots recipe is a good source of fiber, vitamin A, and vitamin C.
Nutrition
Serving:
1
serving
Calories:
148
kcal
Carbohydrates:
19
g
Protein:
4
g
Fat:
8
g
Saturated Fat:
1
g
Polyunsaturated Fat:
1
g
Monounsaturated Fat:
5
g
Sodium:
126
mg
Potassium:
723
mg
Fiber:
6
g
Sugar:
7
g
Vitamin A:
19651
IU
Vitamin C:
108
mg
Calcium:
92
mg
Iron:
1
mg