Maple Mustard Roasted Brussels Sprouts
Maple Mustard Brussels Sprouts, a simple roasted brussels sprouts recipe featuring shallots, maple syrup, stone ground mustard. Delicious as a vegan side dish, or add sliced pancetta for extra flavor. A great make ahead dish for the holidays!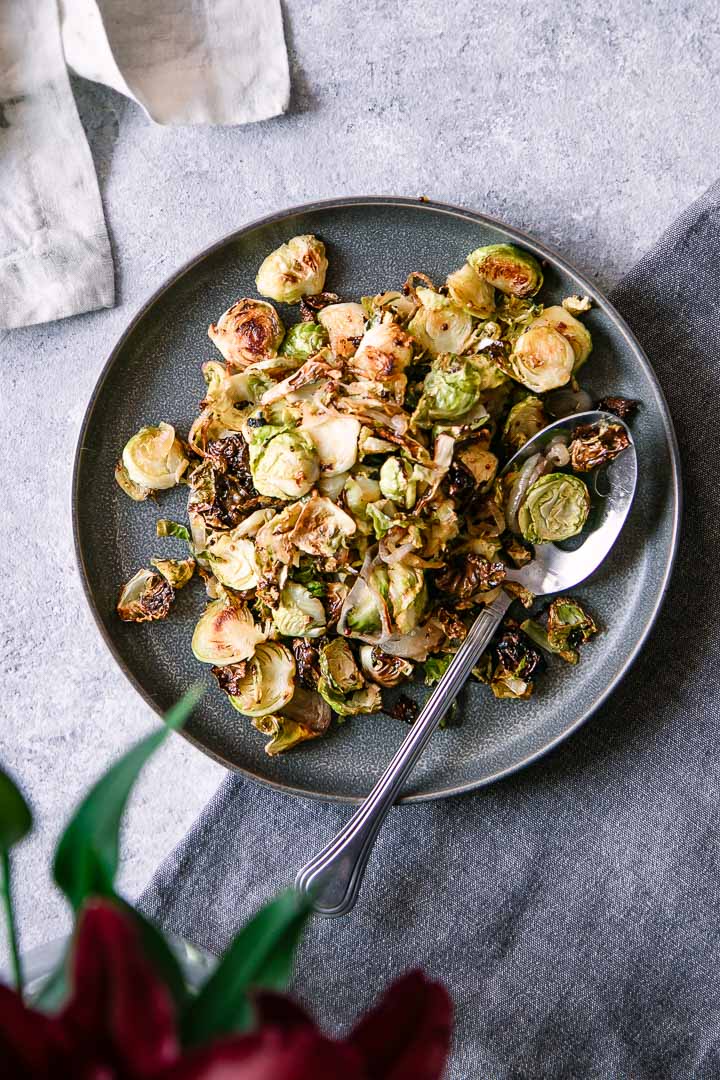 Are you a brussels sprouts lover? You could say that we are officially addicted, seeing as brussels sprouts are a food that makes an appearance on our table at least once a week all fall and winter long.
From side dishes to salads to toppings for pizza (yes, brussels sprouts pizzas are a thing), brussels are one of my favorite fall vegetables to whip up on both a busy weeknights AND as a Thanksgiving side dish.
This Maple Mustard Brussels Sprouts with Shallots recipe is my go-to easy side dish because it's as simple as it gets, without sacrificing flavor. With only five only ingredients and under 30 minutes from start to finish (and gluten-free and vegan optional), this fall-flavored brussels recipe will be your new cozy night favorite.
Ready to learn how to make this simple sprouts side dish? Let's do it!
How to Make Maple Mustard Brussels Sprouts with Shallots
First, cut your brussels sprouts (the most time-consuming party of the recipe). You can cut them into halves or, if you like crispier sprouts, cut each sprout into thin slices so they cook faster and brown easily.
Toss the sprouts with thinly sliced shallots, olive oil, maple syrup, mustard (stone ground or dijon will do) salt, and pepper until well combined. Then spread sprout and shallot mixture on a sheet pan and roast at 400 degrees for about 25 minutes, stirring occasionally to brown all sides.
That's it! A super simple brussels sprouts recipe that is perfect for fall. Eat as a side dish or even as your main, or use the mixture on top of a homemade pizza or salad. You can't go wrong with this easy sprouts recipe!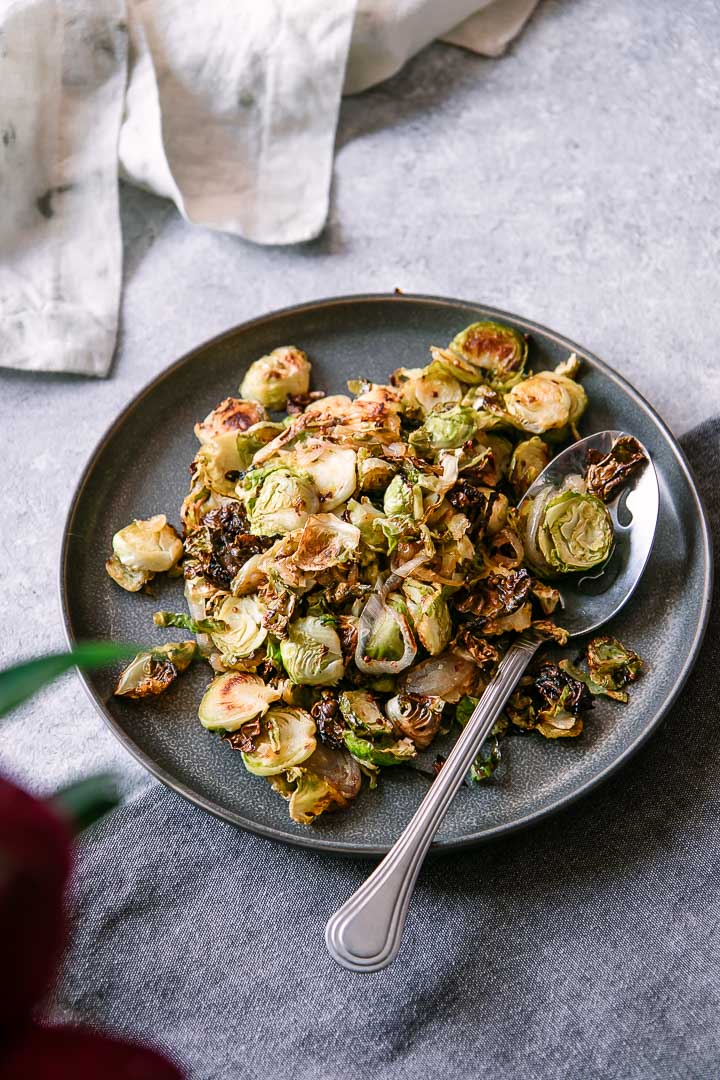 Maple Mustard Brussels Sprouts: Tips, tricks, and tools
This roasted brussels sprouts recipe is easy peasy, but there are a few kitchen tools I recommend:
An eco-friendly sheet pan: Safe cookware is key to green eating, so when it's time to replace your cookie sheet make sure to choose sustainable, toxin-free cookware
A good set of kitchen knives: a good quality knife set is key to easily and safely cutting brussels and other vegetables
Responsible ingredients: I try to source local and organic ingredients when I can, and for this recipe I chose responsibly-sourced quality maple syrup. I also like to use glass food storage containers instead of plastic to safely store leftover vegetables.
Roasted brussels sprouts recipe variations: While this recipe is my favorite way to cook sprouts, here are a few fun ways to get creative and make it your own:
Swap the shallots: Use onion, minced garlic, artichokes, and even kimchi in your brussels
Spice it up! Get creative by adding ground cumin, curry powder, paprika, or turmeric
Sauce it up! Add sweeteners or sauces like honey, agave, chimichurri, or mojo sauce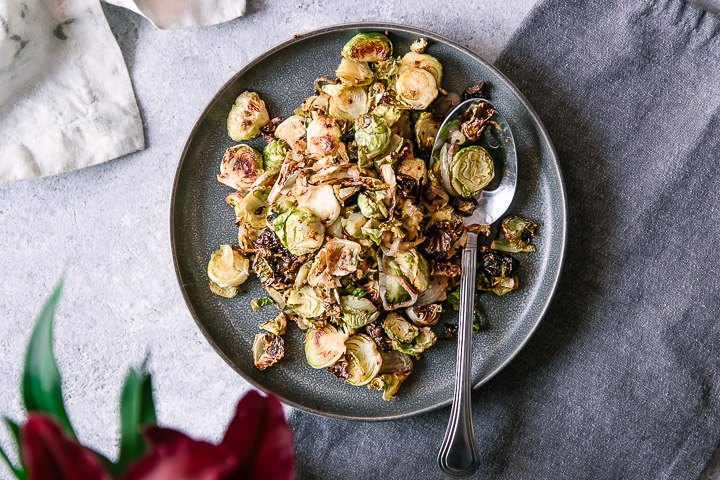 ---
Craving more simple roasted vegetable recipes? Check out our
Did you make this Maple Mustard Brussels Sprouts recipe? Leave a comment below and rate the recipe to let us know how it turned out. Save this recipe for later by pinning to your favorite fall Pinterest board and make sure to tag me on Fork in the Road's Instagram to show me your salad creations!
Yield: 4 servings
Maple Mustard Brussels Sprouts with Shallots
A simple roasted brussels sprouts recipe featuring shallots, maple syrup, stone ground mustard that is gluten-free and vegan. A great make ahead dish for the holidays!
Prep Time 5 minutes
Cook Time 25 minutes
Total Time 30 minutes
Ingredients
6 cups brussels sprouts, sliced
1 shallot, sliced
2 teaspoons olive oil
1 tablespoon maple syrup
1 tablespoon stone ground mustard
¼ teaspoon sea salt
⅛ teaspoon black pepper
Optional: 2-3 slices pancetta, chopped
Instructions
Preheat oven to 400 F (200 C).
Combine brussels sprouts, sliced shallot, olive oil, maple syrup, mustard, and salt and pepper in large bowl and mix well. If using, dice raw pancetta and mix with vegetables.
Transfer to oiled cookie sheet and bake until golden brown, about 25-35 minutes depending on your oven. Stir periodically to ensure sprouts brown on all sides, then serve immediately or let cool and store in refrigerator to be eaten later.
Notes
Tools needed: sheet pan, glass mixing bowls
Notes: My trick for perfectly brown (and not burned) brussels is to leave them untouched for first 10 minutes, then flip every 5-7 minutes after to prevent burning and let them crispy on all sides.
Leftovers & Storage: There's rarely leftovers, but store in an airtight container for up to four days in the refrigerator and reheat in a pan or microwave. Do not freeze, frozen and thawed brussels will not have the same texture and will get mushy.
Nutrition: Nutrition information is for brussels sprouts without optional pancetta. This simple brussels sprouts side dish is a good source of fiber and is high in vitamin C, which being low in sodium and high in healthy fats...and flavor!
Nutrition Information:
Yield:
4
Serving Size:
1 serving (1.25 cups)
Amount Per Serving:
Calories: 133
Total Fat: 4g
Saturated Fat: 1g
Trans Fat: 0g
Unsaturated Fat: 3g
Cholesterol: 0mg
Sodium: 183mg
Carbohydrates: 22g
Fiber: 7g
Sugar: 8g
Protein: 7g
We are participant in the Amazon Services LLC Associates Program, an affiliate advertising program designed to provide a means for us to earn fees by linking to Amazon.com and affiliated sites.