Maple Mustard Roasted Brussels Sprouts
Maple Mustard Brussels Sprouts, a simple roasted brussels sprouts recipe featuring shallots, maple syrup, and stone ground mustard. Delicious as a vegan side dish and a great make-ahead dish for the holidays!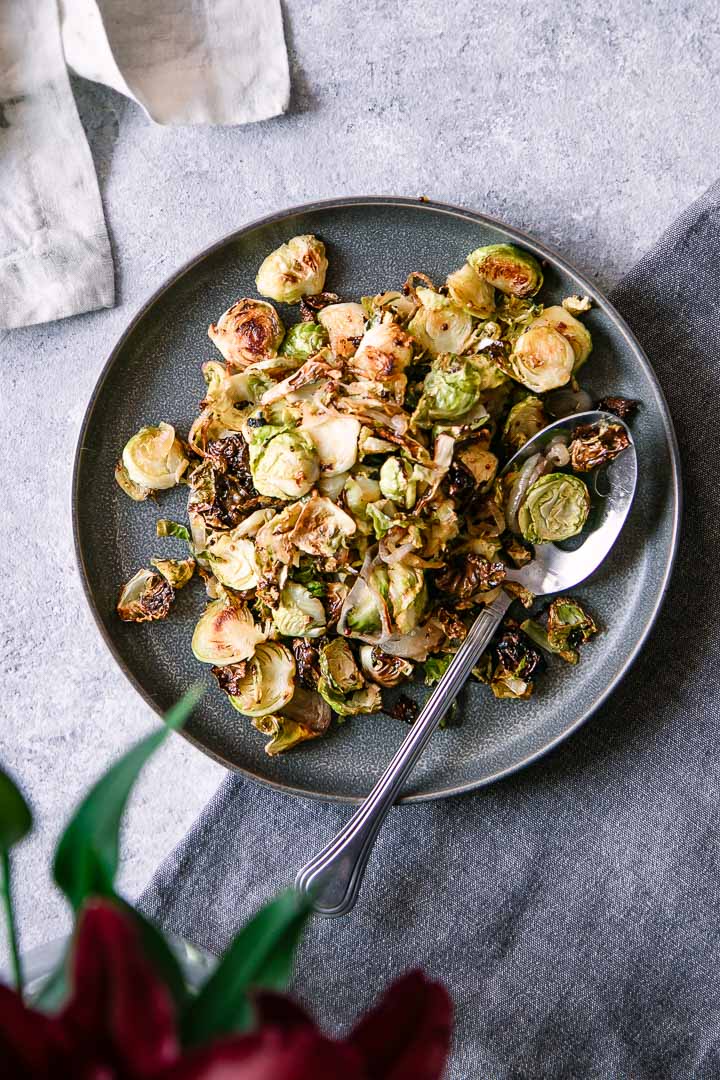 Are you a brussels sprouts lover? Us too! Brussels sprouts are a vegetable that makes an appearance on our table at least once a week all fall and winter long. From side dishes to salads to toppings for pizza, brussels are one of our favorite fall vegetables to whip up on both a busy weeknight AND as a Thanksgiving side dish.
👉 Here are three reasons why you should make brussels with maple and mustard:
It's as simple as it gets. With only five ingredients and under 30 minutes from start to finish, this recipe is so easy to make without sacrificing flavor.
It's versatile. There are so many different ways to serve this brussels sprouts side dish. Serve alongside dinner during the week and/or share it with family and friends on Thanksgiving. It tastes great with many different toppings and spices, and pairs well with just about any food.
You can make it ahead. The holiday season is busy for everyone, making meal prep-friendly recipes extra important. This side dish can be made up to 4 days in advance. Simply re-heat the brussels sprouts when you're ready to serve!
Ready to learn how to make roasted brussels sprouts with maple and dijon mustard? Let's do it!
---
🥬 Ingredients you'll need
The best part about this recipe is that you only need a few simple ingredients, some of which you probably already have in your fridge or pantry.
Brussels sprouts: A fall vegetable that has a delicious nutty flavor when roasted.
Shallot: 1 sliced shallot is all you need for a flavor boost.
Olive oil: Adds flavor and makes brussels sprouts extra crispy during the roasting process.
Maple syrup: Brings a note of sweetness that really makes this recipe's flavor stand out.
Stoneground mustard: A tablespoon of stoneground mustard contributes a sharp, spicy flavor to this dish. Don't have stoneground mustard on hand? Dijon mustard will do!
Salt and pepper: Add a pinch of salt and pepper to taste.
Recommended tools: sheet pan, glass mixing bowls, knife set
---
🥣 How to make (step-by-step photos)
1️⃣ Step One: Preheat oven + prep veggies
Before prepping the brussels sprouts, preheat your oven to 400 degrees F, then wash and cut the brussels sprouts and shallots.
How to cut brussels sprouts: Cut off the stems, then cut the sprouts in half or in quarters. If you like crispier sprouts, cut each sprout into thin slices so they cook faster and brown easily.
How to cut shallots: Cut the shallot in half lengthwise, then cut each half into thin slices.
---
2️⃣ Step Two: Season brussels sprouts + add to a roasting pan
Next, combine brussels sprouts, sliced shallot, olive oil, maple syrup, mustard, salt, and pepper in a large bowl and mix well.
Place the veggies on a roasting pan or baking sheet. Make sure to spread them out evenly: this will help make them more crispy and ensure the veggies are cooked through.
---
3️⃣ Step Three: Roast vegetables until golden brown
Roast the brussels sprouts in the oven for about 25 minutes, stirring occasionally to brown all sides.
When the veggies are done roasting, remove them from the oven and serve immediately as a side dish, or you can let the vegetables cool and use for other purposes (like on top of salads, bowls, or pizza!).
---
❓ Recipe questions + quick tips
Why are my roasted brussels sprouts not crispy?
To make sure brussels sprouts come out crispy, combine them with a small amount of olive oil before roasting. It is also a good idea to cut them into small pieces before placing them in the oven: the smaller the pieces, the crispier they will be!

Should roasted brussels sprouts be blanched before roasting?
Brussels sprouts do not need to be blanched before roasting. Some people prefer the texture of blanched brussels sprouts, as it adds some extra crisp. If you prefer to blanch them, boil brussels sprouts in salty water until fork tender. Once they are cooked, allow them to dry and then follow our instructions above for roasting.
Are roasted Brussels sprouts bad for you?
Roasted brussels sprouts are not bad for you. In fact, brussels sprouts are a good source of several vitamins and minerals, including vitamin K, vitamin C, and folate. Additionally, they provide fiber and disease-fighting antioxidants. They are a fantastic addition to a healthy diet! We recommend eating brussels sprouts for their health benefits.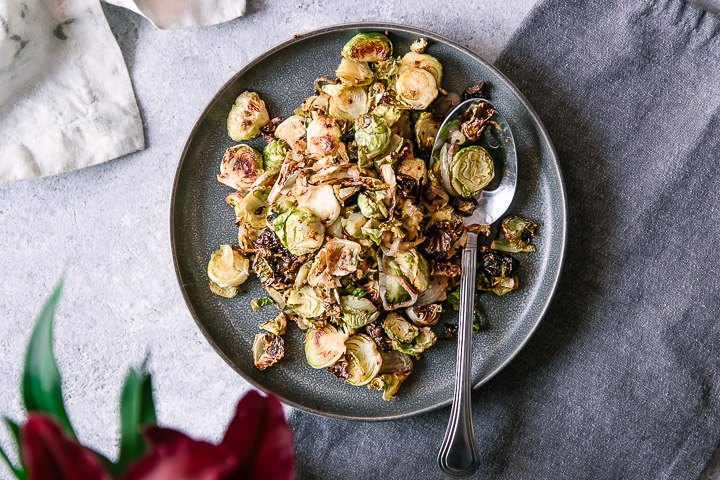 ---
👉 How to serve
There are so many different ways that you can enjoy these delicious roasted veggies. Here are some ideas to get you started:
As a side dish: You can't go wrong with serving brussels sprouts as an easy side, they pair well with just about anything.
Crumble on top of homemade pizza: Yes, brussels sprout pizza is a thing!
Mix into salad or rice bowl: Brussels sprouts can add a burst of flavor to salads and rice bowls. Simply mix them in for a delicious addition.
Enjoy as a snack! Switch up your snack routine. Heat up a spoonful of brussels sprouts (or you can eat them cold) and pair with a handful of nuts or seeds for a balanced, nutritious snack between meals.
---
🌿 Roasted brussels sprouts recipe variations
While this recipe is one of our favorite ways to cook sprouts, here are a few fun ways to get creative and make it your own:
Swap the shallots: Use onion, minced garlic, artichokes, and even kimchi in your brussels.
Spice it up! Get creative by adding ground cumin, curry powder, paprika, or turmeric.
Mix with sauce! Add sweeteners or sauces like honey, agave, chimichurri, or mojo sauce.
---
🧊 How to store
These maple dijon brussels sprouts are so delicious, there are rarely leftovers. But if you have them, here's how we suggest you store them:
Refrigerator storage: Place brussels sprouts in an airtight container for up to four days in the fridge. Reheat in a pan or microwave.
Freezer storage: We don't recommend freezing roasted Brussels sprouts. When they're frozen and thawed, they lose their texture and will get mushy.
---
♻️ Sustainable kitchen tips
Want to take your green lifestyle to the next level? Here are some ways you can give back to the planet with this recipe's ingredients:
Make while brussels sprouts are in-season. We've mentioned that this is a great fall recipe, and that's because brussels sprouts are typically at the peak of their growing season during this time. Find out when they're in season near you here.
Compost veggie scraps. Any parts of the brussels sprouts and shallots that you didn't use in this recipe should be tossed in the compost bin.
Use responsible ingredients and tools. Try to source local and organic ingredients when possible. For this recipe, we chose responsibly-sourced quality maple syrup. It's also a good idea to use glass storage containers instead of plastic to safely store leftover vegetables.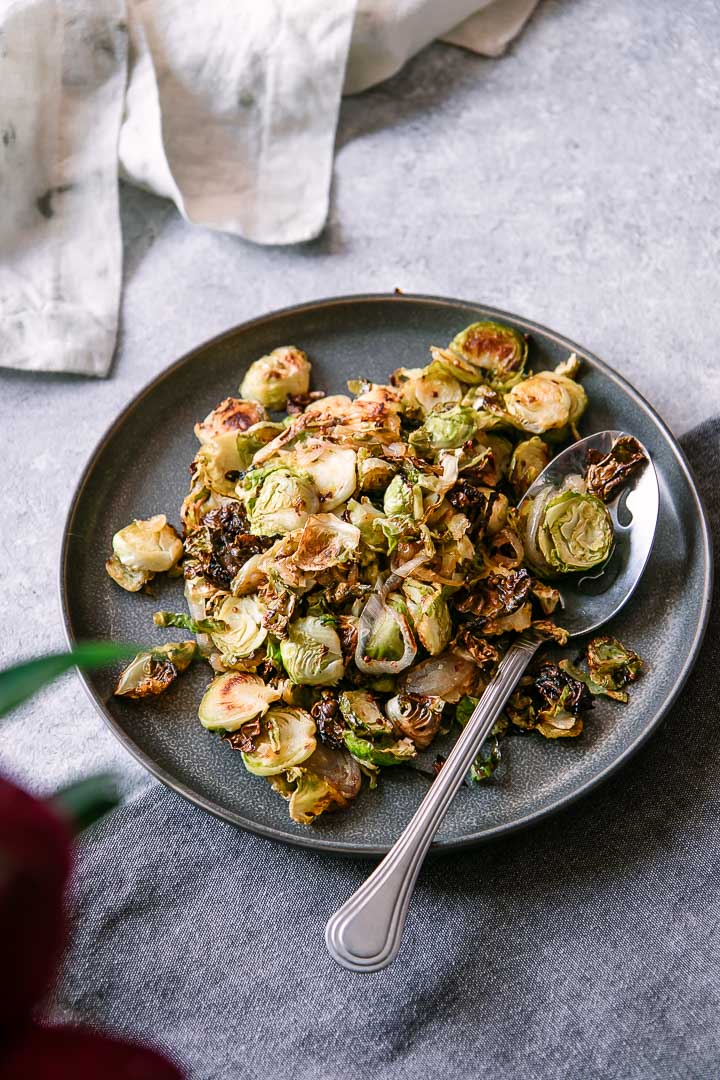 ---
🥬 More roasted brussels sprout recipes
Craving more simple roasted brussels sprouts recipes? We've got you covered:
Looking for more fall-themed vegetable sides? Try our Brown Sugar Roasted Acorn Squash!
Maple Mustard Brussels Sprouts with Shallots
A simple roasted brussels sprouts recipe featuring shallots, maple syrup, stone ground mustard that is gluten-free and vegan. A great make ahead dish for the holidays!
Ingredients
6 cups brussels sprouts, sliced
1 whole shallot, sliced
2 teaspoons olive oil
1 tablespoon maple syrup
1 tablespoon stone ground mustard
¼ teaspoon sea salt
⅛ teaspoon black pepper
Instructions
Preheat oven + prep vegetables: Preheat oven to 400 F (200 C). Wash brussels sprouts and shallots, then cut them for roasting. To cut brussel sprouts, remove the stems and ends from the sprouts, then cut each sprout in half or in quarters (the smaller the pieces, the crispier they will be!). To cut shallots, start by cutting shallots in half lengthwise, then cut each half horizontally to yield thin slices.

Season vegetables: Combine brussels sprouts, sliced shallot, olive oil, maple syrup, mustard, and salt and pepper in large bowl and mix well.

Bake until golden brown: Transfer veggies to oiled cookie sheet and bake until golden brown, about 25-35 minutes depending on your oven. Stir periodically to ensure sprouts brown on all sides.

Serve vegetables: Remove pan from the oven and serve immediately or let cool and store in refrigerator to be eaten later.
Notes
Tools needed: sheet pan, glass mixing bowls
Recipe notes: My trick for perfectly brown (and not burned) brussels is to leave them untouched for first 10 minutes, then flip every 5-7 minutes after to prevent burning and let them crispy on all sides.
Leftovers + storage: There's rarely leftovers, but store in an airtight container for up to four days in the refrigerator and reheat in a pan or microwave. Do not freeze, frozen and thawed brussels will not have the same texture and will get mushy.
Nutrition notes: Nutrition information is for brussels sprouts without optional pancetta. This simple brussels sprouts side dish is a good source of fiber and is high in vitamin C, which being low in sodium and high in healthy fats…and flavor!
Nutrition Information
Serving: 1serving, Calories: 91kcal, Carbohydrates: 15g, Protein: 5g, Fat: 3g, Saturated Fat: 1g, Polyunsaturated Fat: 1g, Monounsaturated Fat: 2g, Sodium: 221mg, Potassium: 532mg, Fiber: 5g, Sugar: 6g, Vitamin A: 998IU, Vitamin C: 112mg, Calcium: 64mg, Iron: 2mg
UPDATE: This recipe was originally posted in November 2018 and was updated for clarity in September 2021.
We are participant in the Amazon Services LLC Associates Program, an affiliate advertising program designed to provide a means for us to earn fees by linking to Amazon.com and affiliated sites.