17 Zero Waste Gift Ideas for the Holidays
Looking for zero waste gift ideas this holiday season? Look no further! We've rounded up our favorite low waste gift ideas that reduce single-use household products and make sustainable shopping easy this year.
Do you struggle gift-giving during the holidays? As someone actively trying to reduce single-use household products and unnecessary clutter in our home, I grapple with the excess and unnecessary gifts that are common during the holidays.
However, I also take pleasure in giving thoughtful, meaningful gifts to the ones I love. It is a mental struggle each year, and I have wasted a lot of energy feeling at war between wanting to reduce my overall consumption and also participate in my family's giving traditions.
Then I had a realization: I could give purposeful, eco-friendly gifts that reduce waste in the home and were also interesting to receive — even for my not-so eco-minded friends and family. In fact, I found that sometimes the gifts sparked my loved ones to begin their own journey to low waste living.
That's why I've rounded up my favorite zero waste gift ideas into one easy green gift guide. So stop struggling with gift anxiety and feel good about giving green this holiday season!
---
🎁 Zero waste holiday gift ideas that reduce single-use products
Note: This post contains affiliate links, which means Fork in the Road may receive a small commission if you purchase, at no additional cost to you. We researched each and every recommendation to ensure they align with our sustainable standards.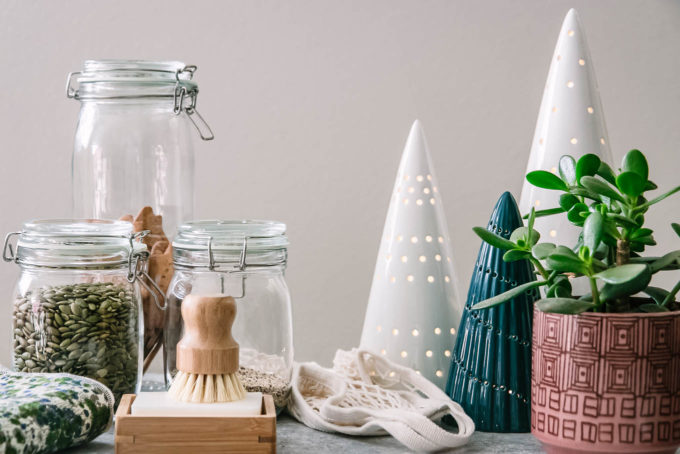 ♻️ Zero Waste Starter Kits from ZeroWaste.com.
No time to pull together a zero waste gift, but want something interesting? No problem! ZeroWaste.com has you covered with their starter kits. Choose from a zero waste kitchen set, bathroom set, or a general low waste starter set kit and make sustainable shopping easy this year.
---
🧽 Plastic-Free Dish Washing Block from No Tox Life.
Think washing dishes means liquid soap in a plastic bottle and a throwaway sponge? There is another way! One of my favorite new finds this year was No Tox Life, a mom and daughter-run zero waste shop selling block dish soap and scrub brushes. It's a super interesting conversation starter that your friends and family will love.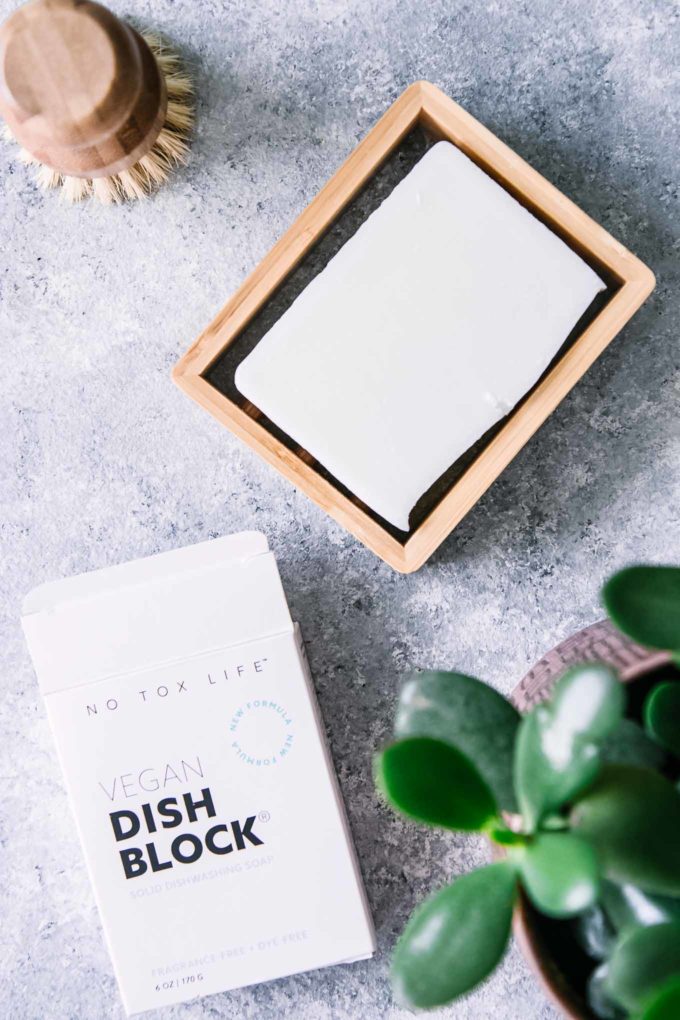 ---
🛀 Ditch the bottles and give shampoo and conditioner bars.
Tell the truth: is your bath tub filled with half full plastic shampoo and conditioner bottles right now? I feel you, I've been there. Then I discovered bar shampoo and conditioners and my zero waste hair washing life was changed. Most people aren't aware that bar shampoos and conditioners even exist, so giving the gift of plastic-free hair washing sets is a great conversation piece during the holidays.
---
💧 Create a zero waste bath basket with bar soap and bath bombs.
I love gifting a good bath bundle, but hate the plastic containers and unnecessary packaging. Instead, I like to create my own bath boxes with bar soap, reusable wash cloths, and organic bath bombs for a zero waste self-care present.
---
🕯 Refillable candles for a guilt-free candlelit home.
Love candles but hate the waste? I feel you. We love lighting a candle after dinner while watching movies, but hate how wasteful traditional candles can be (not to mention how expensive!). Luckily there's another way — refillable liquid candles from Lucid!
Here's how it works: purchase your favorite candle holders and when the candles burn out, purchase refillable liquid that allows the candles to burn indefinitely. This lower-waste way to enjoy life by candlelight is a great low waste gift idea!
---
🧼 Refillable cleaning supplies for the clean freak in your life.
Have a clean freak friend who could moonlight as Marie Kondo? Give them the gift of low waste cleaning products! I fell in love with green cleaning company Meliora, that makes reusable, low waste cleaning easy. Simply package together a reusable spray bottle, all-purpose (plastic-free!) home cleaning scrub, and a pack of reusable cleaning towels and say goodbye to single-use cleaning waste.
---
🪒 Plastic-free safety razor kits.
Let's face it, shaving is wasteful. And expensive. A pack of plastic razors runs about $10+ and they can only be used a few times before they dull and become unsafe, thus needing to be thrown out. Thankfully there's a low waste way to shave: safety razors.
Safety razors are zero waste razor handles are made from higher quality ingredients with replaceable blades, meaning no more plastic waste. Go one step further with this gift idea and replace cans of shaving cream with bar soap and you're giving the gift of smooth skin with much less impact on the planet.
---
🥜 Ditch waste with bulk food jars for the pantry.
Who doesn't love a streamlined, beautifully-organized pantry? The home cook in your life will love receiving a set of beautiful food storage jars and reusable jar labels to beautify their pantry (they'll think of you every time they open it!). Include a quick tutorial on how to shop the bulk section at their favorite grocery store and your loved one will be on their way to zero waste living in no time.
Sustainable Tip! Reuse jars in the kitchen by cleaning the labels and using them for bulk food storage. See our guide for cleaning food label jars or our tips for removing labels from wine bottles.
---
📚 E-reader filled with books and magazines.
As a heavy reader who blows through a few books a month, there is nothing like holding a book in my hand. HOWEVER, I also rarely read book more than once and I enjoy a clutter-free home. I was late to adopt the e-reader habit, but now that I have I love having my entire library at the touch of my fingertips.
That's why I love giving the gift of reading with an e-reader device filled with my favorite book recommendations to my friends and family. And the beauty of an e-reader is you can connect the device to download books from your local library's catalog through apps like Libby, meaning your family member doesn't have to spend money on books.
---
☕️ Get a waste-free coffee solution for the caffeine-lovers in your life.
Giving reusable coffee filters can save your coffee-loving friends money (and time running to the store for filters when they run out). Or get fancy and give a Chemex coffee pot with a reusable filter, or a filter-free moka espresso pot.
---
🍸 Zero waste bar set for the wannabe bartender.
Have a friend who loves shaking up martinis or pouring margaritas? Give the gift of a zero waste bar set! Gather silicon ice trays, freezable steel ice cubes and straws, and reusable toothpicks for drink garnishes — without the waste.
---
🏃‍♂️ Refurbished barefoot running shoes from Revivo.
One of my favorite new finds this year was Vivo Barefoot, a running shoe company that makes running shoes that mimic your foot's natural shape and provide a barefoot running experience.
I became even more enamored with the company when they started Revivo, a branch of their company that refurbishes old running shoes to make them like new again (and at a significant discount compared to the price of brand new shoes).
I received my first pair this fall and fell in love with them, and with the knowledge that I was saving a pair of shoes from a landfill. Give the gift of upcycled running shoes with a gift card to Revivo!
---
🧺 Pack a zero waste picnic set for your outdoorsy loved one.
Have an outdoors-loving friend or family member who loves hiking or enjoying national parks? Or maybe a friend who enjoys soaking in nature in a city park? A reusable picnic pack is the perfect gift! Put together a small box filled with a small picnic basket, lightweight food containers, and reusable wooden utensils.
---
🎁 Give a pre-packaged eco-friendly gift box from EarthHero.
Short on time and need a quick and easy gift? EarthHero gift boxes are the perfect way to easily gift the gift of low waste living. From zero waste dish washing kits to reusable lunch box packs (utensils and all!), you can't go wrong with a green gift box that's already packaged for you. Just click and send!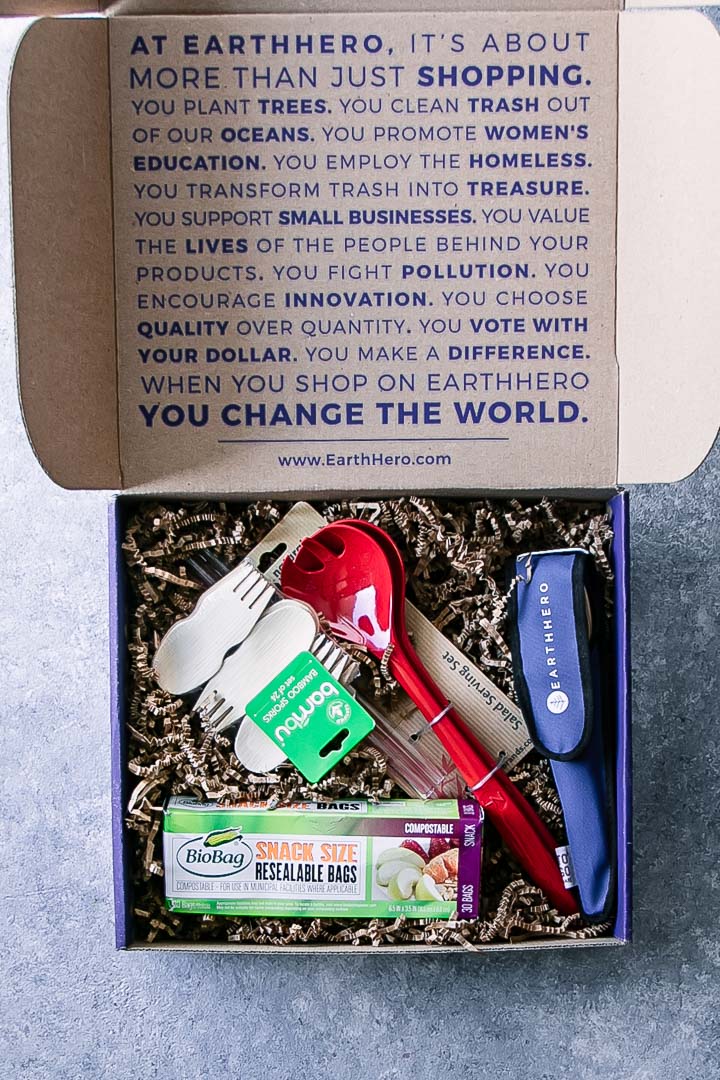 ---
🥤 Ditch the cans and make sparkling water with a Sodastream.
Have a sparkling water addicted loved one who blows through cases of La Croix each week? Reduce the aluminum can and packaging waste by giving the gift of homemade bubbling water with a countertop Sodastream Fizzi. While the CO2 cartridges will need to be purchased, Sodastream has a cartridge exchange program that eliminates waste.
I received this gift last year and LOVE it, it has not only given me a zero waste way to enjoy sparkling water, it has also helped us to reduce our grocery bill (that carbonated water adds up!).
---
🗑 Eliminate paper towels with an "unpaper" towel set.
If you've followed Fork in the Road's Instagram for long, you know I loathe paper towels. Paper towels are the perfect example of single-use waste that we're conditioned to think we need in our homes; we're literally cutting down trees and making expensive towels that you use once and throw away. And then buying more.
In my neck of the woods (California), a large pack of paper towels sells for $13! We went through a pack a month, which means we were spending over $150 a year on this wasteful product.
The solution to this madness? Unpaper towels! Stocking up on a set of good quality, absorbent, and washable kitchen towels means saving trees AND saving money. It's the perfect gift for the frugal friend or family member in your life who never realized they were spending that much on paper towels each month.
---
🌿 Give the gift of fresh herbs with a kitchen herb garden starter kit.
Give the gift of fresh herbs to the foodie in your life! Buying fresh herbs in the grocery store means plastic packaging (and high prices), but growing your own kitchen herb garden is the perfect way to reduce waste. Not to mention that research shows growing your own food reduces stress and promotes connection to the earth and our food system.
---
♻️ Where to buy eco-friendly, zero waste gifts
A quick note before you go — as mentioned above, we included both Amazon and eco-friendly alternative marketplaces to shop sustainably this holiday season. Whenever possible, we try to shop at companies that share our mission of 'good for you, good for the planet' and that have fair working standards.
That's why we recommend shopping at online marketplaces like EarthHero and family-run EarthEasy, as opposed to Amazon.
However, we know that the convenience of Amazon is hard to resist (we shop there too on occassion!) so we're including both Amazon links and links to purchase through sustainable shops we believe in.
We hope that by rounding up both options you are able to make the greener choice when you can and support small businesses doing good for people and planet.
---
🌱 Other green gift guides
Looking for more green gift ideas? Check out our other sustainable shopping guides: