How to Make Vegetable Broth from Food Scraps
Homemade Food Scrap Vegetable Broth, an easy homemade soup broth recipe using leftover vegetable scraps. Repurpose food by stocking up on this simple vegetable stock!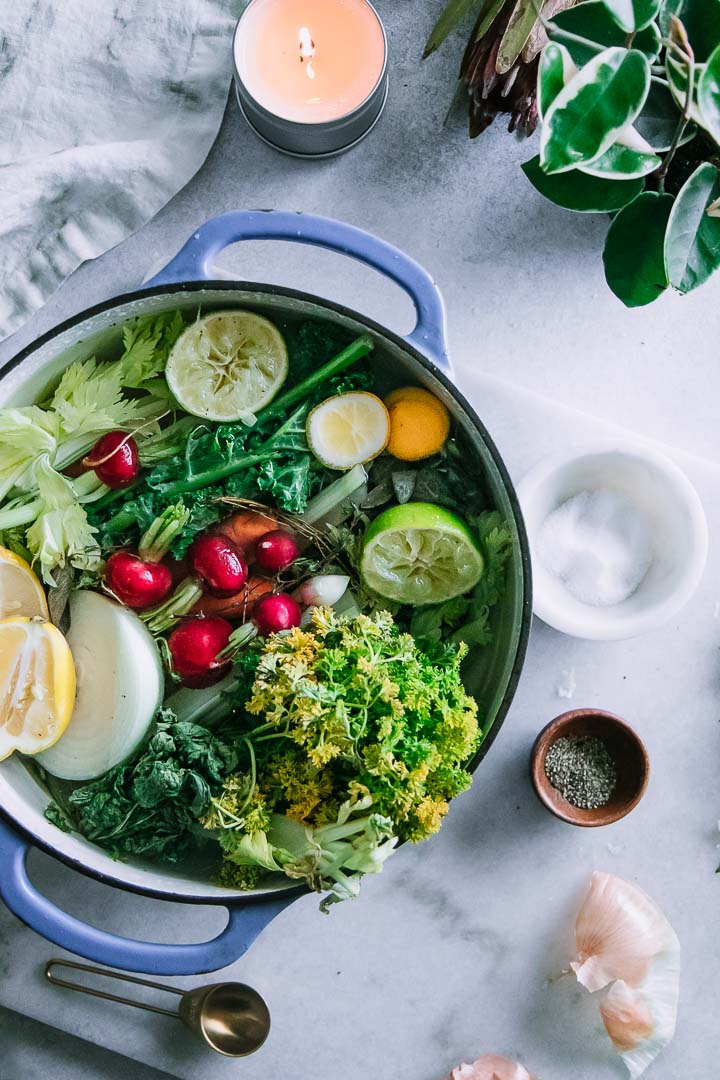 Trying to live a more sustainable lifestyle? In our quest to eat a green, sustainable diet, we are always looking for ways to reuse the foods we buy – and one of our favorite ways to do this is by making homemade vegetable broth from vegetable scraps that we would have composted anyway. Those carrot tops and onion peels that end up in the trash are actually great for flavoring broths!
Here are three reasons why you should be using leftover vegetable scraps to make broth:
It's eco-friendly. Reusing food scraps is a great way to get the most flavor out of the food you buy, and you'll also save money by making your own homemade soup broths AND reduce unnecessary food packaging.
It's delicious. There is just something about making your own broth from fresh vegetable scraps. In our opinion, it tastes so much better (and it's usually healthier!) than store-bought versions.
It's meal prep friendly. We love to stock up on homemade stocks when we can and love cooking up a big batch of vegetable broth to freeze and pull out for simple seasonal soups all year long.
Are you ready to learn how to make this super simple homemade food scrap soup? Let's do it!
---
Ingredients you'll need
The only ingredients you need to make homemade vegetable broth are food scraps, water, and seasonings. Here's what food scraps you should save and which to pitch:
Scraps to save: celery stems, carrot stalks, carrot greens, onion peels, garlic roots, apple cores, herbs of any kind, kale stems, lemon and lime rinds, etc.
Scraps to compost (not worth it in your soup): avocado seeds and skins, banana peels (yuck), stone fruit cores (toxic), rhubarb and tomato leaves (will cause vomiting and digestive issues)
We used a pinch of salt, ground black pepper, and garlic to flavor the broth. You can use any spices/seasonings that you prefer to flavor it the way you like.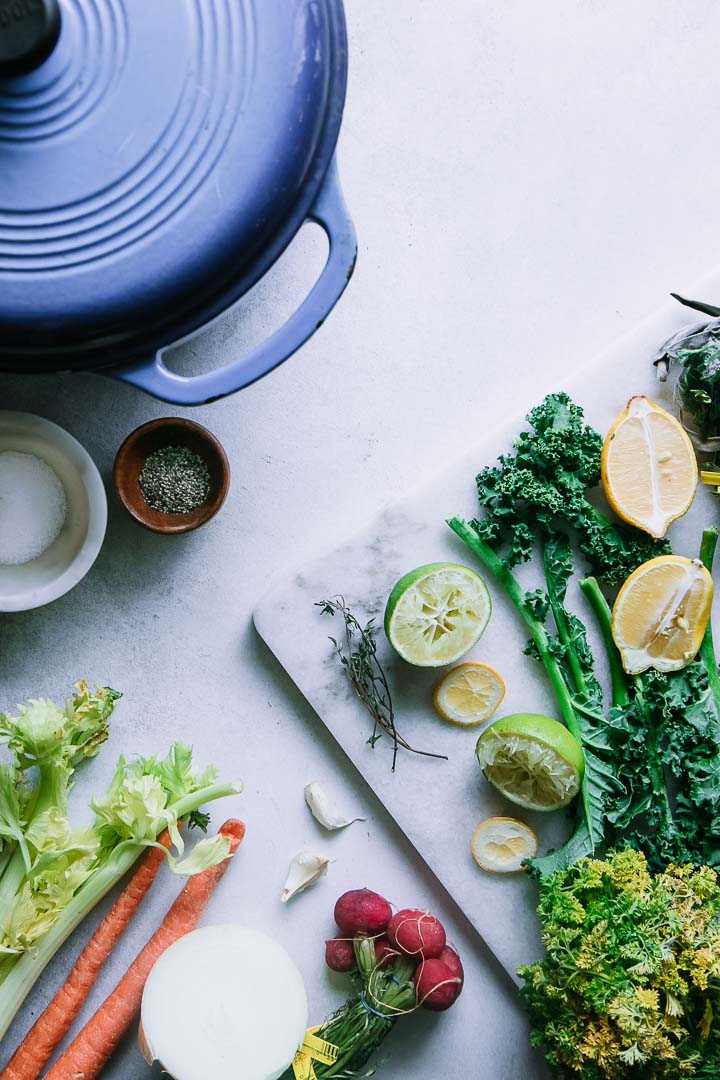 ---
How to make food scrap vegetable broth (step-by-step photos)
Step One: Collect your food scraps
Save food scraps throughout the week in a glass food storage container. Keep the container in the refrigerator until ready to use.
Most food scraps are great for broth, but some are too bitter or don't lend themselves well to broths. If there are veggie scraps you prefer not to use in your broth, make sure to toss them in the compost pile instead.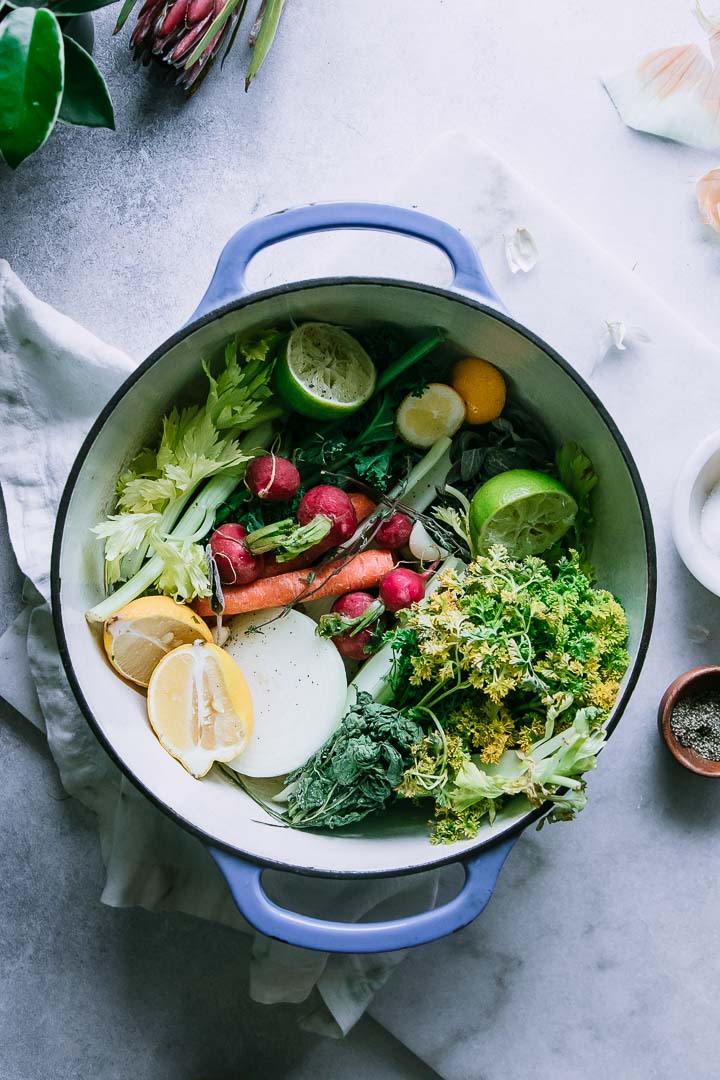 ---
Step Two: Boil veggie scraps with water and seasonings
Next, add food scraps to a large soup pot and add water to cover all vegetables.
Add a pinch of salt, ground black pepper, and garlic (for flavor, if you don't already have it as a scrap).
Bring the vegetables and water to a boil, then simmer on low for 30 minutes to let the vegetable scraps release their flavor.
---
Step Three: Separate veggies from the liquid
To finish making broth, strain veggies out of the soup until only the broth remains. Set the vegetables aside and compost them!
That's it! A super simple vegetable broth recipe made from leftover food scraps you would have just composted anyway.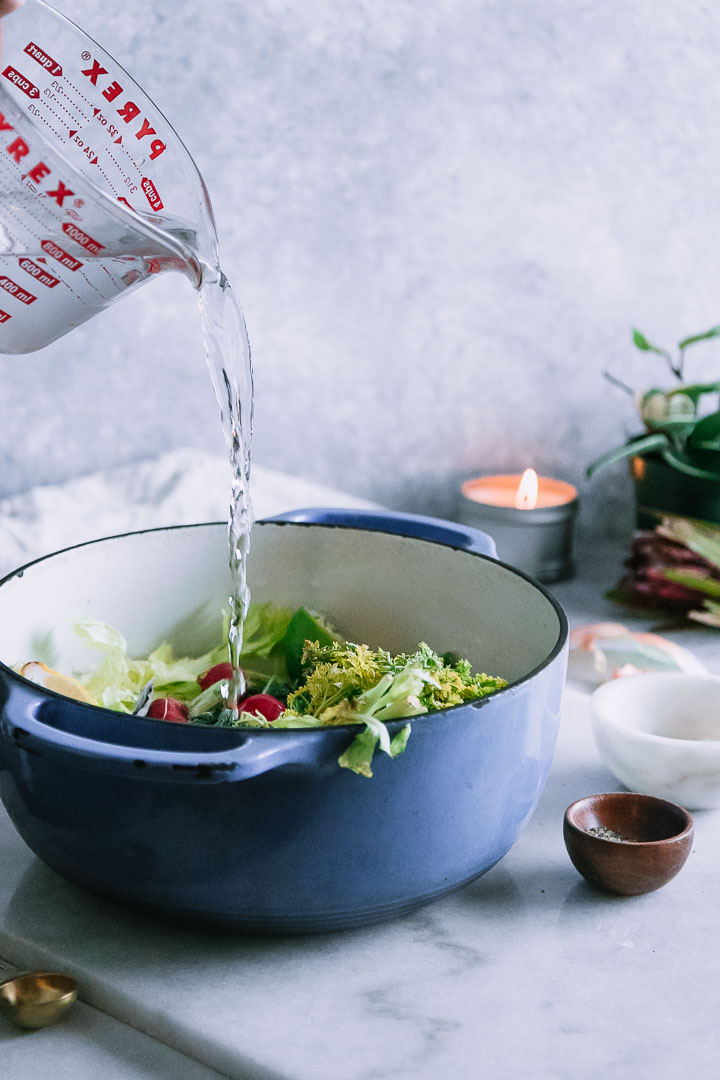 ---
Recipe questions + quick tips
What do you do with vegetable scraps after making stock?
Once you have strained the vegetables out of stock, you should add them to your compost bin. The planet and the soil will thank you later!
What scraps can I use for vegetable stock?
You can use scraps from vegetables, some fruits, and herbs in vegetable stock. Some of the best options include celery stems, carrot stalks, carrot greens, onion peels, garlic roots, apple cores, herbs of any kind, kale stems, and lemon rinds. Mushroom stems, tomato skins, and leek ends and tops are also great options for stock.
What should you not put in vegetable stock?
Vegetables that have overpowering or strong bitter flavors should be left out of homemade stock. Brussels sprouts, broccoli, cauliflower, artichokes, cabbage, and some leafy greens typically fall into this category. You should also avoid adding spoiled or sprouted vegetables to stock, as well as avocado seeds/skins and banana peels. Stone fruit cores, as well as rhubarb and tomato leaves, can be toxic so you should leave these out of broth too.
Is vegetable broth vegan?
Most vegetable broths do not contain animal products and are vegan-friendly. Our vegetable broth recipe, for example, uses only veggie scraps, water, and seasonings. Vegetable broth is typically used as a plant-based alternative to beef, chicken, or fish stock.
---
How to serve
From soups to sauces, there are so many different ways that you can use vegetable broth!
Use in soup recipes. Broth is commonly used as liquid for soup, and we suggest using food scrap vegetable broth in many of our seasonal soup recipes.
As a flavored liquid for rice or beans. Using broth as a cooking liquid for grains like rice, or for beans, is a great way to add flavor to just about any dish.
Make a sauce. Food scrap vegetable broth can add flavor to pasta sauce or gravy.
Freeze and store to use later. If you aren't able to use it now, put your homemade vegetable broth in the freezer and thaw when ready to use.
---
How to store
Homemade food scrap broth is easy to store for later use. Here are our tips for maintaining its qua
Refrigerator storage: You can keep the vegetable broth in the refrigerator for 4-5 days in an airtight container. Simply take it out when you're ready to use it to make soup and other dishes.
Freezer storage: Let the broth cool, then pour into freezer-safe food storage containers before placing it in the freezer. When you're ready to use the broth, thaw it in the refrigerator one day before using it or let it thaw on the counter for a few hours.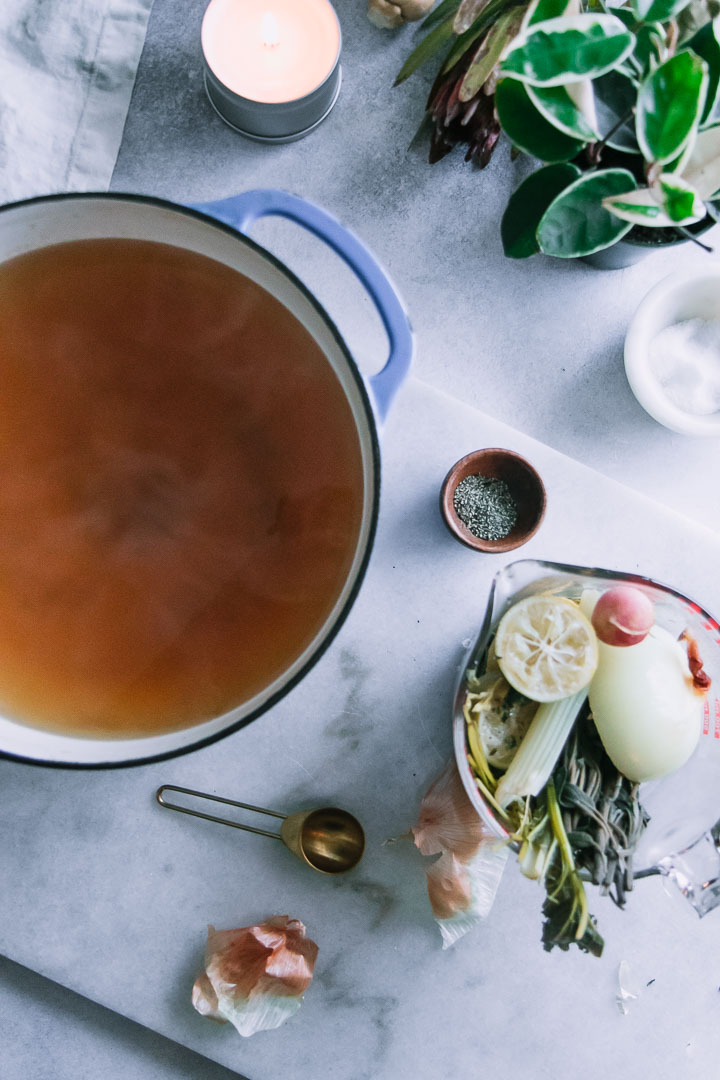 ---
Sustainable kitchen tips
This recipe is inherently eco-friendly because you're using food scraps that you would have composted or thrown out anyway! Here are some ideas to make this recipe even more sustainable:
Use seasonal vegetable scraps. Focusing your grocery list on in-season produce is one of the best things you can do for the planet and your wallet. Additionally, it will ensure that you're able to make food scrap broth from seasonal veggies and fruits. Find out when your favorite veggies are in-season here.
Make a big batch and freeze. We've already told you how easy that it is to store homemade broth. Making sure that you have enough on hand will prevent you from needing to get it from the store, which is a great way to reduce the packaging waste that often comes from store-bought versions.
Compost what you can't use. You can't toss all your food scraps in homemade broth, but instead of throwing them in the garbage, compost them to get the most out of their nutrients.
---
More seasonal soup recipes
Love this simple food scrap soup recipe? Check out our other soup recipes, like: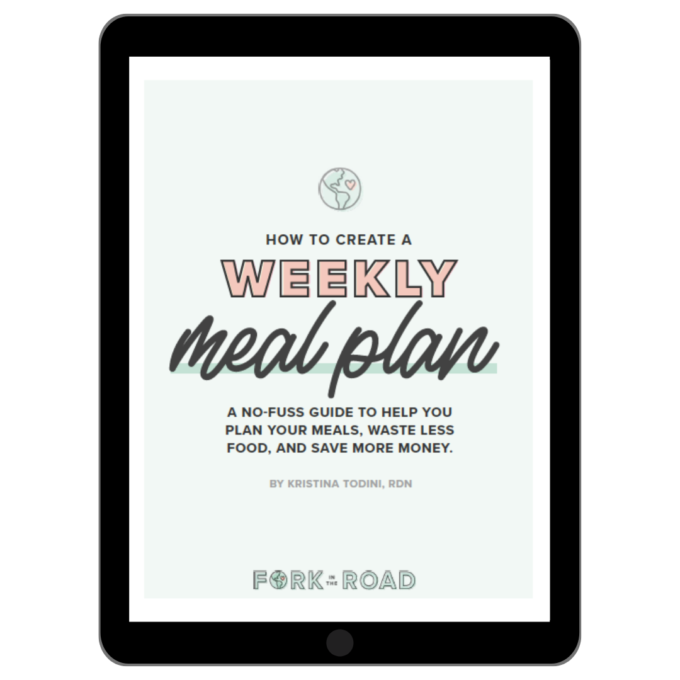 Homemade Food Scrap Vegetable Broth
Homemade Food Scrap Vegetable Broth, an easy homemade soup broth recipe using vegetable food scraps. Repurpose food by stocking up on this simple vegetable stock!
Ingredients
4

cups

vegetables scraps

onion, celery, carrots, herbs, garlic, etc.

8

cups

water

1

pinch

salt and pepper
Instructions
Simmer food scraps: To a large soup pot, add vegetable scraps, water, salt, and pepper. Bring to a boil, then simmer on low for 30 minutes.

Strain scraps from stock: Remove pot from heat and strain out vegetables, keep the broth. Use immediately, or let cool and freeze for later use.

To thaw from frozen: Let broth container cool in refrigerator one day ahead of using, or leave on counter for a few hours and then add to a soup pot over low heat to melt the rest of the frozen broth
Notes
Recipe notes: The possibilities for vegetable scrap soup are endless, use any food scraps or vegetables that you have on hand. Adding herbs, garlic, salt, and pepper will always help to boost flavor.
Tools needed: a large soup pot, strainer, glass storage containers
Prep ahead: make this homemade vegetable stock weeks, or even months, ahead of time. Freeze and defrost before using.
Leftovers + storage: let vegetable broth cool and then freeze in glass storage containers for up to three months (possibly longer)
Nutrition notes: nutrition information for broth after vegetables are strained. Depending on the vegetables used, this broth will have a different nutrition profile.
Nutrition
Serving:
1
serving (2 cups)
Calories:
29
kcal
Carbohydrates:
6
g
Protein:
2
g
Fat:
1
g
Saturated Fat:
1
g
Polyunsaturated Fat:
1
g
Monounsaturated Fat:
1
g
Sodium:
30
mg
Potassium:
96
mg
Fiber:
2
g
Vitamin A:
2310
IU
Vitamin C:
5
mg
Calcium:
15
mg
Iron:
1
mg
UPDATE: This recipe was originally posted in January 2019 and updated for clarity in September 2021.