Roasted Carrots and Bell Peppers
Roasted Carrots and Bell Peppers, a super easy sheet pan roasted vegetable recipe with only 5 ingredients and ready in under 30 minutes. Your new favorite simple side dish or salad topper!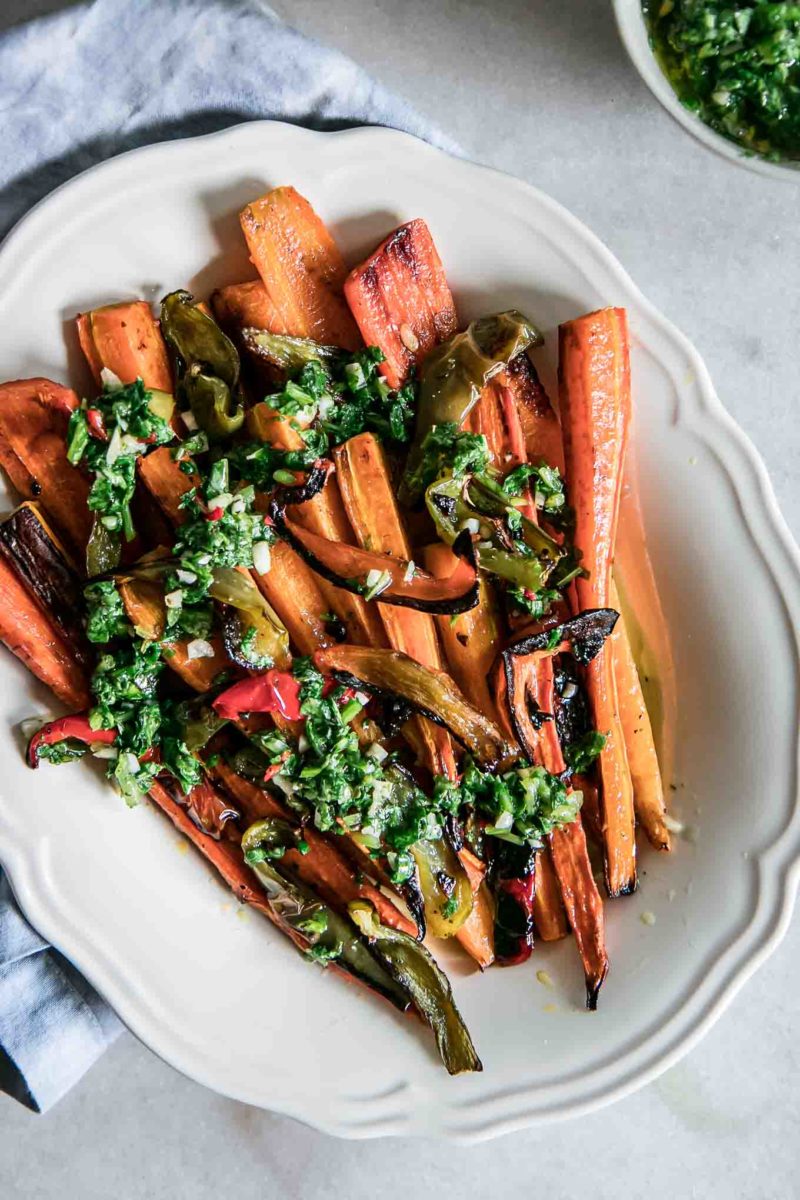 Is there anything better than simply roasted vegetables? I'm always amazed at how plain-tasting vegetables like carrots and sweet bell peppers transform and burst with flavor after roasting. The power of caramelization!
If you're not already convinced, here's why you should be roasting carrots and sweet peppers together on a sheet pan:
It's super easy. Simply toss the vegetables in olive oil, roast, and you're done.
It's versatile. Eat them as a side dish or use them to top salads for work week lunches.
It's tasty. The most important reason is it's delicious!
Ready to learn our favorite way to make easy baked carrots and bell peppers? Let's do it!
---
🥕 How to roast carrots and bell peppers (step-by-step)
1️⃣ Step One: Preheat oven and wash vegetables
First, preheat the oven to 400 degrees F (200 C).
While the oven is heating, wash the bell peppers and carrots and remove stems. If carrots are large, cut them in half lengthwise so they roast evenly and brown in the oven. Cut sweet bell peppers into thin strips.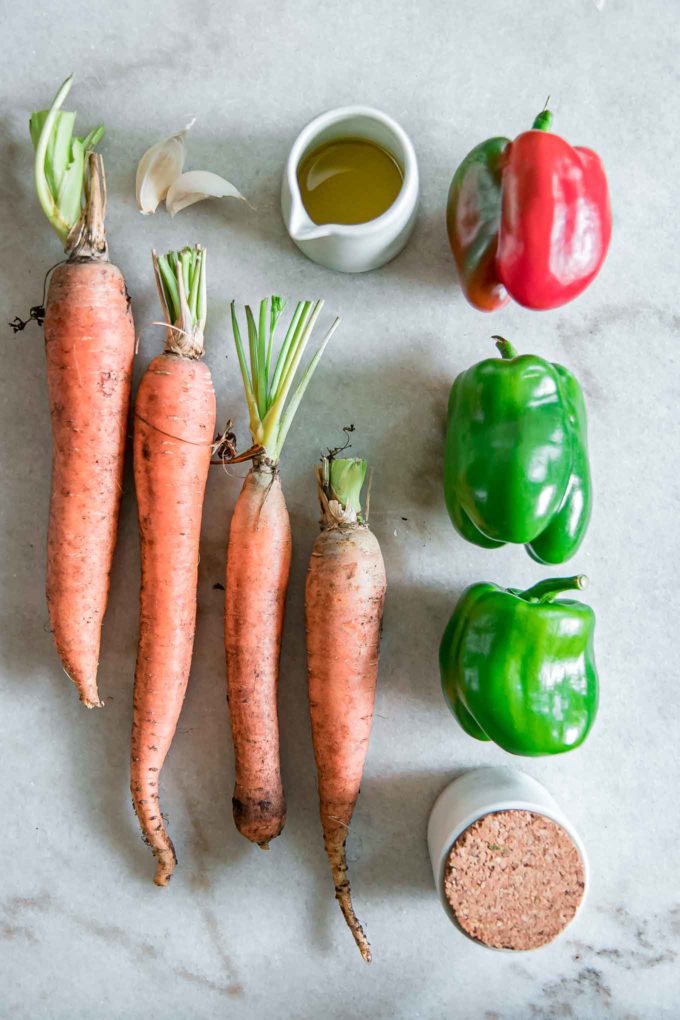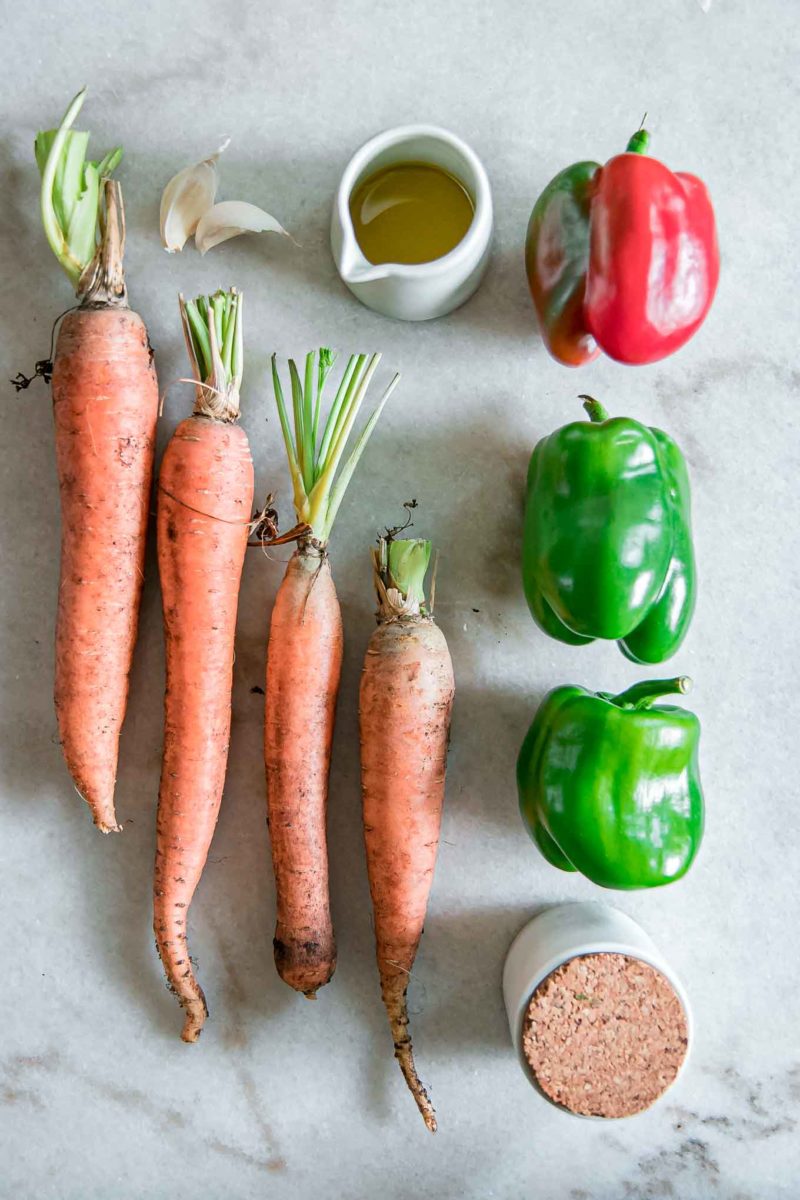 ---
2️⃣ Step Two: Add vegetables to the roasting pan
Next, add the cut carrots and bell peppers to a sheet pan. Drizzle with olive oil and, using your hands or a spatula, toss the vegetables until they're completely coated with oil. Sprinkle the vegetables with sliced fresh garlic, salt, and pepper.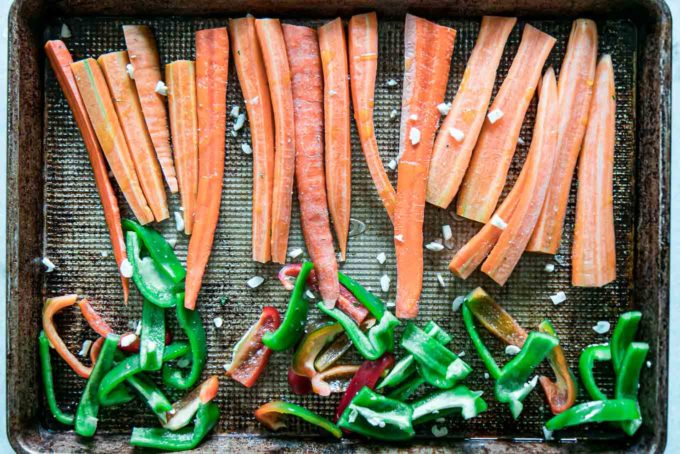 ---
3️⃣ Step Three: Roast vegetables until they soften and begin to brown
Finally, roast the vegetables in the oven until they begin to soften and become brown around the edges (caramelization, it's food science!). This takes anywhere from 20-30 minutes, depending on your oven.
About halfway through cooking, toss the vegetables so they brown on all sides, we did this when the bell peppers and carrots had been roasting for about 12 minutes.
Remove the roasted vegetables from the oven and serve immediately as a side dish, or you can let the vegetables cool and use them to top salads and bowls.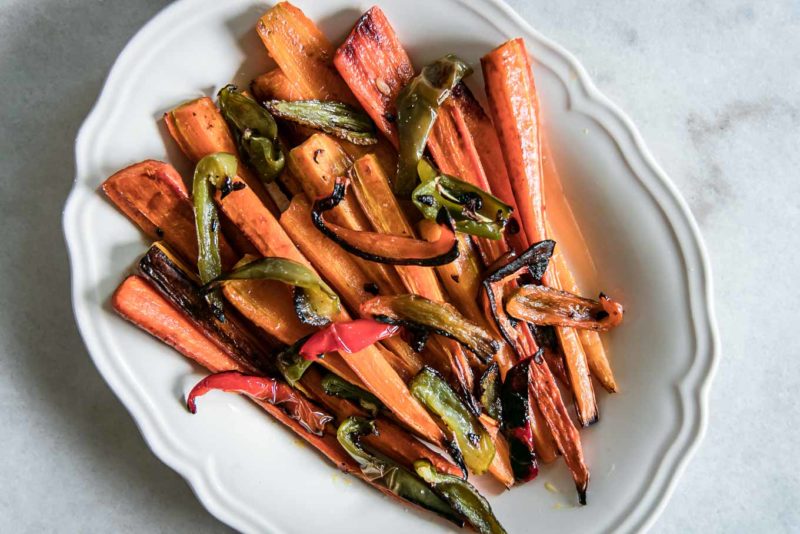 ---
❓ Recipe questions + quick tips
What type of carrots are good for roasting?
All carrots varietals are delicious roasted, however larger carrots like Tendersweet and Touchon carrots are our favorites for roasting.
Should I peel carrots before roasting?
As long as you wash carrots well, you do not need to peel them before roasting. In fact, unpeeled carrots are delicious because the outer layer browns when baked and provides deeper flavor through a process called the maillard reaction when the natural sugar in carrots is heated.
How should I cut carrots before roasting?
Carrots can be roasted whole, cut longways (or lengthwise) into halves or quarters, or cut along the length of a carrot into rounds or thicker 2-3 inch (5-7 cm) long pieces. Ultimately you can cut carrots however you'd like, but because we're roasting carrots with bell peppers, we wanted to keep the long carrots pieces to match the length of the peppers.
How long does it take for carrots to get soft in the oven?
Carrots typically being to soften after being cooked for 30 minutes at 400 degrees F (205 C). However, if a carrot is cut into smaller pieces it may be soft after 20 minutes in the oven, or if the carrot is larger then it may take up to 40 minutes.
How long does it take for bell peppers to get soft in the oven?
Sliced bell peppers take about 15 minutes to get soft in the oven, while whole bell peppers may take as much as 25 minutes to soften.
Can you roast vegetables in a glass dish instead of a sheet pan?
Vegetables can be roasted in the oven in a glass baking dish, a cookie sheet, a sheet pan, or even a cast iron skillet. Cook times may vary depending on the dish you use.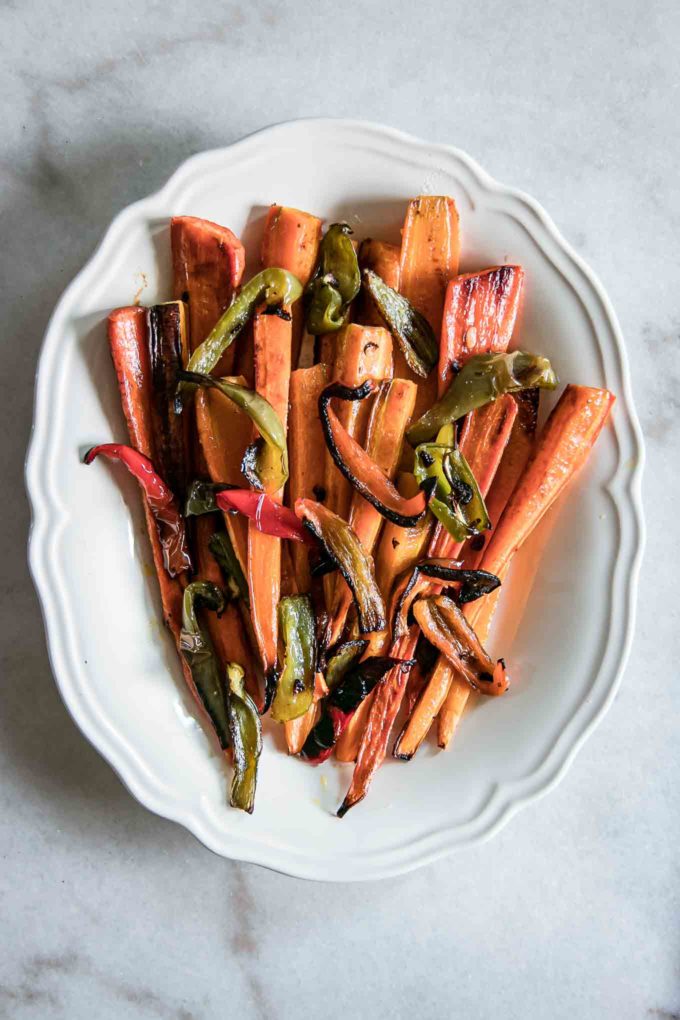 ---
💡 Herb + spice flavor ideas
This recipe is simply prepared with just olive oil, garlic, salt, and pepper. However, the herb and spice flavor possibilities are endless! Here are a few to try out in your roasted carrots and peppers:
Get spicy! Add a bit of cayenne pepper, and garlic powder for a spicy kick.
Add warmth. Spices like curry, turmeric, and paprika add warmth without spice.
Get saucy. Drizzle a tasty plant-based sauce like our Radish Greens Chimichurri.
---
♻️ Sustainable kitchen + cooking tips
We're all about sustainability here at Fork in the Road, so here are some tips and tricks for getting the most out of your ingredients.
Take advantage of carrot and bell pepper season! The best time to make recipes using carrots and bell peppers is during the height of their growing season, which just so happens to overlap in spring, summer, and early fall.
Use carrot and bell peppers stem scraps to reduce food waste! Don't toss those stems after cutting — add them to a food scrap vegetable broth to flavor stocks for soups and to use as a liquid for cooking grains like rice and farro.
Don't throw away carrot greens! Did you buy carrots with their leaves? Great! Reuse carrot tops in sauces like pesto or in a carrot leaves chimichurri, make the greens into a soup broth, or sauté the carrot greens to eat on their own as a side dish (yes, they're edible!).
---
🌱 More simple roasted vegetable recipes
Check out our other easy roasted veggie recipes:
Roasted Carrots and Bell Peppers Recipe
A super easy sheet pan roasted carrot and sweet peppers recipe with only 5 ingredients and ready in under 30 minutes. Super easy, super tasty!
Ingredients
1

pound

carrots

washed and trimmed

1

pound

bell peppers

washed and trimmed

2

whole

garlic cloves

sliced thin

2

tablespoons

olive oil

1

pinch

salt and pepper
Instructions
Preheat oven: Preheat the oven to 400 degrees (200 C)

Prep vegetables: Wash bell peppers and carrots and remove stems. If using large carrots, cut in half lengthwise. Cut the bell peppers into thin strips.

Roast vegetables: Arrange the carrots and bell peppers on a baking sheet and drizzle with olive oil, tossing the vegetables to completely cover with oil and sprinkle with sliced garlic, salt, and pepper. Place sheet pan in the oven and roast for 25 minutes, stirring halfway through to roast on all sides.

Serve vegetables: Remove pan from oven, arrange vegetables on a plate and serve as a side dish or as a salad topping.
Notes
Tools needed: sheet pan, knife set, cutting board
Prep ahead: Wash and cut vegetables ahead of time to reduce prep time before cooking. If serving cold on salads or bowls, you can make this recipe up to three days ahead of time.
Leftovers and storage: Vegetables should be stored in an airtight container in the refrigerator for up to 3-4 days. For best taste and texture, do not freeze and reheat.
Nutrition notes: Nutrition information is estimated for only ingredients in the recipe, not the additional spice options given. This simple roasted vegetable recipe is a good source of fiber, vitamin A, and vitamin C.
Nutrition
Serving:
1
serving
Calories:
139
kcal
Carbohydrates:
18
g
Protein:
2
g
Fat:
8
g
Saturated Fat:
1
g
Polyunsaturated Fat:
1
g
Monounsaturated Fat:
5
g
Sodium:
93
mg
Potassium:
604
mg
Fiber:
6
g
Sugar:
10
g
Vitamin A:
22495
IU
Vitamin C:
152
mg
Calcium:
46
mg
Iron:
1
mg