Carrot Top Pesto, a Simple Food Waste Recovery Recipe
Carrot Top Pesto, a simple pesto recipe made from fresh carrot greens, pine nuts, parmesan cheese, garlic, and oil. A unique food waste recovery recipe!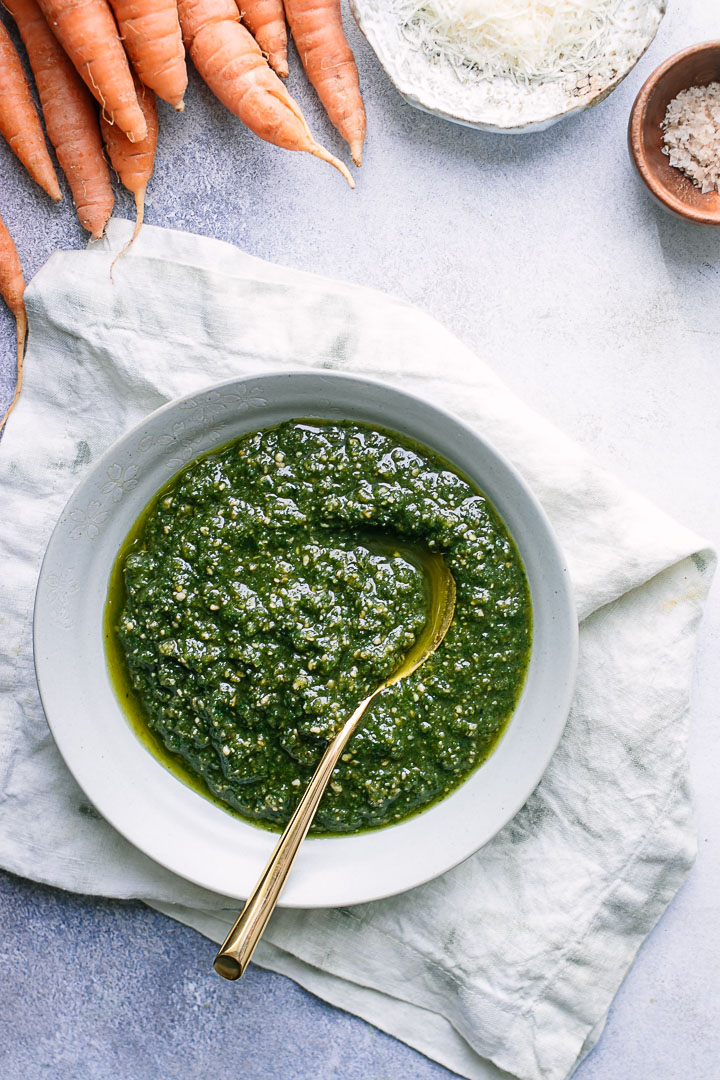 I have something to admit: I've been throwing away carrot tops my entire life.
Or rather, I buy carrots without their tops and don't give a second thought to where the carrot tops are going.
How many beautiful, nutritious green carrot tops have I wasted because I didn't know carrot tops could be consumed? I had no idea eating carrot tops was even a thing.
But in my quest to become a greener eater, I have been implementing more root-to-stem cooking techniques. Using as much of the edible parts of vegetable as you can is a more sustainable way to prepare and utilize foods but the most important reason for eating carrot tops (or any vegetable, for that matter) is because they are delicious!
Carrot tops have small, leafy sprigs that are similar to parsley and can be used in any way that you would use a more traditional herb (though they have a much milder taste). And the perfect primer for using carrot tops is to make Carrot Top Pesto!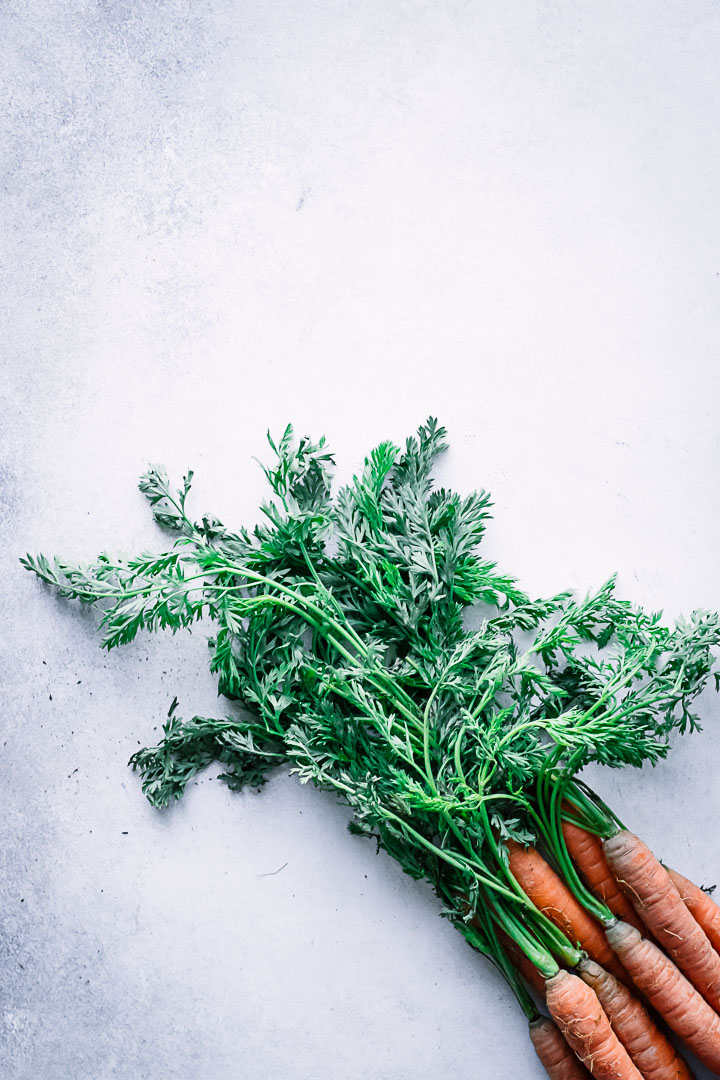 ---
🥕 How to make Carrot Top Pesto
Making carrot top pesto is a unique way to use up carrot greens that would otherwise be wasted and it just so happens to be super simple.
1️⃣ Step One: Cut leaves from carrot stems
First, cut the carrot tops from the carrots. I've found that carrot greens generally still have some dirt on them so it's important to wash the greens thoroughly before using.
2️⃣ Step Two: Pulse ingredients in food processor
After the carrots tops have been washed, chop into small pieces and add to a food processor. Add pine nuts (or seeds if you're avoiding nuts), oil, and garlic and pulse until well chopped but not completely smooth, adding more oil if necessary.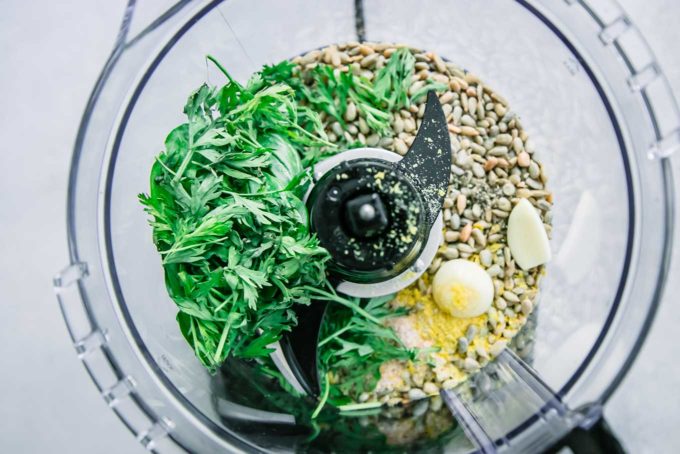 That's it! A simple recipe using food that would otherwise be wasted and not enjoyed. Pat yourself on the back for being a food waste warrior!
---
🌿 How to serve pesto
Pesto made with carrot tops instead of basil can be used any way that you use regular basil-containing pesto, such as:
As a pasta sauce: make carrot top pesto pasta with your favorite noodle (I love bucatini)
As a meat or fish topping: add carrot top pesto to salmon, chicken, pork, or beef
As a dip or sauce: use carrot top pesto inside hummus or as a dipping sauce for fresh crudités
As a soup flavor: add a dab of carrot top pesto to your favorite soup recipe for a touch of added flavor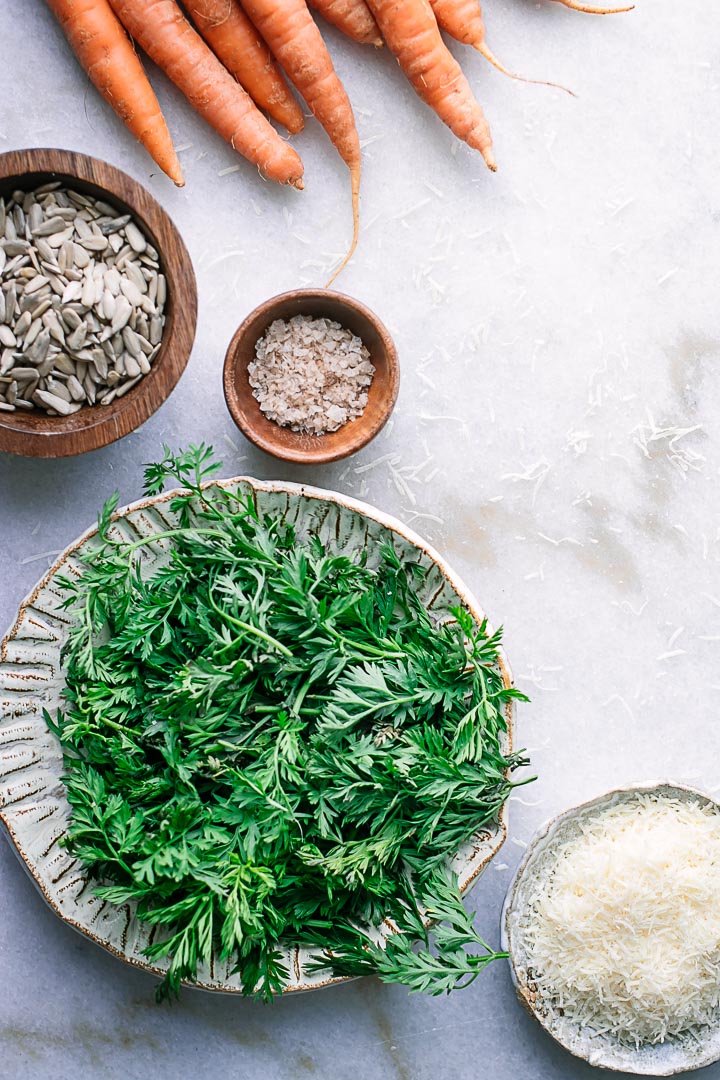 ---
🥣 Recipe variations
This is a great foundational recipe for pesto, but it can easily be tailored to your dietary, allergen, or taste preference:
Make it vegan: substitute cheese for nutritional yeast to make this pesto plant-based
Switch up the nuts: instead of pine nuts use walnuts, almonds, sunflower seeds, or even go nut- and seed-free by using chickpeas or white beans in place of nuts or seeds
Add some spice: add cumin, chili flakes, turmeric, oregano, or lemon to add some spice or change the pesto flavor profile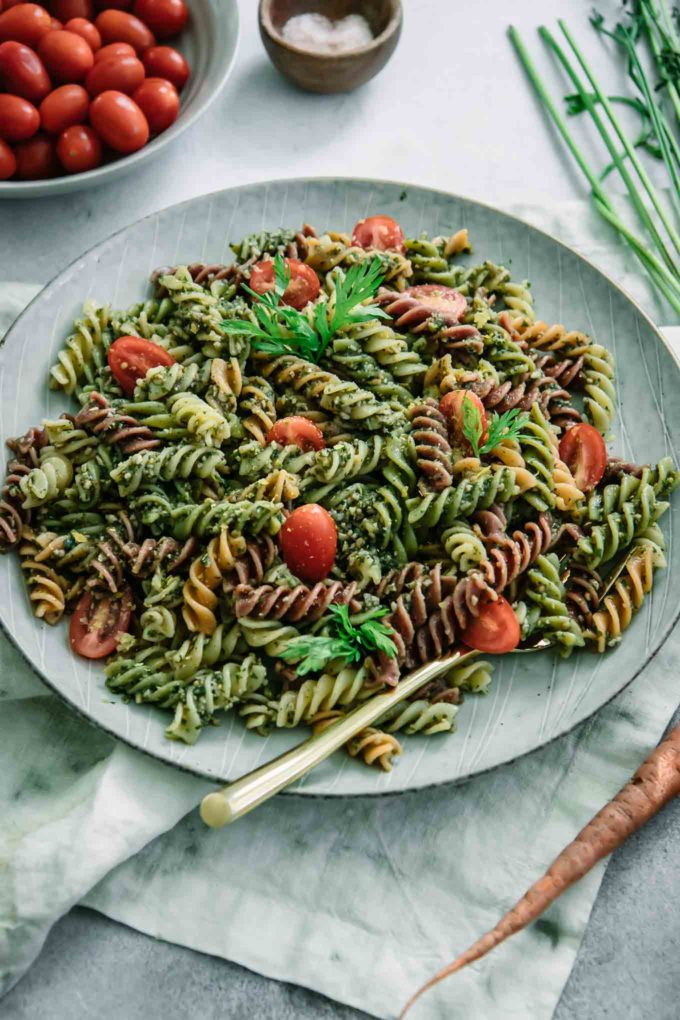 ---
♻️ Sustainable kitchen tips, tricks & tools
This simple no-basil pesto recipe has only seven ingredients and does not require much prep, however there are a few tips and tricks that will make preparing Carrot Top Pesto even easier:
Kitchen tools you'll need: a good quality food processor or quality handheld mixer is a must, as well as a set of quality kitchen knives and wooden or silicone spoons
Spice it up: I'm of the mindset that you can skimp and scrape on some ingredients, but a good quality sea salt (or even a flavored salt like smoked sea salt) and black peppercorns is key
Storage: this Carrot Top Pesto is perfect for batch cooking and freezing for later use. I always use repurposed glass containers (old honey and jam jars, etc.) or my Pyrex glass food storage containers
This Carrot Top Pesto is one of my favorite recipes that utilizes foods that would otherwise be thrown away to reduce food waste in the kitchen.
I hope it inspires you to think differently about the foods you throw away and helps salvage these perfectly edible scraps into something unique and delicious!
---
🥕 More recipes using carrot tops
Want more recipes using carrot greens? We've got you covered:
Craving more simple pesto sauce recipes? Check out our Radish Greens Pesto, Beet Leaves Pesto, Arugula Pesto, Vegan Parsley Pesto, Plant-Based Kale Pesto, Broccoli Stalk Pesto, Pumpkin Seed Pesto, Sunflower Seed Pesto, or 5-Minute Nut-Free Chickpea Basil Pesto, all outside-the-box pesto sauce recipes that will add a boost of flavor and fun to your meals.
Did you make this Carrot Top Pesto? Leave a comment below and rate the recipe to let us know how it turned out. Save this recipe for later by pinning to your favorite sauce Pinterest board and make sure to tag me on Fork in the Road's Instagram to show me your carrot green creations!
Yield: 6 servings (1/2 cup each)
Carrot Top Pesto
Carrot Top Pesto, a simple pesto recipe made from fresh carrot greens, pine nuts, parmesan cheese, garlic, and oil. A unique food waste recovery recipe!
Prep Time 15 minutes
Total Time 15 minutes
Ingredients
2 cups carrot tops and stems, chopped (from about 8 medium carrots)
⅓ cup pine nuts
2 garlic cloves
½ cup quality extra virgin olive oil
½ cup parmesan cheese
⅛ teaspoon quality sea salt
⅛ teaspoon black pepper
Instructions
Add carrot tops, pine nuts, and garlic cloves to food processor and pulse until chopped. Slowly add in oil and continue pulsing until well combined, but not smooth.
Add parmesan, salt, and pepper and pulse a few more times until combined.
Use as a sauce with your favorite pasta, vegetables, meat, seafood, or dip.
Notes
Food waste tips: Use both carrot tops and stems in this recipe to create less waste. Both the carrot greens and their stems are perfectly edible and delicious in pesto.
Leftovers & Storage: store pesto in airtight container in refrigerator for up to one week; freeze for up to two months (possibly longer)
Nutrition: This carrot top pesto is a good source of vitamin and calcium, and is high in protein per serving. It is also rich in healthy fats, which increase satiety and play a role in cell health.
Nutrition Information:
Serving Size:
1 serving (1/2 cup)
Amount Per Serving:
Calories: 390
Total Fat: 33g
Saturated Fat: 9g
Trans Fat: 0g
Unsaturated Fat: 24g
Cholesterol: 24mg
Sodium: 400mg
Carbohydrates: 9g
Fiber: 2g
Sugar: 5g
Protein: 16g
We are participant in the Amazon Services LLC Associates Program, an affiliate advertising program designed to provide a means for us to earn fees by linking to Amazon.com and affiliated sites.