Carrot Top Pesto Sauce
Carrot Top Pesto, a simple pesto recipe made from fresh carrot greens, pine nuts, parmesan cheese, garlic, and oil. A unique food waste recovery recipe!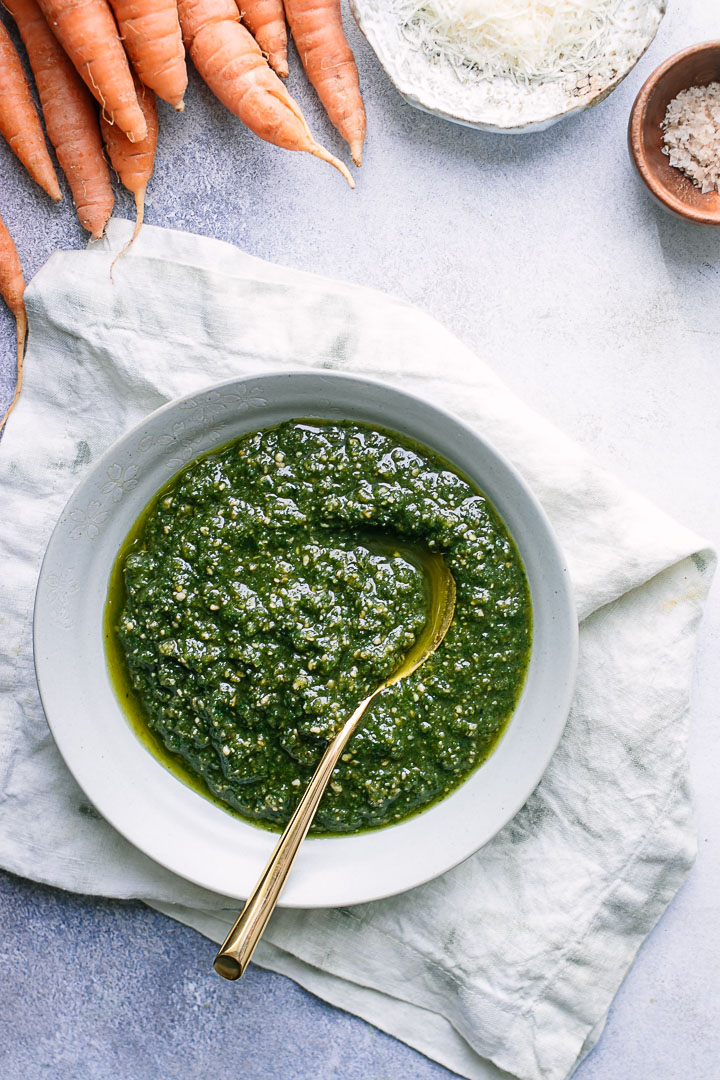 Do you throw out carrot leaves? Don't toss those tops! Instead reduce food waste and use leftover carrot leaves to make a tasty pesto sauce that comes together in 5 minutes with a few ingredients you likely have on hand.
👉 Ready to learn how to make pesto with carrot tops? Let's do it!
---
🌱 Ingredients
Carrot tops: You can't make pesto without greens! Reduce food waste by using carrot leaves, which provide important vitamins and minerals including calcium, iron, potassium, vitamin K, and vitamin C.
Nuts or seeds: Pesto is typically made with pine nuts, but you can make it with other varieties of nuts and seeds. Try pumpkin seeds, cashews, or walnuts!
Parmesan cheese: Traditionally pesto is made with parmesan or pecorino cheeses, but you can also make it with nutritional yeast or vegan cheese.
Olive oil: Boosts the flavor of pesto and contributes to its texture, preventing it from becoming too thick.
Garlic, salt, and pepper. These are common pesto seasonings that you can adjust to your liking.
Optional Ingredients: Add a little lemon juice to balance out the pesto with acid and brighten the flavor.
Recommended tools: A food processor or blender, knife set, cutting board, and salad spinner (affiliate links).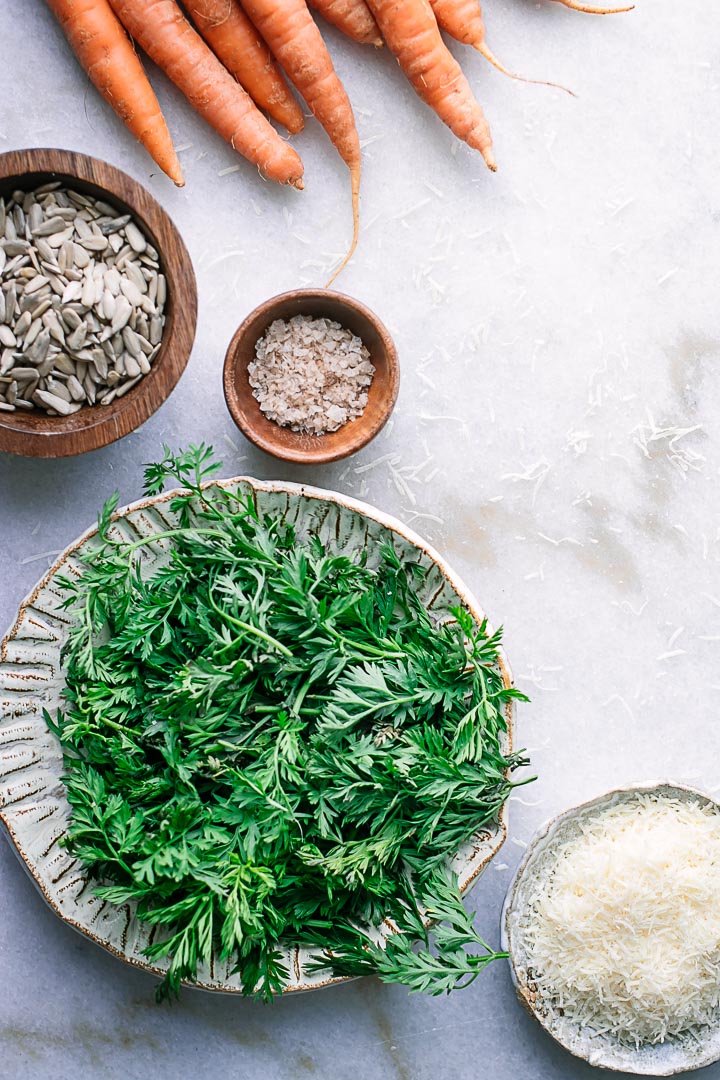 ---
🥣 How to make carrot top pesto (step-by-step photos)
1️⃣ Step One: Wash and prep carrot greens
The first step to making a pesto from carrot tops is to wash and prepare the carrot leaves. Below is a short description, but for a full tutorial see our How to Wash Carrot Tops for Cooking.
To do this, simply cut the carrot greens from the hard stem. Then wash the carrot greens by rinsing them under running water or soaking in a bowl of water and then moving them around with your hands to remove any dirt hidden in the leaves.
Then dry the leaves by either using a salad spinner or laying them flat to dry, which takes about 5 minutes.
👉 What can you do with leftover carrot stems? The soft leaves of carrots are edible but the harder stems are too tough to eat. Instead of tossing carrot stems, throw them into a pot with vegetables to make a Carrot Top Vegetable Stock. And check out our guide to storing carrots and using their leaves and stems!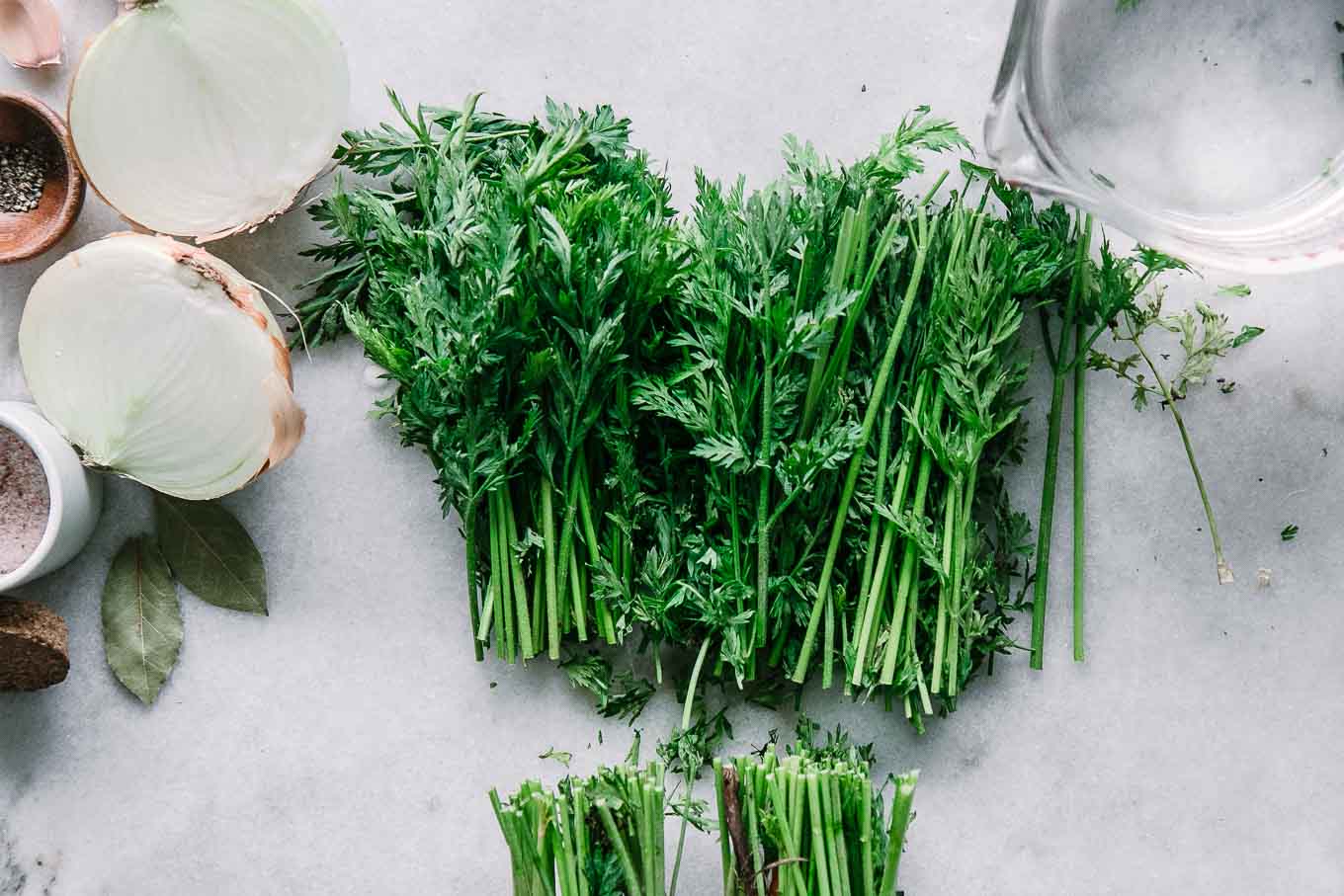 ---
2️⃣ Step Two: Blend carrot greens, nuts, garlic, and oil
Next place the washed carrot leaves in a food processor and add nuts (or seeds, if preferred), as well as garlic cloves.
Pulse ingredients until finely chopped, slowly adding in olive oil until the ingredients are well coated in the oil but the sauce still has a chunky consistency (you don't want the sauce to be completely smooth).
👉 Traditional pesto tip: We're using a food processor for this recipe (a blender works too), but traditionally pesto ingredients like pine nuts, basil, and garlic are ground with a mortar and pestle before adding the oil.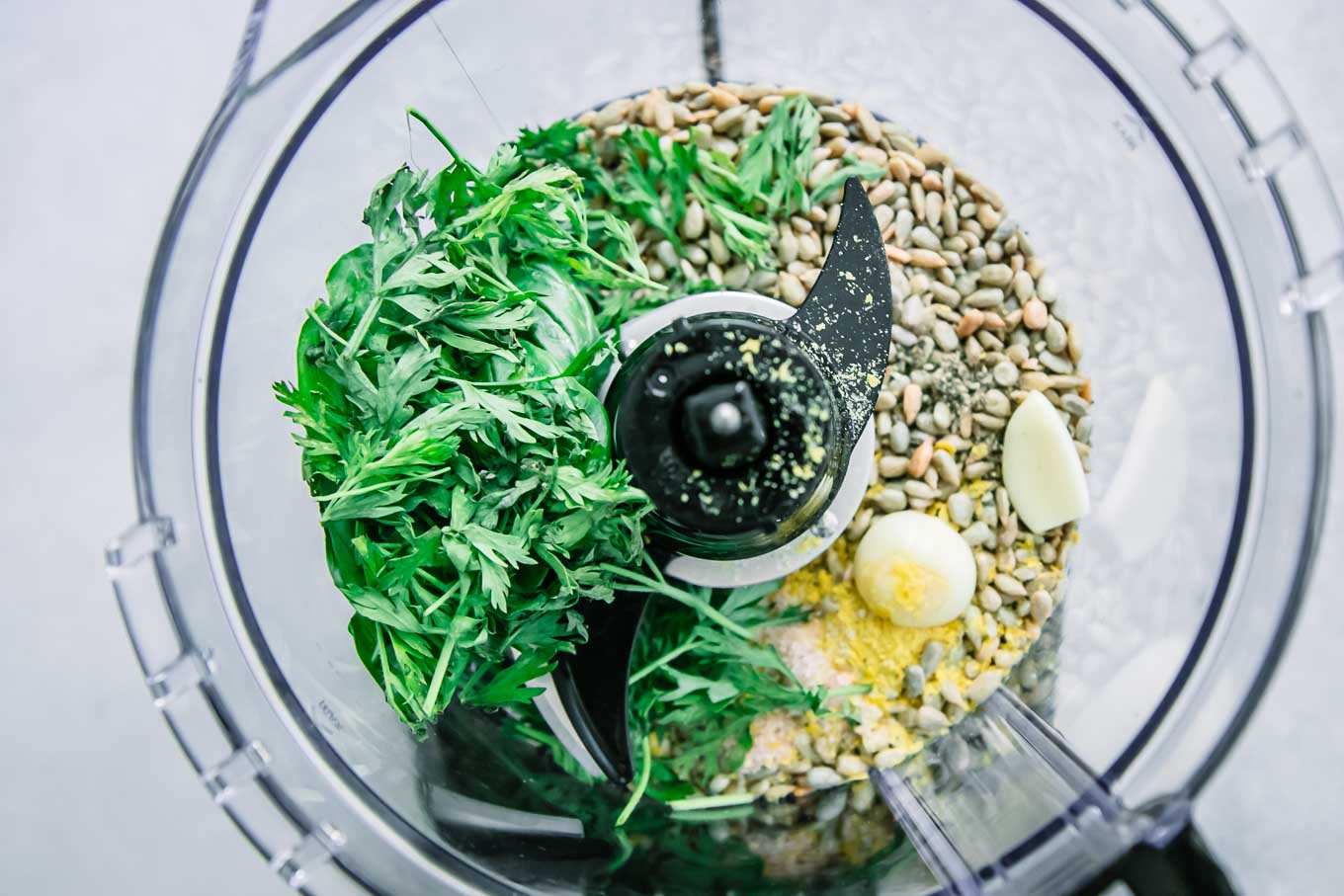 ---
3️⃣ Step Three: Add cheese and spices
Finish the pesto sauce by adding in parmesan cheese (or nutritional yeast if going plant-based) and a sprinkle of salt and pepper. Give the pesto a taste and add more seasoning to taste.
👉 Pesto tip! Pesto sauce can be eaten right away, but if you let the sauce rest for 30-60 minutes the ingredients will infuse and your pesto will have a deeper depth of flavor.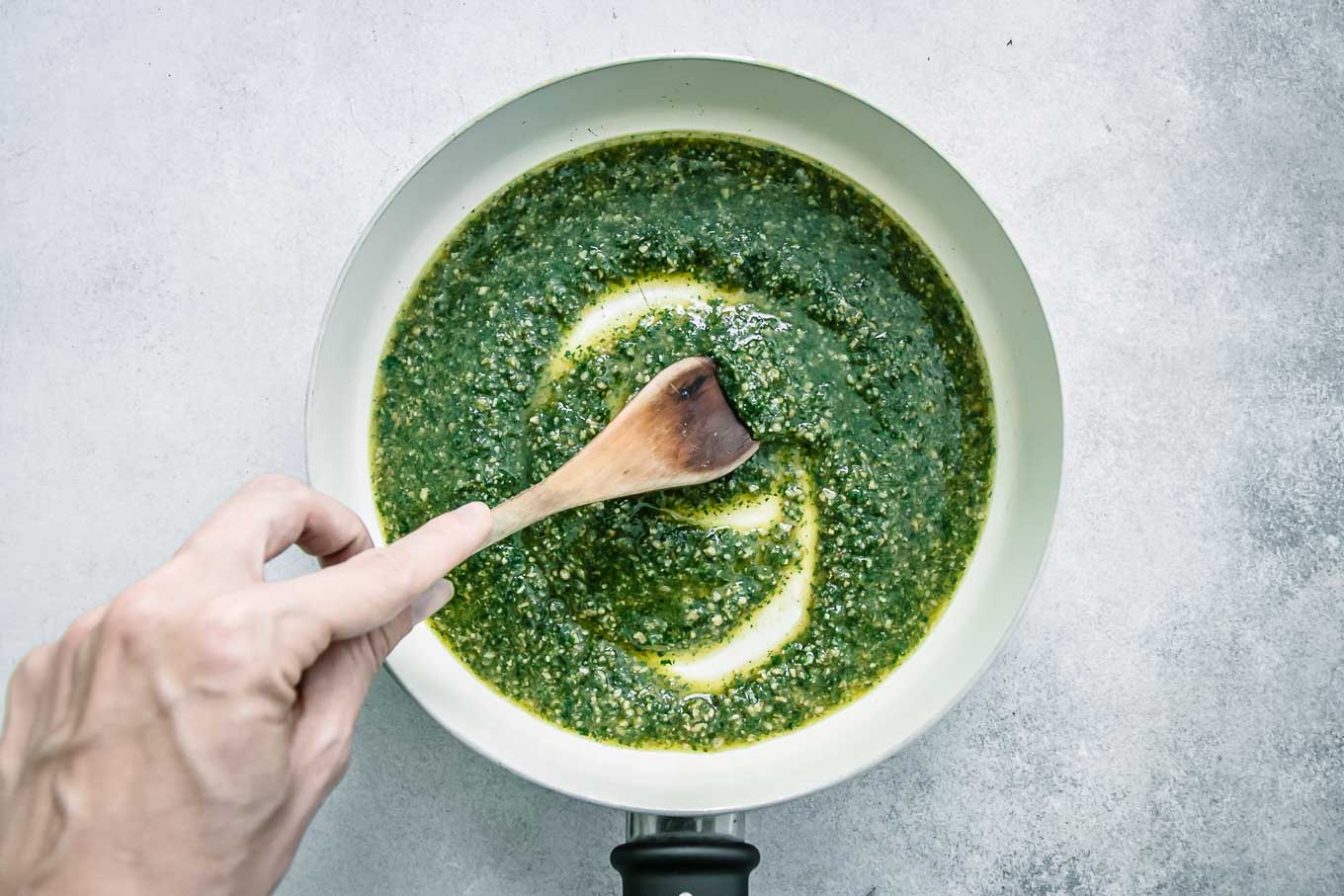 ---
🌿 How to serve pesto
Pesto made with carrot tops instead of basil can be used any way that you use regular basil-containing pesto, such as:
As a pasta sauce: make carrot top pesto pasta with your favorite noodle (I love bucatini)
As a meat or fish topping: add carrot top pesto to salmon, chicken, pork, or beef
As a dip or sauce: use carrot top pesto inside hummus or as a dipping sauce for fresh crudités
As a soup flavor: add a dab of carrot top pesto to your favorite for a touch of added flavor, like our White Bean Kale Pesto Soup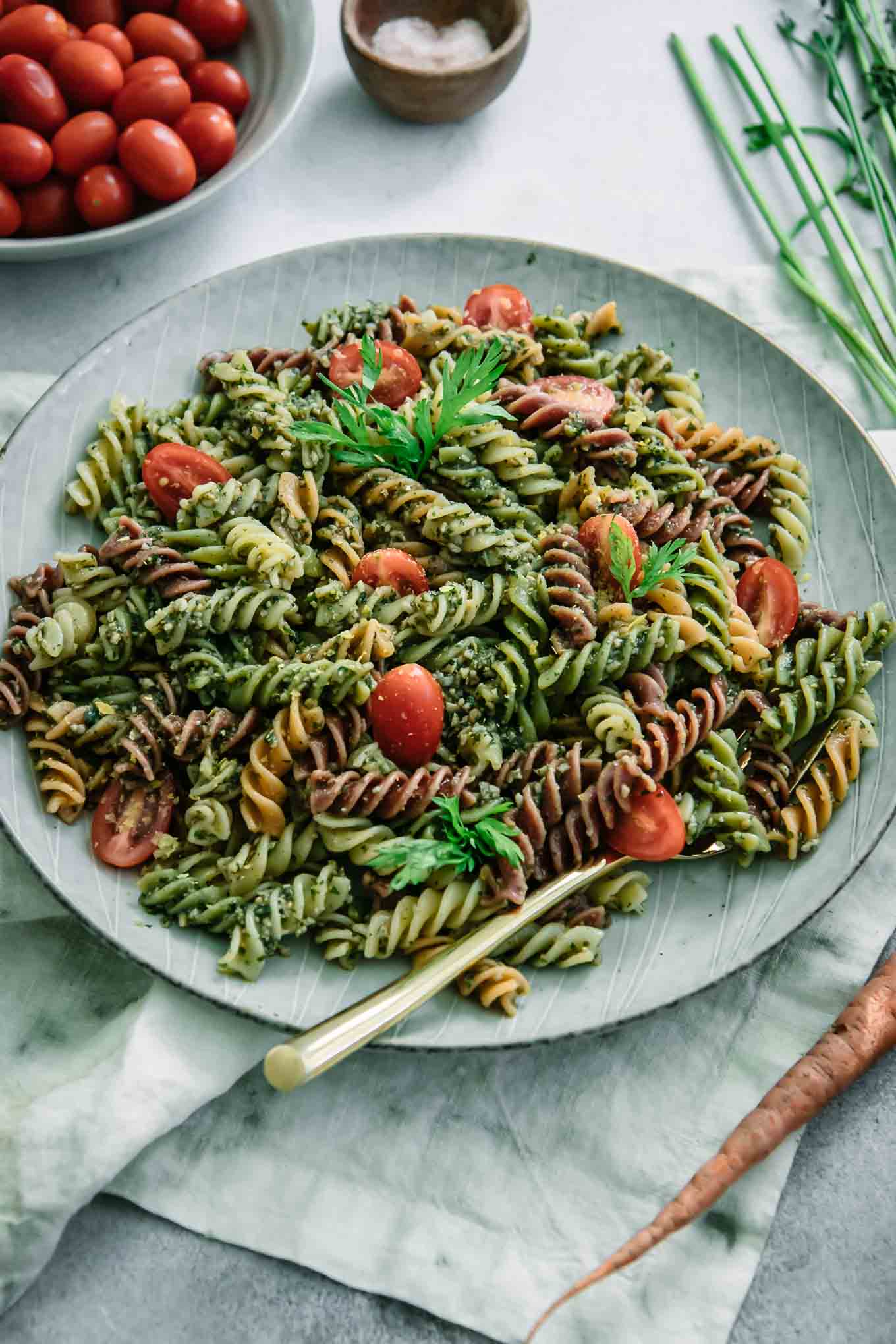 ---
🥣 Pesto variations
This is a great foundational recipe for pesto, but it can easily be tailored to your dietary, allergen, or taste preference:
Make it vegan: substitute cheese for nutritional yeast to make this pesto plant-based
Switch up the nuts: instead of pine nuts use walnuts, almonds, sunflower seeds, or even go nut- and seed-free by using chickpeas or white beans in place of nuts or seeds
Add some spice: add cumin, chili flakes, turmeric, oregano, or lemon to add some spice or change the pesto flavor profile
---
🧊 How to store
Pesto is a great make ahead sauce that you can prepare and save for later use. Here are my tips for storing:
Refrigerator storage: Store in an airtight container in the refrigerator for up to 1 week
Freezer storage: 6 months in a sealed freezer-safe container
👉 Pro tip: To prevent pesto from browning when stores, drizzle a thin layer of olive oil on the surface of of the sauce before putting it in the refrigerator or freezer. You can add pesto to ice cube trays, freeze, and transfer to a freezer-safe storage bag. Having small quantities on hand are perfect for when you need a quick flavor enhancer!
---
♻️ Sustainable kitchen tips
Making homemade pesto is sustainable in itself, but here are some ways to make it even better for the planet.
Take advantage of carrot season! Prioritizing in season produce on your grocery list is key to a sustainable kitchen. Carrots is in season year-round in California, but find out where spinach is in season near you here.
Use other leftover herbs or greens. Don't let your greens or herbs go bad! Instead, mix them into pesto or use as a substitute for carrot leaves in this recipe.
Make pesto in bulk. If you have a large carrot harvest and don't know what to do with your carrot tops, make a large batch of pesto and freeze it for later use.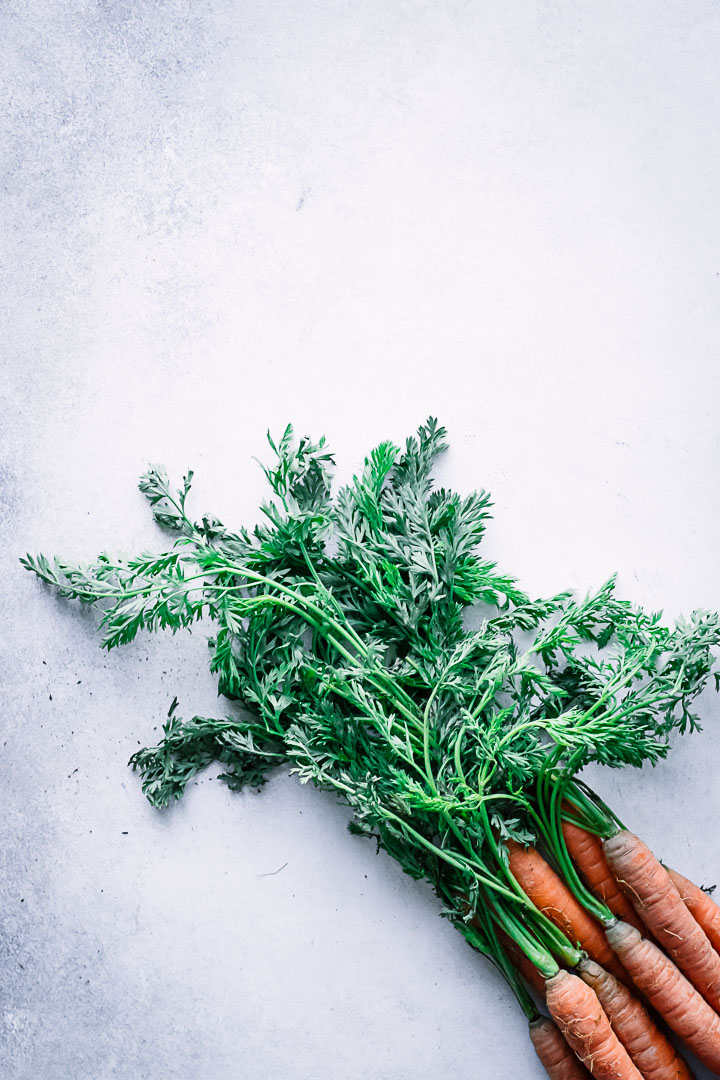 ---
🥕 More recipes using carrot tops
Want more carrot greens recipes? We've got you covered:
👉 Looking for more alternative pesto recipes? Check out our Radish Greens Pesto, Beet Leaves Pesto, Arugula Pesto, Vegan Parsley Pesto, Plant-Based Kale Pesto, Broccoli Stalk Pesto, Pumpkin Seed Pesto, Sunflower Seed Pesto, or 5-Minute Nut-Free Chickpea Basil Pesto, Pesto made with Brussels Sprouts Leaves.
Carrot Top Pesto Sauce
Carrot Top Pesto Sauce, a simple pesto recipe made from fresh carrot greens, pine nuts, parmesan cheese, garlic, and oil. A unique food waste recovery recipe!
Ingredients
2 cups carrot tops and stems, chopped (from about 8 medium carrots)
⅓ cup pine nuts, or seed of choice
2 whole garlic cloves
½ cup extra virgin olive oil
½ cup parmesan cheese, or nutritional yeast
⅛ teaspoon quality sea salt
⅛ teaspoon black pepper
Instructions
Wash and prep carrot greens: Start cutting carrot greens from the stem and washing by running under water or soaking in a bowl of water. Use a salad spinner to dry it or lay the carrot tops flat on a plate or kitchen towel.

Blend the greens, nuts, garlic, and oil: Toss the cleaned and dried carrot leaves in a food processor. Next, add nuts/seeds and garlic cloves. Pulse until finely chopped, slowly drizzling in olive oil until the chopped ingredients are well coated in oil but still chunky.

Add cheese and spices to season: Finish by adding in parmesan cheese (or nutritional yeast if vegan), salt, and pepper. Give the pesto a taste and add more seasonings until it's flavored to your liking
Notes
Food waste tips: Use both carrot tops and stems in this recipe to create less waste. Both the carrot greens and their stems are perfectly edible and delicious in pesto.
Make it vegan: Omit the cheese and opt for nutritional yeast or vegan parmesan cheese to make this recipe plant-based.
Nuts or seeds? Traditional pesto sauce uses pine nuts, but any nuts or seeds are perfect for pesto.
Tools Needed: food processor or blender, knife set, cutting board, salad spinner
Leftovers & Storage: store pesto in airtight container in refrigerator for up to one week; freeze for up to two months (possibly longer)
Nutrition: This carrot top pesto is a good source of vitamin and calcium, and is high in protein per serving. It is also rich in healthy fats, which increase satiety and play a role in cell health.
Nutrition Information
Serving: 1serving, Calories: 194kcal, Carbohydrates: 3g, Protein: 4g, Fat: 19g, Saturated Fat: 3g, Polyunsaturated Fat: 3g, Monounsaturated Fat: 11g, Cholesterol: 4mg, Sodium: 137mg, Potassium: 41mg, Fiber: 1g, Sugar: 1g, Vitamin A: 51IU, Vitamin C: 12mg, Calcium: 127mg, Iron: 2mg
UPDATE: This recipe was originally published in October 2018 and was updated for clarity in April 2022.
We are participant in the Amazon Services LLC Associates Program, an affiliate advertising program designed to provide a means for us to earn fees by linking to Amazon.com and affiliated sites.