Pumpkin Seed Pesto, or pepita pesto, is a delicious pesto made without nuts! Pumpkin seeds are an easy substitution for pine nuts and provide a mild crunch in pesto sauce.
Looking for a nut-free pesto sauce? Look no further! You can enjoy pesto even if you have a nut allergy or sensitivity by replacing traditional pine nuts with pumpkin seeds.
👉 Four reasons why you should be making nut-free pesto with pepitas:
It's flavorful! Pumpkin seeds are a simple substitution for pine nuts since they maintain the same sweet and mild flavor profile as a pine nut pesto.
It's saves you money. Pine nuts are pretty expensive, but you can get the same flavors of pesto without the price tag by swapping them for pepitas.
It's allergen-friendly. This recipe substitutes pine nuts with pepitas, and has the option to use nutritional yeast instead of cheese for a dairy-free vegan pesto alternative.
It comes together in a snap. No cutting or chopping, everything goes in the food processor. Combine the ingredients, drizzle in olive oil, season to tasted and your pesto is ready!
Ready to learn how to make a nut-free pesto sauce with pumpkin seeds? Let us show you how!
---
🎥 Recipe Video
---
🌿 Ingredients
Basil: Basil has a strong, pungent flavor with hints of anise (licorice-like). It can be purchased in-stores or easily grown in your garden. Basil is the main ingredient in pesto, and provides us with antioxidants and nutrients such as vitamins A, K, and calcium.
Pepitas: The crunch from pepita results in nut-free pesto without sacrificing any of the flavor or texture. Pepitas have heart healthy fats and are loaded with nutrients such as iron, magnesium, and zinc (USDA Food Nutrient Database). Pepitas are specifically harvested from a variety of pumpkin that does not have a hull on the seed. In cooking applications that use pepitas within the recipe (versus as a garnish), be sure to use actual pepita seeds. When garnishing a meal, pepita or pumpkin seeds can be used interchangeably.
Cheese (or nutritional yeast): Parmesan cheese is traditionally used in pesto, but if you're making a cheese-free pesto then substitute it for nutritional yeast for a savory and nutty flavor.
Olive oil: Oil keeps pesto from becoming a thick sauce and helps to thin the emulsion in order to best coat your food. The oil also adds flavor to the pesto, so be sure to choose a good quality olive oil.
Garlic, salt, and pepper: Garlic, pepper, and salt are the traditional seasonings for pesto. Add garlic and pepper while processing your pesto and then season with salt to taste.
Optional ingredients: Bring a bit of acid to your pesto with a splash of lemon at the end.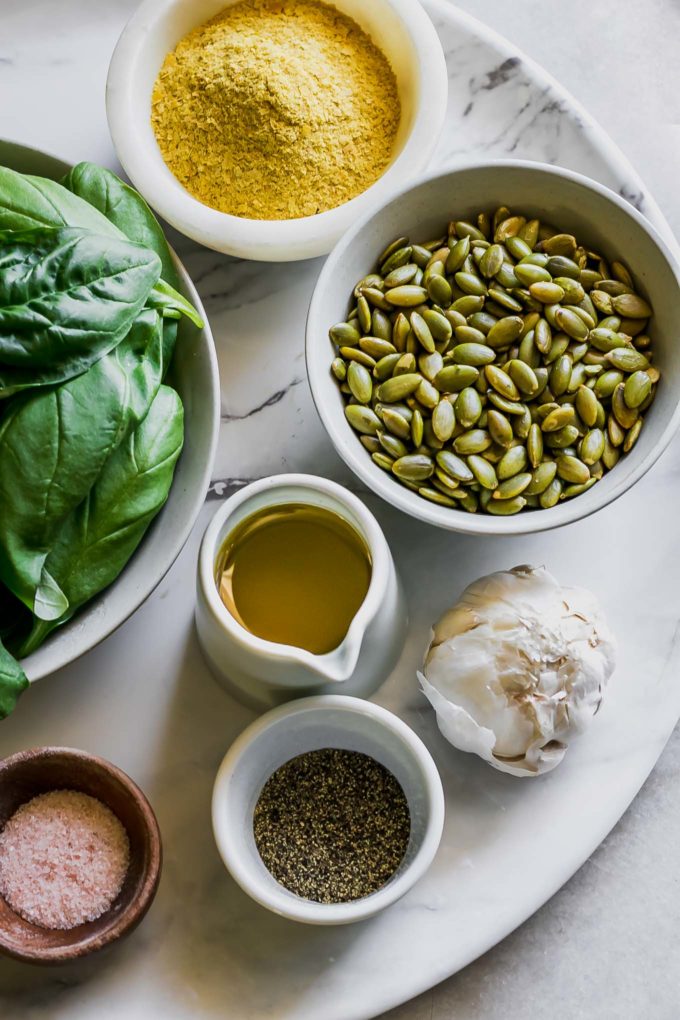 ---
🥣 How to make (step-by-step photos)
1️⃣ Step One: Wash and prep basil
The first step is to prep and clean the basil by washing under running water, or adding to a bowl of water and swirling it around to remove dirt.
Once the basil is clean, lay it flat to dry or spin it in a salad spinner.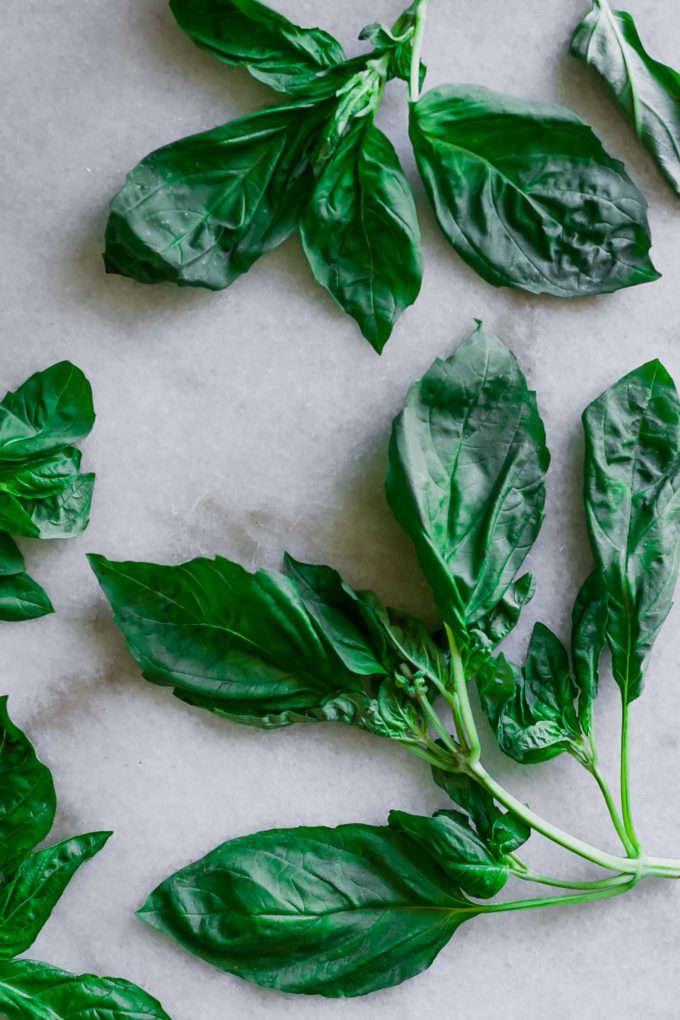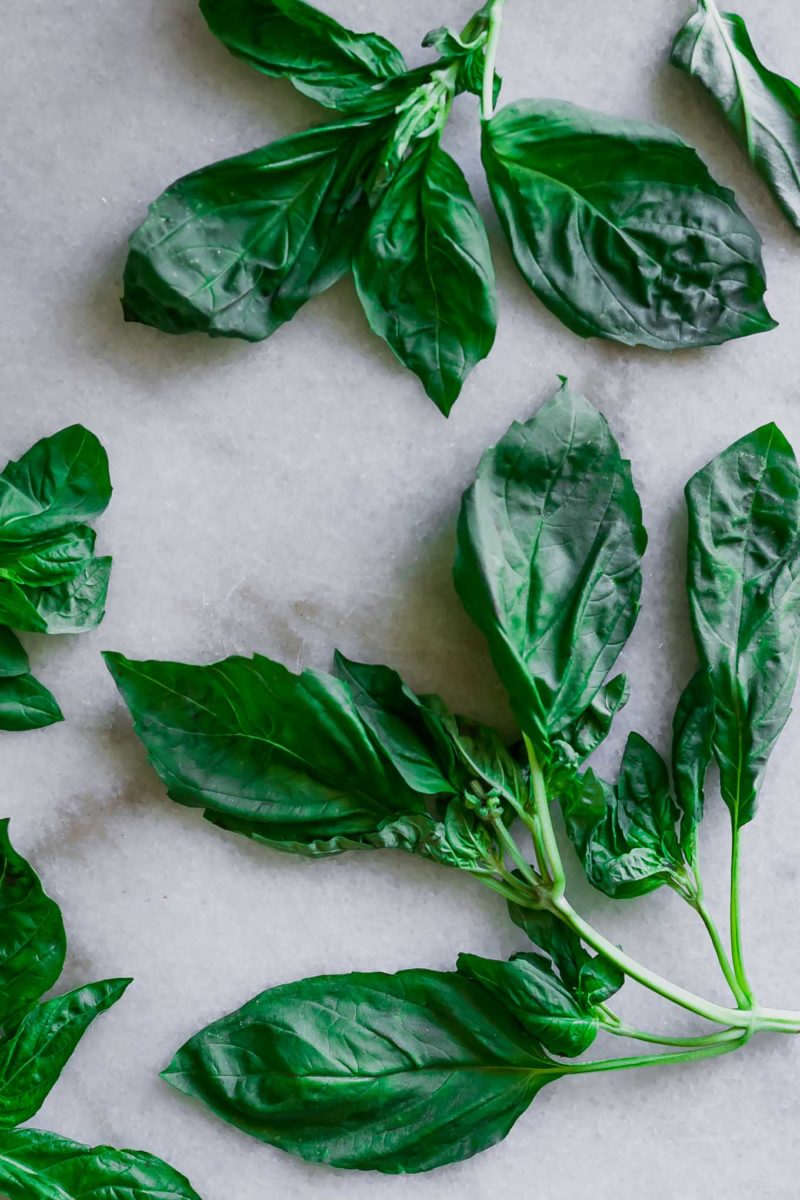 ---
2️⃣ Step Two: Blend the basil, pepitas, garlic, and oil
Add the basil, pumpkin seeds, garlic cloves, and oil in a food processor or blender.
Pulse until the ingredients are finely chopped, drizzling more olive oil until the chopped ingredients are well coated.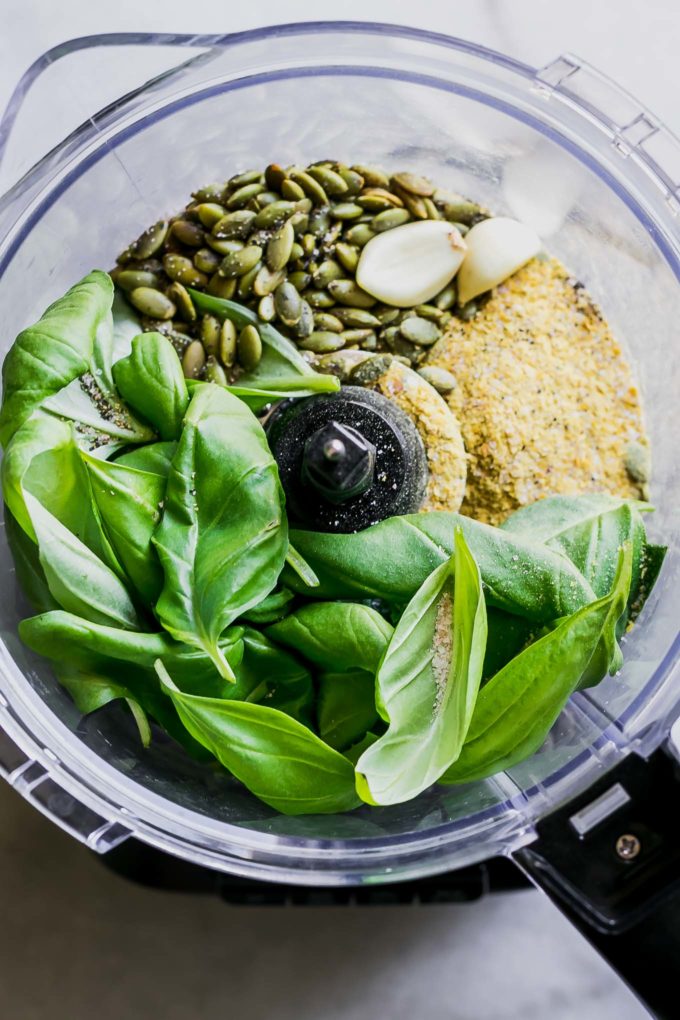 3️⃣ Step Three: Add nutritional yeast, spices, and lemon juice
Finally, add in nutritional yeast, salt, and pepper and do a taste test for flavor. Add more salt or pepper as needed, and top it off with a squeeze of lemon juice (optional).
Then serve on top of roasted vegetables, over pasta, as a sauce for pizzas, or drizzled into soups and stews!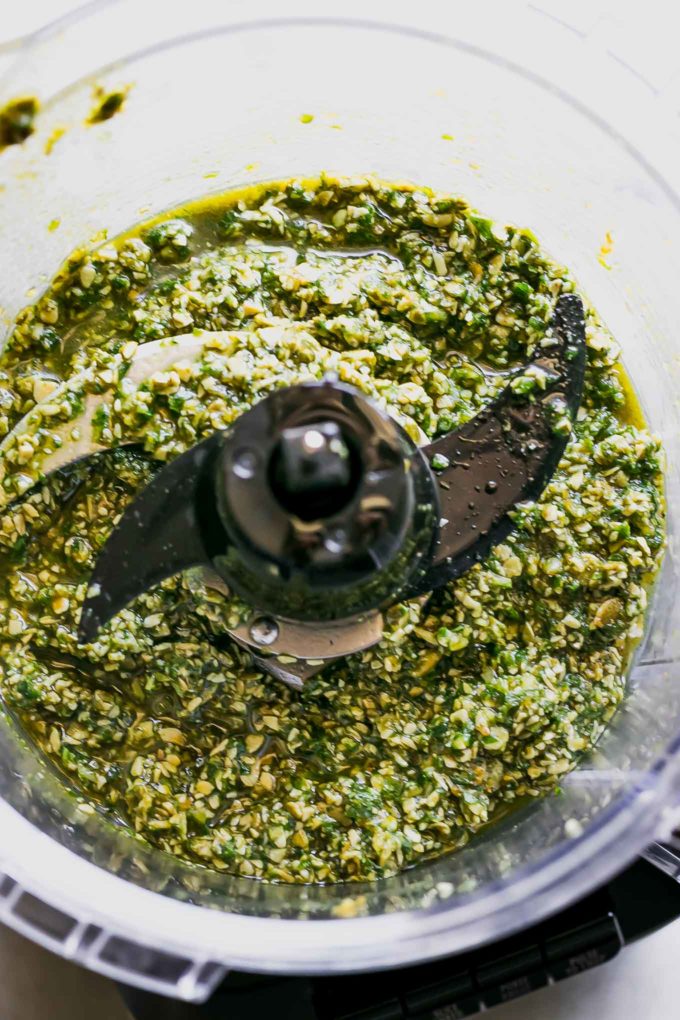 ---
♻️ Storage + Freezing
This nut-free pepita pesto is so good you're going to want to make extra to always have on hand. When storing, we recommend coating the top with a layer of olive oil, this will help to keep your pesto from browning.
Refrigerator: 1 week in a airtight container.
Freezer: 4-6 months in a sealed freezer-safe container.
👉 Pro pesto tip: Add pesto to ice cube trays, freeze, and transfer to a freezer-safe storage bag. Whenever you need a flavor enhancer, grab a frozen cube to add to your soup or sauce.
---
🌱 Pesto variations
The pesto possibilities are endless! Below are a few ideas to make this pesto recipe your own.
Switch up the seeds: Use sesame seeds, hemp seeds, or watermelon seeds for a different crunchy base.
Play with the greens: Consider arugula, kale, beet leaves, or radish greens.
Do a combo: Switch it up by combining more than one green or seed in your pesto. Consider pepita and hemp seed pesto or try basil and beet green pesto.
---
💚 More vegan pesto recipes
We hope you enjoy making pesto – we love how quick, easy, and versatile it is! Check out our other nut-free pestos, like:
👉 Looking for more pesto recipes? Try alternative greens like our Carrot Greens Pesto, Radish Greens Pesto, Beet Greens Pesto. Or go plant-based with Vegan Kale Pesto, Vegan Parsley Pesto, or Vegan Cilantro Pesto sauces.
Pumpkin Seed Pesto Sauce Recipe
Pumpkin Seed Pesto, or pepita pesto, is a delicious pesto made without nuts! Pumpkin seeds are an easy substitution for pine nuts and provide a mild crunch in pesto sauce.
Ingredients
2

cups

basil

⅓

cup

pepitas

pumpkin seeds

2

whole

garlic cloves

½

cup

extra virgin olive oil

⅓

cup

nutritional yeast

or parmesan cheese

⅛

teaspoon

salt

⅛

teaspoon

fresh cracked pepper

Optional:

squeeze of fresh lemon juice
Instructions
Wash and prep the basil: First, make sure to clean your basil by placing it in a bowl of water and swirling around with your hand to clean off of any dirt. Once clean, lay your basil flat to dry or spin it in a salad spinner.

Blend the greens, pepitas, garlic, and oil: Next pulse the basil in a food processor with the pepita and garlic cloves. Process until finely chopped, then continue to pulse while drizzling in olive oil. You should use enough oil for the ingredients to be well coated.

Add nutritional yeast, spices, and lemon juice: Finally, add in nutritional yeast, salt, and pepper. Taste and add more as needed.
Video
Notes
Make it vegan: Make this pesto recipe vegan by using dairy-free parmesan cheese or nutritional yeast.
Tools needed: food processor or blender, knife set, cutting board
Prep ahead: Make this simple pesto up to 2-3 days before serving, or freeze until ready to use.
Leftovers and storage: Leftover pesto should be stored in an airtight container in the refrigerator for up to four days, and in the freezer for up to 2 months (possibly longer).
Nutrition notes: This recipe made as written (with vegan cheese and seeds) is plant-based, gluten-free, and nut-free. It is a good source of vitamin C, plant-based protein, and fiber.
Nutrition
Serving:
1
serving
Calories:
71
kcal
Carbohydrates:
1
g
Protein:
1
g
Fat:
7
g
Saturated Fat:
1
g
Polyunsaturated Fat:
1
g
Monounsaturated Fat:
5
g
Trans Fat:
1
g
Sodium:
19
mg
Potassium:
39
mg
Fiber:
1
g
Sugar:
1
g
Vitamin A:
159
IU
Vitamin C:
1
mg
Calcium:
6
mg
Iron:
1
mg