Beet Greens Pesto, a simple food waste recovery recipe using beet leaves in place of basil in pesto sauce. Easy, tasty, and a great way to use edible plant parts that would otherwise get thrown out!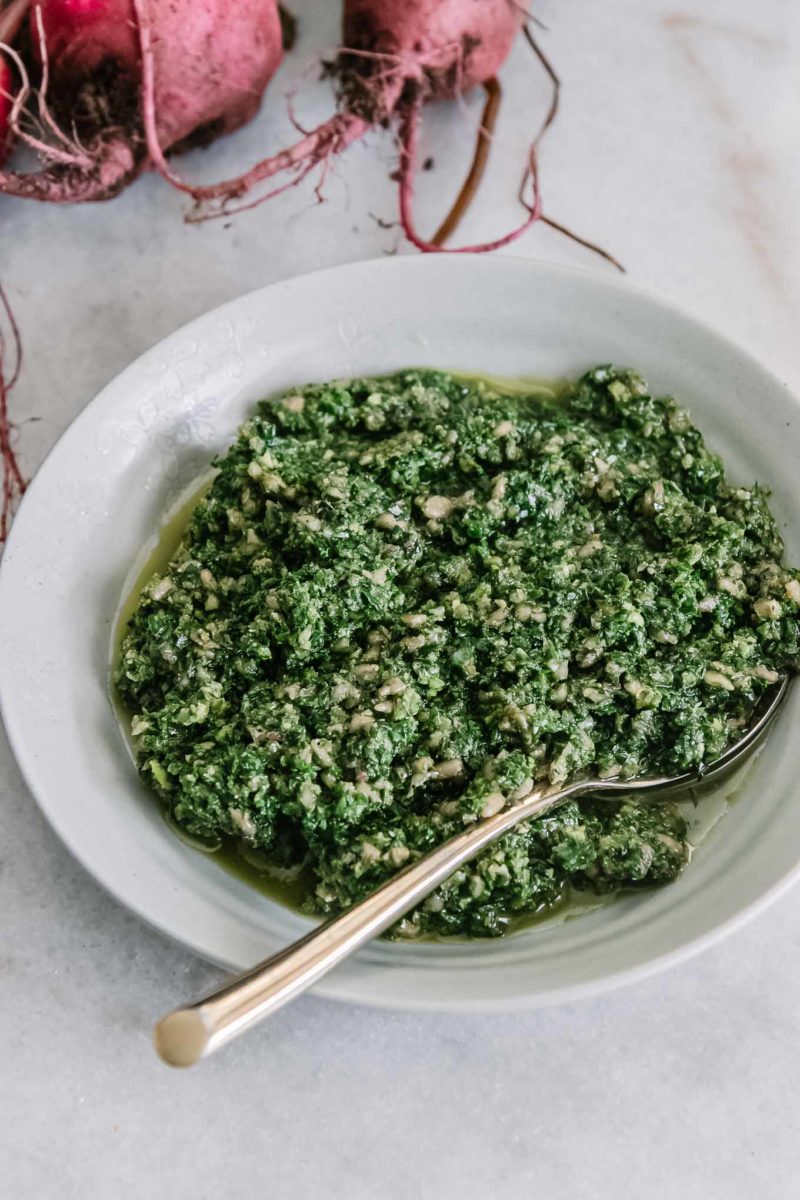 Did you know that you can eat the leaves on beets? Yes, it's true! Beet greens are not only edible, they're a great sturdy green for salads, cooked on their own as a side dish, or even in sauces like this beet tops pesto.
👉 Here are three reasons why you should be using beet greens in pesto sauce:
It's tasty! First and foremost, beets greens are delicious in pestos and give a hearty, earthy flavor that compliments well with the garlicky and cheesy notes in pesto sauce.
It reduces food waste. Unfortunately, beet greens are often thrown out because people don't realize they are edible, so this recipe saves them from the compost (or worse, the trash can!).
It's super easy and very versatile. Simply blend the greens with nuts or seeds, cheese (or a vegan cheese alternative), garlic, salt, pepper, and a little lemon and you have yourself a flavorful sauce that's great on pizzas, vegetables, soups, and pastas.
Ready to learn how to make pesto with beet greens? Let's do this!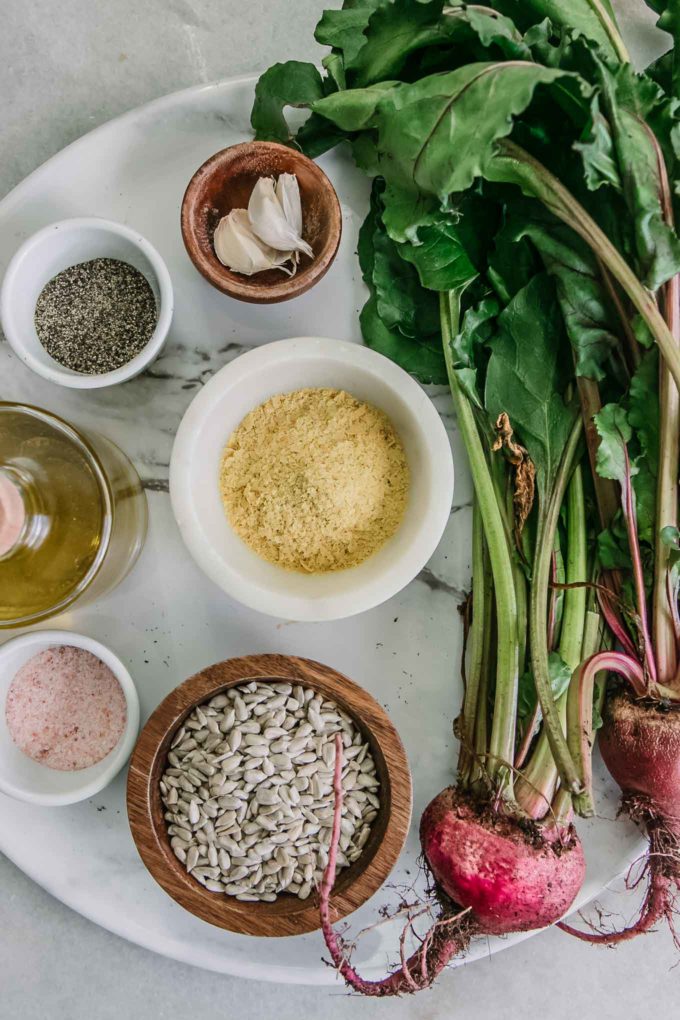 ---
🌱 How to make (step-by-step)
1️⃣ Step One: Wash and prep beet greens
First, wash the beet leaves by cutting them from the stem and then soaking in a bowl of water. Toss them around a bit to remove excess dirt, then remove them and lay then flat on a plate or kitchen towel or spin them in a salad spinner to dry.
Then remove any remaining hard stems from the greens before making the pesto.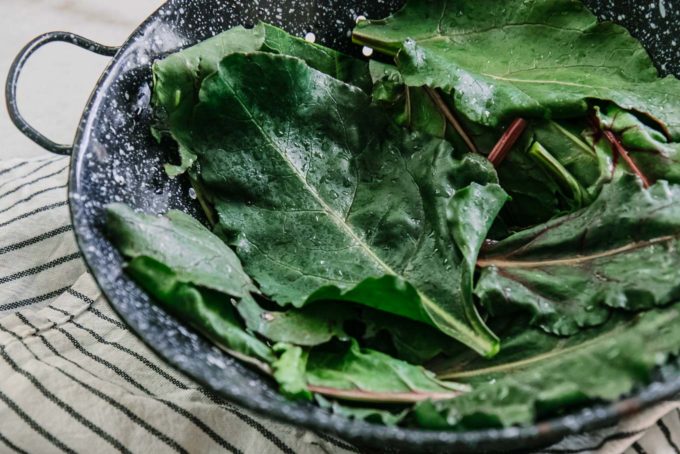 ---
2️⃣ Step Two: Blend the greens, nuts or seeds, garlic, and oil
Next, add the cleaned dried beet tops to a blender. Add pine nuts — or sunflower or pumpkin seeds for a nut-free pesto — and garlic cloves and pulse until finely chopped.
As you're pulsing the ingredients, drizzle in olive oil and continue to pulse until the chopped ingredients are well coated in oil but not completely smooth (the best pestos are a bit chunky).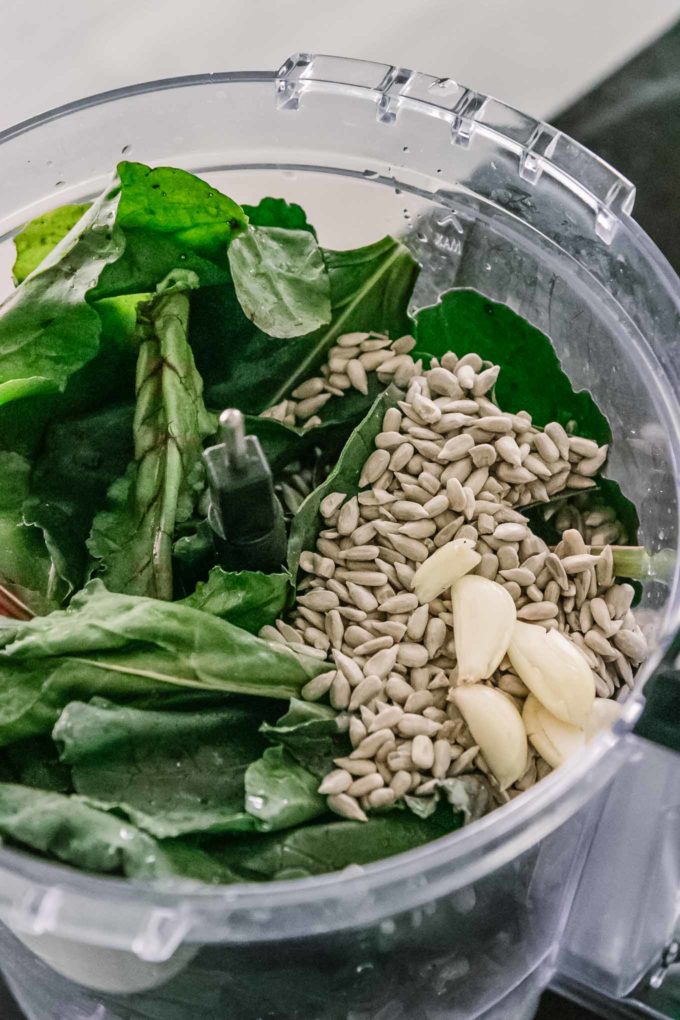 ---
3️⃣ Step Three: Add cheese, spices, and lemon juice to taste
The final step is to add parmesan cheese (we used a vegan alternative in these photos), salt, and pepper slowly, tasting and adding more until you reach your desired taste. Cheese is naturally salty, so go slow on the salt so you don't overdo it (you can always add more, but not take any away!).
We finish off our pestos with a bit of lemon juice, but this is optional. Store the pesto in an airtight container in the fridge until ready to use!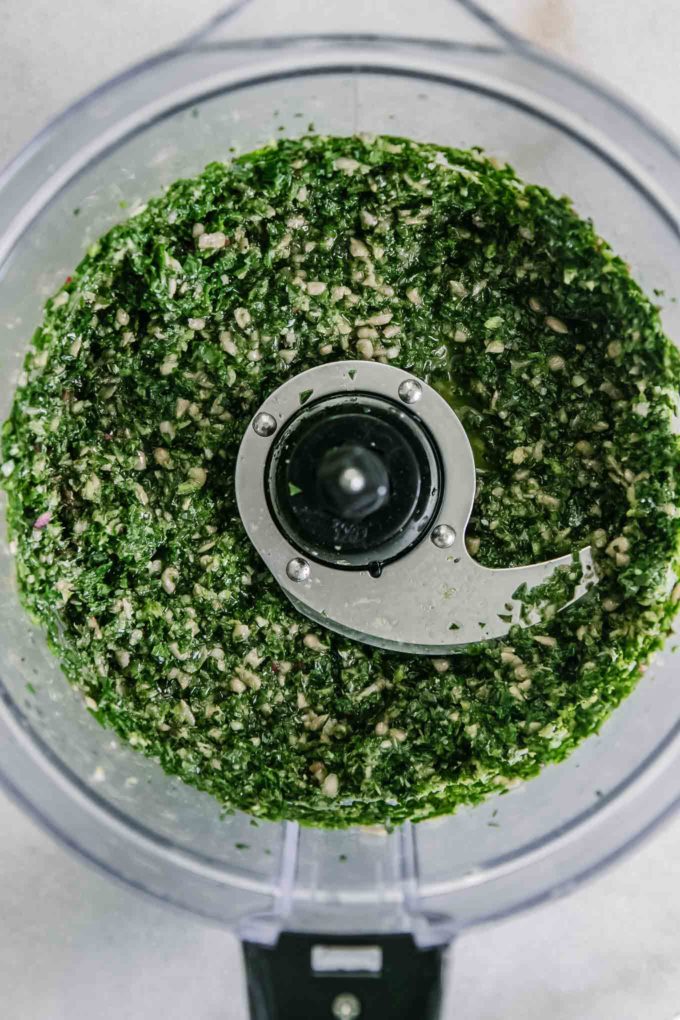 ---
🍝 How to serve beet top pesto
Use this beet greens pesto in place of anything you typically enjoy with pesto. Some of our favorites are:
---
❓ Recipe + beet greens questions
Are beet greens toxic?
Beet greens are not toxic. The green leaves on beets are edible and are in the same family as spinach and Swiss chard. Beet leaves can be cooked like any other leafy greens, such as sautéed, in soups, in salads, in sauces, and in smoothies.
Should I trim beet leaves?
Beet leaves and stems are edible, however the stems can be tough so it is best to trim the leaves from the stem before cooking and eating. Save the beet stems to use to flavor soup stocks like our food scrap vegetable broth.
Are beet greens healthy?
Radish greens are a healthy leafy green that has 20 calories per serving and is a good source of vitamin C, vitamin K, and potassium.
How do you make beet greens pesto vegan?
Pesto made with beet greens can be made vegan by swapping traditional parmesan cheese and instead using a dairy-free vegan cheese alternative, or nutritional yeast. Vegan alternatives for beet greens pesto are available in the recipe card and the photos for this recipe use vegan cheese.
How do you make pesto nut-free?
Pesto can be made nut-free by swapping traditional pine nuts and with seeds like sunflower seeds or pumpkin seeds. You can also use sturdy legumes in place of nuts in pesto, like chickpeas, lentils, or white beans. Check out our Nut-Free Chickpea Pesto as an example.
---
♻️ Sustainable kitchen tips + tools
This recipe is inherently a food waste recovery recipe, but here are a few tips and tricks for making this pesto even more sustainable:
🍁 Take advantage of beet season!
Beets are typically harvested in summer through late fall, and keep for months if stored in a cool, dry place. For this reason we enjoy this pesto from late summer and throughout winter.
🥣 Use beet stem scraps.
Don't throw out the bet stems after cutting the leaves from the roots, instead use them to flavor soup stocks. No vegetable goes to waste!
👩‍🍳 Make ahead to save time.
Make a double or triple batch of this pesto and freeze for later to have a simple sauce for pasta or pizza when you're low on dinner prep time in the future.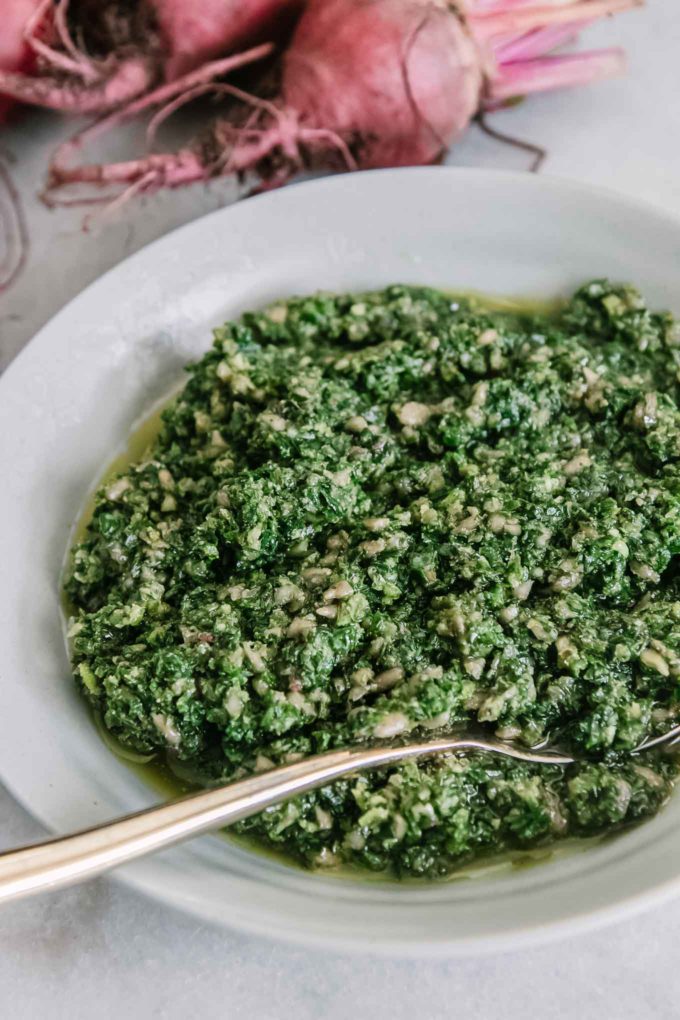 ---
🌿 More recipes using beet leaves
Look no further! See our other beet leaves recipes below or substitute them for carrot greens where noted:
👉 Looking for more alternative pesto recipes? Try our Carrot Leaves Pesto, Radish Top Pesto, Arugula Pesto Sauce (vegan!), Kale Pesto (also vegan!), Cilantro Pesto Sauce, Broccoli Stem Pesto Sauce, Sunflower Seed Pesto, Pumpkin Seed Pesto, Leftover Celery Tops Pesto, Pesto with Brussels Sprouts Tops, and our No-Nut Pesto with Chickpeas. Can you tell we love pesto?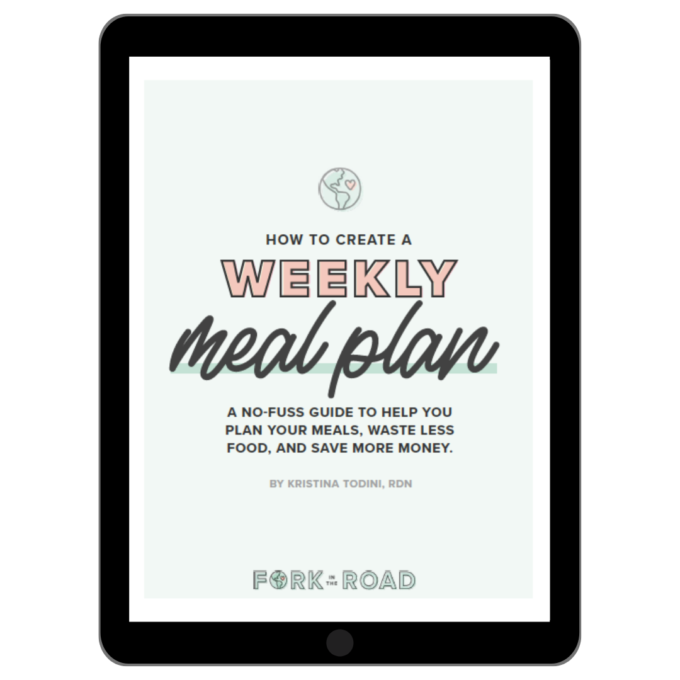 Beet Greens Pesto Recipe
Beet Greens Pesto, a simple food waste recovery recipe using beet leaves in place of basil in pesto sauce. Easy, tasty, and a great way to use edible plant parts that would otherwise get thrown out!
Ingredients
2

cups

beet greens

chopped (from about 1 bunch)

⅓

cup

pine nuts

or sunflower seeds if nut-free

2

whole

garlic cloves

½

cup

120 ml extra virgin olive oil

½

cup

parmesan cheese

or 1/3 cup nutritional yeast for vegan pesto

⅛

teaspoon

salt

⅛

teaspoon

fresh cracked pepper

Optional:

squeeze of fresh lemon juice
Instructions
Wash beet tops: First, wash beet greens by cutting them from the stem and then soaking in a bowl of water. Remove from water and either dry by laying out flat or using a salad spinner.

Blend ingredients: Add washed and dried beet tops, pine nuts or seeds, and garlic cloves to a food processor and pulse until finely chopped. Slowly add in oil and continue pulsing until well combined, but not completely smooth.

Add cheese and spices to taste: Next, add cheese (or nutritional yeast), salt, and pepper and pulse a few more times until combined. Taste the pesto and add more if needed to desired taste.

How to serve: Use pesto as a sauce with your favorite pasta, mixed into your favorite vegetable soup, or even as a dip with fresh vegetable crudités.
Notes
Nuts and seeds? Traditional pesto sauce uses pine nuts, but any nut or seeds will be delicious in this pesto. We used sunflower seeds in this recipe (as shown in the accompanying photos) to make this pesto nut-free.
Make it vegan: Make this pesto recipe vegan by using dairy-free parmesan cheese or nutritional yeast. If using "nooch", or nutritional yeast, substitute a smaller amount of nutritional yeast compared to regular or vegan cheese, as its flavor is very strong. In the recipe ingredients section we suggest 1/3 cup nutritional yeast.
Tools Needed: food processor or blender, knife set, cutting board, salad spinner
Prep Ahead: Make this simple pesto up to 2-3 days before serving, or freeze until ready to use.
Leftovers and Storage: Leftover pesto should be stored in an airtight container in the refrigerator for up to four days, and in the freezer for up to 2 months (possibly longer).
Nutrition notes: This recipe made as written (with vegan cheese and seeds) is plant-based, gluten-free, and nut-free. It is a good source of vitamin C, plant-based protein, and fiber.
Nutrition
Serving:
1
serving
Calories:
184
kcal
Carbohydrates:
1
g
Protein:
3
g
Fat:
19
g
Saturated Fat:
3
g
Polyunsaturated Fat:
3
g
Monounsaturated Fat:
11
g
Cholesterol:
4
mg
Sodium:
158
mg
Potassium:
113
mg
Fiber:
1
g
Sugar:
1
g
Vitamin A:
652
IU
Vitamin C:
3
mg
Calcium:
87
mg
Iron:
1
mg