Nut-Free Chickpea Basil Pesto
Nut-Free Chickpea Basil Pesto recipe using garbanzo beans instead of pine nuts. 5 minutes, 5 ingredients, and great on pasta, pizza, and veggies!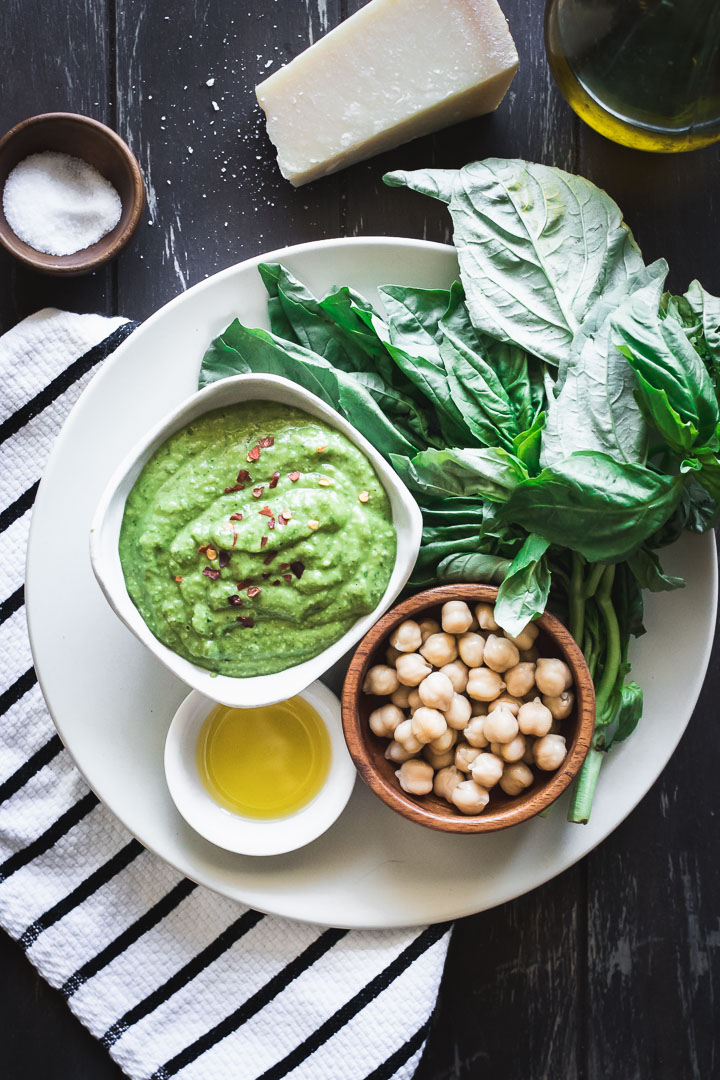 Ciao, amici! We have a delicious Italy-inspired basil pesto recipe with a twist for you that will make you forget that basil pesto is supposed to have nuts.
Do you LOVE pesto but avoid it because of a nut allergy or sensitivity? I feel you, we have a nut (and seed) sensitivity in our house so making homemade traditional pesto recipes has never really cut it. Pesto recipes with pine nuts cause itchy rashes and hives, so instead we make delicious and easy homemade pesto by using…chickpeas!
This 5-minute, 5-ingredient Nut-Free Chickpea Basil Pesto recipe is an easy way to still enjoy Italian-inspired basil pesto without the nuts. It's delicious on pasta, pizza, and drizzled over roasted veggies. Let's do it!
---
🌿 Ingredients substitutes for nuts in nut-free pesto
I've tried many different nut substitutions in basil pestos over the years (I even did a food science experiment on a sunflower seed version while studying to become a dietitian).
If you are able to eat seeds, sunflower seeds are a great alternative as they provide a bit of crunch like pine nuts. You may also like pumpkin or other squash/gourd seeds as well to provide a different texture.
If nuts and seeds are a no-go for you, I highly recommend both chickpeas (also known as garbanzo beans) or white cannellini beans. I personally prefer chickpeas because they mix well and make for a thicker pesto that sticks well to pastas.
---
🌱 How to make pesto vegan and dairy-free
This Nut-Free Chickpea Basil Pesto recipe can easily be made vegan by omitting the parmesan cheese completely, or by substituting it with nutritional yeast. Amounts may vary, but I would start with 1 tablespoon and add more to your desired taste.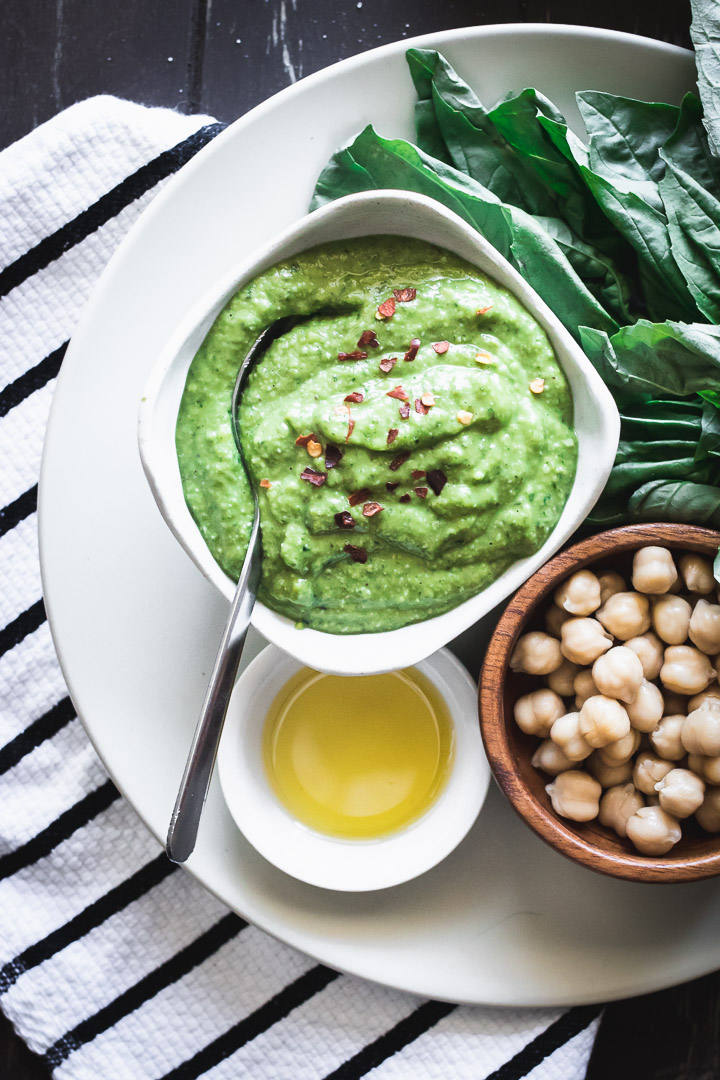 ---
❓ How to make pesto without oil
If you're searching for an oil-free basil pesto recipe, then look no further. You can omit the oil in this recipe and instead use a bit of water when mixing.
Keep in mind that when the pesto ingredients are blended with water then they are more likely to separate after storage, so blend again quickly before serving leftovers to ensure the ingredients are mixed well.
---
🥣 Nut-free pesto variations
I'm a big fan of foundational recipes that can be tailored to what you have on hand, so here are a few ideas to build upon this nut-free pesto recipe and make it your own.
Add more herbs! Use cilantro, parsley, or oregano in place of (or in addition to) basil.
Add spices. Add cumin, red pepper, chipotle powder, or lemon basil to add a kick.
Add citrus zest. Add a zest of lemon, lime, or even orange, as well as a bit of citrus juice.
In place of nuts: use chickpeas, white (cannellini) beans, sunflower seeds, pumpkin seeds, hemp seeds
---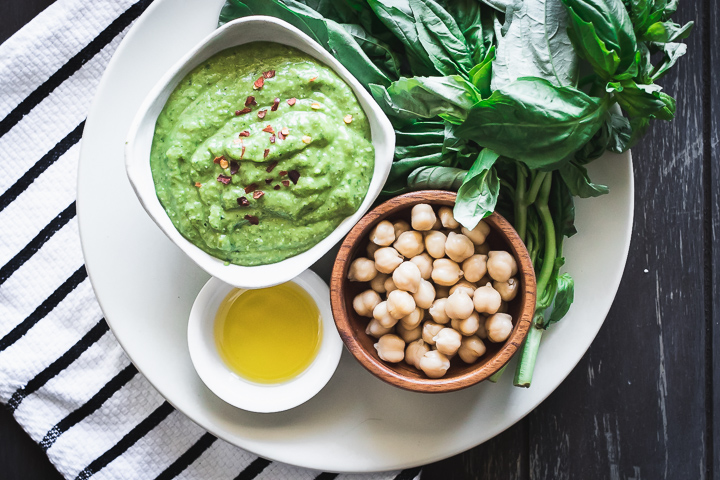 Nut-Free Chickpea Basil Pesto: Tips, Tricks, and Tools. This basil pesto recipe takes only 5 minutes to make and only requires five ingredients, but does require a food processor, bullet, or blender.
---
👩‍🍳 More nut-free pesto recipes
Pesto is a staple sauce in our kitchen, and we love testing out new variations. Here are a few of our favorites:
Looking for more pesto ideas? Try our pesto made with arugula, vegan pesto with parsley instead of basil, pesto made with kale leaves, pesto with cilantro, and our favorite Pesto Kale Potato Soup.
🌟 Did you make this recipe? Leave a ⭐️⭐️⭐️⭐️⭐️ star rating and a comment below to let us know how it turned out. Save it for later by pinning to your favorite Pinterest board and make sure to tag us on Fork in the Road's Instagram to show off your sustainable food creations!
Yield: 6 servings
5-Minute Nut-Free Chickpea Basil Pesto Recipe
Looking for an easy, nut-free basil pesto recipe? Look no further, this No-Nut Chickpea Basil Pesto recipe uses garbanzo beans in place of pine nuts. Safe for nut allergies!
Prep Time 5 minutes
Total Time 5 minutes
Ingredients
1 cup (25g) basil
1/8 cup (10g) parmesan cheese
Instructions
Add basil, garlic, chickpeas, and half of oil in food processor and pulse until chopped.
Add parmesan cheese, red pepper, and pepper and pulse, adding remaining oil (and more if needed) until well blended. Taste and add salt or more spices if needed.
Enjoy on pasta, pizza, or over veggies!
Notes
Leftovers & Storage: Nut-Free Chickpea Basil Pesto can be stored in an airtight container in the refrigerator for 5-7 days. If ingredients start to separate, pulse in a food processor or blender to redistribute.
Variations: Make it vegan by omitting the the parmesan cheese and substitute with 1-2 tablespoons of nutritional yeast. Make it oil-free by mixing with water. Experiment with different nut-free basil pestos by using white beans or, if you can eat seeds, sunflower or squash seeds.
Nutrition: This Nut-Free Chickpea Basil Pesto recipe is a great source of calcium, a good source of vitamin A, and is  full of protein with the addition of chickpeas. A great nutrition addition to your next pasta or pizza recipe.
*This recipe does not include additional salt because the parmesan cheese is very salt already. However, when taste testing add a small amount if needed to fit your desired flavor.
Nutrition Information:
Yield:
6
Serving Size:
1 serving
Amount Per Serving:
Calories: 133
Total Fat: 12g
Saturated Fat: 2g
Trans Fat: 0g
Unsaturated Fat: 10g
Cholesterol: 1mg
Sodium: 102mg
Carbohydrates: 4g
Fiber: 1g
Sugar: 1g
Protein: 1g
We are participant in the Amazon Services LLC Associates Program, an affiliate advertising program designed to provide a means for us to earn fees by linking to Amazon.com and affiliated sites.