Nut-Free Chickpea Basil Pesto
Nut-Free Chickpea Basil Pesto, a quick and easy pesto sauce recipe that uses garbanzo beans instead of pine nuts. This delicious recipe requires just a handful of ingredients and 5 minutes to make. Great on pasta, pizza, and veggies!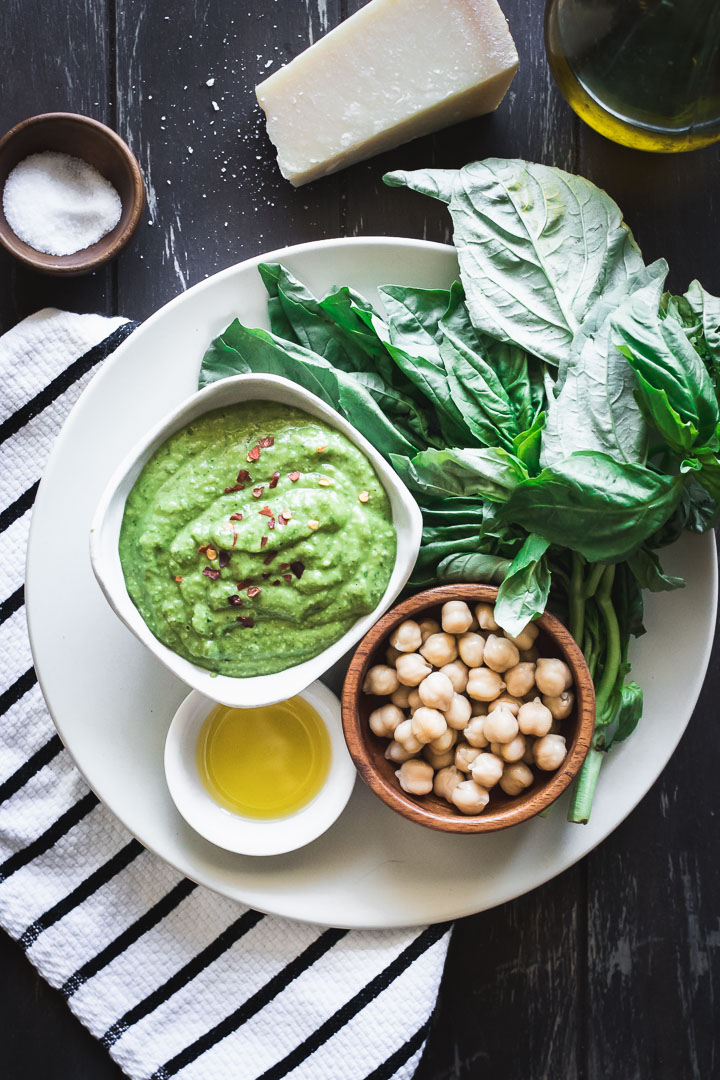 Do you LOVE pesto but avoid it because of a nut allergy or sensitivity? We have a delicious Italian-inspired basil pesto recipe using chickpeas that will make you forget that traditional pesto is supposed to have nuts.
👉 Here are THREE reasons why you should be making pesto with chickpeas:
It's super simple. This recipe is ready-to-eat in just a few steps. You'll add the ingredients to a food processor, pulse with some olive oil, and serve. Plus, it's easy to store in the refrigerator or freezer so you always have some on hand for quick meals.
It's adjustable. Pesto is so versatile—the possibilities really are endless for what you can do with it! We love mixing in other types of greens like spinach or cilantro, or trying it with different seasonings.
It's tasty. Between the freshness from the basil, nutty chickpeas, and savory parmesan, this pasta sauce is absolutely delicious. You can eat it on its own or use in dishes like pasta, pizza, soups, or as a dip for vegetables.
This 5-minute, 5-ingredient Nut-Free Chickpea Basil Pesto is an easy way to still enjoy pesto without nuts or seeds. It's delicious on pasta, pizza, and drizzled over roasted veggies. Let's do it!
---
🌿 Ingredients
This nut-free pesto uses classic pesto ingredients like fresh basil, parmesan cheese, and olive oil, in addition to chickpeas instead of pine nuts. Here are the ingredients you will need:
Basil: the key ingredient in pesto! Make sure to use fresh basil for the best results.
Garlic, salt, and pepper: common pesto seasonings that you can adjust to your liking.
Canned chickpeas: we made this pesto nut and seed-free by using chickpeas instead. We love using chickpeas to make pesto because they mix well and make for a thicker pesto that sticks well to pasta.
Olive oil: boosts the flavor of pesto and contributes to its saucy texture, preventing it from becoming too thick.
Parmesan cheese: traditionally used in pesto to bring a salty, savory flavor.
Red pepper flakes: just a sprinkle of red pepper flakes adds a spicy kick to the recipe.
Optional: Add a little lemon juice or zest to balance out the pesto with acid and brighten the flavor.
Recommended tools: A food processor or blender, knife set, cutting board, and salad spinner are the main tools you will need to make chickpea pesto.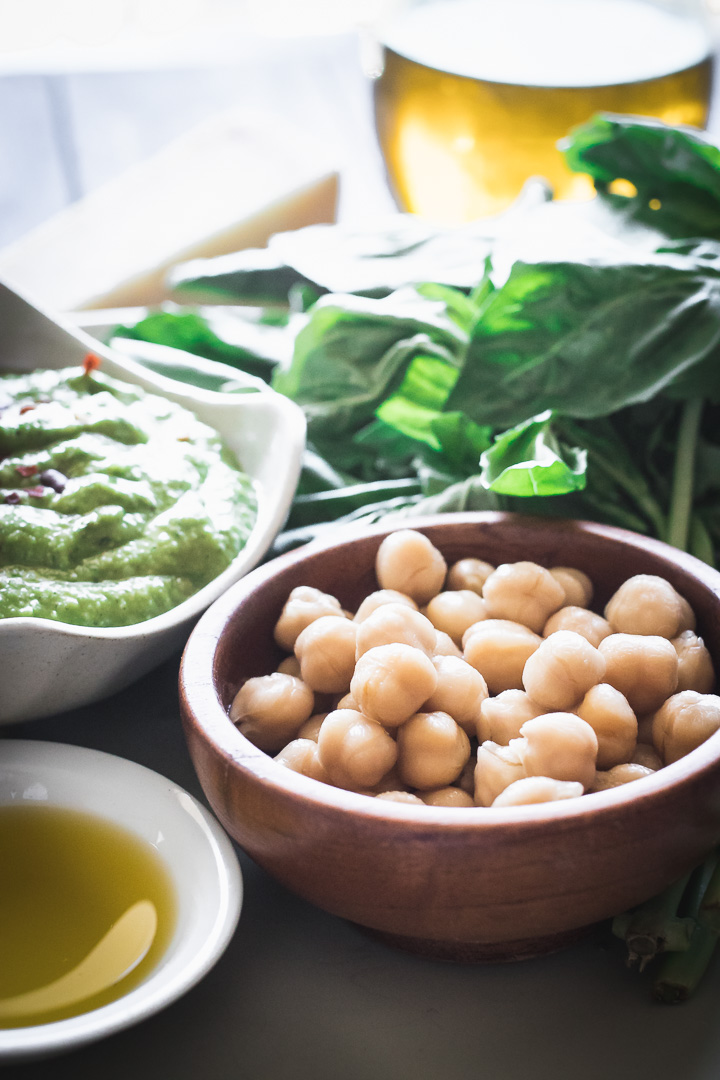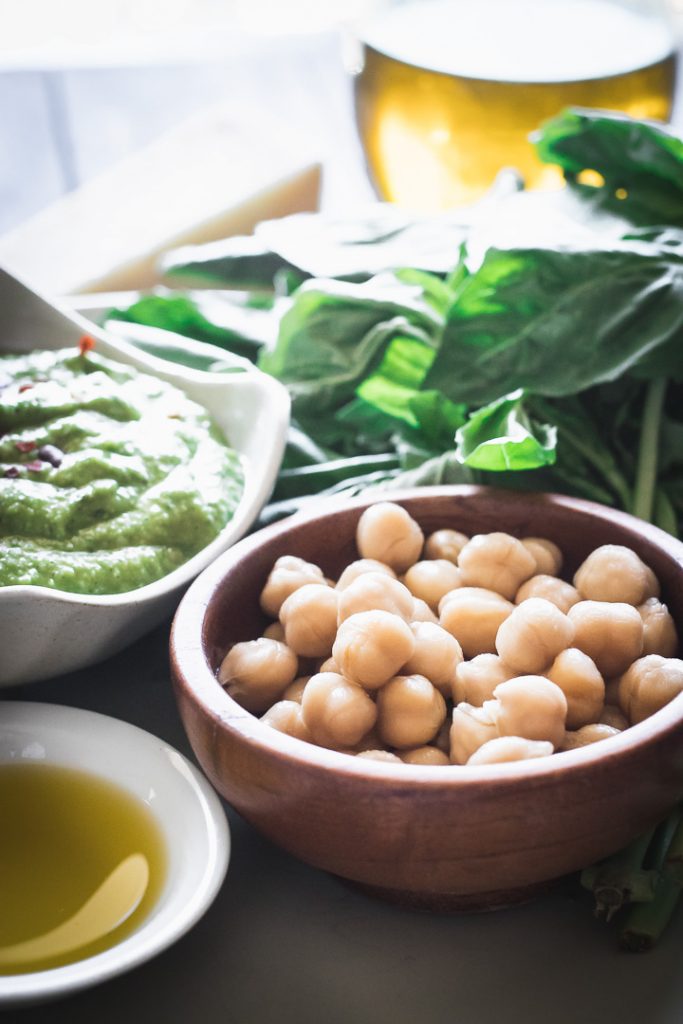 ---
🥣 How to make (step-by-step photos)
1️⃣ Step One: Wash and prep the basil
First, clean the basil by submerging it in a large bowl of water and swishing to remove any dirt. Use a salad spinner to dry it, or lay it flat on a plate or kitchen towel.
---
2️⃣ Step Two: Blend the greens, chickpeas, garlic, and oil
Toss the cleaned basil in a food processor. Add chickpeas and garlic cloves, then pulse until finely chopped.
Slowly drizzle in olive oil while pulsing the ingredients. Pulse until the chopped ingredients are well coated in oil, but still chunky.
---
3️⃣ Step Three: Add parmesan cheese, spices, and lemon juice
Finish it off by slowly adding parmesan cheese, salt, and pepper. Mix in more seasonings to taste until you reach your perfect pesto.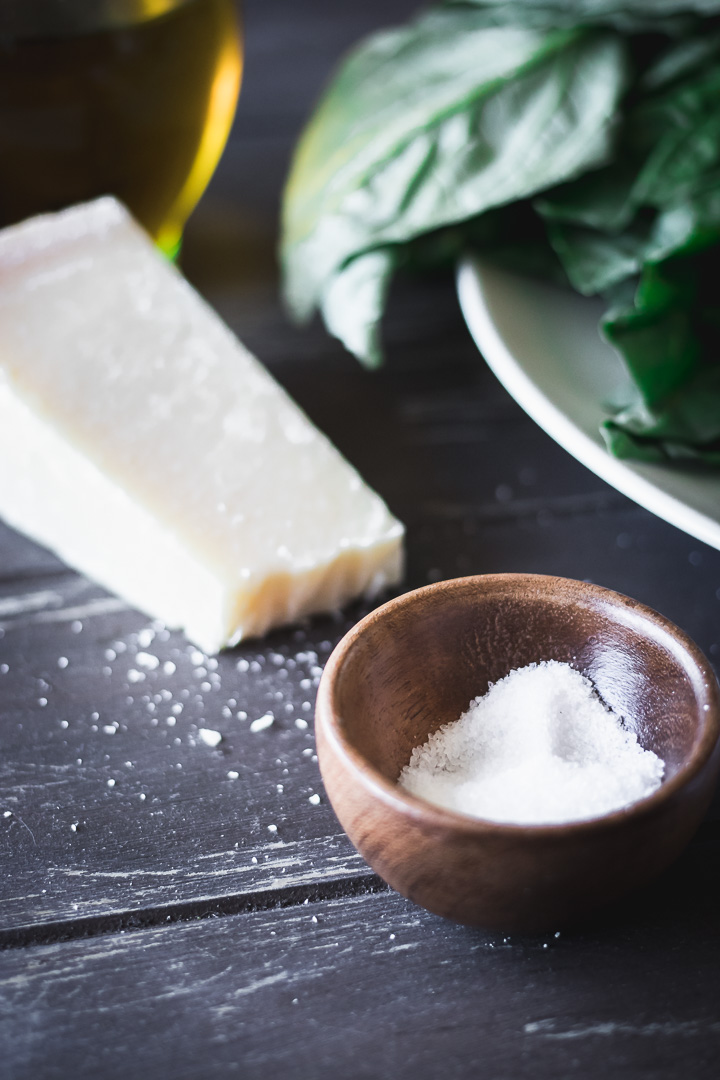 ---
❓ Recipe questions + quick tips
How do you make pesto vegan and dairy-free?
You can make pesto vegan and dairy-free by omitting the parmesan cheese completely, or by substituting it with nutritional yeast. Amounts may vary, but we suggest starting with 1 tablespoon and add more to your desired taste.
How do you make pesto without oil?
If you're looking for an oil-free basil pesto recipe, then look no further. You can omit the oil in this recipe and instead use a bit of water when mixing. Keep in mind that when the pesto ingredients are blended with water then they are more likely to separate after storage, so blend again quickly before serving leftovers to ensure the ingredients are mixed well.
What do you use pesto sauce for?
Pesto sauce is commonly added to pasta, pizza, soup, and sandwiches for flavor. You can also use it as a dip for vegetables, cook it into bread, or mix it with salad dressings.
What is a substitute for pine nuts in pesto?
While pine nuts are used in traditional pesto, there are many kinds of nuts and seeds that you can make it with. We suggest using pumpkin seeds, walnuts, cashews, pistachios, or hemp seeds if you're looking for a replacement. You can also use chickpeas in pesto to make it completely nut-free.
---
🌱 Nut-free pesto variations
We are big fans of foundational recipes that can be tailored to what you have on hand, so here are a few ideas to build upon this nut-free pesto recipe and make it your own.
Add more herbs! Use cilantro, parsley, or oregano in place of (or in addition to) basil.
Add spices. Add cumin, red pepper, chipotle powder, or lemon basil to add a kick.
Add citrus zest. Add a zest of lemon, lime, or even orange, as well as a bit of citrus juice.
In place of nuts: use chickpeas, white (cannellini) beans, sunflower seeds, pumpkin seeds, hemp seeds
Make it vegan: omit the parmesan cheese and substitute with 1-2 tablespoons of nutritional yeast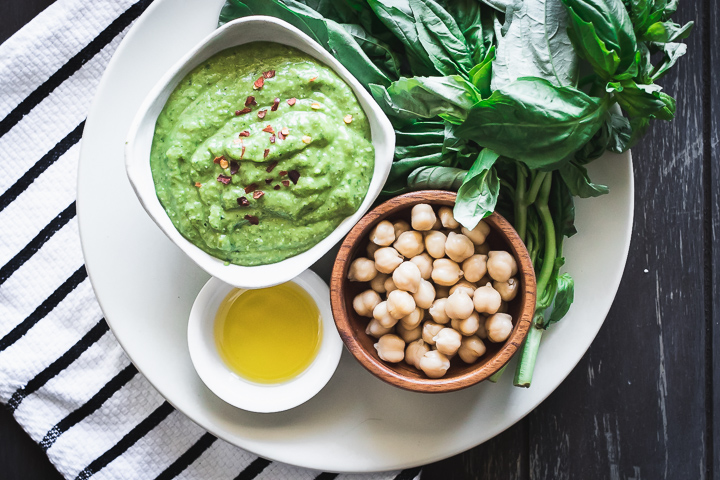 ---
🧊 How to store
You can make a smaller amount of pesto to use all at once, or make a big batch to store and use to make quick meals. If you have extra pesto, here's how to store it to maintain its quality:
Refrigerator storage: 1 week in an airtight container
Freezer: 4-6 months in a sealed freezer-safe container
👉 Pro tip: To prevent browning, it's best to drizzle a thin layer of olive oil on the surface of pesto before putting it in the refrigerator or freezer. You can add pesto to ice cube trays, freeze, and transfer to a freezer-safe storage bag. Having small quantities on hand are perfect for when you need a quick flavor enhancer!
---
♻️ Sustainable kitchen tips
Making pesto from scratch is a great way to reduce food waste. Here are some suggestions to make it even more eco-friendly!
Make chickpea pesto in bulk. Prevent extra tips to the store and packaging waste by making big batches of pesto that you can freeze and use for months to come.
Repurpose chickpea cans. Rinse out the cans and keep them on hand to reuse. You can also recycle them (just don't toss them in the trash!).
Mix in leftover greens or herbs. Spinach, parsley, cilantro, kale, collard greens—the possibilities are endless for the types of greens that you can use in pesto. Put those greens to use before they go bad!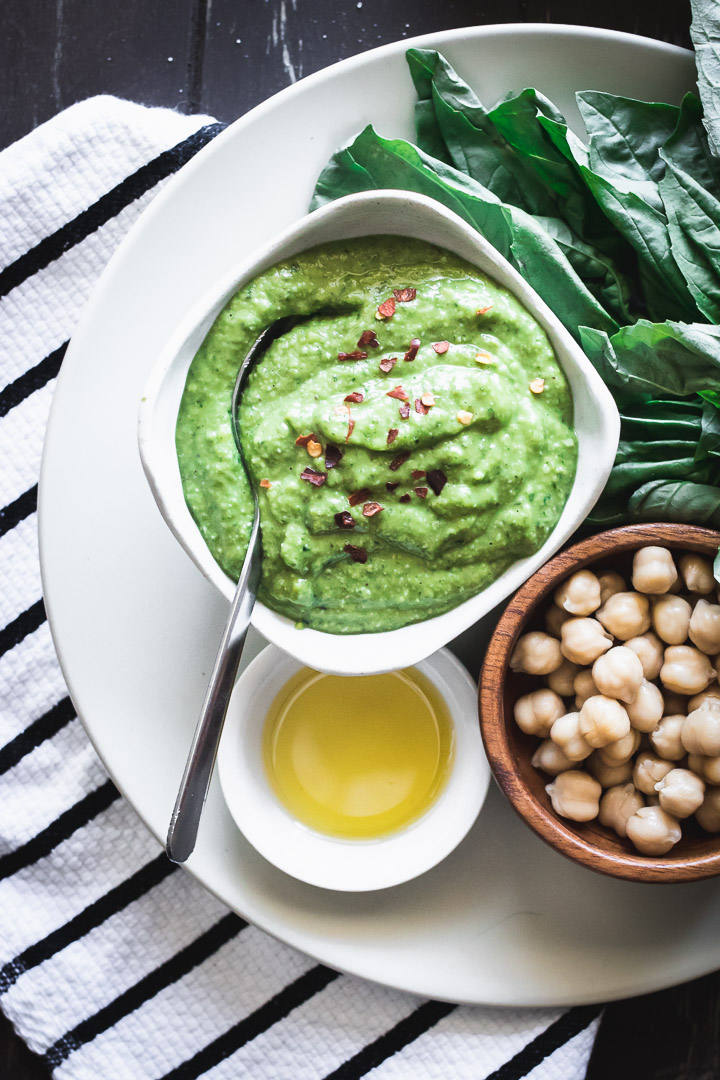 ---
💚 More nut-free pesto recipes
Want more pesto recipes without nuts? Pesto is a staple sauce in our kitchen, and we love testing out new variations. Here are a few of our favorites:
Looking for more pesto ideas? Try our pesto made with arugula, vegan pesto with parsley instead of basil, pesto made with kale leaves, pesto with cilantro, and our favorite Pesto Kale Potato Soup.
5-Minute Nut-Free Chickpea Basil Pesto Recipe
Looking for an easy, nut-free basil pesto recipe? Look no further, this No-Nut Chickpea Basil Pesto recipe uses garbanzo beans in place of pine nuts. Safe for nut allergies!
Ingredients
1 cup basil
2 whole garlic cloves, or 1 teaspoon minced ginger
½ cup chickpeas, from about 1 15-ounce can
⅓ cup olive oil
¼ cup parmesan cheese
½ teaspoon red pepper flakes
1 pinch black pepper
Optional: lemon zest, lemon juice to taste; salt to taste*
Instructions
Wash and prep the basil: Start by submerging basil in a bowl of water and cleaning it off to remove any dirt. Dry it using a salad spinner or lay it flat on a plate or kitchen towel.

Blend the greens, chickpeas, garlic, and oil: Toss the cleaned and dried basil in a food processor. Next, add chickpeas and garlic cloves. Pulse until finely chopped, slowly drizzling in olive oil until the chopped ingredients are completely covered in oil but still chunky.

Add parmesan cheese, spices, and lemon juice: Finish by adding in parmesan cheese, salt, and pepper. Give the pesto a taste and add more seasonings until it's flavored to your liking.
Notes
Leftovers + storage: This pesto can be stored in an airtight container in the refrigerator for 5-7 days. If ingredients start to separate, pulse in a food processor or blender to redistribute.
Variations: Make it vegan by omitting the the parmesan cheese and substitute with 1-2 tablespoons of nutritional yeast. Make it oil-free by mixing with water. Experiment with different nut-free basil pestos by using white beans or, if you can eat seeds, sunflower or squash seeds.
Nutrition notes: This recipe is a great source of calcium, a good source of vitamin A, and is full of protein with the addition of chickpeas. A great nutrition addition to your next pasta or pizza recipe.
*This recipe does not include additional salt because the parmesan cheese is very salt already. However, when taste testing add a small amount if needed to fit your desired flavor.
Nutrition Information
Serving: 1serving, Calories: 147kcal, Carbohydrates: 4g, Protein: 3g, Fat: 13g, Saturated Fat: 2g, Polyunsaturated Fat: 1g, Monounsaturated Fat: 9g, Cholesterol: 3mg, Sodium: 71mg, Potassium: 60mg, Fiber: 1g, Sugar: 1g, Vitamin A: 297IU, Vitamin C: 1mg, Calcium: 64mg, Iron: 1mg
UPDATE: This recipe was originally published in March 2018 and updated for clarity in October 2021.
We are participant in the Amazon Services LLC Associates Program, an affiliate advertising program designed to provide a means for us to earn fees by linking to Amazon.com and affiliated sites.