Baked Brie with Figs and Maple
Baked Brie with Figs and Maple, a perfect combination of savory cheese with sweet figs and maple syrup. Four ingredients, one pan and endless praise for this simple yet rich and indulgent dish.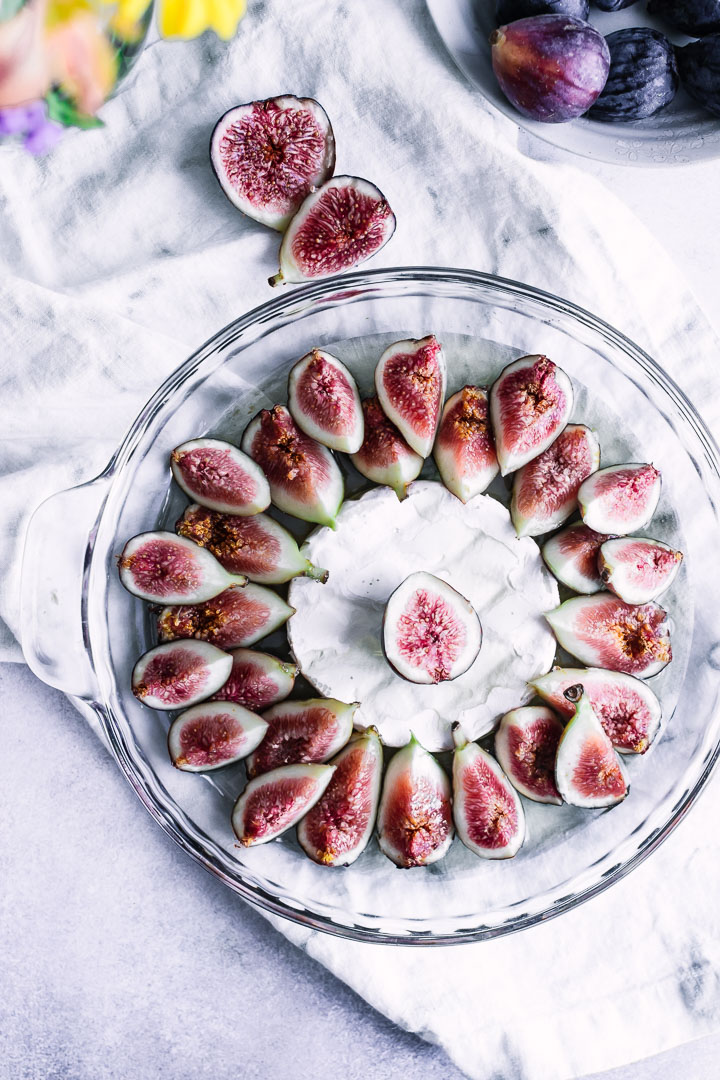 Your opinion is needed: is a dish of baked figs with maple syrup and creamy brie that is served with crispy crostini an appetizer or dessert?
One could argue that creamy and savory goat cheese with a side of bread is absolutely an appetizer but on the other hand the sweetness of baked figs and maple syrup could easily put this dish in the dessert category. Either way, it's damn delicious.
Before we get to the recipe, let's take a moment to talk about figs…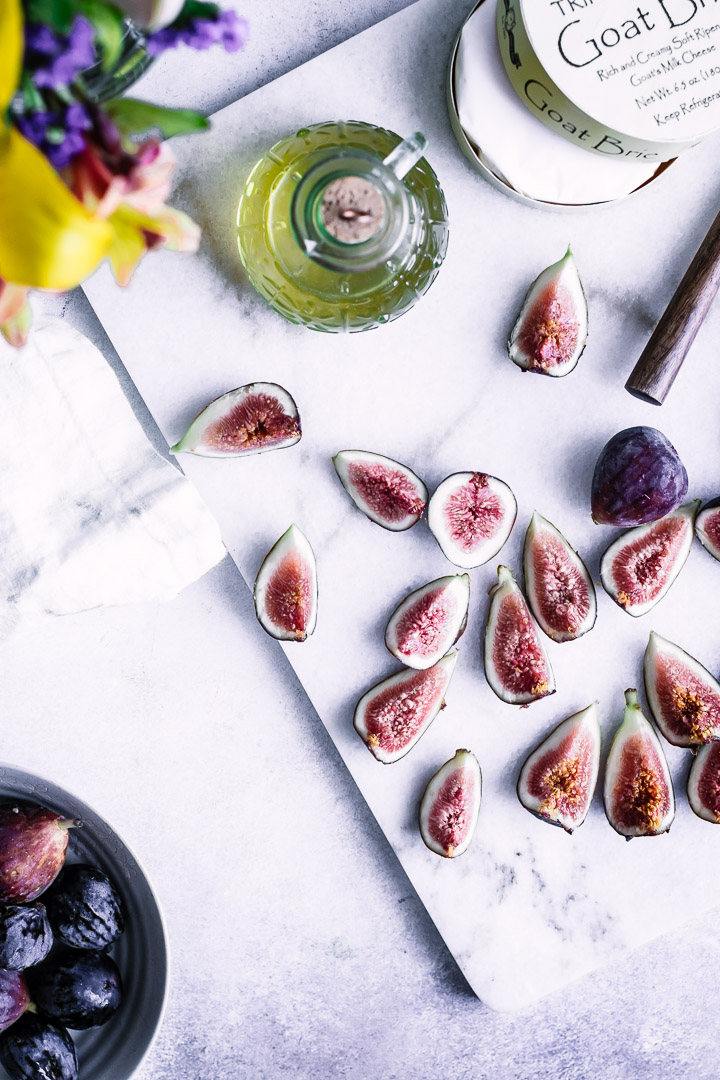 The history and magic of figs and fig trees
Did you know figs have a long and rich history that intertwines with the birth of human civilization?
The history of the fig tree is wrapped tightly around the history of humans, with human consumption of figs dating back to Mesopotamia and beyond. Many of our human ancestors (including our pre-human ancestors!) depended on figs as a source of food and also chewed the bark of fig trees for medicinal purposes.
So one could say humans evolved with the fig tree.
The fig tree is found in human mythology and religion, with even the Buddha himself attaining enlightened under a tree bearing figs. From ancient Asia, to Babylon, to Egypt and into Greece and Rome, figs have followed and flourished in every human civilization since the beginning of our times.
Is it true every fig has a dead wasp inside?
Well, yes and no.
Recently the internet went crazy with fig and wasp stories after a video depicting a wasp laying larvae inside a fig went viral. The truth is that wasps and figs are tightly bound to one another. Each of the 750 different types of fig trees depends on an individual species of wasp as pollinators and wasps depend on fig trees year-round for food (in their native climates) and as a site for laying eggs.
So are there dead wasps in figs? BBC's Science Focus has the answer:
"Certain types of fig are male and female and so require a special breed of wasp to pollinate the females. The female wasp crawls inside through a hole so narrow that she loses her wings in the process and becomes trapped. If the fig is a male, she lays her eggs inside. These hatch into larvae that burrow out, turn into wasps and fly off, carrying fig pollen with them. If the wasp climbs into a female fig, she pollinates it, but cannot lay her eggs and just dies alone. Luckily for us, the female fig produces an enzyme that digests this wasp completely. The crunchy bits are seeds, not wasp parts."
So there you have it, figs definitely do need wasps to survive but by the time the fig hits your plate the wasp is long gone.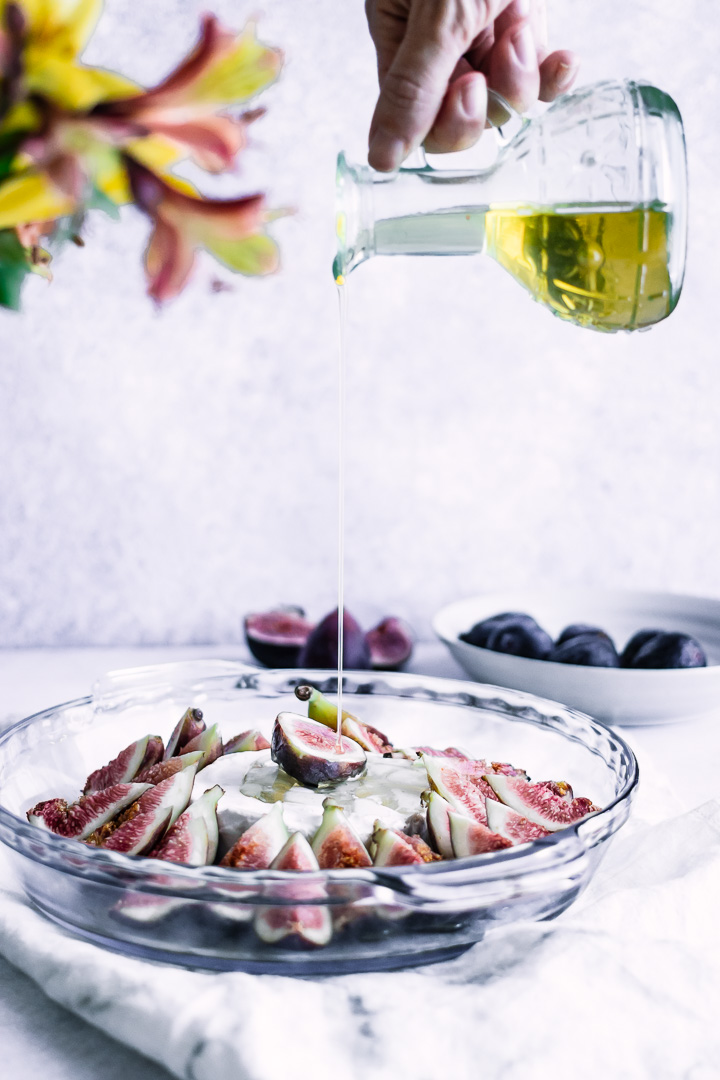 Baked, stewed, raw…5 easy ways to cook with figs
So now you're saying, "Yeah, that's great about fig history and all, but how do I cook figs?"
Raw figs have a mild, sweet and grainy taste but it's important to remember that like most fruits the flavor of figs change dramatically when cooked. When heated figs' sweetness becomes much more intense and pairs well with strong and savory flavors.
Here are a few ideas for how to cook figs and incorporate them into your meals:
Baked figs: baking figs is super easy and the below recipe for Baked Brie with Figs and Maple can be customized to fit any flavor combination. Try drizzling figs in honey or balsamic and topping with nuts or seeds before baking. Or use figs in baked goods like galettes, muffins or scones.
Use figs as a topping: Figs lend a mild sweetness to most any dish and are delicious on top of oatmeal, yogurt, sweet grain bowls or even stewed and served over certain meats (pork goes well with sweet toppings).
Use figs in your smoothies: Move over strawberries and cherries, figs are the next smoothie sensation! Substitute figs for your usual sweet smoothie ingredient for a summer flavor change. And let me know your smoothie flavor combination (I need ideas!).
Make a fig cocktail: Of course you should experiment with figs and alcohol! Figs could pair well with most any spirit; try using them in a white wine sangria, a mojito or muddle them with herbs and top with a shot of bourbon. Have with with creating new cocktail ideas!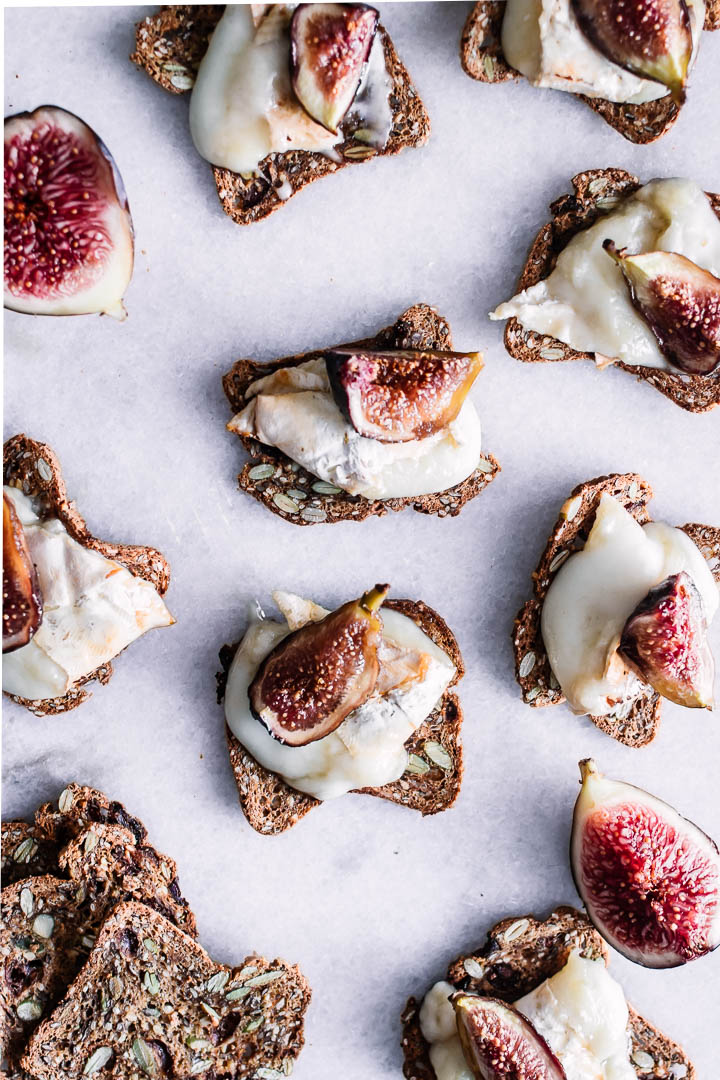 Baked Brie with Maple and Figs: Tips, tricks, and tools
This simple 3-ingredient recipe is a low maintenance, but high flavor, way to impress your guests at small gatherings. The recipe comes together with minimal effort and tools, however there are a few kitchen essentials I recommend that help.
A glass baking dish: a good quality round glass baking dish is something I use over and over again in the kitchen, and this pie dish works well for baking brie
A good set of knives: a good quality knife set is key to safely cutting small fruits (without losing a finger in the process)
Real maple syrup: the cheap stuff just won't do. Invest in a bottle of good quality maple syrup, a little goes a long way
I hope you love this simple baked brie appetizer, it's one my favorites to whip up in the late summer and early fall when figs are in season. Pair it with your favorite crackers, crostini, or bread for serving and enjoy the combination of both sweet and salty. Enjoy!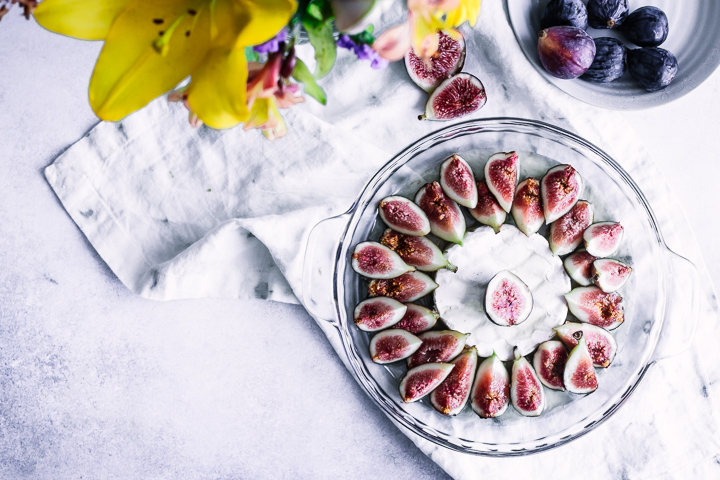 ---
Craving more simple appetizers featuring baked fruits? Check out our Grilled Peaches with Brown Sugar Bourbon Sauce and Peach Burrata Honeycomb Fruit Salad recipes, both feature sweet fruits with savory ingredients.
Did you make this Baked Brie with Figs and Maple? Leave a comment below and rate the recipe to let us know how it turned out. Save this recipe for later by pinning to your favorite appetizer Pinterest board and make sure to tag me on Fork in the Road's Instagram to show me your bake brie creations!
Yield: 4 servings
Baked Brie with Figs and Maple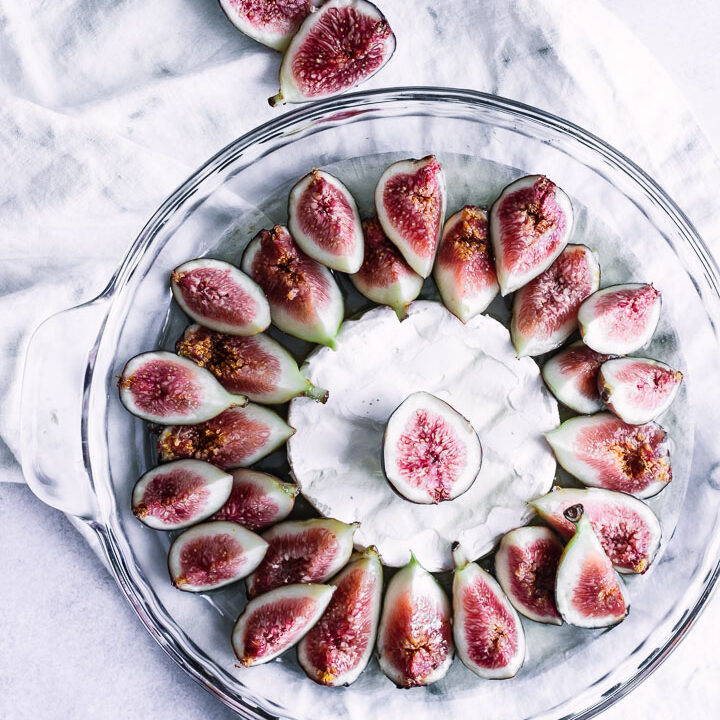 Baked Figs with Maple and Creamy Brie, a perfect combination of savory cheese with sweet figs and maple syrup. Four ingredients, one pan and endless praise for this simple yet rich and indulgent dish.
Prep Time 5 minutes
Cook Time 15 minutes
Total Time 20 minutes
Ingredients
8-10 figs, quartered
6 ounces goat's milk brie
1/4 cup maple syrup
Crostini, crackers, or bread for spreading
Instructions
Heat oven to 350 degrees.
Place brie in center of a glass baking dish. Arrange slices of brie around cheese and top figs with maple syrup.
Bake for about 20 minutes, or until figs begin to brown and brie is soft. Remove from the oven and serve immediately with crostini, crackers, or bread for spreading.
Notes
Notes // Tips: Choose a flavored crostini for an extra flavor boost. I choose a seed and dried cranberry oat crisp when photographing this recipe. Use leftover figs and brie on sandwiches, in salads, or on toast the next day.
Leftovers and Storage: Store in an airtight container for up to four days in the refrigerator. I don't suggest keeping it longer because after the cheese is heated and then cooled it becomes very hard. Leftover toasted bread will stale quickly, so re-toast bread if you reheat the dish again.
Nutrition: Nutrition information does not include crostini, crackers, or bread.
Nutrition Information:
Yield:
4
Serving Size:
1 serving (1/4 recipe)
Amount Per Serving:
Calories: 234
Total Fat: 5g
Saturated Fat: 3g
Trans Fat: 0g
Unsaturated Fat: 2g
Cholesterol: 12mg
Sodium: 124mg
Carbohydrates: 44g
Fiber: 4g
Sugar: 35g
Protein: 5g
We are participant in the Amazon Services LLC Associates Program, an affiliate advertising program designed to provide a means for us to earn fees by linking to Amazon.com and affiliated sites.