Smoked Salmon Bagels: Brunch for Dinner!
Smoked salmon bagels with cream cheese, dill, capers and all the veggies! Easy recipe for brunch or a weeknight no-cook dinner.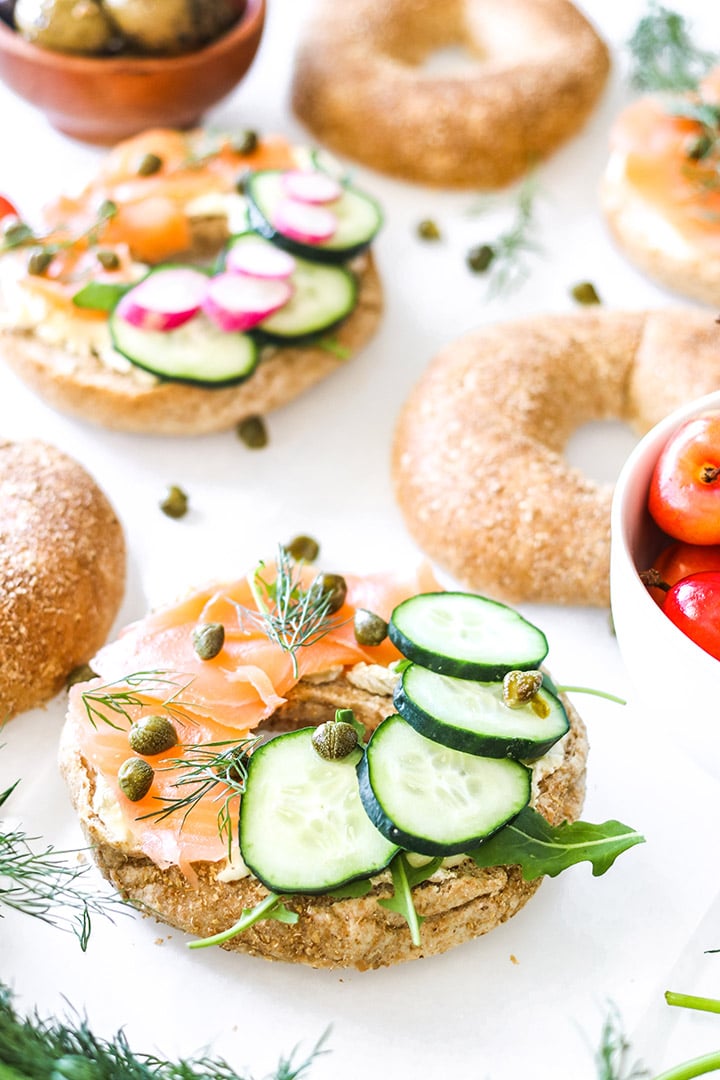 Smoked salmon bagel night is a big hit in our house. Other than the fact they are delicious, my favorite reason is that they are easy. Like no cooking involved easy.
That's my kind of weeknight meal.
I can't take credit for the creation of smoked salmon bagel night, however. I was introduced to the concept by one of my favorite people, my good friend and dietetic internship mate Alli. During my year long internship to become a dietitian I lived in Napa (terrible location, I know) with four other interns in a small house on the grounds of the hospital we worked in. Wine and cheese nights were common, but by far my favorite nights with the ladies included smoked salmon bagels.
In the end we all became dietitians, moved on to different parts of California and started our careers. But carried with me the tradition of smoked salmon bagels.
Smoked salmon bagels, your go-to no-cook weeknight meal. Or breakfast. Or brunch. Or lunch.
The truth is, you can have a bagel any time of the day. Don't let yourself be tricked into setting boundaries around when you enjoy them. Eating bagels in the middle of the afternoon can be your definition of living your best life.
The beauty of having a bagel brunch lunch dinner meal is that you can customize it based on what's in season. For instance, when I shot this recipe I found the radishes and cucumbers used in the photos for 99 cents. However any seasonal vegetable can be used used and you could (and should!) experiment.
Here are a few of the variations we've tried and more ideas to fuel your next bagel night feast:
Layer 1: Spread. Plain cream cheese, flavored cream cheese (onion and chive was good!), brie, taleggio, yogurt. Vegan options include hummus, baba ganoush, flavored olive oil, chimichurri, etc.
Layer 2: Protein. Smoked salmon, lox, cooked flaked salmon, smoked trout (loved this!), caviar (fancy!), runny egg. Vegan: grilled or pickled veggies like eggplant or zucchini, sun dried tomatoes.
Layer 3: All the fixings! Our favorites are radishes, cucumbers, capers, arugula, salt, pepper, and hot sauce. Also, do not forget the fresh herbs like dill, basil or thyme!
Do you have an easy bagel or toast with all the fixings night? I'd love to hear your ideas for fresh, seasonal toppings!
Yield: 2 servings
Smoked Salmon Bagels: Brunch for Dinner!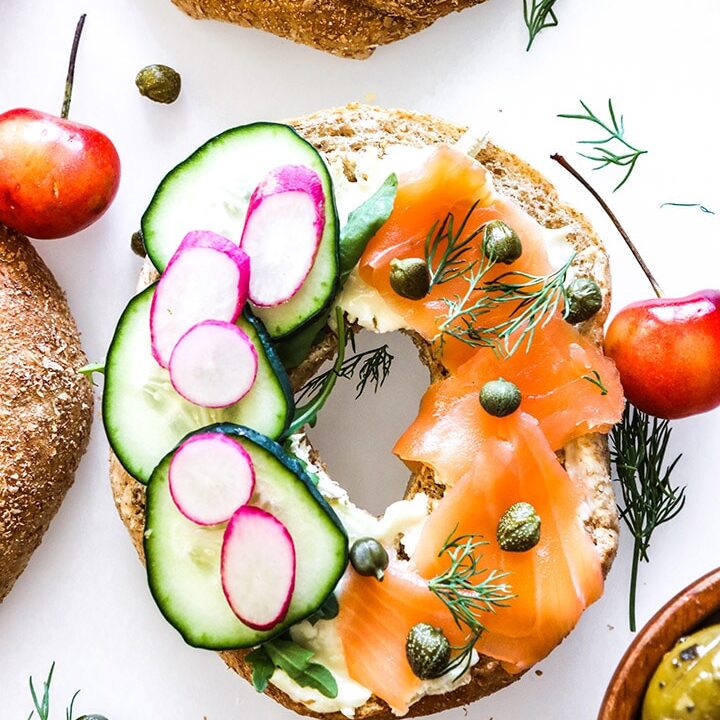 Smoked salmon bagels with cream cheese, dill, capers and all the veggies! Easy recipe for brunch or a weeknight no-cook dinner.
Prep Time 5 minutes
Cook Time 5 minutes
Total Time 10 minutes
Ingredients
2 whole wheat bagels, toasted
2 oz spreadable cheese, like cream cheese or brie
2 oz smoked salmon or trout
2 small radishes, thinly sliced
1/4 small cucumber, thinly sliced
1 teaspoon capers
Optional, but very good: arugula, fresh herbs (we use dill)
Instructions
Toast bagels in toaster, then top with cheese while still warm.
Top with salmon, radishes, cucumbers, capers, arugula and fresh dill (if using).
Enjoy immediately!
Notes
Wine pairing: a light, crisp white like a sauvignon blanc or dry rosé would go well with the strong flavors of this dish.
Nutrition Information:
Yield:
4
Serving Size:
1 serving (1/2 bagel)
Amount Per Serving:
Calories: 264
Total Fat: 11g
Saturated Fat: 6g
Trans Fat: 0g
Unsaturated Fat: 5g
Cholesterol: 42mg
Sodium: 657mg
Carbohydrates: 26g
Fiber: 2g
Sugar: 4g
Protein: 15g
We are participant in the Amazon Services LLC Associates Program, an affiliate advertising program designed to provide a means for us to earn fees by linking to Amazon.com and affiliated sites.