Black Cherry Basil Ricotta Toast
Take your breakfast next level with this black cherry basil ricotta toast. Basil marinated black cherries on vanilla ricotta toast. I'll brunch to that!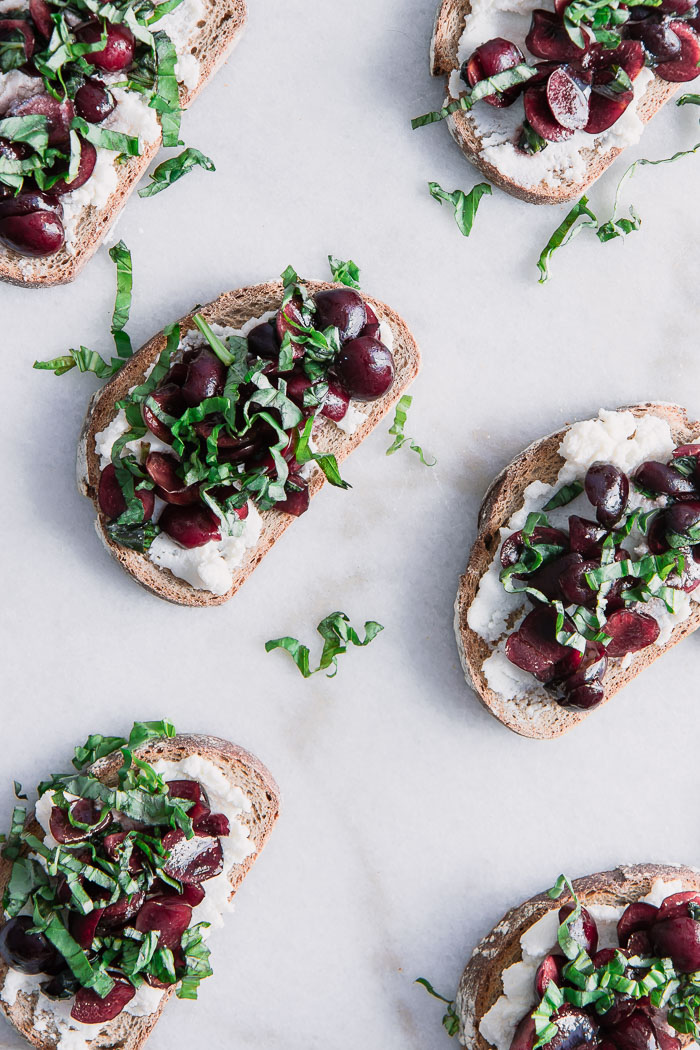 If you've read this space for very long you'll know I'm the opposite of a Type A home cook. I try to measure ingredients when recipe testing but most of my best creations result from "a little of this" measuring and a "you do you" outlook (especially when it comes to amounts of cheese… and hot sauce).
And this, my friends, is why I am not a baker.
Sometimes these experiments are good and sometimes they are…not. But every once in awhile I stumble onto something awesome that becomes a staple. And one of those creations is basil-marinated cherries.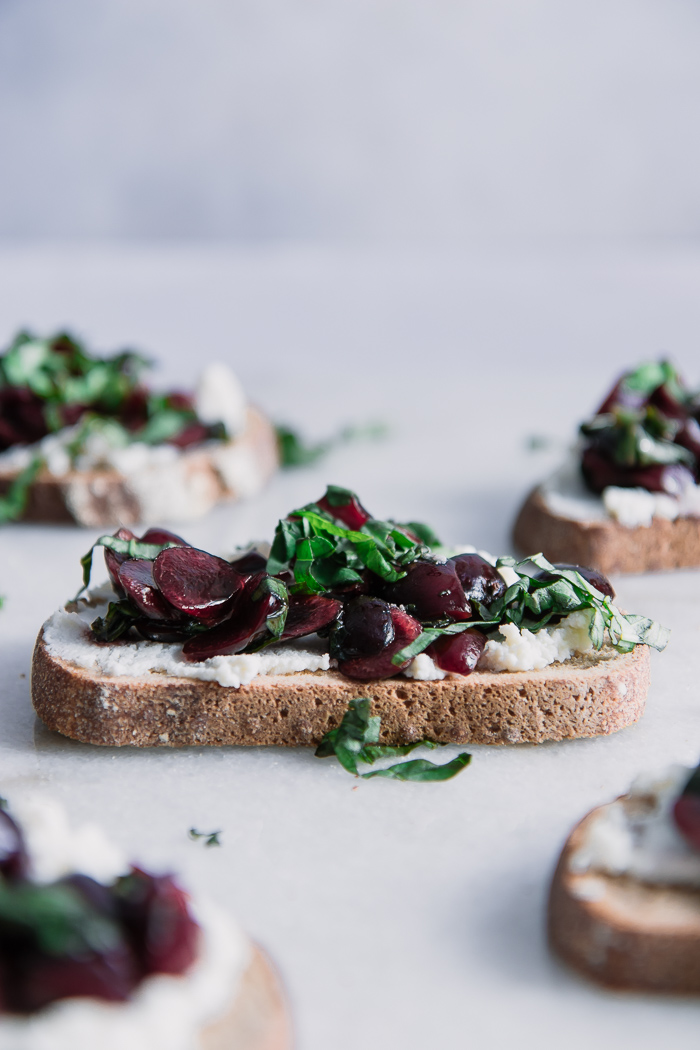 Black Cherry Basil Ricotta Toast, a delicious breakfast accident.
After coming home from the market with a 3 pound bag of cherries during the height of cherry season, I wasn't sure what more I could possibly do with them. Then a thought struck me: how would combining cherries and basil taste?
So I cut the cherries and mixed them with chopped basil and a bit of sugar (to soften the fruit and release its juices) and left them in the refrigerator overnight. The next day I topped a piece of freshly toasted bread with a bit of ricotta cheese mixed with vanilla and then sprinkled on my "cherry salsa." And then I knew, I had a hit.
This Black Cherry Basil Ricotta Toast has been a cherry season staple in our house ever since.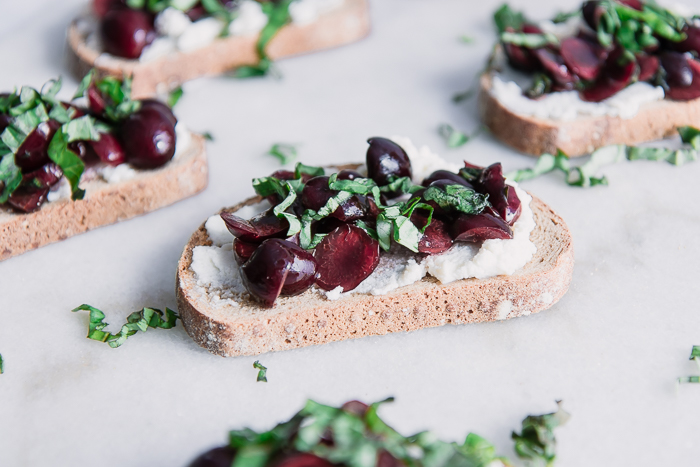 Black Cherry Basil Ricotta Toast: Tips, Tricks & Tools
This breakfast toast recipe is a simple to make, uses very little kitchen equipment, and only requires six ingredients. However, a few kitchen staples make whipping up this recipe much easier:
A great set of knives: A great set of kitchen knives are essential and come in handy when slicing and dicing small seasonal cherries.
A great set of glass storage containers: The day I replaced my plastic tupperware with a set of glass Pyrex storage containers was a good day in the FITR test kitchen. I used these containers to marinate the cherries and then scooped them out onto toast, into oatmeal, and on top of smoothies.
---
This basil-marinated cherry toast recipe is a cherry season spring favorite in our house! Are you looking for more cherry recipes? Try our Black Cherry Hoecakes (or cornmeal pancakes), a perfect American South-inspired breakfast recipe using more of the season's fresh cherries.
Did you make this Black Cherry Basil Ricotta Toast? Leave a comment and recipe rating below, it helps others find and love this recipe as much as we do. Want to save this recipe for later? Pin it to your breakfast or brunch Pinterest board and make sure you tag us on Instagram so I can see your cherry toast creations!
Yield: 4 servings
Black Cherry Basil Ricotta Toast
Take your breakfast next level with this black cherry basil ricotta toast. Basil marinated black cherries on vanilla ricotta toast. I'll brunch to that!
Prep Time 15 minutes
Total Time 15 minutes
Ingredients
1-2 lb cherries
1/2-1 cup basil, thinly sliced
1/8 cup sugar
Vanilla Ricotta Toast
1/2 cup ricotta
1 tsp vanilla
8 slices whole grain bread
Instructions
Basil Marinated Cherries
Cut cherries in half, removing seed, and place in large jar or medium bowl.
Add sugar and basil, tossing to coat.
Cover and let marinate in refrigerator at least overnight. Sugar will allow cherries to release juice.
Vanilla Ricotta Toast
In food processor or small bowl, stir/whip together vanilla and ricotta cheese.
Toast bread, if desired, and smear ricotta on toast.
Top with marinated cherries and sprinkle of basil.
Optional, but recommended: Reduce cherry sauce to a syrup consistency by placing juice in a small saucepan over low heat for 5-7 minutes. When juice thickens, drizzle over toast and enjoy!
Notes
Leftovers & Storage: The basil-marinated black cherries can be saved in an airtight container and stored in the refrigerator for up to a week (possibly longer, but we ate the black cherries so often it didn't last longer). The vanilla ricotta can be refrigerated and stored for up to 4 days, and my recommendation is to toast bread right before serving for best taste.
Nutrition: This Black Cherry Basil Ricotta Toast would be considered slightly indulgent. To lighten it up a bit, use lower fat ricotta and less sugar in the basil-marinated cherries. However, I am a firm believer in full fat diary and that a little sugar isn't going to hurt anyone, so enjoy this cherry salsa toast during the short cherry season as just one (delicious) part of a balanced eating pattern.
Nutrition Information:
Yield:
8
Serving Size:
1 serving (1 pieces toast)
Amount Per Serving:
Calories: 218
Total Fat: 4g
Saturated Fat: 2g
Trans Fat: 0g
Unsaturated Fat: 2g
Cholesterol: 10mg
Sodium: 191mg
Carbohydrates: 38g
Fiber: 4g
Sugar: 19g
Protein: 9g
We are participant in the Amazon Services LLC Associates Program, an affiliate advertising program designed to provide a means for us to earn fees by linking to Amazon.com and affiliated sites.