Simple Salted Honey Fig Toast
Salted Honey Fig Toast, a simple toast recipe with whipped vanilla ricotta, fresh figs, and drizzled honey on seedy toast. A light and sweet breakfast or snack!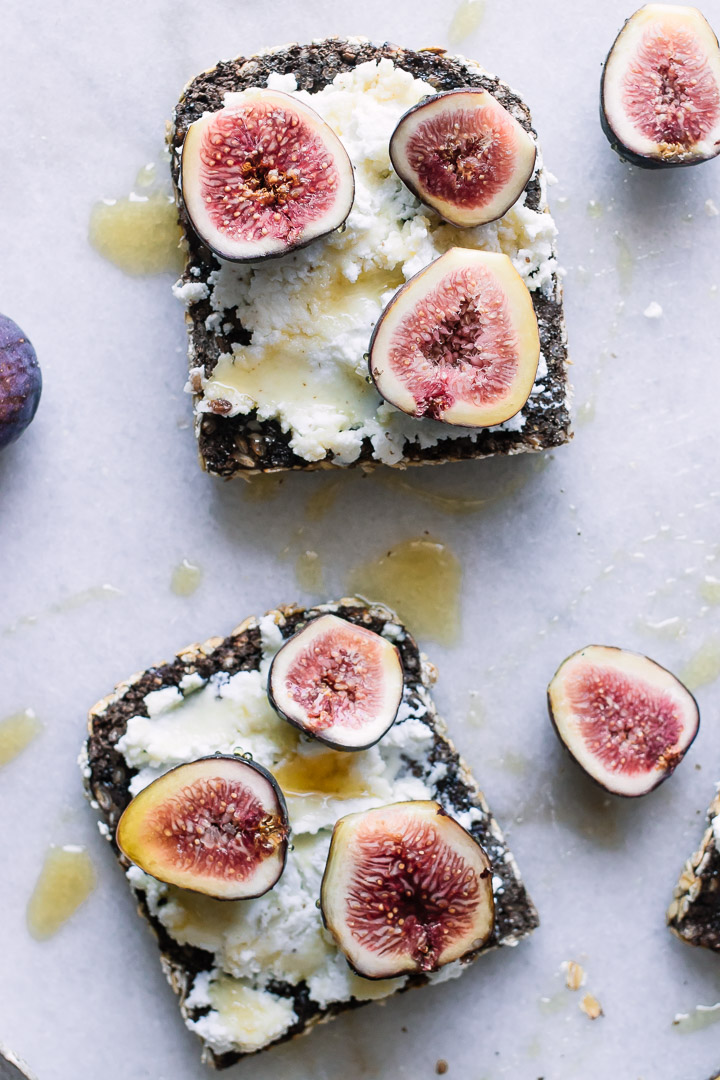 What is it about toast that gets us all in a tizzy? Someone could offer me a bowl of yogurt with figs and honey and I would turn up my nose, but the minute they say it's on toast…I'm all in.
It's fresh fig season here and it's all I can do not to buy myself out of house and home stocking up on them. Figs have found their way onto my oatmeal, into my pancakes, on top of my cheese, in my salads, and now on my morning (and afternoon) toast.
This simple four-ingredient Salted Honey Fig Toast recipe combines the season's freshest figs with a bit of whipped vanilla ricotta on top of seedy, hearty toast. It's then topped off with a drizzle of honey and flaked sea salt for that oh-so delicious sweet and salty combination.
Ready for the super simple recipe? Let's do this!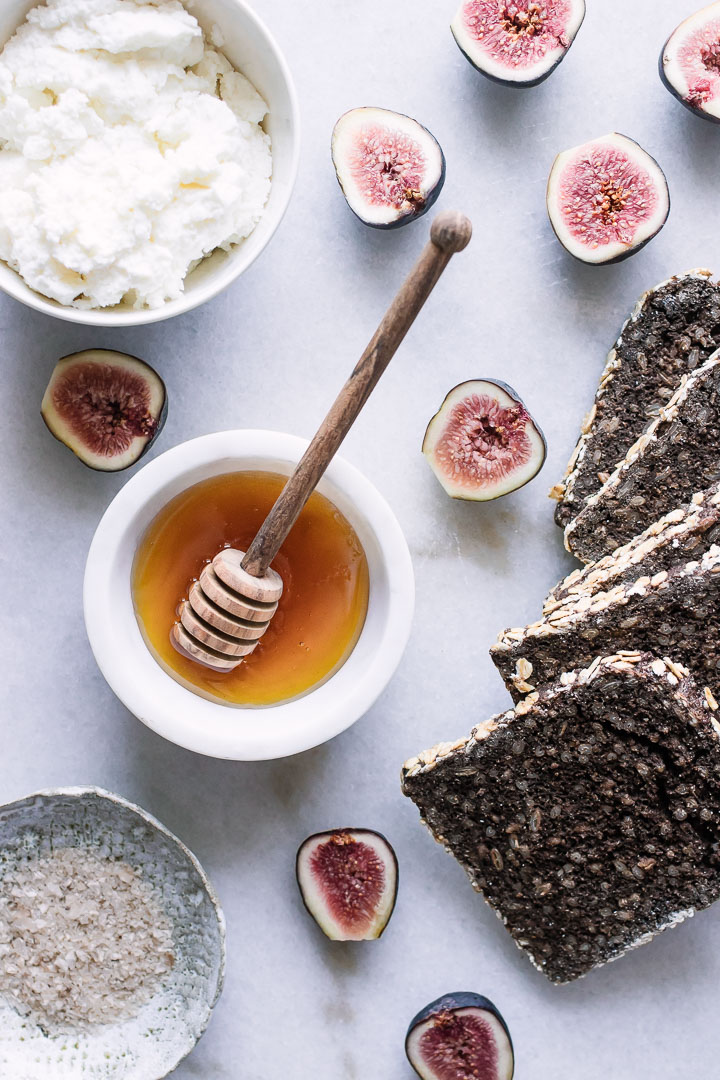 First, get yourself some toast. It doesn't really matter what type of bread you use but I'm partial to anything hearty, seedy, and crunchy for added flavor and texture. The toast used in this photo is an oat and rye blend by a local baker, but any rich and thick toast will do.
Next, you want to create your whipped vanilla ricotta or even yogurt. I used ricotta as my base, but Icelandic skyr is a great option as well because creamiest yogurt I can find at the grocery store.
If you love the acidic Greek taste, then go for it, but for toasts I either like to use a thick cheese like ricotta or a thick and creamy yogurt like Icelandic skyr. If you're going vegan, a coconut yogurt would be a delicious substitute.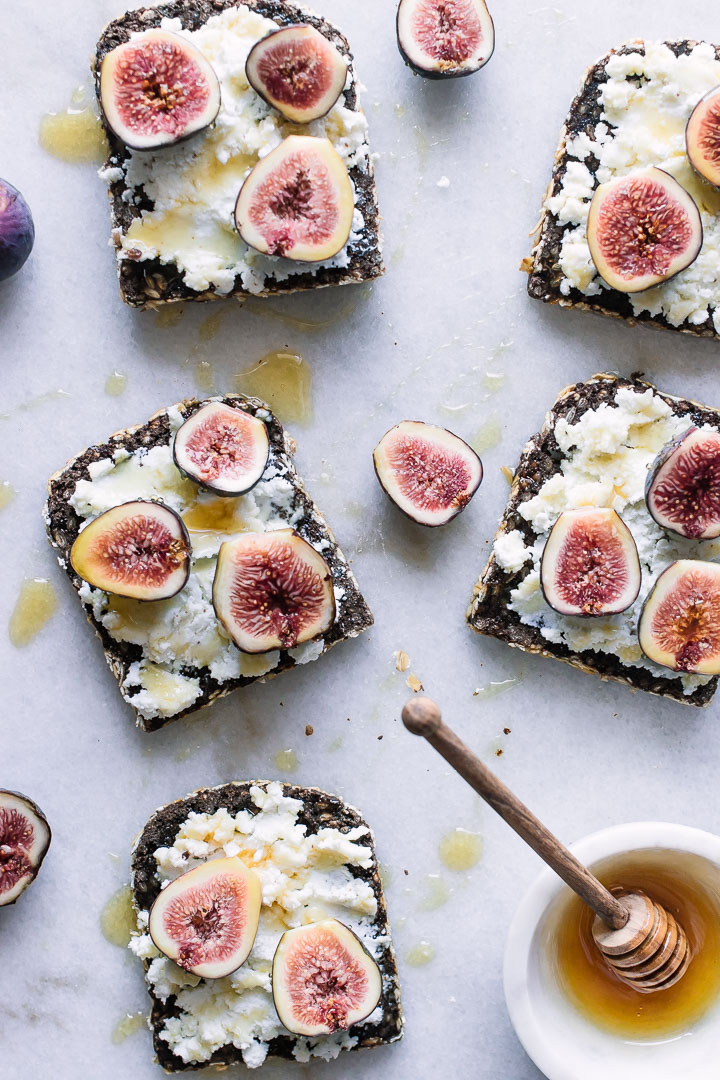 To create the whipped ricotta you can actually get fancy and whip it in a mixer, or you can just be lazy and stir in a bit of vanilla and honey like me and still call it "whipped."
Next, you'll top your toast with your cheese (or yogurt) and then decorate it with sliced figs. Fresh figs are great, but if you're feeling extra then try caramelizing then on a stovetop with a bit of honey or maple.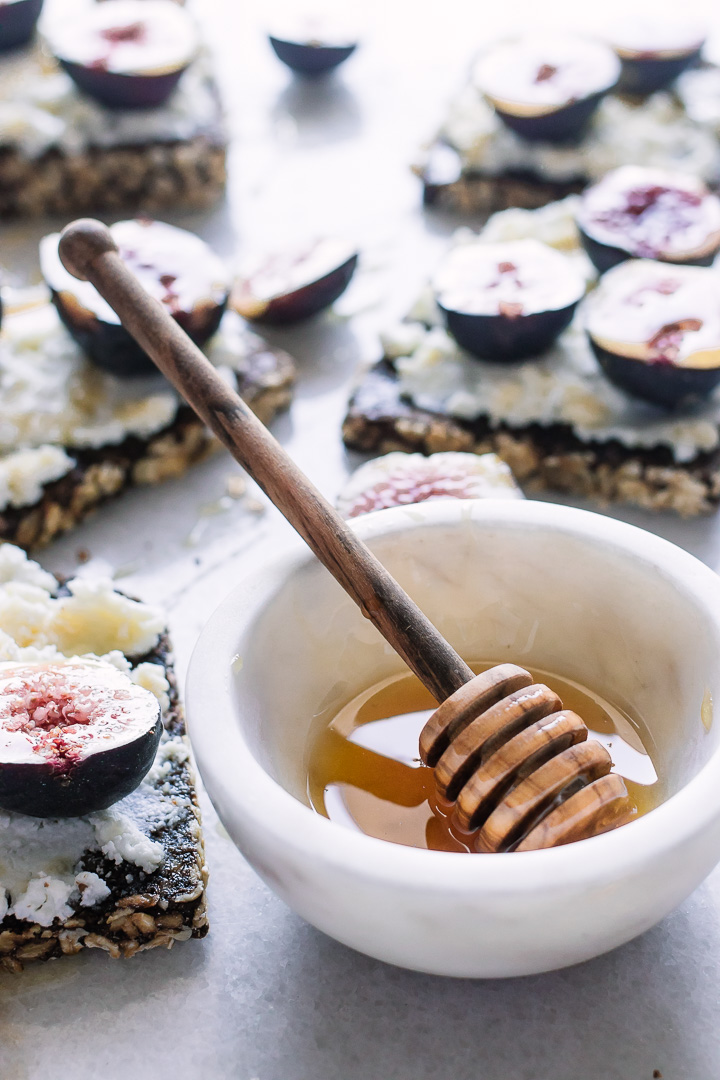 To top it all off, drizzle a bit of honey (or maple if vegan) and then sprinkle with a small pinch of flaked salt. The salt will take this fig and honey toast up a notch and add depth and unexpected savory flavor.
And that's it! A super simple toast recipe that is both easy and decadent, that is perfect for both breakfast or an inspired afternoon snack. Enjoy the season's fresh figs!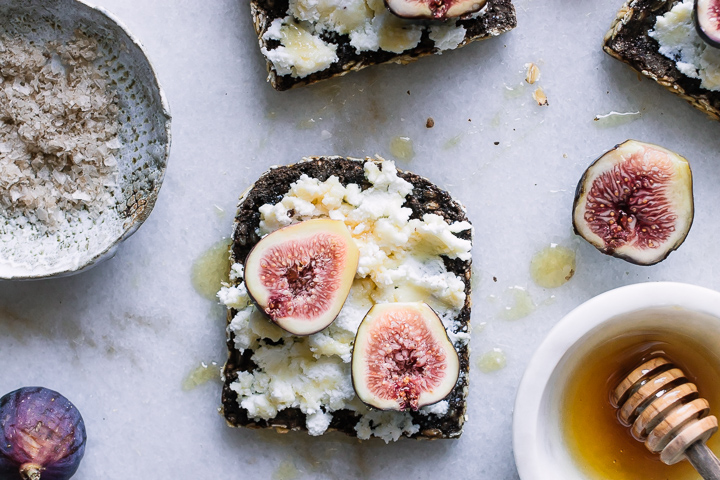 Salted Honey Fig Toast: Tips, Tricks, and Tools
This Salted Honey Fig Toast recipe is about as simple as it gets, but there are a few kitchen essentials that make preparing it just a bit easier.
A set of kitchen knives: a good quality knife set is key to getting perfect fruit slices without losing a finger
Responsibly-sourced honey: honey is never an ingredient I skimp on because I believe that buying good honey that is source responsibly is essential to making sure our bee populations continue to thrive
Good sea salt: I never really understood the buzz around artisanal quality sea salt…until I tried a local sea salt and now there's no going back
---
Craving more simple toast recipes featuring superfoods? Check out our Black Cherry Basil Ricotta Toast and Olive Tapenade Crostini, both are easy recipes with minimal ingredients but loads of flavor.
Did you make this Salted Honey Fig Toast? Leave a comment below and rate the recipe to let us know how it turned out. Save this recipe for later by pinning to your favorite snack Pinterest board and make sure to tag me on Fork in the Road's Instagram to show me your toast creations!
Yield: 4 servings
Salted Honey Fig Toast
Salted Honey Fig Toast, a simple toast recipe with whipped vanilla ricotta, fresh figs, and drizzled honey on seedy toast. A light and sweet breakfast or snack!
Prep Time 5 minutes
Total Time 5 minutes
Ingredients
4 pieces whole grain bread
1 cup (248g) ricotta or creamy yogurt
1 teaspoon good quality vanilla
2 cups (200g) fresh figs, sliced in halves or quarters
1 tablespoon good quality honey
⅛ teaspoon sea salt flakes
Instructions
In a small bowl, mix yogurt and vanillas until well combined.
Toast bread, then top with yogurt, sliced, figs, drizzled honey, and sea salt.
Notes
Notes // Tips: If figs are not in season, any fresh or dried fruit can be substituted as long as it is cut into bite size pieces (so it's easier to bit into toast). Make it vegan by using coconut yogurt and either maple syrup or agave in place of honey
Leftovers & Storage: If possible, try to consume toast all in one sitting, as storing toast that has already been topped with cheese or yogurt will mean soggy bread.
Nutrition: This simple fig and ricotta toast recipe is a great breakfast or snack recipe that is high in fiber and fiber. Pair it with a side of fresh fruit and nuts for a balanced light meal.
Nutrition Information:
Yield:
4
Serving Size:
1 piece of toast
Amount Per Serving:
Calories: 145
Total Fat: 2g
Saturated Fat: 1g
Trans Fat: 0g
Unsaturated Fat: 1g
Cholesterol: 3mg
Sodium: 239mg
Carbohydrates: 26g
Fiber: 3g
Sugar: 13g
Protein: 6g
We are participant in the Amazon Services LLC Associates Program, an affiliate advertising program designed to provide a means for us to earn fees by linking to Amazon.com and affiliated sites.