Roasted Rhubarb Brie Sandwich
Roasted Rhubarb Brie Sandwich, a perfect blend of sour roasted rhubarb with creamy and slightly sweet melted brie with arugula and fig jam on toasted bread. Let's do lunch!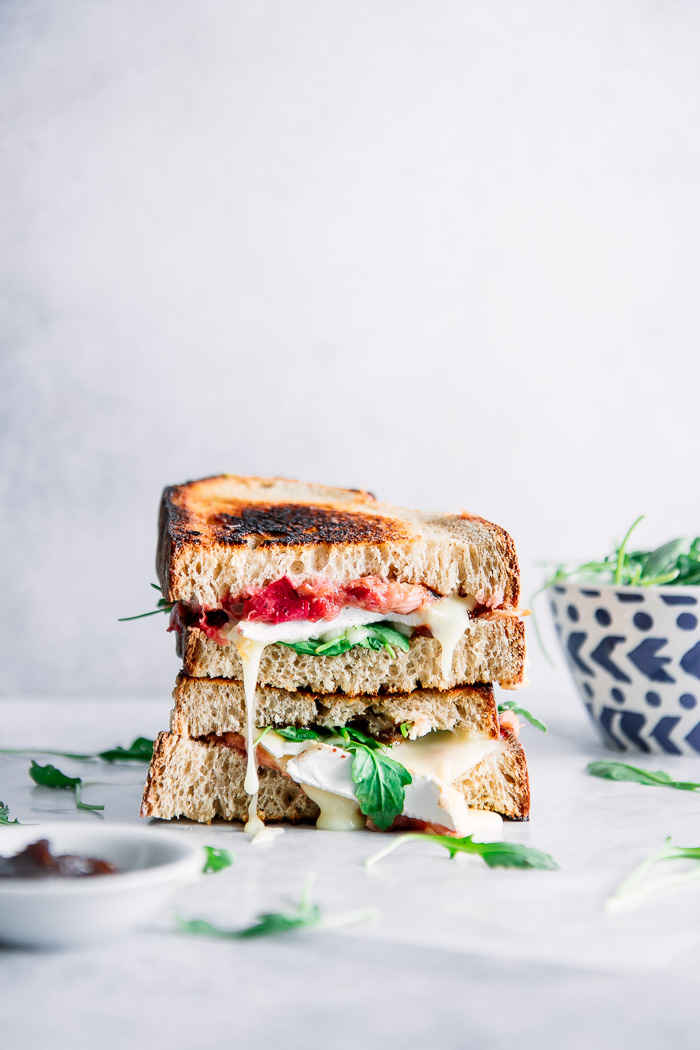 Rhubarb, the sour vegetable most commonly found in tarts and sweets. But let's just describe rhubarb for what it really is: sour red celery.
It's rare to find a rhubarb recipe that doesn't include it's usual partner in crime, the strawberry. Rhubarb and strawberries go together like peas and carrots; the sour and slightly bitter taste of rhubarb blends well with the ultra sweet taste of strawberries.
But what about the rhubarb on it's own? Doesn't the sour red stalk deserve it's time to shine?
All about rhubarb: When to buy and how to cook
Though rhubarb is most often served in sweet dishes it is actually a vegetable and is in season in late spring and early summer (October and November in the southern hemisphere).
Rhubarb's celery-like stalks are the edible portion, which are often used in traditional cuisines around the world. But don't eat the leaves! Rhubarb plant leaves are highly poisonous and can cause serious health problem. But the stalks? Go for it!
Rhubarb is most often sliced and roasted in the oven, but can also be stewed or sautéed. The plant has high water density, which means it will release water when heat. For this reason it becomes mushy and spreadable when cooked, which means it's best mixed with other ingredients or used as a spread.
And that's exactly how I let rhubarb shine in this Roasted Rhubarb Brie Sandwich!
Fun fact: Rhubarb stalks are eaten raw dipped in sugar in Norway and Sweden and dipped in chili and sweet spices in parts of South America.
Roasted Rhubarb Brie Sandwich: Ideas & Inspiration
The beautiful marriage between the rhubarb and brie in this Roasted Rhubarb Brie Sandwich is the blend of melted cheese and spreadable rhubarb. The spice of crispy arugula and a sweet addition like fig jam or plum preserves round out the flavor profile of this dish.
First, start by slicing up the rhubarb stalks and roasting them in an oven until they begin to soften, about twenty minutes. Then mix the rhubarb pulp with a bit of honey to cut the tartness of the stalk.
Then spread the rhubarb onto a piece of toasted bread, top with brie, add arugula and fig jam, and heat in a cast iron skillet. You'll know it's done when the bread begins to brown and the brie starts to melt. Ooey gooey brie cheese and tart rhubarb? Match made in heaven!
I promise you this will be the most sophisticated grilled cheese you will ever make. But be warned: this is not a sandwich for those who do not enjoy bold flavors!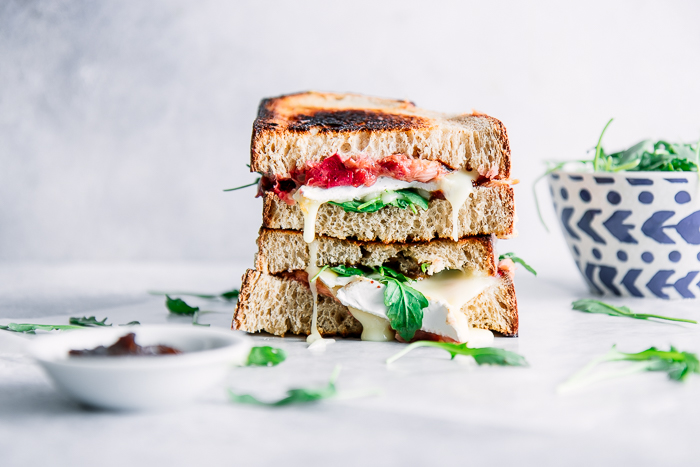 ---
Are you loving this rhubarb and brie grilled cheese sandwich recipe? Try another of our summer fun recipes like this Black Cherry Basil Ricotta Toast and this Summer Peach Panzanella Salad. Hot weather favorites!
Did you make this Roasted Rhubarb Brie Sandwich? Leave a comment and recipe rating to let us know what you think. Save to your favorite sandwich Pinterest board to keep for later and tag me on Instagram so I can see your sandwich creations!
Yield: 2 sandwiches
Roasted Brie Rhubarb Sandwich
Roasted Rhubarb Brie Sandwich, a perfect blend of sour roasted rhubarb with creamy and slightly sweet melted brie with arugula and fig jam on toasted bread. Let's do lunch!
Prep Time 5 minutes
Cook Time 30 minutes
Total Time 35 minutes
Ingredients
4 stalks rhubarb
1 tablespoon honey or maple syrup
1 pat butter or ½ teaspoon olive oil
3 slices whole grain bread
2 tablespoons fig jam
3 oz brie, thinly sliced
½ cup arugula
Instructions
For rhubarb: Preheat oven to 350 degrees. Rinse and slice rhubarb into 1/2" thick pieces. Arrange on oiled baking sheet and baked about 20 minutes or until soft and mushy. Remove from pan and place in a bowl, then add honey and mix to combine.
To build sandwich: Toast bread either in a toaster or on pan until it starts to harden (do not overcook because we will toast the bread more once the sandwich is built).
To cook sandwich: Once bread is toasted, spread one slice with rhubarb and one slice with fig jam. Top with brie and arugula and then combine sandwich. In a cast iron skillet or large pan, melt butter or oil. Place whole sandwich in skillet and brown each side, about 2-3 minutes each.
Serve immediately with a side salad or other vegetable.
Notes
Leftovers & Storage: Store ingredients separately (store the rhubarb in an airtight container in the refrigerator) for up to five days, building and toasting a new sandwich at each serving.
Nutrition: This rhubarb brie grilled cheese sandwich is a complete meal if paired with a side vegetable (an arugula salad with a light dressing is a good choice). It contains a carbohydrate (whole grain bread, rhubarb, jam), protein (brie, bread), and fat (brie). It is a bit high in sodium, which can be reduced by choosing a lower sodium bread, but is high in protein and fiber. It is also a good source of vitamin A, vitamin C, calcium, and iron.
Nutrition Information:
Yield:
2
Serving Size:
1 sandwich
Amount Per Serving:
Calories: 460
Total Fat: 21g
Saturated Fat: 12g
Trans Fat: 0g
Unsaturated Fat: 8g
Cholesterol: 58mg
Sodium: 545mg
Carbohydrates: 55g
Fiber: 5g
Sugar: 28g
Protein: 16g
We are participant in the Amazon Services LLC Associates Program, an affiliate advertising program designed to provide a means for us to earn fees by linking to Amazon.com and affiliated sites.