Roasted Zucchini and Peppers
Roasted Zucchini and Peppers, an easy baked vegetable recipe to use as a delicious side dish or salad topping. Make it in 30 minutes with only 5 ingredients!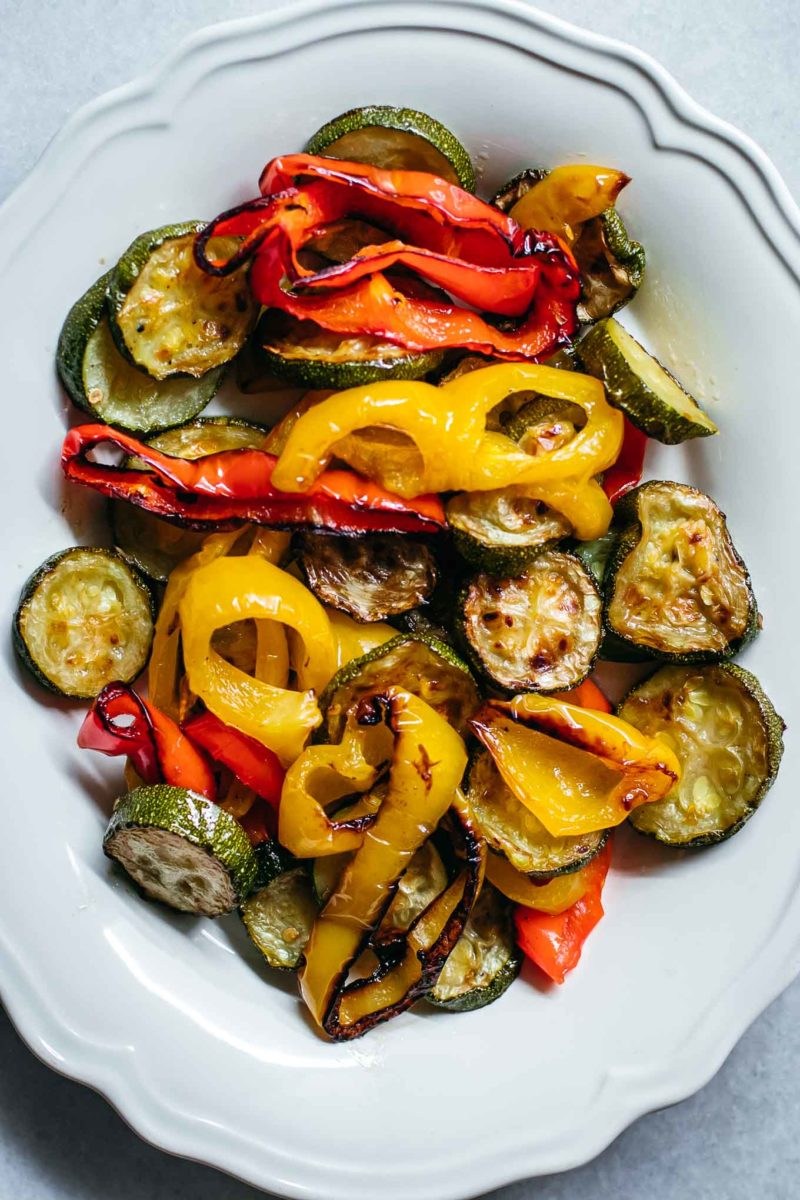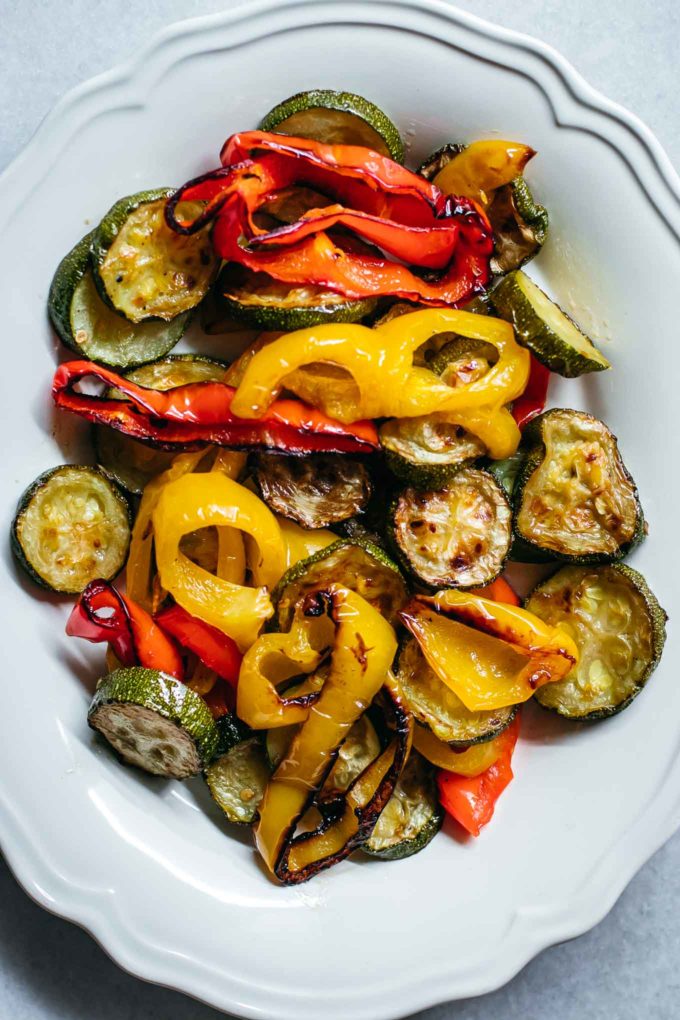 Who knew zucchini and bell peppers could make the perfect pair? Roasting these flavor-filled veggies together is a great way to put your summer produce harvest to use.
👉 Here are a few reasons why you should make it:
It's as simple as it gets. This recipe comes together in no time, requiring just 30 minutes and minimal preparation.
These two vegetable take on new flavor when roasted. Roasting both zucchini and bell peppers brings out their hidden deep flavors, especially when combined with spices and seasonings.
Make it your own. Keep it simple by seasoning with salt and pepper, or flavor it up with your favorite dried or fresh herbs. You can even add other veggies like onions and tomatoes to this recipe.
Ready to learn how to bake peppers and zucchini together? Let's do it!
---
🌶 Ingredients you'll need
Here are the ingredients you need for this recipe:
Zucchini: Our favorite summer vegetable for roasting, zucchini is abundant in the warmer months and roasting is a great way to use up extra so it doesn't get wasted.
Bell peppers: We used red bell peppers in this recipe, which tend to be a little more sweet compared to other varieties. They burst with flavor when caramelized in the oven!
Olive oil: Adds crispness to vegetables when heated, and brings out their unique flavors.
Garlic, salt, and pepper: You just can't go wrong with this easy seasoning combination on roasted vegetables.
Recommended tools: sheet pan, knife set, cutting board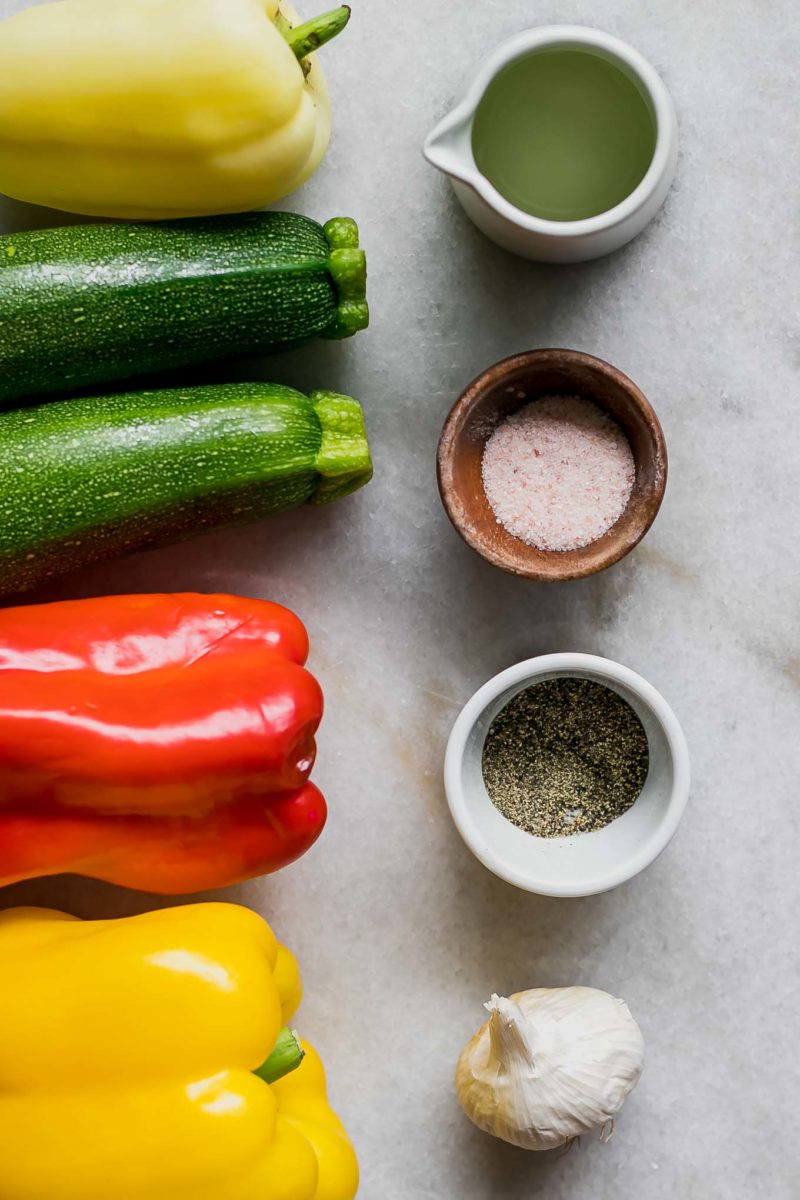 ---
🥣 How to make (step-by-step photos)
1️⃣ Step One: Preheat oven + get the veggies ready
Begin by preheating your oven to 400 degrees F (200 C), then wash and cut the vegetables.
To cut zucchini: Remove the ends, then slice into 1/2 inch (1 centimeter) pieces.
To cut peppers: Cut the top off, then either slices into rings or slice in half and remove the seeds (we chose to cut in rings because they look prettier).
Sustainability tips! Set any scraps from the zucchini and bell pepper aside for food scrap vegetable stock.
---
2️⃣ Step Two: Season zucchini + peppers
Spread the cut zucchini and peppers out on a baking sheet. Pour a small amount of olive oil over the veggies, tossing until completely covered with oil.
Combine vegetables with sliced garlic, salt, pepper, and any other dried or fresh herbs of your choice.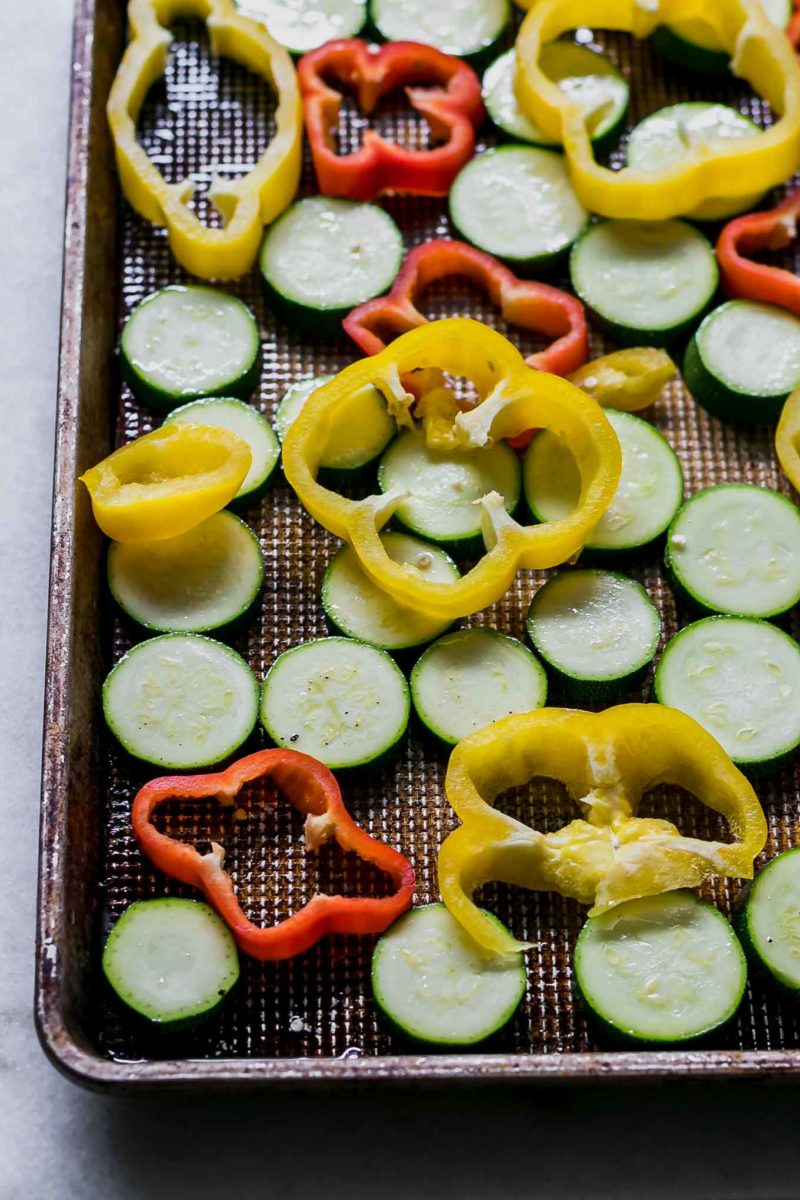 ---
3️⃣ Step Three: Roast vegetables in the oven
Place the zucchini and peppers in the oven and bake until caramelized. When done, they will be tender and brown around the edges. This will take approximately 25 minutes depending on your oven.
Halfway into cooking, toss the vegetables so they brown on all sides.
Take vegetables out of the oven and enjoy right away as a side dish, on top of rice, or mix into salads once they're cooled.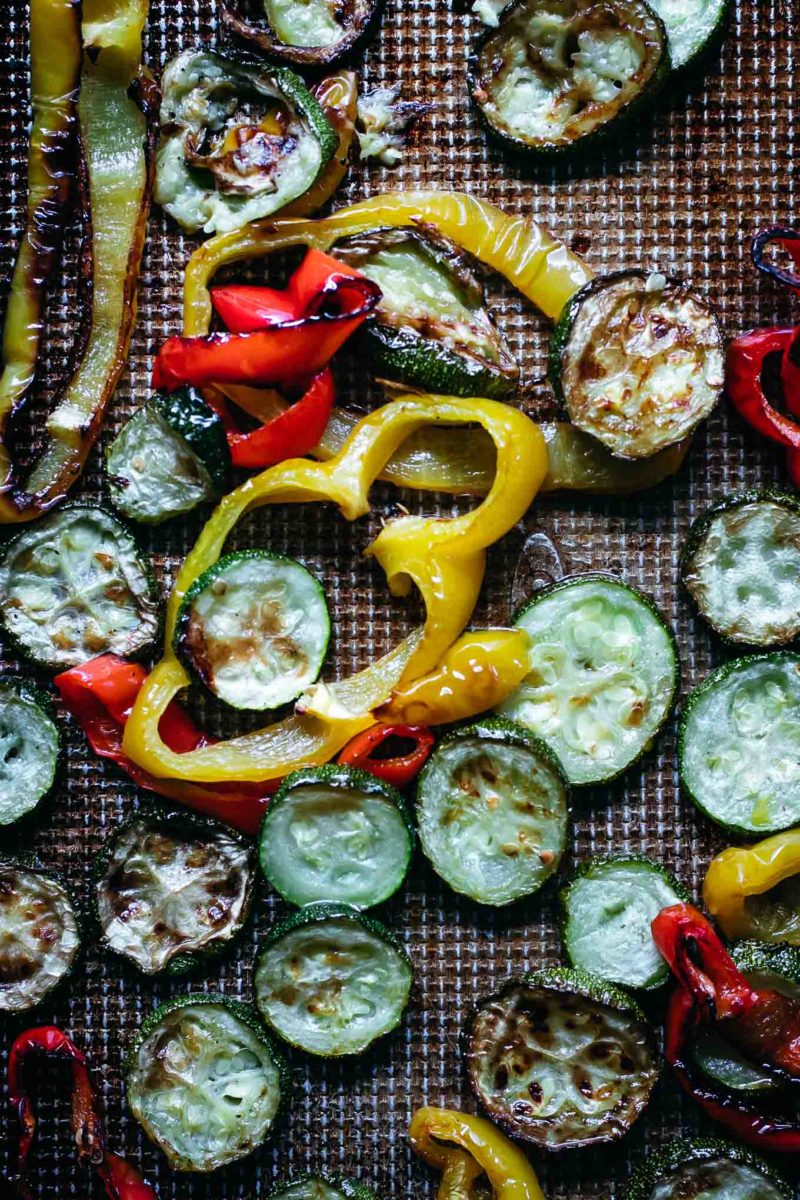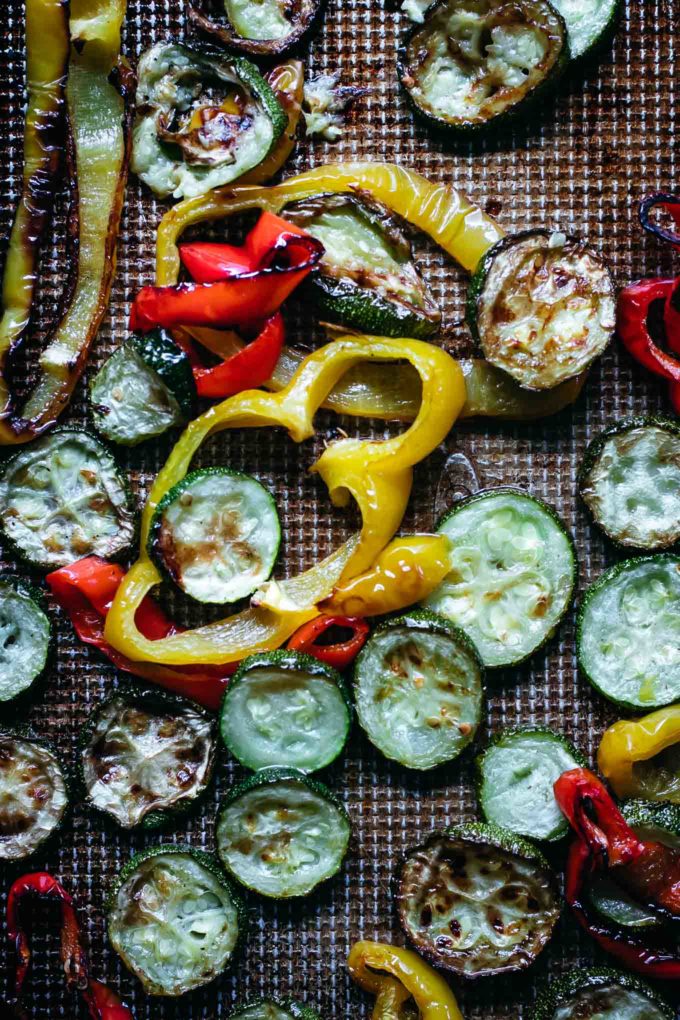 ---
❓ Recipe questions + quick tips
How do I cook peppers?
There are many ways to cook peppers. One of the easiest ways is to roast them. You can also sauté peppers or mix them into stir fries. Another way to cook them is by making stuffed peppers, which involves cutting a bell pepper in half, stuffing with ingredients of your choice, and then baking in the oven.
What can I do with an abundance of bell peppers?
Bell peppers can be sliced and dipped into hummus, baked on top of pizza, or cooked into egg or vegetable bakes. They also make a great topping for tacos, sandwiches, and salads. You can even puree them into soup or use to make condiments like harissa. Excess bell peppers can also be stored in the freezer and saved for later. Simply cut them to your liking, remove the seeds, and place in an airtight container before freezing
How do you cut up zucchini?
There is more than one way to cut zucchini, and the method you use depends on what you intend to use the zucchini for. One of the easiest ways to cup up zucchini for roasting is by removing the ends, and then slicing into 1/2 inch pieces. Zucchini can also be cut into coins, sliced into strips, shredded, or spiralized.
---
Herb + spice combination ideas
Here are some of our favorite ways to flavor up roasted vegetables:
Italian seasoning and lemon juice: Sprinkle a little Italian seasoning over the veggies for a delicious savory flavor, and balance it out with a squeeze of lemon juice.
Red pepper flakes and paprika: Add some spice with a dash of paprika and red pepper flakes. Give the veggies a taste and add more if you prefer extra spiciness!
Parsley and basil: Dried or fresh parsley and basil are a refreshing addition to this summery side dish.
Minced garlic and chopped onion: Roast zucchini and peppers with minced garlic and onions for a flavor boost.
---
🧊 How to store
Have leftovers? Here's how to extend the life of this roasted veggie recipe:
Refrigerator storage: Store vegetables in an airtight container in the refrigerator for up to 3-4 days.
Freezer storage: For the best taste and texture, we don't recommend freezing roasted vegetables as they will lose their texture when thawed.
---
♻️ Sustainable kitchen tips
Sustainability is our top priority here at Fork in the Road. Here are some ideas to go green with this recipe:
Make it when zucchini and bell peppers are in season. Stock up on zucchini and bell peppers while they're seasonal in your area. Their growing season typically starts during the spring and summer months in most parts of the US. Find out when they're in season in your area here.
Repurpose veggie scraps. Zucchini ends and any scraps from the bell peppers and garlic can be used in a food scrap vegetable stock, which you can use to make soup or for cooking grains like farro and rice.
Grow your own veggies! Roast zucchini and bell peppers whenever you want by growing them in your own backyard. This is a great way to advance your green lifestyle as it requires minimal traveling.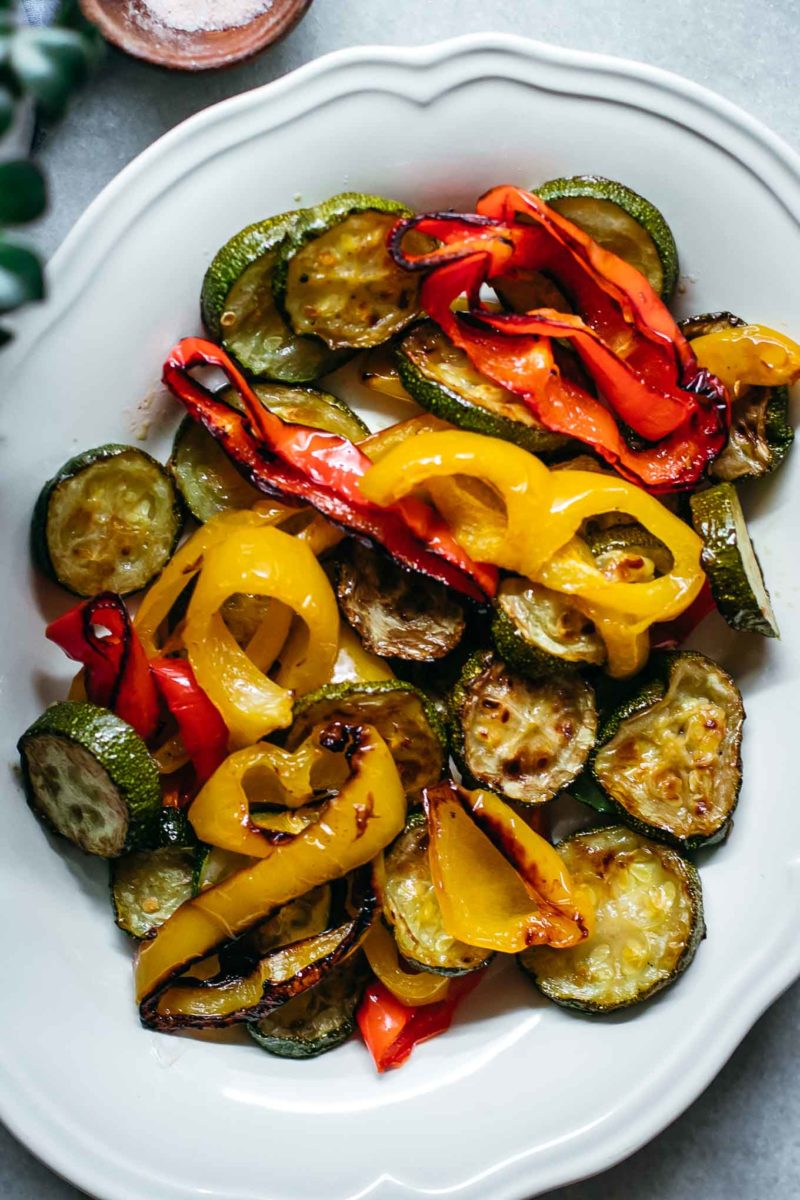 ---
💚 More roasted zucchini recipes
Looking for more roasted vegetable recipes? Try our other favorites:
Looking for more roasted bell pepper recipes? Check out our Roasted Carrots and Bell Peppers.
Roasted Zucchini and Peppers Recipes
Roasted Zucchini and Peppers, an easy baked zucchini squash and bell pepper recipe. Ready in 40 minutes with only 5 ingredients!
Ingredients
2 pounds zucchini
1 pound bell peppers
1 tablespoon olive oil
2 cloves garlic, sliced
¼ cup fresh herbs, or 2 tablespoons dried herbs
1 pinch salt and pepper
Instructions
Preheat oven and prep veggies: Preheat oven to 400 degrees F (200 C), then wash and cut vegetables. Slice the ends off of zucchini, then cut into 1/4 inch (1/2 centimeter) slices. Cut bell peppers in half, remove the seeds, then cut into thin slices.

Season vegetables: Place sliced zucchini and peppers on a sheet pan and combine with a drizzle of olive oil. Once completely coated in oil, season the vegetables with sliced garlic, salt, pepper and any other dried or fresh herbs that you prefer.

Roast vegetables: Bake veggies in the oven until soft and brown around the edges, which will take about 25 minutes. 10-15 minutes into cooking, toss the vegetables so they brown on all sides. Remove from the oven and serve immediately as a side dish, or let them cool and mix into salads.
Notes
Tools needed: sheet pan, knife set, cutting board
Prep ahead: Wash and cut vegetables in advance to reduce prep time before cooking.
Leftovers + storage: Store vegetables in an airtight container in the refrigerator for up to 3-4 days. For best taste and texture, do not freeze and reheat.
Nutrition notes: Nutrition information is estimated for only ingredients in the recipe, not the additional spice options given. This simple roasted zucchini and bell peppers recipe is a good source of fiber, vitamin C, and potassium.
Nutrition Information
Serving: 1g, Calories: 108kcal, Carbohydrates: 15g, Protein: 4g, Fat: 5g, Saturated Fat: 1g, Polyunsaturated Fat: 1g, Monounsaturated Fat: 3g, Sodium: 35mg, Potassium: 858mg, Fiber: 5g, Sugar: 10g, Vitamin A: 4320IU, Vitamin C: 191mg, Calcium: 52mg, Iron: 2mg
We are participant in the Amazon Services LLC Associates Program, an affiliate advertising program designed to provide a means for us to earn fees by linking to Amazon.com and affiliated sites.