Crispy Baked Bok Choy Chips
Crispy Baked Bok Choy Chips, a tasty and easy way to make a crunchy snack out of bok choy. Make the most out of leftover bok choy leaves by turning them into healthy chips that are ready in 10 minutes!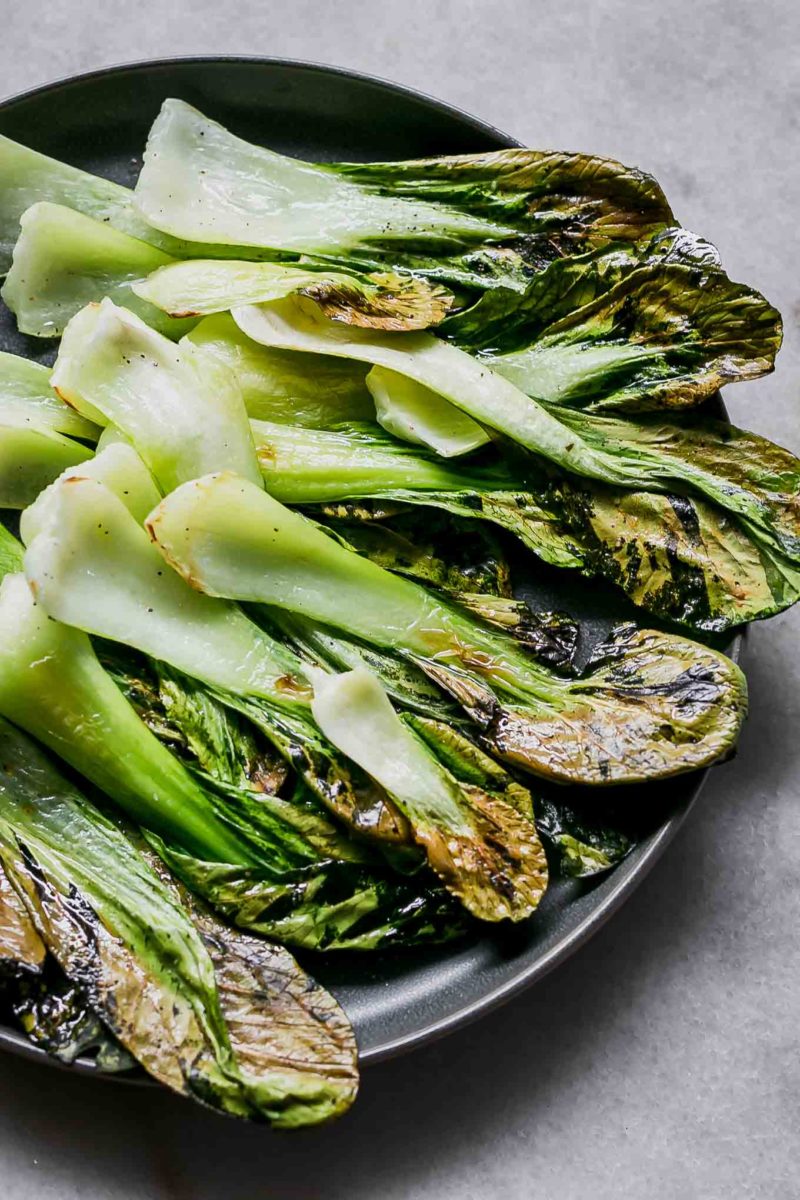 Step aside kale, there's a new chip in town: bok choy chips! It's true, baked bok choy leaves turn into crispy chips like kale chips when baked in the oven and can be enjoyed as a snack on their own or added to salads for a crunchy kick.
👉 Here are three reasons why you should make a crispy snack from bok choy:
Ready to learn how to make crispy chips out of bok choy leaves? Let's do it!
---
🥬 Ingredients + tools you'll need
This recipe requires just a few simple ingredients, including the following:
---
🥣 How to make (step-by-step photos)
1️⃣ Step One: Wash and prep bok choy leaves
First, cut the bok choy leaves from the white stalk. Submerge the bok choy leaves for a few minutes in a bowl of cold water. Remove as much dirt from the leaves as possible by stirring them in the bowl with your hands.
Dry the leaves with a salad spinner or lay flat to dry. Once they're dry, place them into a bowl.
👉 Go green tip! Save the bok choy stalks to use in food scrap vegetable broth!
---
2️⃣ Step Two: Preheat the oven + prep the greens
Next, preheat your oven to 400° F (200° C).
While the oven preheats, place bok choy leaves and 2 teaspoons olive oil into a mixing bowl. Massage until both sides of the leaves are completely covered in oil.
Grease a sheet pan with the remaining olive oil. Place greens and a pinch of salt and pepper on the pan. Add any other flavors or spices that you'd like.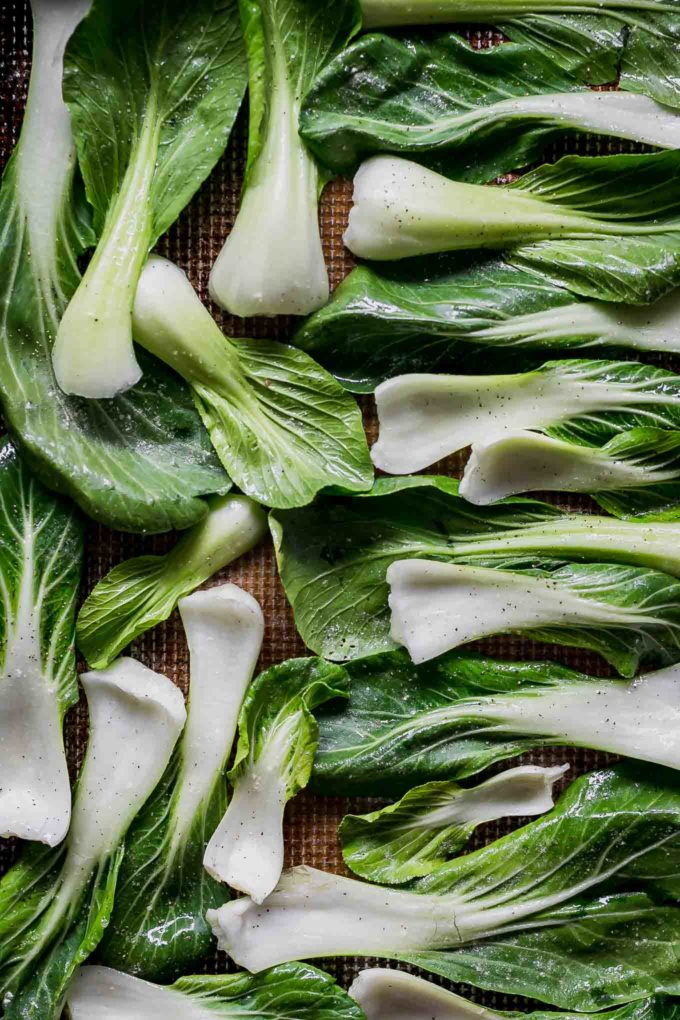 ---
3️⃣ Step Three: Bake bok choy leaves until crispy
Roast bok choy in the oven for approximately 8-10 minutes. Make sure to flip the leaves halfway through for full crispiness.
Once the leaves are crispy enough, take them out of the oven. Eat them right away for the best flavor and crunch!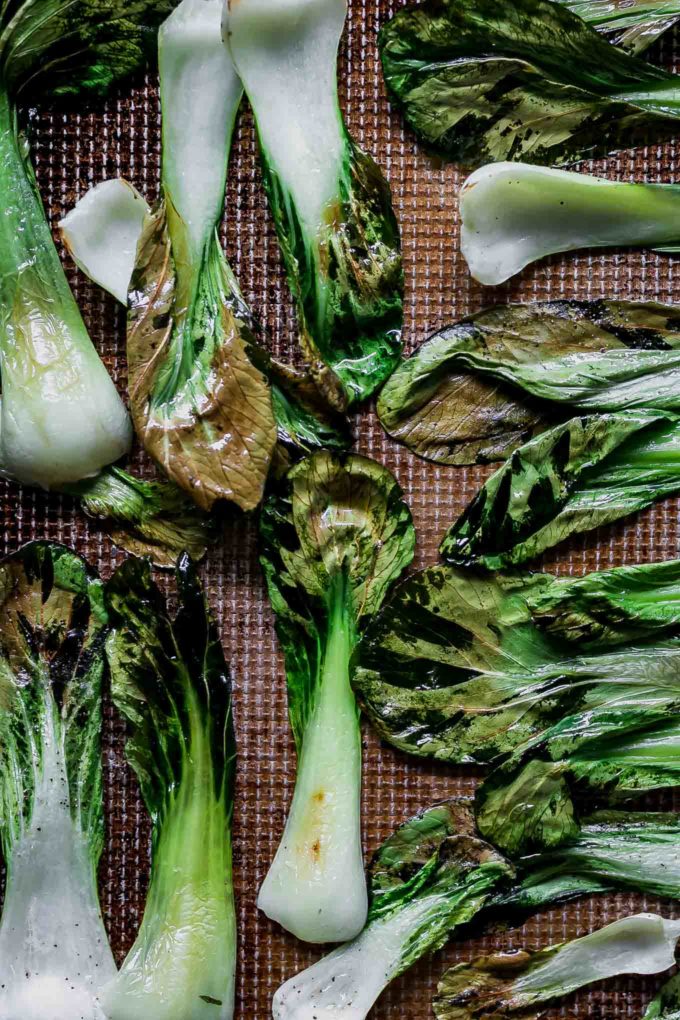 ---
❓ Recipe questions + quick tips
How do I make crispy bok choy?
Crispy bok choy is very easy to make. Simply cut bok choy leaves from the stalk, wash them to remove dirt, combine with oil and spices, and finish by baking them in the oven. For full crispiness, make sure to toss them halfway through baking.
How do you prepare bok choy?
Bok choy is a versatile leafy green that can be prepared in many different ways. You can make salads with it or mix it into soups and stir-fries. Additionally, bok choy makes for a delicious side dish when roasted or steamed. Another way to prepare bok choy is by baking it and making into a chip-like snack.
What does bok choy go well with?
Due to its mild flavor, bok choy goes well with just about anything! You can pair it with other vegetables, like carrots, bell peppers, cabbage, eggplant, or green onions. It can be combined with a variety of spices and seasonings like garlic, ginger, and lemongrass. Bok choy goes well with soup, salads, and seafood.
---
🌿 Seasoning variations
We used a simple combination of oil, salt, and pepper to season our bok choy chips. However, the seasoning possibilities are endless!
Here are some suggestions to add your own spin to this recipe:
---
♻️ Sustainable kitchen tips
Making this recipe is a great step to take to reduce food waste. Take your ingredients even further with these tips:
Make this recipe during bok choy season! Stock up on bok choy at the height of its growing season. While bok choy is in season year-round in California, you can find out when it's seasonal near you here.
Save the scraps. Keep the stalk and any other scraps you accumulate from bok choy. Use in food scrap vegetable broth, which can be used to make soups, for cooking grains, and to mix into sauces.
Store them properly. If you have leftover bok choy chips, make sure to keep them in an airtight container so you can use them again. Eat the leftovers within two days for the best quality and flavor.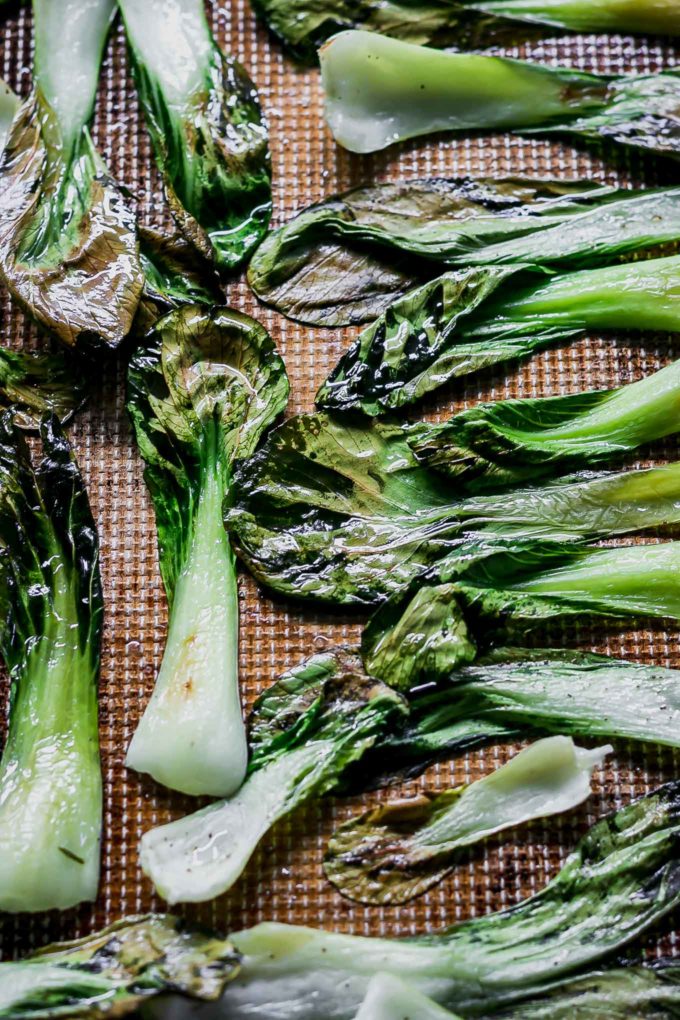 ---
🌱 More baked leafy green recipes
Looking for more ways to make crispy vegetable chips? Try these out:
Yield: 4 servings
Crispy Baked Bok Choy Chips Recipe
Crispy Baked Bok Choy Chips, a tasty and easy way to make a crunchy snack out of bok choy. Make the most out of leftover bok choy leaves by turning them into healthy chips that are ready in 10 minutes!
Prep Time 5 minutes
Cook Time 10 minutes
Total Time 15 minutes
Ingredients
4 cups bok choy
4 teaspoons olive oil, divided
Pinch of salt and pepper
Optional: garlic powder, nutritional yeast, lemon juice
Instructions
Wash bok choy: Fill a large mixing bowl with cold water and submerge boy choy, stirring or moving the leaves around with your hands to make sure as much dirt is removed as possible. Next, remove the leaves from the water and use a salad spinner to remove water and put into a bowl or lay flat to dry (about 15 minutes).
Preheat oven and prep greens: Preheat the oven to 400° F (200° C). To a medium mixing bowl, add dry bok choy leaves and 2 teaspoons olive oil. Using your hands, massage the greens to coat them completely in oil. Add the remaining 2 teaspoons of olive oil to grease a baking sheet, then add oiled greens and sprinkle with salt and pepper. Add any additional desired spices, like a sprinkle of garlic powder, nutritional yeast, or a sprinkle of lemon juice.
Roast bok choy: Place the baking sheet into the oven and bake for 8-10 minutes, flipping the leaves with a spatula halfway through baking so they get crispy on all sides. Once they're completely crispy, remove from the oven and eat immediately for best flavor. Enjoy!
Notes
Tools Needed: mixing bowl, baking sheet, spatula
Prep Ahead: Wash and dry bok choy up to three days ahead of time so they are ready to prep for baking when your snack craving hits.
Leftovers and Storage: While the flavor and crispiness is best when eaten right after baking, you can store leftover roasted bok choy in an airtight container on the counter for up to two days.
Nutrition notes: This recipe made as written is plant-based, gluten-free, nut-free, and is a healthier alternative to traditional chips and crisps.
Nutrition Information:
Yield:
4
Serving Size:
1
Amount Per Serving:
Calories: 77
Total Fat: 5g
Saturated Fat: 1g
Trans Fat: 0g
Unsaturated Fat: 4g
Cholesterol: 0mg
Sodium: 80mg
Carbohydrates: 5g
Fiber: 3g
Sugar: 1g
Protein: 5g
We are participant in the Amazon Services LLC Associates Program, an affiliate advertising program designed to provide a means for us to earn fees by linking to Amazon.com and affiliated sites.