Roasted Carrots and Asparagus
Roasted Carrots and Asparagus, an easy sheet pan roasted asparagus and carrot recipe combination with only 5 ingredients and ready in under 30 minutes. Your new favorite easy side dish or topping for salads!
Love roasted asparagus? Love roasted carrots? So do we! That's why you should combine them together into a tasty roasted vegetable dish that's easy, flexible, and over-the-top with flavor.
👉 Ready to learn how to cook asparagus and carrots in the oven? Let's do it!
---
🥣 How to make (step-by-step photos)
1️⃣ Step One: Preheat oven and prep vegetables
First, preheat the oven to 400 degrees F (200 C). While the oven is heating, wash the vegetables to remove dirt.
To cut ends of asparagus: hold the asparagus stalk at the bottom, then with your opposite hand pull the top of the spear downward and the spear with snap off where the hard stalk stops.
To cut carrots: You can cut carrots however you'd like, but when roasting with long vegetables like asparagus we like to slice carrots longways so the vegetables are similar in size (they're much easier to eat that way).
👉 Do you need to peel carrots before roasting? You do not need to peel carrots before baking. The outer peel is edible and will provide a rougher texture and deeper flavor. However, if you don't like the outer peels then feel free to peel both with a vegetable peeler.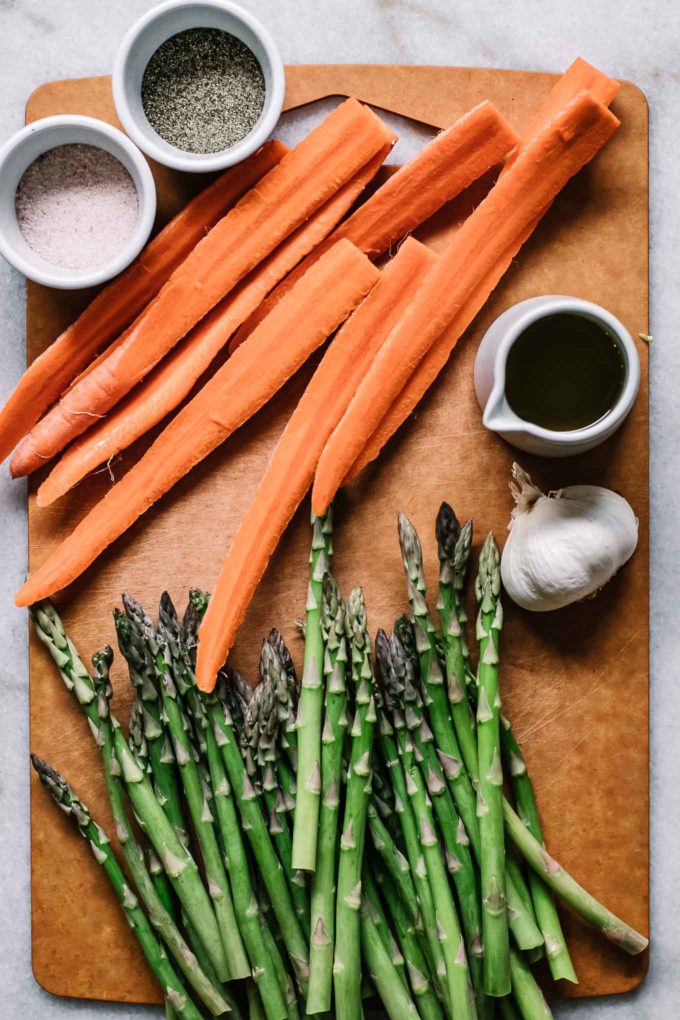 ---
2️⃣ Step Two: Add vegetables to roasting pan
Next, add the cut carrots and asparagus to a sheet pan. Drizzle with olive oil and, using your hands or a spatula, toss until they're completely coated with oil.
Sprinkle the vegetables with sliced fresh garlic, salt, and pepper.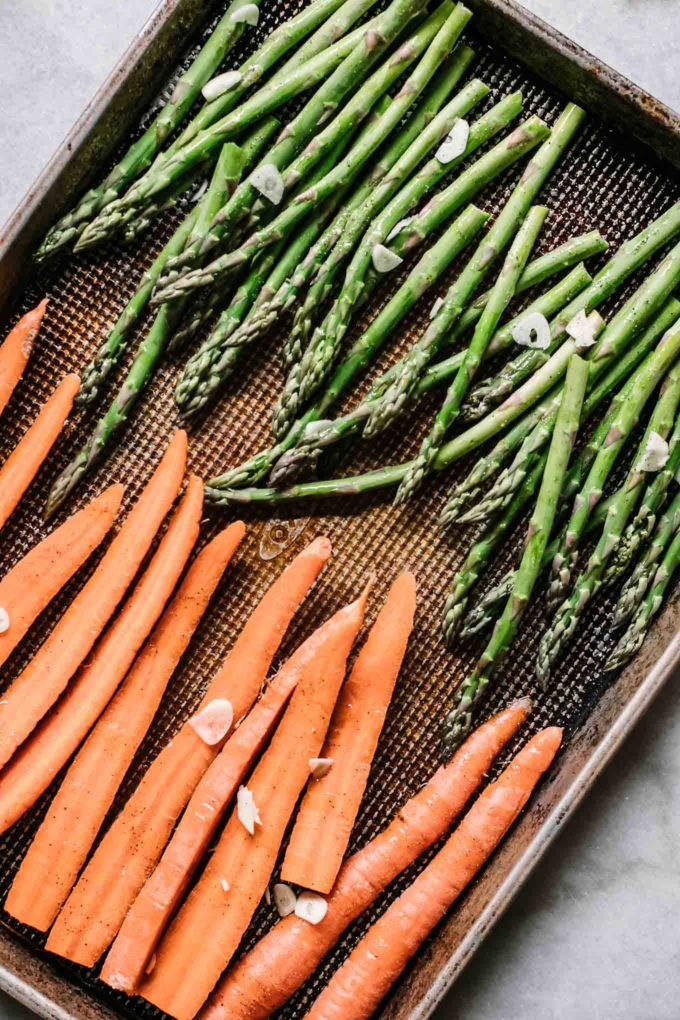 ---
3️⃣ Step Three: Roast vegetables
Finally, roast the vegetables in the oven until they begin to soften and become brown around the edges.
This takes anywhere from 20-30 minutes, depending on your oven. Flip once while baking to brown on both sides of the carrots and asparagus.
Remove the roasted vegetables from the oven and serve immediately as a side dish, or you can let the vegetables cool and use them to top salads and bowls.
---
🌿 Herb and spice flavoring ideas
This recipe is simply prepared with just olive oil, garlic, salt, and pepper and your fresh herbs of choice. However, the herb and spice flavor possibilities are endless! Here are a few to try out in your roasted vegetable recipe:
Rosemary, shallots, and garlic: roast asparagus and carrots with sliced shallot and garlic, then sprinkle with fresh rosemary when finished
Garlic, red onion, and fresh herbs: roasted carrots and asparagus with garlic and sliced red onion, then top with fresh herbs like oregano or thyme
Turmeric, paprika, and cayenne pepper: make it spicy with a sprinkle of turmeric powder, paprika, and a dash of cayenne
Make it crunchy with nuts or seeds: add a bit of crunch by topping with sliced almonds, pine nuts, sunflower seeds, or sesame seeds
---
🧊 How to store
This roasted veggie recipe is a great make-ahead recipe to cook once and enjoy all week! Here are tips for storing:
Refrigerator storage: Store leftover roasted vegetables in an airtight glass container for up to five days. Serve cold or reheat in the microwave or by heating in a pan.
Freezer storage: Freeze leftover asparagus and carrots by storing them in a freezer-friendly bag for up to two months. Thaw in the refrigerator and reheat in the oven for best texture.
---
♻️ Sustainable kitchen tips
We're all about sustainability here at Fork in the Road, so here are some tips and tricks for getting the most out of your ingredients.
Take advantage of carrot and asparagus season! Asparagus is in season in the spring, typically February through June in the northern hemisphere. Carrots are typically available year round here, so we usually enjoy this dish in the fall and winter.
Use scraps to reduce food waste! Don't toss peels and stems, put them into a soup pot and cover with water to make a food waste soup stock.
Don't toss carrot tops! Did you buy carrots with their leaves? Great! Reuse carrot tops in smoothies, carrot greens sauces, and even carrot leaves soup.
---
👉 More roasted asparagus recipes
Want more baked asparagus recipes? We've got you covered: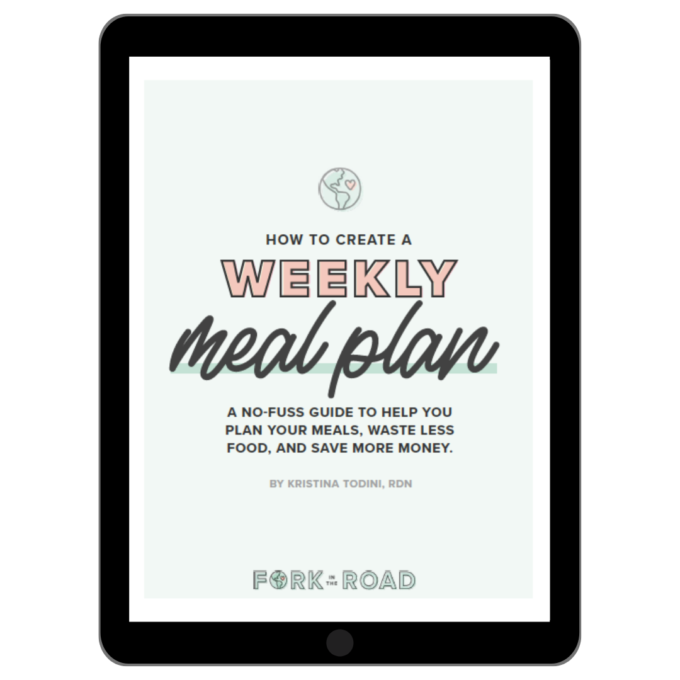 Roasted Carrots and Asparagus
Roasted Carrots and Asparagus, an easy sheet pan roasted asparagus and carrot recipe combinations with only 5 ingredients and ready in under 30 minutes. Your new favorite easy side dish or topping for salads!
Ingredients
1

pound

carrots

washed and trimmed

1

pound

asparagus

washed and trimmed

2

single

garlic cloves

sliced thin

2

tablespoons

olive oil

1

pinch

salt and pepper
Instructions
Prep oven: Preheat the oven to 400 degrees (200 C).

Prep vegetables: Wash asparagus and carrots and peel, if desired. Snap hard ends of asparagus off the bottom of each stalk. Cut stems from carrots and slice diagonally into 1-2 inch (3-5 cm) pieces.

Roast vegetables: Arrange the carrots and asparagus on a baking sheet and drizzle with olive oil, tossing the vegetables to completely cover with oil and sprinkle with sliced garlic, salt, and pepper. Place sheet pan in the oven and roast for 25 minutes, stirring halfway through to roast on all sides.

Serve vegetables: Remove pan from oven, arrange vegetables on a plate and serve as a side dish or as a salad topping.
Notes
Tools needed: sheet pan, knife set, cutting board, vegetable peeler
Prep ahead: Wash and cut vegetables ahead of time to reduce prep time before cooking. If serving cold on salads or bowls, you can make this recipe up to three days ahead of time.
Leftovers and storage: Vegetables should be stored in an airtight container in the refrigerator for up to 3-4 days. For best taste and texture, do not freeze and reheat.
Nutrition notes: Nutrition information is estimated for only ingredients in the recipe, not the additional spice options given. This simple roasted vegetable recipe is a good source of fiber, vitamin A, and vitamin C.
Nutrition
Serving:
1
serving
Calories:
132
kcal
Carbohydrates:
15
g
Protein:
4
g
Fat:
7
g
Saturated Fat:
1
g
Polyunsaturated Fat:
1
g
Monounsaturated Fat:
5
g
Sodium:
90
mg
Potassium:
594
mg
Fiber:
6
g
Sugar:
8
g
Vitamin A:
19802
IU
Vitamin C:
13
mg
Calcium:
66
mg
Iron:
3
mg