Easy Quick Pickled Asparagus in the Refrigerator
How to quick pickle asparagus! This simple refrigerator pickling recipe uses four simple steps to quickly pickle flavorful asparagus in the fridge.
Love asparagus? We can't get enough of the crunchy stalks during spring asparagus season, and we're always looking for ways to enjoy fresh asparagus throughout the year. However, we've always been intimidated by fermenting and canning, but thankfully there's a super easy (and quick!) way to enjoy pickled asparagus at home!
👉 To quick pickle asparagus, simply follow these four easy steps:
Prepare the asparagus by cutting or snapping off the stems
Add the asparagus and any herbs and spices to a tall jar
Boil a salted vinegar brine and pour over the asparagus
Refrigerate for at least 3 hours and keep for up to one month
Ready to deep dive into quick pickling asparagus stalks? Let's do it!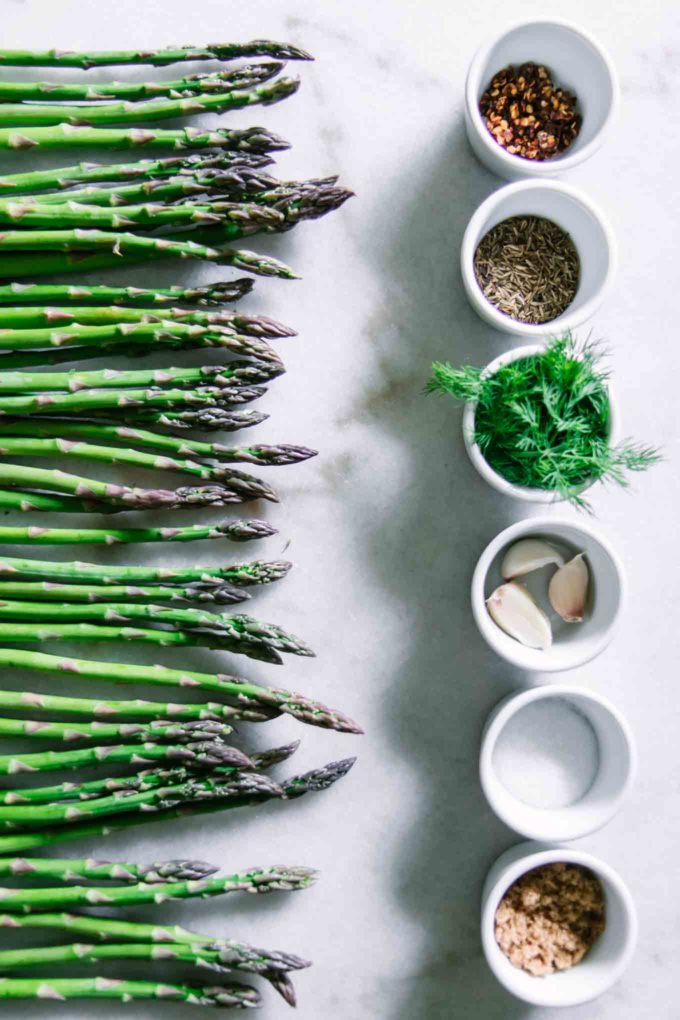 ---
🥣 How to make refrigerator pickled asparagus (step-by-step)
1️⃣ Step One: Cut the asparagus to fit the jar
The first step to making easy pickled asparagus is to prepare the asparagus by washing and then destemming to make sure the spears fit into the jar you will use to store them.
You can cut asparagus stems off with a knife, or you can easily snap off the ends by holding asparagus at the bottom and twisting the head back until it snaps (see photo below). This will snap the asparagus spear off at the natural point where it begins to soften, which is the edible portion.
♻️ Sustainable cooking tip: Don't waste those stalks! Save your asparagus spear ends to use in food scrap vegetable broth.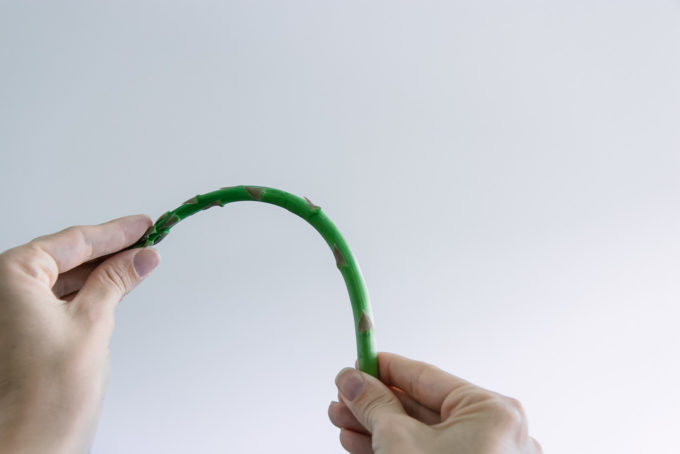 ---
2️⃣ Step Two: Prepare the pickling jar
Next, add the destemmed asparagus spears to a tall jar with dill or other herbs, flavorful seeds like mustard or caraway, and red pepper flakes. You can also add other vegetables to the jar if you'd like, we like adding sliced radish or bell peppers, or even lemon or lime wedges.
Make sure there is about ½ – 1 inch (1-2 cm) of space above the asparagus spears and below the jar's lid so that the pickling liquid will completely cover the asparagus so it pickles evenly. Any small spear tops that are sticking out will not be pickled and could grow mold or other bacteria while storing.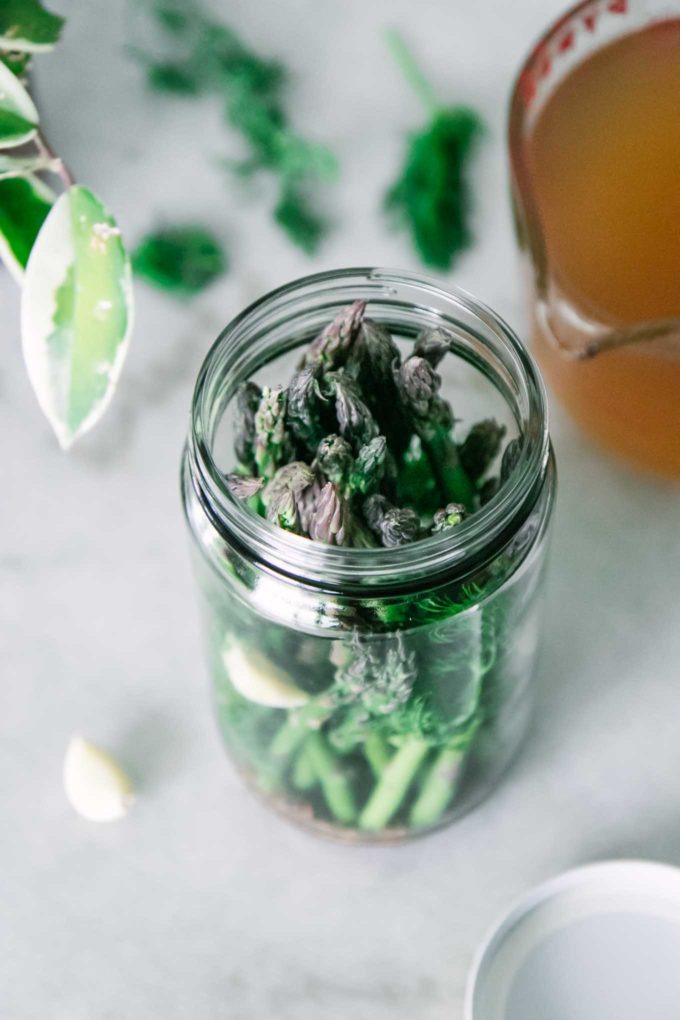 ---
3️⃣ Step Three: Prepare and add the brine
Now it's time to make the brine, or the salted vinegar water that will work the magic of pickling your asparagus.
The foundational vegetable pickling brine recipe we use is:
2 cups (475 ml) water
2 cups (475 ml) vinegar
1 tablespoon salt
1 tablespoon sugar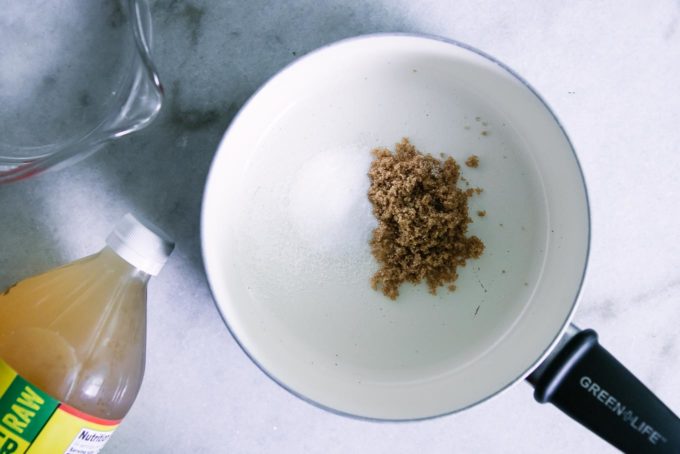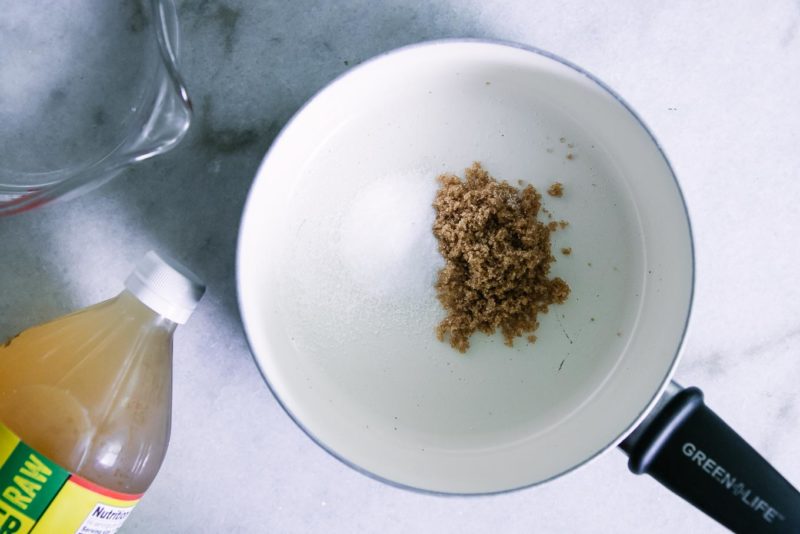 We increase or decrease the amount of brine depending on how much asparagus we're pickling, but this is the general formula that always produces great tasting pickled vegetables.
To make the brine, simply add water, a vinegar of your choice, salt, and sugar to a medium saucepan and bring to a boil.
💡 Want more tips for making pickling brine? Check out my full recipe, tips, and advice for making a refrigerator pickling brine here.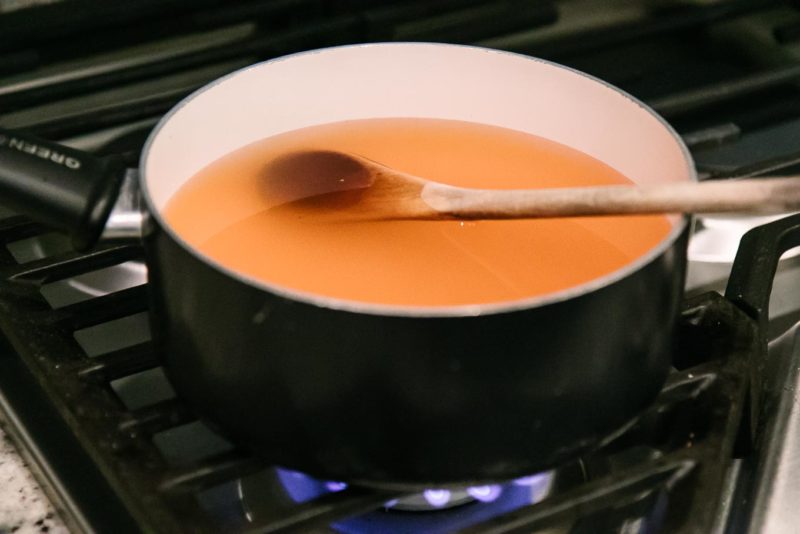 Pour the hot brine into the jar and completely cover the asparagus (see first photo in this post for an example), then close the lid tightly and let cool completely on the counter until it reaches room temperature.
👉 Which vinegar should you choose? For the mildest flavor choose distilled white vinegar. For more of a flavor punch try white wine vinegar or apple cider vinegar (our favorite). Malt and balsamic vinegar have the strongest flavor, but we have found the taste of these vinegars is too strong when quick pickling.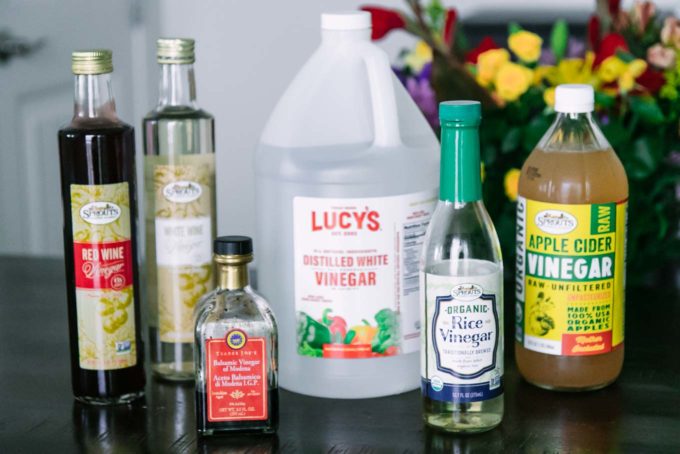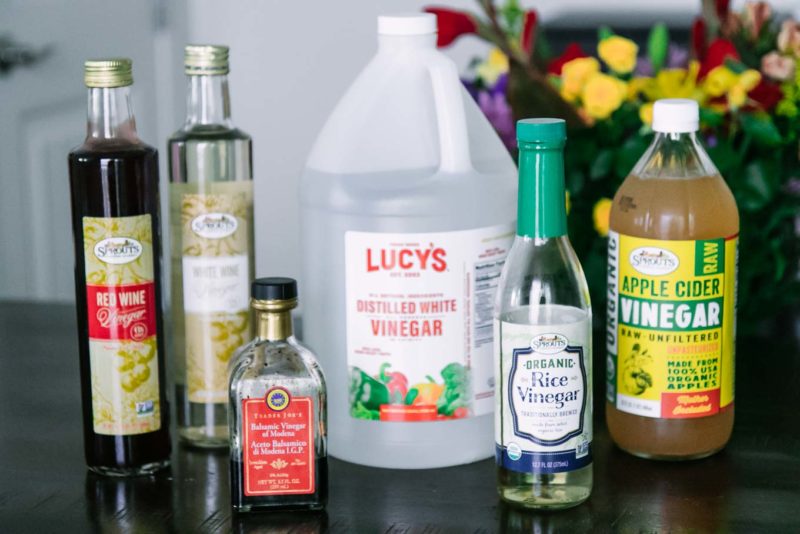 ---
4️⃣ Step Four: Refrigerate to quickly pickle the asparagus
Once the jar of asparagus is cool, store in the refrigerator and let the asparagus pickle in the salted vinegar brine.
If you want to serve quickly we recommend letting the asparagus ferment for at least 3 hours, but for best results and flavor wait at least 24 hours. The pickled asparagus is good for up to one month in the refrigerator.
---
❓ Questions + quick tips
Should I blanch asparagus before pickling?
Blanching, or boiling the asparagus for a few minutes, before pickling will help the spears retain their green color. However, weu2019ve tested pickled asparagus both ways and have found that the color variation is so slight that itu2019s not worth this extra step unless youu2019re very worried about the presentation. The taste is the same, which is the important part!
What jars should I use for pickling asparagus?
Choose a jar tall enough to store the pickled asparagus spears with about u00bd – 1 inch (1-2 cm) of space between the top of the spear and the lid so that the brine liquid can completely submerge the asparagus stalks.
How long before you can eat pickled asparagus?
You can eat the pickled asparagus as soon as one hour after pickling, however we suggest waiting a minimum of 3 hours and best results after at least 24 hours. If your asparagus spears are thin, then three hours is a great minimum pickling time. However, if your asparagus stalks are thick then they may need more time to soak before they are fully pickled.
How long does pickled asparagus last?
Pickled asparagus lasts up to one month in the refrigerator as long as the spears are completely covered with the liquid brine. However, if the spears are sticking out of the water youu2019ll run the risk of bacterial growth, so make sure to choose a tall jar and to completely submerge them in the brine.
Is pickled asparagus healthy?
Pickled asparagus is healthy! Per the USDA Food Nutrient Database, one cup of asparagus has 3 grams of plant-based protein, 2.8 grams of fiber and is a great source of vitamin K and vitamin A. However, the brine is high in sodium due to the salt needed to pickle but the vegetable itself only absorbs a small amount of this salt.
What type of asparagus should I pickle?
Itu2019s possible to pickle any type of fresh asparagus. White asparagus, green asparagus, purple asparagus, thin or thick u2014 you name it, you can pickle it. However, we do not recommend pickling frozen asparagus as it will become soggy and won't have the same crisp texture as fresh asparagus.
How do I know if my pickled asparagus has gone bad?
Quick pickling vegetables in refrigerator does not come with the same food safety hazards as traditional pickling and canning. However, to make sure your asparagus stays safe while stored in the refrigerator make sure to completely cover in the liquid brine and to feel the asparagus spears before eating. If theyu2019re slimy, throw them out.
👉 How to serve
Quick pickled vegetables like asparagus are great additions to salads, bowls, or are even a great simple snack. Here are a few recipes and ideas to get you started:
On a large fruit, vegetable, and nut platter. Use quick pickled asparagus as a pickable vegetable on a large platter with assorted seasonal fruits, vegetables, nuts, seeds, and crackers. Check out our seasonal platter recipes here.
Add to a salad or bowl. Top a salad or grain bowl with pickled asparagus, like this Spicy Peanut Quinoa Bowl.
Snack on asparagus stalks. Grab a few pickled spears and a handful of nuts or seeds for a deliciously salty plant-based snack.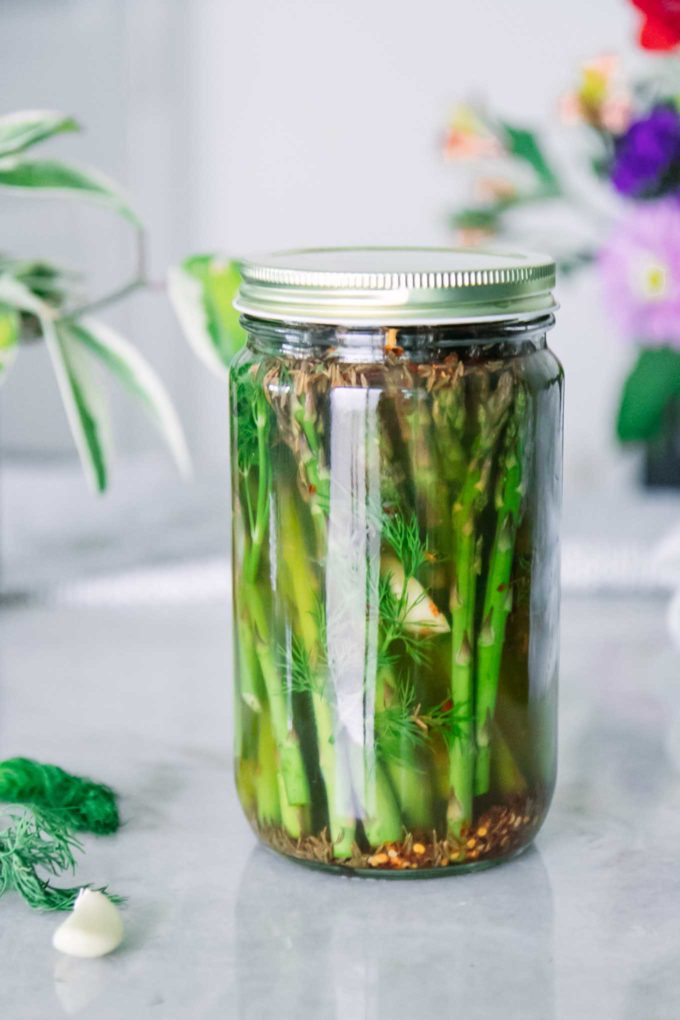 ---
♻️ Sustainable kitchen tips + tricks
While pickling seasonal vegetables is a sustainable way to extend the life of fresh produce, there are a few tips and tricks you can learn to make this asparagus recipe even more environmentally friendly:
---
💚 More pickled vegetable recipes
Try out our other easy refrigerator quick pickled vegetable recipes, like:
Looking for more asparagus recipes? Try out Baked Asparagus and Carrots or Baked Brussels Sprouts and Asparagus.
Easy Quick Pickled Asparagus Recipe
Want to learn how to quick pickle asparagus? This simple refrigerator pickled asparagus uses four simple steps to quickly ferment asparagus for flavorful and easy asparagus spear pickles.
Ingredients
1

pound

asparagus spears

¼

cup

dill

or other herb

1

tablespoon

caraway seeds

½

teaspoon

red pepper flakes

2

cups

water

2

cups

vinegar

1

tablespoon

salt

1

tablespoon

sugar
Instructions
Cut the asparagus: Wash asparagus and remove the stems, making sure the asparagus will fit into the desired pickling jar with room for water to completely cover the spears. Do this by hand by holding each spear at the bottom and top and pulling the top down until the spear snaps, which will break the spear at the natural point where the asparagus becomes soft and edible.

Prepare the pickling jar: Add cut asparagus spears to a tall jar and add dill or other desired herbs, mustard seeds, and red pepper flakes.

Prepare and add the brine: In a medium saucepan bring the water, vinegar, salt, and sugar to a boil. Once boiling, pour into the jar until the liquid completely submerges the asparagus spears. Close the lid on the jar tightly.

Pickling instructions: Let the jar cool on the counter until it reaches room temperature. Once cooled, put the jar into the refrigerator and let the asparagus pickle for at least three hours before serving, but for best results serve after at least 24 hours. Quick pickled asparagus is good up to one month in the refrigerator.
Notes
Vinegar Recommendation: White vinegar, white wine vinegar, and apple cider vinegar are the best vinegar choices for this pickled vegetable recipe.
Recommended jar: Because asparagus is a tall vegetable, choose a tall jar and destem asparagus so it fits within the jar with about ½ – 1 inch space (2-3 cm) below the lid.
Other recommended tools: small saucepan, cutting board, knife set
Prep Ahead + Storage: Refrigerator pickled asparagus should be made at least 3 hours before serving, but for best results make at least 24 hours ahead. Keep the asparagus refrigerated and it can be enjoyed for one month. Do not freeze pickled asparagus.
Nutrition Note: The nutrition information for this recipe was calculated with the full amount of salt and sugar used in the brine. However, the actual amounts absorbed by the asparagus is much less.
Nutrition
Serving:
1
serving
Calories:
64
kcal
Carbohydrates:
9
g
Protein:
3
g
Fat:
1
g
Saturated Fat:
1
g
Polyunsaturated Fat:
1
g
Monounsaturated Fat:
1
g
Sodium:
1761
mg
Potassium:
279
mg
Fiber:
3
g
Sugar:
5
g
Vitamin A:
1164
IU
Vitamin C:
9
mg
Calcium:
57
mg
Iron:
3
mg
UPDATE: This recipe was originally posted in June 2020 and updated for clarity in August 2021.