Pozole Verde, a Healthy Take on the Mexican Tradition
Pozole Verde con Pollo, a green twist on the traditional soup made with hominy, or puffed corn. This feel good comfort soup recipe uses chicken, cilantro, green chiles, limes, avocados and mixed vegetables for a healthy take on the Mexican classic!
Hola friends! Today we're serving a a special feel good Mexican soup recipe that is sure to spark the travel itch for a Mexican food adventure: Pozole Verde con Polla, or green pozole with chicken.
Pozole is a classic Mexican hominy soup traditionally made with pork, vegetables, and peppers. However, pozole is a dish with endless variations!
Because of that we're whipping up our own healthier version by replacing the traditional pork shoulder (some cultures use a whole hog head!) with chicken and adding in fresh vegetables and peppers for a twist on the classic.
While the variations of pozole are endless, one thing remains the same in each version: hominy. But what is hominy? I'm so glad you asked (because I did a lot of Google research for you)!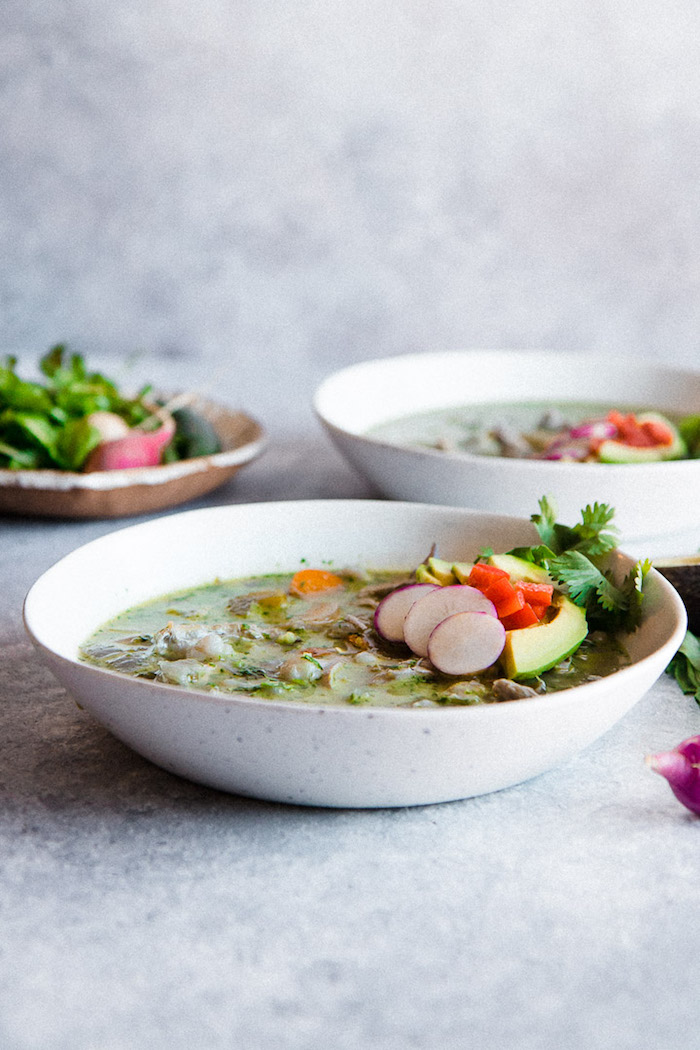 What is hominy? How do you cook with it?
Hominy refers to the large, chewy corn kernels that are popular in Mexican and Latin American cuisine, but are also consumed throughout the American South and is the ingredient behind the Southern classic grits.
Hominy is made from large corn kernels that are soaked and dried, and are often ground into a flour or can be rehydrated to be used in soups or tamales.
Hominy's ability to grow in dry climates and its ability to be dried and stored for long periods of time solidified its status as a staple in Mexican cuisine. Today it can be found dried, ground, or sold in cans of water, which is the style of hominy used in Mexican pozole.
Mexican Pozole variations
Pozole is a simple chicken soup recipe that each Mexican region, and even each family, makes differently.
The most popular pozole is typically pozole rojo (or red pozole), which uses red chile peppers to create a soup with a strong red color.
However pozole verde (green pozole) using green chiles and cilantro is also popular, and pozole blanco (or white pozole) made without the addition of color from chiles is also common throughout the country.
While most pozole recipes are made of hominy, a meat or fish, and broth, the real winner of pozole is the toppings.
The topping possibilities are endless, but traditional pozole topping favorites include sliced radishes, avocado, limes, chiles, and cilantro. Of course we went a little wild in this pozole verde recipe with the vegetables and spices and we encourage you to do the same!
Pozole Verde con Pollo: Tips, Tricks & Tools
Pozole Verde at its core is a simple chicken soup recipe with hominy and topped with sliced and chopped vegetables and herbs, and it does not require extra equipment or tools.
However, below are a few of my favorite green kitchen staple items to make preparing pozole easier.
A sturdy soup pot or dutch oven: You cannot call yourself a soup lover and not have a great soup pot or dutch oven. My dutch oven is a workhorse in the kitchen and I believe every home cook should have (at least) one.
Hominy: You will likely be able to find a can of hominy in your local grocery store (I found it near the canned vegetables and beans) but if not hominy is readily available online. Alternatively, you can buy dried hominy and rehydrate by boiling in the same way you would cook dried beans.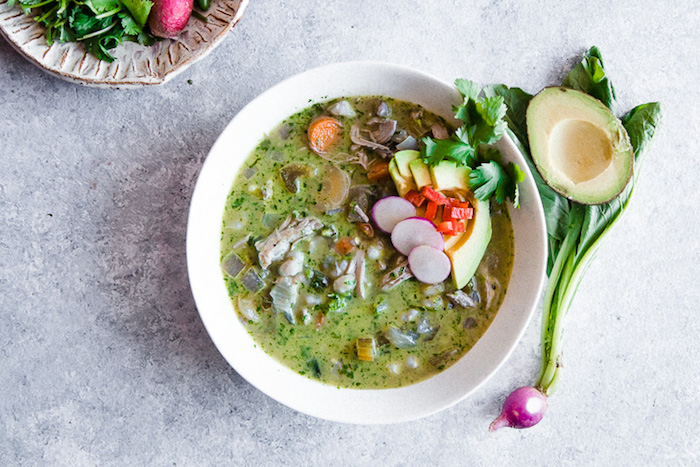 ---
This Pozole Verde con Pollo recipe is a new favorite soup night recipe! If you love delicious and globally-inspired feel good soups as much as I do, check out my Roasted Tomato Leek Soup or Red Beet Apple Soup for your soup night in.
Did you make this Pozole Verde con Pollo recipe? Leave a comment and rating below to share how it turned out, pin it to your soup Pinterest board, and tag me on Instagram so I can see your pozole creations!
Yield: 6 servings
Pozole Verde with Chicken
Pozole Verde con Pollo, a green twist on the traditional soup made with hominy, or puffed corn. This feel good soup recipe uses chicken, cilantro, green chiles, limes, avocados and mixed vegetables for a healthy take on the Mexican classic!
Ingredients
Pozole Verde
1 teaspoon oil
1 large onion, chopped
2 cloves garlic, minced
1 lb carrots, sliced
4 stalks celery, sliced
1 lb chicken (breasts or wings)
1 28oz can hominy, drained
2 quarts low sodium chicken broth
1 teaspoon salt
½ teaspoon pepper
½ teaspoon oregano
1 cup cilantro
2 green chile peppers (more or less depending on spice tolerance)
1-2 tablespoons water
Toppings
1 bunch radishes, sliced
1 avocado, sliced
1 red bell pepper, diced
1 cup cilantro, chopped
Instructions
Heat oil over medium heat in a large soup pot or dutch oven. Add onion, garlic, carrots, and celery and cook until softened and beginning to brown, about five minutes.

Add whole chicken breasts (or wings) and drained hominy to pot with broth. Add salt, pepper, and oregano and bring to a boil, then simmer over medium heat until chicken is cooked throughout, about 20 minutes.

In the meantime, add cilantro, peppers, and water to a blender or small mixer and blend until smooth, adding more water if needed.

When chicken is cooked throughout, remove chicken breasts from soup pot and let cool. Then use fork to shred cooled chicken and add back to pozole. Add cilantro and pepper liquid to soup and mix well, adding more salt or peppers to taste.

Enjoy!
Notes
Leftovers & Storage: Pozole Verde is like most other soups and gets more delicious a day or two after it is made. Leftover Pozole Verde can be stored in the refrigerator for up to five days, or frozen for up to a few months before being reheated and enjoyed again.
Nutrition: This Pozole Verde is a surprisingly healthy dish and a light option for your next soup night. It is high in protein and fiber and low in fat, while providing an array of nutrients from the high amounts of vegetables. The sodium is on the upper end of the recommendations per meal, however reducing the salt used in the recipe will make the sodium levels even lower.
Nutrition Information:
Yield:
6
Serving Size:
1 serving
Amount Per Serving:
Calories:

429
Total Fat:

19g
Saturated Fat:

4g
Trans Fat:

0g
Unsaturated Fat:

13g
Cholesterol:

71mg
Sodium:

1033mg
Carbohydrates:

38g
Fiber:

9g
Sugar:

9g
Protein:

29g