Roasted Tomato Leek Soup, an easy homemade tomato soup with leeks, garlic and fresh basil. A creamy vegan tomato soup that's perfect for tomato season!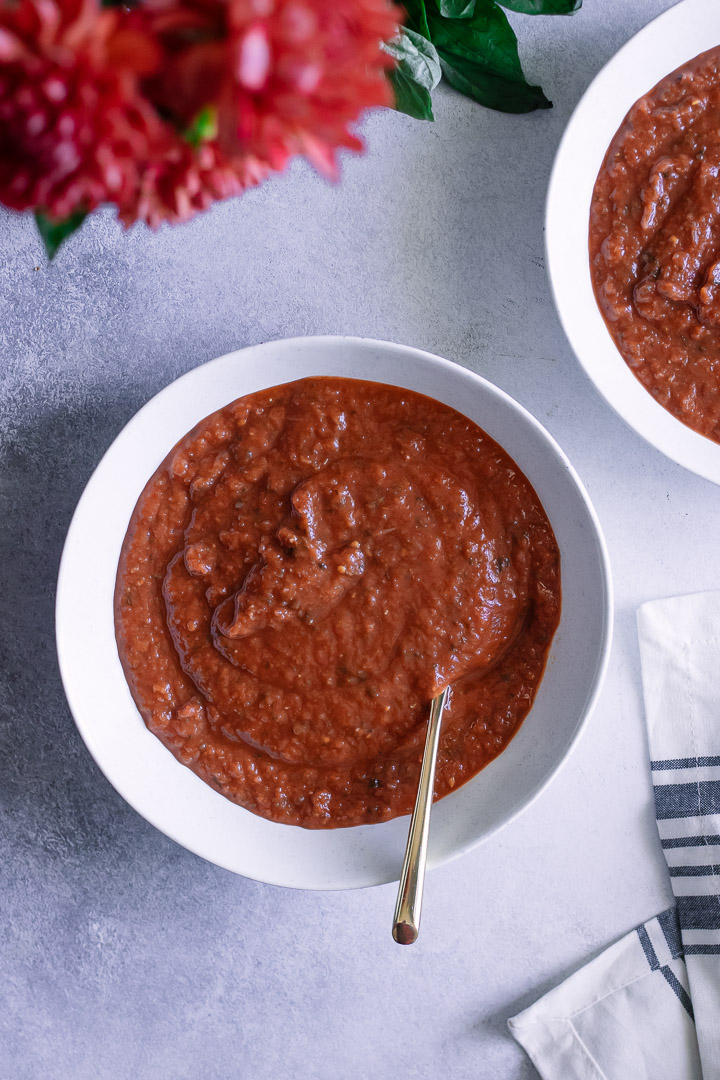 Love tomato soup? So do we! When the end of summer tomato harvest starts and we're drowning in tomatoes, this creamy plant-based tomato and leek soup is on our menu every week.
👉 Here are three reasons you'll LOVE this tomato leek soup:
It's creamy without the dairy. Think you have to have dairy for a creamy-tasting tomato soup? Think again! This soup is thick and smooth, without the cream.
It's easy. Simply roast the tomatoes, cook the leeks, then simmer and blend. Easy peasy!
It's great for freezing. Make a big batch of this soup and freeze to eat all winter long.
Ready to learn how to make a dairy-free tomato and leek soup? Let's do it!
---
🎥 Recipe video
Watch me make this roasted tomato soup in the YouTube video below and then scroll down for step-by-step photo instructions and to print the recipe card.
---
🍅 Ingredients + tools
Here are the ingredients you'll need for this simple soup:
Tomatoes: The base of this soup, you'll need about 3 pounds of tomatoes. Any kind will work, we often use a mixture of heirlooms, romas, and cherry tomatoes — whatever we have in the garden that year. We roast the tomatoes to bring out the rich flavor, and then use their liquids as a liquid base for the soup.
Leeks: As a member of the onion family, leeks lend an interesting and delicious flavor to tomato soup.
Basil: Who can make tomato soup without basil? Throw the whole bunch into the pot, we're blending the soup at the end and even the basil stems add great flavor to the soup stock.
Garlic, red pepper, salt, black pepper: Seasonings that add a bit of bite and depth of flavor.
Oil: Just a bit of oil helps the tomatoes and leeks get a golden brown color (and lots of flavor!).
Recommended tools: sheet pan, large soup pot or dutch oven, handheld immersion blender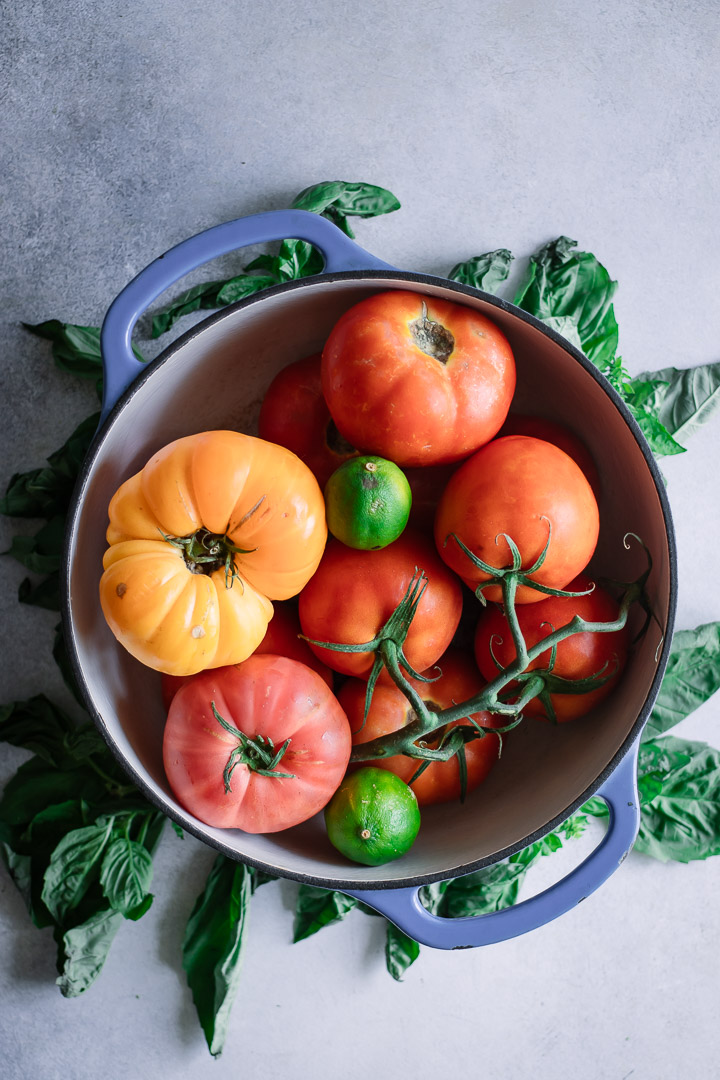 ---
🥣 How to make (step-by-step photos)
1️⃣ Step One: Preheat the oven + prep the tomatoes
First, preheat the oven to 400° F (200° C) to roast the tomatoes.
Cut the tomatoes in half or quarters, depending on their size, and toss them with olive oil. Arrange them on a sheet pan and sprinkle with salt and pepper.
When the oven is ready, roast the tomatoes until they begin to brown, become smaller, and they release their liquid into the pan. This usually takes about 25-30 minutes, depending on your oven.
👉 Important tip: Don't cook the tomatoes too long! We want to take the tomatoes out when the pan is full of tomato liquid because we'll be using that tasty tomato juice as the base of our soup stock. So don't let the liquid evaporate!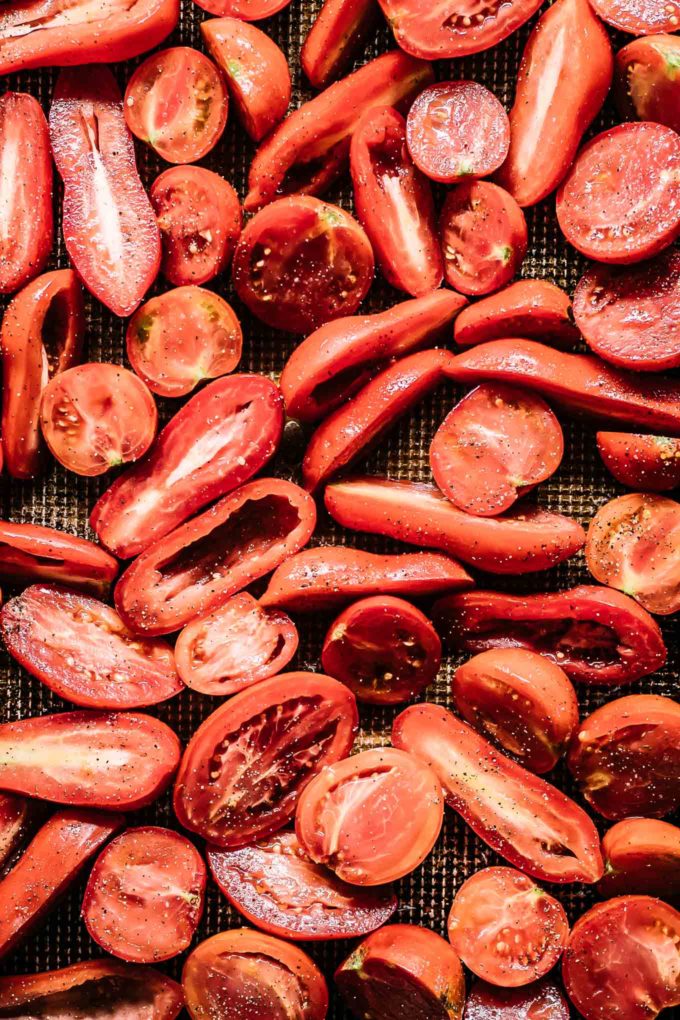 ---
2️⃣ Step Two: Cook the leeks + garlic
While the tomatoes are cooking, heat some oil in a soup pot and add sliced leeks. Cook until they begin to get brown and soften, usually about 5 minutes.
Then add the garlic and cook 1-2 minutes more, then turn off the heat so you don't overcook them while the tomatoes are cooking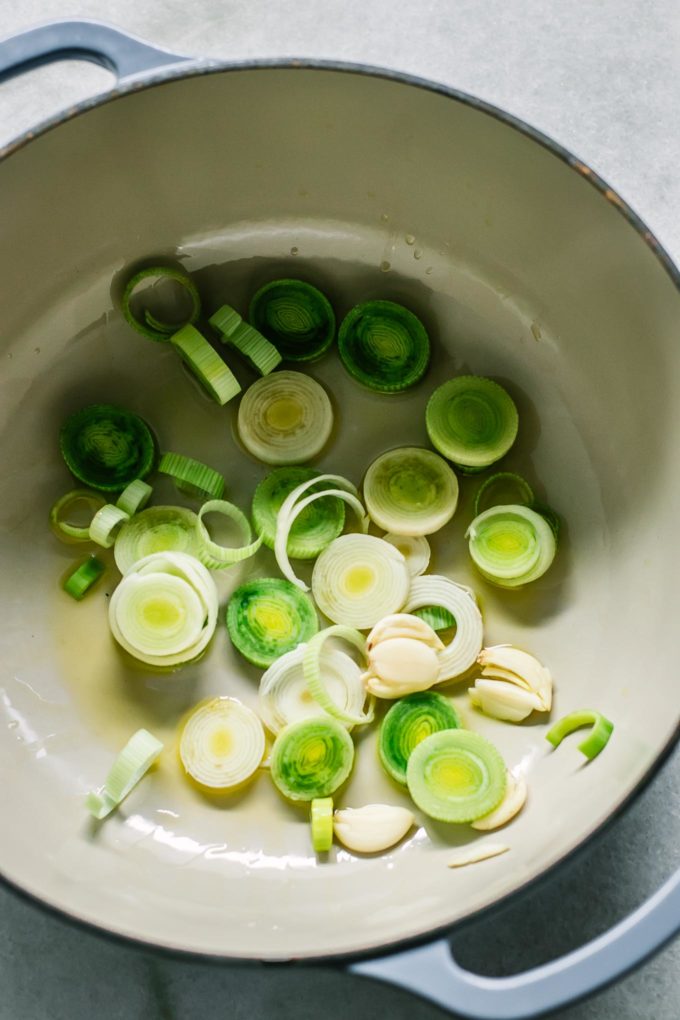 ---
3️⃣ Step Three: Add tomatoes + juice to the pot
When the tomatoes have cooked and released their juices, remove the pan from the oven and pour the tomatoes and the liquid into the soup pot with the leeks and garlic.
Then add about 2 cups of vegetable broth, a bunch of basil, and a sprinkle of red pepper flakes, salt, and ground black pepper.
Bring the soup to a boil, then reduce the heat and let the soup simmer covered for about 20 minutes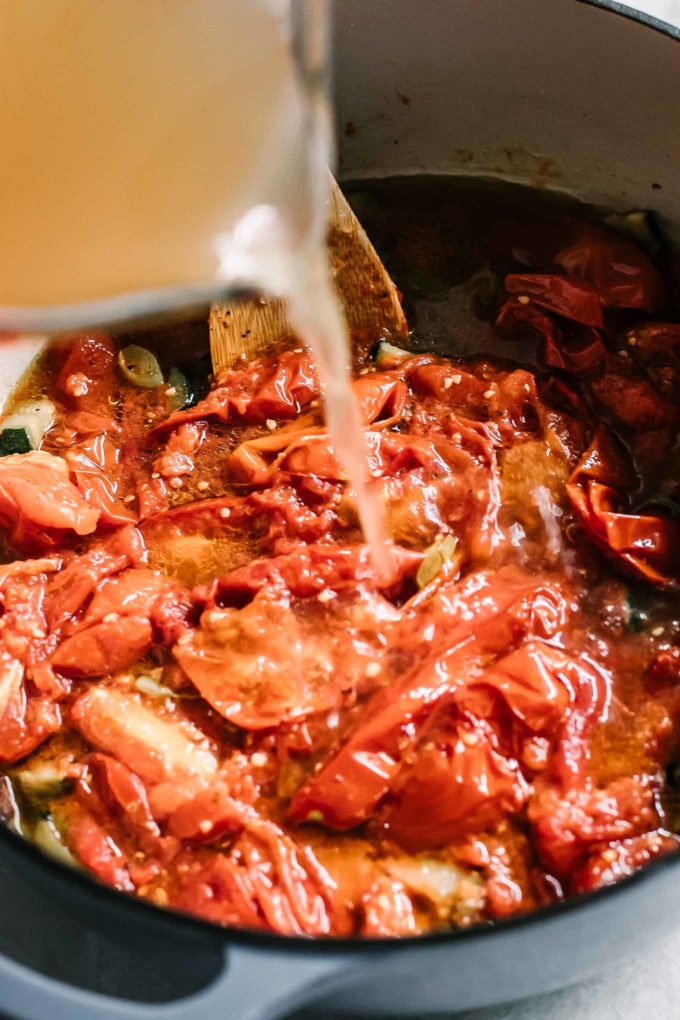 ---
4️⃣ Step Four: Blend the soup
After simmering the soup, check on the amount of liquid in the soup compared to the tomatoes and leeks.
👉 Important tip: We're looking for the broth to cover the tomatoes and leeks, but not too much broth or else after blending the soup will be too watery. It's better to have less liquid and add more after blending than have too much and have a watery soup.
Blend the soup with an immersion blender (or use a regular blender), and then add more vegetable broth if the soup is too thick. Give the soup a taste and add more seasonings, if needed.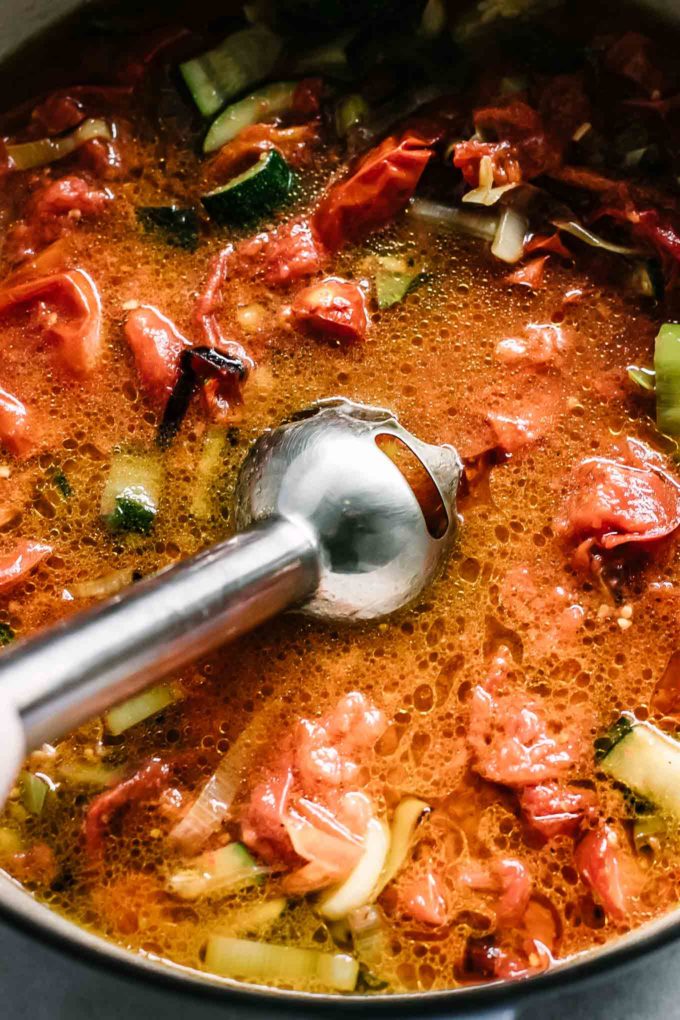 ---
❓Recipe questions + quick tips
What are the best tomatoes for tomato soup?
Any type of tomatoes are delicious in tomato soup, but large tomatoes like heirlooms or romas are typically easier because they are larger and hold more flavorful liquid. However, smaller tomatoes like cherry tomatoes are also tasty in tomato soups.
How can I blend soup without an immersion blender?
Tomato soup can be blended by scooping the soup into a regular blender, or into a small handheld blender. However, and immersion blender is made to blend inside the soup pot so it is a handy appliance to have on hand if you make tomato soup often.
How long can you store tomato soup in the freezer?
Tomato soup can be stored in the freezer for up to two months, or longer if it does not show signs of freezer burn.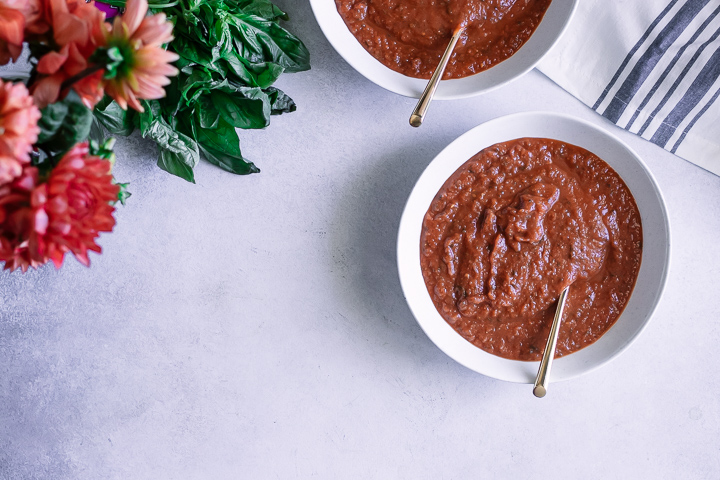 ---
🥖 How to serve
Serve this tasty tomato soup with:
A sandwich: Make a grilled cheese(less) sandwich for dipping into tomato soup.
Crusty bread: Dunk a piece of sourdough or ciabatta bread into this tasty soup.
Homemade croutons: Make sourdough croutons or ciabatta bread croutons, or get creative and make croutons from leftover rye bread or leftover pumpernickel bread croutons.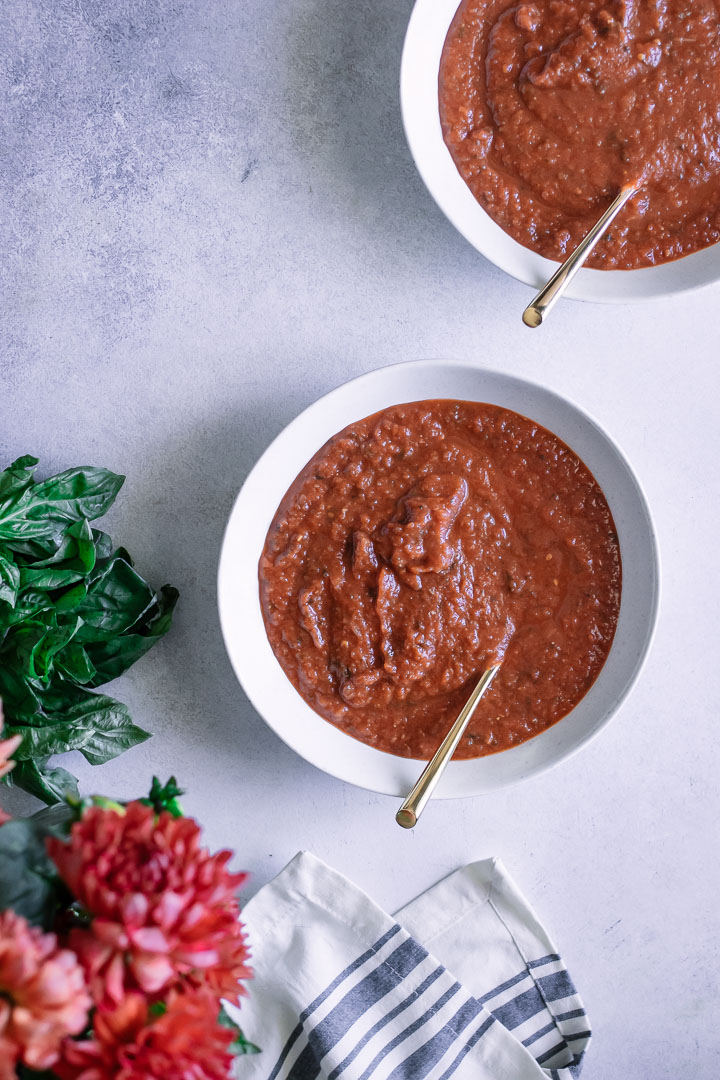 ---
🧊 How to store
Tomato soup is perfect for big batch cooking and meal prepping. Here's how to store it:
Refrigerator storage: After cooling, store in an airtight container in the refrigerator for up to 5 days.
Freezer storage: Freeze in an airtight container for up to two months (or longer), then rethaw by placing in the refrigerator overnight or on the counter for a few hours before reheating.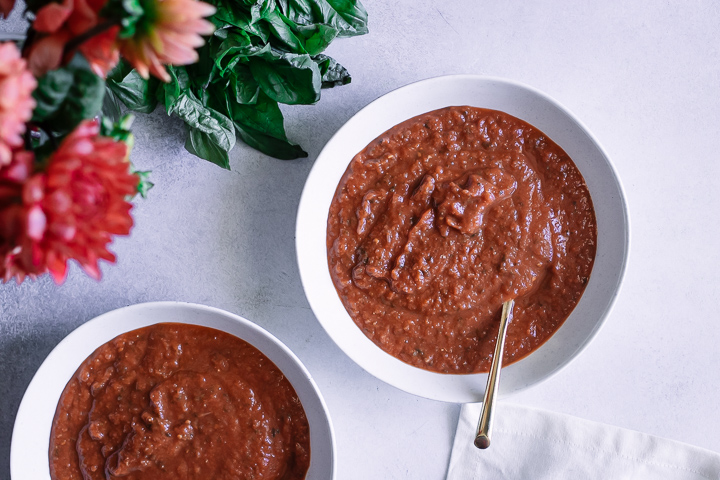 ---
🍲 More savory soup recipes
Looking for more soup recipes? We've got you covered: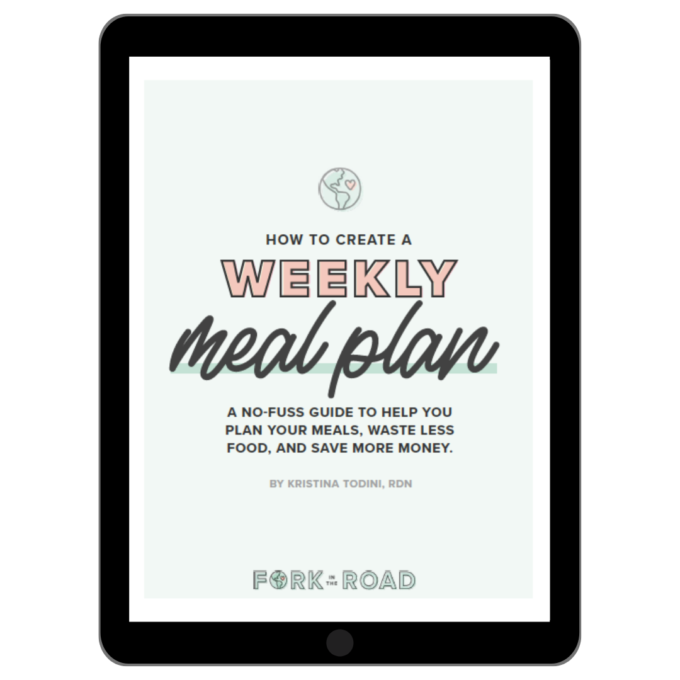 Roasted Tomato Leek Soup Recipe
Roasted Tomato Leek Soup, an easy homemade tomato soup with leeks, garlic and fresh basil. A creamy vegan tomato soup that's perfect for tomato season!
Ingredients
3

pounds

tomatoes

2

tablespoons

olive oil

divided

2

medium

leeks

peeled and whites sliced

3

whole

garlic cloves

minced

1

quart

vegetable broth

1

bunch

fresh basil

about 1 cup

1

pinch

red pepper flakes

1

pinch

salt and pepper
Instructions
Roast tomatoes: Preheat oven to 400 degrees. Cut tomatoes in halves or quarters, then toss with 1 tablespoon olive oil and sprinkle with salt and pepper. Arrange on cookie sheet and roast for about 30 minutes, or until the tomatoes cook down and release their liquids.

Cook leeks: In a large pot, heat remaining 1 tablespoon oil. Add sliced leeks and cook until they begin to soften and brown, about 5 minutes. Then add garlic and cook 1-2 minutes more. Turn off heat until tomatoes are done roasting.

Add roasted tomatoes: When the tomatoes have cook down and the sheet pan is full of the released tomato liquid, remove the pan from the oven and pour the liquid and the tomatoes into the pot with the leeks. Add half of the broth (about 2 cups) of the broth, basil, and a sprinkle of red pepper, salt, and pepper. Bring the soup to a boil, then reduce to a simmer, cover, and cook 20 minutes.

Blend the soup: After the soup has simmered, check on the liquid level. If the liquid seems low in relation to the tomatoes the soup will be very thick and you can add more broth, but if there is too much liquid then the soup will be too watery. Once you've confirmed the liquid amount, use an immersion blender to blend the soup until smooth.

Serve the soup: Serve soup immediately with crust bread or homemade croutons, or let the soup cool and store in the refrigerator or freezer until ready to eat.
Video
Notes
Recipe notes: Getting the liquid ration correct is important as you don't want a soup that's too thin. Err on the side of less broth before blending, you can always add more after the soup has blended if it's too thick (see photo in the post above for an example of the correct broth to ingredient ratio).
Leftovers and storage: Soup can be refrigerated and eaten for up to 5-6 days, or frozen and saved for about a months (it may last longer than this but we love this soup so much that it never lasts any longer).
Nutrition notes: This tomato soup recipe is completely plant-based and low in sodium, but high vitamin C and vitamin A.
Nutrition
Serving:
1
serving
Calories:
89
kcal
Carbohydrates:
15
g
Protein:
3
g
Fat:
3
g
Saturated Fat:
1
g
Polyunsaturated Fat:
1
g
Monounsaturated Fat:
2
g
Sodium:
655
mg
Potassium:
597
mg
Fiber:
3
g
Sugar:
8
g
Vitamin A:
2795
IU
Vitamin C:
35
mg
Calcium:
44
mg
Iron:
1
mg
UPDATE: This recipe was originally posted in September 2018, but was updated with new photos and clearer instructions in August 2021.