Roasted Tomato Leek Soup
Roasted Tomato Leek Soup, an easy homemade tomato soup with leeks, garlic and fresh basil. Simple vegan soup that's perfect for meal prep!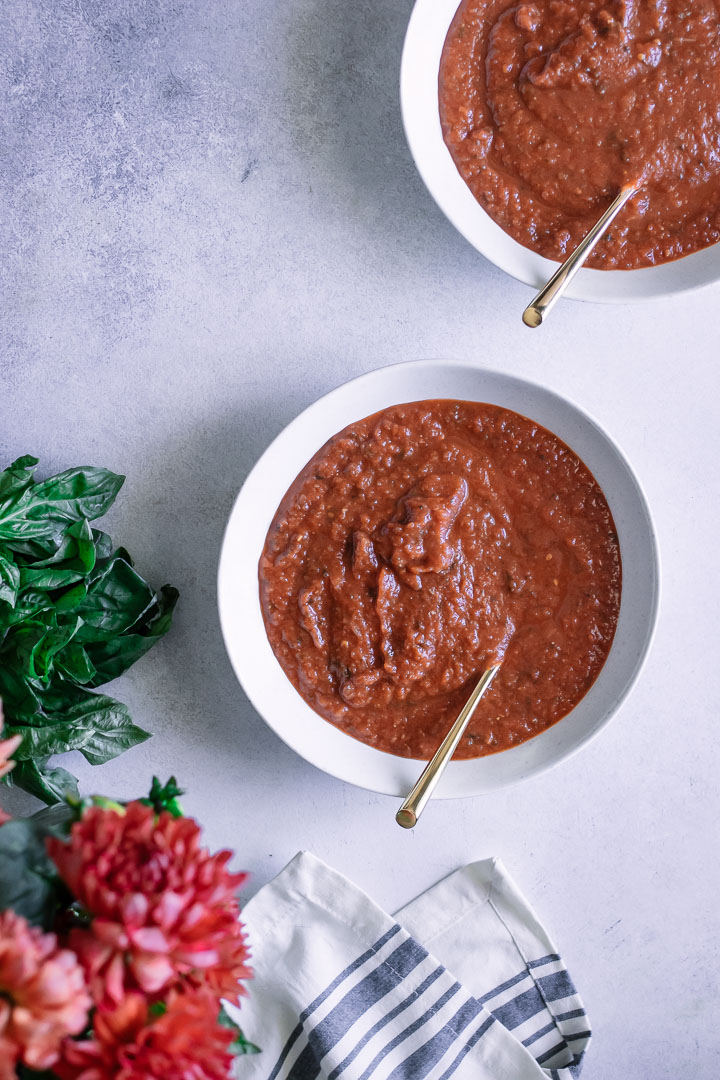 I was never a fan of tomato soup, honestly. I did not like the canned creamy and over-salted version that sat in our cupboard as a child (uneaten, not surprisingly).
It wasn't until I tried a taste of homemade tomato and basil soup at a friend's house a few years ago that I considered trying my hand at making my own.
And boy am I glad I did, because this Roasted Tomato Leek Soup is now famous in our house.
During tomato season in late summer and early fall this soup is a weekly occurrence. And when the market down the road puts one pound bags of tomatoes on sale for $0.99 you can believe that I'm coming home with bags full of tomatoes.
It's all I can do to find recipes to use them up, and this tomato soup is one of my favorites.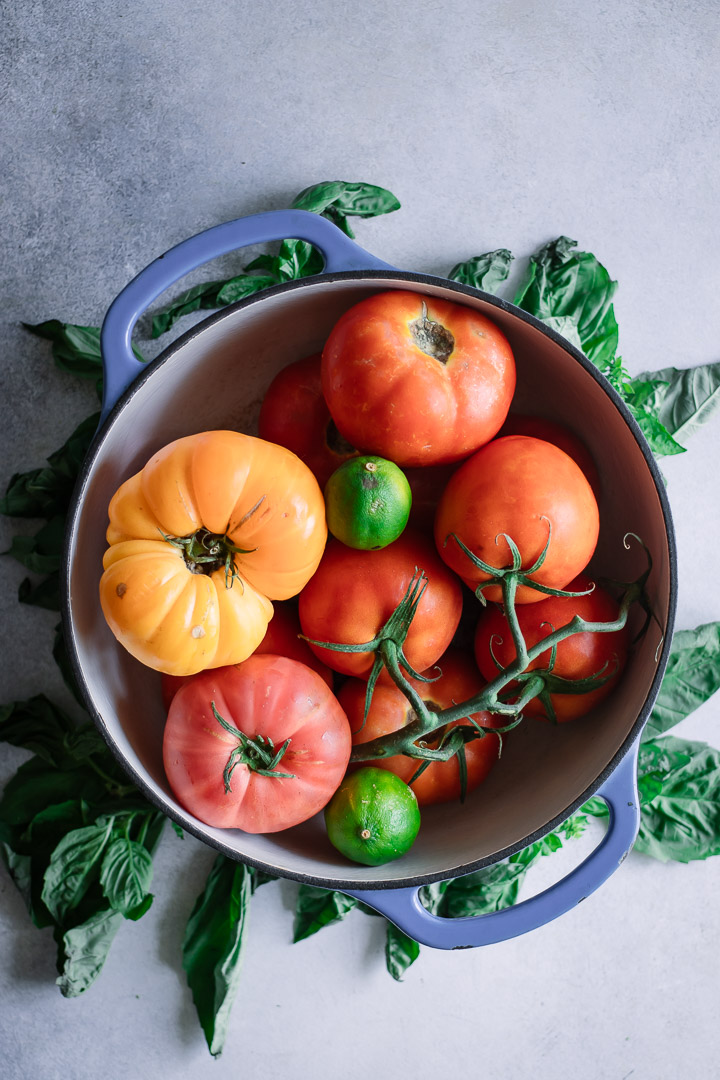 This recipe has evolved over time, as most recipes should. It started as a take on a classic tomato recipe and evolved into one with onions, garlic, basil and leeks.
No butter, no dairy, no cream. Just fresh vegetables and vegetables broth and a whole lot of flavor.
One thing that is absolutely not optional with this tomato soup is serving it with a side of bread. I'm particularly partial to sourdough since I live in San Francisco, but a fresh ciabatta or french baguette will also get the job done.
Because this tomato soup is for dipping, first and foremost.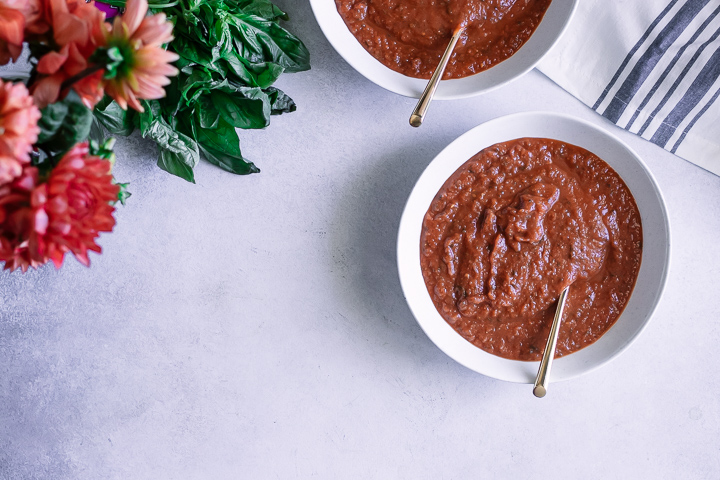 How to make Roasted Tomato Leek Soup
First you'll start with about 3 pounds of fresh seasonal tomatoes. Cut them in half, drizzle them with olive oil, sprinkle with salt and pepper, and roast them in the oven for about 40 minutes or until they brown and release their juices.
In the mean time, cook the onions, garlic, and leeks in a soup pot. When they're softened, add your spices and broth. Then remove the tomatoes from the oven and add to the soup pot, bringing the whole mixture to a boil and then a slow simmer.
Before serving, add the basil and any salt and pepper to taste. Then blend with an immersion blender until smooth and serve with a side of sourdough, homemade croutons made from ciabatta bread, DIY sourdough croutons, or DIY rye bread croutons. The BEST tomato soup!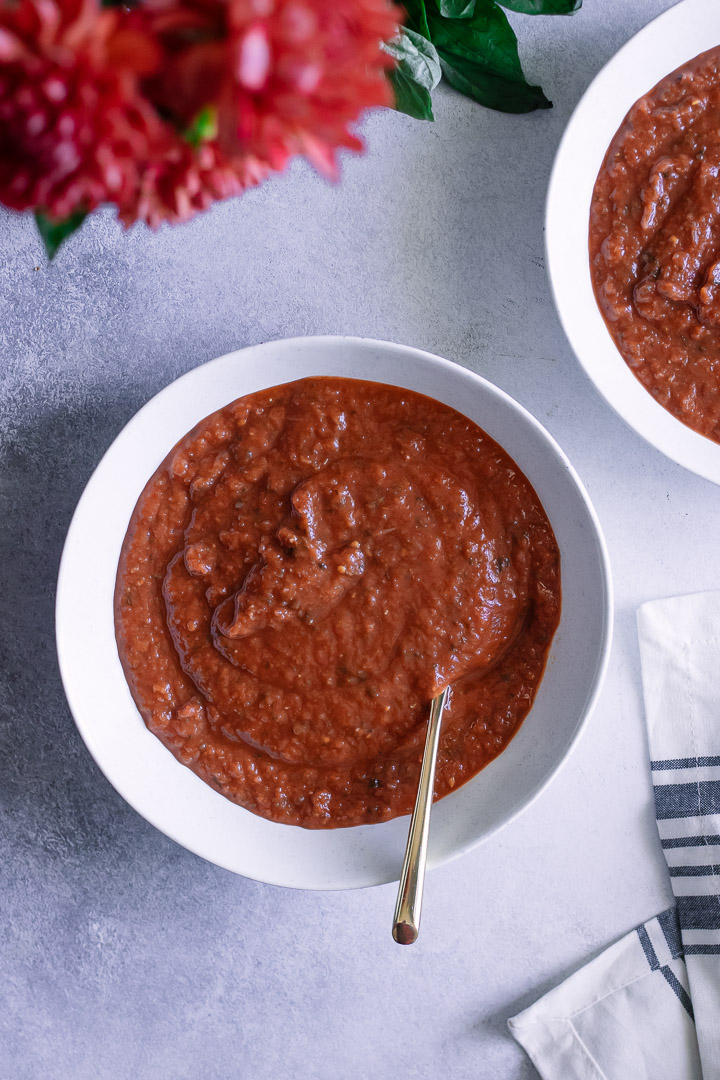 Roasted Tomato Leek Soup: Tips, Tricks & Tools
This soup is as simple a soup recipe can be, but there are a few tricks and tools to make your time in the kitchen most efficient.
A sturdy, ceramic soup pot. While I'm partial to my Lodge ceramic dutch oven, I have my eye on a larger soup pot because we like making extra to freeze and eat lunches all month.
An immersion blender. I'm not one to collect needless kitchen gadgets (attempting to be a kitchen minimalist, plus my kitchen is about 100 square feet), but buying an immersion blender for soups changed my life. Before that I was scooping the soup into a blender, which was tedious and made a huge mess. The immersion blender was a game changer and took me from a soup amateur to master.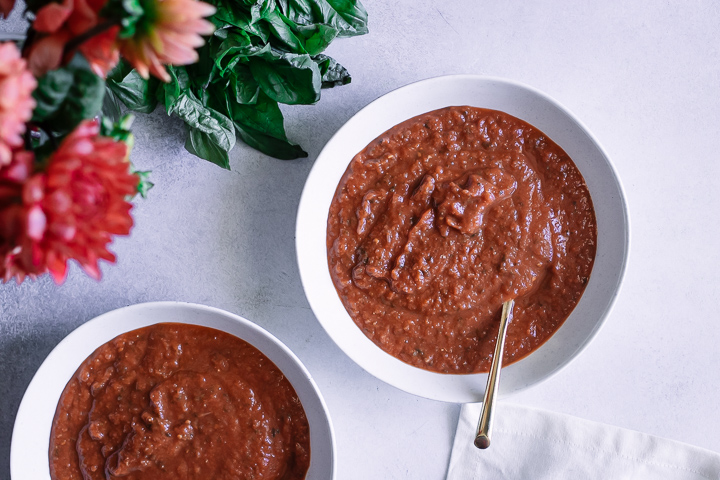 ---
Craving more simple seasonal soup recipes? Check out our Vegan Roasted Corn Potato Soup and Thai Basil, Lemongrass & Forbidden Rice Soup recipes, using fresh season summer vegetables.
🌟 Did you make this recipe? Leave a ⭐️⭐️⭐️⭐️⭐️ star rating and a comment below to let us know how it turned out. Save it for later by pinning to your favorite Pinterest board and make sure to tag us on Fork in the Road's Instagram to show off your sustainable food creations!
Yield: 6 servings
Favorite Roasted Tomato Leek Soup
Roasted Tomato Leek Soups, an easy homemade tomato soup with leeks, garlic and fresh basil. Perfect with a side of fresh ciabatta or sourdough bread!
Prep Time 15 minutes
Cook Time 45 minutes
Total Time 1 hour
Ingredients
3 pounds (1.3 kg) tomatoes
3 tbsp quality olive oil
1-2 leeks stalks
1-2 large yellow onions
2 cloves garlic
1 quart (32 oz, 946 ml) vegetable broth, low sodium
1 tsp red pepper flakes
1 bunch fresh basil
1/2 teaspoon sea salt
1/4 teaspoon ground black pepper
Optional (but highly recommended): 1 loaf sourdough bread
Instructions
Preheat oven to 400 degrees
Cut tomatoes in halves or quarters and slice leeks. Toss with 1 tbsp olive oil and salt and pepper. Arrange on cookie sheet and roast for about 30 minutes.
While tomatoes and leeks are roasting, slice onions and garlic and cook in soup pot or dutch oven over medium heat until they begin to soften (about 5 minutes).
Add broth and red pepper. Simmer on medium-low heat about 5 minutes.
When tomatoes have roasted for about 30 minutes, add to soup pot (don't forget the liquid on the cookie sheet!). Add basil and simmer for 15-20 minutes to combine flavors.
Using immersion blender, blend soup until smooth.
Add salt and pepper to taste and serve immediately with fresh sourdough bread.
Write and thank me because you're now obsessed.
Notes
Leftovers & Storage: Soup can be refrigerated and eaten for up to 5-6 days, or frozen and saved for about a month (it may last longer than this but we love this soup so much that it never lasts any longer).
Nutrition: This tomato soup recipe is completely plant-based, low in calories, and low in sodium, but high vitamin C and vitamin A.
Nutrition Information:
Yield:
6
Serving Size:
1 serving
Amount Per Serving:
Calories: 323
Total Fat: 9g
Saturated Fat: 2g
Trans Fat: 0g
Unsaturated Fat: 7g
Cholesterol: 1mg
Sodium: 711mg
Carbohydrates: 50g
Fiber: 3g
Sugar: 7g
Protein: 11g
We are participant in the Amazon Services LLC Associates Program, an affiliate advertising program designed to provide a means for us to earn fees by linking to Amazon.com and affiliated sites.