Creamy Avo Spinach Raspberry Smoothie
Creamy Avo Spinach Raspberry Smoothie, a simple green smoothie made with spinach, avocado, banana and raspberry sauce. The perfect plant-based way to start your day!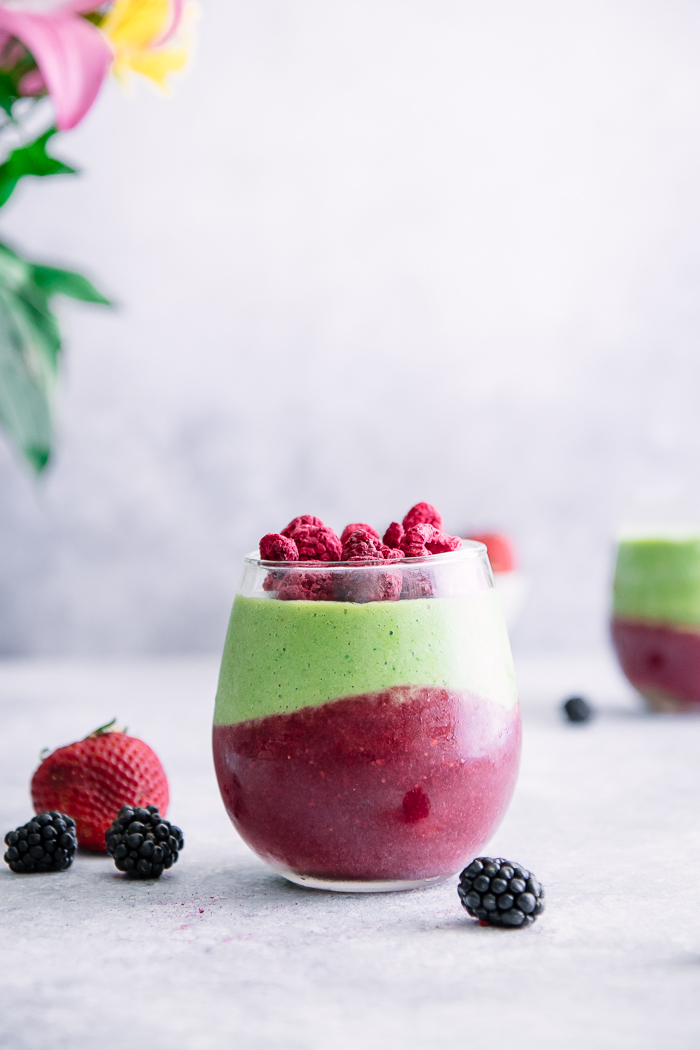 Let me fill you in on a little secret: I'm a former smoothie hater.
If you've followed Fork in the Road, you may have heard me express my dislike for smoothies. In fact, for well over a year the Fork in the Road recipe index started out by saying "this is not a smoothie bowl kind of blog."
Well, I'm here to walk that back. But let me explain: my dislike was not for smoothies per se, it was that I did not view them as a proper meal replacement. Are they a refreshing treat? Yes. Do they replace my breakfast or lunch? No. I've never found that smoothies keep me full and satisfied like a proper breakfast or snack, so I never bothered with them.
That is, until I realized that a properly made smoothie with a good amount of healthy fats CAN be satisfying. And add a bit of protein powder and bulking ingredients like oats or chia seeds, and you have yourself a nice balanced snack.
This Creamy Avo Spinach Raspberry Smoothie has only five ingredients and comes together in five minutes, which is exactly the kind of on-the-go afternoon mini-meal I enjoy on busy days. Packed with healthy fats from avocado, iron from spinach, and vitamin C and fiber in raspberries, this super simple thick smoothie packs a nutritious punch on top of being delicious.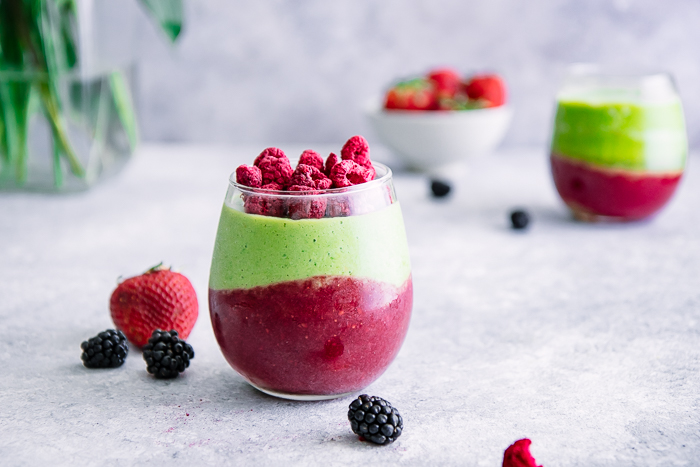 Creamy Avo Spinach Raspberry Smoothie: Easy as 1-2-3
Combine avocado with a handful of spinach and a frozen banana in a blender. Add your favorite protein powder and a bit of plant-based milk (my go-to is Ripple pea milk right now).
Blend raspberries and pour into glass, then add green smoothie on top.
Add your favorite smoothie extras: chia seeds (for a thicker consistency), ground flax seeds, adaptogens like ashwagandha, seeds, etc. Or try my favorite: freeze dried raspberries!
Tips, Tricks & Tools: Other than a blender, no special equipment is needed to make this green smoothie. It's simple and easy!
---
More plant-powered smoothie recipes
Did you make this Creamy Avo Spinach Raspberry Smoothie? Leave a comment below and let us know how it turned out, save it to your favorite smoothie Pinterest board, or tag us on Instagram so we can see your smoothie creations.
Yield: 2 smoothies
Creamy Avo Spinach Raspberry Smoothie
Creamy Avo Spinach Raspberry Smoothie, a simple green smoothie made with spinach, avocado, and raspberry sauce. The perfect plant-based way to start your day!
Prep Time 5 minutes
Total Time 5 minutes
Ingredients
1/2 avocado (68g), peeled and seeded
2 cups (60g) spinach
1 medium frozen* banana (118g)
1 cup plant-based milk (240ml)
1 cup fresh raspberries (123g)
Optional: ½ cup freeze dried raspberries, vegan protein powder, adaptogen blend
Instructions
Creamy Avo Spinach green smoothie: Combine avocado, spinach, banana, and milk in a blender and pulse until smooth, adding more milk if needed. Set aside.
Raspberry sauce: Blend fresh raspberries raspberries in blender. If too thick, add a splash of plant-based milk or water to provide liquid consistency.
Pour raspberry sauce into bottom of glass and then top with green smoothie, adding optional toppings if using (I used freeze dried raspberries). Enjoy!
*If banana is not frozen, add 2-4 ice cubes to blender with green smoothie ingredients.
Notes
Leftovers & Storage: This green smoothie recipe can be frozen for up to two days, however the texture be icy and not smooth. We froze one portion and enjoyed it two days later and it was still delicious, but had a thicker and icier consistency.
Nutrition: This Creamy Avo Spinach Raspberry Smoothie is a good source of fiber and is low in sodium and saturated fat. It also provides healthy fats, which contribute to brain health and keep you full and satisfied.
Nutrition Information:
Yield:
2
Serving Size:
1 smoothie
Amount Per Serving:
Calories: 333
Total Fat: 13g
Saturated Fat: 3g
Trans Fat: 0g
Unsaturated Fat: 9g
Cholesterol: 10mg
Sodium: 164mg
Carbohydrates: 44g
Fiber: 11g
Sugar: 16g
Protein: 16g
We are participant in the Amazon Services LLC Associates Program, an affiliate advertising program designed to provide a means for us to earn fees by linking to Amazon.com and affiliated sites.