Creamy Avocado Spinach Raspberry Smoothie
Creamy Avocado Spinach Raspberry Smoothie, a simple green smoothie made with spinach, avocado, banana, and raspberry sauce. The perfect plant-based way to start your day!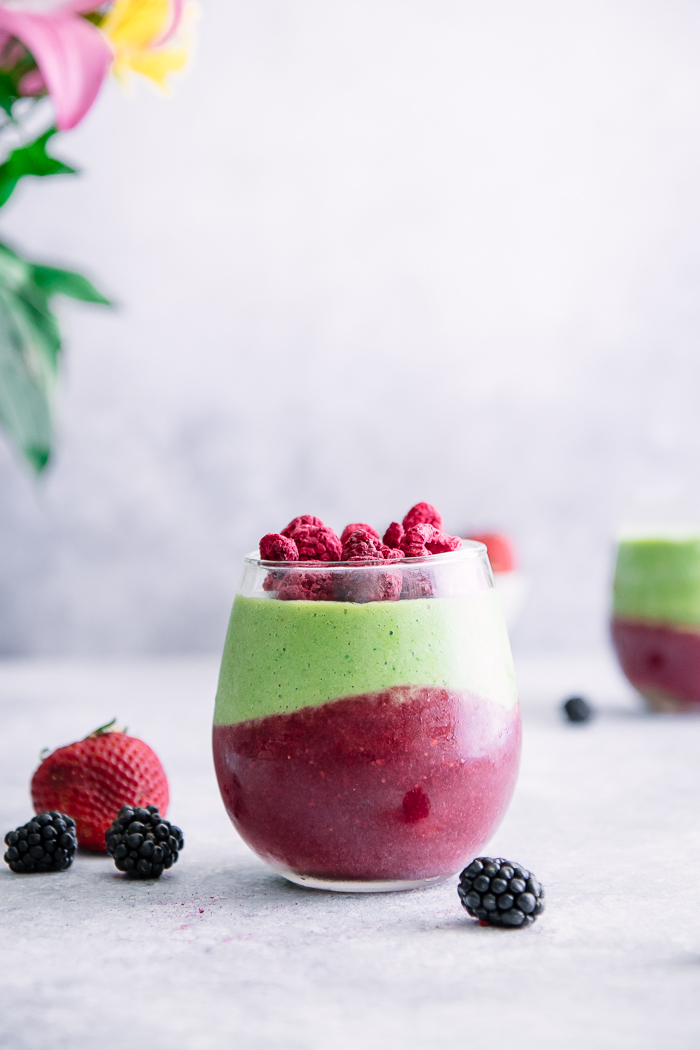 Who knew smoothies can be a satisfying, balanced snack? This raspberry and spinach smoothie is packed with healthy fats from avocado, iron from spinach, and vitamin C and fiber in raspberries. It packs a nutritious punch on top of being delicious!
👉 Here are three reasons why you should make a spinach raspberry smoothie:
It's easy as 1-2-3. With just 5 ingredients that you most likely already have on hand, and only 5 minutes of prep time: this smoothie is ready in no time. Perfect for breakfast in the morning or as a pick-me-up when you need to re-energize.
You don't need any special equipment. All you need to make a raspberry spinach smoothie is a blender!
It's plant-powered. This recipe uses all plant-based ingredients, so it's vegan friendly and super nutritious.
Are you ready for this simple 5 ingredient smoothie with raspberries and spinach? Let's do it!
---
🥑 Ingredients
This raspberry smoothie features the best nutrient-rich ingredients, including avocado, spinach, and fruit! Here's what you'll need:
Avocado: we love adding avocado to smoothies for their creaminess and healthy fats!
Spinach: mixed into the smoothie for extra nutrients, fiber, and color! If you don't have spinach on hand, you can use other types of greens like kale.
Banana: one frozen banana makes the smoothie extra creamy and smooth.
Plant-based milk: the liquid used to blend the ingredients together. You can use any type of milk that you'd like—those with a thicker consistency like oat milk or pea milk tend to work better for smoothies.
Raspberries: you'll need one cup of raspberries to bring this smoothie recipe together.
Optional: 1/2 cup freeze-dried raspberries, vegan protein powder, adaptogen blend
Recommended tools: blender or food processor
---
🥣 How to make (step-by-step photos)
1️⃣ Step One: Slice and freeze the banana
First, slice the banana into ½ inch (1-2 cm) slices, place on a plate or in a bowl, and freeze for a minimum of 15 minutes before making this smoothie. Don't freeze the entire banana with the peel, or else you won't be able to remove the outer peel before using it because it will be too hard (we've made this mistake).
👉 Why use frozen banana in smoothies instead of ice? Freezing banana slices (and other fruit) instead of using ice is the perfect way to get a smooth consistency that isn't grainy from the blended ice. You can add ice if you need to when making the smoothie, but we like to start with a frozen fruit base and then add in ice if we need a thicker consistency.
---
2️⃣ Step Two: Make the avocado spinach base
Next, combine avocado with a handful of spinach and a frozen banana in a blender. Add your favorite plant-based protein powder and a bit of plant-based milk (our go-to is pea milk or oat milk).
---
3️⃣ Step Three: Make the raspberry sauce
Pour the avocado spinach base into a smoothie glass, then wash out the blender.
Add raspberries to the blender and process until well-blended.
---
4️⃣ Step Four: Layer the smoothie + serve
Pour the blended raspberry sauce on top of the green smoothie base. The result is a colorful layered green and red smoothie!
Add your favorite smoothie extras: chia seeds (for a thicker consistency), ground flax seeds, adaptogens like ashwagandha, seeds, etc. Or try our favorite: freeze-dried raspberries!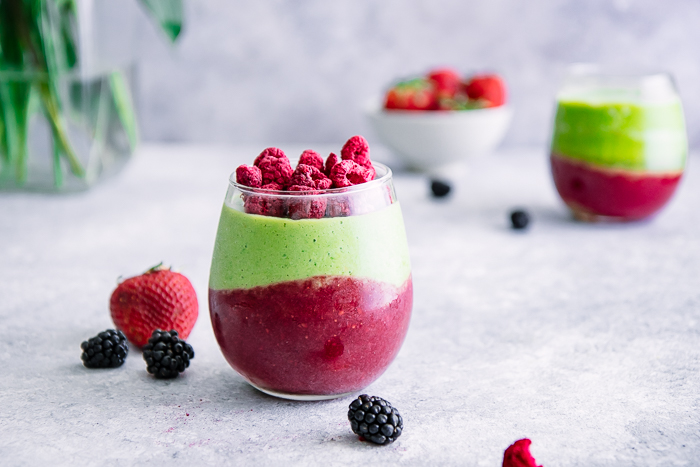 ---
❓ Recipe questions + quick tips
How do you make a smoothie without ice?
To make a smoothie without ice, freeze the fruit you're using first. The frozen fruit will do double duty as a flavorful ingredient and take the place of ice for a smoother consistency.
What plant-based milk should you use in a smoothie?
Any plant-based milk will do, but a milk alternative with a thicker consistency like oat milk or pea milk is best for smoothies. These thicker milks will make for a smoother, thicker textured smoothie.
Are fruit and spinach smoothies healthy?
Yes! Smoothies made with fruit and spinach are very healthy. The fruits and veggies are rich in vitamins and minerals, as well as disease-fighting antioxidants. Fruit and spinach smoothies are also high in fiber. To make smoothies even more filling and balanced, you can add healthy fat like nut butter, seeds, and avocados, and plant-based protein to smoothies for even more nutrition.
What does adding spinach to a smoothie do?
Adding spinach and other types of greens to smoothies is a great way to sneak more veggies into your diet. Specifically, spinach is a great source of vitamin K, iron, fiber, and antioxidants. You can't even taste it when it's mixed with fruit and other smoothie ingredients.
---
👉 How to serve
This spinach raspberry smoothie recipe is super simple and delicious. Here are some ways for you to enjoy it:
Enjoy as a superfood breakfast or snack: add an avocado spinach raspberry smoothie to your meal plan for the week! This recipe is full of nutrients from the fruits and veggies, so it's a great way to start your day or reenergize with in the afternoon.
Make it a bowl: switch up your usual smoothie routine by enjoying this in a bowl instead of a glass! Add toppings like dried hemp or chia seeds, coconut flakes, bee pollen, or other seasonal dried toppings.
Make it a meal: Make this smoothie more filling (and more nutrient-dense!) by adding oats, a protein like yogurt or protein powder, and a healthy fat like nut butter to round out the meal.
---
🧊 How to store
We suggest enjoying this smoothie when it's fresh, rather than freezing it. If you decide to freeze it, you can keep it in the freezer for up to two days. Keep in mind that the texture will be icy and not smooth.
---
♻️ Sustainable kitchen tips
Looking to take your sustainable kitchen to the next level? Us too! Here are some ways that you can get the most out of this recipe's ingredients:
Use frozen berries when making this out of berry season. Berries are typically a summer crop. However, they are a great fruit for freezing to enjoy all winter long!
Compost banana peels and other scraps. Any scraps you accumulate from the fruit and veggies in this recipe can be tossed in your compost bin (better off there than in a landfill!).
Make it during spinach season. The best time of year to add spinach to smoothies is when spinach is in season. That's in the Winter, Spring, and Fall in California. Find out when spinach is seasonal near you here.
---
🥤 More plant-powered smoothie recipes
Looking for more plant-powdered smoothies? We've got you covered: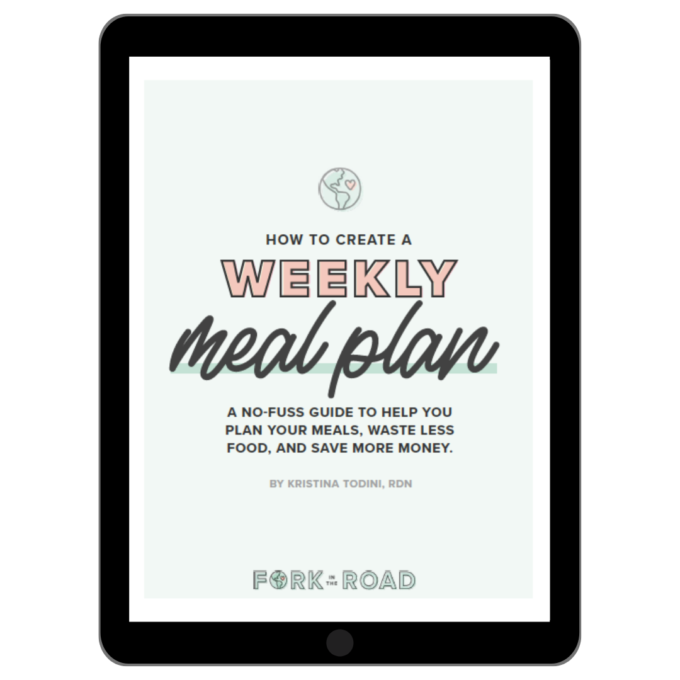 Creamy Avo Spinach Raspberry Smoothie
Creamy Avo Spinach Raspberry Smoothie, a simple green smoothie made with spinach, avocado, banana, and raspberry sauce. The perfect plant-based way to start your day!
Ingredients
½

whole

avocado

peeled and seeded

2

cups

spinach leaves

fresh or frozen

1

whole

banana

frozen

1

cup

plant-based milk

1

cup

raspberries

fresh or frozen

Optional:

½ cup freeze dried raspberries for topping, vegan protein powder, ice cubes if banana is not frozen
Instructions
Blend green spinach smoothie: Combine avocado, spinach, banana, and milk in a blender and pulse until smooth, adding more milk if needed. If banana is not frozen, add 2-4 ice cubes to blender with green smoothie ingredients. Set aside.

Make raspberry sauce: Blend raspberries in blender. If too thick, add a splash of plant-based milk or water to provide liquid consistency.

Mix smoothie + raspberry sauce: Pour raspberry sauce into bottom of glass and then top with green smoothie, adding optional toppings if desired. Then serve and enjoy!
Notes
Recipe notes: For a creamier smoothie, we highly recommend freezing the banana in sliced before making smoothie. Using frozen banana will eliminate the need to use ice in your smoothie, which means the smoothie will be much creamier. However, if your banana is not frozen then add a few ice cubes to step one.
Leftovers + storage: This green smoothie recipe can be frozen for up to two days, however the texture be icy and not smooth. We froze one portion and enjoyed it two days later and it was still delicious, but had a thicker and icier consistency.
Nutrition notes: This spinach and raspberry smoothie is a good source of fiber and is low in sodium and saturated fat. It also provides healthy fats, which contribute to brain health and keep you full and satisfied.
Nutrition
Serving:
1
serving
Calories:
103
kcal
Carbohydrates:
20
g
Protein:
4
g
Fat:
2
g
Saturated Fat:
1
g
Polyunsaturated Fat:
1
g
Monounsaturated Fat:
1
g
Sodium:
81
mg
Potassium:
320
mg
Fiber:
6
g
Sugar:
12
g
Vitamin A:
3080
IU
Vitamin C:
24
mg
Calcium:
217
mg
Iron:
2
mg
UPDATE: This recipe was originally published in June 2018 and was updated for clarity in November 2021.