Plant-Powered Purple Superfood Smoothie
Purple Superfood Smoothie, a simple smoothie recipe featuring acai, blackberries, grapes, and goji berries. A powerful purple blast of antioxidants!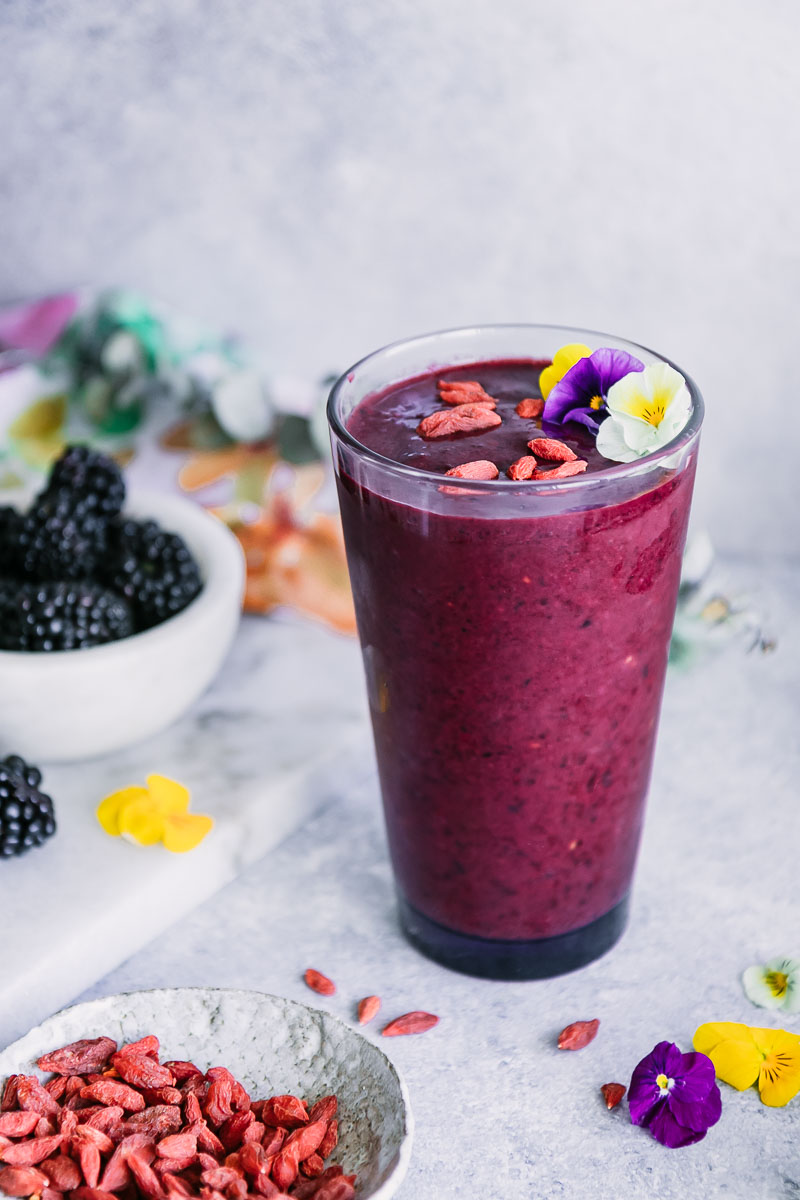 Are you passionate about purple plants? I love plants of all colors, but I hold a special place in my heart for purple-colored plants like plums, grapes, berries, and eggplant.
So when I set out to make the next recipe in my roundup of antioxidant-rich color-specific superfood smoothies, I knew the second superfood smoothie had to be purple.
So let's take a look at how purple superfoods get their color, the health benefits of purple foods, and how to make a simple and delicious Purple Superfood Smoothie.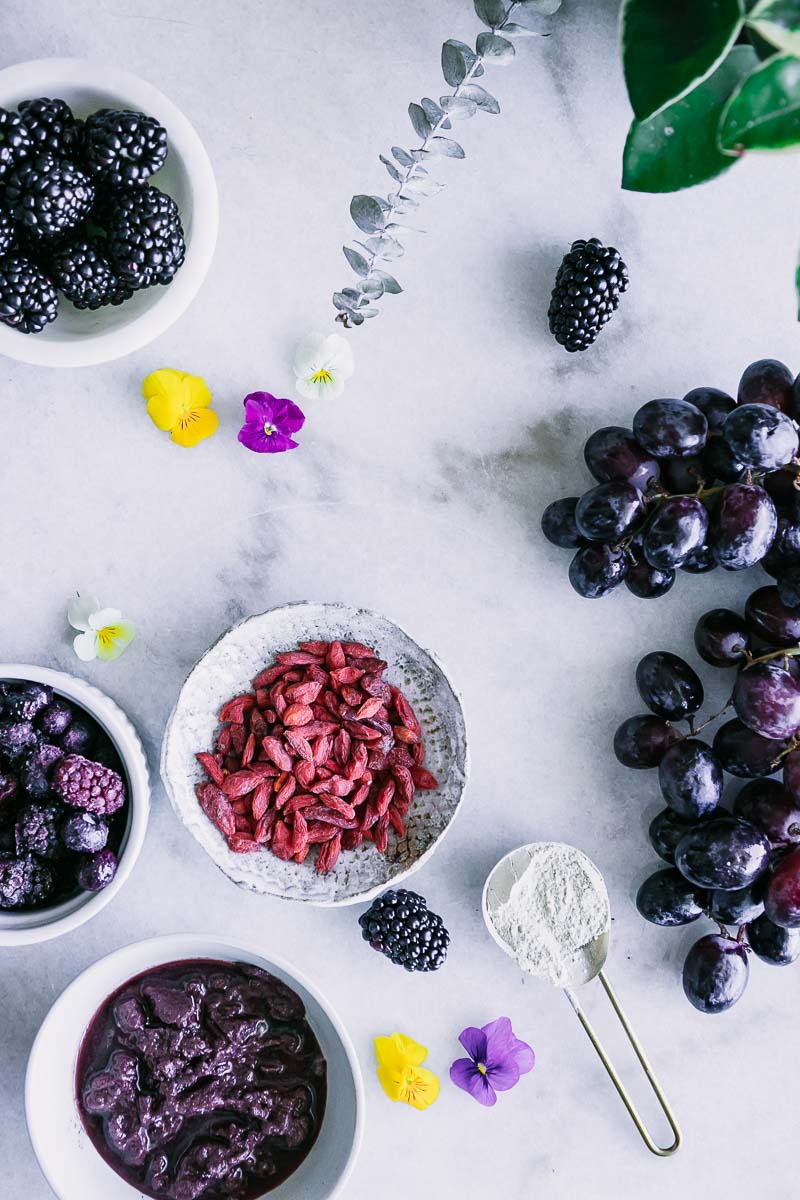 ---
What gives purple foods their color?
Do you "eat the rainbow," or eat a variety of fruits and vegetables in an array of colors?
The reason it's important to eat a variety of different colored plants is that produce obtains its bright color pigments from high concentrations of certain antioxidants, which are small compounds that assist your body is clearing free radicals (or unpaired electrons) that alter cell functions within the body and may trigger disease.
Purple foods, such as acai berries and beets, are high in phytonutrients called anythocyanins, which give plants their deep red, blue, and purple hues.
In nature, anthocyanins protect purple plants like fruits, vegetables, and flowers from sun damage and extreme temperatures, as well as attract pollinators like bees and butterflies.
In humans, preliminary research has linked anthocyanins with many health benefits, including improved cardiovascular health, cancer prevention, and even anti-aging properties.
---
What are examples of purple superfoods and what are their potential health benefits?
Purple superfoods are abundant in nature and are packed with nutrients beyond just antioxidants, some examples include:
Acai berries: vitamin C, chromium, zinc, iron
Blackberries: vitamin k, vitamin C, iron
Cherries: vitamin C, vitamin A, potassium
Beets: betalians (antioxidant), folate, vitamin C
Eggplant: manganese, potassium, folate
Plums: vitamin C, vitamin K, vitamin A
Grapes: vitamin C, vitamin K, copper, thaimine
Goji berries: vitamin C, iron, vitamin A, zinc
Red (purple) cabbage: vitamin C, vitamin K, vitamin A, manganese
Purple is known as the color of royalty in ancient history, and as you can see purple foods are also powerful foods in nature!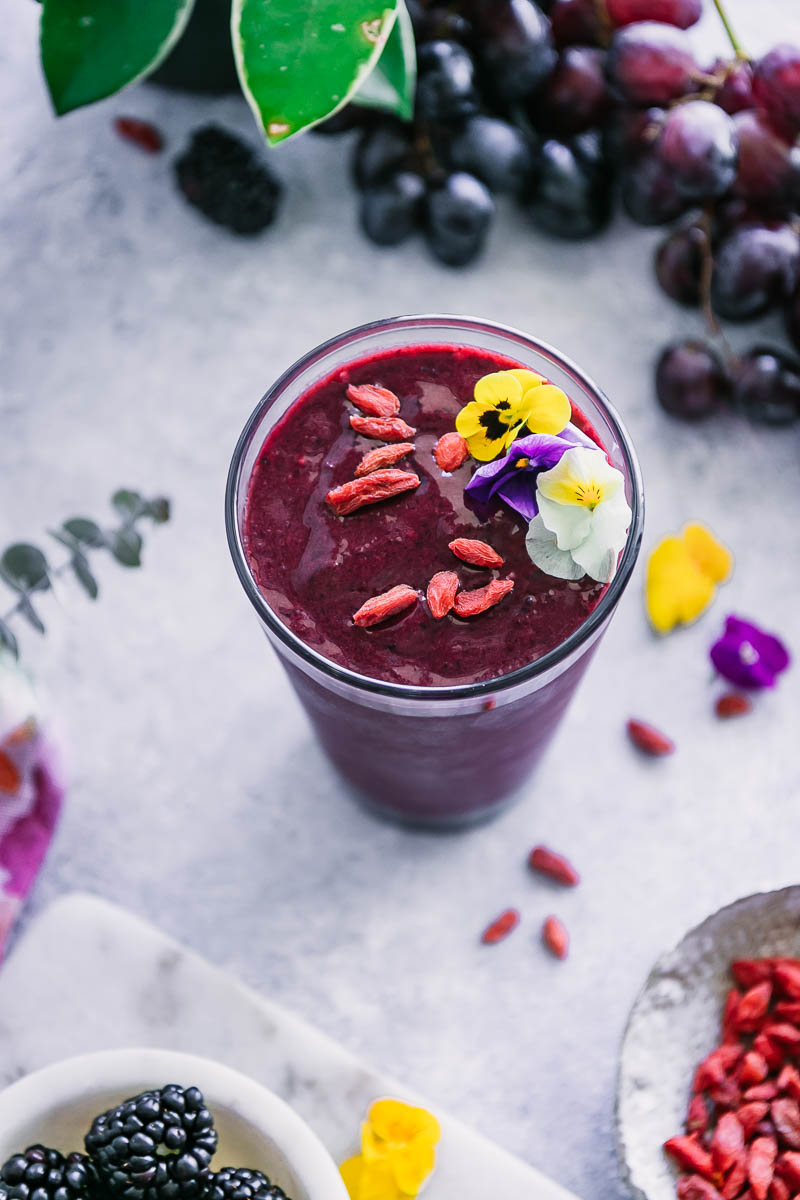 ---
How to make a Purple Superfood Smoothie
This Purple Superfood Smoothie recipe is a simple way to not only consume more purple superfoods, but also a great way to break up the monotony of your typical breakfast or snack.
To start, gather your purple superfoods and a blender. Combine the banana (for smoothness), frozen acai puree (I prefer unsweetened), blackberries, grapes, goji berries, and plant-based milk (I prefer pea milk) in the blender and blend, adding in a few ice cubes if needed to your desired consistency.
Finally, pour the purple frozen smoothie into a glass, top with dried goji berries for garnish. Add a few fun purple edible flowers and enjoy!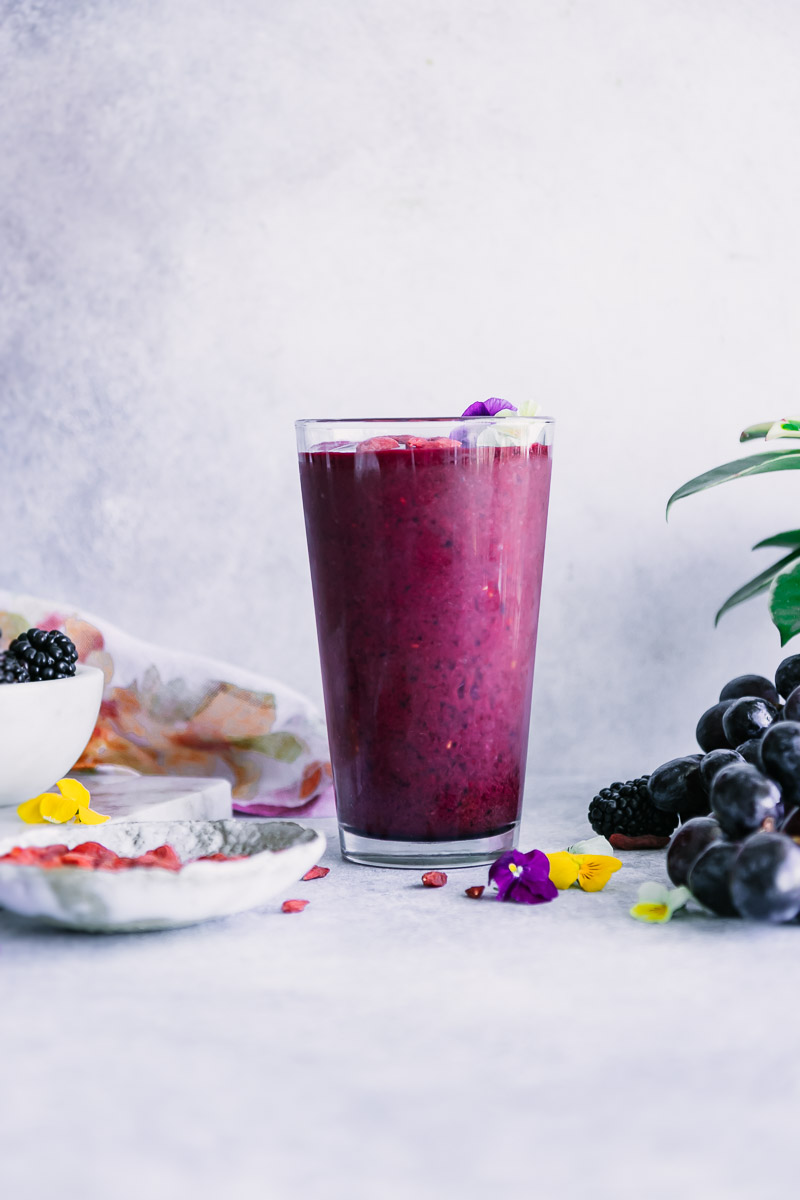 ---
I hope you enjoy this Purple Superfood Smoothie, it's:
A great choice for a simple superfood breakfast. Pair it with a protein like eggs or yogurt, and a healthy fat like avocado or nut butter for a balanced meal.
A powerful purple afternoon snack! Sip this smoothie and crunch on nuts for an easy snack
A fun way to switch up your usual meals or snacks. Purple superfoods are mood-boosting foods; because who can resist a bright and colorful purple smoothie?!
Looking for more simple superfood smoothie recipes? Try our Mellow Yellow Superfood Smoothie or our purple Triple Berry Banana Smoothie, both super simple smoothies for a meal on the go.
Did you make this Purple Superfood Smoothie recipe? Leave a comment and recipe rating below and let the Fork in the Road community know how it turned out. Save this recipe for later by pinning to your favorite smoothie Pinterest board, and tag me on Instagram so I can see your smoothie creations!
Yield: 1 smoothie (10 ounces)
Plant-Powered Purple Superfood Smoothie
Purple Superfood Smoothie, a simple smoothie recipe featuring acai, blackberries, grapes, and goji berries. A powerful purple blast of antioxidants!
Prep Time 5 minutes
Total Time 5 minutes
Ingredients
1 packet (100 g) frozen acai puree
½ cup blackberries
½ cup grapes
1-2 ice cubes, depending on desired consistency
1 teaspoon dried goji berries
1 small banana
Optional: ½ cup plant-based milk, for thinner consistency
Instructions
Combine acai berries, grapes, blackberries, banana, and ice cubes in a blender and pulse until smooth, adding more ice or plant-based milk until desired consistency.
Top with goji berries and enjoy!
Notes
Make it a bowl! Use this Purple Superfood Smoothie recipe as the foundation for your next smoothie bowl. Top with colorful superfoods such as strawberries, coconut, goji berries, bee pollen, and more.
Make it a meal! Make this superfood snack more filling by adding oats, chia, or a protein like yogurt or protein powder, along with healthy fat such as nut butter.
Tip: Use a frozen banana to reduce the amount of ice cubes needed, which will produce a smoother (less icy) texture.
Tools needed: traditional blender, food processor, or handheld blender
Leftovers & Storage: This simple smoothie recipe can be made ahead of time and frozen until ready to serve. However, depending on your freezer it may become hard the longer it's frozen.
Nutrition: This smoothie recipe is a great snack option or breakfast on the go. It is high in potassium and vitamin C and, depending on the type of plant-based milk used, may be a good source of protein.
Nutrition Information:
Serving Size:
1 smoothie
Amount Per Serving:
Calories: 260
Total Fat: 6g
Saturated Fat: 2g
Trans Fat: 0g
Unsaturated Fat: 4g
Cholesterol: 0mg
Sodium: 42mg
Carbohydrates: 52g
Fiber: 11g
Sugar: 29g
Protein: 2g
We are participant in the Amazon Services LLC Associates Program, an affiliate advertising program designed to provide a means for us to earn fees by linking to Amazon.com and affiliated sites.