Simple Cranberry Arugula Side Salad
Cranberry Arugula Side Salad, an easy side salad recipe featuring arugula, cranberries, and sunflower seeds with a white wine vinaigrette. Packed with flavor and ready in under 5 minutes!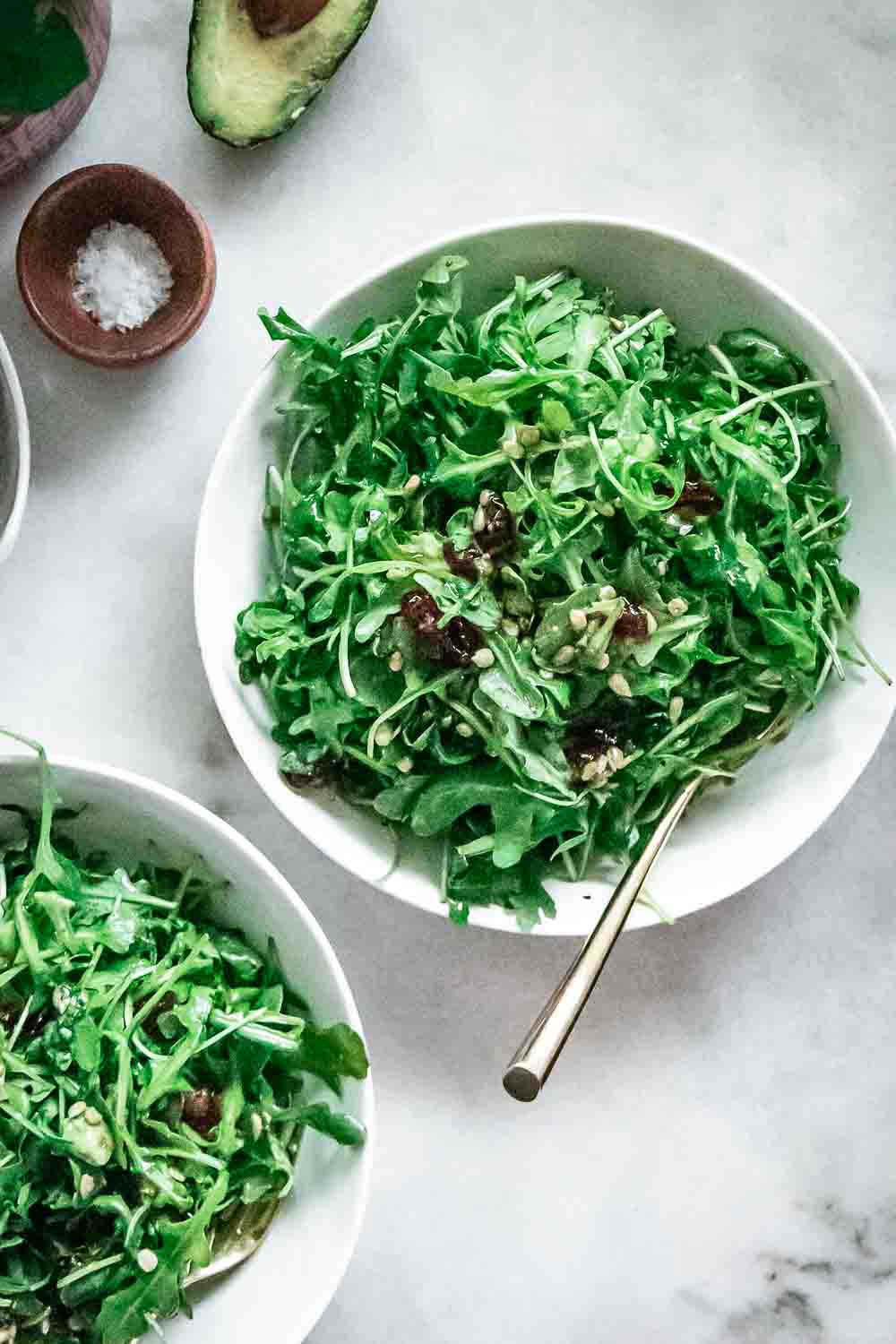 Do you ever just crave a simple greens salad? For us that salad is this easy arugula and cranberry saald. With just four salad ingredients and an easy-to-whip-up homemade vinaigrette, this easy side salad is the perfect way to add leafy greens to your meal.
👉 Here are three reasons why you should be making arugula cranberry salad:
Ready to learn how to make this easy, 5-minute arugula salad? Let's do it!
---
🌱 Ingredients
This arugula cranberry side salad uses vegan-friendly and gluten-free ingredients, including veggies, avocado, and delicious toppings! Here's an overview of what you'll need: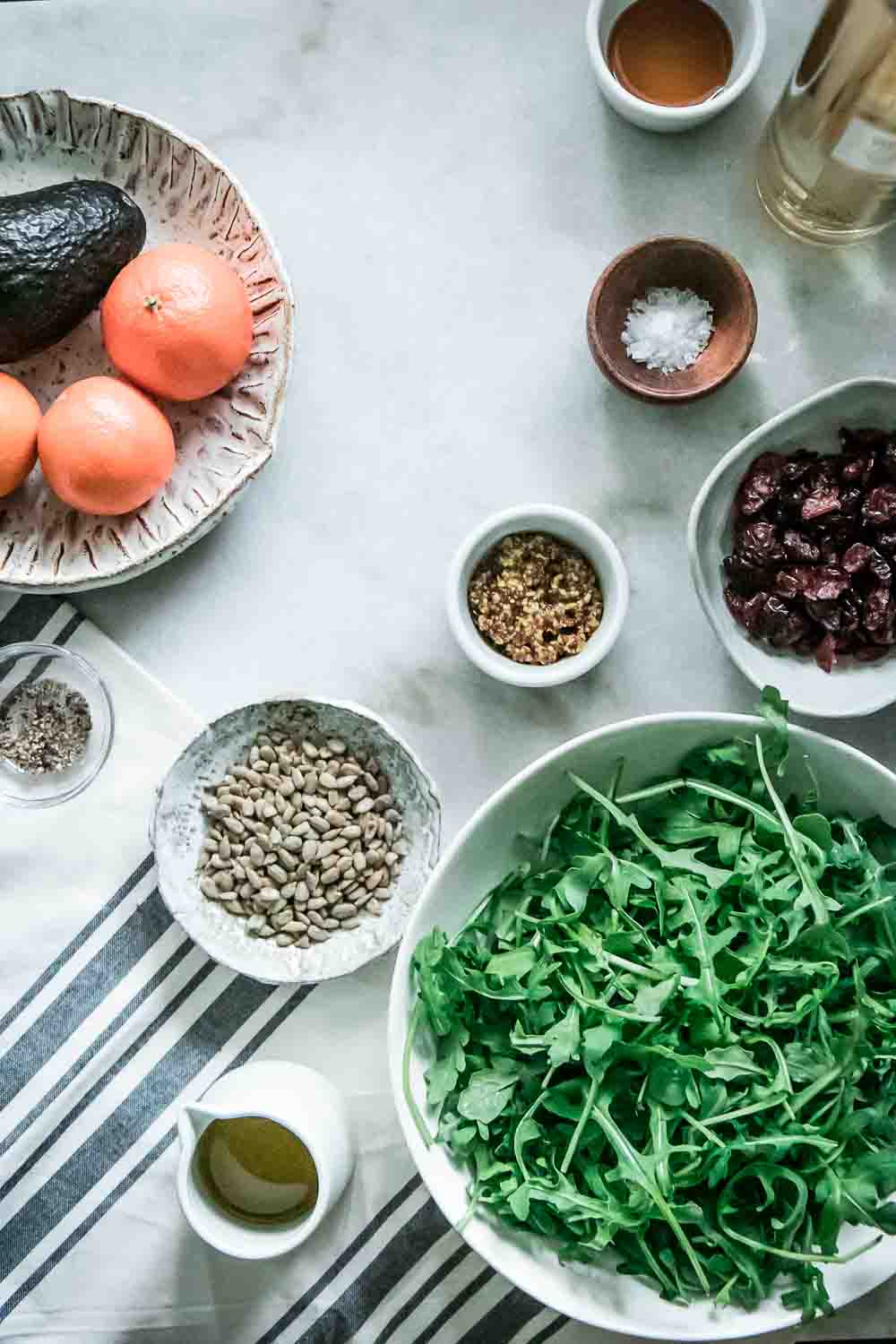 ---
🥣 How to make (step-by-step photos)
1️⃣ Step One: Make the dressing
First, whip up a batch of homemade white wine vinaigrette.
Our basic recipe for a vinaigrette is:
three parts olive oil to one part vinegar
a small amount of mustard as an emulsifier (so the oil and vinegar combine well)
a touch of sweetener
salt and pepper or other spices to taste
For this white wine vinaigrette, you will combine olive oil, white wine vinegar, a splash of orange juice, a small amount of dijon mustard, agave nectar, and a pinch of salt and pepper in a small bowl and whisk well until well combined. Sometimes we use a small handheld blender and pulse until dressing ingredients are combined.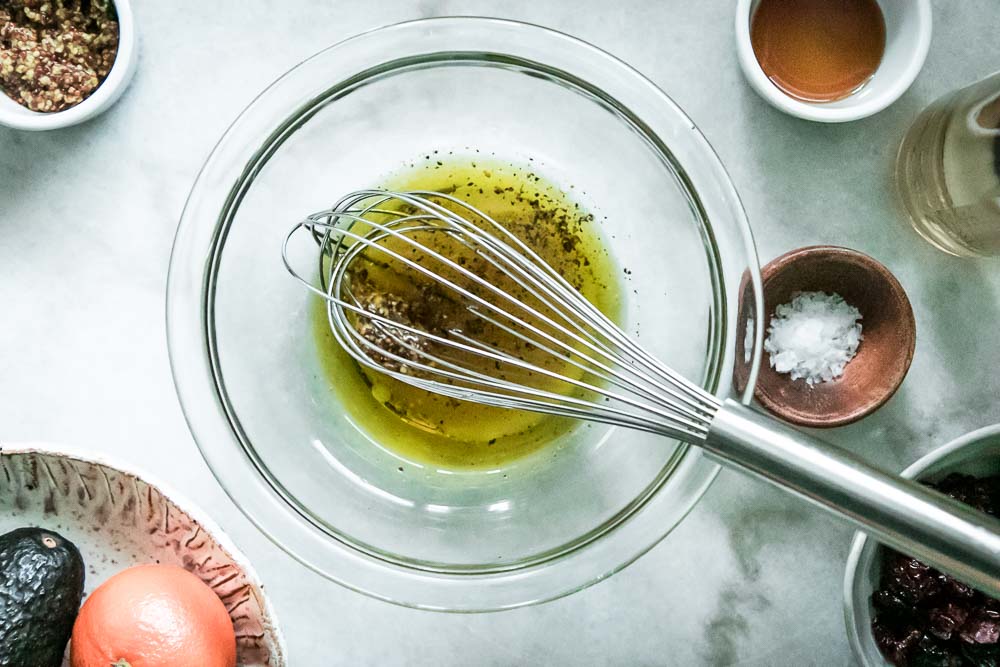 ---
2️⃣ Step Two: Assemble the salad
After the dressing is made, it's time to build the salad! Add the arugula, dried cranberries, roasted sunflower seeds, and sliced or diced avocado to a bowl.
---
3️⃣ Step Three: Add dressing + serve
Finally, toss the salad ingredients with the white wine vinaigrette.
That's it! A simple salad with simple ingredients that's ready in less than five minutes.
---
❓ Recipe questions + quick tips
Is arugula good for you?
Arugula is a member of the cruciferous vegetable family—meaning it's related to other vegetables such as Brussels sprouts, broccoli, and cauliflower. One cup of arugula is an excellent source of folate, vitamin A, and vitamin C, and is high in fiber and magnesium (USDA Food Nutrient Database).
What is good with arugula?
The peppery flavors of arugula taste great with just about anything! We love mixing it with pasta, like our Spicy Lemon Arugula Penne. You can also serve it with other vegetables and make different kinds of salads with it (try it in a Winter Squash Salad or Black Bean Farro Salad). Arugula is delicious alongside plant-based and animal proteins.
How do you make arugula salad less bitter?
Arugula is a naturally bitter leafy green, but you can balance out its earthy flavor by pairing it with other flavors. We love combining it with a vinaigrette—the sweet, acidic notes help to tone down the bitterness of the arugula. Additionally, the tart and savory flavors from the cranberries and sunflower seeds in this recipe make the arugula salad less bitter.
---
👉 How to serve
Of course, the best way to serve this salad is as a side dish! Here are some ways to switch it up and make it your own:
---
🧊 How to store
If you plan to have leftovers, consider keeping the dressing on the side and add it to the salad when ready to serve. Otherwise, the arugula will wilt in storage. Here's how to store the side salad for the best quality:
Refrigerator storage: Salad ingredients (except avocado) can be combined up to a week ahead of time. Vinaigrette can be made ahead and stored for up to 5 days in the refrigerator.
Freezer storage (if applicable): We do not recommend storing this salad in the freezer as the frail arugula leaves will not hold their texture when thawed.
---
♻️ Sustainable kitchen tips
We love making our kitchen as eco-friendly as possible, and we know you do, too! Here are some ways to get the most out of this recipe's ingredients:
Make it during arugula season. Arugula prefers cool climates, so its peak season is early spring and fall, though you can typically find it year-round. Click here to find out when arugula is in season near you.
Repurpose veggie scraps. You can always use scraps, so even if those arugula stems seem minute, toss them in your next stock—or at minimum in the compost.
Skip the pre-prepped. While we're all looking for a way to save ourselves time in the kitchen, purchasing packaged arugula (albeit containers or bags) contributes to plastic waste. Purchase fresh arugula and wash and dry it yourself for the good of the planet.
---
🥗 More easy salad recipes
Looking for more veggie-packed, simple salads? We've got you covered:
Simple Cranberry Arugula Side Salad
Cranberry Arugula Side Salad, an easy arugula, cranberry, and sunflower seed side salad with homemade white wine vinaigrette is packed with flavor and ready in under 5 minutes.
Ingredients
Arugula Salad
4 cups arugula
½ cup dried cranberries
¼ cup roasted sunflower seeds
1 whole avocado, cut into small slices or cubes
Homemade White Wine Vinaigrette
3 tablespoons olive oil
1 tablespoon white wine vinegar
1 tablespoon orange juice
1 teaspoon dijon mustard
1 teaspoon agave nectar, or other liquid sweetener, like maple syrup
1 pinch salt and pepper
Instructions
Make vinaigrette: Combine olive oil, white wine vinegar, orange juice, dijon mustard, agave nectar, and salt and pepper in a small bowl and whisk to combine. Alternatively, you can also blend in a handheld blender or food processor.

Build salad: Toss arugula, cranberries, sunflower seeds, and avocado with vinaigrette until well combined. Serve immediately once salad is tossed with dressing.
Notes
Recipe notes: Because arugula wilts easily, we suggest dressing the salad right before serving. If you are making this salad ahead, make and store the vinaigrette and salad separately and then toss together right before serving.
Tools needed: handheld blender, large salad bowls
Prep ahead: Make white wine vinaigrette up to five days before and toss with salad right before serving. The arugula salad can be made ahead of time as well, however do not cut avocado until ready to serve.
Leftovers + storage: Vinaigrette can be made ahead and stored up to five days ahead of time in the refrigerator. Salad ingredients (except avocado) can be combined up to a week ahead of time.
Nutrition Information
Serving: 1serving, Calories: 206kcal, Carbohydrates: 18g, Protein: 2g, Fat: 15g, Saturated Fat: 2g, Polyunsaturated Fat: 4g, Monounsaturated Fat: 8g, Trans Fat: 1g, Sodium: 92mg, Potassium: 134mg, Fiber: 2g, Sugar: 13g, Vitamin A: 485IU, Vitamin C: 5mg, Calcium: 42mg, Iron: 1mg
UPDATE: This recipe was originally published in December 2019 and was updated for clarity in November 2021.
We are participant in the Amazon Services LLC Associates Program, an affiliate advertising program designed to provide a means for us to earn fees by linking to Amazon.com and affiliated sites.