Warm Autumn Grain Bowl
Warm Autumn Grain Bowl, a simple fall-inspired vegan grain bowl with apples, figs, cranberries, and carrots in a maple cashew dressing that is delicious served warm or cold.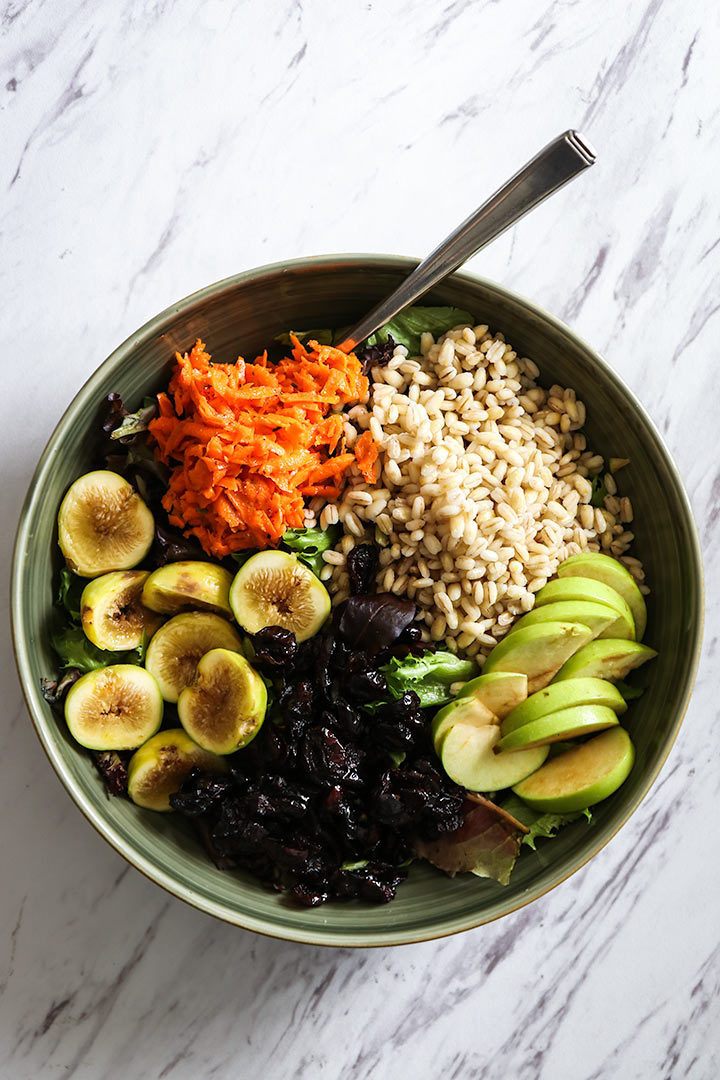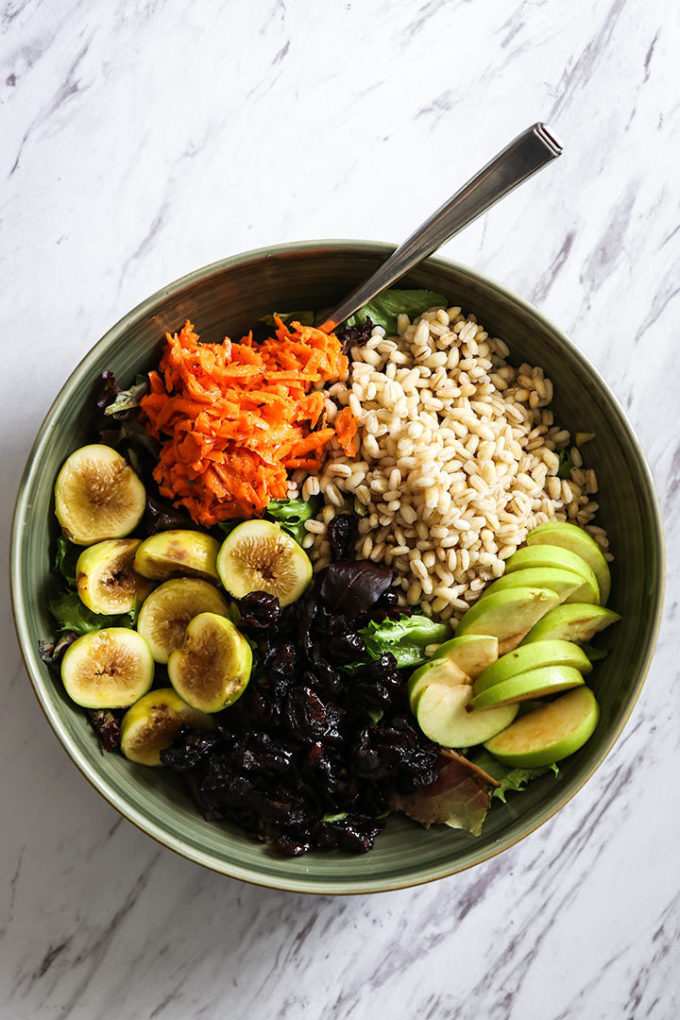 Do you go crazy buying up fall produce at the farmers market in autumn? So do we, which means we always have a basket of fall fruits and vegetables to use up before they go bad. And our favorite way to get our autumn produce fix is to make warm, fall-inspired grain bowls!
Here's why you should put your fall produce on top of a warm bed of grains:
Out of this world flavor. The mixture of crispy apples, sweet figs, and maple-infused dressing is something fall dreams are made of.
A great mix of textures and temperatures. We love mixing textures and temps and this bowl with fresh fruit and warm grains keeps your mouth guessing.
It's super easy and perfect for meal prep. Simply cook the grains, toss the salad ingredients, and blend the dressing for a grain salad mix that's perfect for weekday lunches.
Ready to learn how to make this so-easy and oh-so-tasty fall grain bowl? Let's do this!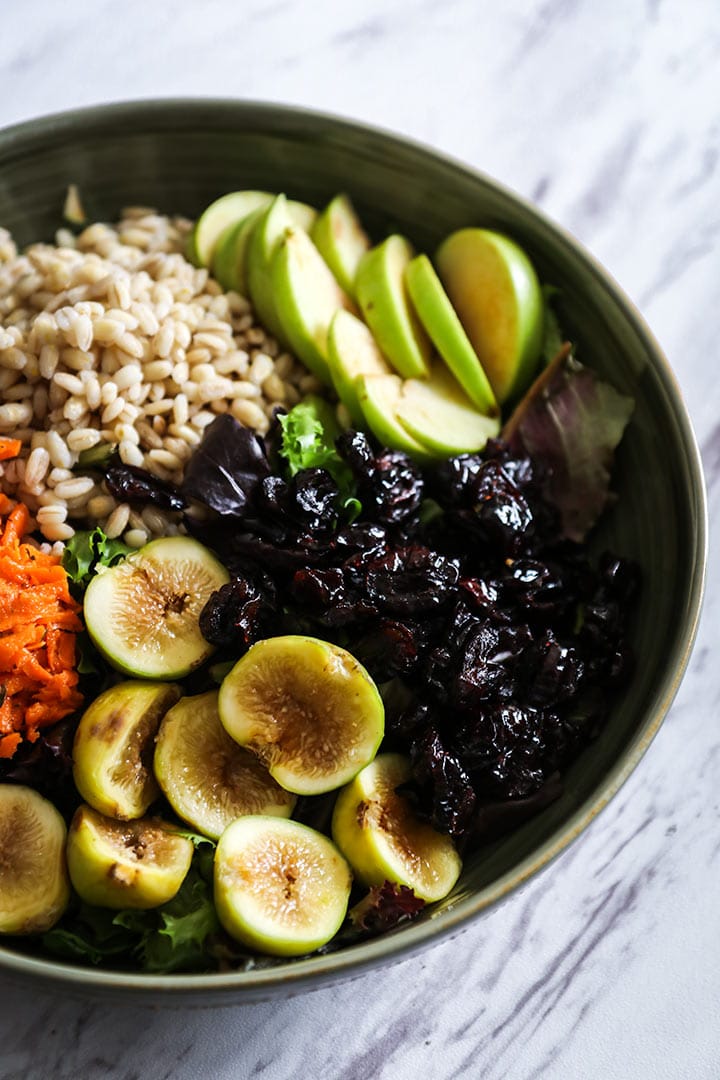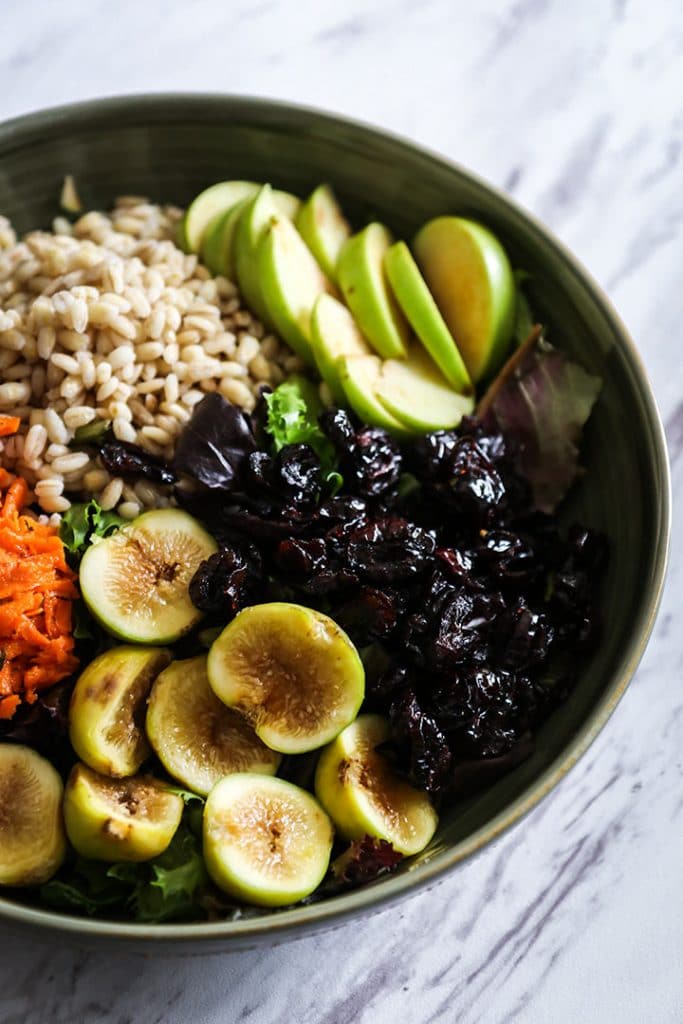 ---
🥣 How to make (step-by-step)
1️⃣ Step One: Prepare the grains
First, prepare the grains before building the salad. We chose pearled barley for this recipe because it has a soft, chewy texture that lends itself well to the crisp apples and soft, sweet figs.
To make the barley, simply combine 1 cup of dried pearled barley with 3 cups of water in a pot, bring to a boil, then simmer on low until the barley is soft, about 25-30 minutes.
Need a gluten-free grain? If you're looking for a gluten-free grain option, try quinoa, buckwheat, or amaranth in this recipe.
---
2️⃣ Step Two: Prepare the salad dressing
The salad dressing for this recipe is a maple-infused cashew "crema," that uses cashews to provide a creamy texture while keeping the ingredients plant-based.
To start, first place cashews in a bowl and cover with warm water and let sit for 15 minutes. This will allow the cashew to soften and will provide a creamier texture to the dressing.
Once the cashews are soft, add them to a food processor or blender with water and oil and blend until smooth. Then add lemon juice and zest for an acidic tang, maple syrup for a touch of sweetness, and a pinch of salt and blend until combined.
If your dressing is still too thick, add a bit of water and blend until your desired consistency. We like a creamy, yet smooth dressing that coats the grains and greens without being sticky.
---
3️⃣ Step Three: Prepare the salad
It's finally time to build the salad! Simply toss together the mixed greens, cooked grains, sliced figs and apples, dried cranberries, and shredded carrots in a large bowl.
When you're ready to serve, drizzle a bit of the dressing on top and toss to coat all of the ingredients. Save any extra dressing in a jar separate from the salad leftovers so they don't wilt.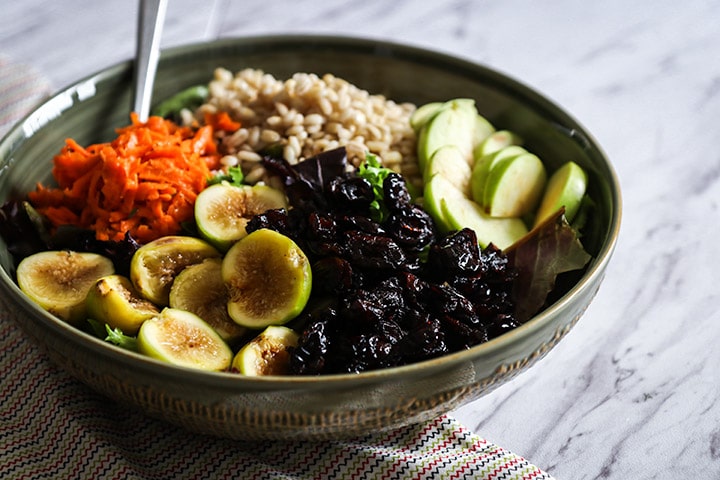 ---
🍏 Recipe + ingredient questions
Are grain bowls good for you?
Grain bowls are a good for you healthy meal option. The healthiest grain bowls are those that contain whole heritage grains, vegetables, fruits, plant-based protein, and a source of healthy fat. Grain bowls are extremely versatile and can be customized to fit any dietary preference such as vegan and gluten-free.
Are grain bowls served hot or cold?
Grain bowls can be served hot or cold. The beauty of a grain bowl is it is extremely versatile, with the option to be eaten warm or cold, depending on your mood or the season.
What is a warm grain bowl?
A warm grain bowl is a meal that contains warm whole grains as a base and is topped with vegetables, fruit, a protein source like beans or tofu, and a healthy fat source in the form of an oil-based dressing or avocado.
How do you make a grain bowl gluten-free?
Grain bowls can be made gluten-free by choosing gluten-free grains like quinoa, buckwheat, rice, or amaranth in place of gluten-containing grains such as barley, wheat berries, or farro.
What is in a fall or autumn grain bowl?
A fall grain bowl contains grains as a base and vegetables, fruits, dressings, or other toppings that are seasonal autumn foods. Possible fall grain bowl toppings could include squash, sweet potatoes, apples, pears, cranberries, figs, maple syrup, or pumpkin seeds.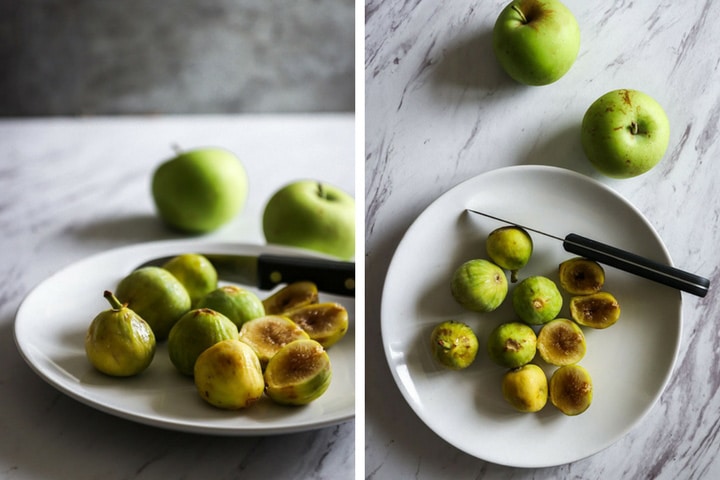 ---
♻️ Sustainable kitchen tips + tools
While this vegan grain bowl recipe is a great sustainable food pick, here are a few tips and tricks for keeping this recipe "green":
Buy grains in bulk. Forget small plastic packages of rice or barley, buy grains in bulk and store in large pantry containers to reduce package waste (and save money!).
Hit up your local farmer's market for fall produce. Pick up your favorite fall produce like squash, apples, pears, and figs at your local market to make a delicious autumn-inspired grain bowl.
Meal prep it. This recipe is the perfect option to make once, eat all week. Simply double the recipe and store the salad in to-go containers (and dressing in small jars) to grab and go during busy weeks. Learn how to create a weekly meal plan to make your meals easier here.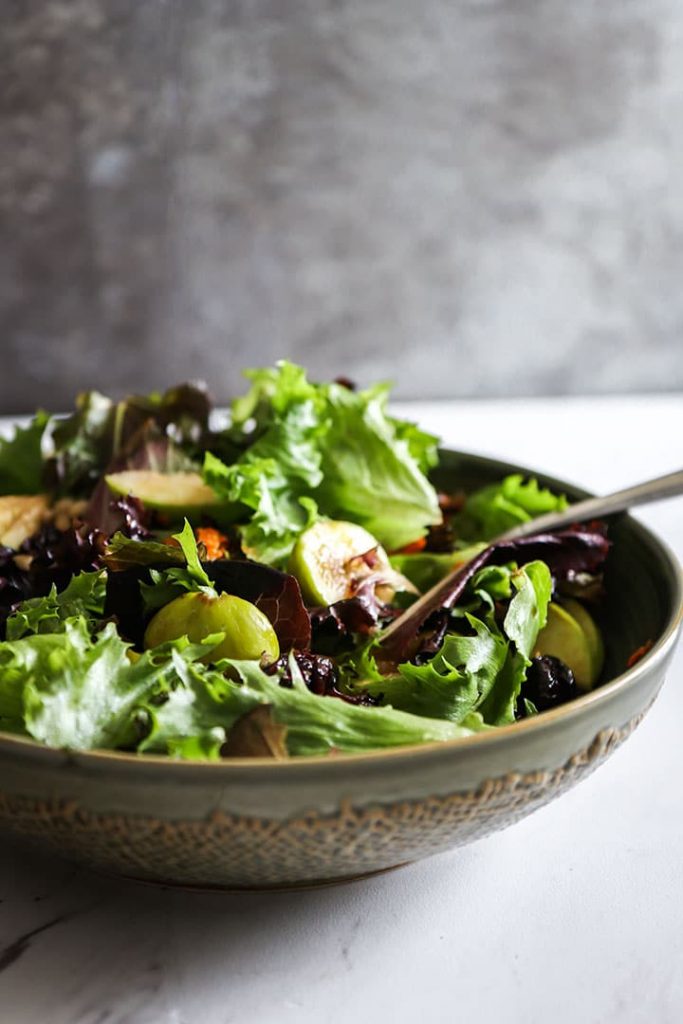 ---
🍽 More warm grain bowl recipes
If you're looking for more warm grain bowl recipes, try:
If you're looking for a lighter, sweeter dressing try our Maple Bourbon Whiskey Vinaigrette Salad Dressing.
🌟 Did you make this recipe? Leave a ⭐️⭐️⭐️⭐️⭐️ star rating and a comment below to let us know how it turned out. Save it for later by pinning to your favorite Pinterest board and make sure to tag us on Fork in the Road's Instagram to show off your sustainable food creations!
Yield: 2 servings
Warm Autumn Grain Bowl Recipe
Warm Autumn Grain Bowl, a simple fall-inspired vegan grain bowl with apples, figs, cranberries, and carrots in a maple cashew dressing that is delicious served warm or cold.
Prep Time 20 minutes
Cook Time 30 minutes
Total Time 50 minutes
Ingredients
For Salad
4 cups mixed greens
1 cup dry barley*, or other desired grains
1 cup figs, halved
1 small apple, sliced
½ cup dried cranberries
1 cup shredded carrots
For Dressing
1 cup cashews**
¼ cup water, plus more as needed to thin dressing
¼ cup olive oil
Juice of ½ lemon
Zest of ½ lemon
2 tablespoons maple syrup
Pinch salt
Instructions
Prepare barley (or other grains): Cook barley (or other desired grain) according to package instructions. We chose pearled barley, which is typically cooked by combining 1 cup of dried barley with 3 cups of water and bringing it to a boil, then simmering on low for 25-30 minutes until the barley is tender.
Prepare dressing: First, soak cashews in a bowl of warm water for 15 minutes. Then add cashews, water, and oil to a food processor or blender and mix until smooth. Add lemon juice, lemon zest, maple syrup, and a pinch of salt. Blend and taste, adding more lemon or syrup as needed. If the dressing is too thick, add more water and blend until smooth.
Prepare salad: In a large salad bowl, toss together mixed greens, cooked barley, halved figs, sliced apples, dried cranberries, and shredded carrots. Drizzle the maple cashew dressing over the salad and toss to coat ingredients before serving.
Notes
Notes: *While we love an autumn barley bowl, any grain will be delicious in this bowl. Try quinoa, farro, or wheat berries. **Soak cashews in warm water for 15 minutes before preparing dressing for a smoother consistency (instructions for soaking in recipe).
Tools Needed: food processor or blender, knife, cutting board
Prep Ahead: Make the dressing up to three days ahead of time to make preparing this grain bowl easier.
Leftovers and Storage: To keep leftovers fresh, store salad dressing in a jar separated from the grains and greens and only add to the grain bowl before eating. Store both salad dressing and the grain bowl in airtight containers for up to three days in the refrigerator until ready to eat.
Nutrition notes: This grain bowl recipe uses only plant-based ingredients. To make it gluten-free substitute the barley for a gluten-free grain like quinoa, buckwheat, or amaranth. Nutrition information is calculated for all ingredients, including the full amount of the dressing. However, you will likely have dressing left over.
Nutrition Information:
Yield:
4
Serving Size:
1 serving
Amount Per Serving:
Calories: 604
Total Fat: 34g
Saturated Fat: 6g
Trans Fat: 0g
Unsaturated Fat: 26g
Cholesterol: 2mg
Sodium: 395mg
Carbohydrates: 76g
Fiber: 8g
Sugar: 45g
Protein: 8g
We are participant in the Amazon Services LLC Associates Program, an affiliate advertising program designed to provide a means for us to earn fees by linking to Amazon.com and affiliated sites.