Ginger Soy Tofu Bowl
Ginger Soy Tofu Bowl, a plant-based protein-packed brown rice bowl with crispy ginger soy tofu, roasted Japanese yam, edamame, and shaved carrots. An easy yet flavorful healthy tofu bowl recipe!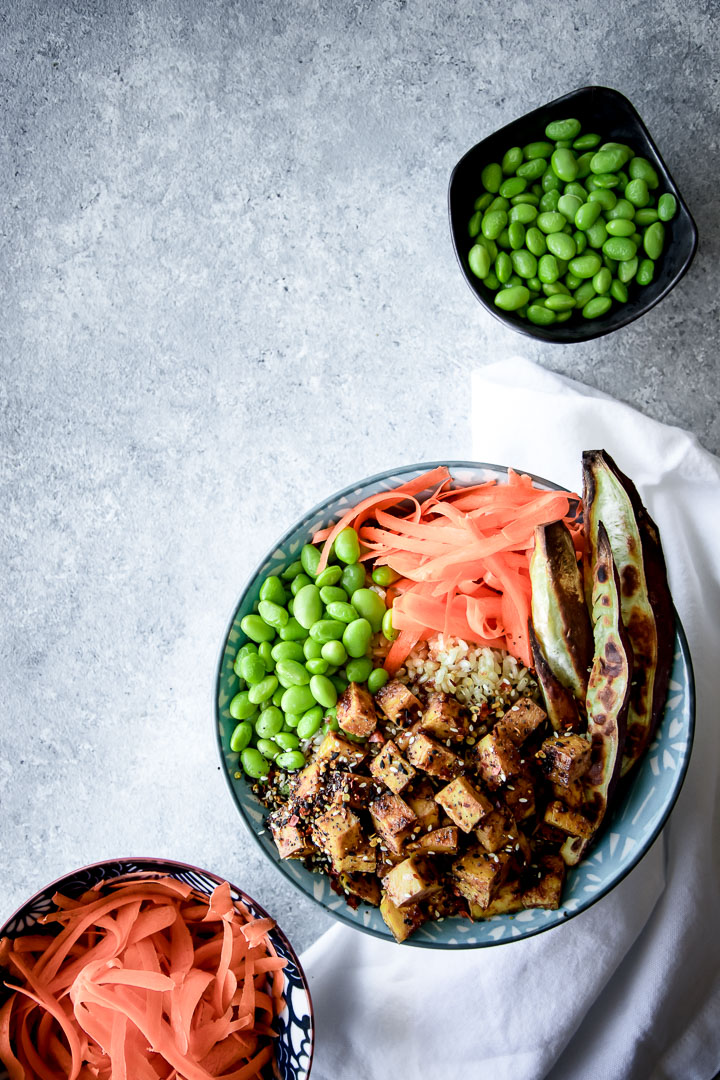 If you've been following us here at Fork in the Road for long, you'll know we love vegetable-packed grain and legume bowls. From farro to lentils to rice, we can't get enough of veggie bowls for easy weeknight dinners (and leftover lunch the next day).
This vegan Ginger Soy Tofu Bowl is a new favorite recipe on repeat in our weeknight menu. Fiber-packed brown rice is topped with crispy tofu, roasted Japanese yams, crunchy edamame, shaved carrots and is topped with a deliciously easy ginger soy sauce. Clocking in at under 40 minutes to make, this recipe is a perfect weeknight meal that is perfect for lunch leftovers the next day.
How to get perfectly crispy tofu
I love crispy tofu, but I haven't always felt that way. Raise your hand if you've had high hopes for tofu and were then served wet, mushy white cubes with absolutely no flavor (I have!). Never fear, because after trial and error I have found the perfect trick for getting crispy tofu every time.
The secret: time, heat, and patience.
Time: Getting perfectly cooked crispy tofu takes time. Give yourself about 15-20 minutes for browned and perfect crunchy tofu.
Heat: Start the heat on medium-low to first dry out the tofu, and then add a bit of heat at the end to brown and get the crispy texture you crave.
Patience: Try not to move the tofu too frequently or it will not brown well. Have patience and let the tofu cubes slowly brown and get crispy.
Ginger soy sauce, your new favorite stir fry addition
As you've probably already realized, I'm a fan of big and bold flavors and this ginger soy sauce recipe fits my criteria for a flavor punch. It starts with a low-sodium soy sauce base and then minced ginger and a bit of sugar are added (sugar is to help the sauce thicken once it's reduced–completely optional, but does help thicken sauce). Add a bit of sesame oil and you have the perfect drizzle for stir frys and bowls, like this Ginger Soy Tofu Bowl.
Tips, tricks, and tools
This vegetable tofu bowl recipe is a very easy and does not require special equipment, however the following are products and tools I have used and recommend.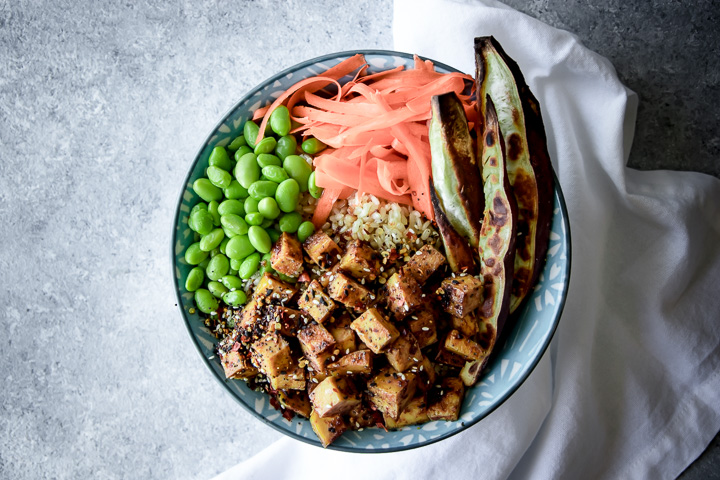 Love this easy plant-based bowl?
Loving this Ginger Soy Tofu Bowl recipe? Try another of my favorite grain and lentil bowls:
Did you make this recipe? Don't forget to let us know! Leave a comment, rate the recipe, and tag your photo #FITRfood on Instagram!
Yield: 4 servings
Ginger Soy Tofu Bowl
Ginger Soy Tofu Bowl, a plant-based protein-packed brown rice bowl with crispy ginger soy tofu, roasted Japanese yam, edamame, and shaved carrots. An easy yet flavorful healthy tofu bowl recipe!
Prep Time 5 minutes
Cook Time 40 minutes
Total Time 45 minutes
Ingredients
1 sweet potato, sliced and baked
½ teaspoon oil
1 teaspoon sesame oil
8 oz super firm tofu, sliced into cubes
4 tablespoons low-sodium soy sauce
1 teaspoon minced ginger
1/2 teaspoon brown sugar
2 cups brown rice, cooked
1 cup edamame, cooked
1 cup carrots, shaves
Instructions
To cook potatoes: Preheat oven to 400 degrees. Toss potato slices in oil and sprinkle with salt and pepper. Cook 30-40 minutes or until golden brown, flipping every 10 minutes to cook all sides. Set aside.
Heat sesame oil in medium-low heat. Add tofu and let sit without moving for 3-5 minutes, or until brown. Stir and let tofu brown again. Repeat until tofu cubes have dried and begin to become crispy.
Meanwhile, heat soy sauce, ginger, brown sugar, and sesame oil over medium heat in a small saucepan until mixture starts to boil. Add a small amount of sauce to pan to let tofu soak up liquid. Reduce saucepan heat and cook until sauce thickens, about 3-5 minutes.
To build bowl: Add brown rice, edamame, carrots and sweet potato to bowl. Add tofu and ginger soy sauce on top. Enjoy!
Notes
Leftovers and Storage: This Ginger Soy Tofu Bowl is great for leftovers and will keep for up to 5-7 days in the refrigerator.
Dietary Preference and Allergen Information: This recipe is entirely plant-based and is appropriate for vegans, vegetarians, and flexitarians alike. This recipe contains soy and may contain gluten if using soy sauce; substitute Tamari or Bragg's Liquid Aminos in place of soy to be gluten-free.
Nutrition Information:
Yield:
4
Serving Size:
1 serving
Amount Per Serving:
Calories: 268
Total Fat: 8g
Saturated Fat: 1g
Trans Fat: 0g
Unsaturated Fat: 6g
Cholesterol: 0mg
Sodium: 562mg
Carbohydrates: 37g
Fiber: 7g
Sugar: 5g
Protein: 15g
We are participant in the Amazon Services LLC Associates Program, an affiliate advertising program designed to provide a means for us to earn fees by linking to Amazon.com and affiliated sites.