Warm Maple Fig and Beet Kale Salad
Warm Maple Fig and Beet Kale Salad, a hearty green superfood salad featuring golden beets, fresh figs, white beans, and goat cheese in a maple syrup dressing. Perfect as an entree or side dish!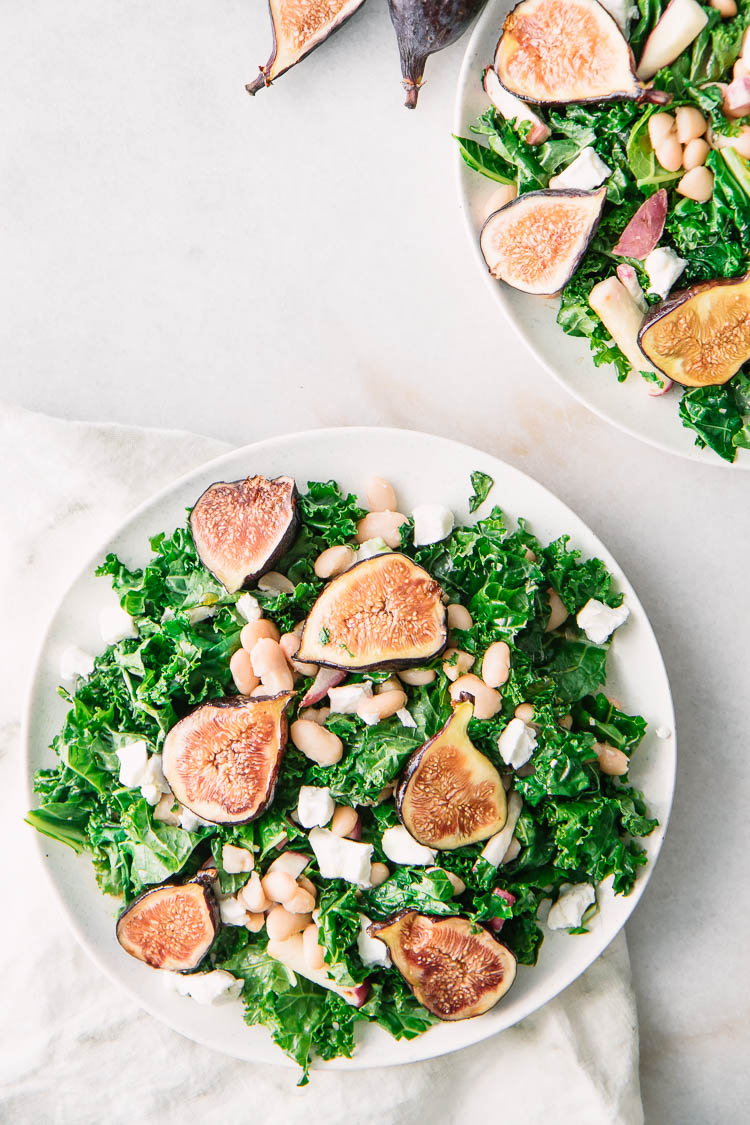 Do you think kale salads are "over"? A few years when the kale craze was at its peak I ate my weight in kale salads every day for a few months and ended up getting turned off on kale. I quit kale chip, kale smoothies, and kale salads because I just couldn't stand the thought of another kale recipe.
But, as they say, absence makes the heart grow fonder and I came around to kale once again. I tend to go through phases with all foods (don't we all?), but especially with leafy greens. And while arugula will always have the top spot in my heart, kale is becoming my go-to green once again.
While I find most leafy greens are interchangeable, when I have the craving for a warm salad there is no other green that holds up to heat like kale.
The strong leaves are perfect for a quick pan fry with other hearty vegetables and hold the textures of creamy cheeses and dressings better than any other leafy green on the block.
So when I was in the mood for a fresh seasonal warm salad, I knew that kale would be the best foundation. Add in fresh golden beets, white beans, seasonal figs, and a light maple dressing with crumbled goat cheese, and I had a delicious and warm superfood salad that is hearty enough to be an entree, yet light enough to double as a side dish.
Let's get cooking!
What are the best ingredients to use in a warm salad?
Warm salads need ingredients that can hold up when heated without wilting. Root vegetables like beets, carrots, and potatoes are great vegetable options for warm salad, as well as dried fruits or fresh fruits that give off a great added flavor when heated, like figs.
Any dressing will do with warm salads, but I particularly like a creamy or rich-flavored dressing with deep flavors that will complement the warm vegetables, which means I usually steer clear of acidic and vinegar-based dressings.
This light olive oil and maple syrup drizzle works well with the goat cheese, which melts when mixed with the warm vegetables and lends a creaminess to the salad.
Finally, a crunchy nut or seed topping can also be a great way to add depth and texture to warm salads.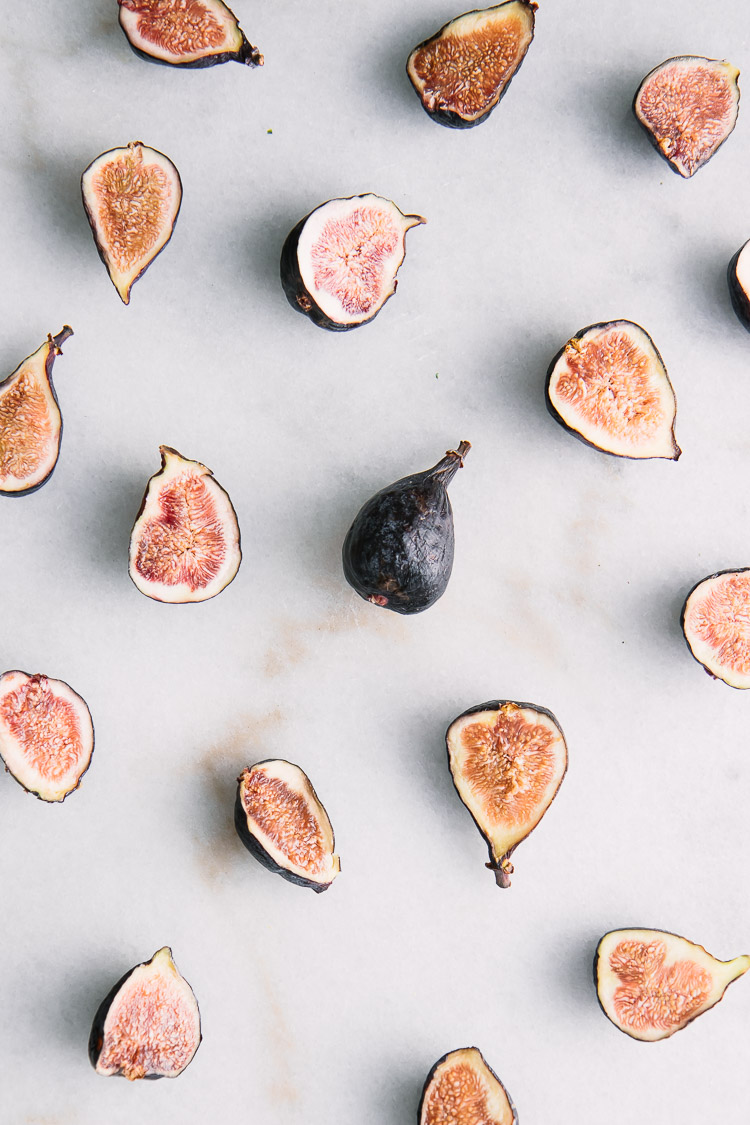 What are the health benefits of this Warm Maple Fig and Beet Kale Salad?
This warm kale, fig, and beet salad is full of superfoods that provide a nutrient AND flavor dense meal.
Kale: kale is high in fiber and is an excellent source of vitamin A, vitamin C, and vitamin K
Beets: good source of fiber, folate, manganese, and full of phytonutrients (which give beets their bright color)
Figs: provide fiber, are a good source of vitamin A, and provide vitamin K. Figs also have a long history in ancient cultures and are a staple in many Mediterranean diets.
Warm Maple Fig and Beet Kale Salad: Tips, Trick & Tools
This warm kale salad with beets, figs, and goat cheese is super simple to make and comes together in only 15 minutes with only minimal prep and tools required.
First, cut the beets and either heat them in a pan until softened, about ten minutes. Add the white beans and figs to the pan until heated and beginning to soften and then add kale with a drizzle of olive oil and maple syrup.
When kale begins to wilt but salad is warm throughout, remove from heat and plate, topping with goat cheese (which will begin to melt), and enjoy!
Recommended tools for Warm Maple Fig and Beet Kale Salad: A set of large glass mixing bowls, a set of good quality kitchen knives, and a set of large glass mixing bowls are the only tools you need to make this simple warm kale salad.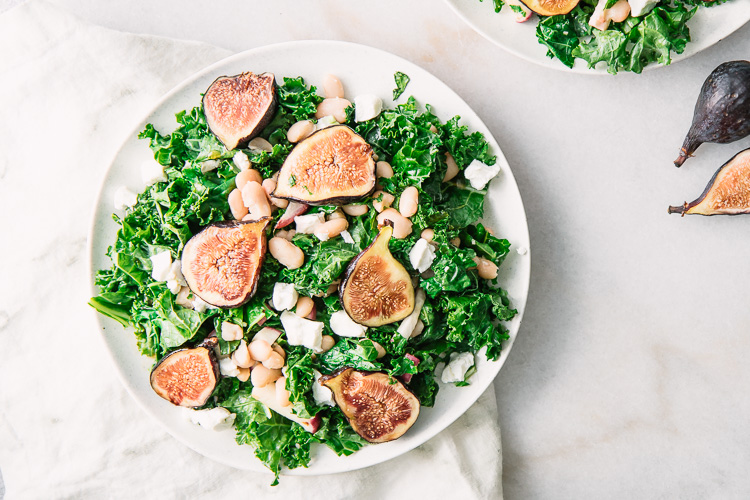 ---
I hope you love this Warm Maple Fig and Beet Kale Salad, it's:
A great weeknight meal that can be made once and saved for leftovers all week long.
A beautiful salad to bring to picnics, barbecues, and outdoor parties because the hearty ingredients hold up well in heat and won't easily wilt.
A perfect foundational salad that can be eaten throughout the year. While figs are seasonal to summer and very early fall, the kale, beets, and beans can be paired with other seasonal fruits (apples and pears in fall, persimmons in winter) for a delicious salad all year.
Craving more simple superfood salads? Our Savory Stone Fruit Quinoa Salad, Black Bean, Corn, Farro Salad, and our light and crisp Crunchy Celery Apple Salad are all great salads featuring superfoods.
Did you make this Warm Maple Fig and Beet Kale Salad recipe? Leave a comment and recipe rating below and let the Fork in the Road community know how it turned out. Save this recipe for later by pinning to your favorite superfood salad Pinterest board, and tag me on Instagram so I can see your salad creations!
Yield: 4 servings
Warm Maple Fig and Beet Kale Salad
Warm Maple Beet and Fig Kale Salad, a hearty green superfood salad featuring golden beets, fresh figs, white beans, and goat cheese in a maple syrup dressing. Perfect as an entree or side dish!
Prep Time 5 minutes
Cook Time 10 minutes
Total Time 15 minutes
Ingredients
1 medium (175g) golden beet, diced
1 teaspoon olive oil + 2 teaspoons for serving
¼ teaspoon smoked sea salt
5 figs (250g) , halved
1 can (~275g, or 1.25 cups) white beans, drained
3 cups (130g) kale, shredded
1 tablespoon quality maple syrup
1 ounce (60g) crumbled goat cheese
Instructions
Cook diced beets sprinkled in smoky sea salt in a teaspoon of oil in a large pan over medium heat until they start to soften, about ten minutes.
Meanwhile, toss together halved figs, drained white beans, and shredded kale in a large mixing bowl. When beets are almost done, add mixed figs, beans, and kale to the pan with the remaining olive oil and maple syrup, cooking until the kale begins to wilt, about 2 minutes.
Transfer the warm salad to serving plate, and top with crumbled goat cheese and enjoy!
Notes
Notes // Cooking Tips: This recipe is great either warm or cold, so skip the pan frying if you don't want a warm salad. If you have time, you could alternatively roast the beets in the oven at 400 degrees for about ten minutes, then add them to a pot with the other salad ingredients to warm right before serving. Experiment with dressings for a different flavors, even a light olive oil in balsamic vinegar or lemon juice would work well.
Leftovers & Storage: This kale, fruit, and vegetable salad features hearty ingredients that hold up well as leftovers. Store in an airtight container in the refrigerator for up to four days.
Nutrition: This simple Warm Maple Beet and Fig Kale Salad is hearty enough to be an entree, yet light enough to be served as a side dish. It is high in protein, fiber, potassium, and vitamins A and C.
Nutrition Information:
Yield:
4
Serving Size:
1 serving
Amount Per Serving:
Calories: 153
Total Fat: 3g
Saturated Fat: 1g
Trans Fat: 0g
Unsaturated Fat: 2g
Cholesterol: 3mg
Sodium: 393mg
Carbohydrates: 30g
Fiber: 5g
Sugar: 19g
Protein: 5g
We are participant in the Amazon Services LLC Associates Program, an affiliate advertising program designed to provide a means for us to earn fees by linking to Amazon.com and affiliated sites.