Grilled Peach Salad with Goat Cheese and Honey
Grilled Peach Salad, a simple arugula salad with grilled peaches topped with savory goat cheese, crunchy sunflower seeds, and a honey vinaigrette. Simple summer salad at its finest!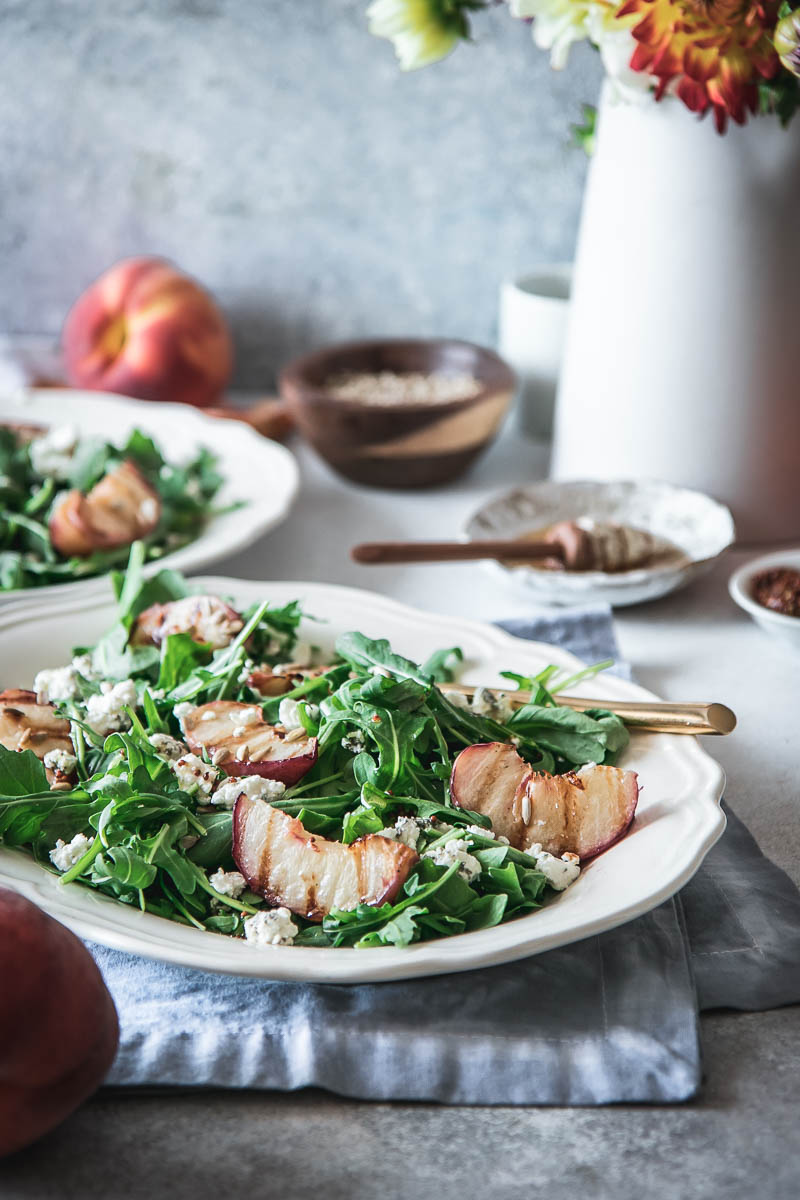 Our favorite summer grilled fruit recipe is this Grilled Peach Salad with Goat Cheese and Honey, a savory and sweet summer salad with warm grilled peaches, spicy arugula, savory goat cheese, and a simple honey vinaigrette made with apple cider vinegar. Tangy, sweet, and a touch of savory make this the perfect summertime salad!
👉 Ready to learn how to make this oh-so-simple grilled peach arugula salad? Let's do it!
---
🥗 Ingredients
Peaches: plump summer peaches take on a new level of flavor when grilled and pair perfectly with the slight spice of arugula
Arugula: the base of this salad, arugula is a light leafy green with a peppery taste that compliments the sweetness of grilled fruit
Goat cheese: add a depth of flavor with a goat cheese crumble; choose plant-based cheese if vegan
Sunflower seeds: adds a bit of crunch to the salad; nuts or other seeds like pumpkin also work well
Honey vinaigrette dressing: any light dressing will do, but we love a homemade vinaigrette with apple cider vinegar and local honey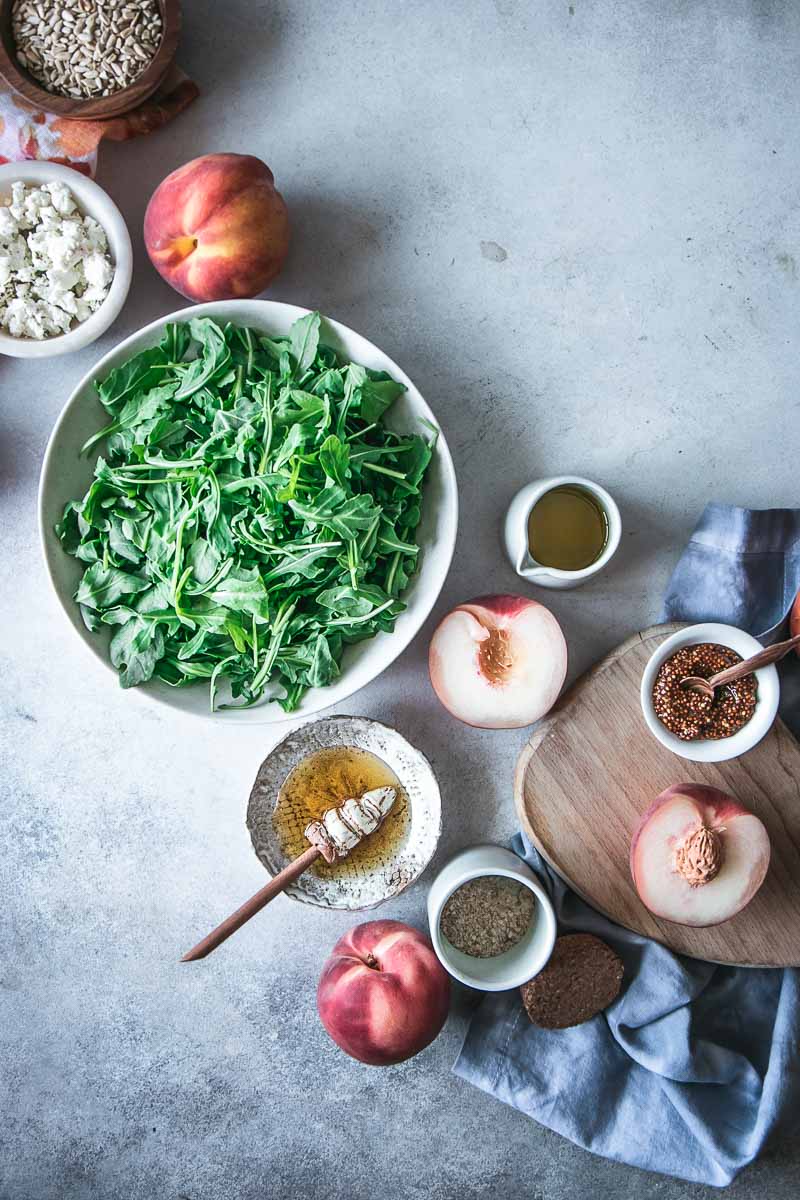 ---
🥣 How to make (step-by-step photos)
1️⃣ Step One: Grill peaches
Grilling peaches is a hot culinary food trend right now, and for good reason; cooking peaches on the grill makes for a perfectly warm and sweet summer treat that's perfect on salads, with meats, and on desserts.
Grilling peaches is actually pretty easy, if you follow these simple steps:
First, cut peaches in desired shape. Because peaches will get soft on the grill, cut them in the shape you'd like before grilling because otherwise they may fall apart after cooking. I suggest either halving the peaches and removing the core, or halving and then slicing into thicker slices that won't fall apart easily when warm.
Next, brush peaches with oil. Next, brush or rub a bit of oil onto the flesh of peaches (where they will be placed on the grill).
Grill on covered on medium-high heat 5-7 minutes a side. To get the best grill marks, grill peaches on medium-high heat (not too high or they'll stick) for about five minutes a side on a grill or grill pan, or until you have nice blackened grill marks, and flipping if grilling two sides. I've found that covering the grill helps peaches to cook faster, but watch that you don't overcook and peaches become mushy.
---
2️⃣ Step Two: Make the honey vinaigrette dressing
While peaches are grilling, it's time to make the dressing.
Combine three parts extra virgin olive oil and one part apple cider vinegar (alternatively you can use white wine vinegar or balsamic vinegar) in a large bowl or salad dressing shaker, and add honey, dijon mustard, and salt.
Then whisk or shake until the dressing is well combined and set aside until the salad is ready.
---
3️⃣ Step Three: Build the arugula peach salad
Finally, it's time to build the salad!
Add arugula and grilled peaches to a large salad bowl or plate, then top with crumbled goat cheese and sunflower seeds.
Top it off with the honey mustard vinaigrette and even a drizzle of more honey for a sweeter salad, and serve.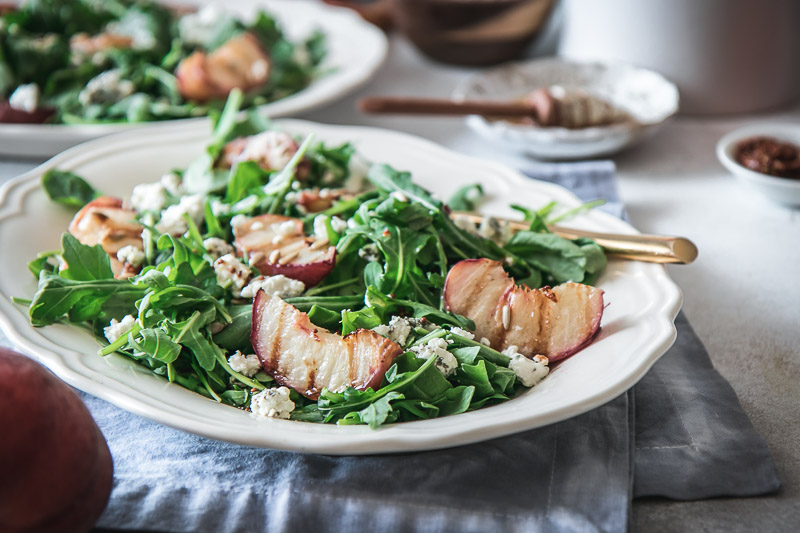 ---
🧊 How to store
Refrigerator storage: If possible, only build enough salad to eat in one sitting as once you add the dressing to the salad the arugula will begin to wilt. For best results, store individual ingredients (grilled peaches, arugula, cheese, dressing, etc.) separately and build a new salad serving when you're ready to eat.
Freezer storage: We do not recommend freezing any ingredients in this salad as the texture will not hold when thawed
---
♻️ Sustainable kitchen tips
Making this grilled peach salad is super simple, but there are a few tips and tricks for streamlining preparation and getting the most out of your ingredients:
Use semi-firm peaches. Overripe peaches that are very soft will fall apart on the grill, so make sure to choose slightly under-ripe peaches that are firm to the touch.
Buy organic sunflower seeds in bulk. Sunflower seeds are excellent to have in the kitchen to add a bit of healthy crunch to salads and smoothie bowls; they also keep well in the pantry for months so stock up on organic seeds in bulk to save money.
Recommended tools: We recommend a good quality kitchen knife set for cutting fruit, an environmentally-friendly grill pan if you don't have an outdoor grill, and a salad shaker to make whipping up homemade salad dressings even easier.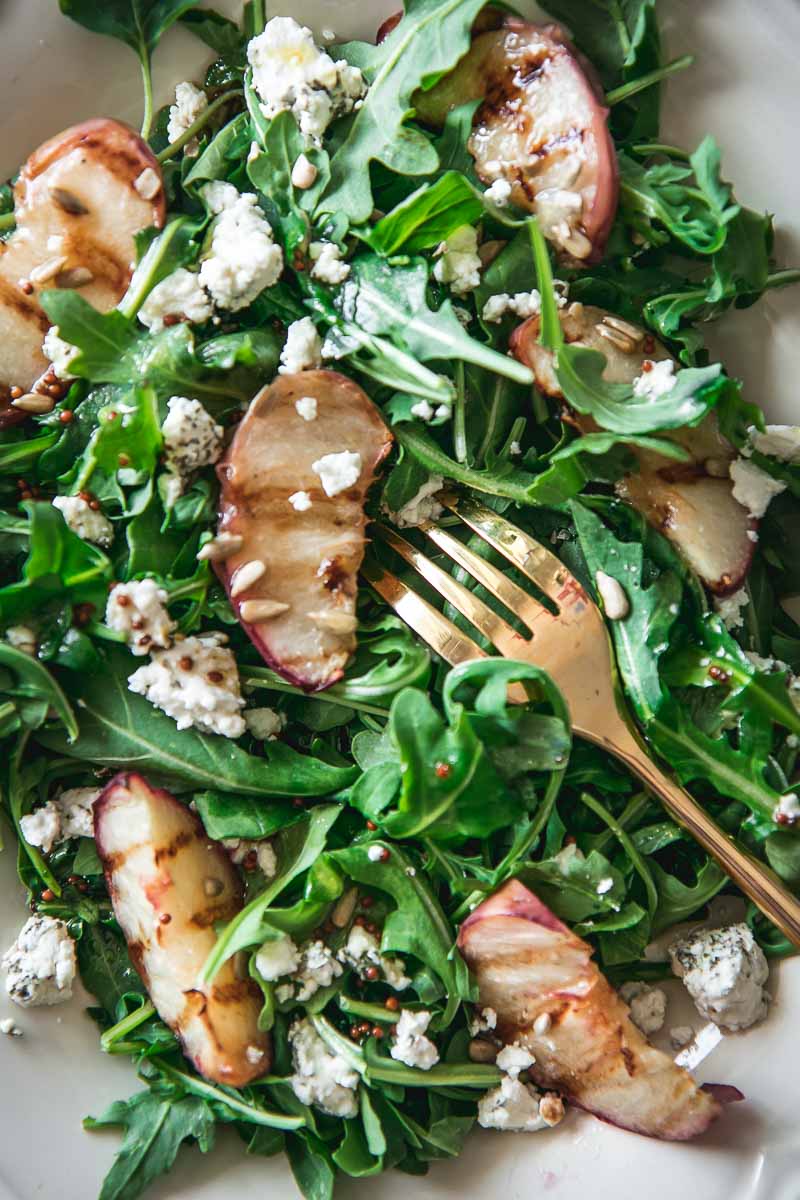 ---
🍑 More summer peach recipes
Want more recipes with peaches? We've got you covered:
Grilled Peach Salad with Goat Cheese and Honey
Grilled Peach Salad, a simple arugula salad with grilled peaches topped with savory goat cheese, crunchy sunflower seeds, and a honey vinaigrette. Simple summer salad at its finest!
Ingredients
2

whole

peaches

halved, cored, and sliced

2

tablespoons

olive oil

for grilling peaches

3

cups

arugula

2

ounces

goat cheese

2

tablespoons

sunflower seeds

¼

cup

extra virgin olive oil

1

tablespoon

apple cider vinegar

1

tablespoon

honey

1

teaspoon

dijon mustard

Pinch

of salt
Instructions
To grill peaches: Preheat grill to medium-high heat. Brush olive oil on both sides of peach slices and place on grill. Cover grill and cook about 5-7 minutes, or until peaches have blackened grill marks. Using grill tongs, carefully flip peaches and grill on other side until grill marks are present, about 5-7 minutes more. Carefully remove from grill (peaches will be soft and may fall apart), and set aside.

To make Honey Mustard Vinaigrette: Combine olive oil, apple cider vinegar, honey, mustard, and salt in a small bowl and whisk to combine.

To build salad: To a salad plate or bowl, add arugula and arrange grilled peaches. Sprinkle crumbled goat cheese and sunflower seeds on top, then drizzle with Honey Mustard Vinaigrette.
Notes
Recipe Notes: Take care when flipping peaches after they have been grilled, as they will become very soft and may fall apart easily. I used tongs instead of a fork to flip to avoid breakage. This salad can also be paired with many different dressings, include a white wine or balsamic vinaigrette.
Prep Ahead: Grill peaches up to one day and make salad dressing up to two days ahead of time to reduce salad preparation time.
Leftovers and Storage: Store leftover grilled peach salad in an airtight container for up to two days if salad is dressed, or up to three days if you store the salad dressing on the side. Honey Mustard Vinaigrette dressing can be stored in the refrigerator for up to one week.
Nutrition notes: Nutrition information is an estimate and is calculated for one serving using half of the dressing. This recipe is vegetarian and is a good source of fiber, protein, and vitamin A.
Nutrition
Serving:
1
dinner sized salad
Calories:
541
kcal
Carbohydrates:
13
g
Protein:
8
g
Fat:
52
g
Saturated Fat:
10
g
Polyunsaturated Fat:
7
g
Monounsaturated Fat:
33
g
Cholesterol:
13
mg
Sodium:
142
mg
Potassium:
201
mg
Fiber:
2
g
Sugar:
11
g
Vitamin A:
1015
IU
Vitamin C:
5
mg
Calcium:
99
mg
Iron:
2
mg
UPDATE: This post was originally published in July 2019 and updated for clarity in June 2022.