Vegan Sweet Potato Quesadilla (Yamadilla)
Vegan Sweet Potato Quesadillas, or "yamadillas", are an easy yet flavorful plant-based recipe made with sweet potatoes as a filling instead of cheese. Super simple and only 20 minutes!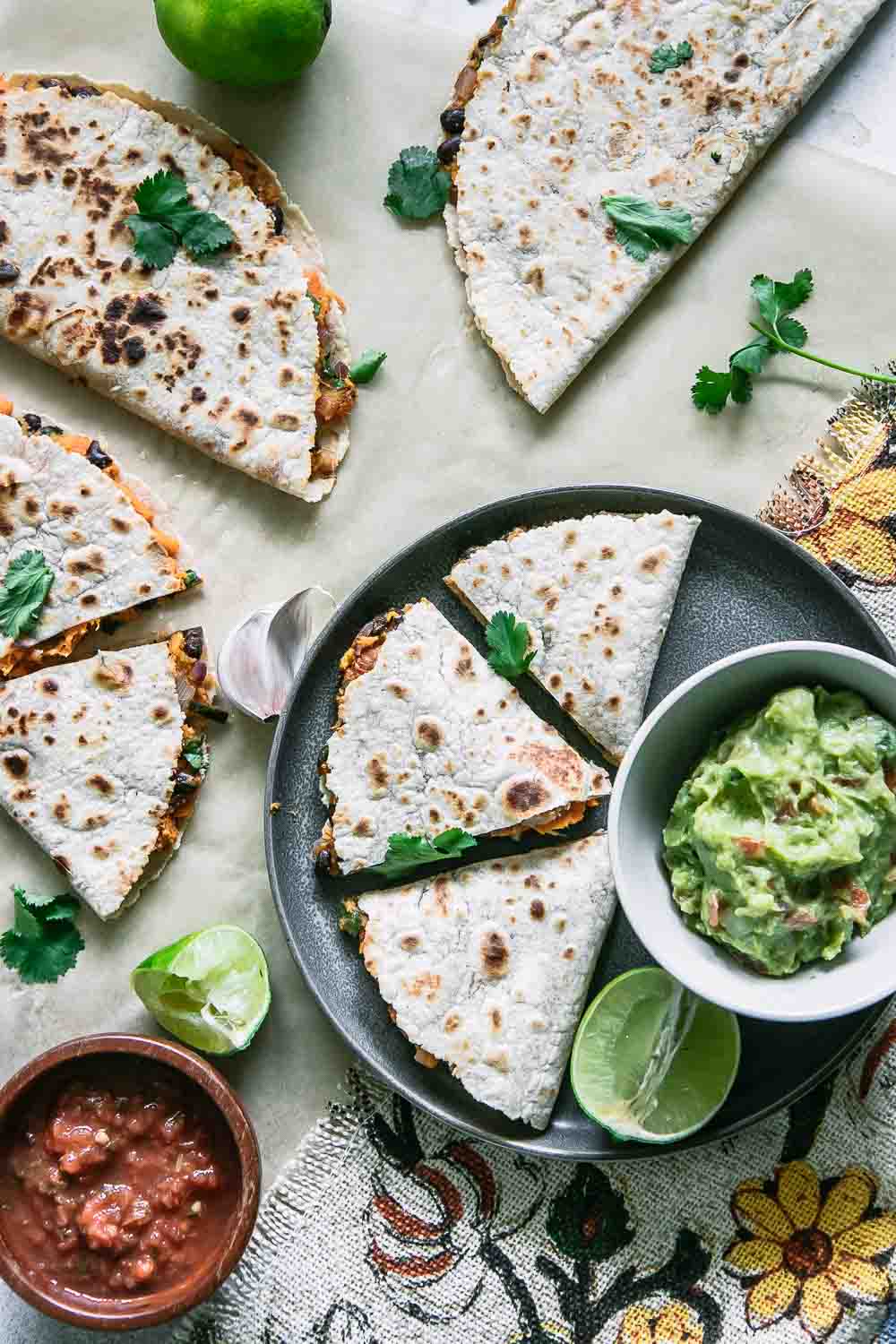 Adopting a plant-based diet has numerous benefits for your health and the health of the planet, but that doesn't mean that you can't miss some meals with animal products from time to time.
Case in point: quesadillas. What is a quesadilla without cheese? The word is literally in the name.
Well, I'm here to show you that you CAN have a flavorful quesadilla filled with delicious beans, peppers, vegetables, and spices…and without the cheese!
How is this magic done? Sweet potatoes! Ready to learn how? Let's do it!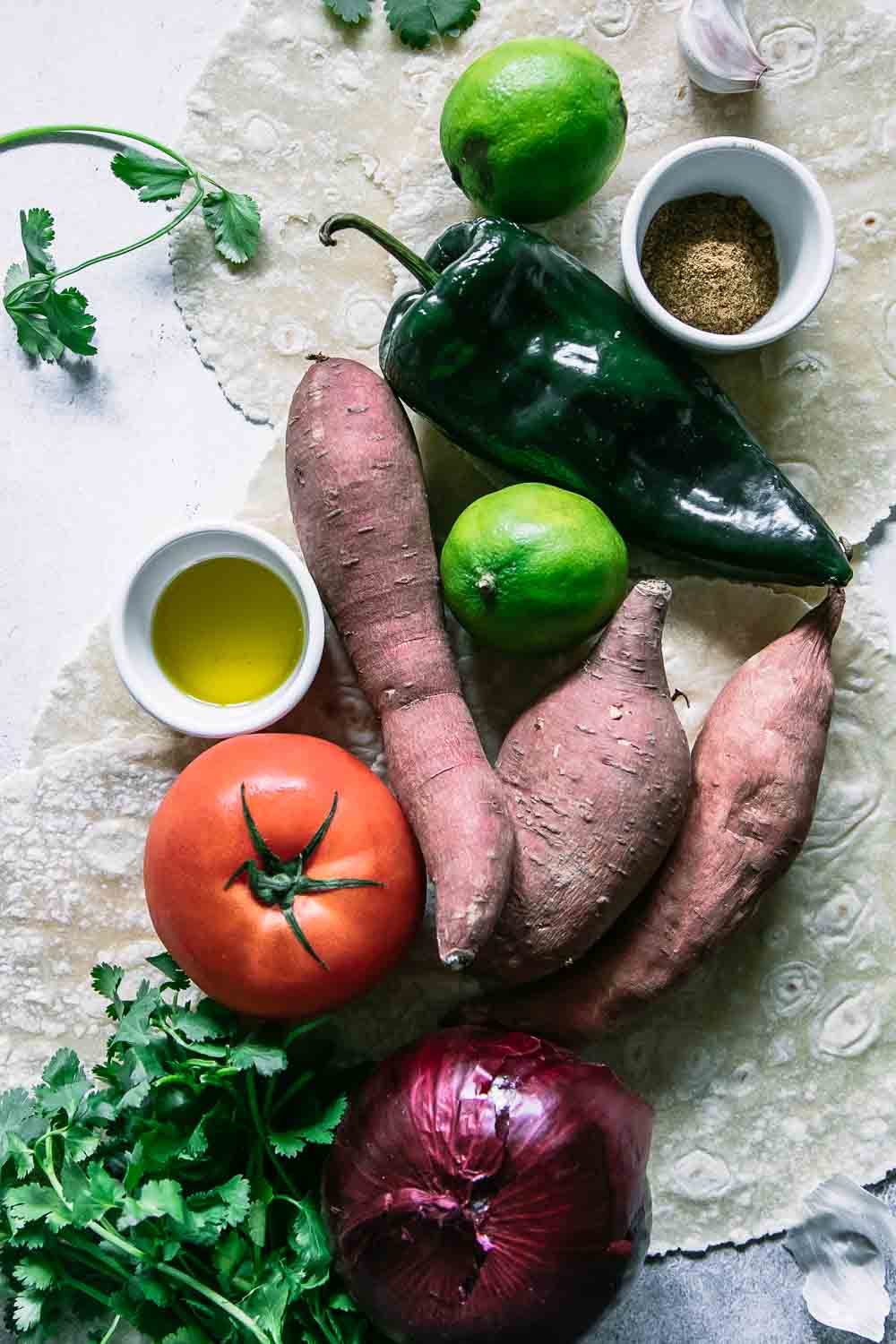 How to make (step-by-step)
The first step to making vegan quesadillas is to cook the filling, and in this case that means a mixture of mashed sweet potatoes, black beans, poblano pepper, tomato, onion, and spices.
STEP ONE: To make the filling mix, you will boil the peeled and diced sweet potatoes until they are soft but not overcooked and waterlogged, about 8-10 minutes. Drain the potatoes and then mash them with a potato masher or a large fork (an immersion blender will also work), adding a bit of water if needed until the potatoes are smooth.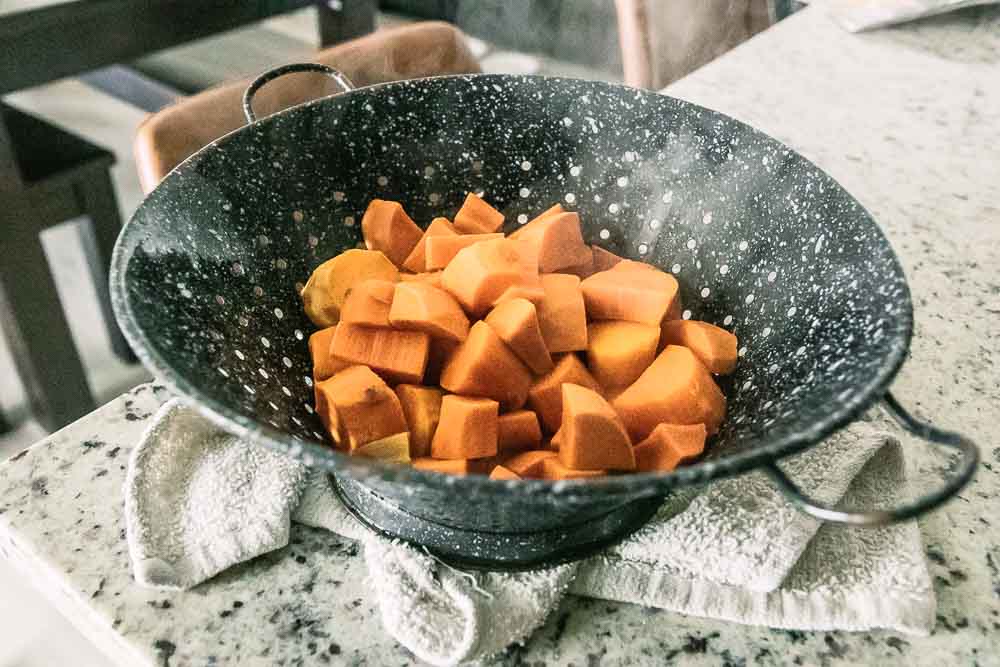 STEP TWO: While the potatoes are boiling, cook a diced poblano pepper, red onion, and tomato in a skillet, adding black beans, comin, garlic, and salt and pepper. When the vegetables have released their water, add them to the sweet potatoes and mix to combine. Do a taste test at this point and add more spices or salt if needed.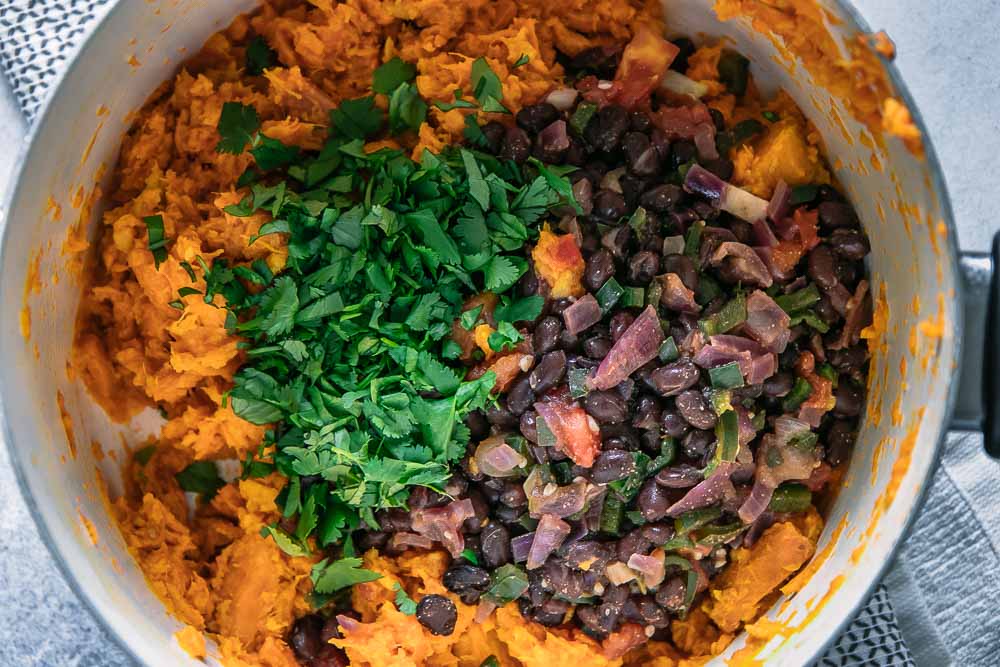 STEP FOUR: Now it's time to make the 'dillas! Heat a cast iron skillet or other large pan over medium heat with a small amount of oil, then place a medium sized tortillas in the center. Add a scoop of the potato mixture and spread on one half of the tortilla, then fold over the other half and cook both sides until crispy, about 1-2 minutes a side.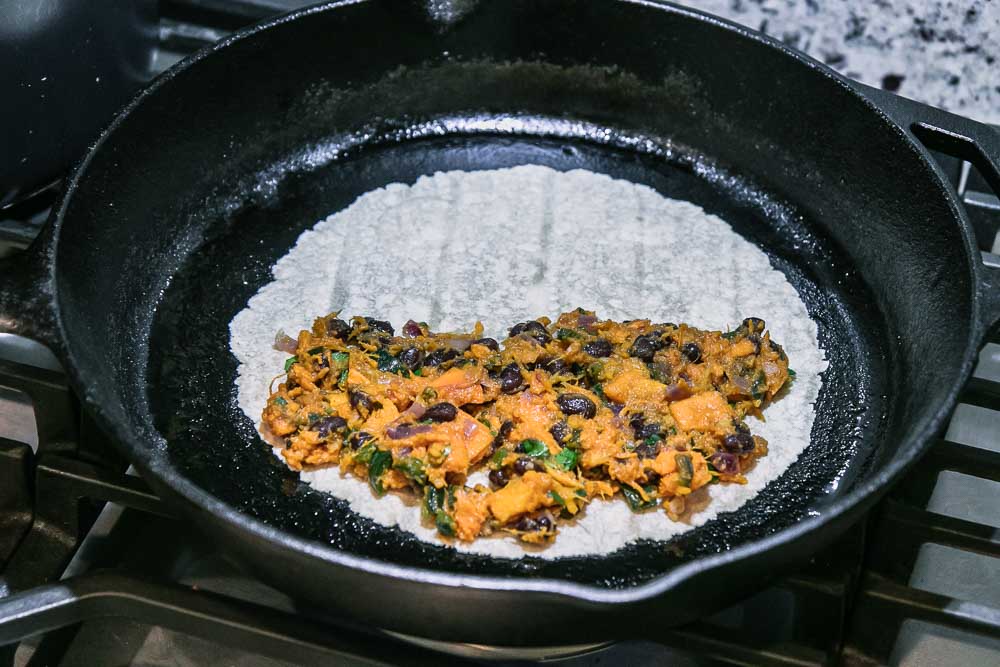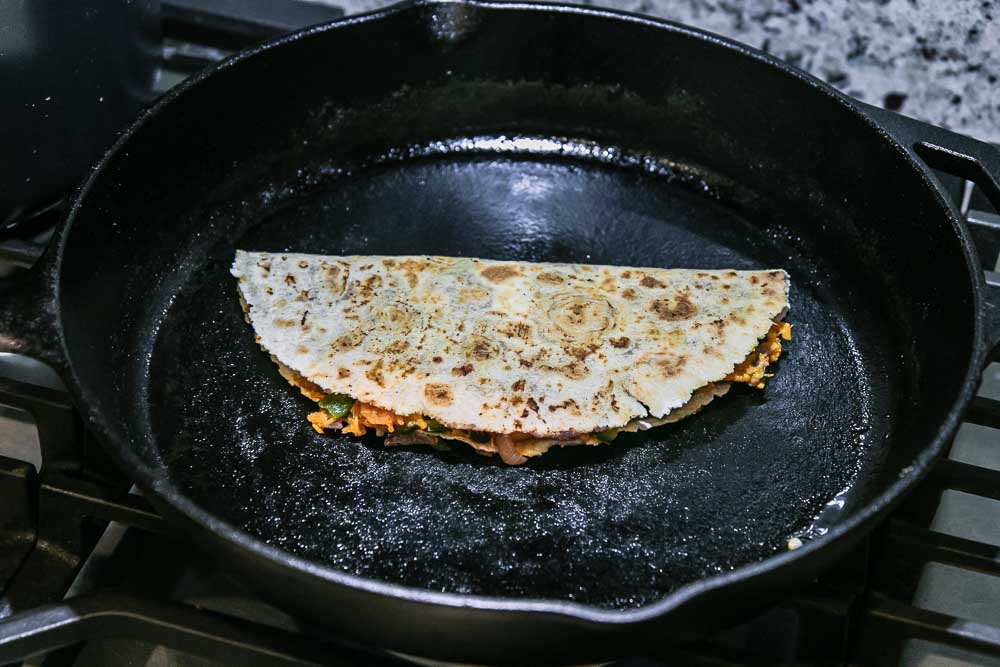 Finally, remove the quesadilla from the pan and cut with a knife or pizza cutter. Serve with a side of salsa and guacamole and top with a sprinkle of cilantro and lime juice.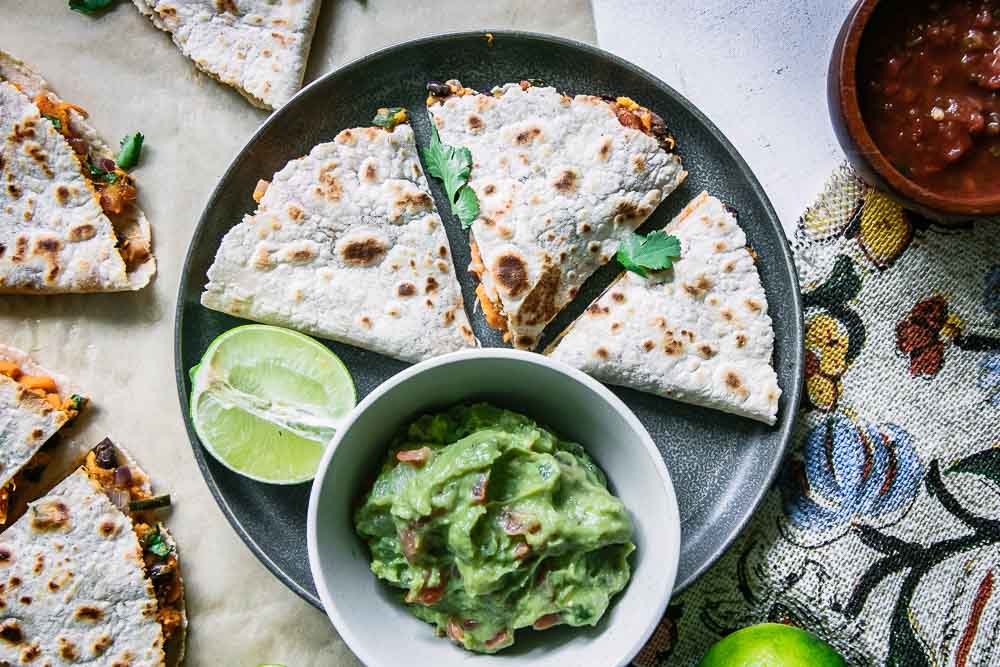 Tips, tricks, and tools
This dairy-free sweet potato quesadilla is super simple to make, but there are few tips and tricks to make the most of your ingredients and cooking time:
Use a soft flour tortilla (not corn): Because the quesadillas are folded over and grilled until crispy, we highly recommend using flour tortillas instead of corn, as corn is usually very stiff and will tear when folded. If you're looking for a gluten-free tortillas, try cassava flour (it's what we used in the photos for this recipe).
Get creative with vegetables: Sweet potatoes serve as a great base for vegan quesadillas, but add your own vegetables to the mix. We like grilled corn, peas, pinto beans, jalapenos, and mango.
Tools needed to make this recipe: cast iron skillet or other environmentally-friendly cookware, kitchen knife set, cutting board, colander, saucepan
What to serve with these quesadillas: we love a good fresh salsa and guacamole, or go extra fancy and try a Pineapple Pico de Gallo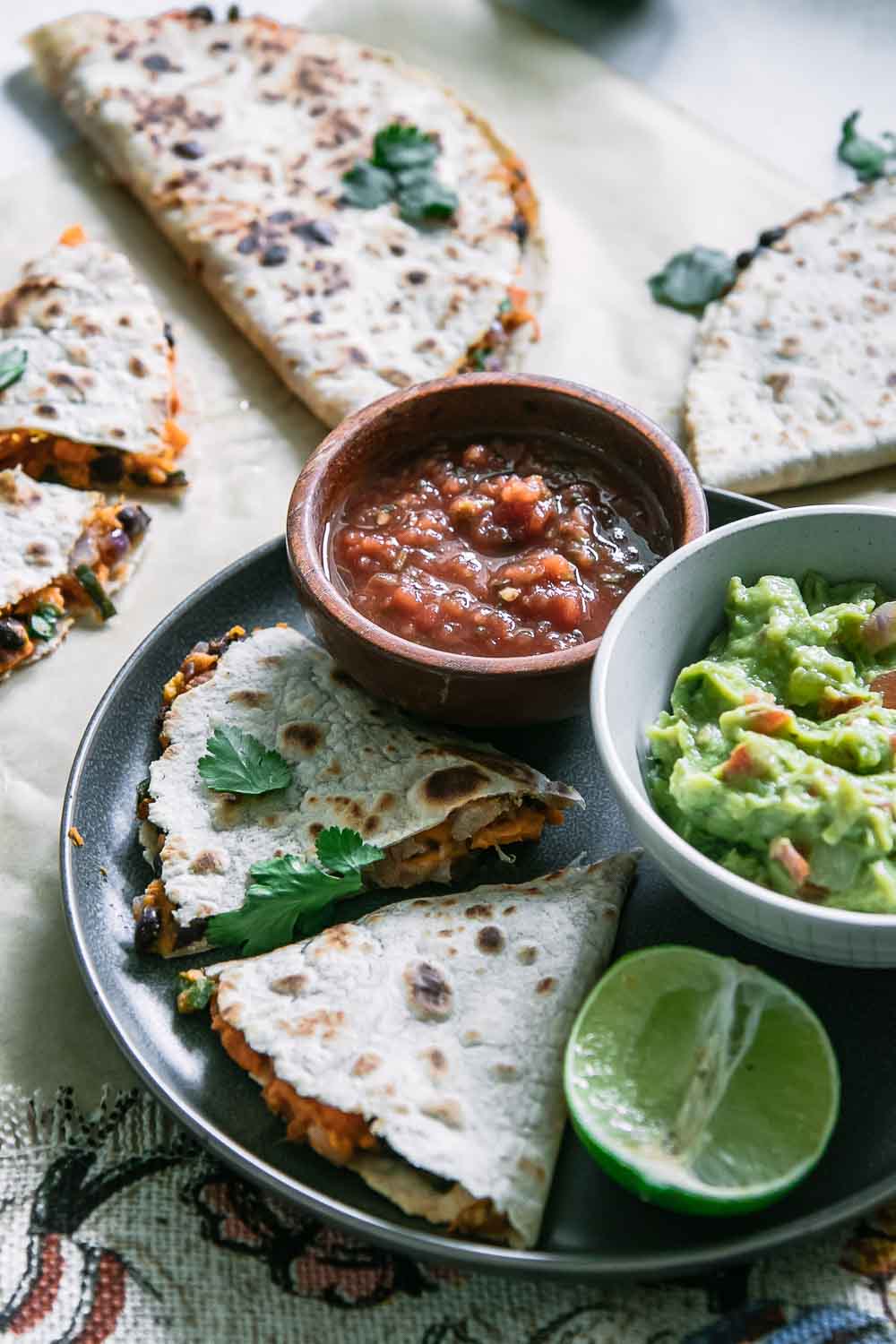 Want more easy plant-based dinner recipes?
Check out our favorite simple vegan dinners that short on time but big on flavor:
Did you make this plant-based quesadilla recipe? Leave a comment below and rate the recipe to let us know how it turned out. Save this quesadilla recipe for later by pinning to your favorite dinner Pinterest board and make sure to tag me on Fork in the Road's Instagram to show me your vegan quesadilla creations!
Yield: 8 quesadillas
Vegan Sweet Potato Quesadillas
Vegan Sweet Potato Quesadillas, or "yamadillas", are an easy yet flavorful plant-based recipe made with sweet potatoes as a filling instead of cheese. Super simple and only 20 minutes!
Prep Time 5 minutes
Cook Time 30 minutes
Total Time 35 minutes
Ingredients
2 pounds (900 grams) sweet potatoes, peeled and chopped
3 teaspoons oil, divided
1 poblano pepper*, diced
½ medium red onion, diced
½ tomato, diced
1 15-oz (425 grams) can black beans, rinsed and drained
1 tablespoon cumin
½ teaspoon chipotle powder
1 garlic clove, minced
Pinch of salt and pepper
½ cup cilantro, chopped
8 medium flour tortillas
Juice of two limes
Optional toppings: fresh salsa, guacamole, chopped cilantro
Instructions
Bring a medium pot of water to a rolling boil and add sweet potatoes, cooking 8-10 minutes or until tender, but not overcooked and waterlogged. Drain, then add the potatoes back to the pot and mash until smooth, adding 1-2 tablespoons of water if needed to get a smooth consistency. Set aside.
In a large skillet heat 1 teaspoon of olive oil over medium heat, then add the diced poblano pepper, red onion, and tomato. Cook until softened, about five minutes.
Add the black beans, cumin, garlic, and salt and pepper and cook another 2 minutes until vegetables release their water and beans are warmed, but not mushy.
Next, mix the vegetable mixture with the mashed sweet potatoes and the chopped cilantro and mix until well combined. Taste test to ensure the flavor is to your liking, adding more cumin, salt, or chipotle powder as needed. Set aside.
Reheat the skillet to medium-high with ¼ teaspoon oil, making sure to cover the bottom of the skillet completely with oil. Add a flour tortilla and spread a spoonful of the the potato mixture onto one half of the tortilla.** Fold over the tortilla and cook one each side until crispy, about 2 minutes each side. Repeat using ¼ teaspoon olive oil for all tortillas (oil helps the tortilla become crispy).
When tortilla is done cooking, remove to a plate. Drizzle with lime juice and serve with fresh salsa, guacamole, and chopped cilantro.
Notes
Notes: *Omit or reduce the amount of poblano pepper if you don't like spice. If omitting, use one bell pepper instead. **Don't overstuff the tortillas as the mixture will squish out when eating. There may be leftover mixture after, depending on how much you use in each tortilla. This would be great on its own or mixed with rice as a leftover meal. 
Tools Needed: large saucepan, large frying pan or cast iron skillet, cutting board, knife set
Prep Ahead: Prepare the potato and vegetable mixture ahead of time for faster meal prep.
Leftovers and Storage: Store any leftover quesadillas in an airtight container for up to four days in the refrigerator. Reheat in a skillet for best results, or in microwave (quesadillas will be softer).
Nutrition notes: Nutrition information is for one vegan quesadilla without salsa and guacamole.
Adapted from: Forks Over Knives
Nutrition Information:
Yield:
8
Serving Size:
1
Amount Per Serving:
Calories: 623
Total Fat: 7g
Saturated Fat: 1g
Trans Fat: 0g
Unsaturated Fat: 5g
Cholesterol: 0mg
Sodium: 244mg
Carbohydrates: 112g
Fiber: 31g
Sugar: 6g
Protein: 33g
We are participant in the Amazon Services LLC Associates Program, an affiliate advertising program designed to provide a means for us to earn fees by linking to Amazon.com and affiliated sites.