Mushroom Dijon Sourdough Breakfast Strata
Mushroom Dijon Sourdough Breakfast Strata, a simple one-pan spring brunch casserole made with mushrooms, shallots, Maille Old Style Mustard, goat cheese, mozzarella, and fresh thyme that's the perfect make-ahead breakfast recipe. Simple, savory, delicious!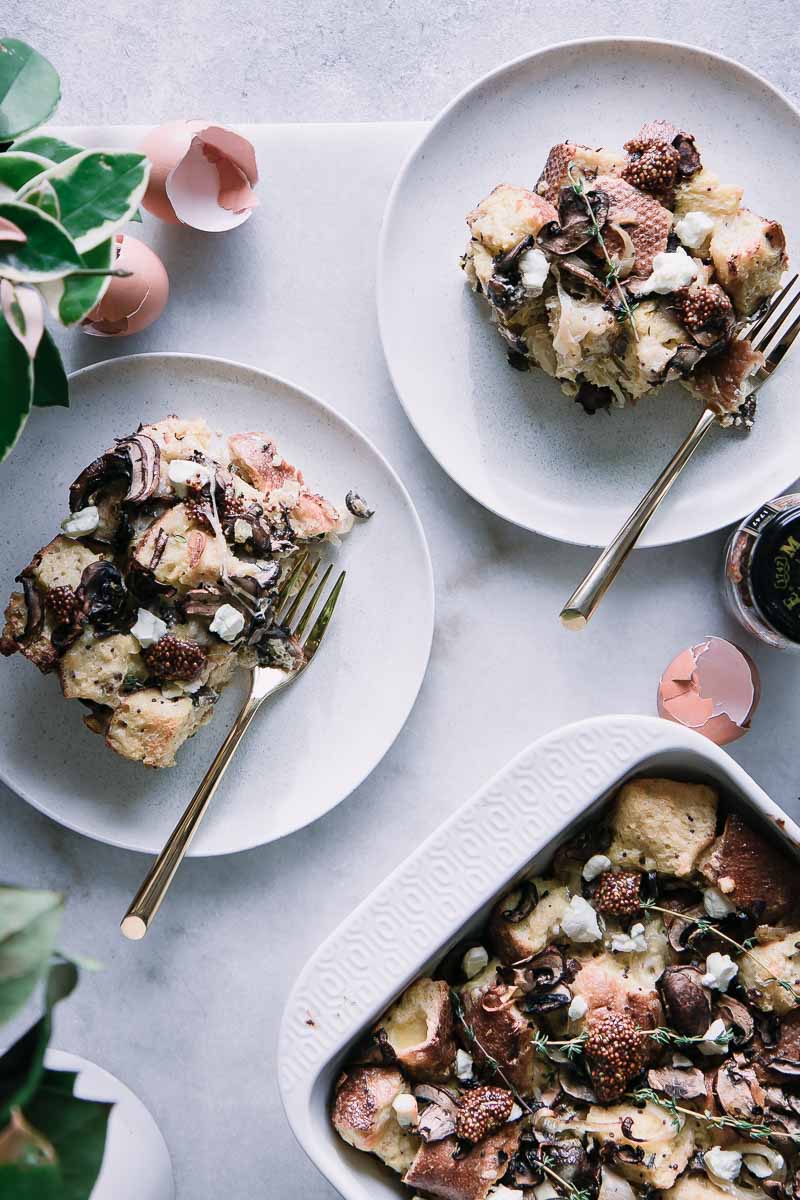 Strata is a simple one-pan spring bunch classic!
This post is sponsored by Maille, please see our Disclosure for more information on sponsored content.
The age old question: sweet or savory breakfast? While we love Sunday morning pancakes, most days of the week call for a savory start to the day. And nothing beats a baked breakfast strata with fresh vegetables and herbs.
You may be asking, what is a strata? A strata is a savory baked breakfast casserole made with toasted bread, custard sauce, and fresh vegetables, cheese, and herbs. Similar to a bread pudding, a strata is sometimes called a breakfast casserole or an egg breakfast bake.
While the strata flavor possibilities are truly endless, our favorite breakfast strata recipe includes mushrooms, shallots, fresh thyme, goat cheese, and mozzarella. But what brings this strata flavor to life is a few spoonfuls of Maille Old Style Mustard mixed with the egg custard and adds a tangy dijon smoothness that takes the fresh herbs and vegetables next level.
Ready to learn how to cook from scratch and make this one-pan spring brunch strata? Let me and Maille Old Style Mustard show you how!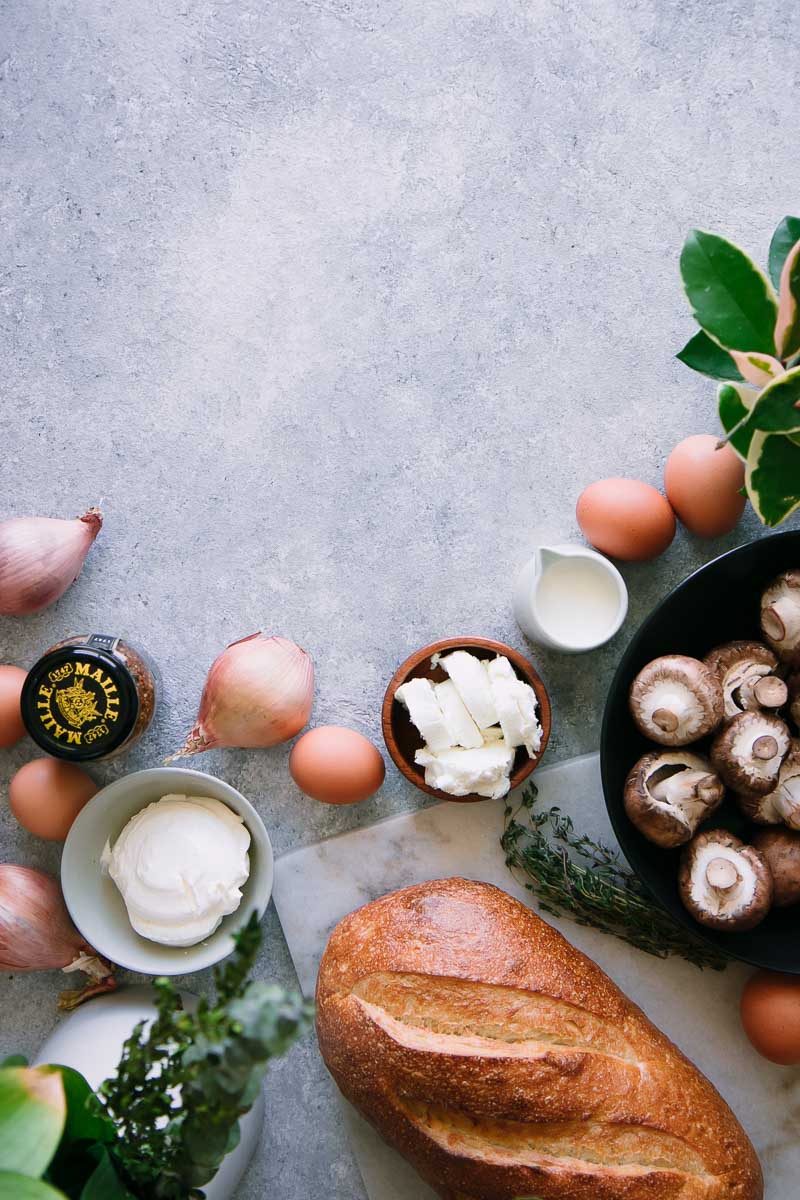 All the ingredients you'll need for a Mushroom Dijon Sourdough Breakfast Strata: sourdough bread, eggs, mushrooms, shallots, mustard, herbs, milk, and goat cheese.
---
How to make Mushroom Dijon Sourdough Breakfast Strata
This sourdough breakfast strata recipe takes a bit of prep, but the end result is a super flavorful and filling savory bread pudding that's the perfect dish to bring to breakfast and brunch get-togethers.
At their core, stratas are simply toasted bread mixed with vegetables and soaked in an egg custard sauce and baked until finished. Here's the overview of the steps to make a strata:
Cut a full loaf of bread and either dry out or toast in the oven. I used sourdough bread for a tangy flavor, but french bread or whole grain bread would be delicious as well. Experiment!
Cook vegetables that will mix with the bread. For this Mushroom Dijon Sourdough Breakfast Strata we're using mushrooms and shallots and seasoning with a bit of fresh thyme.
Make an egg custard sauce from eggs, milk, cream or yogurt, and seasonings and spices. Mix together about 10 eggs with creamy milk (we used whole milk) and either yogurt or sour cream. Season with fresh herbs, salt and pepper, and a few spoonfuls of Maille Old Style Mustard.
Mix the bread and vegetables, then soak in the creamy egg sauce. Next it's time to mix it all together in a large bowl and let the liquid soak into the bread.
Pour into a baking dish and bake until soft with a golden brown crust. Finally it's time to pour the soaked bread and vegetables into a baking dish and bake in the oven until the egg-y liquid has cooked throughout, leaving the bread soft and flavorful, but the top of the strata golden brown with a light crunch.
That's it! A savory vegetable and cheese breakfast baked casserole that's big on flavor but low on active cooking time. Win, win!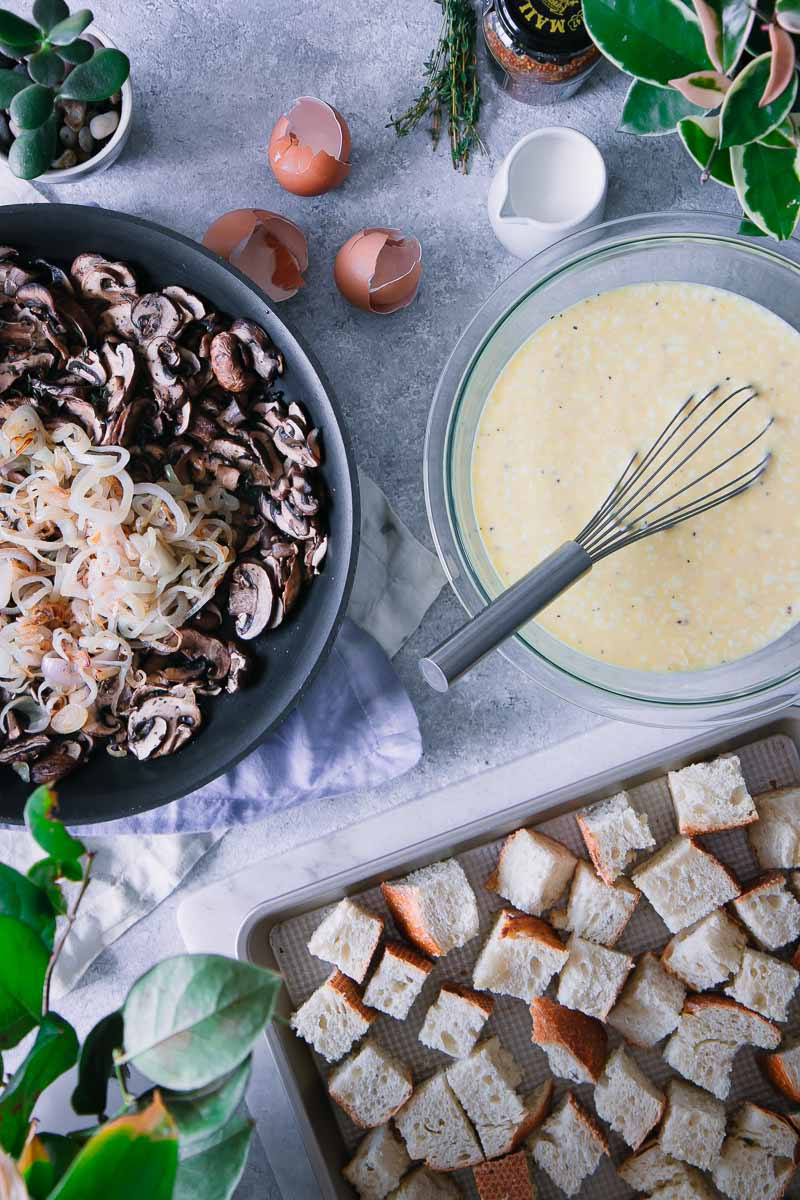 Making a Mushroom Dijon Sourdough Breakfast Strata is simple: toast sourdough bread, mix with egg and cream custard, cheese, and cooked mushrooms and shallots. Season with spices, bake, and enjoy!
---
Mushroom Dijon Sourdough Breakfast Strata: Tips, tricks, and tools
This mushroom strata recipe follows a simple formula and once you get the basics down, is easily customizable to include any vegetables, cheeses, and herbs you have on hand. Below are a few simple cooking tips and tricks to make preparation easier:
Prep ahead to make your morning easier: this strata recipe is a perfect make-ahead recipe because the casserole can be prepped the night before, pouring into the baking dish, and refrigerated overnight to be baked in the morning. Holding overnight also creates a softer and more flavorful strata.
Stratas are perfect for meal prep! Need an easy make-once, eat-all-week recipe? Cook this strata on the weekend and then pack into grab-and-go containers (like mason jars) and refrigerate for easy mornings throughout the work week.
Tools you'll need: a baking dish, glass mixing bowls, a baking sheet, and environmentally-friendly cookware (a large and medium pan will do)
Get creative with flavors! Once you get the base recipe down, experiment with your favorite vegetables, cheeses, and herbs. Try different seasonal vegetables like asparagus in the spring, spinach in the summer, and even squash in fall and winter. Use different cheese combinations like cheddar, gruyere, or pepper jack, and fresh herbs like basil, oregano, and sage. I always include a spoonful of dijon mustard, like Maille (see all of Maille's flavors here). The possibilities are endless!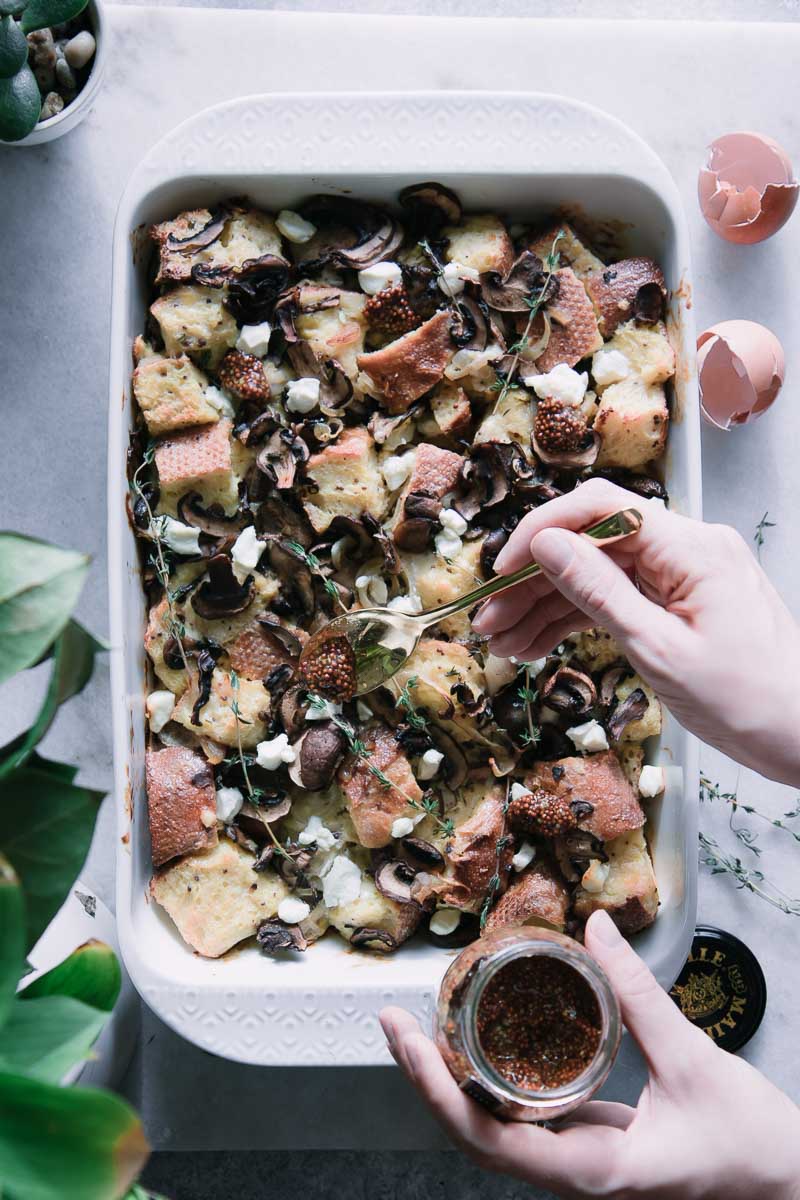 After baking your sourdough breakfast strata, top with goat cheese, fresh thyme, and a few dollops of Maille mustard for extra flavor.[/caption]
---
We hope you love this Mushroom Dijon Sourdough Breakfast Strata, it's:
a rich and savory breakfast strata that's packed with vegetables and crunchy sourdough bread
the perfect make-ahead brunch recipe to wow your friends and family for breakfast get-togethers
super customizable: just substitute your favorite vegetables, cheeses, herbs, and Maille mustards for a different take each and every time you make it
a simple meal prep recipe that can be made once and eaten all week!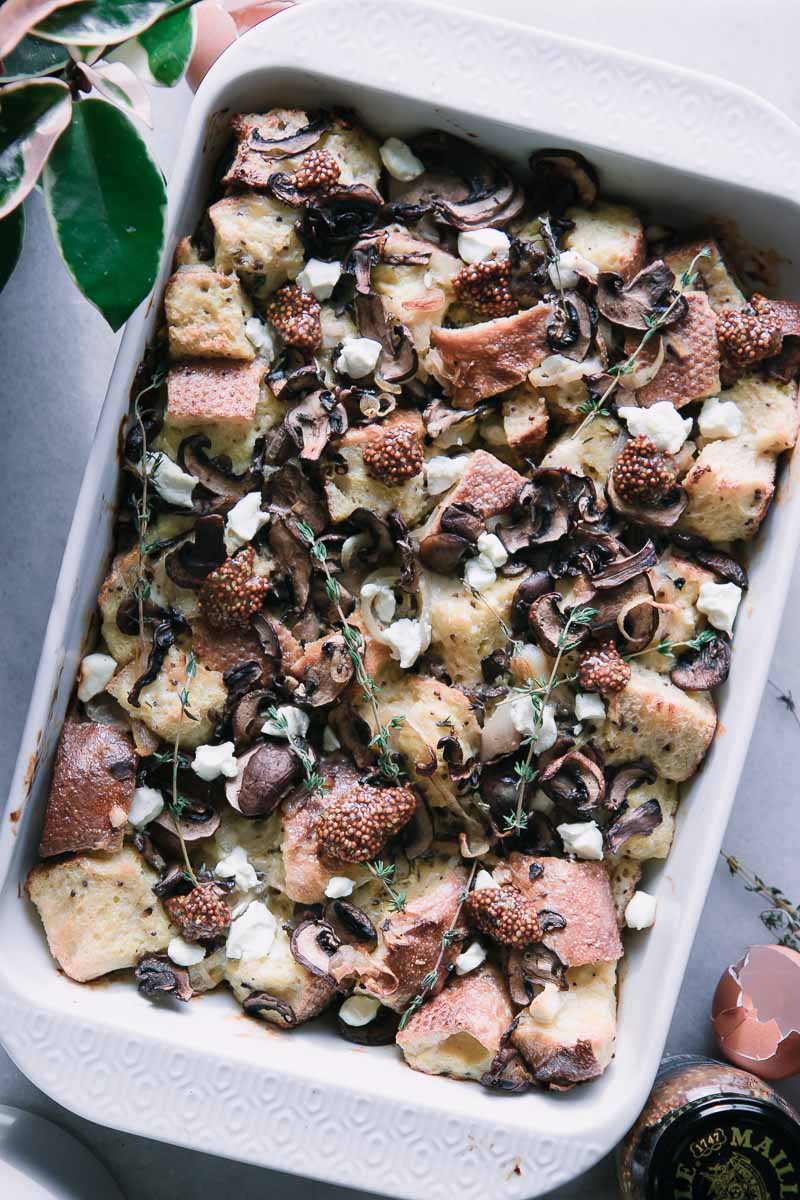 Love this simple strata recipe? Check out our other savory brunch recipes, like this Mediterranean Chickpea Harissa Frittata or Smoked Salmon Breakfast Bowl.
Did you make this Mushroom Dijon Sourdough Breakfast Strata? Leave a comment below and rate the recipe to let us know how it turned out. Save this breakfast recipe for later by pinning to your favorite breakfast Pinterest board and make sure to tag me on Fork in the Road's Instagram to show me your breakfast strata creations!
Yield: 8 servings
Mushroom Dijon Sourdough Breakfast Strata
Mushroom Dijon Sourdough Breakfast Strata, a simple one-pan spring brunch casserole made with mushrooms, shallots, mustard, goat cheese, mozzarella, and fresh thyme that's the perfect make-ahead breakfast recipe. Simple, savory, delicious!
Prep Time 25 minutes
Cook Time 1 hour
Total Time 1 hour 25 minutes
Ingredients
1 loaf sourdough or french bread, cut into 1/2 inch cubes
3 teaspoons oil, divided
3 shallots, sliced thin
1 pound mushrooms, sliced thin
2 teaspoons fresh thyme leaves
10 large eggs
2 cups whole milk
1/2 cup plain yogurt
2 tablespoons dijon mustard
pinch salt and pepper
1 cup grated mozzarella
4 ounces goat cheese, divided
thyme sprigs for garnish
Instructions
Preheat oven to 375 degrees F. Arrange bread cubes on cookie sheet and bake about 12 minutes, or until crispy but not burned.
To a large pan over medium-high heat add 1 teaspoon oil and add shallots, cooking until they begin to soften and turn brown, about 3 minutes. Reduce heat to medium-low and cook another 10 minutes until shallots are caramelized.
Add remaining 2 teaspoons oils to another large pan over medium heat and add sliced mushrooms. Cook about ten minutes, or until mushrooms have released their liquid and are beginning to dry out. Add thyme, pinch of salt and pepper. Add mushrooms to pan with shallots, remove from heat, and set aside.
Combine the eggs, milk, yogurt, dijon mustard, and a pinch of salt and pepper in a medium mixing bowl and whisk well to combine.
In a large mixing bowl, add the toasted bread, mushrooms and shallots, mozzarella, and half the goat cheese and stir once or twice to mix. Pour the egg, milk, and dijon mixture over the top and mix well with bread and vegetables. Let sit about 3-4 minutes, then stir to make sure dry bread is soaked with liquid (this is the point that you can cover dish and store overnight to bake the next day).
Pour bread and liquid mixture into a large greased baking dish, cover with aluminum foil, and bake at 375 for 30 minutes. After 30 minutes remove the foil and bake another 30 minutes uncovered, adding remaining goat cheese about five minutes before done baking.
Serve with fresh thyme sprigs and a few dollops of dijon mustard on top. Enjoy!
Notes
Tools Needed: baking sheet, environmentally-safe cookware (large and medium pan), glass mixing bowls, kitchen knife set, large baking dish
Prep Ahead: this recipe can easily be prepped until the point of pouring the uncooked strata ingredients into the baking sheet, then covered and stored in the refrigerator up to 24 hours until ready to bake.
Leftovers and Storage: let strata cool to room temperature and store either covered in baking dish, or in an airtight storage container in the refrigerator for up to two days (bread will dry out any longer than about three days). We did not try freezing, so if you do please let us know and we'll update the instructions.
Nutrition notes: This breakfast strata recipe is definitely an indulgent brunch meal, however it is high in protein. To lighten up this strata, serve with a light mixed greens salad for extra vegetables.
Nutrition Information:
Serving Size:
1 serving (~1.5 cups)
Amount Per Serving:
Calories: 380
Total Fat: 17g
Saturated Fat: 8g
Trans Fat: 0g
Unsaturated Fat: 9g
Cholesterol: 259mg
Sodium: 580mg
Carbohydrates: 37g
Fiber: 1g
Sugar: 5g
Protein: 22g
We are participant in the Amazon Services LLC Associates Program, an affiliate advertising program designed to provide a means for us to earn fees by linking to Amazon.com and affiliated sites.