Olive Tapenade Crostini with Sunny Egg
Olive Tapenade Crostini with Sunny Eggs, a simple yet delicious French breakfast of toast topped with olive and caper tapenade, microgreens, and a sunny and runny egg.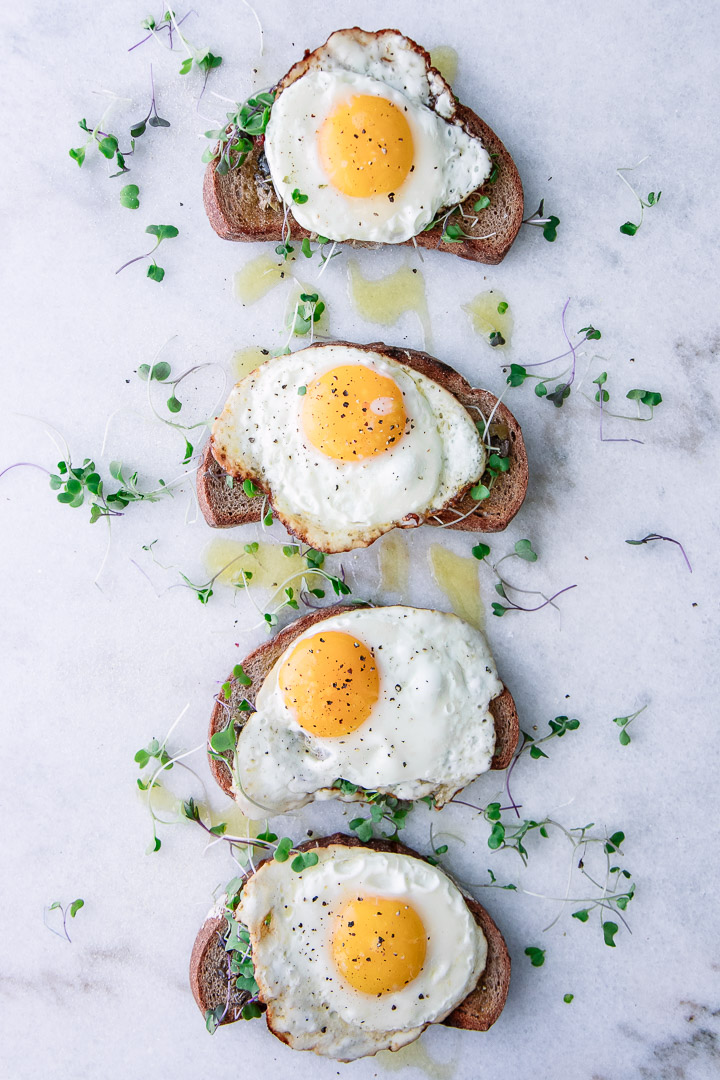 The age old debate: sweet or savory breakfast?
This is always the dilemma when sitting down to breakfast: should you go sweet (and potentially need a serious nap after) or savory (still might need the nap, but won't have the sugar rush).
I personally think that sweet and indulgent breakfasts have their place for special occasions and brunches out with friends, but for every day breakfasts I will always choose savory as I feel best when starting the day with a balanced meal. It helps me to set a solid foundation for the day.
This Olive Tapenade Crostini with Sunny Eggs has become my go-to savory breakfast to keep me fueled through a work-filled weekday or keep me satiated for a weekend on the go.
Filled with healthy fats from the olive and caper tapenade, fiber from the whole grain local artisan bread, and protein from a sunny egg, this breakfast fits the bills for a healthy and balance first meal.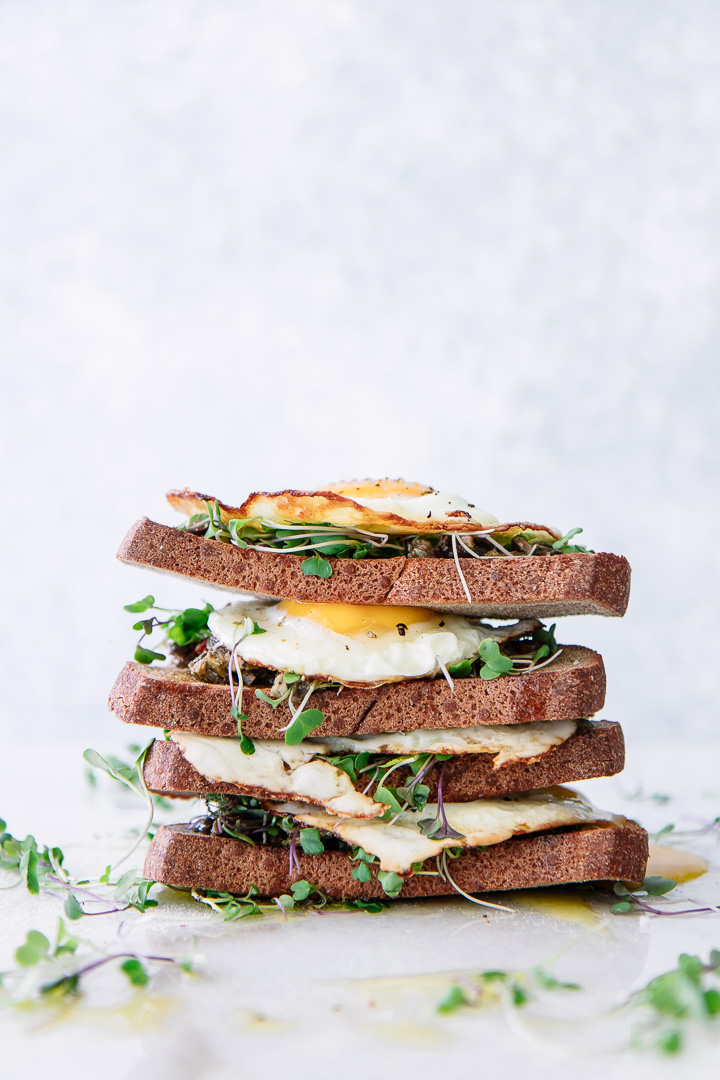 What is tapenade?
Tapenade is a mixture of crushed olives and capers that is mixed with olive oil and herbs to create a paste. Making fresh tapenade is relatively easy (save for the the time spent cutting the small fruit flesh from around the seeds) but great versions can also be found in your local grocery store (while I love making things from scratch, sometimes you have to know when to just buy a jar premade and call it a day).
Tapenade is said to have originated from the south of France, however similar olive, caper and oil spreads have been found in Mediterranean cultures for thousands of years. It is often used as a spread on top of crostini, like in this recipe, but is also used as a topping for meats, fish, and vegetables in Greek, Spanish, and Italian cuisines.
A sunny egg makes everything better
What can elevate a drab piece of toast with greens? What can take breakfast potatoes and toast to the next level? What can hold together your pancakes while also providing you protein?
It's the incredible, edible egg.
Eggs are a nutrition powerhouse full of protein, vitamins such as B12, and are a good source of iron. They also happen to be one of the most versatile and important ingredients in cooking and baking. So when making myself olive tapenade crostini one day I knew that the perfect topper would be a runny egg.
Olive Tapenade Crostini with Sunny Egg: Tips, Tricks & Tools
This Olive Tapenade Crostini recipe is an easy breakfast that can double as a simple breakfast for dinner weeknight recipe that will have you feeling like you're dining in a quaint cafe in the south of France. It's simple to make and does not require special equipment beyond a toaster, a good pan for frying eggs, and a few good ingredients.
I purchased the olive tapenade used in this recipe at Trader Joe's, however you can easily find a similar spread online. I topped off each crostini with a bit of finishing salt from Jacobsen Salt Company and a bit of freshly cracked ground pepper (nothing beats good salt and pepper). Other than a few good quality ingredients, this recipe requires little more than ten minutes of your time until you're dreaming of French cafes and coffee in town squares.
---
Love this Olive Tapenade Crostini with Sunny Egg recipe? Try another of our globally-inspired breakfast recipes such as a Persian-inspired Saffron Chickpea Chard Hash with Sunny Egg and Pluot Brown Sugar Buckwheat Pancakes, a twist on the American classic.
Yield: 2 servings
Olive Tapenade Crostini with Sunny Egg
Olive Tapenade Crostini with Sunny Eggs, a simple yet delicious French breakfast of toast topped with olive and caper tapenade, microgreens, and a sunny and runny egg. Feel like you're in the South of France with this Mediterranean-inspired meal!
Prep Time 5 minutes
Cook Time 10 minutes
Total Time 15 minutes
Ingredients
4 pieces of whole grain bread
2 teaspoons quality olive oil
⅛ teaspoon garlic powder
2 tablespoons olive tapenade
½ cup microgreens
1 pat vegan butter
2 large eggs
Pinch salt
Black pepper
Instructions
Toast bread in toaster or toaster oven. Drizzle with olive oil, sprinkle with garlic powder, and top with olive tapenade and microgreens.
For sunny egg: Heat vegan butter over medium heat in a small frying pan. Crack eggs onto pan, being careful not to break yolks. Let eggs cook until whites are cooked but yolks are runny, about 8 minutes. Reduce heat if yolks are beginning to harden.
Top toast with one egg, sprinkle with salt and cracked pepper. Enjoy!
Notes
Leftovers & Storage: Because of the sunny egg on this recipe, it is best when consumed freshly made. However you can make the crostini ahead of time and top with a precooked egg, however I strongly suggest to cook your eggs over medium or over hard if you're making this recipe and eating it later.
Nutrition Information:
Yield:
2
Serving Size:
1 serving
Amount Per Serving:
Calories: 450
Total Fat: 19g
Saturated Fat: 2g
Trans Fat: 0g
Unsaturated Fat: 17g
Cholesterol: 186mg
Sodium: 760mg
Carbohydrates: 56g
Fiber: 5g
Sugar: 5g
Protein: 17g
We are participant in the Amazon Services LLC Associates Program, an affiliate advertising program designed to provide a means for us to earn fees by linking to Amazon.com and affiliated sites.