Crispy Roasted Radish Chips
Crispy Roasted Radish Chips, a simple baked radishes recipe that makes crunchy, crispy radish chips in the oven — no air fryer and no dehydrator needed. Only four ingredients!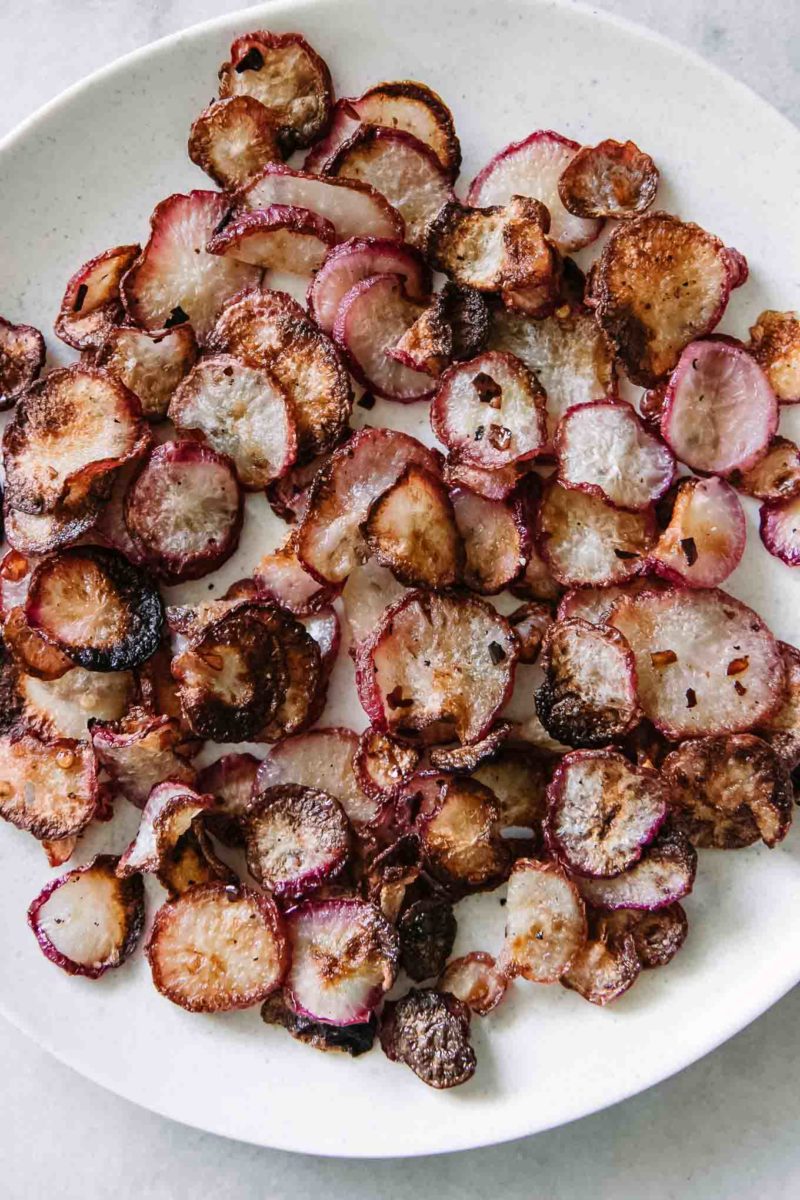 Have you ever wondered what to do with leftover radishes? Make them into "fauxtato" chips! Roasting radishes low and slow turns them into a crispy, crunchy vegetable chip.
Here's why you need to be roasting your radishes into chips:
It's easy. Only 4 ingredients and under 30 minutes for flavorful homemade veggie chips.
They're versatile. Eat them on their own or use them as a crunchy topping for salads and soups.
Reduce radish waste. Radishes are a vegetable that often get thrown out because most people don't like them raw or on their own. Reduce waste with this radish recipe!
Ready to learn how to make crispy radish chips in under 30 minutes with only 4 ingredients? Let's do this!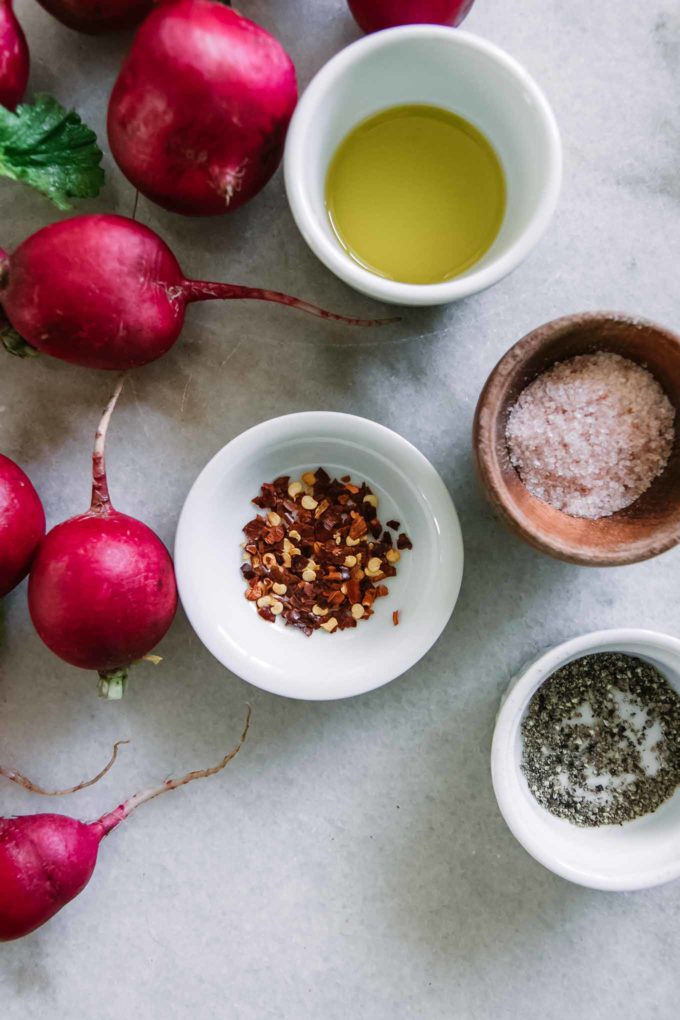 ---
👩‍🍳 How to make radish chips in the oven (step-by-step)
1️⃣ Step One: Preheat oven and prep radishes
First, preheat your oven to 400 degrees Fahrenheit (or 200 degrees Celsius).
Cut the radish bulbs from the leaves and wash well to remove excess dirt (save the radish leaves, they're delicious!).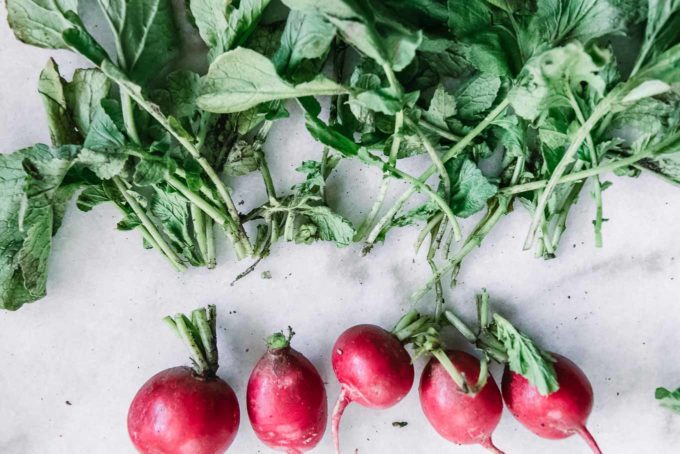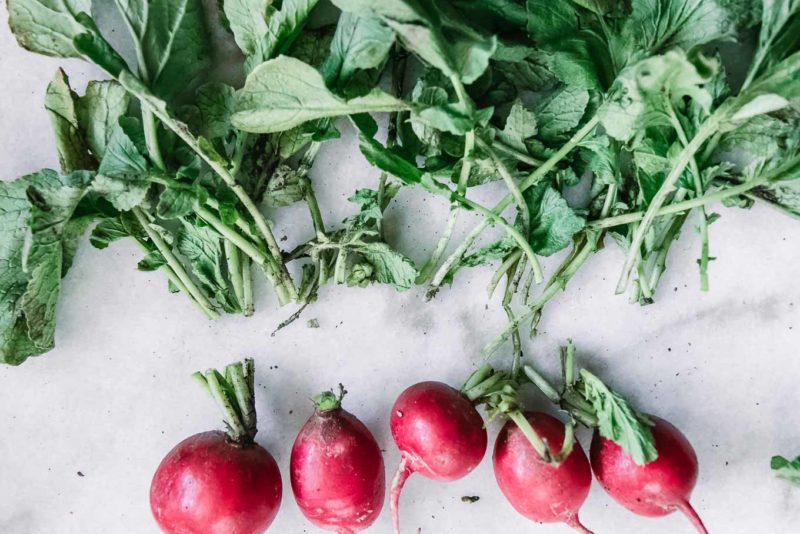 Then slice the radishes thin, about ¼ inch (or ½ centimeter) thick.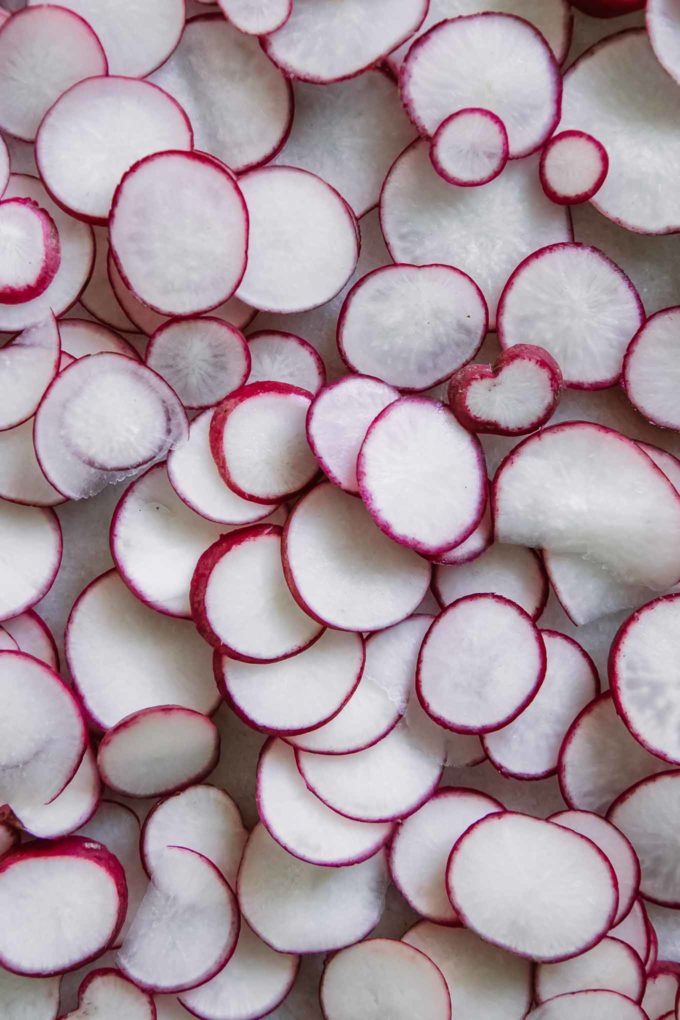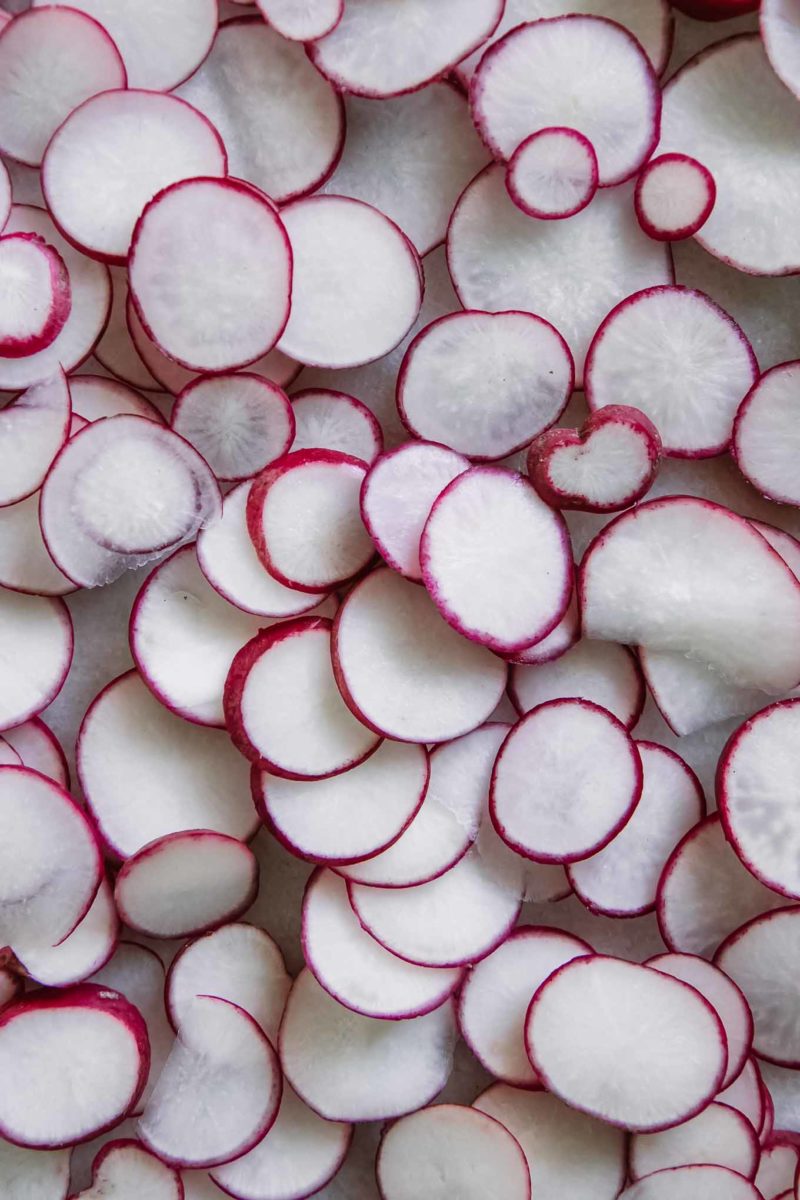 ---
2️⃣ Step Two: Prep the radishes for roasting
Next, add olive oil and the sliced radishes to a large baking sheet and toss well to lightly coat the radish slices in oil.
Then sprinkle the slices with salt, black pepper, and a bit of red pepper flakes (optional, but we highly recommend if you like a little spice).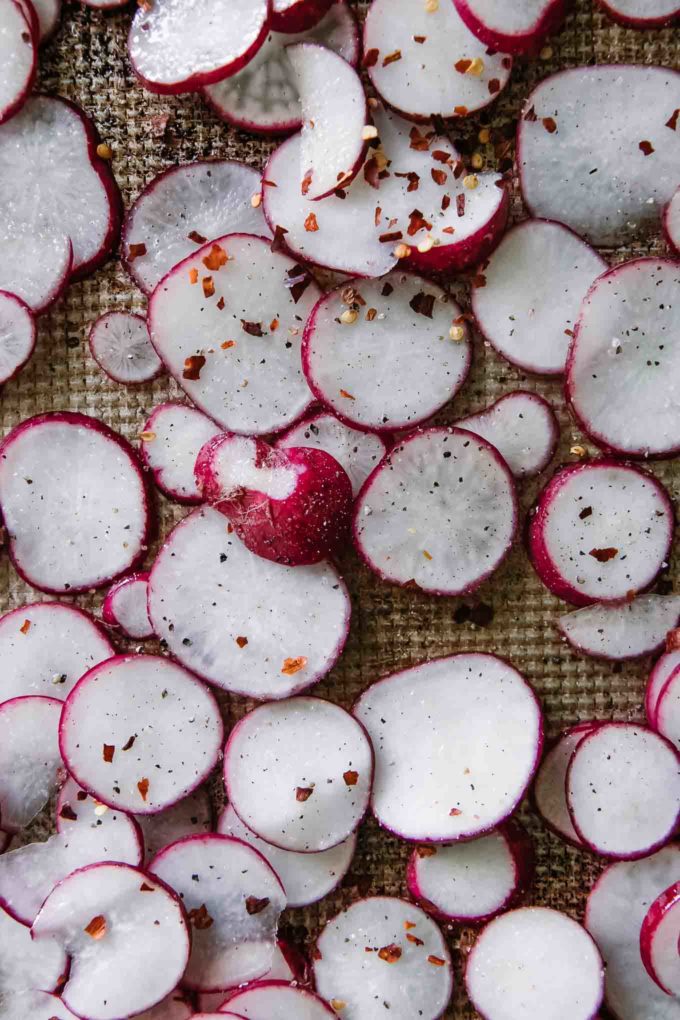 ---
3️⃣ Step Three: Bake the radishes
Roast the radish slices for a total of 101-5 minutes in the oven, moving them with a spatula every few minutes to toss so that they brown but not burn.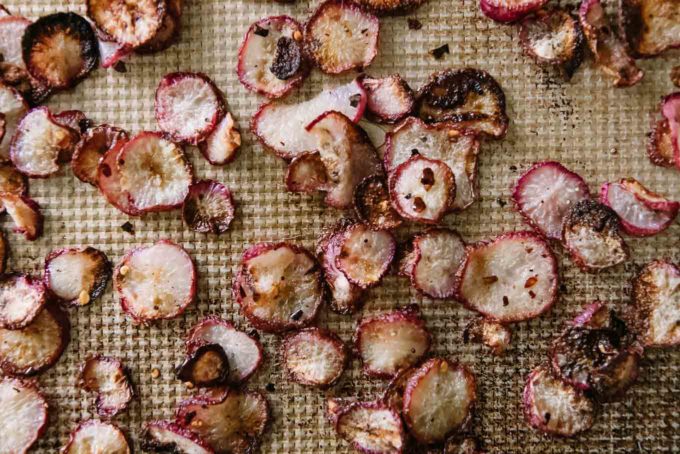 Cooking tip! We found that the radishes that were on the outer edge of the baking sheet cooked and became crispy earlier than the slices in the center. In addition to tossing them around on the pan, toward the end of cooking we removed any chips that were done and then continued to bake the less-cooked slices until all were crispy.
Finally, remove the radishes and serve immediately for best texture and flavor!
---
💡 Recipe and ingredient questions
Are radishes healthy?
Radishes are a healthy leafy green that are high in vitamin C, vitamin K, vitamin A, and have about 95 calories per serving (USDA Food Nutrient Database).
Can you eat the leaves on radishes?
Radish leaves can be eaten just like any other leafy green or lettuce. They are delicious in soups, in smoothies, and the greens on radishes can even be cooked on their own as a side dish.
What kind of radishes are best for making chips?
Any type of radishes are delicious as chips as long as they are sliced thin so they release their water when baking and become crispy. Smaller radish varieties will make crispier chips than larger radishes like daikon (though daikon radish chips are delicious as well).
How do you make radishes crispy?
The key to making crispy radishes when baking to thinly slice them and cook them at an oven temperature that isn't too high that they will burn, but instead slowly release their water and become crispy.
Why don't radish chips stay crispy after baking?
Radish chips are best eaten immediately after baking because they are not fried in oil, so they still retain some of their moisture in the even. This water in the radish will become soggy after baking.
Do you need an air fryer or a dehydrator to make radish chips?
You do not need an air fryer or a dehydrator to make crispy radish chips. Simply slice radishes thin before baking, bake at an appropriate temperature that isn't too high or low, and bake them longer to achieve crispy chips.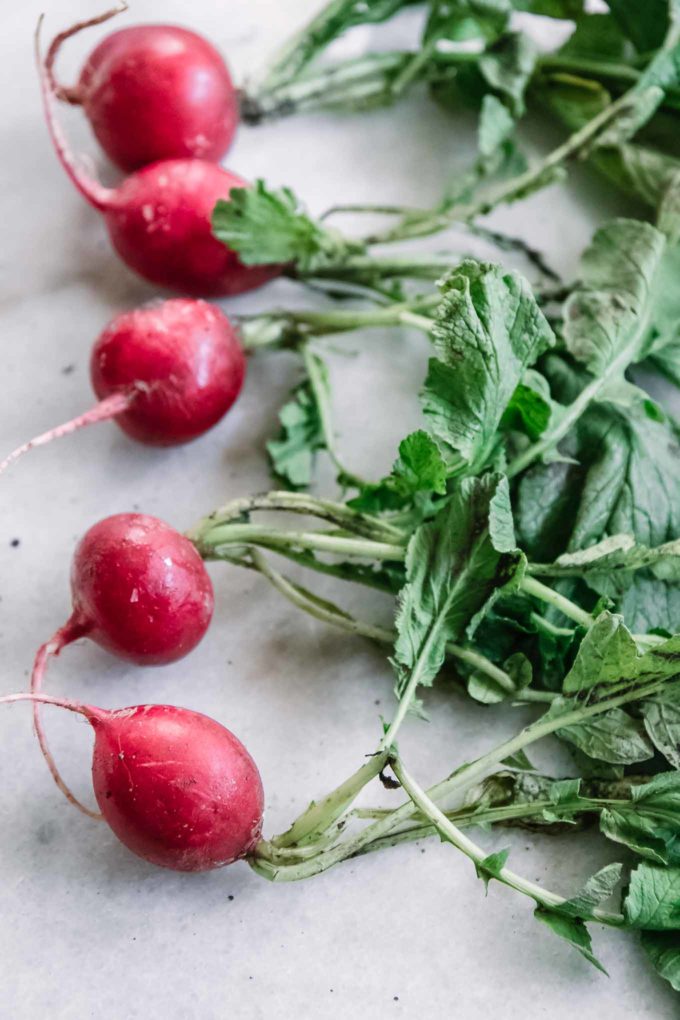 ---
♻️ Sustainable kitchen tips, tricks, and tools
Take advantage of radish season. The best time to eat radish chips is during radish season! In California that's all year long, but check out Seasonal Food Guide's radish seasonality calendar to find out when radishes are in season near you.
Don't throw out radish leaves! Though many people throw them out, radish greens are perfectly edible and are great in soups, salads, and smoothies. See below for more radish recipes using leaves, stems, and bulbs.
Get creative with radish chip leftovers. Use radish chips as a toppings for salads or soups, or sprinkle a few crunchy chips on top of a vegetable-packed pizza.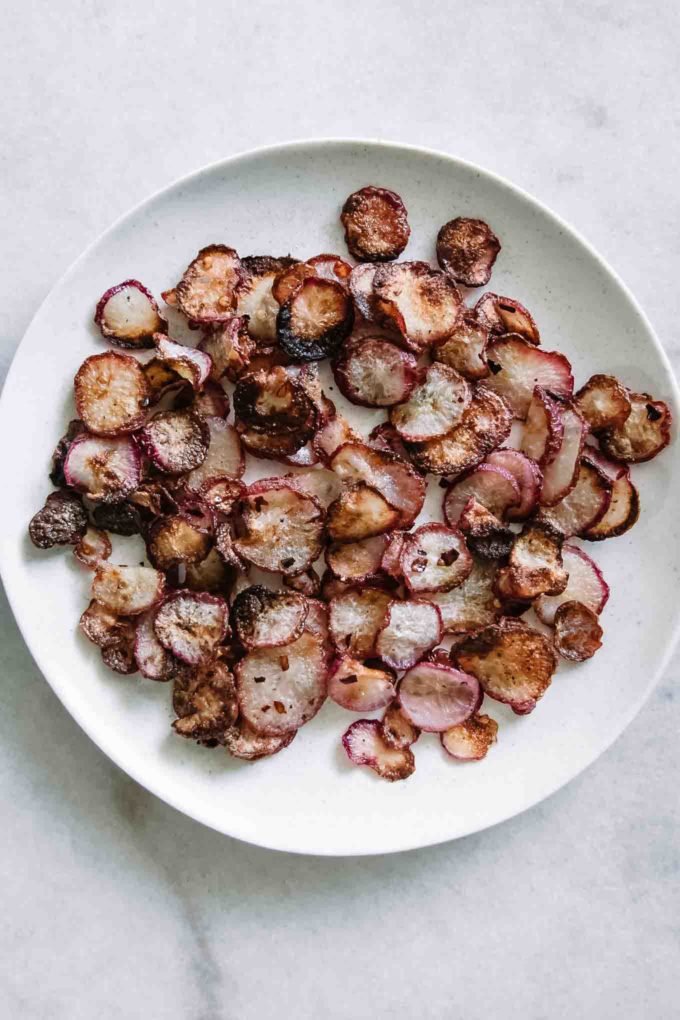 ---
🌱 Want more root-to-stem radish recipes?
Check out our favorite recipes using the whole radish, bulbs to leaves.
Looking for more roasted vegetable chips recipes? Try our Roasted Turnip Chips.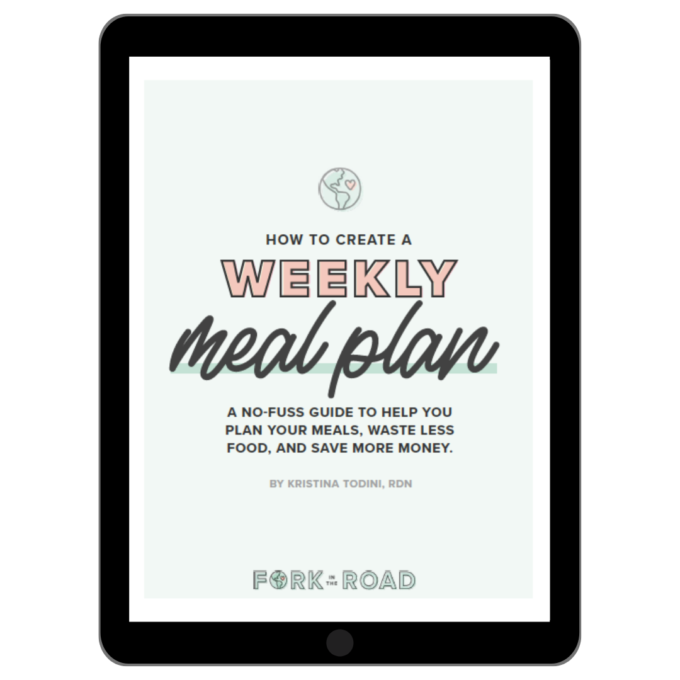 Roasted Radish Chips Recipe
Crispy Roasted Radish Chips, a simple baked radishes recipes that makes crunchy, crispy radish chips in the oven — no air fryer and no dehydrator needed. Only four ingredients!
Ingredients
1

pound

radishes

about 2 bunches

3

tablespoons

olive oil

1

pinch

salt and pepper

1

pinch

red pepper flakes

optional
Instructions
Prep oven: Preheat oven to 400 degrees F (200 degrees C).

Wash and cut radishes: Cut radish bulbs from leaves and wash well to remove excess dirt. Slice the radish bulbs thin, about ¼" (or ½ cm) thick.

Prep radishes for roasting: On a medium baking sheet add olive oil and slides radishes and toss to coat radishes completely in oil. Sprinkle with salt, pepper, and red pepper flakes (if using).

Bake radish chips: Roast radishes for a total of 10-15 minutes, tossing halfway to brown all sides of radish slices. Remove from oven and serve immediately for best flavor and texture.
Video
Notes
Notes on radishes: An average bunch of radishes is about ½ pound (225 grams), without the stems and leaves. Baked radishes are best eaten immediately after baking if you're looking for a crispy chip texture.
Tools needed: knife set, cutting board, baking sheet
Prep ahead: Get ahead by washing and slicing radishes up to two days ahead of time before roasting.
Leftovers and storage: Store leftover radish chips in an airtight container in the refrigerator for up to two days. However, the baked "chips" won't stay crispy and will be soft leftover.
Nutrition notes: This baked vegetable chip recipe uses completely plant-based ingredients, is gluten-free, and is a great grain and refined carbohydrate-free way to enjoy the crunchy texture of chips. The nutrition information was calculated using 1 tablespoon of olive oil as the amount of oil you will consume vs. how much is used to grease the pan is not the full amount used in the ingredients section.
Nutrition
Serving:
1
serving (1/2 cup)
Calories:
98
kcal
Carbohydrates:
8
g
Protein:
2
g
Fat:
7
g
Saturated Fat:
1
g
Polyunsaturated Fat:
1
g
Monounsaturated Fat:
5
g
Sodium:
109
mg
Potassium:
529
mg
Fiber:
4
g
Sugar:
4
g
Vitamin A:
31
IU
Vitamin C:
34
mg
Calcium:
57
mg
Iron:
1
mg