Baked Turnip Chips, a roasted turnips recipe that makes crunchy, crispy turnip chips in the oven—no air fryer or dehydrator needed! It's as easy as it gets and you only need four ingredients!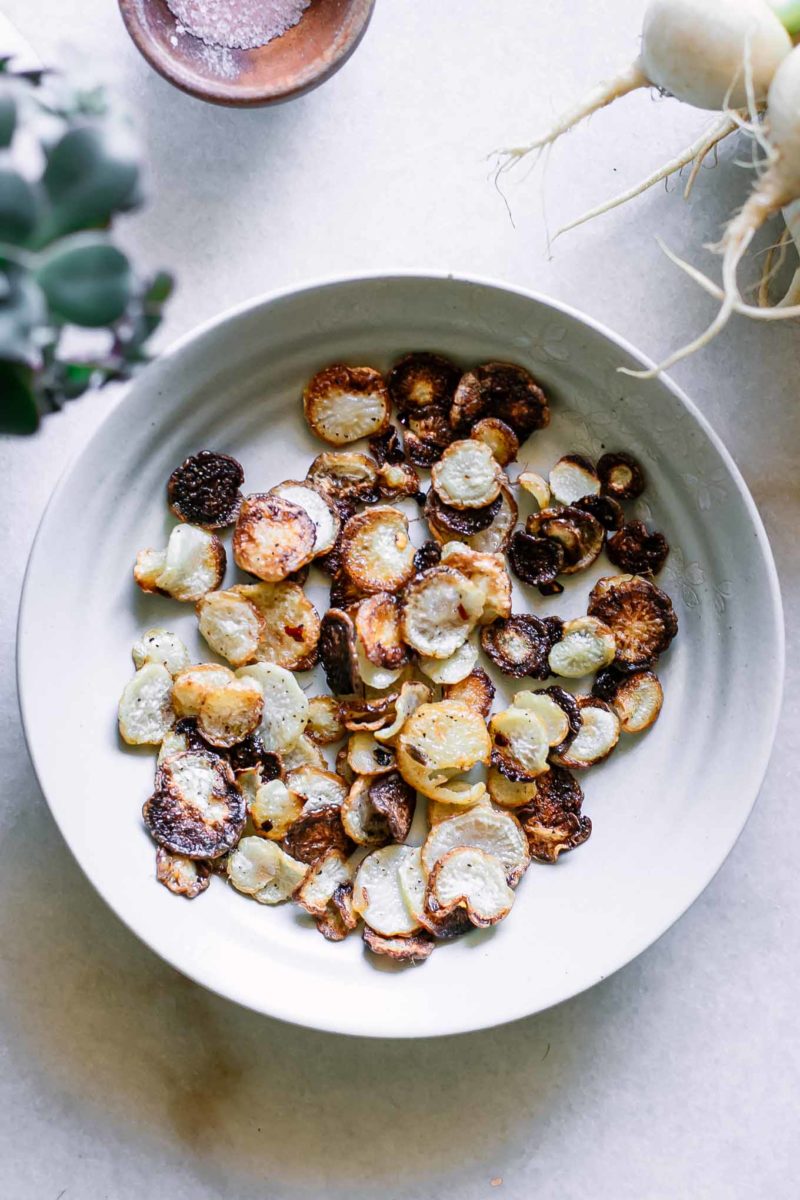 Craving something crunchy? We've got you covered with the perfect snack: baked turnip chips! This recipe is the best way to use up leftover turnips and get yourself a crispy, crunchy vegetable chip in the process.
👉 Here's why you need to be roasting your turnips into chips:
They're simple and versatile. Making baked turnip chips requires just a few steps and ingredients. All you need to do is coat turnip slices in seasonings and oil, and bake them low and slow in the oven until crispy. You can add them to just about anything for extra flavor and crunch—soups, sandwiches, salads—the possibilities are endless!
They're eco-friendly. It can be challenging to figure out what to do with turnips, so they often get thrown out. This recipe is the perfect way to use leftover turnips and prevent food waste.
They're healthy! Who doesn't crave a salty, crunchy snack every once in a while? Roasted veggie chips like these provide the best flavor and texture for snacking…without the excess salt that often comes with store-bought chips. Plus, turnips are a source of fiber, vitamin C, and folate.
Ready to learn how to make your own dehydrated chips out of turnips? Let's do it!
---
🌿 Ingredients
The best part about these turnip chips is how simple they are! With just a few ingredients and less than 30 minutes, you'll have a crunchy snack to enjoy. Here's what you'll need to make them:
Turnips: You will need about 1 pound of turnips, or 2 bunches, for this recipe.
Olive oil: We used olive oil in this recipe, but any oil with a high smoke point will do. The oil helps make veggie chips crunchy, and also makes them extra flavorful.
Salt and black pepper: A little salt and pepper is all you need to add flavor to the turnip chips!
Optional: Add a pinch of red pepper flakes if you want a little spice.
Recommended tools: knife set, cutting board, baking sheet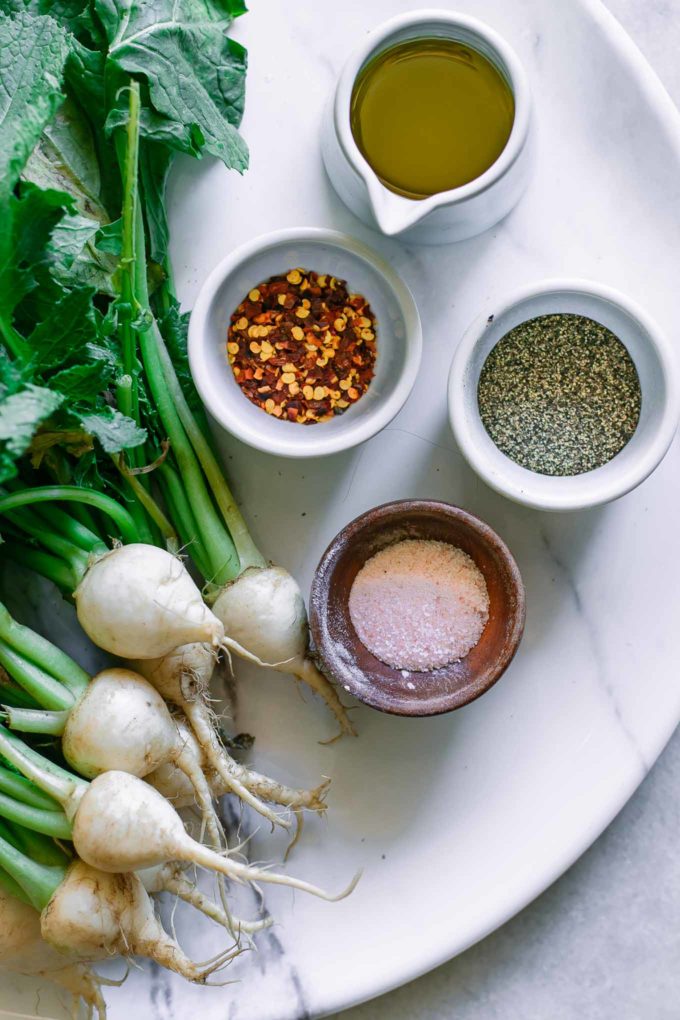 ---
🥣 How to make (step-by-step photos)
1️⃣ Step One: Preheat oven and prep turnips
First, preheat your oven to 400 degrees F (or 200 degrees C).
Cut the turnip bulbs from the leaves and wash them well to remove any dirt. Set the turnip leaves aside to use in other recipes!
Then, slice the turnips thin, about 1/4 inch (or 1/2 centimeter) thick.
---
2️⃣ Step Two: Prep the turnips for roasting
Next, place the turnip slices on a baking sheet and toss with olive oil until they are lightly coated.
Then sprinkle the slices with salt, black pepper, and a dash of red pepper flakes (optional, but we highly recommend it if you like a little heat!).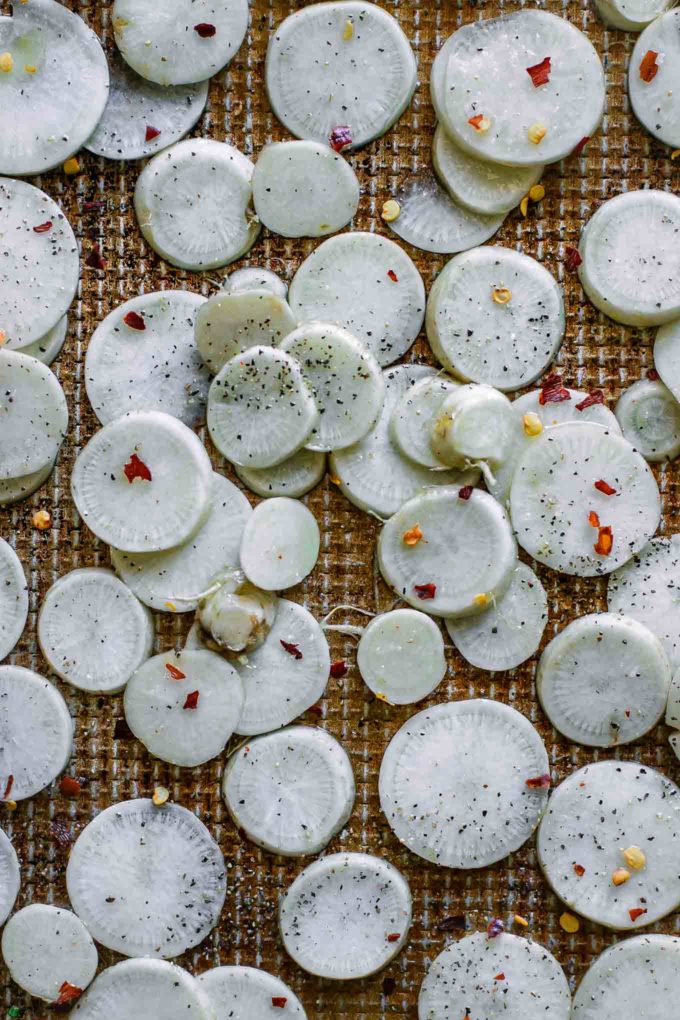 ---
3️⃣ Step Three: Bake the turnips
Roast the turnips in the oven for about 20-25 minutes. Every 5 to 10 minutes, take them out of the oven and give them a quick toss with a spatula. This will ensure that they do not burn (and helps make them extra crispy).
Finally, remove the turnips and serve immediately for best texture and flavor!
---
❓ Recipe questions + quick tips
Are turnips healthy?
Yes, turnips are healthy! They are a part of the cruciferous vegetable family, but are often prepared similarly to how you would use potatoes. Turnips are a source of vitamins and minerals like magnesium, phosphorus, vitamin K, zinc, and vitamin C. Additionally, they provide fiber which is important for heart health and digestion. We recommend eating turnips for the health benefits!
What can I do with turnips?
Turnips are very similar to potatoes, and can be prepared in many of the same ways. You can make a simple side dish from turnips by roasting them, mashing them, or making them into fries. You can also mix them into salads, use them as an ingredient in soup, or even make them into a gratin. Another great way to use turnips is by making them into crispy chips like we did in this recipe.
How do you make turnips crispy?
The key to making crispy turnips when baking is to thinly slice them and cook them at an oven temperature that will allow them to slowly release their water and become crispy. We roasted our turnip chips at 400 degrees F, which resulted in the perfect level of crispiness.
Do you need an air fryer or a dehydrator to make turnip chips?
No, you do not need an air fryer or dehydrator to make chips from turnips. After slicing the turnips thinly, all you have to do is bake them in the oven at an appropriate temperature. To make them more crispy, take them out of the oven halfway through cooking and give them a toss before they finish baking. Additionally, they will get crispier if you bake them for a little longer.
---
🌱 How to serve
Roasted turnip chips are so versatile—there are so many different ways that you can season them to your liking. Here are a few ways to get creative with your turnip chips:
Get cheesy with nutritional yeast: Add a sprinkle of nutritional yeast to your chips when they are done baking. The best plant-based cheese chip alternative!
Experiment with different flavors: Try adding some garlic and lemon juice, or sea salt and vinegar for a boost of delicious flavor.
Sprinkle on salads, soups, and pizza: We love snacking on baked turnip chips plain, but they add crunch to a variety of fan-favorite dishes!
---
🧊 How to store
For the best quality, we suggest enjoying roasted turnip chips right after you make them. Note that the baked "chips" won't stay crispy and will be soft leftover. If you do have leftovers, here's how to store them:
Refrigerator storage: Keep turnip chips in an airtight container in the refrigerator for up to two days.
Freezer storage: We do not recommend storing turnip chips in the freezer.
---
♻️ Sustainable kitchen tips
Want to take your sustainable kitchen to the next level? Here are a few ways to give back to the planet while making this recipe:
Make them during turnip season. Take advantage of turnips while they're seasonal! That's year-round in California, but you can find out when they're in season near you here.
Don't throw out turnip greens! Did you know turnip greens are perfectly edible? You can mix them into soups, salads, and even smoothies. We love using them to make pesto, or sautéing them for a delicious side dish.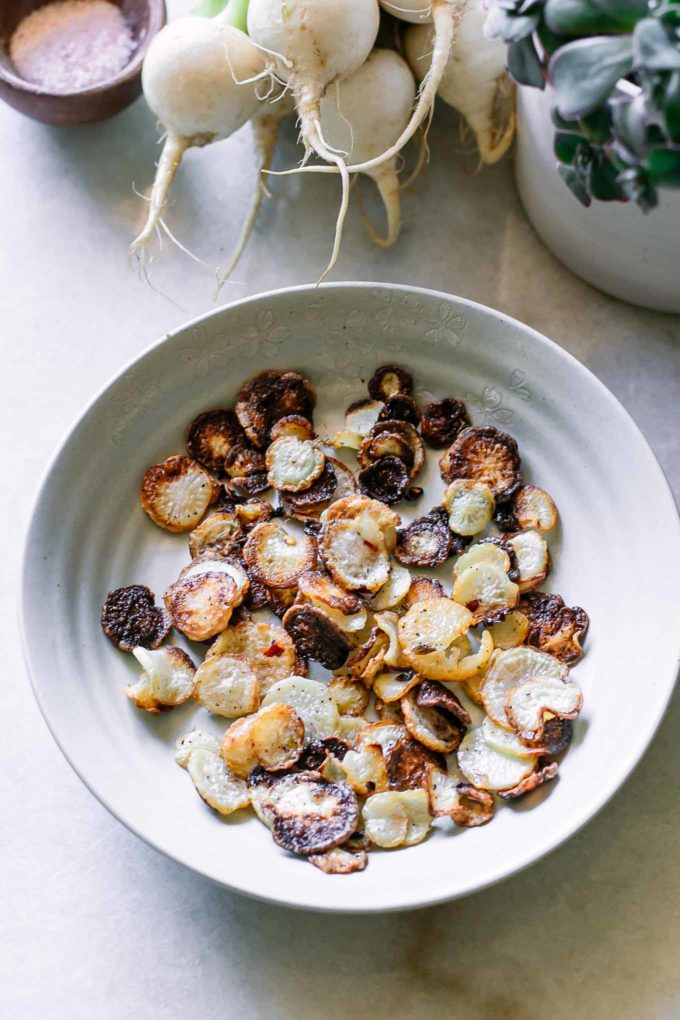 ---
💚 More root-to-stem turnip recipes
Don't miss out on our other recipes that use the whole turnip, bulbs to leaves!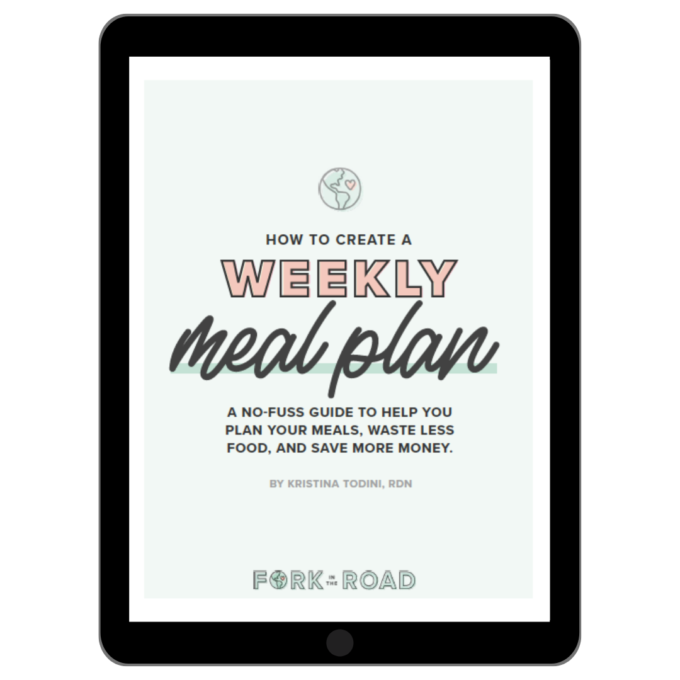 Roasted Turnip Chips
Baked Turnip Chips, an easy baked turnips recipe that makes crunchy, crispy turnip chips in the oven—no air fryer and no dehydrator needed. Only four ingredients!
Ingredients
2

bunches

turnips

3

tablespoons

olive oil

1

pinch

salt and pepper

1

pinch

red pepper flakes
Instructions
Prep oven: Preheat oven to 400 degrees F (200 degrees C).

Wash and cut turnips: Cut turnip bulbs from leaves and wash well to remove excess dirt. Slice the turnip bulbs thin, about 1/4" (or 1/2 cm) thick.

Prep turnips for roasting: On a medium baking sheet, add olive oil and sliced turnips. Toss to coat the turnips lightly in oil. Sprinkle with salt, pepper, and red pepper flakes.

3 tablespoons olive oil,

1 pinch salt and pepper,

1 pinch red pepper flakes

Bake turnip chips: Roast turnips for a total of 20-25 minutes, tossing every 5-10 minutes to brown all sides of turnip slices. Remove from the oven and serve immediately for best flavor and texture.
Notes
Recipe notes: An average bunch of turnips is about 1/2 pound (225 grams), without the stems and leaves. Baked turnips are best eaten immediately after baking if you're looking for a crispy chip texture.
Tools needed: knife set, cutting board, baking sheet
Prep ahead: Get ahead by washing and slicing turnips up to two days ahead of time before roasting.
Leftovers + storage: Store leftover turnip chips in an airtight container in the refrigerator for up to two days. However, the baked "chips" won't stay crispy and will be soft leftover.
Nutrition
Serving:
1
serving
Calories:
93
kcal
Carbohydrates:
1
g
Protein:
1
g
Fat:
11
g
Saturated Fat:
1
g
Polyunsaturated Fat:
1
g
Monounsaturated Fat:
8
g
Sodium:
11
mg
Potassium:
2
mg
Fiber:
1
g
Sugar:
1
g
Vitamin A:
7
IU
Vitamin C:
1
mg
Calcium:
1
mg
Iron:
1
mg