4-Ingredient Cheddar Chive Polenta
Cheddar Chive Polenta, a simple cornmeal side dish with shredded cheddar cheese and chopped chives that's ready in only ten minutes. You'll love this easy 4-ingredient recipe!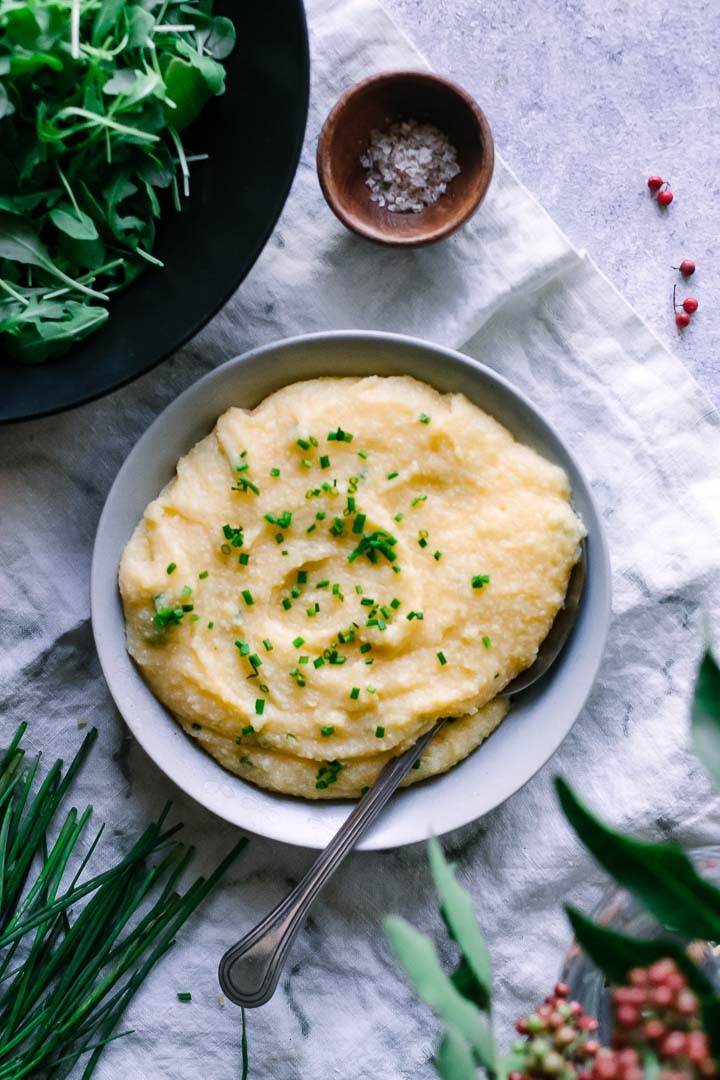 Do you love polenta? I didn't grow up making polenta, so it's always been a dish that I enjoyed only when dining out. It wasn't a food I considered making at home, and — to be honest — it wasn't a food I even thought I liked for most of my life.
Until recently when I dined out and had a delicious and cheesy polenta dish with fresh herbs. I couldn't that something so simple could taste so good, and I vowed to experiment with the grain and perfect polenta to share with you all.
And that's where this Cheddar Chive Polenta was born — four ingredients and only ten minutes but bursting with big, bold flavor. We've now had this simple polenta recipe once a week for the past month and I'm super excited to share it with you so you too can fall in love with this easy corn and cheddar side dish.
Ready for the so-simple cheesy, chive-y polenta recipe? Let's do it!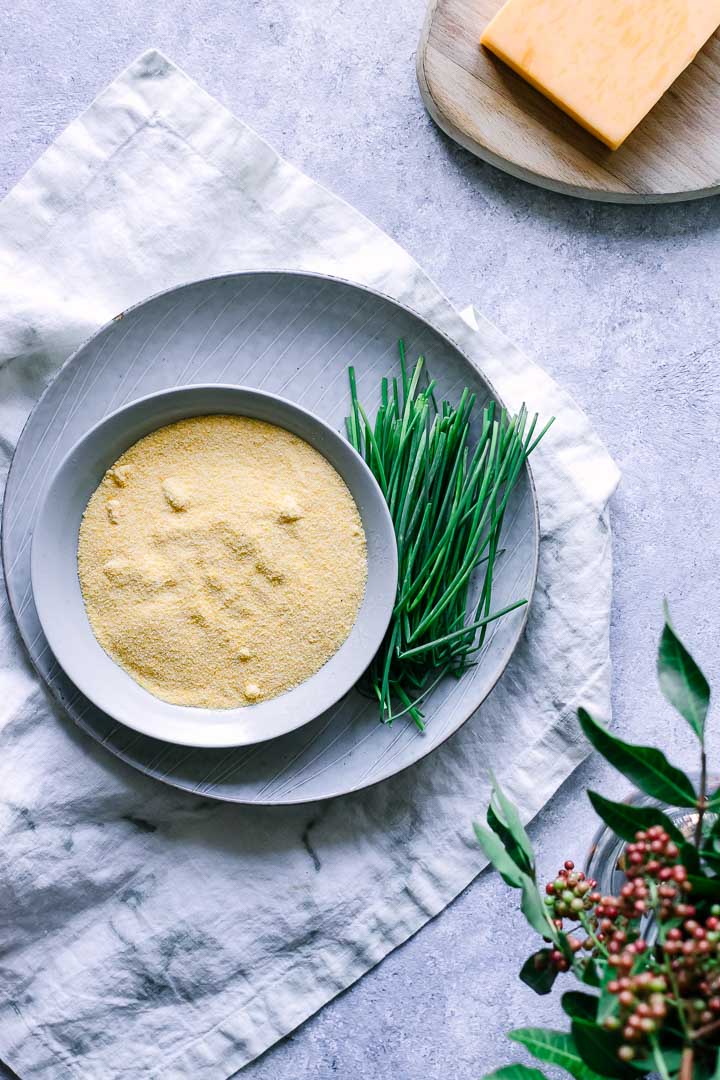 ---
How to make Cheddar Chive Polenta
Polenta is seriously simple to prepare, and it's ready in about ten minutes. It's great as a side dish, can be used as a foundational food for stews or roasts, and can be served as a substitute for mashed potatoes or rice.
First things first, add the polenta and vegetable broth to a small saucepan and bring it to a boil over high heat. When the polenta starts to boil, reduce heat to medium-low and cover, stirring often. Cook until polenta is thick, but stir stir-able — about 10 minutes.
When polenta is done, remove from heat and add your flavorings: salt, pepper, cheese, and chives. Don't be afraid to experiment with other herbs and flavorings!
---
Cheddar Chive Polenta: Tips, tricks, and tools
Polenta is a quick and easy side dish that is ready in under 10 minutes and does not require many kitchen tools or special tricks to be delicious, however there are a few recommendations to make sure your polenta is delicious every time:
Polenta is easy, but not hands-off: polenta can easily get too thick and even burnt if it's not stirred often, so make sure to keep an eye on it so it doesn't overcook
Keep more liquid on hand: if polenta gets too thick, add a bit more broth or water to the pot and stir to make sure you end up with a soft, mashed potato-like consistency
Use sustainable toxin-free cookware: choosing environmentally-friendly cookware is key to cooking safely, and sustainably
Choose good quality dairy: yes, any cheese will do, but choosing good quality cheese means from dairies your dollars are supporting good dairy farming practices…and good quality cheese just tastes better!
Make it vegan: make this recipe vegan by omitting the cheese, or replacing with a plant-based cheese. Add a bit of nutritional yeast for a cheesy flavor without the dairy!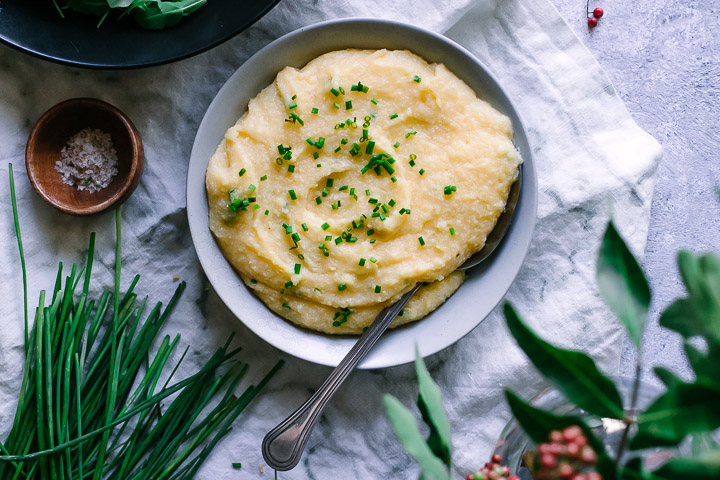 ---
Loving this simple polenta side dish recipe? Check out our other easy seasonal side dishes, like this Braised Mushroom Carrot Polenta and this Brown Sugar Sage Hasselback Butternut Squash recipe. Because eating well doesn't have to be complicated.
Did you make this Cheddar Chive Polenta? Leave a comment below and rate the recipe to let us know how it turned out. Save this polenta recipe for later by pinning to your favorite winter Pinterest board and make sure to tag me on Fork in the Road's Instagram to show me your cheesy polenta creations
Yield: 3 cups polenta
4-Ingredient Cheddar Chive Polenta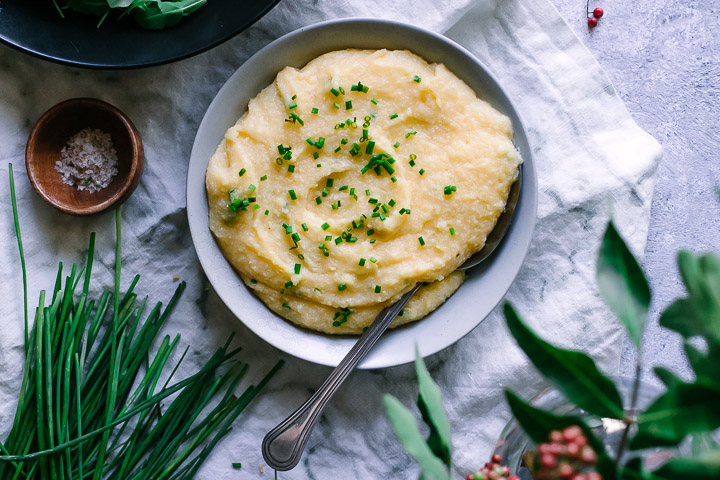 Cheddar Chive Polenta, a simple cornmeal side dish with shredded cheddar cheese and chopped chives that's ready in only ten minutes. You'll love this easy 4-ingredient recipe!
Cook Time 10 minutes
Total Time 10 minutes
Ingredients
2 cups (333g) polenta
4 cups vegetable broth
1/4 teaspoon salt
1/8 teaspoon black pepper
1 cup cheddar, shredded
1 bunch (2oz, 57g) chives, chopped
Instructions
Add polenta and vegetable broth to a saucepan and stir to combine. Bring to a boil over high heat, then reduce heat to medium-low and cover with a lid. Cook about 10 minutes, stirring frequently, or until polenta is thick.
Remove from heat, then stir in salt, pepper, cheddar, and half of chives until cheese has melted and is well combined with polenta.
To serve: top with remaining chives and serve as a side dish or as a base for stews or roasted vegetables.
Notes
Tools needed: large saucepan, wooden spoon, cheese grater, knife set
Notes: if polenta is too thick, stir in more broth or water and stir until desired consistency
Leftovers and storage: let polenta cool and store in an airtight container for up to four days. Reheat in a sauce pan, stirring in broth or water until smooth.
Nutrition:
Nutrition Information:
Serving Size:
3/4 cup
Amount Per Serving:
Calories: 271
Total Fat: 17g
Saturated Fat: 8g
Trans Fat: 0g
Unsaturated Fat: 9g
Cholesterol: 42mg
Sodium: 390mg
Carbohydrates: 19g
Fiber: 3g
Sugar: 3g
Protein: 12g
We are participant in the Amazon Services LLC Associates Program, an affiliate advertising program designed to provide a means for us to earn fees by linking to Amazon.com and affiliated sites.