Vegan Roasted Potato Salad with Lemon & Dill
Vegan Roasted Potato Salad, an easy vegan take on the classic! Served with fresh cilantro, radishes and sliced green onions, this super simple dish is perfect for picnics and barbecues.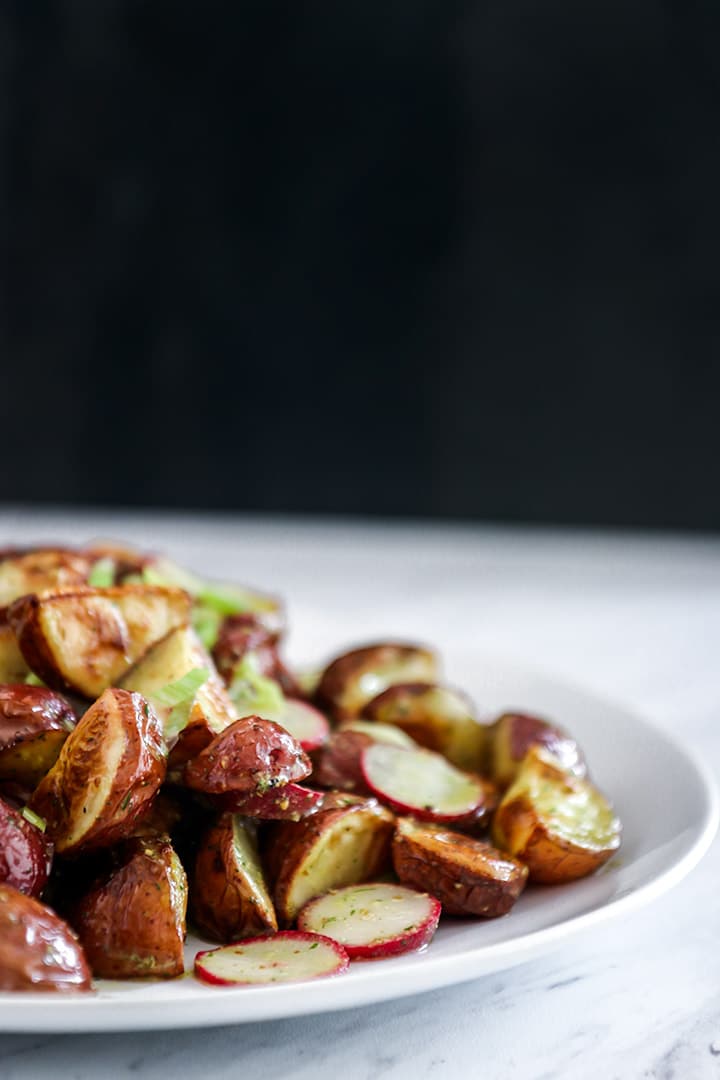 Here I go again, making another traditional picnic dish without mayo. It's not that I have a thing against mayo, I promise. It's just that…I have a thing against mayo.
Hear me out. For most of my childhood I avoided anything with mayonnaise (especially cold salads that become room temperature while sitting in the scorching sun of barbecues and family reunions). I avoided sandwiches and burgers with mayo. Deviled eggs were out of the question. And don't get me started on tuna and chicken salads. Hard no.
But for some reason this mayo aversion did not extend to aioli. I can't explain it, but aiolis were given a pass.
As I got older, and hopefully wiser, I changed my tune to mayonnaise (somewhat). I can now tolerate it in sauces, on sandwiches, and I've even been known to demolish a (few) deviled eggs.
But I could never get over my mayonnaise aversion in potato and pasta salads.
To this day I prefer my potato salads of the vegan variety, tossed in a light olive and flavored with fresh herbs. While I will eat potatoes (and pasta) any which way or form, tossed in mayo is just not my thing.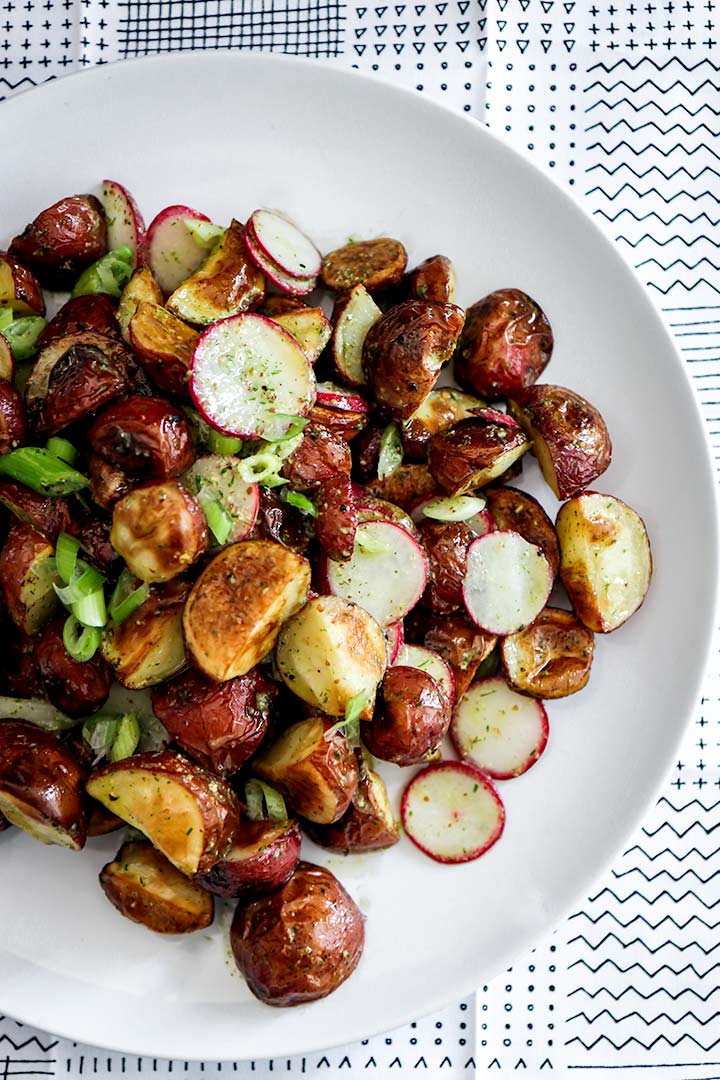 This Vegan Roasted Potato Salad with Lemon and Dill is one of my favorite easy potato dishes. While most potato salad recipes call for boiled and soft potatoes, I prefer my tots with a bit of crunch and love the flavor and texture of roasted potato salad.
This vegan potato salad is a great foundational recipe and any fresh vegetables can be used. I paired roasted baby potatoes with freshly sliced radishes and chopped green onion, as well as fresh dill for a light and tangy taste. A perfect "seasonal transition" dish for this odd time of year when it's not quite summer still but fall hasn't quite taken hold yet.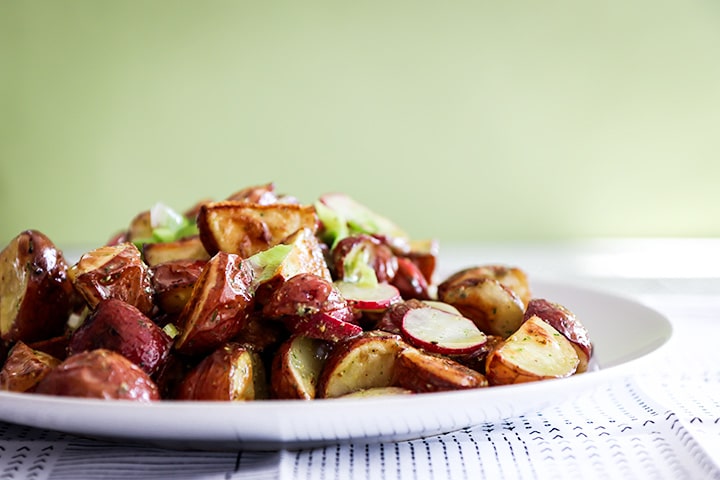 Vegan Roasted Potato Salad: Tips, Tricks & Tools
This simple vegan roasted potato salad is easy enough on its own, but a few simple kitchen hacks will make whipping up this plant-based picnic salad a breeze. Below are a few of my favorite kitchen tools you may find useful:
While I love sticking with the kitchen basics, a garlic press has made life a lot easier when I'm cooking dinner on the go and don't want to waste precious family time to minutely slice tiny piece of garlic. Just press and done!
Another time (and hand strength) saver is a lemon press, which is also one of my favorite kitchen kitchen tools to use because, admit it, it's oddly satisfying to squeeze every last bit of juice out of lemons and limes. Is it just me?
Got leftovers? No problem. My favorite glass food storage containers also double as my lunch box. BPA-free and microwave safe, these little dishes will last years!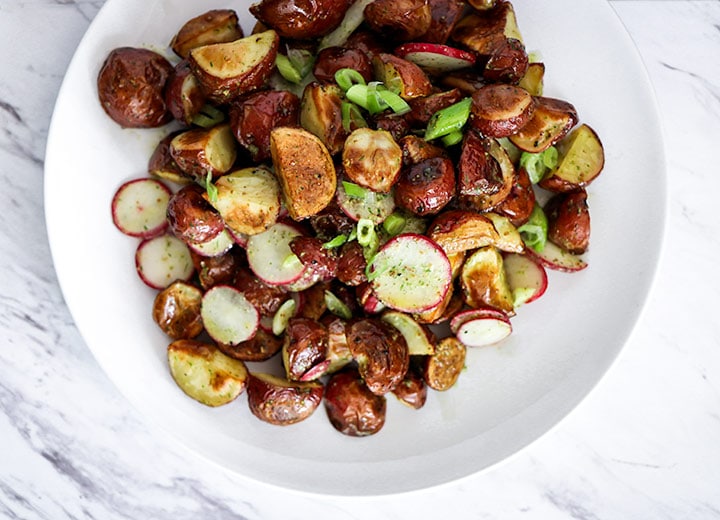 Digging this Vegan Roasted Potato Salad?
Try another plant-based dish for your next picnic or barbecue:
Yield: 4 servings
Vegan Roasted Potato Salad
Vegan Roasted Potato Salad, an easy vegan take on the classic! Served with fresh cilantro, radishes and sliced green onions, this super simple dish is perfect for picnics and barbecues.
Prep Time 10 minutes
Cook Time 30 minutes
Total Time 40 minutes
Ingredients
2 pounds baby potatoes, halved
2 teaspoons olive oil
pinch of salt and pepper
1 bunch (about 1 cup) dill, chopped
2 garlic cloves, minced
1 tablespoon olive oil
2 green onions tops, chopped
4-5 small radishes, sliced thin
Juice of 1 lemon
Instructions
Heat oven to 400 degrees. Toss halved potatoes in olive oil and sprinkle with salt and pepper and roast for 30 minutes, stirring every 10 minutes to brown evenly. Alternatively, potatoes can also be pan fried over medium heat for 20-30 minutes or until potatoes are browned.
In the meantime, combine and mix dill, garlic and olive oil in a small bowl and set aside. To make a more "sauce-like" dressing you can also pulse mixture in a food processor.
When potatoes are done toss with radishes and green onions and toss with dressing. Top with squeeze of lemon for a tangy and tart vegan roasted potato salad!
Notes
Storage & Leftovers: Store in refrigerator for up to 5 days, but for best taste consume within 2 days or else potatoes become soggy from dressing.
Nutrition Information:
Yield:
4
Serving Size:
1 serving
Amount Per Serving:
Calories: 268
Total Fat: 6g
Saturated Fat: 1g
Trans Fat: 0g
Unsaturated Fat: 5g
Cholesterol: 0mg
Sodium: 44mg
Carbohydrates: 50g
Fiber: 5g
Sugar: 3g
Protein: 6g
We are participant in the Amazon Services LLC Associates Program, an affiliate advertising program designed to provide a means for us to earn fees by linking to Amazon.com and affiliated sites.