Grilled Peaches with Brown Sugar Bourbon Sauce
Grilled peaches with brown sugar bourbon sauce? Nothing quite relays the flavors of summer in the American South than Georgia peaches drizzled in Kentucky bourbon.
While I grew up in the Midwest in one of the BBQ capitals of the world, I was never one for grilling fruit. Grilled peaches, pineapple and watermelon were not as appealing as cold fresh fruit in the heat and humidity of summer. But a grilled peaches recipe with cold ice cream and a brown sugar and Kentucky bourbon sauce?
I'm in.
Grilling peaches and other fruits is a simple way to wow friends and family at your next barbecue because even though we live in a grilling culture, we always forget the fruit and veggies! Cookouts are not only for meat, grilling fruit and vegetables is a great way to draw out complex flavors from a traditional food you thought you knew how to prepare.
Grilling fruits and vegetables releases new and complex flavors from traditional foods you thought you knew how to prepare.
History of Peaches
While those of us in North America associate peaches with the American south, history shows they were first cultivated in China in the 10th century BC. Peaches were likely very sour and small at first but through time the fruit was grown to be bigger and sweeter.
Peaches were eventually traded west through Persia into ancient Greece and Rome, and came to the new world with the Spanish. They were originally grown in Florida and throughout the American South but over time peach production spread through Central America and California. Today they are cultivated in warm climates throughout the Americas and enjoyed across the world!
How to: Grilled Peaches
Grilled peaches are exceptionally easy, but because they are a rather soft fruit there are a few things to keep in mind when putting them on the grill:
Cut peaches down the middle, remove the pit, and brush lightly with oil to prevent sticking.
Keep the grill temperature at medium or medium-high to prevent peaches from sticking to the grill and to produce the coveted grill marks on the soft side of the fruit.
Refrain from moving the peaches while grilling. To make the nice grill marks you should leave the fruit on the grill for 3-5 minutes to get a nice brown mark.
After grilling soft-side down, flip peach skin-side down and move to a higher grill rack that is not on direct heat (if available) and cook another 3-5 minutes. While this is not crucial, is does allow the rest of peach to soften more evenly throughout.
Brown sugar bourbon sauce: your next obsession
I must admit this brown sugar bourbon reduction sauce was a complete experiment. Vanilla ice cream is a given considering the warm sweetness of grilled peaches but I craved a light sauce that did not overpower the peaches while also lending a new level of flavor.
Making a reduction boils down to (food pun!) boiling a liquid to release water, which keeps the flavor compounds and thickens the liquid. For this sauce I knew from experience that brown sugar and bourbon are a flavor match made in heaven, so I threw a little of both in a pot with a pat of butter (yes!) and simmered until the liquid became thick(ish).
Then I drizzled that amazingness on top of the grilled peaches and vanilla ice cream and dug in!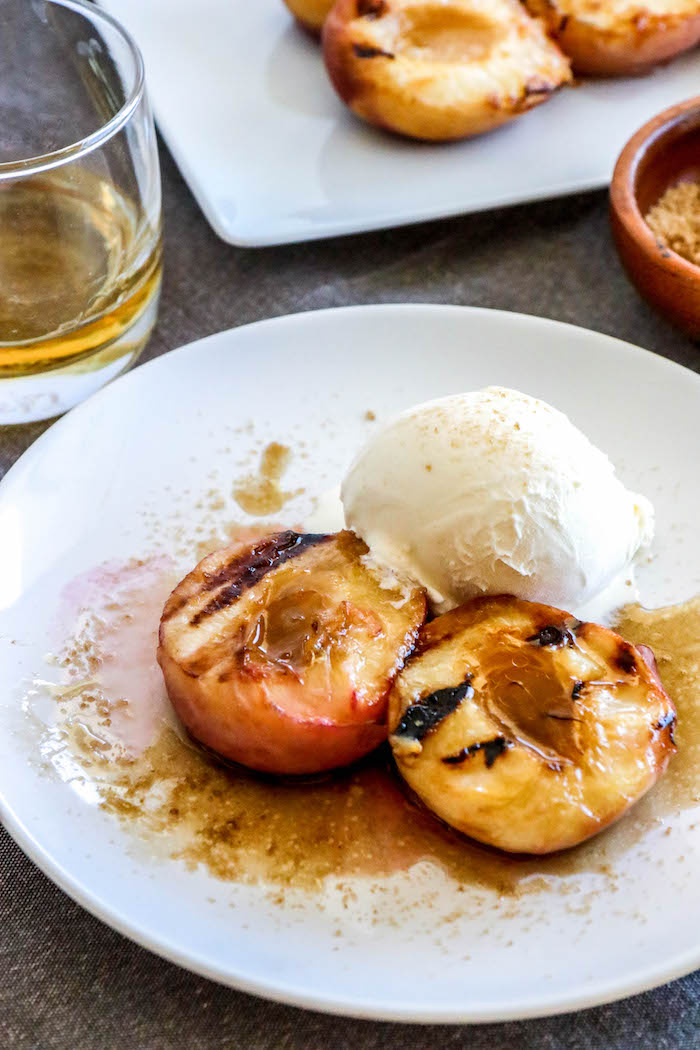 Love desserts with fruits?
If you've been a reader of Fork in the Road for long you'll know I'm a terrible baker – but I can get down with fruit-filled desserts and drinks. Here are other dessert and drink recipes with fruit you might enjoy:
Yield: 2 servings
Grilled Peaches with Brown Sugar Bourbon Sauce
Grilled peaches recipe with brown sugar bourbon sauce? Nothing says Southern American summer than a Georgia grilled peaches recipe with Kentucky bourbon.
Prep Time 5 minutes
Cook Time 10 minutes
Total Time 15 minutes
Ingredients
2 medium peaches
1 tablespoon oil
1 scoops ice cream (per serving)
1 tablespoon butter (optional, but so good)
1 tablespoon brown sugar
1/4 cup bourbon
Instructions
Heat grill to medium-high.
Cut peaches in half and remove pits. Lightly brush soft side with oil.
Lay peaches facedown on grill and let cook 3-5 minutes. Optional: then move peaches skin-side down to a higher rack and let cook another 3-5 minutes to allow them to soften throughout.
While peaches are cooking, bring butter, brown sugar, and bourbon to a simmer in a small saucepan over low heat. Stir occasionally and simmer about 5 minutes, or until sauce thickens.
To serve: place two peach halves on plate, top with 1 scoop of vanilla ice cream and top with brown sugar bourbon sauce.
Nutrition Information:
Yield:
4
Serving Size:
1 serving
Amount Per Serving:
Calories: 155
Total Fat: 8g
Saturated Fat: 3g
Trans Fat: 0g
Unsaturated Fat: 5g
Cholesterol: 15mg
Sodium: 37mg
Carbohydrates: 14g
Fiber: 1g
Sugar: 12g
Protein: 1g
We are participant in the Amazon Services LLC Associates Program, an affiliate advertising program designed to provide a means for us to earn fees by linking to Amazon.com and affiliated sites.