Roasted Maple Brown Sugar Acorn Squash
Roasted Maple Brown Sugar Acorn Squash, a simple and healthy vegan baked acorn squash recipe with drizzled maple syrup and sprinkled with fresh sage leaves. A perfect side dish for fall and winter!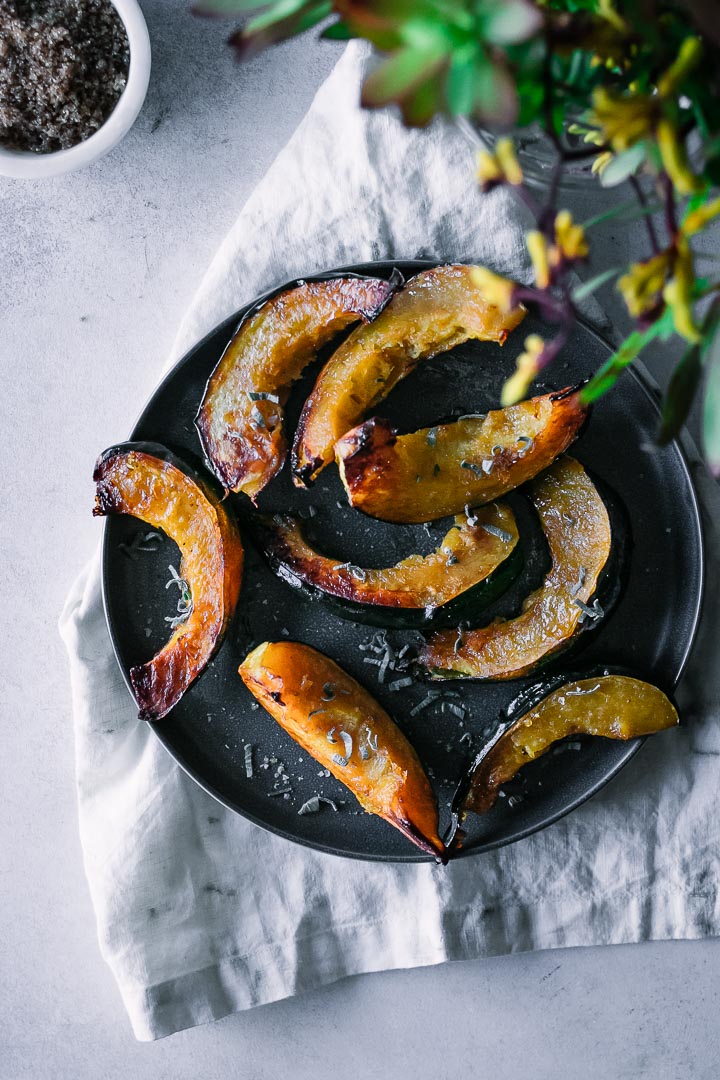 Doesn't it seem like maple, sage, and brown sugar were made for one another? That's why this simple recipe for roasted acorn squash with a Brown Sugar Sage Glaze is the perfect fall side dish.
👉 Here are three reasons why you should make it:
It's super easy. Simply cut squash, make the sauce, then drizzle and roast. Easy peasy.
It's tasty. The sweet maple mixes perfect with the savory butter and sage leaves.
It's perfect for fall (and Thanksgiving!). Topped with a sprinkle of salt and sage, it's a delicious and hearty baked squash recipe that is also a great addition to your seasonal Thanksgiving table.
Ready to learn how to roast acorn squash with maple and sage ? Let's do it!
---
🥣 How to make (step-by-step photos)
1️⃣ Step One: Preheat the oven + cut acorn squash
The first step of making roast acorn squash is preheat the oven, then cut the squash.
My go-to simple way of cutting acorn squash is to slice it in half and remove the flesh and seeds (save to roast for later!) and then cut into slices, each about 1.5″ (about 4 centimeters), and roast with skin on.
Cutting squash can be quite hard depending on the variety, so to make it a bit easier you can zap a squash in the microwave for about two to three minutes to make it a bit softer and easier to cut (and always just use a good quality kitchen knife to keep your fingers safe).
---
2️⃣ Step Two: Make brown sugar sage butter sauce
Next, heat the butter, brown sugar, and maple syrup in a small saucepan until the sugar is dissolved.
In the meantime, oil a baking sheet and place acorn side down, then brush each with the maple sugar mixture.
---
3️⃣ Step Three: Roast the squash
Sprinkle with salt and pepper and then roast at 400 degrees until squash is golden brown (about 30-40 minutes), flipping sides about halfway through.
When the squash is done, remove from oven, top with sprinkled sage, and serve. A simple, no-fuss roasted squash recipe that is perfect for fall!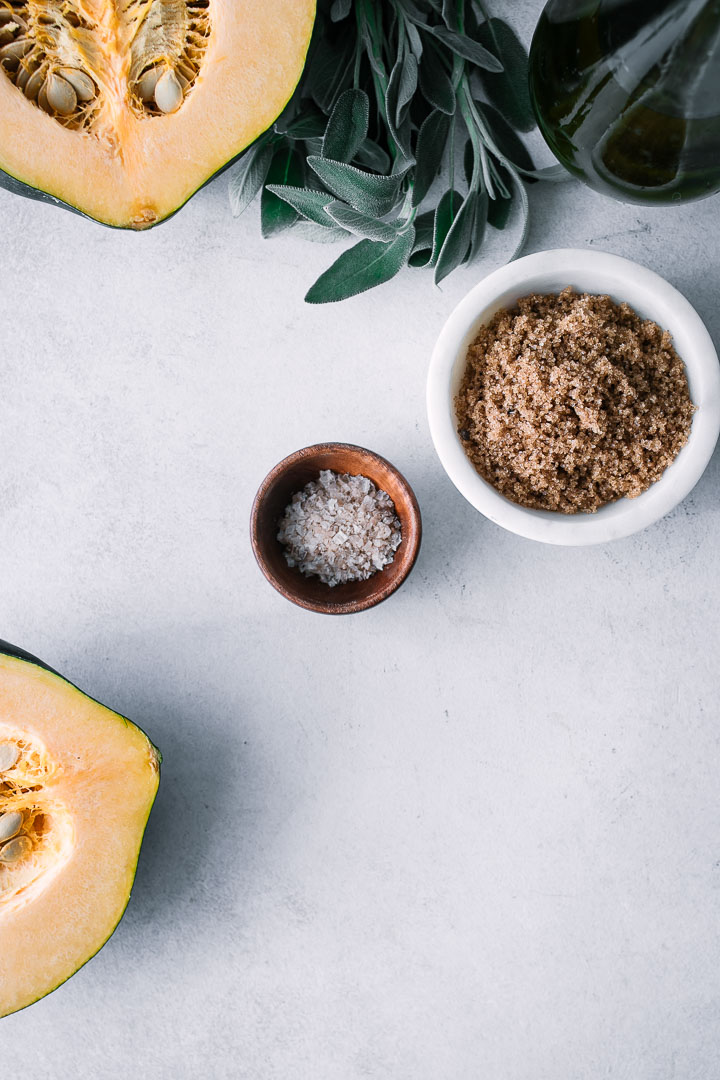 ---
❓ Recipe questions + quick tips
Can you eat the skin of acorn squash?
You can eat the outer skin, or peel, of acorn squash. Acorn squash skin is edible, though it may have a tough and chewy texture when raw. Cooking acorn squash will soften its peel, and make it easier to eat.
Can you eat acorn squash seeds?
Acorn squash seeds are edible, similar to pumpkin seeds. After removing the spongy pulp, you can dry roast acorn squash seeds in oil or butter for a crispy snack.
How can you serve roasted acorn squash?
Roasted acorn squash can be served as a side dish, similar to other winter squashes. It's also versatile enough to work in main dishes, such as mixed roasted vegetables or soups. You can even serve it on top of salad or as a topping for grain bowls.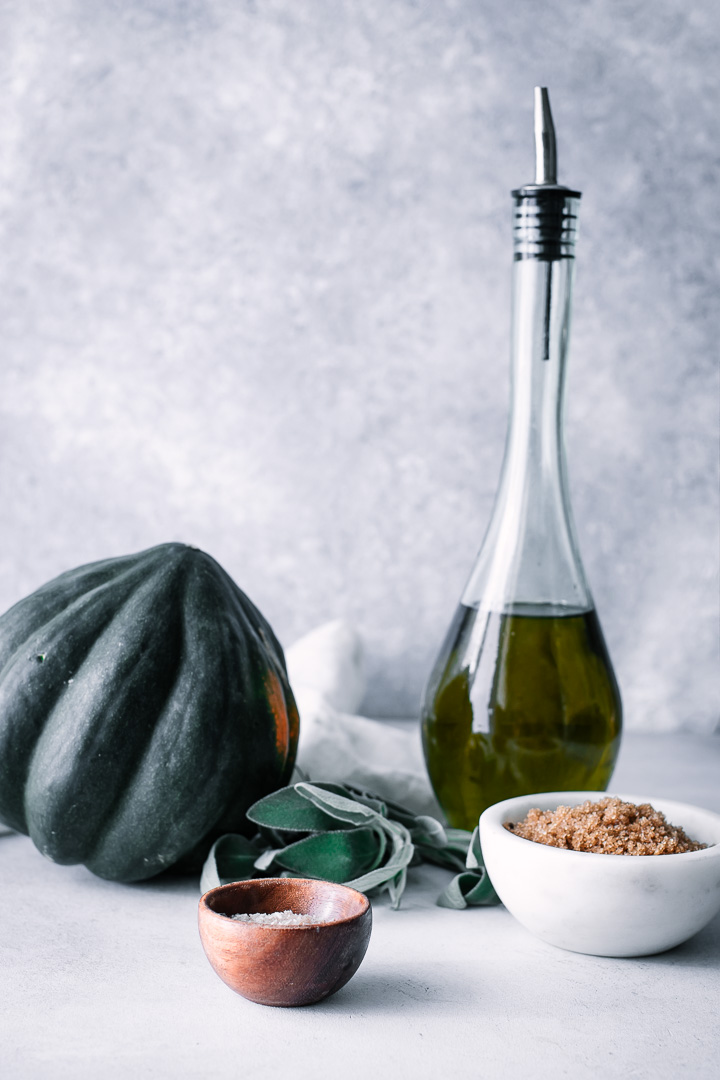 ---
🧊 How to store
While you can store this recipe ahead of time, in our experience roasted squash becomes very soft after storing and reheating. So for best results make this recipe just before eating, or follow the storage instructions below:
Refrigerator storage: Store in an airtight container for up to 3 days.
Freezer storage (if applicable): We do not recommend freezing squash as the texture will be very mushy after thawing.
---
♻️ Sustainable kitchen tips + tools
This simple healthy roast acorn squash recipe requires little equipment, but there are a few kitchen tools, ingredients, and easy recipe variations we recommend:
A good set of kitchen knives: a good quality kitchen knives set is essential for making prep easy (and safe)
Eco-friendly bakeware: choosing environmentally cookware is key to a building a green kitchen, that's why I love using my eco-friendly baking sheet when roasting squash
Responsible ingredients: in addition to using organic squash when possible and butter from farms that I know and trust, I always choose USDA certified Grade A maple syrup
Recipe variations: get creative by using honey instead of maple, or switching sage for thyme or rosemary
Make it plant-based: make this recipe vegan by omitting the butter and using a vegan butter or a bit of olive oil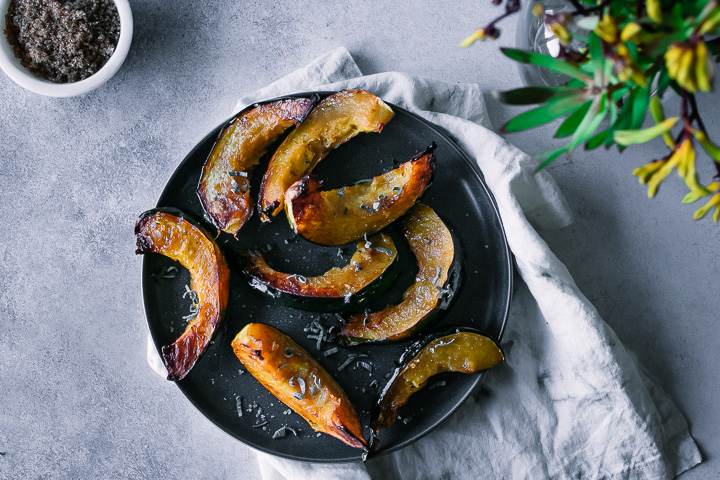 ---
👉 More roasted squash recipes
Want more oven-baked squash recipes? Try Roasted Broccoli and Acorn Squash, Hasselback Roasted Butternut Squash, Oven-Baked Zucchini Squash and Carrots, Winter Squash Arugula Salad.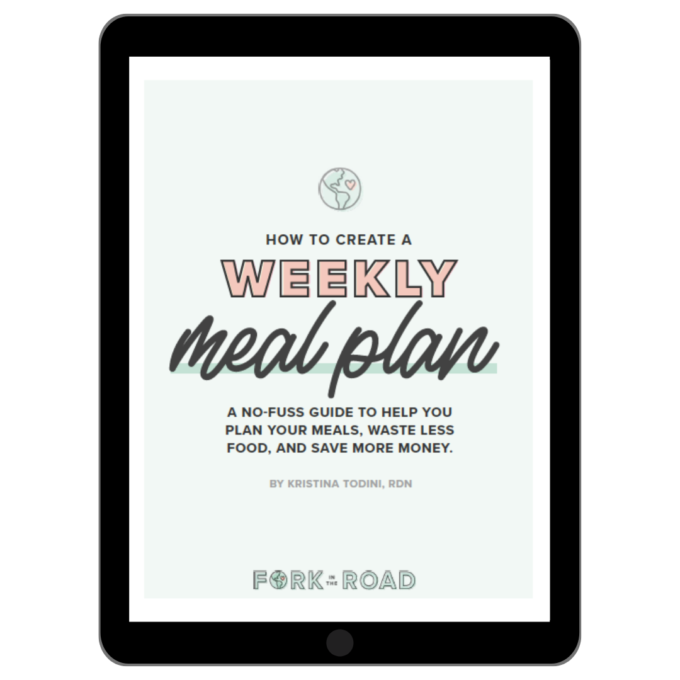 Maple Brown Sugar Roasted Acorn Squash
Maple Brown Sugar Roasted Acorn Squash, a simple and healthy baked acorn squash recipe with drizzled maple syrup and sprinkled with fresh sage leaves. A perfect side dish for fall and winter!
Ingredients
1

medium

acorn squash

2

teaspoons

olive oil

1

tablespoon

butter

regular or vegan

1

tablespoon

brown sugar

⅛

cup

maple syrup

5-8

whole

sage leaves

thinly sliced

1

pinch

salt and pepper
Instructions
Prep oven + cut squash: Preheat oven to 400 degrees F (200 degree C). Cut acorn squash in half and then into slices, scooping out seeds (save to roast!) and cleaning the inner flesh.

Make brown sugar sage sauce: Heat olive oil, butter, brown sugar, sliced sage leaves, and maple syrup in a saucepan over medium-low heat until sugar is dissolved, about 5 minutes.

Roast squash: Brush squash slices with maple and sugar liquid, and place on oiled baking sheet. Sprinkle squash with salt, pepper, and brown sugar and bake until soft and golden brown, about 30-40 minutes.
Notes
Tools needed: Thin paring knife or vegetable peeler, melon peeler (to remove squash seeds), baking sheet
Cutting tips: To prep squash, cut off bottom rind and top stem, then stand upright and peel outer skin. Then scoop seeds and flesh with a melon peeler and finally cut in half lengthwise.
Leftovers + storage: To prep, peel and cut squash the day before and keep in refrigerator until baking. To store, place squash in airtight container and refrigerate up to five days.
Nutrition notes: This acorn squash recipe is high in vitamin A, potassium, and vitamin C. It is high in fat due to butter, however if you are plant-based or want to reduced the saturated fat then substitute with vegan butter or oil.
Nutrition
Serving:
1
serving
Calories:
102
kcal
Carbohydrates:
21
g
Protein:
1
g
Fat:
2
g
Saturated Fat:
1
g
Polyunsaturated Fat:
1
g
Monounsaturated Fat:
2
g
Cholesterol:
1
mg
Sodium:
19
mg
Potassium:
408
mg
Fiber:
2
g
Sugar:
9
g
Vitamin A:
402
IU
Vitamin C:
12
mg
Calcium:
57
mg
Iron:
1
mg
UPDATE: This recipe was originally published in October 2018 and updated for clarity in October 2021.