Winter Harvest Cheeseboard
Winter Harvest Cheeseboard, a simple cheese board with cranberry dip, sauerkraut, dried apples, olives, walnuts, pistachios, and cheese. An easy way to snack on the season's preserved foods!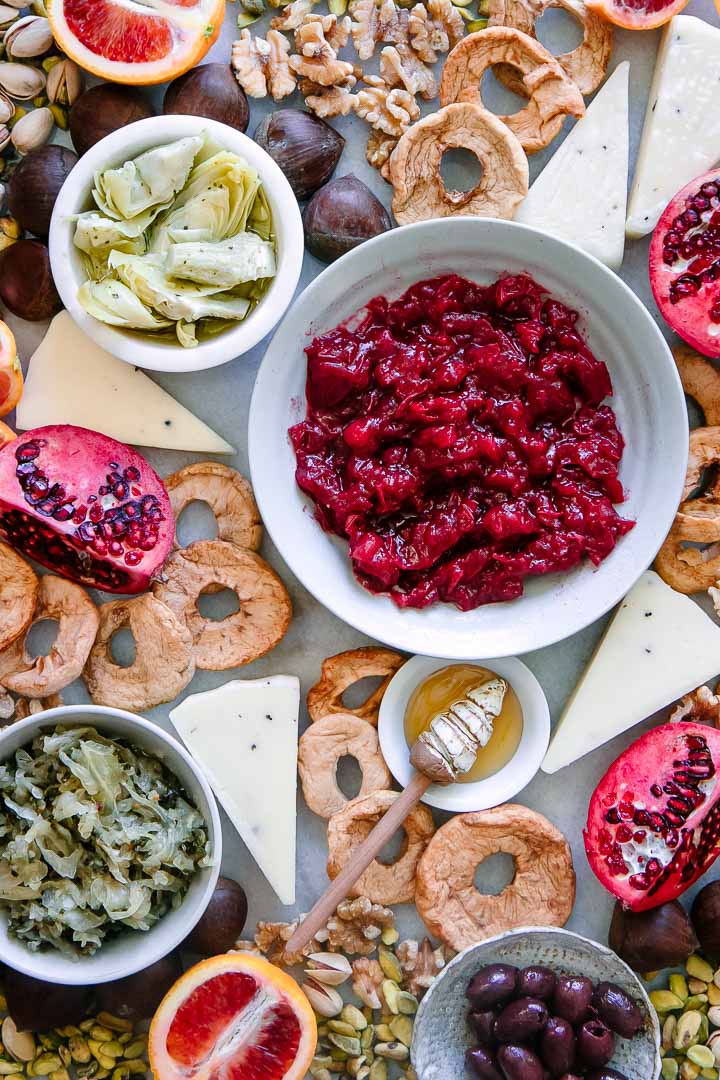 Though winter gets a bad rap for its limited harvest, it's easy to build a cold-weather harvest board using preserved ingredients you likely have in your pantry. Dried fruit, nuts, seeds, honey, cheese, and pickled vegetables make up the base of this winter board, and an easy cranberry dip and roasted chestnuts round it out for a wintertime treat.
👉 Ready to learn how to build an easy winter-themed platter? Let's do it!
---
❤️ Why you'll love this recipe
Here are three reasons why you need to make a Winter Harvest Cheeseboard during the cold months:
It's easy to put together. This winter harvest cheese board features mostly shelf-stable ingredients that you may already have on hand, plus in-season produce that you can pick up with a quick trip to the store. No cooking required (besides the roasted chestnuts), making it a perfect lazy dinner or snack compilation.
It's super tasty. There's something for everyone when it comes to cheese boards. Not only is there cheese to munch on, but there are also flavorful dips, sweet dried fruits, and crunchy nuts and seeds. The variety of flavors and textures will be sure to satisfy your guests' taste buds!
You can make it your own. Substitute your favorite cold-weather ingredients if you don't have everything in this recipe on hand. There are no "rules" behind what belongs on a snack platter, the possibilities really are endless for what you can add to it.
---
🌰 Ingredients
This Winter Harvest Cheeseboard is just a framework recipe, there are so many options for making a delicious snack platter. Here's an overview of what we used, and some ideas to switch up your snack board:
Chestnuts: You will need about 20 chestnuts for this snack board. Before arranging them on the plate, you'll roast them which makes them softer and easier to eat.
Cranberry dip: This is what we love using for dipping during the winter months! Note that any other dip will work–hummus, baba ganoush, and white bean dips would be great options.
Sauerkraut: Pickled vegetables like sauerkraut add a tangy flavor to the mix, and taste delicious along with the other ingredients. You can add any other pickled vegetables that you would like.
Artichoke hearts and kalamata olives: These are usually canned, so they make for a convenient and tasty addition to cheese boards. Not to mention, olives are a source of healthy fats that bring some balance to your snacking.
Honey: Add a touch of sweet with a bit of honey! You can use maple syrup as an alternative if you don't have honey on hand.
Apple rings: Any dried fruit will do, but we love using dried apple rings for this recipe. Dried pears, cranberries, and apricots would also work.
Truffle cheese: Flavored with truffles, this type of cheese is absolutely delicious and pairs perfectly with the rest of the ingredients on the plate. Can't find truffle cheese? That's okay–any type of cheese will do.
Walnuts and pistachios: These are great winter pantry staples to top off your board for a bit of crunch.
Blood oranges and pomegranate: The best winter fruits that will add a dose of freshness to your cheeseboard.
Recommended tools: large platter, a good quality knife set, a large pot or large pan, small ramekins and serving dishes
---
🥣 How to make (step-by-step photos)
1️⃣ Step One: Roast the chestnuts
First, you will roast the chestnuts to soften them and make them easier to eat.
Our go-to method for roasting chestnuts is to cut the chestnuts in half (shell and all). Then, roast over medium heat in a large pan or pot until the fleshy chestnut center is soft and a knife easily cuts in, about 20 minutes.
Note: Be very careful when cutting the chestnuts. We highly recommend wearing cutting gloves to keep your fingers safe.
---
2️⃣ Step Two: Arrange the platter
On to the best part: arranging the platter! There is nothing more satisfying than putting together a beautiful snack board.
There's really no "correct" way to put together a platter–you will simply arrange the dip, sauerkraut, artichoke hearts, olives, honey, fruit, cheese, and nuts in a way of your choosing.
Here is our go-to method for a cheeseboard setup:
Set up all dips or items in dishes first, by arranging on platter.
Add the side items one at a time, positioning them around the dishes.
Top with a sprinkle of nuts, seeds, or other small items like herbs.
Serve with wine and enjoy on a winter night!
---
❓ Recipe questions + quick tips
What cheese is best in winter?
We think cheese is delicious year-round! However, there is such thing as "winter cheese", which is typically made with milk that was produced in the spring and summer months. Some examples of cheeses at their peak during winter are Gruyère, Cabrales, and Comté. We used truffle cheese for our cheese board, which is also considered a "winter cheese". Note that you can make a cheese board with any type of cheese that you have available.
How far in advance can you make a cheese board?
Most of the ingredients for cheese boards can be prepped ahead and stored in the refrigerator until you are ready to arrange the board. For example, cheese can be sliced and chestnuts can be roasted in advance. Many of the ingredients for this cheese board are preserved and ready to eat, so they don't require much preparation. You can arrange the platter 2-3 hours in advance, cover it, and store in the fridge until ready to serve. We recommend arranging the ingredients right before serving to keep it as fresh as possible.
What is truffle cheese?
Truffle cheese, also known as sottocenere, is an Italian cheese made with pasteurized cow's milk and flecked with black truffles. The truffles give it a rich, umami flavor that goes best with savory dishes or paired with wine.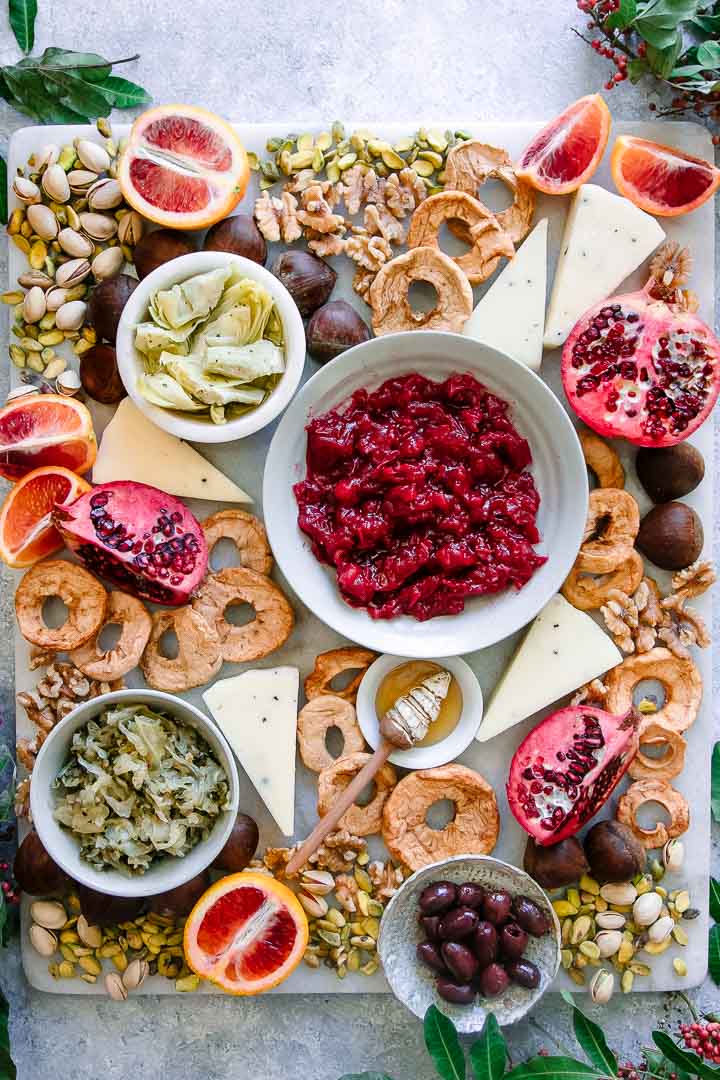 ---
💡 Ideas for serving
One of the reasons we love to have a seasonal platter night is because it's so simple to put together. Here are a few of our favorite ways to enjoy it and streamline the process for making one:
As an easy dinner: Cheeseboards are perfect for when you don't feel like cooking a fancy meal because they are ready in under 30 minutes (of which 25 minutes is cooking the chestnuts!).
For sharing at a party: You can't go wrong with having a cheese board for snacking at winter parties and gatherings. The variety of snacks makes it perfect for sharing–there's something for everyone to munch on!
Pair it with a delicious wine: there's nothing like cheese and wine! Pair the rich flavors of this winter harvest platter with a full-bodied red or an oak-y chardonnay.
Prep ahead: if you're serving this platter at a party, make the roasted chestnuts up to one day ahead of time and then heat quickly in a pot or pan right before serving.
Get a great serving platter: while we're minimalists in the kitchen in many ways, we do believe having a couple of great serving platters is key for hosting and even for easy cheeseboard nights with the family.
---
🧊 How to store
One of the best parts about snack boards is that you can prep the ingredients in advance. Here's how to store the ingredients to keep their quality until ready to eat!
Refrigerator storage: Store cheese, sauerkraut, dip, and fruit in the refrigerator, and store dried foods in small glass containers at room temperature.
Freezer storage: We do not recommend storing cheese board ingredients in the freezer.
---
♻️ Sustainable kitchen tips
Are you interested in going green in the kitchen? Us too! Here are some ways that you can make this recipe while prioritizing the environment:
Use seasonal ingredients. This cheese board recipe is meant to be served in the winter months. If you decide to make one during another season, choose ingredients that are in season. During the spring and summer, you can change it up with fresh produce and herbs!
Don't toss the food scraps. There may not be many food scraps since this recipe features many ingredients that are preserved. However, any that you accumulate should be re-purposed or composted.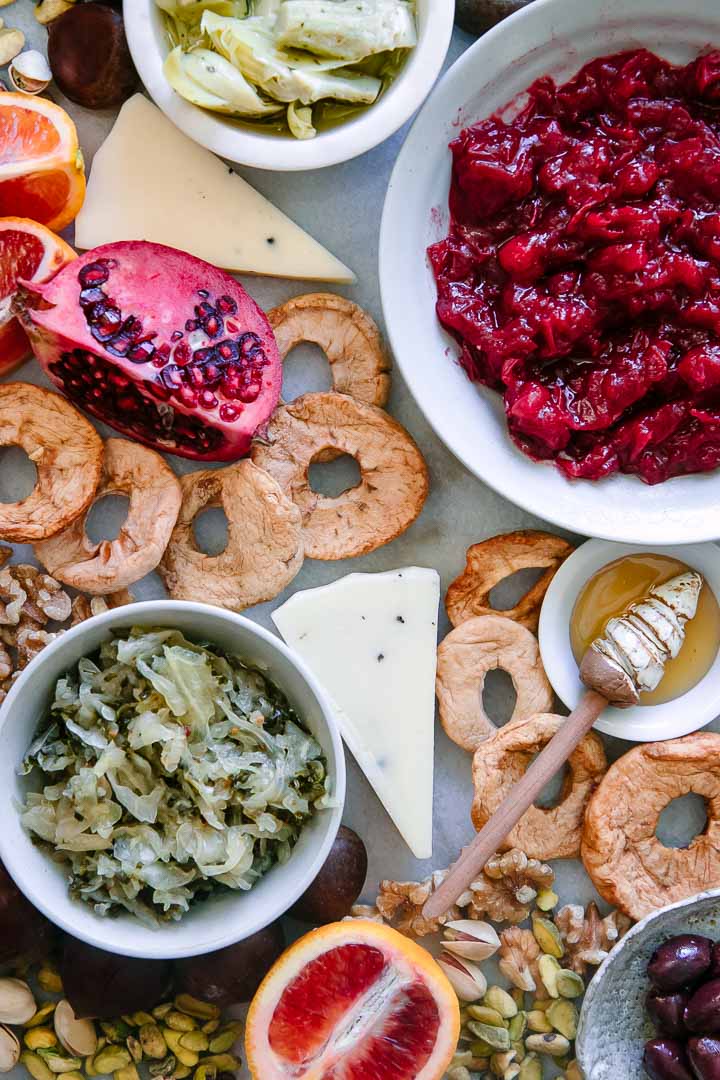 Repurpose cans. You may have several cans leftover from making this recipe. If that's the case, you can repurpose them by using them as storage containers in your kitchen or use them from a DIY project. At the very least, they should be recycled.
---
👉 More seasonal platter recipes
Love this simple fruit, nuts, and cheese platter recipe? Check out our other seasonal platter recipes:
Winter Harvest Cheeseboard
Winter Harvest Cheeseboard, a simple cheese board with cranberry dip, sauerkraut, dried apples, olives, walnuts, pistachios, and cheese. An easy way to snack on the season's preserved foods!
Ingredients
20

whole

chestnuts

in shells

1

cup

cranberry dip

or other dip, like hummus

½

cup

sauerkraut

½

cup

artichoke hearts

½

cup

kalamata olives

2

tablespoons

honey

8

whole

dried apple rings

4

ounces

truffle cheese

½

cup

walnuts

½

cup

pistachios

2

whole

blood oranges

peeled

1

whole

pomegranate

seeded
Instructions
Roast chestnuts: Cut the chestnuts in half and place in a large pan or pot. Heat over medium heat, stirring occasionally until inner flesh is soft (when the tip of a knife easily cuts through), about 20 minutes.

Arrange the platter: Arrange dip, sauerkraut, artichoke hearts, olives, honey, fruit, cheese, and nuts on the platter. Serve with wine and enjoy on a winter night!
Notes
Notes: be careful when cutting chestnuts, they are hard to cut so use a good quality knife; a pair of cutting gloves wouldn't be a bad idea.
Tools needed: a large platter, a good quality knife set, a large pot or large pan, small ramekins and serving dishes
Prep ahead: the chestnuts can be roasted up to a day ahead of time and the platter can be arranged right before serving
Leftovers and storage: store cheese, sauerkraut, dip, and fruit in the refrigerator; store dried foods in small glass containers at room temperate
Nutrition notes: this platter features a great array of dried and preserved foods, including probiotic-rich sauerkraut and dried apples. To make this board a part of a well balanced meal, pair it with a small salad with protein like beans or fish.
Nutrition
Serving:
1
serving
Calories:
235
kcal
Carbohydrates:
16
g
Protein:
9
g
Fat:
16
g
Saturated Fat:
4
g
Polyunsaturated Fat:
6
g
Monounsaturated Fat:
6
g
Cholesterol:
14
mg
Sodium:
519
mg
Potassium:
244
mg
Fiber:
4
g
Sugar:
6
g
Vitamin A:
163
IU
Vitamin C:
3
mg
Calcium:
63
mg
Iron:
2
mg
UPDATE: This recipe was originally published in January 2019 and was updated for clarity in March 2022.