How to Build a Winter Harvest Cheeseboard
Winter Harvest Cheeseboard, a simple cheeseboard with cranberry dip, sauerkraut, dried apples, olives, walnuts, pistachios, and cheese. An easy way to snack on the season's preserved foods!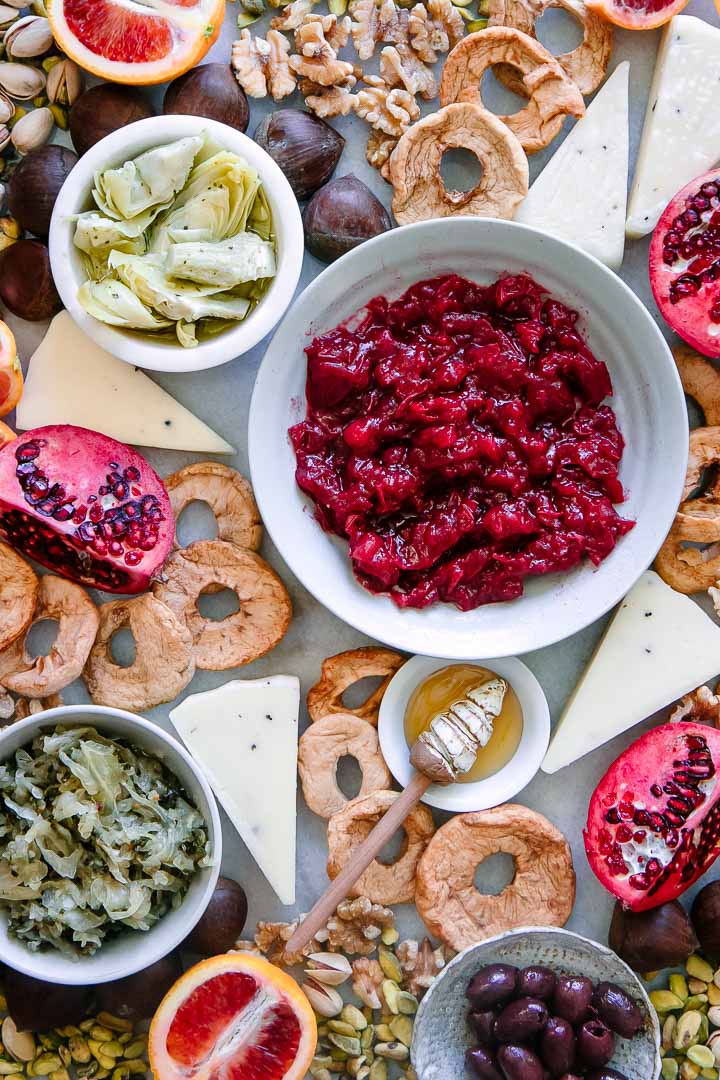 Who doesn't love a seasonal platter? A dip, some cheese, dried fruit, nuts and seeds. What's a better than snacking on a little of everything the season has to offer? Add a glass of wine and you have the perfect easy weekend night meal.
Though winter gets a bad rap for its limited harvest, it's easy to build a cold-weather harvest board using preserved ingredients you likely have in your pantry. Dried fruit, nuts, seeds, honey, cheese, and pickled vegetables make up the base of this winter board, and an easy cranberry dip and roasted chestnuts round it out for a wintertime treat.
Want to learn how you can build an easy winter-themed platter? Read on for the how to make this simple Winter Harvest Cheeseboard and how you can substitute in your favorite cold weather ingredients. Let's do it!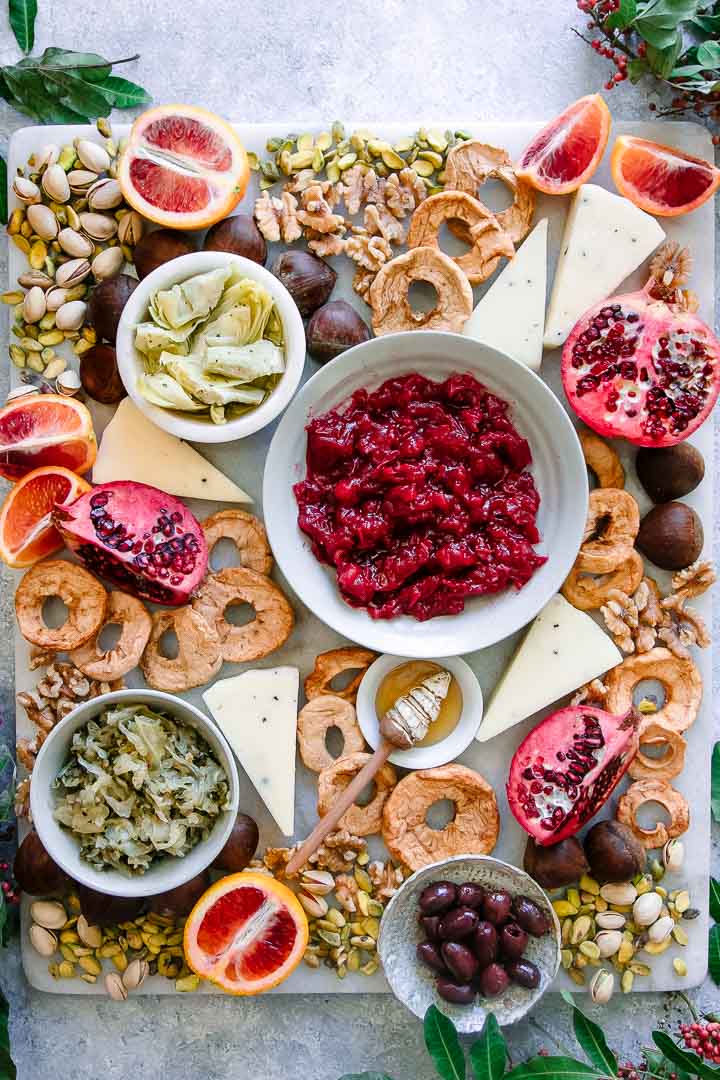 ---
How to make this Winter Harvest Cheeseboard
First, you'll want to roast the chestnuts. Our go-to method is to cut the chestnuts in half (shell and all) and then roast over medium heat in a large pan or pot until the fleshy chestnut center is soft and a knife easily cuts in, about twenty minutes. Be very careful when cutting the chestnuts, I highly recommend wearing cutting gloves to keep your fingers safe.
When the chestnuts are roasted, it's time to arrange the board! There's no perfect way to setup a cheeseboard, but my go to method is:
Set up all dips or items in dishes first, by arranging on platter
Then add the side items one at a time, positioning them around the dishes
Finally top with a sprinkle of nuts, seeds, or other small items like herbs
Winter platter ingredient variations and ideas
This Winter Harvest Cheeseboard is just a framework recipe, the possibilities for winter-inspired platters are endless. Ideas to switch up your snack board include:
Dips: fruit dips, hummus, baba ganoush, white bean dips, etc. Get creative with seasonal ingredients in dips and sauces
Pickled vegetables: I went with sauerkraut for this platter, but try other pickled vegetables on your platter or board
Dried fruit: any dried fruit will do, but I love dried pears, cranberries, and apricots
Nuts and seeds: a great winter pantry staple to top off your board for a bit of crunch
Honey or maple: add a touch of sweet with a bit of honey!
Winter Harvest Cheeseboard: Tips, tricks, and tools
One of reasons I love to have a seasonal platter night is because it's such a simple dinner to put together. And while this Winter Harvest Cheeseboard is ready in under 30 minutes (of which 25 minutes is cooking the chestnuts!), there are a few tips for streamlining the process:
Prep ahead: if you're serving this platter for a party, make the roasted chestnuts up to one day ahead of time and then heat quickly in a pot or pan right before serving
Get a great serving platter: while I'm a minimalist in the kitchen in many ways, I do believe having a couple of great serving platters is key for hosting and even for easy cheeseboard nights with the family
Pair it with a delicious wine: there's nothing like cheese and wine, am I right? Pair the rich flavors of this winter harvest platter with a full bodied red or an oak-y chardonnay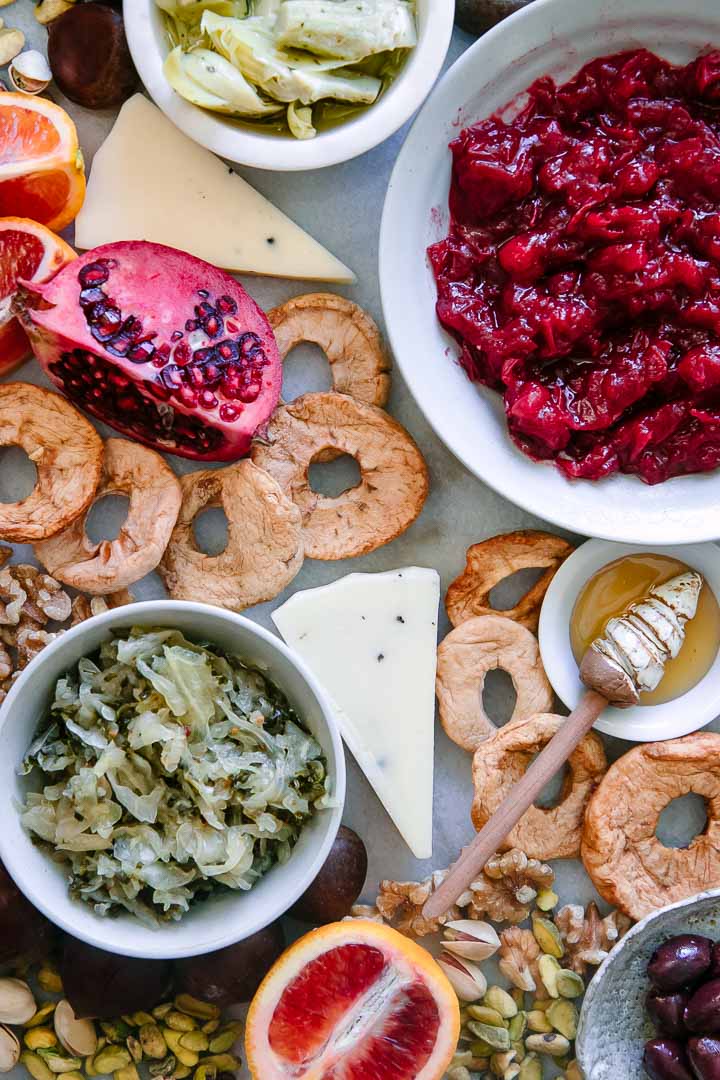 ---
Love this simple fruit, nut, and cheese platter recipe? Check out our other seasonal platter recipes, like this Fall Harvest Snackboard or Summer Stone Fruit Cheese Platter.
Did you make this Winter Harvest Cheeseboard? Leave a comment below and rate the recipe to let us know how it turned out. Save this fruit and cheese board recipe for later by pinning to your favorite winter Pinterest board and make sure to tag me on Fork in the Road's Instagram to show me your cheeseboard creations!
Yield: 8 appetizer-size servings
How to Build a Winter Harvest Cheeseboard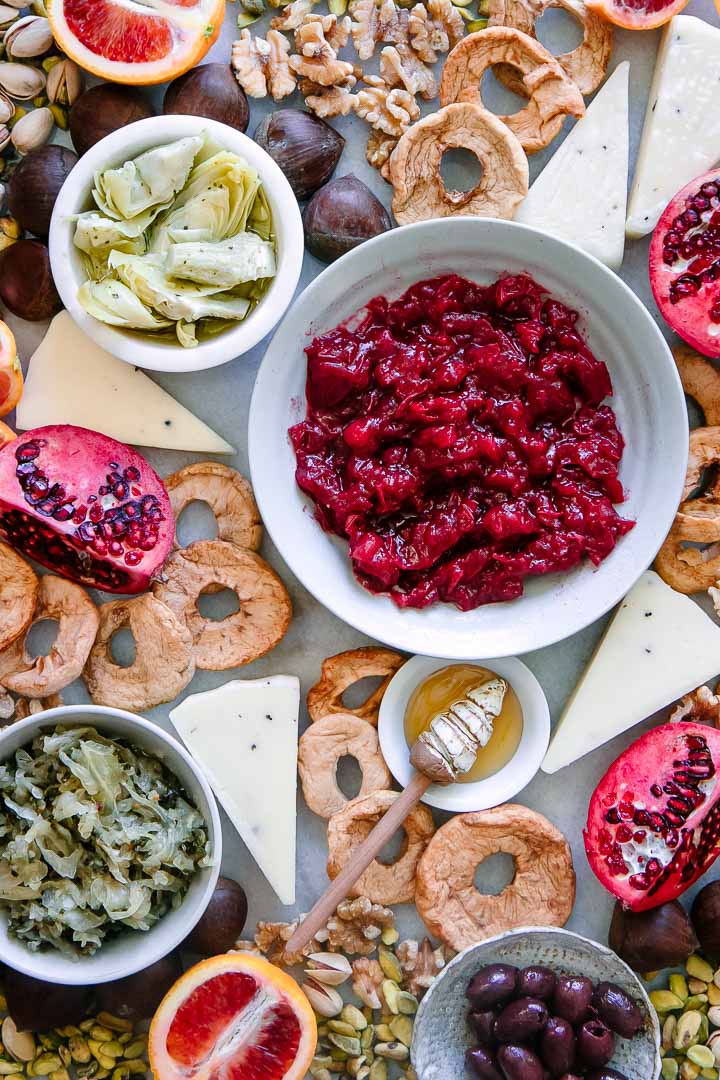 Winter Harvest Cheeseboard, a simple cheeseboard with cranberry dip, sauerkraut, dried apples, olives, walnuts, pistachios, and cheese. An easy way to snack on the season's preserved foods!
Prep Time 5 minutes
Cook Time 20 minutes
Total Time 25 minutes
Ingredients
20 chestnuts
1 cup cranberry dip (or other dip, like hummus)
1/2 cup sauerkraut
1/2 cup artichoke hearts
1/2 cup kalamata olives
2 tablespoons honey
8 ounces dried apple rings
4 ounces truffle cheese
1/2 cup walnuts
1/2 cup pistachios
2 blood oranges
1 pomegranate
Instructions
To roast chestnuts: cut chestnuts in half and place in a large pan or pot. Heat over medium heat, stirring occasionally until inner flesh is soft (when the tip of a knife easily cuts through), about 20 minutes.
To arrange platter: arrange dip, sauerkraut, artichoke hearts, olives, honey, fruit, cheese, and nuts on platter. Serve with wine and enjoy on a winter night!
Notes
Notes: be careful when cutting chestnuts, they are hard to cut so use a good quality knife; a pair of cutting gloves wouldn't be a bad idea.
Tools needed: a large platter, a good quality knife set, a large pot or large pan, small ramekins and serving dishes
Prep ahead: the chestnuts can be roasted up to a day ahead of time and the platter can be arranged right before serving
Leftovers and storage: store cheese, sauerkraut, dip, and fruit in the refrigerator; store dried foods in small glass containers at room temperate
Nutrition notes: this platter features a great array of dried and preserved foods, including probiotic-rich sauerkraut and dried apples. To make this board a part of a well balanced meal, pair it with a small salad with protein like beans or fish.
Nutrition Information:
Serving Size:
1 serving
Amount Per Serving:
Calories: 349
Total Fat: 16g
Saturated Fat: 5g
Trans Fat: 0g
Unsaturated Fat: 11g
Cholesterol: 61mg
Sodium: 281mg
Carbohydrates: 47g
Fiber: 5g
Sugar: 30g
Protein: 8g
We are participant in the Amazon Services LLC Associates Program, an affiliate advertising program designed to provide a means for us to earn fees by linking to Amazon.com and affiliated sites.