Chili Lime Cauliflower Tacos
Chili Lime Cauliflower Tacos made with roasted cauliflower, chili powder, fresh lime, black beans, and avocado. A vegan take on Taco Tuesday!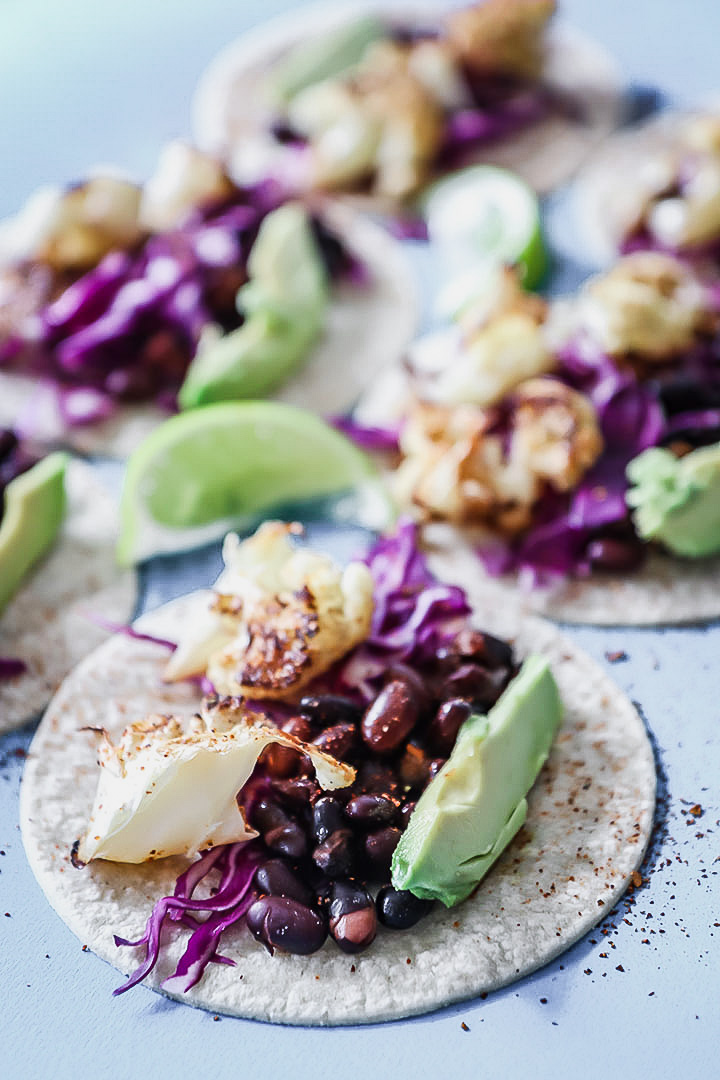 There's just something about chili powder and lime as a flavor marriage. The spicy and smoky flavor of dried chili powder combined with the tangy and tart taste of fresh lime juice is like none other.
Chili lime chicken, chili lime shrimp, chili lime tacos…but chili lime cauliflower tacos? Stay with me here.
To say cauliflower is having a moment would be an understatement. As a registered dietitian nutritionist, it's literally my job to stay on top of food trends and right now cauliflower is king.
Cauliflower steaks, cauliflower bakes, cauliflower rice, cauliflower potatoes…the list of creative cauliflower uses is ever growing. A great feat for an otherwise very boring vegetable (sorry, cauliflower, but you're not the most exciting vegetable on your own).
So when it came to dreaming up my latest take on our weekly Taco Tuesday meal, I knew cauliflower needed to make an appearance.
However, I'll be the first to admit that a plant-based taco may sound a bit boring if you're used to eating carnitas or chicken tacos. But this is where chili and lime come in, to lend a flavor punch to an otherwise boring (cauliflower, beans and taco) line up. Throw in some avocado and you have yourself a sustainable Taco Tuesday!
Love these Chili Lime Cauliflower Tacos?
If you love this vegan take on taco night, try out one of my favorite easy plant-based recipes: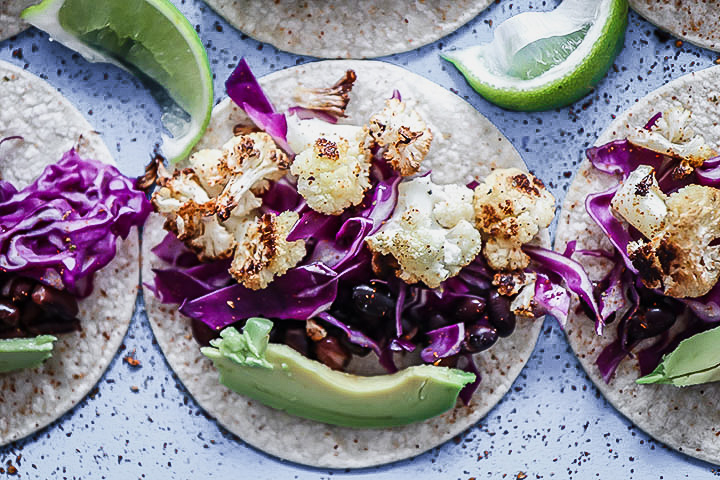 Yield: 8 tacos
Chili Lime Cauliflower Tacos
Chili lime Cauliflower Tacos made with roasted cauliflower, chili powder, fresh lime, black beans and avocado. A vegan take on Taco Tuesday!
Ingredients
1 head cauliflower, cut into small pieces
1 teaspoon oil
2 limes
1/2 teaspoon chili lime seasoning (I used Trader Joe's, Tajin is also a popular choice)
pinch of salt and pepper
1 onion, thinly sliced
1 bell pepper, thinly sliced
1 can (or about 1 cup soaked from dried) black beans
8 small whole grain soft tacos
1 avocado
Optional: Your favorite fire roasted salsa, cilantro.
Instructions
Preheat oven to 400 degrees. Toss cauliflower, oil, juice of one lime, chili lime seasoning and a pinch of salt and pepper in a large a bowl. Spread cauliflower on a lightly oil baking sheet and roast 15 minutes, then stir and roast another 10 minutes or until cauliflower is browned on all sides.
In the meantime, heat small amount of olive oil in large pan and cook onion and bell pepper until it begins to soften. Add drained black beans, a pinch of chili lime and a squeeze of lemon.
To make tacos: Add onion, bell pepper and black bean mixture to taco with cauliflower and a slice of avocado and topped salsa. Enjoy!
Notes
Notes: In place of chili lime seasoning you can also use plain chili powder and fresh lime juice, with a pinch of salt.
Storage and leftovers: Store all taco prepared taco ingredients for up to 5 days in the refrigerator and reheat before serving.
Nutrition Information:
Yield:
8
Serving Size:
1 taco
Amount Per Serving:
Calories:

110
Total Fat:

5g
Saturated Fat:

1g
Trans Fat:

0g
Unsaturated Fat:

4g
Cholesterol:

0mg
Sodium:

213mg
Carbohydrates:

17g
Fiber:

6g
Sugar:

6g
Protein:

4g