Your Zero Waste Kitchen Start Guide
Want to go green in the kitchen? This Zero Waste Kitchen Start Guide gives you five simple steps to create a less wasteful kitchen.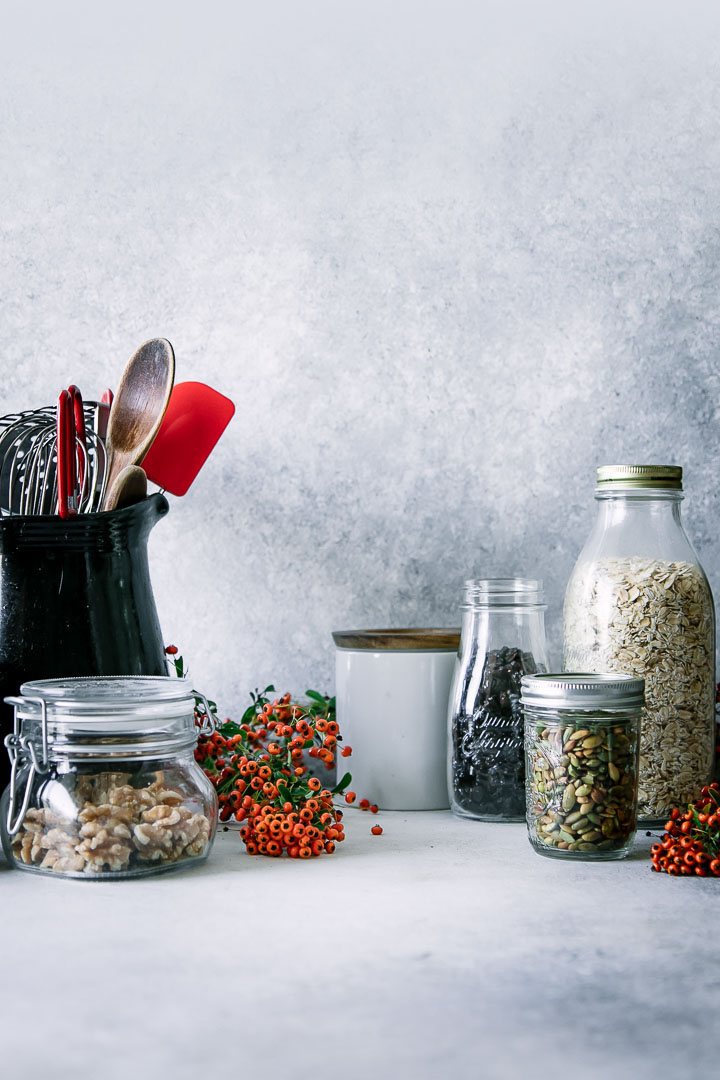 Do you consider yourself a green eater? Choosing sustainably-sourced foods and eating with the seasons is one important way to go green, but eating a diet that is healthy for you and the planet is only part of living a greener lifestyle.
One major aspect of living more sustainably is reducing waste. On average, each American produces 4.4 pounds (2 kg) of trash to landfills each day and much of this waste is produced in the kitchen. Luckily kitchen waste can be dramatically reduced by adopting simple greener lifestyle habits and transitioning your kitchen to eco-friendly products.
With a few simple habit shifts, and transitioning to eco-friendly products from sustainable shops like our friends at Earth Hero, you too can reduce kitchen waste to become a zero waste warrior.
Ready to find out how? Read on or click the links below to jump to the five simple steps to a zero waste kitchen.
---
1️⃣ Step 1: Plan your meals and eat from home
Are you the kind of grocery shopper who goes to the store hungry and without a plan? I feel you, this was the way we shopped for many years, filling our cart with everything that looked good and figuring out what to eat from our grocery haul each night before dinnertime.
However, I've found that the first step in transitioning to a zero waste kitchen is to make a meal plan (and stick to it). Eating without a plan is a recipe for increased kitchen waste because you will inevitably buy too much food and end up throwing away random ingredients that you didn't plan to eat.
Make meal planning a weekly habit: meal planning is one of the most important ways you can become a more sustainable eater. Set aside 20 minutes each week before grocery shopping to plan out your meals for the entire week to save yourself time, and money. Get our FREE meal planning guide here!
Eat with the seasons and choose local when possible: planning your meals around seasonal foods is not only more sustainable, it also means less packaging for frozen or preserved foods when buying fresh and in season. Choose a diet rich in whole, plant-based foods to reduce waste and lessen your carbon footprint.
Only buy what you need:

having a meal plan means you'll only buy what you need for the next week, reducing the amount of food wasted and saving yourself valuable kitchen space.

Eat at home as much as possible:

meal planning means you'll eat out less often, reducing take out packages for dinners ordered in (and save money on eating out).

And studies suggest eating at home reduces your carbon footprint!
Make coffee at home habit:

forget your morning coffeehouse stop, make your coffee at home to reduce single-use cups…and save yourself money! Invest in

reusable coffee cups

and

reusable coffee filters

to reduce single-use paper filters

Drink from the sink:

ditch the store-bought bottled water and drink from the sink to reduce packaging waste (don't forget your

reusable water bottle

made from recycled materials!). Invest in a water purifier, which is less expensive (for your wallet and the earth's health) over time than buying bottles.

---
2️⃣ Step 2: Buy in bulk and make your own
The second step in transitioning to a zero waste kitchen is to assess which staples and dry goods you can buy in bulk, and which foods and products you can make at home. Many of your favorite kitchen staples — from pasta, rice, and even cleaning products — can be purchased in bulk to save packaging and many foods that you regularly purchase at the store can actually be made at home for much cheaper (and healthier).
Buy in bulk when possible:

making the bulk section your best friend is one of the biggest ways to reduce packaging waste and save money in the kitchen. Dry goods like pasta, beans, lentils, rice, spices, flours, tea, coffee, and even cleaning products can be bought in bulk at Whole Foods or other local natural grocers.

Make your own sauces, dressings, dips and other easy foods: how many bottles of dressings and sauces do you recycle each week? Likely many, if you're anything like us. I recently began transitioning to making all of my own dressings and most sauces and dips, which means I spend less money at the store (and my own recipes are healthier!). See all Fork in the Road Sauces, Dressings, and Dips recipes for ideas on how to get started.
DIY kitchen cleaning products:

cleaning products are not only pricey, but many times the "green" versions are the same product packaged differently and upcharged, which is ultimately unnecessary when you can make your own at home. Research DIY home cleaning products for simple, natural cleaning alternatives to save time, money, and buy

reusable cleaning bottles

to reduce packaging.

Get smart kitchen storage:

you will likely need to stock up on smart storage items like

reusable bags

,

storage containers

, and glass jars when buying bulk items (or clean labels from food jars or remove labels from wine bottles to reuse for food storage). Any grocery store with a bulk section will allow you to bring your jars and containers to weigh before filling, which means less package waste and less trips to the store if you buy more items in bulk (any time I can reduce grocery trips I'm happy!)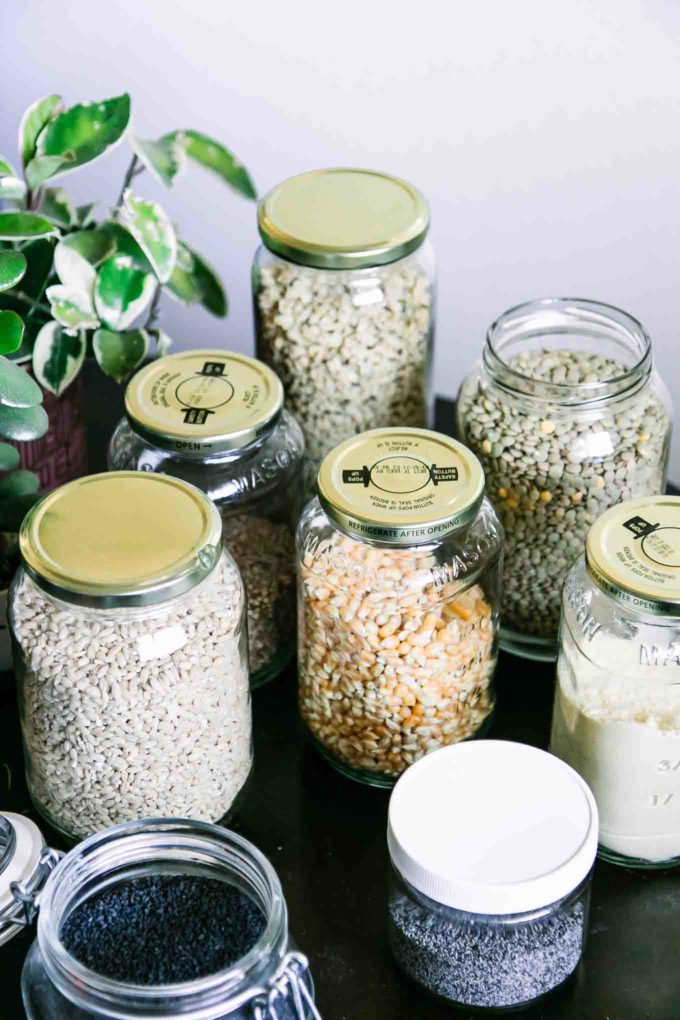 ---
3️⃣ Step 3: Swap single-use products for long-term solutions
After streamlining your meal plan and transitioning to buying in bulk, it's time to start thinking about reducing other single-use kitchen products. Luckily there are many simple swaps that can reduce your kitchen waste.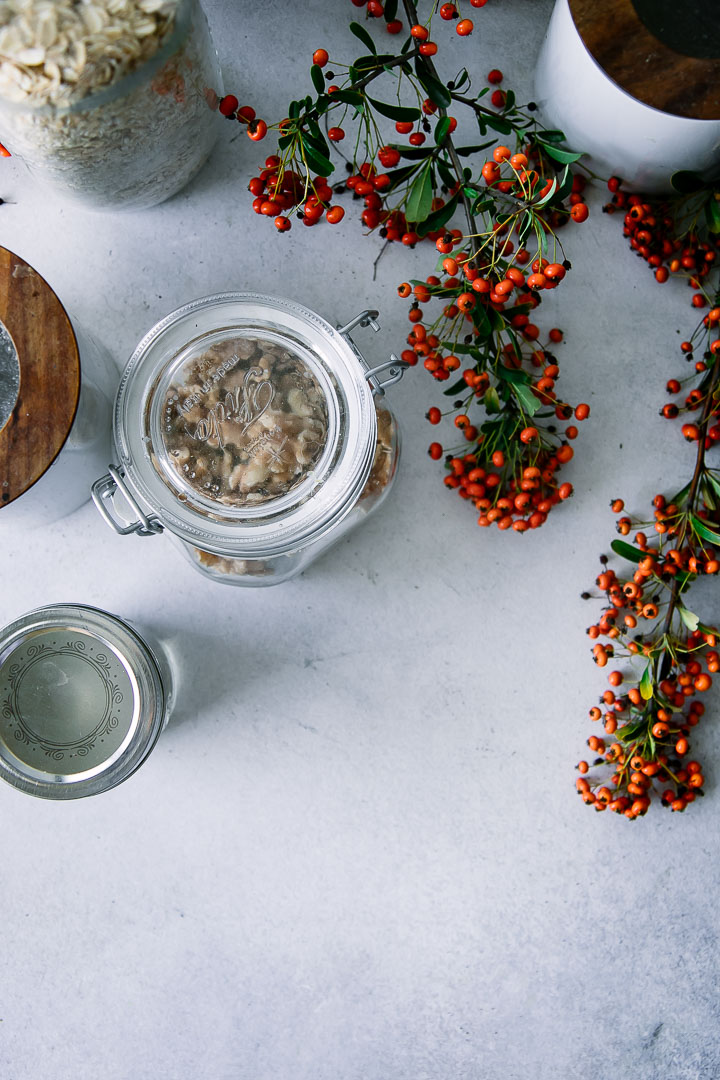 ---
4️⃣ Step 4: Adopt a minimalist kitchen motto
Being a foodie and trying to live a greener lifestyle can sometimes be conflicting goals when it comes to trendy kitchen gadgets. It seems that every year there's a new fancy cooking tool that is taking social media by storm.
Instead of hopping on the newest trend that hits the shelves, adopt a minimalist kitchen mindset by:
Only buying gadgets you need and will actually use:

do you have a Vitamix, a food processor, a handheld immersion blender, AND a bullet blender? While each one of these gadgets is great on its own, ask yourself whether they're all really necessary when they all essentially do the same thing: blend food. You may find that one or two will do the trick and you can save yourself money and valuable kitchen storage space.

Invest in quality products that will last the long run:

if you do decide to invest in a gadget, I always suggest doing your research on the brand (are they committed to environmentally kitchen habits?) and spend money on quality products that will last years. I was dead set against the Instant Pot when it came out, but after researching I realized I could make many homemade kitchen staples much faster with this fantastic tool. I am willing to spend the money when it saves me time and helps me to make more foods at home instead of buying them at the store.

Don't throw everything out just for the sake of "minimalism:" while being a minimalist is important for reducing kitchen waste, don't throw things away just for the sake of minimalism. Gift your old kitchen gadgets to those in need and be thoughtful with what you throw in the trash. Don't buy and replace perfectly good kitchen tools for products that are "greener," this is just creating more waste. Transitioning to an eco-friendly kitchen takes time, replace your old items with more sustainable products only when you truly need them.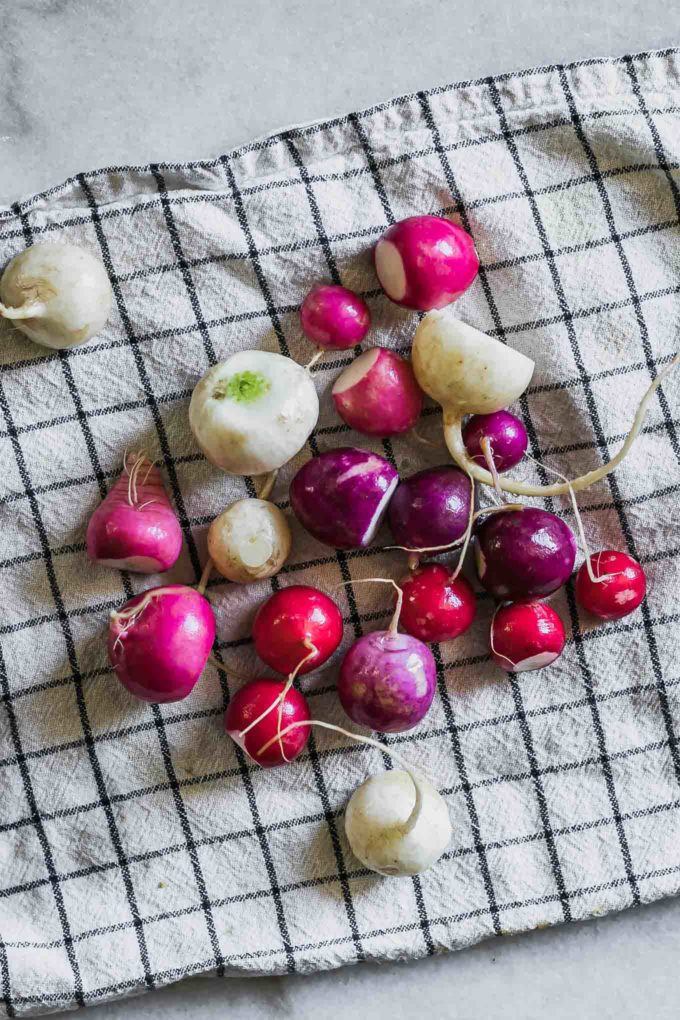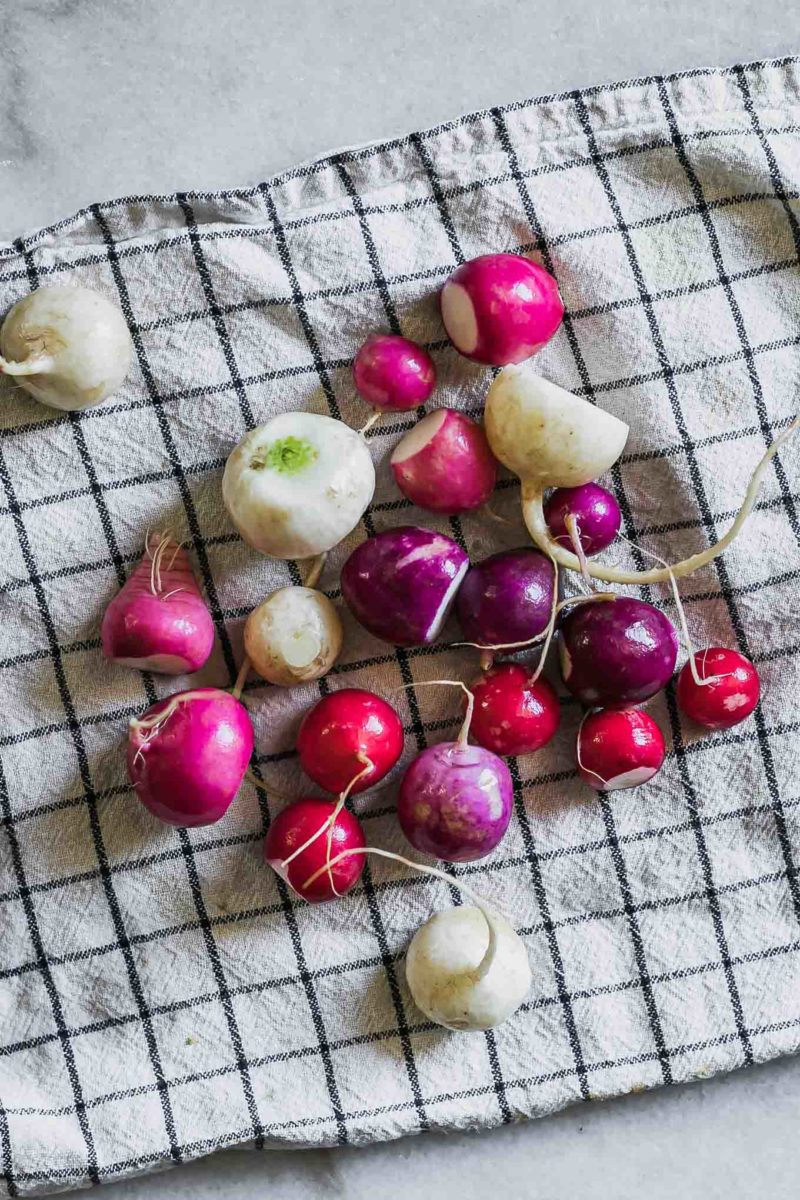 ---
5️⃣ Step 5: Smart waste management
While having a zero waste kitchen is #goals, living completely waste-free may not be realistic for most of us. That's why it's important to know where your waste is going when it leaves your home so you can make sure your kitchen is as low-impact as possible.
Compost as much as possible:

after ensuring you have as little food scraps as possible (by sticking to a meal plan and only buying what you need!), make a habit of

composting food scraps

and other biodegradable kitchen products (like composting tea bags!).
Reuse, reuse, reuse:

instead of throwing out those condiment jars and containers, save what you can for use around the home. Put this trash to use as lunch containers, spice jars, or simple organizational tools

Recycle when necessary:

make sure to recycle what cannot be composted or reused instead of sending

recyclable products

to the landfill

Buy a smaller trash can:

while we are big proponents of composting, reusing, and recycling in the kitchen, it's inevitable that we have some trash that goes to a landfill (something we're trying to reduce each day). One thing that has been helpful for us is to have a smaller trash can, which means we are forced to rethink where our trash goes before throwing it out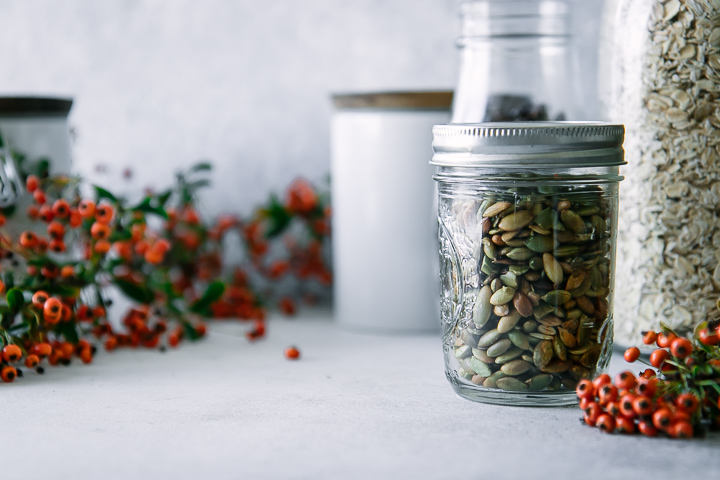 ---
♻️ More tips for low waste living
If you'd like more zero waste and green living inspiration, check out our favorite recipes and articles:
♻️ Want more inspiration for going green in the kitchen? Join the Green Living Community for plant-based recipes, sustainable kitchen hacks, and get our FREE guide to meal planning to reduce food waste!
UPDATE: This article was originally published in November 2018 and was updated for clarity in March 2022.