Savory Grape Parmesan Salad
Savory Grape Parmesan Salad, a simple and light fruit salad made of green, red, and purple grapes with a light olive oil, parmesan, and pepper drizzle. A delicious, 5-minute take on traditional grape salads!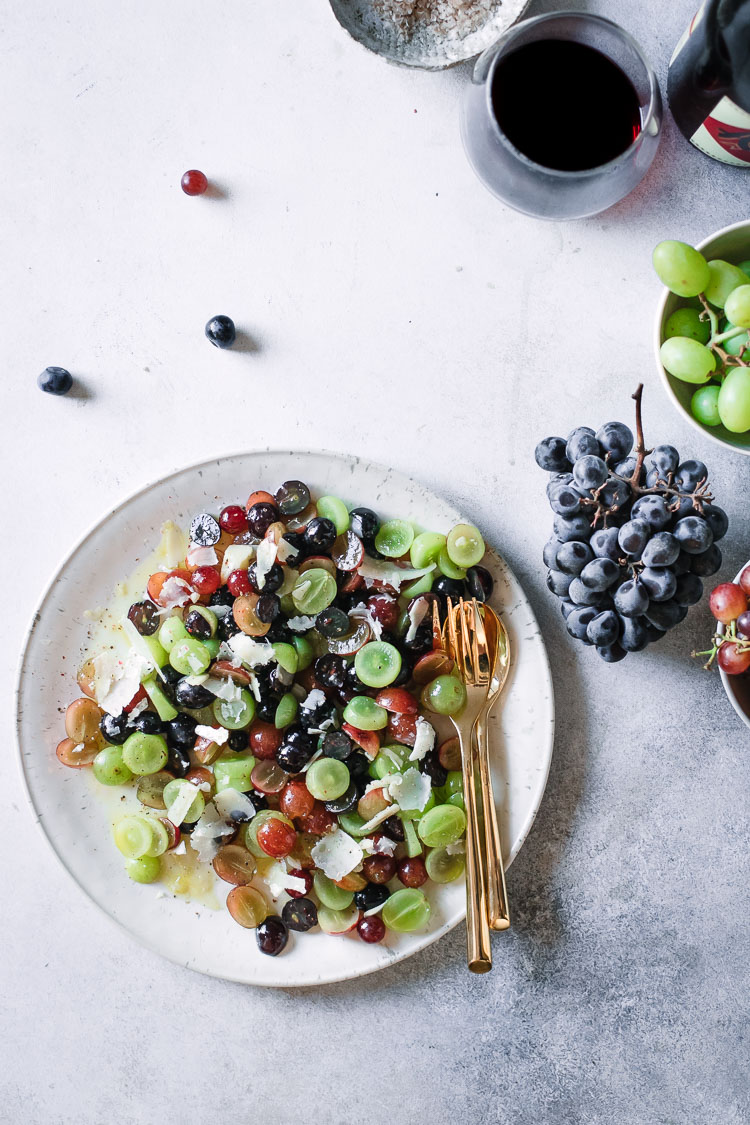 Love sweet grapes? Love salty cheese? Combine in this savory grape and parmesan cheese salad! At only five ingredients and under five minutes to make, this delicious gluten-free grape salad is the perfect summer salad for parties, picnics, and barbecues.
👉 Ready to learn how to make make a cheese and grape salad? Let's do it!
---
🍇 Ingredients
This simple fresh grape salad has only 6 ingredients you likely already have on hand:
Grapes: The foundation of this salad ,and we're using red, green, and black (dark purple) grapes for an array of colors – and antioxidants!
Parmesan cheese: Adds a salty and savory balance to the sweetness of grapes. We used a block of Parmigiano Reggiano and shaved small pieces with a cheese grater.
Extra Virgin Olive Oil: The base of the light dressing, oil coats the ingredients and intensifies the flavors of both the cheese and the seasonings.
Salt and pepper: A sprinkled of flaked sea salt (we like Maldon) and fresh ground black peppercorns are all you need to balance this salad.
Recommended tools: large mixing bowl, cheese grater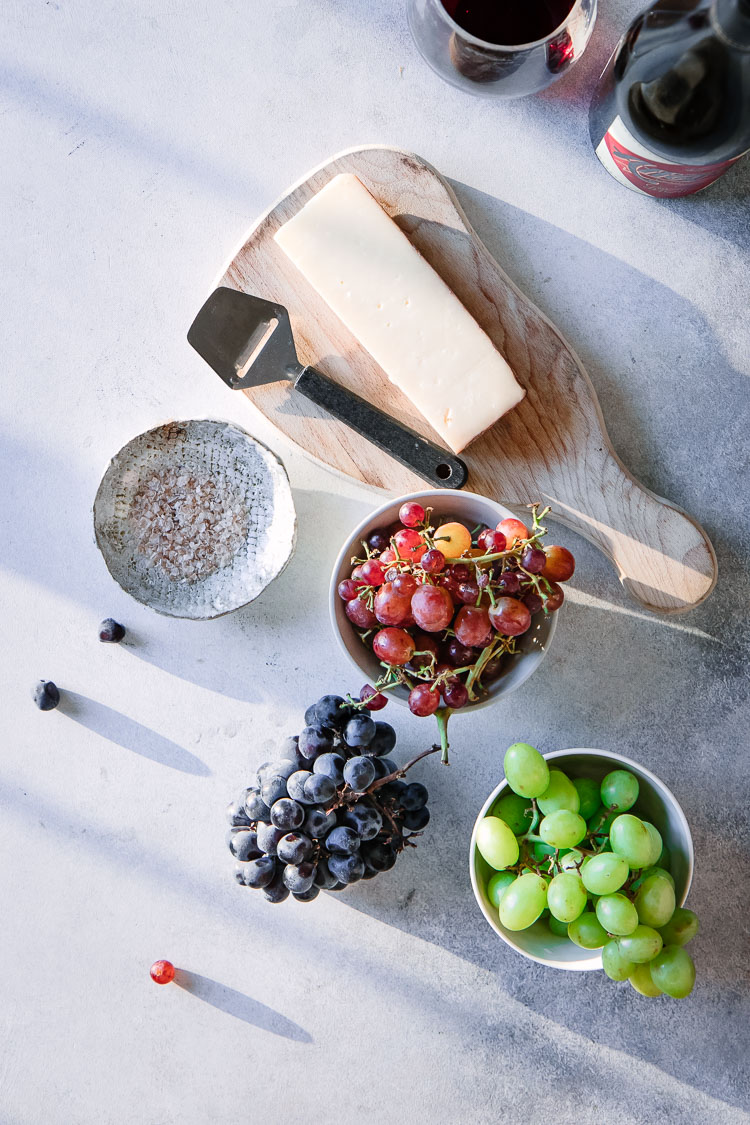 ---
❓ What types of grapes can be used in grape salads?
Any types of grapes can be used in this mixed grape salad recipe! The more color and variety the better. Here are a few types of grapes that would work well:
Cotton Candy: no, I'm not talking about the sickly sweet sugar on a stick, I'm talking about the grape varietal known as "cotton candy," or green grapes. These are large, firm grapes that are slightly sour but hold up well in salads
Flame Seedless: these red grapes are round in shape and have a thick, crunchy sweetness that is perfect for snacking
Concord: these dark purple grapes are made popular by their use for grape juice, and oftentimes have small seeds that are perfectly edible
There are many different types of grape varieties for eating and all would be delicious in this savory grape salad. So choose the grapes you love best and test out delicious combinations of both sweet and sour grapes.
---
🥣 How to make (step-by-step photos)
1️⃣ Step One: Cut grapes
The first step to making this savory grape salad is to cut the grapes in half to make them easier to eat with a fork.
To do this simply take each individual grape and slice it down the middle, then add the halves to a large mixing bowl. Do this until all colored grapes have been sliced.
---
2️⃣ Step Two: Add oil, cheese, salt, and pepper
Once the grapes have been cut, it's time to add the cheese and the light olive oil, salt, and pepper dressing.
👉 How should you cut the parmesan cheese? We used a block of Parmigiano Reggiano that we shaved against the large grates on our handheld cheese grater. However you can also purchase shaved or shredded parmesan (we do not suggest grated parmesan, but larger chunks).
When all ingredients have been added to the bowl, simply toss them to coat all the cheese and grapes with the olive oil and then serve. A super simple recipe that's sweet, savory, and interesting!
---
💡 How to serve
Here are some ideas for serving this simple grape salad:
As an appetizer. Serve this simple fruit and cheese salad as an hors d'oeuvre.
On an antipasto platter. This fruit and cheese salad combo as an interesting cheeseboard addition.
As a summer side dish. This light and crisp salad is perfect for hot summer meals.
As a sweet and savory dessert. Shake things up and serve a savory grape salad for dessert with a glass of wine.
---
🌿 Savory grape salad variations
Use this recipe as a guide, but mix it up by adding your own favorite ingredients. Here are a few possibilities:
Add your favorite fresh or dried herbs: fresh mint, basil, thyme, or oregano would add a delicious flavor boost
Add your favorite cheese: any hard, shreddable cheese would work well in this recipe, including pecorino, grana padano, or manchego
Add protein by adding nuts and seeds: almond slivers, walnuts, and sunflower seeds would be a delicious addition
Make it dairy-free and vegan: omit the cheese and instead sprinkle with good quality nutritional yeast.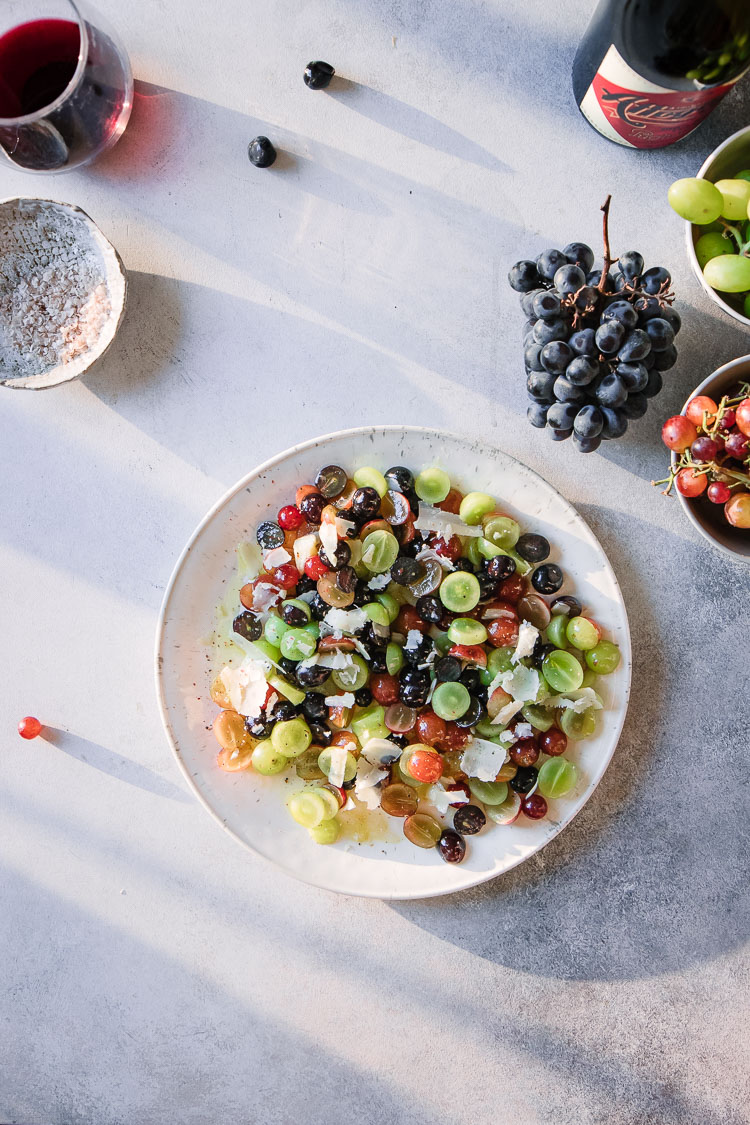 ---
🧊 How to store
Refrigerator storage: Store in an airtight container for up to four days.
Freezer storage: We don't recommend freezing after making this salad as the cheese texture will not hold up well after thawing. However, you can freeze grapes and then thaw them to use in this salad at a later time.
---
🍑 More fruit-filled recipes
Want more recipes with seasonal fruits? We've got you covered:
Savory Grape Parmesan Salad
Savory Grape Parmesan Salad, a simple and light fruit salad made of green, red, and purple grapes with a light olive oil, parmesan, and pepper drizzle. A delicious, 5-minute take on traditional grape salads!
Ingredients
1 cup red grapes
1 cup green grapes
1 cup purple grapes
⅛ cup olive oil
¼ cup shredded parmesan cheese
⅛ teaspoon smoked sea salt
⅛ teaspoon black pepper, freshly ground
Instructions
Cut grapes: Cut green red, and purple grapes in half and combine in a large mixing bowl.

Mix salad ingredients: Add olive oil, shredded parmesan cheese, sea salt flakes, and ground black pepper to bowl. Toss to combine and serve.
Notes
Recipe notes: Cut larger grapes in half to make it easier to spear or scoop onto a fork. Choose a variety of colorful grapes for a rainbow grape salad. Mix up this salad by adding other hard cheeses such as pecorino, grana padano, or manchego
Leftovers and storage: Refrigerate in an airtight container. Salad can be stored for up to four days, however you may want to shred new parmesan cheese and grind fresh pepper on top before reserving.
Nutrition notes: This grape salad has healthy fats from the extra virgin olive oil, is low in sodium, and is a good source of calcium. It's a great summer side dish for picnics, barbecues, and outdoor parties.
Nutrition Information
Serving: 1serving (2/3 cup), Calories: 170kcal, Carbohydrates: 22g, Protein: 3g, Fat: 9g, Saturated Fat: 2g, Polyunsaturated Fat: 1g, Monounsaturated Fat: 5g, Cholesterol: 4mg, Sodium: 175mg, Potassium: 271mg, Fiber: 3g, Sugar: 12g, Vitamin A: 139IU, Vitamin C: 2mg, Calcium: 104mg, Iron: 1mg
UPDATE: This recipe was originally published in August 2019 and was updated for clarity in March 2022.
We are participant in the Amazon Services LLC Associates Program, an affiliate advertising program designed to provide a means for us to earn fees by linking to Amazon.com and affiliated sites.