Pluot Brown Sugar Buckwheat Pancakes
Pluot Brown Sugar Buckwheat Pancakes, a fluffy and healthy gluten-free hotcakes recipe using buckwheat flour, brown sugar, and fresh seasonal pluots. The perfect hearty brunch hotcakes recipe!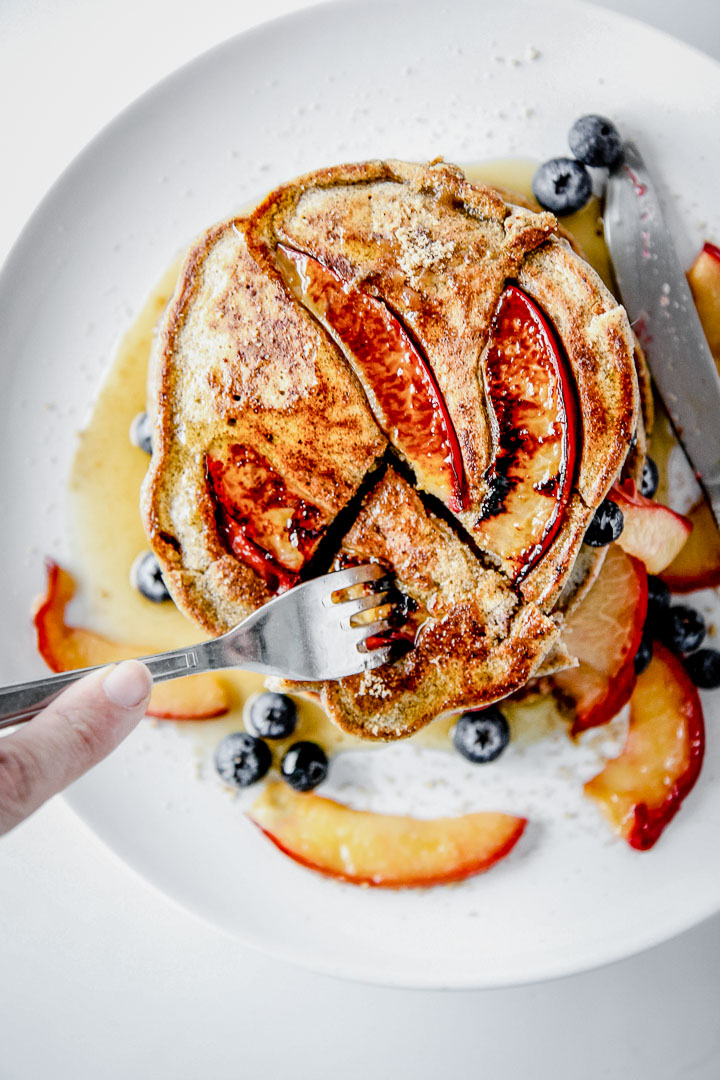 If you're like me, you love breakfast. As foodies most of us could never choose a favorite eating occasion (we love them all) but breakfast is near and dear to our heart…and not only because there is usually coffee involved (but that too).
From sweet pancakes to savory potatoes to good old fashion oats and a cup of joe, the decisions are endless. If someone asked me to choose between sweet or savory breakfast for the rest of my life I could never do it, it's hard enough for me to decide when sitting down to Sunday brunch.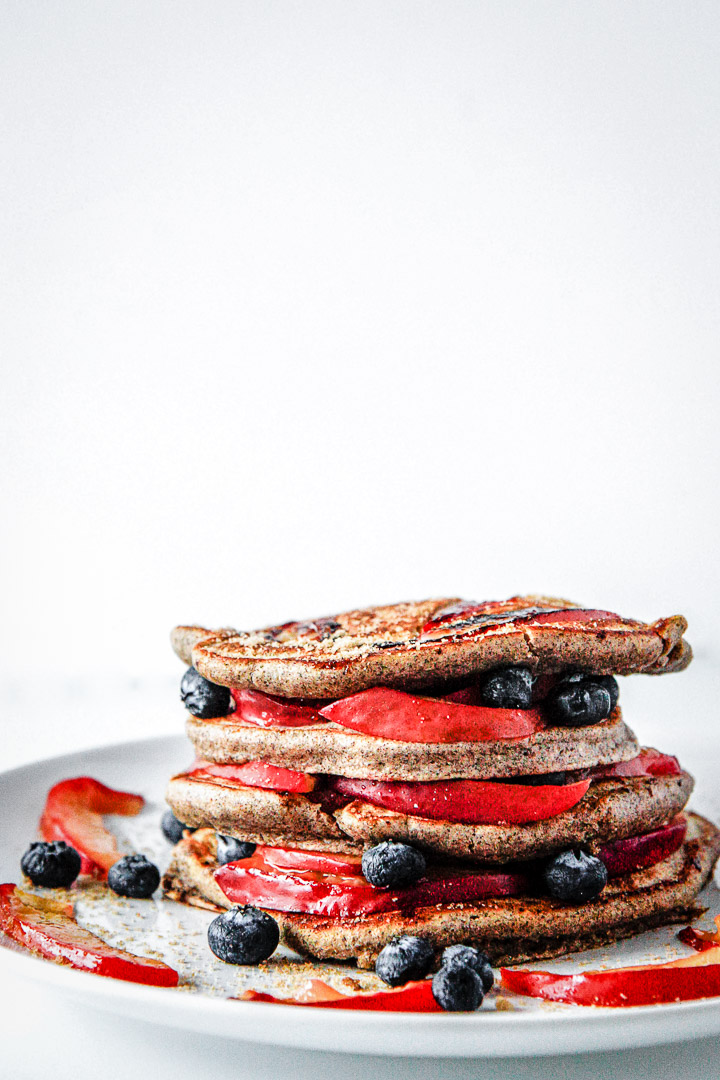 One thing I've realized after years on the road is the strength of American breakfast culture. Many people say that Americans do not have an eating culture, but to this I say–um, hello, let me introduce you to breakfast.
As an adventurous eater, I don't have a problem assimilating to a culture's meal patterns when traveling, but my 'American-ness' really shows when it comes to the first meal of the day. I spent a month in Asia a few years ago and, try as I might, my body is physically unable to eat ramen or vegetable soup first thing in the morning.
Even when visiting my Francesco's family in Italy, I have a hard time eating only croissants with Nutella every day for weeks on end. Um, can a girl get an egg?
One thing the husband and I can agree on for breakfast is pancakes. When we first married he was not so interested even though they fit his Italian preference for a sweets in the morning. But over time I've broken him down: he is now a master pancake maker and has them four or five mornings a week.
Let's take a second and talk about pluots.
When I was studying to become a dietitian, I worked in a small German cafe that served an amazing streusel with pluots…but I have to admit I had no idea what a pluot was and had to go home and look it up to make sure I wasn't crazy.
Was it a plum? An apricot? Well, it's actually both.
Pluots are a 'crossbreed,' or interspecific fruit, made from three fifths plum and two fifths apricot. The result is a reddish plum-like fruit with a firmer center than a traditional plum, but without the fuzzy outer skin of an apricot. Apparently there are also apriums, which are also a breed between the two fruits that have more apricot characteristics.
In addition there are also plumcots and apriplums, just to make it more confusing. Bottom line? They're delicious and they are a great sweet addition to the hearty, earthy flavor of buckwheat pancakes.
What is buckwheat and why should I use it in my pancakes?
Contrary to its name, buckwheat is not a form of wheat or grass but is actually considered a psuedocereal that is a cousin to sorrel and rhubarb. It is thought to have originated in Southeast Asia thousands of years ago, but spread throughout Central Asia and Europe and is now grown throughout the world. However, most of the world's buckwheat cultivation now happens in China and Russia.
Buckwheat seeds produce a thick flour that is commonly used in Asian cuisines to produce thick noodles like soba. Pancakes made from buckwheat flour are favorites in Russia and Asia, in both sweet and savory forms.
And here in the United States buckwheat is becoming increasingly more popular due to the popularity of gluten free baking alternatives, which makes these healthy buckwheat pancakes a great alternative to traditional flour hotcakes.
Pluot Brown Sugar Buckwheat Pancakes: Tips, Tricks & Tools
This Pluot Brown Sugar Buckwheat Pancakes recipe is a simple healthy and gluten free option and does not require extra equipment, however below are a few tricks and tools I have used and recommend.
Quality buckwheat flour: I'm a big proponent of sourcing the best quality and most environmentally friendly ingredients as possible (as travelers who love the earth, we have to do our part to save it!) so I always choose quality buckwheat flour when possible.
A great pancake pan: I always remember my father's pancakes because they were big, fluffy and delicious. At the time I thought it was him and his special technique, but I later found out it's because he had a great pancake pan (though his pancake skills are world reknowned). This Lava pancake and pizza pan is made of cast iron and is eco friendly (win, win!).
Quality maple syrup: If you've had good quality maple syrup, you know why I make it a priority.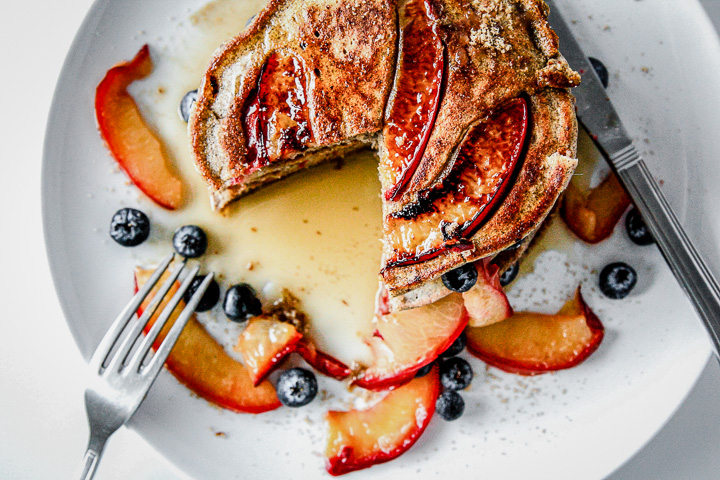 ---
This Pluot Brown Sugar Buckwheat Pancakes recipe is one of our favorite seasonal brunch recipes! If you're looking for more delicious and globally-inspired breakfast recipes make sure to try our Meyer Lemon Marscarpone Dutch Baby Cake recipe, and the Southern-inspired Black Cherry Hoecakes.
Did you try this Pluot Brown Sugar Buckwheat Pancakes recipe? Leave a comment and rating below to share how it turned out, pin it to your favorite breakfast or brunch Pinterest board, and tag me on Instagram so I can see your pancake creations!
---
Yield: 6 medium pancakes
Pluot Brown Sugar Buckwheat Pancakes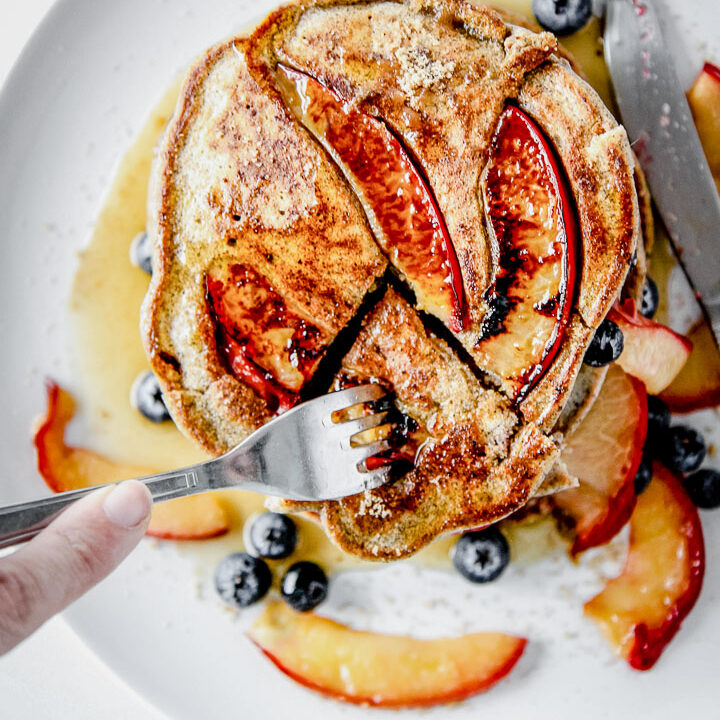 Pluot Brown Sugar Buckwheat Pancakes, a fluffy and healthy gluten-free hotcakes recipe using buckwheat flour, brown sugar, and fresh seasonal pluots. The perfect hearty brunch hotcakes recipe!
Prep Time 5 minutes
Cook Time 20 minutes
Total Time 25 minutes
Ingredients
1 pluot, sliced thin
1 egg
2 tsp oil
3/4 cup milk, or milk alternative
1/4 cup maple syrup
Instructions
Heat pan over medium-low heat using a little oil or butter.
Add sliced pluot and cook until soft, about 4-5 minutes, flipping once. Set aside.
Mix dry ingredients (buckwheat flour, baking powder, salt, baking soda) and then add egg, oil, vanilla, milk, and brown sugar. Stir until well blended.
Lay 2-4 slices of cooked pluot on pan in small circle, then pour pancake batter over, covering. Cook pancake about 2-3 minutes on each side, or until batter is cooked through.
After all pancakes are finished, stack cakes with remaining pluot and other toppings (I used blueberries), drizzle with syrup, and enjoy!
Notes
Leftovers & Storage: These Pluot Brown Sugar Buckwheat Pancakes are great as leftovers and can be frozen and reheated. Keep in the refrigerator for up to four days for best taste and texture, or freeze for up to a month and then reheat in the microwave or toaster.
Nutrition: The pancakes on their own are a healthier version of the classic breakfast hotcake. They are relatively low in sodium, fat, and sugar compared to traditional pancake recipes. Pair with fresh fresh and yogurt for a more balanced breakfast. The pancake nutrition information is based on the pancakes with pluots, but does not include optional toppings (including maple syrup).
Nutrition Information:
Yield:
6
Serving Size:
1 pancake
Amount Per Serving:
Calories: 375
Total Fat: 13g
Saturated Fat: 6g
Trans Fat: 0g
Unsaturated Fat: 6g
Cholesterol: 42mg
Sodium: 341mg
Carbohydrates: 62g
Fiber: 4g
Sugar: 40g
Protein: 7g
We are participant in the Amazon Services LLC Associates Program, an affiliate advertising program designed to provide a means for us to earn fees by linking to Amazon.com and affiliated sites.