Peppermint Mocha Matcha Latte
Peppermint Mocha Matcha Latte, a minty take on traditional hot cocoa made with unsweetened cocoa powder, matcha, peppermint extract, and plant-based milk. Perfect for the holidays!
UPDATE: This post was originally published in December 2017.
First, I must admit that I am a bit of a matcha noob. It has only been a few months since I tried the powdered green tea for the first time, and only with the strong insistence of the matcha queen herself, Bella from Fulfilled. She touted the benefits and her strong love of the green goodness and passed me a steaming hot matcha latte. It was love at first sip.
And I've now gone full hipster, steaming up a mug of matcha for a regular afternoon pick-me-up (I love it in the afternoon, but it will never replace my morning coffee). So in the spirit of the holidays and my usual habit of trying a new ingredient and taking it to the extreme, I present to you this Peppermint Mocha Matcha Latte.
While most times I'm a purist when it comes to coffee and tea (I do not subscribe to the pumpkin spice latte craze of fall), I do have a soft spot in my heart for a cup of hot chocolate. I love a rich, chocolate-y, and not-too-sweet mug of cocoa on a cold day while cozying up with a good holiday movie. Call me a softie for the holiday season, but sipping hot chocolate by a fire just can't be beat.
And while there isn't much that can top a delicious hot cocoa, I can think of at least one thing: minty hot cocoa. Peppermint, to be exact.
And when you add a little matcha? The chocolate-y, minty caffeine kick you crave!
How to make a Peppermint Mocha Matcha Latte
Matcha is a powder made from green tea leaves that has been used in Japan for centuries, and fine servingware and rituals have been adopted that make matcha not merely a tea but also a ceremony. Making matcha at home is simple and while many traditionalists (and companies trying to sell you matcha tools) will say you must use a sifter and whisk, it is possible to make a perfectly delicious matcha latte with what you already have on hand.
The simple steps to making a matcha latte include:
Place matcha powder in a small mug or bowl (this ceramic matcha mug is adorable, but any wide coffee mug that is big enough to fit a whisk will do)
Dissolve matcha powder in a small amount of hot water using a whisk. Bamboo whisks are most often used, but a regular metal whisk works just as well.
Fill bowl or mug with hot water, milk, or milk alternative.
Enjoy!
This Peppermint Mocha Matcha Latte is a fun holiday take on traditional matcha lattes and cocoa powder can easily added to dry matcha powder before dissolving in hot water (I used Guittard's unsweetened cocoa powder). In fact, learning to make matcha lattes by first dissolving the powder in a small amount of water before adding more also stepped up my hot cocoa-making game. Because who doesn't hate those pesky clumps of cocoa that never dissolve? Clumps cocoa no more!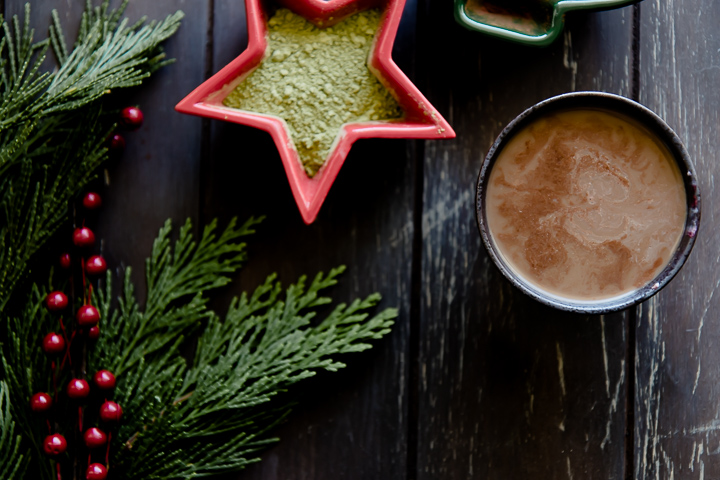 Love this Peppermint Mocha Matcha Latte? Try one my favorite simple and indulgent recipes, like this Hazelnut Liqueur Affogato or this Blood Orange, Mint & Kiwi Margaritas. Craving more chocolate? Try our favorite Vegan Oatmeal Chocolate Chip Cookies or our Salted Dark Chocolate Covered Cherries. Sweet indulgences don't have to be a hassle to make!
Whether you're toasting to the holidays or just simply love sipping on hot chocolate, this Peppermint Mocha Matcha Latte is the perfect mint chocolate hot beverage to enjoy on cold weather nights!
Yield: 1 latte (10 ounces)
Peppermint Mocha Matcha Latte
Peppermint Mocha Matcha Latte, a minty take on traditional hot cocoa made with peppermint oil, unsweetened cocoa powder, matcha, and plant-based milk. Perfect for the holidays...sugar-free and vegan!
Prep Time 5 minutes
Cook Time 5 minutes
Total Time 10 minutes
Ingredients
1 ¼ cups milk or milk alternative
1 teaspoon matcha powder
2 teaspoons cocoa powder
2 tablespoons hot water
½ teaspoon peppermint extract
Optional: 1 teaspoon sugar or sweetener of choice, candy cane for garnish
Instructions
Bring milk to a simmer over the stovetop or heat in the microwave
Add matcha and cocoa powder to a small bowl or mug. Add hot water and whisk well to fully dissolve powder into hot water.
Pour hot milk over dissolved matcha and cocoa. Add peppermint extract and sugar or candy cane, if using.
Enjoy!
Notes
Leftovers & Storage: I recommend to make each cup of matcha before drinking and not make in advance.
Nutrition: This simple mocha latte matcha with matcha is low in fat, calories, and full of antioxidants from the cocoa and matcha. It is an unsweetened treat, but is also delicious with a small amount of sugar or maple syrup.
Nutrition Information:
Serving Size:
1 latte (10 ounces)
Amount Per Serving:
Calories: 155
Total Fat: 5g
Saturated Fat: 3g
Trans Fat: 0g
Unsaturated Fat: 2g
Cholesterol: 20mg
Sodium: 130mg
Carbohydrates: 18g
Fiber: 1g
Sugar: 12g
Protein: 9g
We are participant in the Amazon Services LLC Associates Program, an affiliate advertising program designed to provide a means for us to earn fees by linking to Amazon.com and affiliated sites.