Peppermint Matcha Latte, a matcha green tea powder latte with a fresh minty flavor. A cozy and antioxidant-rich pick-me-up that's ready in under 10 minutes and is perfect for the holidays!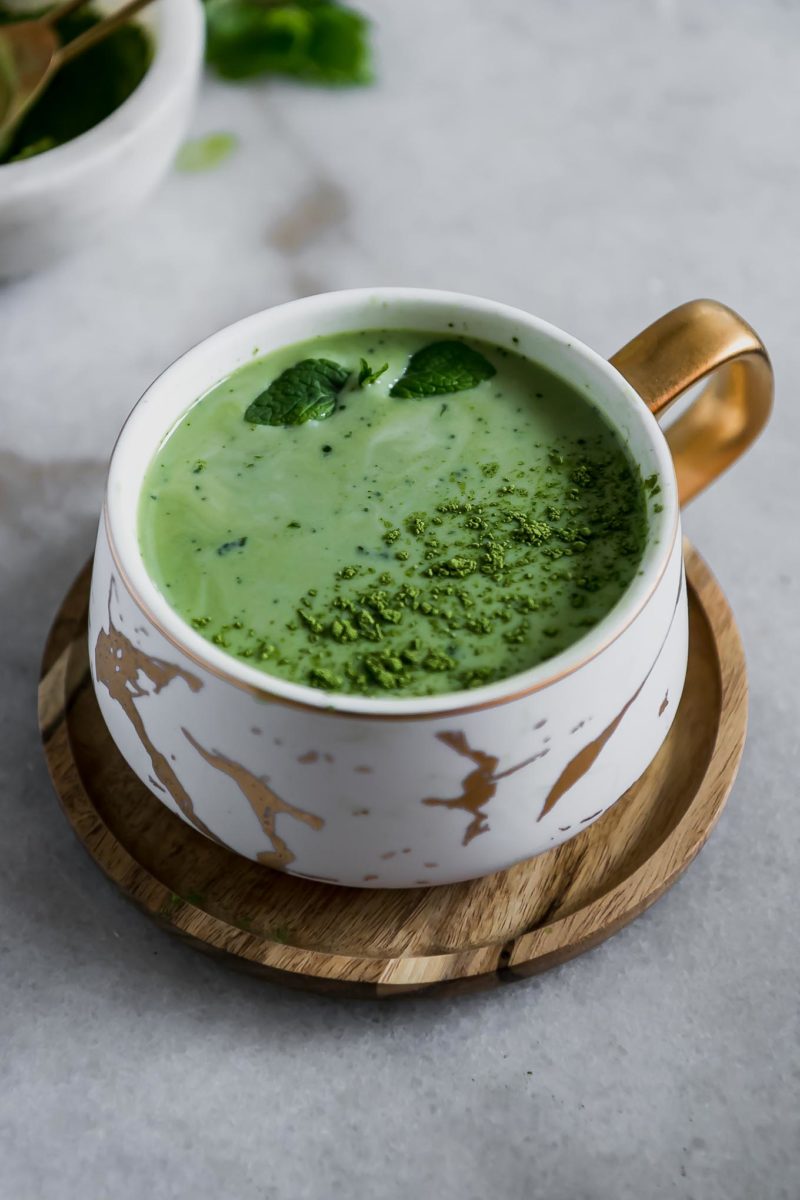 Looking for a cozy minty drink that is quick and easy? Look no further! This simple peppermint matcha latte is the perfect way to enjoy a matcha moment with a bit of fresh mint flavor.
Here are three reasons why you should be mixing a bit of minty freshness with your matcha:
It's simple. Only four ingredients and 10 minutes, it's easy peasy.
It's healthy. Made with antioxidant-rich matcha, this plant-based latte packs a nutrient punch.
It's a form of self-care. It's more than just a way to caffeinate, this minty matcha latte is the perfect way to treat yourself.
Ready to learn how to make this 4-ingredient mint matcha latte with chocolate? Let's do this!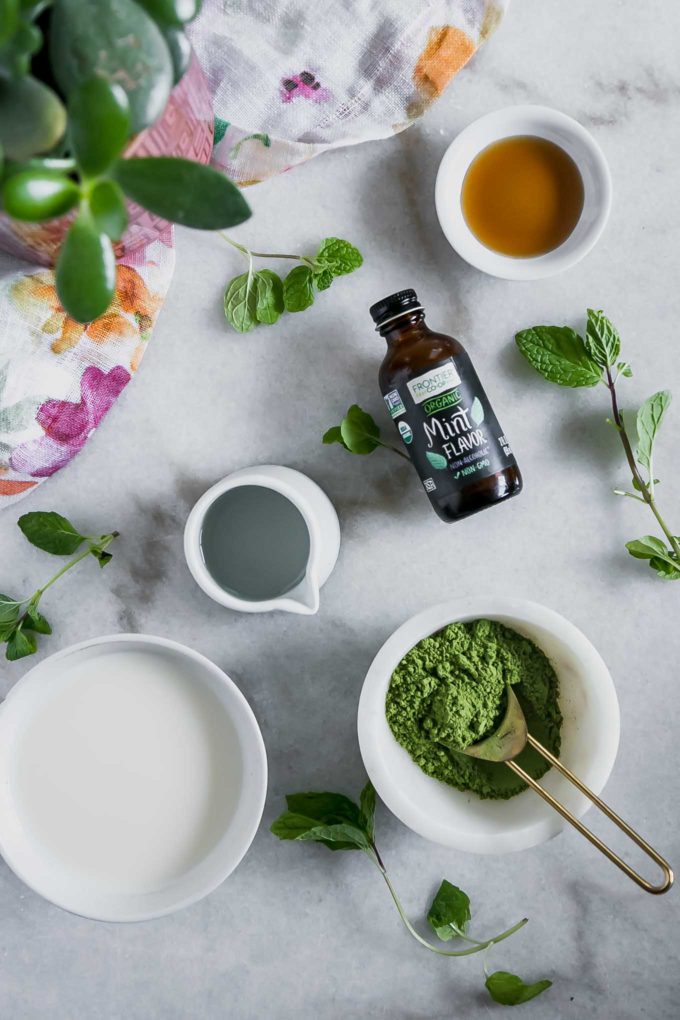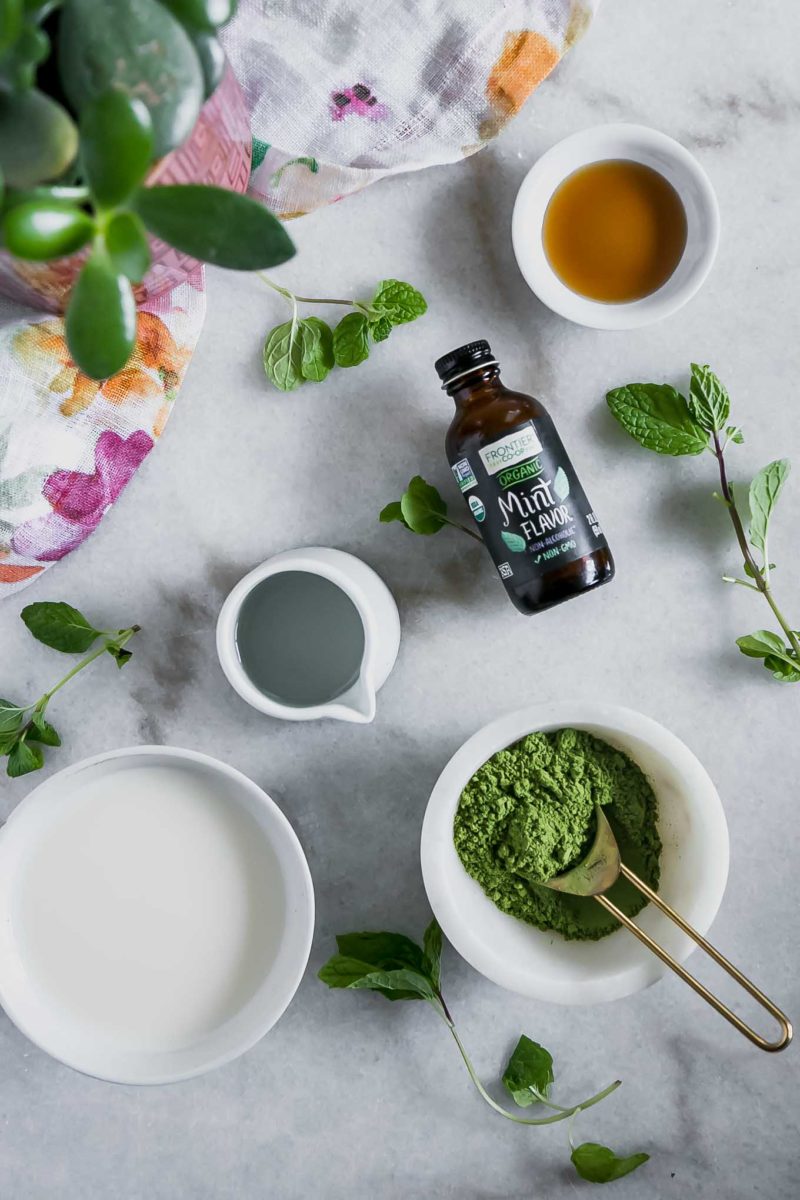 ---
🍵 How to make (step-by-step photos)
1️⃣ Step One: Prepare the matcha + add mint extract
The first step to making a traditional matcha latte is to mix the matcha green tea powder with a small amount of hot water (usually 2-3 tablespoons) until it dissolves, and then adding in your milk of choice.
Because we are adding mint oil extract to this latte to make it a "peppermint matcha" latte, we will mix in the mint to this first step so that the mint is dissolved into the small amount of matcha tea water before adding our creamy plant-based milk to top off the latte.
To do this, add 1-2 teaspoons of matcha and 1/2 teaspoon of mint extract oil to a small bowl.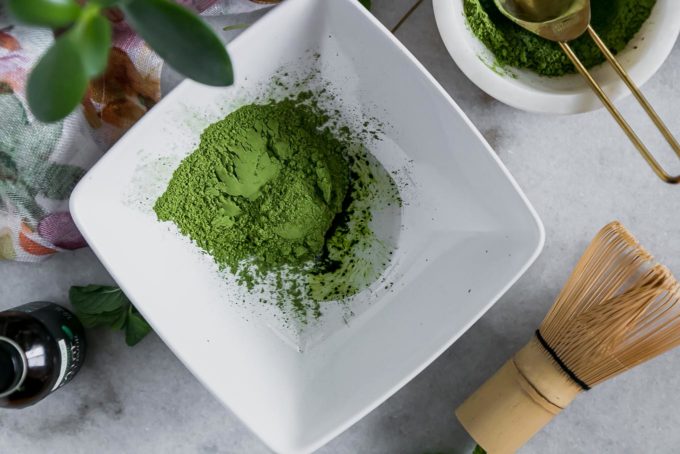 Next add 2 tablespoons of hot water to the bowl and whisk with a small bamboo mocha whisk (or a traditional whisk will do) until the green tea powder is dissolved into the water and there are no longer dry powder clumps in the water.
🌱 Should you use fresh mint or mint extract? We used peppermint extract oil (affiliate link) in this recipe because we had it on hand, but you can absolutely use fresh mint leaves for a minty tasting matcha latte. Simply muddle a few mint leaves in the latte mug with the matcha and hot water, then pour milk over to complete the latte.
---
🥛 Step Two: Heat the milk
After the matcha and mint have been dissolved into the water, it's time to heat your milk of choice (we like oat milk or pea protein milk for our matcha lattes).
There are two ways to heat the milk, on the stovetop or in the microwave.
Stovetop: Pour the milk into a small saucepan and heat over very low heat until the milk begins to simmer, about 3-5 minutes.
Microwave: Heat the milk in a glass measuring cup or small mug in the microwave for 60-90 seconds, or until very warm.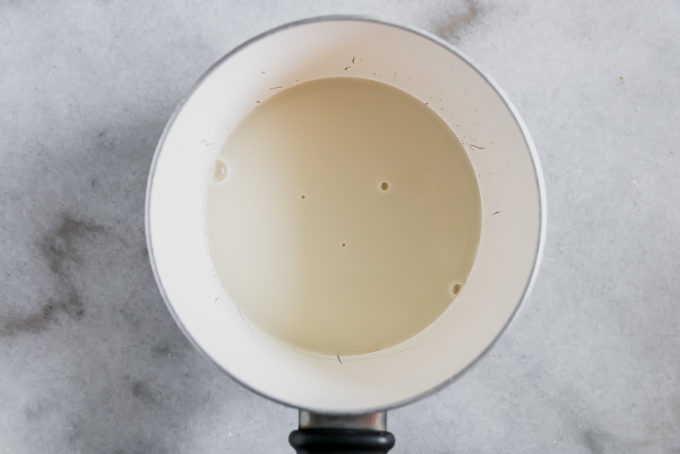 ---
Step Three: Mix the hot milk into the matcha and mint mixture
Finally, pour the heated milk into a mug over the dissolved matcha and mint mixture. Stir with a spoon until the mixture is completely dissolved into the milk.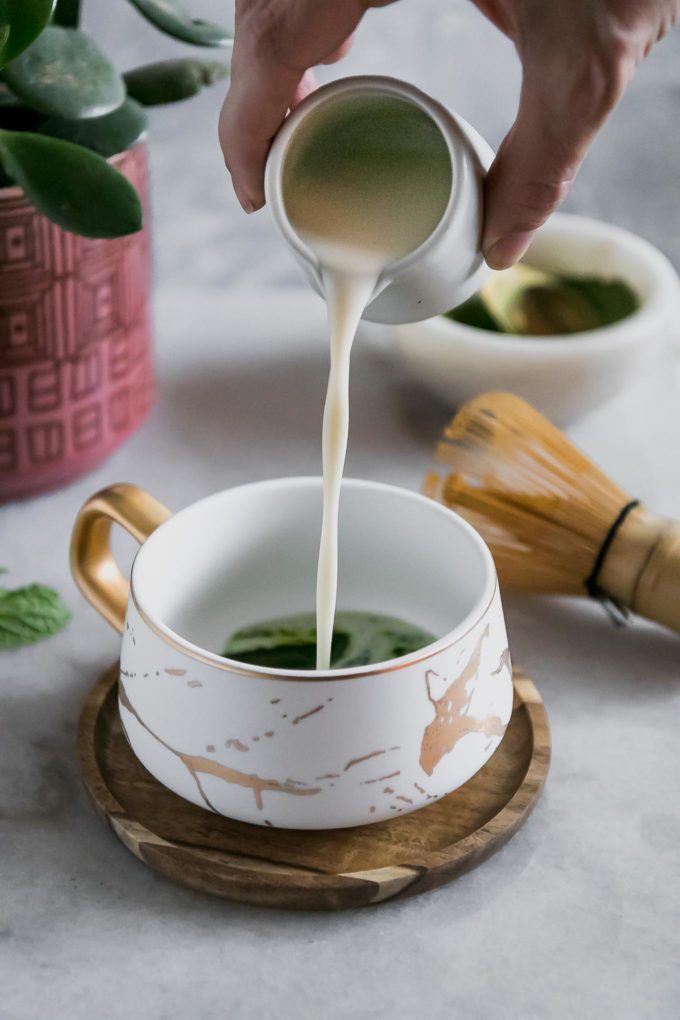 ---
🌱 Step Four: Sweeten and garnish
If you used an unsweetened milk and would like a sweeter-tasting latte, add 1 teaspoon of your sweetener of choice (we like maple syrup) until it dissolves into the latte.
For fun garnishes, we like to sprinkle a bit of matcha powder on the top of the latte for a burst of color. Adding a few vegan marshmallows can make this more of a "hot chocolate" type latte, and a candy cane makes it a minty holiday treat. And don't forget to top it all off with a few mint leaves!
---
❓ Recipe + ingredient questions
How much matcha should I use for one cup single-serving tea or latte?
1-2 teaspoons of matcha green tea powder is best for a one cup serving of matcha tea or latte. We recommend starting with 1 teaspoon of matcha when making your tea or latte, then adding up to 1 more teaspoon if needed to taste (and caffeine preference).
Why should I use a matcha whisk instead of a spoon or regular whisk?
While a regular whisk will do, the very small tongs on a matcha whisk help to dissolve the finely ground matcha green tea powder into the water when making matcha tea and lattes.
What milk is best for a matcha latte?
The best milks for matcha lattes are creamy and have a slightly sweet flavor that pairs well with the earthy tea flavor of matcha powder. We recommend regular oat milk and pea protein milk, both plant-based milk options that taste great heated and have thicker consistencies compared to other vegan milk alternatives.
Are matcha lattes unhealthy?
Matcha lattes that are made with high sugar ingredients like whipped cream and large amounts of sweetener are not healthy beverage choices. However, a matcha latte made simply with plant-based milk that provides protein, calcium, vitamin D, and vitamin B12 (as well as high amounts of naturally-occurring antioxidants in matcha) and a small amount of natural sweeteners like maple syrup is a healthy way to enjoy a matcha green tea.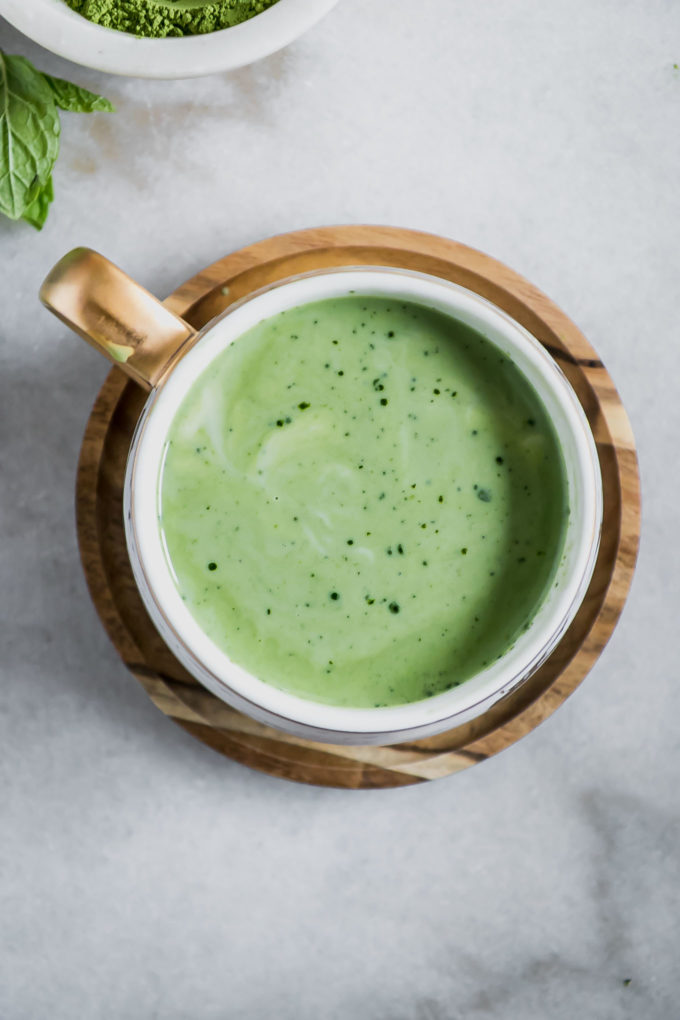 ---
♻️ Sustainable ingredient recommendations
Because we're all about running eco-friendly home kitchens here at Fork in the Road, here are a few tips and tools to make this matcha latte recipe more sustainable.
🌱 Choose good quality matcha green tea powder.
There are two quality grades of matcha green tea — culinary grade (used for baking, lattes, and other uses) and ceremonial (fancier and higher quality, saved for mixing with water for matcha tea). We recommend using a high quality culinary or ceremonial grade matcha in this recipe. We like have tried and liked Matcha Moon ceremonial matcha and KENKO culinary grade matcha, which can be bought on Amazon (affiliate links).
🍫 Choose Fair Trade cocoa powder.
Cacao, the plant that chocolate and cocoa are made from, is one of the most unjust farming methods on the planet. For this reason we always choose cocoa powder that are Fair Trade certified, meaning the chocolate production is verified to follow strict labor laws and grown according to ethical and environmental standards. We like Guittard Unsweetened Cocoa and SACO Conscious Kitchen Cocoa, found on Amazon (affiliate links).
🥛 Choose plant-based milk.
Probably the most important sustainable ingredient choice in your mocha matcha latte is the milk. We suggest choosing a plant-based milk like oat milk or pea protein milk for the creamy texture and because they are produced using lower-impact crops like oats and peas compared to other nut-based milks and traditional cow's milk.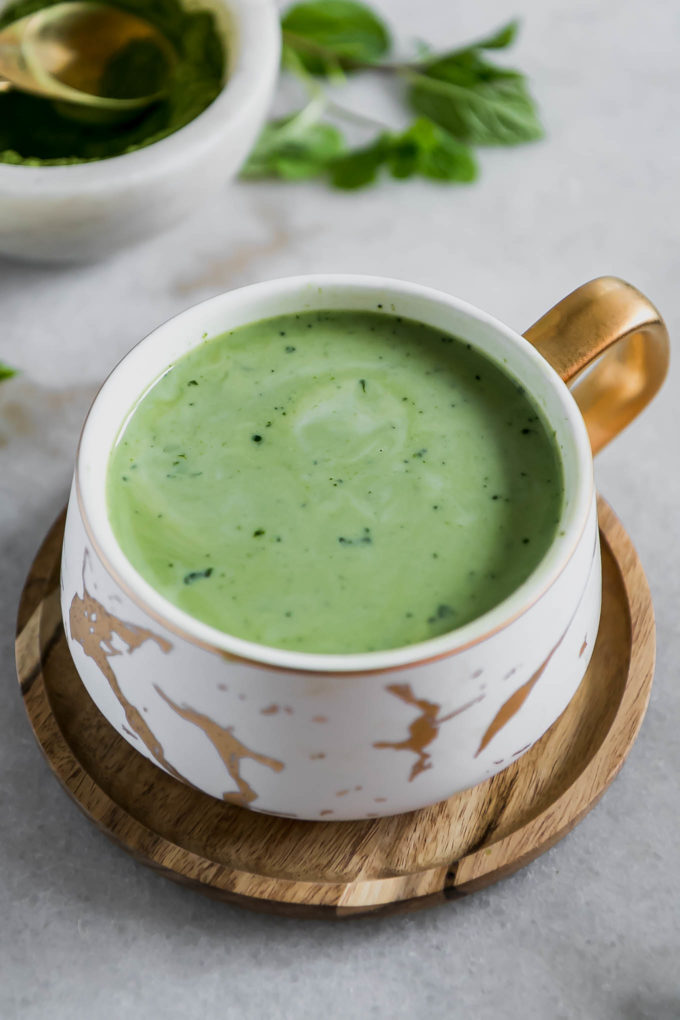 ---
☕️ More cozy drink recipes
Love this simple matcha latte recipe? Check out our other cozy drinks recipes:
Peppermint Matcha Latte Recipe
Peppermint Matcha Latte, a matcha green tea powder latte with a fresh minty flavor. A cozy and antioxidant-rich pick-me-up that's ready in under 10 minutes and is perfect for the holidays!
Ingredients
1-2

teaspoons

matcha powder

2

tablespoons

hot water

½

teaspoon

mint extract

1¼

cups

milk or milk alternative*

1

teaspoon

maple syrup or agave nectar

2-3

whole

mint leaves

for garnish
Instructions
Prep matcha and peppermint: Add matcha powder to a small bowl or mug. Add hot water and mint extract, then whisk well to fully dissolve the dried tea powder into the liquids.

Heat milk: Bring milk of choice to a low simmer in a small sauce pan, or heat for 60-90 seconds in the microwave.Mix milk into matcha: Pour the heated milk over the dissolved matcha and mint mixture. Stir with a spoon until completely dissolved.

Sweeten (optional): If using unsweetened milk and you would like a sweeter latte, add 1 teaspoon of sweetener of choice (we like maple syrup) and mix until well combined.

Garnish (optional): Sprinkle with matcha powder and/or cocoa powder, add a few vegan marshmallows, or a candy cane for a holiday treat. Top with mint leaves.
Notes
Recommended tools: matcha set, latte mug and saucer, small saucepan
How much matcha to use: You can use 1 or 2 teaspoons of matcha powder for one single serving latte, depending on taste and how much caffeine you want in your latte. We recommend starting with 1 teaspoon and then adding more to taste after making the latte.
*Recommended milk: We like to use oat milk or pea protein milk in our lattes as they are both great tasting when heated and have a creamier texture than other plant-based milks.
Where to buy matcha: we typically purchase daily drinking matcha from our local grocer, however we like to order ceremonial matcha as well (see post for recommended brands).
Leftovers + storage: We recommend making each matcha latte individually and not keeping leftovers, for best flavor. However, you can store any leftovers in the refrigerator for up to three days. We do not recommend freezing.
Nutrition notes: This recipe uses all plant-based, gluten-free ingredients, so it is appropriate for vegan diets. Nutrition information was estimated using regular oat milk nutrition data. This latte is high in naturally-occurring antioxidant catechins from matcha (nutrition information reviewed by dietitian Kristina Todini, RDN).
Nutrition
Serving:
1
serving
Calories:
178
kcal
Carbohydrates:
30
g
Protein:
7
g
Fat:
3
g
Sodium:
143
mg
Potassium:
151
mg
Fiber:
2
g
Sugar:
24
g
Vitamin A:
815
IU
Calcium:
432
mg
Iron:
3
mg